May 12-17, 2023 - Sold Out!
Venture deep into Utah's Grand Staircase Escalante and capture brilliant panoramic images of the Milky Way under some of the darkest skies in the country! Trip includes a fully outfitted camping trip to Alstrom Point along with 5 nights of hotel. This workshop is rated Moderate for hiking and physical intensity with 2-4 miles of hiking per day. Expect lots of adventure, fun times, and intensive learning!
$2700

Includes Lodging and Outfitted Camping
4 Students per Instructor
Max 8 Students
Nickolas Warner
Ryan McGinty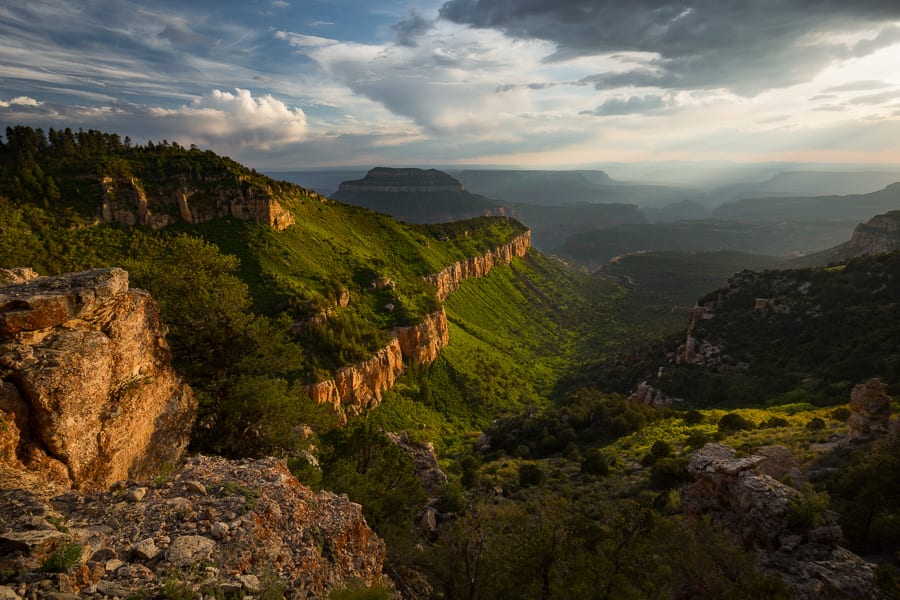 Highlights
Spring is a gorgeous time to photograph the Desert Southwest.
The Milky Way is visible during most of the night which allows us to create brilliant nightscapes and panoramics.  You will learn both natural light and low-level lighting techniques for foreground enhancement.
The Grand Staircase has been determined by ambient light measurements to be the darkest sky location in the lower 48 states!  You will photograph many iconic, yet hard to reach locations within the monument. Expect some rough 4x4 transportation and moderate hiking.
Post-processing and image critique sessions will be scheduled throughout the workshop to help make the most of your images.
The itinerary is kept flexible so we can chase the best weather conditions.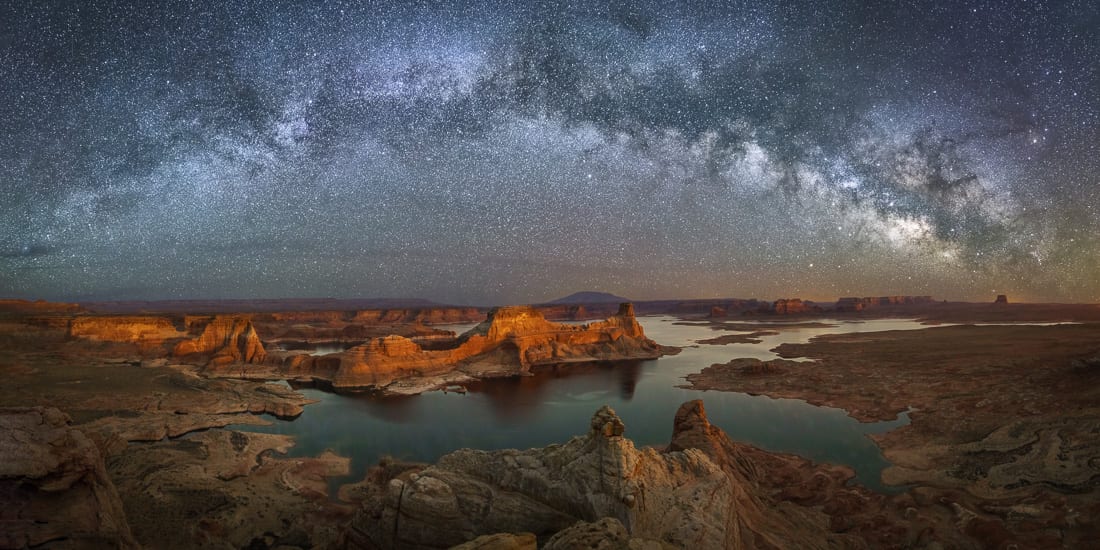 Itinerary
The itinerary if flexible. If skies are clear, we'll focus on night shooting. If storms and clouds are moving through, we'll photograph more during the day. The itinerary below is just an example of what you can expect.
Day 1 (May 12): We meet at 1PM in Kanab for a mandatory introductory session and then pack up for our fully-outfitted overnight camping trip to Alstrom Point! We'll have our hotel rooms in Kanab just in case of bad weather.  It's a rough drive to the point but we are rewarded with beautiful golden light on the distant cliffs at sunset.  We stay out through blue hour to capture the pastel hues.
Day 2 (May 13): With clear skies, we capture Milky Way panos over Lake Powell and then retire to our tents for a few hours of sleep. We enjoy breakfast at Alstrom Point and drive back to Kanab for a well-deserved midday break. We meet in the afternoon for another classroom session and then shoot sunset at the Grand Canyon.
Day 3 (May 14):  If skies are clear, we wake early to photograph the Milky Way at the Great Chamber, one of our signature night locations!  We'll return to the hotel for a few hours of sleep.  In the early afternoon we head out on a slot canyon excursion and then decide as a group where we'll shoot sunset.
Day 4 (May 15):  We'll do a sunrise shoot this morning if we didn't shoot Milky Way the night before. After checking out, we hold another post-processing session and then head further north to the town of Escalante. We check into a beautiful lodge with spacious rooms and then head out to photograh sunset.
Day 5 (May 16):  We get up extra early and capture the Milky Way over some stunning rock formations.  We stay out to shoot sunrise and then return for breakfast.  We take a long midday break to catch up on sleep and hold our final classroom session in the afternoon.  That evening we hit one of our favorite spots. You will love this hole with a tree growing out the middle! Once we're done, we'll hike over to an iconic arch and capture Milky Way panos! Expect a very late arrival back in Escalante.
Day 6 (May 17):  If we didn't shoot Milky Way the night before, we'll do a final sunrise shoot.  Otherwise, we'll checkout of the hotel by 10AM and drive back to Kanab.  The workshop will conclude around noon.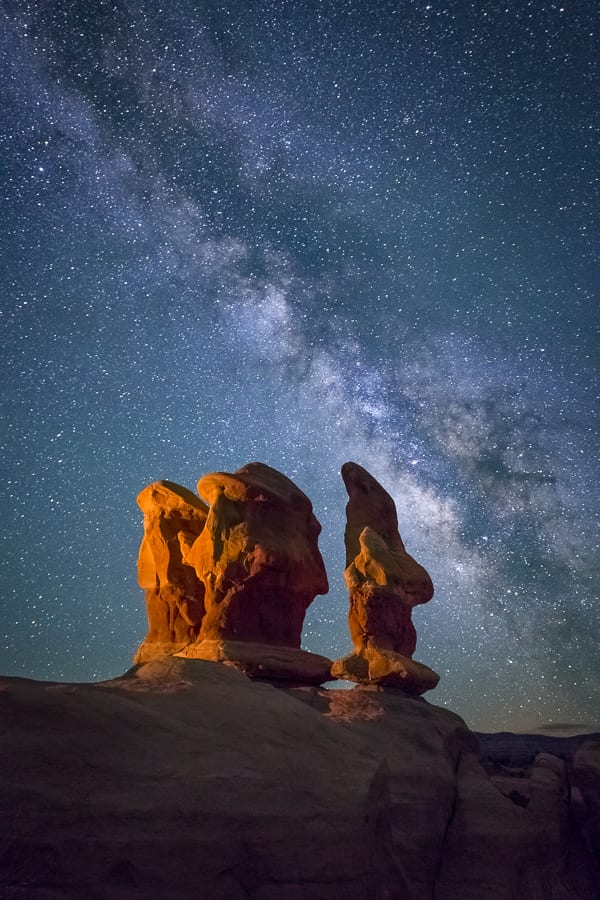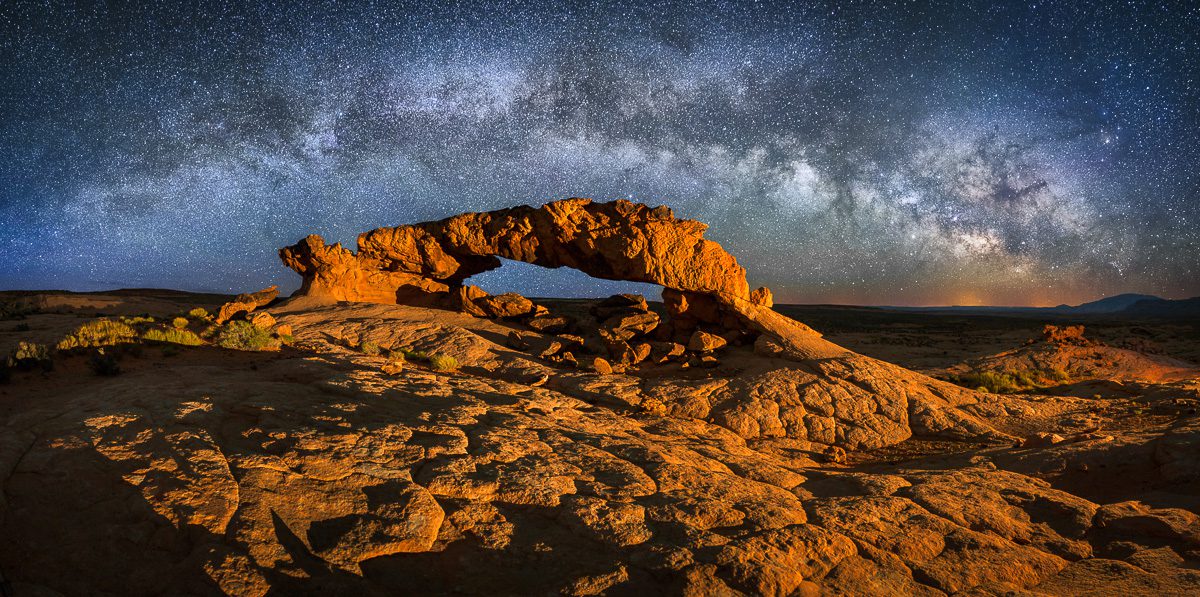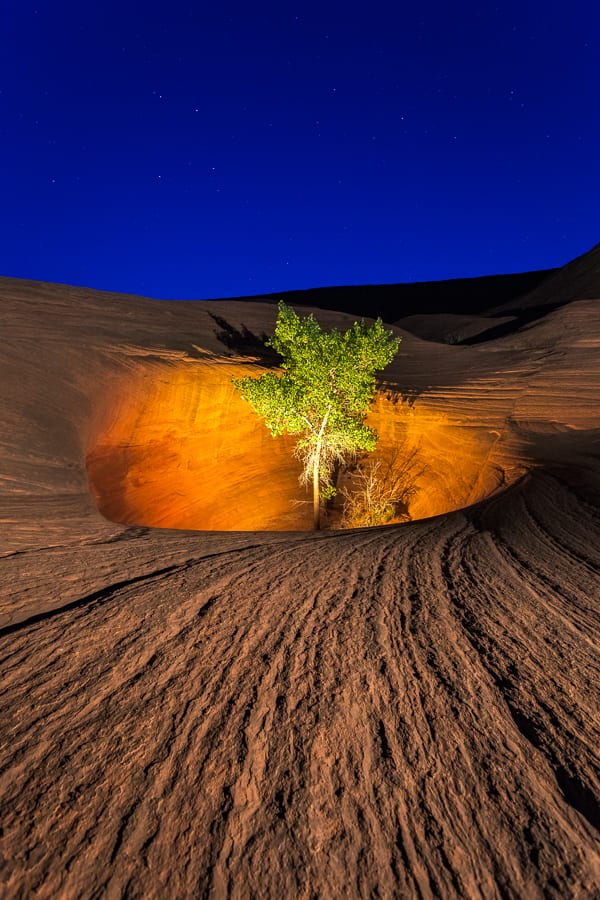 Logistics
Please arrive in Kanab, UT prior to 1PM on May 12 for an orientation session at the Best Western Red Hills. The workshop fee includes 3 nights hotel in Kanab, 2 nights hotel in Escalante, and 1 night of outfitted camping at Alstrom Point.  Our first night is the camping trip but we'll have hotel rooms for everyone in case the weather is bad. This will also allow us to get some midday rest when we return the next day. We will finish the workshop by noon on May 17th, so it's up to you if you want to stay in Kanab that night or head somewhere else.
Participants should have their own vehicle to get to Kanab.  All transportation during the workshop is included.  You may choose to drive your own vehicle between Kanab and Escalante (all paved roads) as that will give you more flexibility in eating options. If you decide to ride with us, luggage space is limited to one suitcase and one camera bag.
All participants on this trip should be in reasonably good physical condition.  We aren't planning any long hikes on this trip, but the uneven terrain, sand, and steep uphills can make short hikes seem much harder.  You should be comfortable walking around 2-4 miles per day.
We timed this workshop for optimal spring Milky Way photography. However, we can't control the weather and if skies are cloudy one day, we'll plan an outing to a different location and focus on sunrise/sunset photography. Don't worry - we'll make the best possible use of our time. Our job is to get you the most stunning photos and help you learn as much as possible!
The weather can vary quite a bit in spring. It could be temperate and sunny with cool nights.  Or it can be windy and rainy. You need to come prepared for the worst conditions. Please bring a warm layer to ensure you don't get cold photographing at night.  Please see the gear list further down.
Pricing
$2700 per Person
Join our Loyalty Program and Save 10%!
Trip Includes:
All ground transportation and photography guiding.
One night fully outfitted camping trip at Alstrom Point.
3 nights lodging in Kanab, UT (Best Western or similar). A hotel night is included during the overnight camp in case of bad weather. That way you can store your belongings and take a nap/shower after the outing.
2 nights lodging in Escalante, UT (Canyon Country Lodge)
Single Supplement is $500
Post-processing and image critique
Lighting equipment and fixtures for night photography.
Meals, beverages, and snacks during the overnight camp excursion.
Instructor Gratuities.
Trip Does NOT Include:
Transportation to/from your home to Kanab, UT and from Kanab to Escalante, UT.
Meals, Beverages, and Snacks except during the overnight camping excursion.
When you complete the checkout process, you will be given the option to either pay the full amount or put down a 50% deposit.  If you pay the deposit, the remaining amount will be charged 90-days prior to arrival to the credit card we have on file.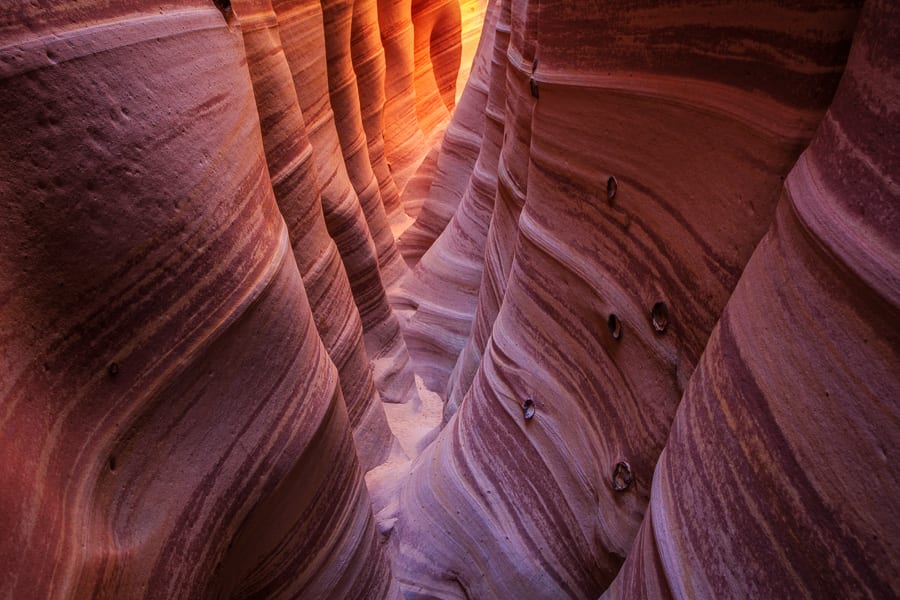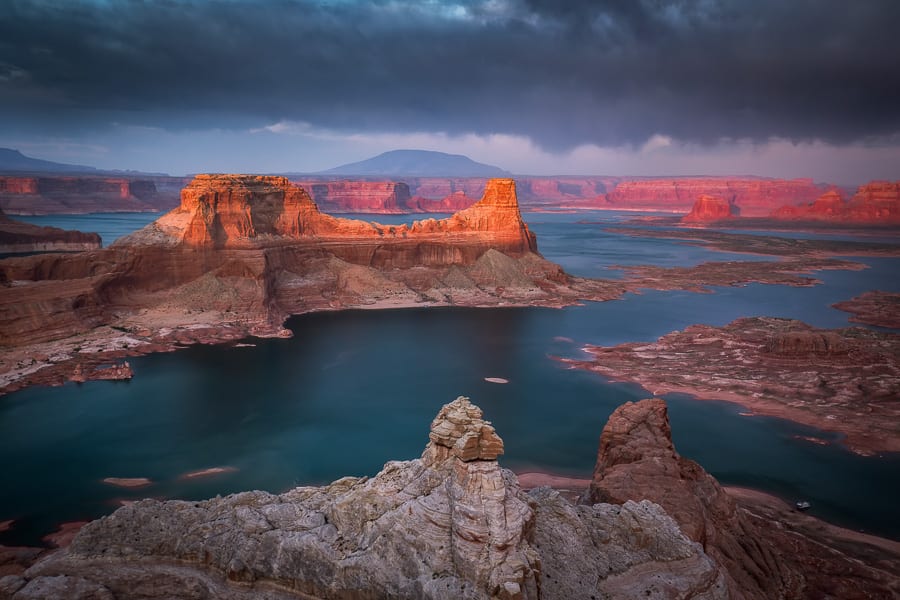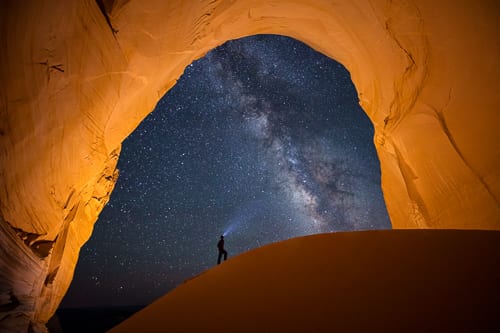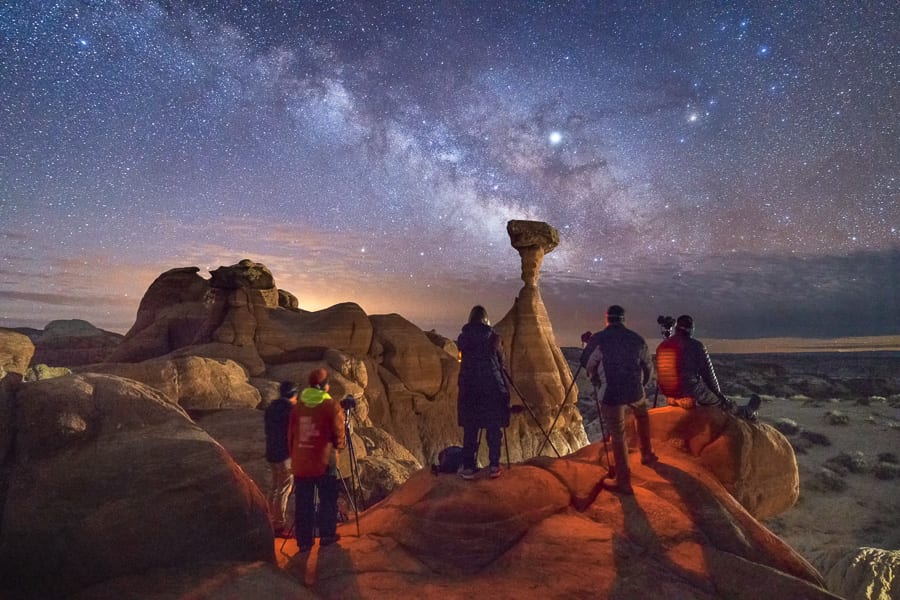 Recommended Camera Gear
Sturdy tripod and ballhead
Digital SLR or Mirrorless Camera Body.
Fast Wide Angle Lens. Our favorite night photo lenses include Tamron 15-30mm f2.8, Rokinon 14mm f2.8, Nikon 14-24mm f2.8, and Canon 16-35mm III f2.8.
Mid-range zoom lens in the range of 24-100mm.
Telephoto lenses will come in handy if we go to Bryce and Lake Powell.
Circular polarizer filters are useful.  Bring any ND filters if you have them.
Extra batteries, memory cards, and cleaning supplies.
Remote cord for your camera. An intervalometer will be especially useful for doing long exposures at night.
Laptop if you wish to backup your photos or follow along during the post-processing instruction.
We may be able to rent you gear if you don't have everything you need.
Personal Gear List
Sturdy hiking footwear, hiking socks, and long pants .
A rain jacket and several warm layers since it can get cold at night.
Headlamp for night photography.
Sunscreen, Sunglasses, Hat.
Water bottle or hydration bladder.
Hiking poles if you like having them.
Nickolas Warner
Photography Instructor
Nickolas Warner is an award-winning photographer with recognition by the Epson Pano Awards, International Landscape Photographer of the Year, and Outdoor Photographer. He has a particular interest in extreme and unusual locations.  His travels have taken him to some fascinating locations, but the American Southwest is his favorite place to photograph.
Nickolas spent the past decade guiding in Alaska, where he provided instruction on photographing the aurora borealis, and shared his knowledge of the far north's rugged terrain and resilient wildlife.
When not guiding, Nickolas enjoys long distance hiking and extended backpacking trips through remote wilderness areas.
Nickolas's portfolio can be found at Nickolas Warner Photography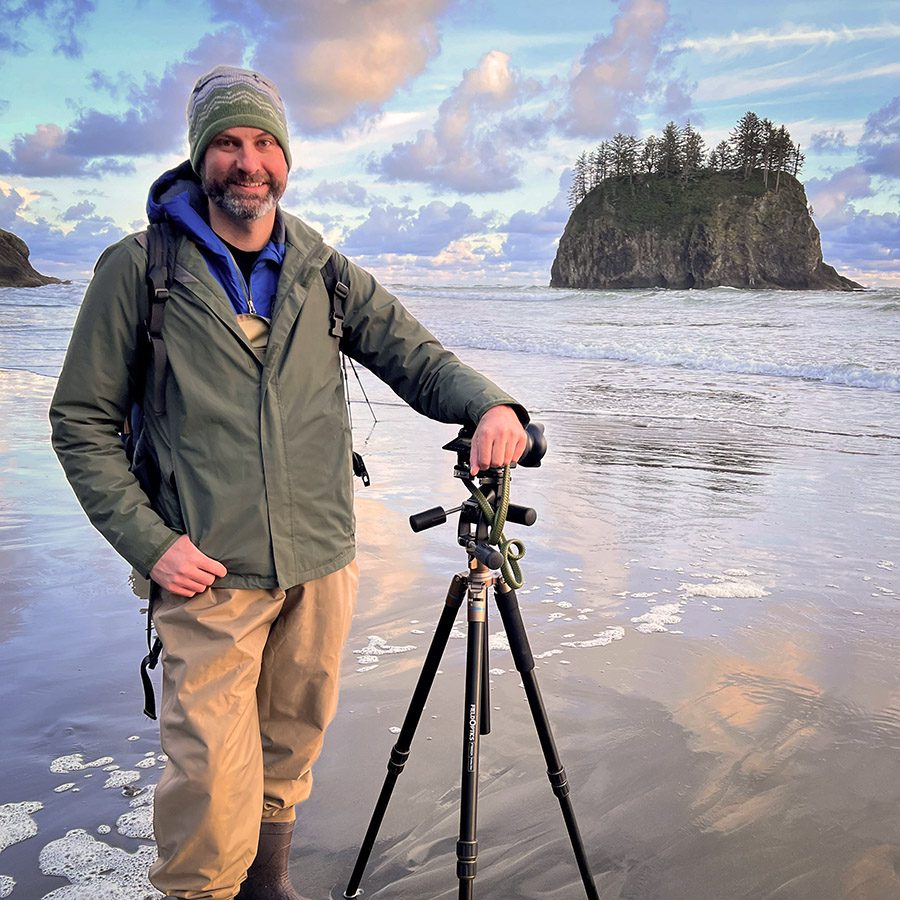 Ryan McGinty
Photography Instructor
Ryan McGinty is a seasoned landscape photographer living in the Palouse area of southeastern Washington.  His first-hand experience in this unique agricultural area makes him the perfect instructor to lead people to out-of-the-way places for those once-in-a-lifetime rainbows, sunsets and sunrises in the beautiful rolling hills. He loves chasing the light and diligently checks weather apps to get the latest sun and rain predictions, cloud formations, wind and temperatures for the best locations and light.
His interest in photography started at an early age and continued in college with graduate work at Brooks Institute of Photography.  His experience in portrait, wedding, film, and medium and large format photography give him an extraordinary background for his award-winning landscape photography.
His passion for the Palouse is only exceeded by his passion for photography and his desire to show people his favorite places.  He takes a legitimate interest in his clients and strives hard to ensure they get the best shots. His photographs have been published in books, calendars and travel guides.