April 30-May 5, 2022 - Sold Out!!
Venture deep into Utah's Grand Staircase Escalante and capture brilliant panoramic images of the Milky Way under some of the darkest skies in the country! Trip includes a fully outfitted camping trip to White Pocket along with single-occupancy hotel rooms. This workshop is rated Moderate for hiking and physical intensity with 2-4 miles of hiking per day.
$2995

Includes 4 Nights Single Occupancy Lodging & 1 Night Fully Outfitted Camping

50% Deposit
4 Students per Instructor
Max 8 Students
Johnny Adolphson
Nickolas Warner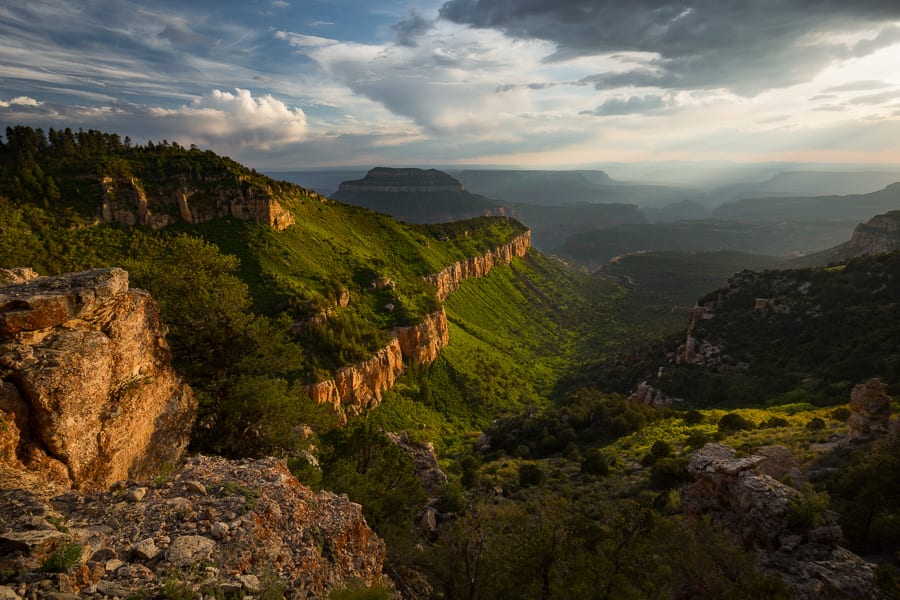 Highlights
Spring is the best time to photograph the desert southwest. Temperatures are moderate and there is greenery and wildflowers to enjoy.
The Milky Way is visible during most of the night which allows us to create brilliant landscape images and panoramics.  You will learn both natural light and low-level lighting techniques for foreground enhancement.  We'll be shooting every night the skies are clear.
The Grand Staircase has been determined by ambient light measurements to be the darkest sky location in the lower 48 states!  You will photograph many iconic, yet hard to reach locations within the monument. Expect some rough 4x4 transportation and moderate hiking.
Post-processing and image critique sessions will be scheduled throughout the workshop to help make the most of your images.
The itinerary is kept flexible so we can chase the best weather conditions. We have permits to guide in many locations in the Southwest so we have many options.
Itinerary
The itinerary if flexible. If skies are clear, we'll focus on night shooting. If storms and clouds are moving through, we'll photograph more during the day. The itinerary below is just an example of what you can expect.
Day 1 (Apr 30): Meet at 1PM at the Best Western in Kanab for a mandatory introductory session. Afterwards, we drive up to the town of Escalante, UT. Since clouds are looking good, we find some great comps in and among some strange rock formations.  We stay out after dark to light up and photograph these rocks. Fortunately, the clouds clear later in the evening revealing the Milky Way!
Day 2 (May 1):  Today we do a post-processing session in the morning. In the afternoon, we venture out to a slot canyon or two and then hit one of our favorite spots. You will love this hole with a tree growing out the middle! Once we're done, we'll hike over to an iconic arch and capture the Milky Way rising above.  Expect a very late arrival back in Escalante.
Day 3 (May 2):  In case the skies didn't cooperate for night shooting the day before, we'll shoot sunrise as a group and then make our way back to Kanab, UT. With clouds in the forecast, we venture into Zion for our sunset shoot.
Day 4 (May 3):  We get up early to catch the sunrise and then regroup for another afternoon post-processing session. After that we shoot sunset at a spectacular viewpoint that is rarely photographed.  Since skies are clear, we decide to shoot Milky Way at the Great Chamber - one of our signature Milky Way locations. We return to town around 3AM.
Day 5 (May 4):  We have our final post-processing session today. for our fully outfitted overnight camping adventure to White Pocket! After shooting sunset, we return to camp for dinner and catch a few hours of sleep.
Day 6 (May 5):  We awake at 2AM and hike out in the dark to capture the brilliant Milky Way in the dark skies above White Pocket!  We return to camp for breakfast and coffee and then head back out to shoot sunrise.  After we break camp, we head back to Kanab for our final group lunch and reluctantly say goodbye to all the new friends we have made!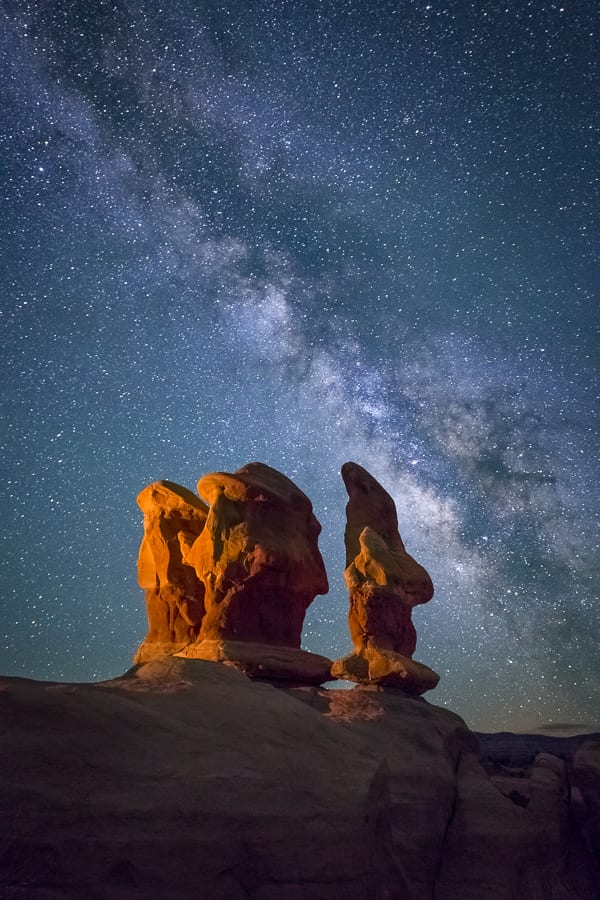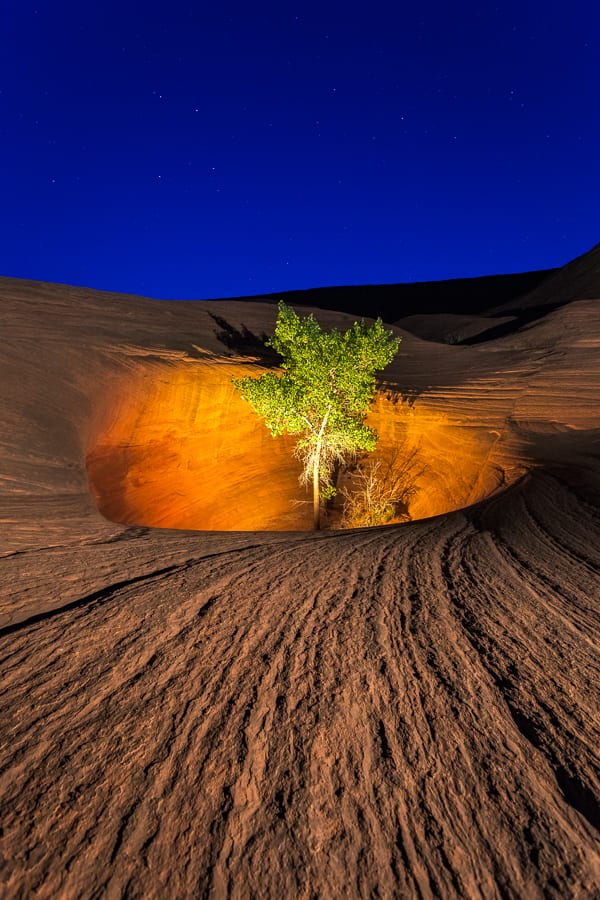 Logistics
Please arrive in Kanab, UT prior to 1PM on April 30 for an orientation session at the Best Western Red Hills. The workshop fee includes 2 nights hotel in Kanab, and 2 nights hotel in Escalante. and 1 night of outfitted overnight camping at White Pocket.  We will finish the workshop by noon on Thurs, May 5, so it's up to you if you want to stay in Kanab that night or head somewhere else.
Participants should have their own vehicle to get to Kanab.  All transportation during the workshop is included.  You may choose to drive your own vehicle from Kanab to Escalante on Days 1 and 3 as that will give you more flexibility in eating options. If you decide to ride with us, luggage space is limited to one suitcase and one camera bag.
All participants on this trip should be in reasonably good physical condition.  We aren't planning any long hikes on this trip, but the uneven terrain, sand, and steep uphills can make short hikes seem much harder.  You should be comfortable walking around 2-4 miles per day.
We timed this workshop for optimal spring Milky Way photography. However, we can't control the weather and if skies are cloudy one day, we'll plan an outing to a different location and focus on sunrise/sunset photography. Don't worry - we'll make the best possible use of our time. Our job is to get you the most stunning photos and help you learn as much as possible!
The weather can vary quite a bit in spring. It could be temperate and sunny with cool nights.  Or it can be windy and rainy. You need to come prepared for the worst conditions. Please bring a warm layer to ensure you don't get cold photographing at night.  Please see the gear list further down.
Pricing
$2995 per Person
Double Occupancy Discount: $300/person
Trip Includes:
All ground transportation and photography guiding during the trip.
One night fully outfitted camping trip at White Pocket.
2 nights lodging in Kanab, UT (Best Western or similar).
2 nights lodging in Escalante, UT (Canyon Country Lodge)
Post-processing and image critique
Lighting equipment and fixtures for night photography.
Final Group Lunch.
Trip Does NOT Include:
Transportation to/from your home to Kanab, UT and from Kanab to Escalante, UT.
Alcoholic Beverages.
Meals and snacks.
When you complete the checkout process, you will be given the option to either pay the full amount or put down a 50% deposit.  If you pay the deposit, the remaining amount will be charged 90-days prior to arrival to the credit card we have on file.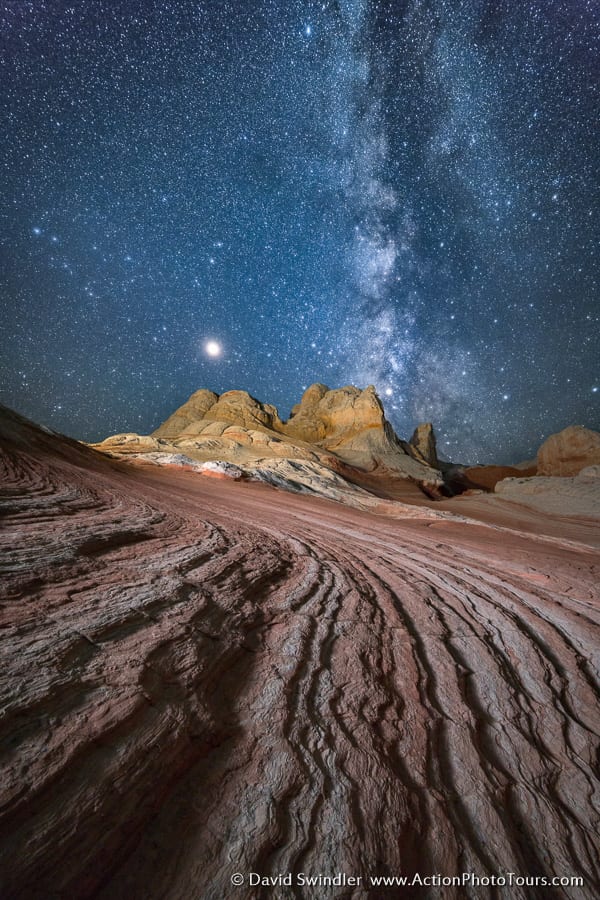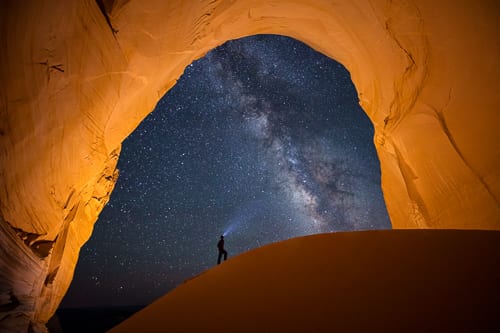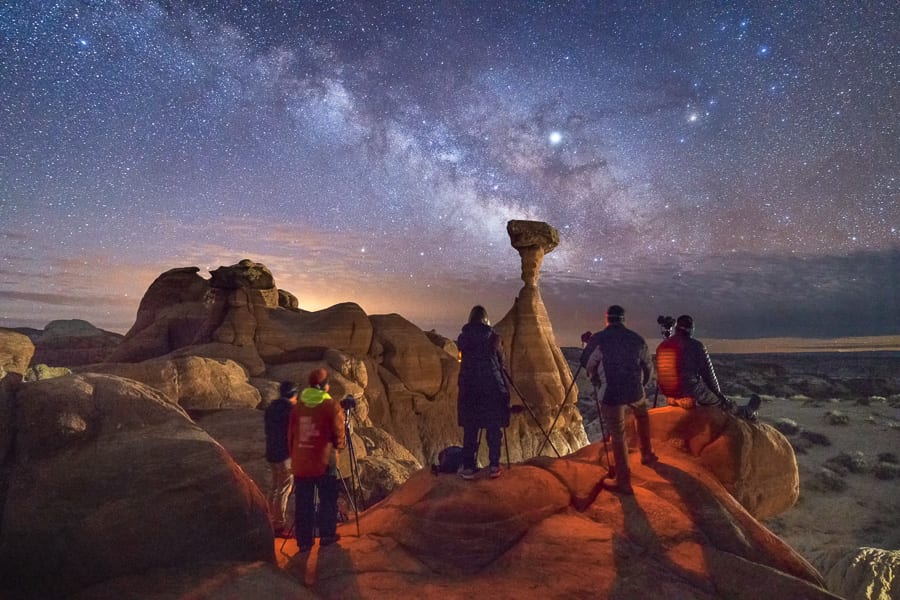 Recommended Camera Gear
Sturdy tripod and ballhead
Digital SLR or Mirrorless Camera Body.
Fast Wide Angle Lens. Our favorite night photo lenses include Tamron 15-30mm f2.8, Rokinon 14mm f2.8, Nikon 14-24mm f2.8, and Canon 16-35mm III f2.8.
Mid-range zoom lens in the range of 24-100mm.
Telephoto lenses will come in handy if we go to Bryce and Lake Powell.
Circular polarizer filters are useful.  Bring any ND filters if you have them.
Extra batteries, memory cards, and cleaning supplies.
Remote cord for your camera. An intervalometer will be especially useful for doing long exposures at night.
Laptop if you wish to backup your photos or follow along during the post-processing instruction.
We may be able to rent you gear if you don't have everything you need.
Personal Gear List
Sturdy hiking footwear, hiking socks, and long pants .
A rain jacket and several warm layers since it can get cold at night.
Headlamp for night photography.
Sunscreen, Sunglasses, Hat.
Water bottle or hydration bladder.
Hiking poles if you like having them.
Johnny Adolphson
Johnny is a published landscape/fine art photographer living in Heber City, Utah.  His award winning art can be found on the walls of clinics, hospitals, airports, hotels, restaurants and private homes throughout Northern Utah. In addition to being a photography guide, Johnny spends the winter months working as a powder ski guide.  His years as a wildland firefighter show in his exceptional backcountry navigation and survival skills.
With landscape photography being Johnny's passion, he spends the majority of his free time exploring Utah's vast wilderness areas in search of hidden gems and new photo ops. Johnny is intimately familiar with the Wasatch and Uinta mountain ranges of Northern Utah as well as the the deserts of Southern Utah. Johnny loves to share his passion for photography with others.
See more of Johnny's work below and be sure to follow him on Instagram:
Nickolas Warner
Nickolas is a photographer and tour guide with a particular interest in extreme and unusual locations.  His travels have taken him to some fascinating locations, but the American Southwest is his favorite place to photograph.
Nickolas spent the past decade guiding in Alaska, where he provided instruction on photographing the aurora borealis, and shared his knowledge of the far north's rugged terrain and resilient wildlife.
When not guiding, Nickolas enjoys long distance hiking and extended backpacking trips through remote wilderness areas.
Nickolas's portfolio can be found at Nickolas Warner Photography