Alaska Brown Bears Photo Workshop
July 7-13, 2024 - Sold Out!
The Alaska Brown Bears Photo Workshop takes place deep in Katmai National Park. During this all-inclusive workshop we'll be staying in a remote backcountry lodge on the shores of a beautiful lake. Each day we'll don our chest waders and fly out to a new location, allowing us to photograph the brown bears in many different environments! The dates are timed for peak salmon runs in many river corridors throughout Katmai. We will be able to capture bears fishing, clamming, and foraging in the sedge meadows. Short walks of 2-4 miles will be required to reach the shooting locations.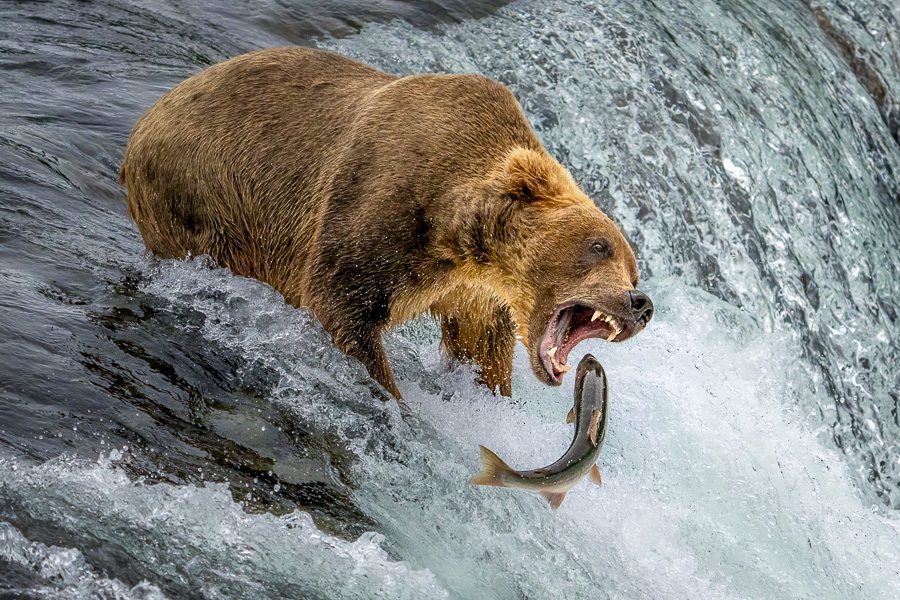 Highlights
With a population of more than 2000 brown bears, Alaska's Katmai National Park is a premier location to photograph and observe these majestic creatures in their natural habitat.
Exclusive daily charter flights from our remote wilderness lodge will allow us to photograph the bears in many different environments. Bald eagles, wolves, and foxes may also join in the fun!
Dates are timed for peak salmon runs in many of Katmai's rivers.
All-inclusive workshop with 5 nights lodging and all meals included.
Pro instructor David Swindler will help you get the best possible shots.  Expect plenty of individual attention with a small group of 5 people.
Post Processing Instruction and Image Review sessions will be scheduled throughout the workshop.
Itinerary
Due to the unpredictability of weather in Alaska, the itinerary below is subject to change.  We will optimize our time to give you the best possible bear photography experience.
Day 1 (July 7): Optional arrival day in Anchorage.  If arriving today, you will be responsible for your overnight lodging. About a month prior to the workshop we will hold a zoom meeting with all participants to ensure you are setup for success.
Day 2 (July 8):  We will meet at 7AM at Merrill Field near downtown Anchorage for our flight to the wilderness lodge. The flight is absolutely breathtaking as we pass over mud flats, sedge meadows, glaciers, and jagged peaks! Once there, we get fitted into our chest waders, grab our lunches, and  immediately fly out for our first photo shoot at the infamous Brooks Falls!  We'll shoot the bears as they catch fish at the falls and also walk the river to get eye-level shots.  We'll return for a late dinner at the lodge.
Day 3 (July 9):  We convene for an early morning image critique and classroom session. After breakfast, we load up in the float plane.  We fly over snow-capped volcanos, huge glaciers, and lakes. We spend the day photographing brown bears against a stunning mountain backdrop as they are foraging, clamming, and caring for their small spring cubs.
Day 4 (July 10):  After another morning classroom session, we fly out to remote location far away from other people.  The bears are busy doing their thing as we walk the creek and chase after the spawning salmon.  We get some incredible action shots.  Time flies and before we know it it's time to fly back to the lodge for dinner.
Day 5 (July 11):  With the potential for bad weather in the afternoon, we fly out very early today. We land on a small river where we are greeted by a guide in a small boat.  He transports us to some remote mud flats where we observe several bear families clamming. We get lots of shots of the curious cubs as they cautiously check us out! by mid-afternoon we return to the river and boat back to the plane.
Day 6 (July 12):  We meet for a final image critique session before flying out to another river with spawning salmon.  We photograph numerous bears and family groups in the river corridor. The small spring cubs are a highlight as they wrestle and fight with each other. We return late to the lodge for our final dinner.
Day 7 (July 13):  After breakfast we pack up our gear and return to the airport for our flight back to Anchorage.  The workshop will conclude by noon after we land at Merrill Field.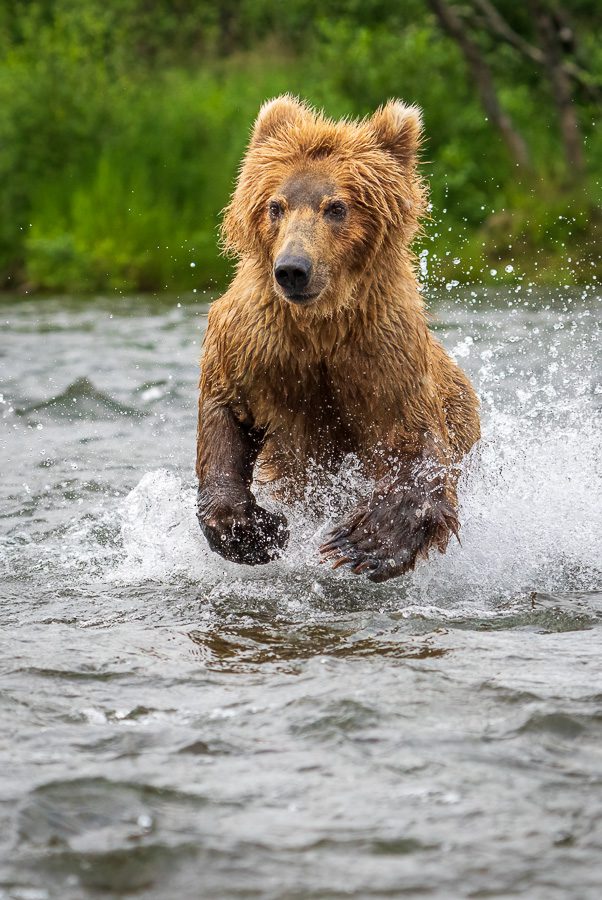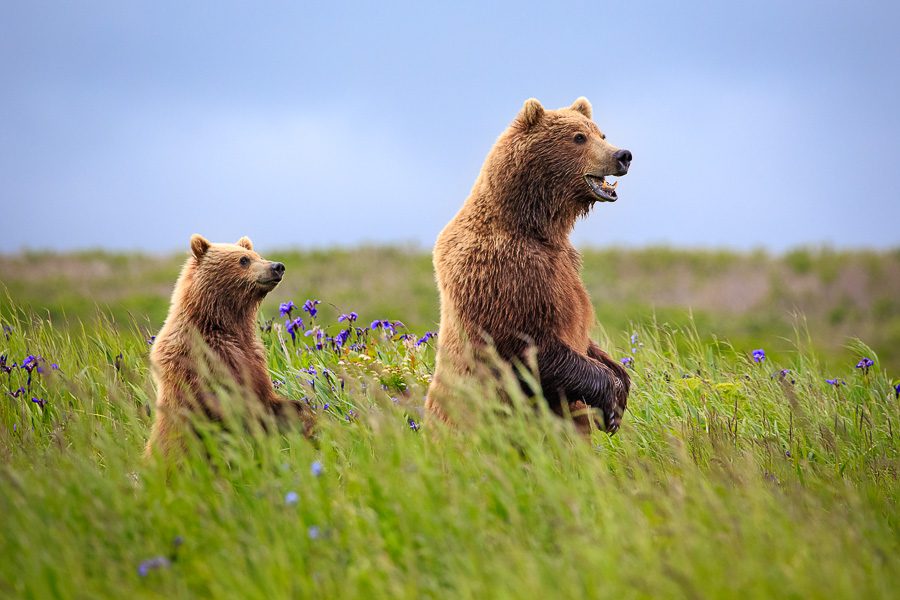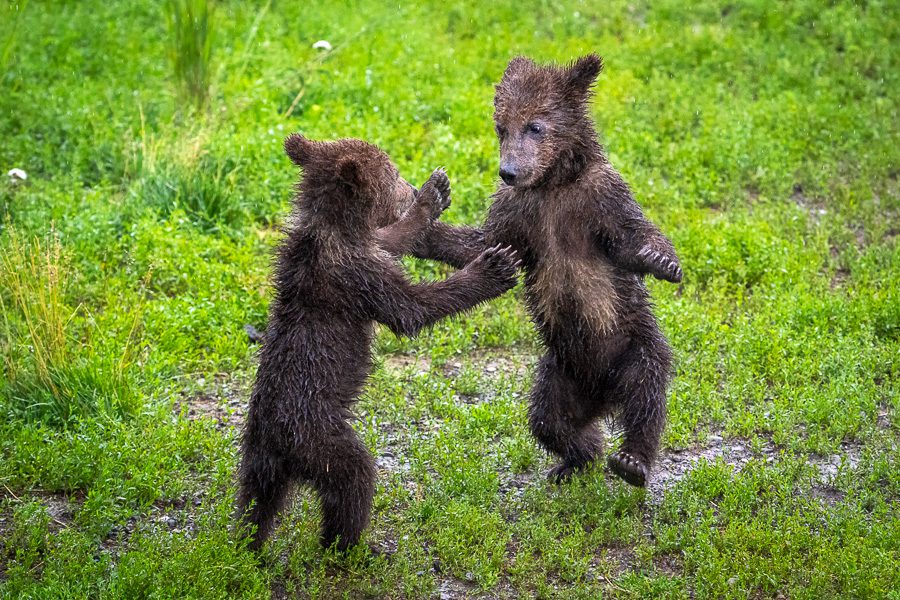 Logistics
You will need to arrive at Merrill Field in Anchorage by 7AM on July 8th.  You can either choose to arrive on the 7th and stay overnight in Anchorage or arrive on a red-eye flight the morning of the 8th.  Our flight to the wilderness lodge departs at 8AM.  Each person gets 50 lbs of gear for free.  Additional weight is charged at $1/lb.  Information on how to book your flight to/from the lodge will be sent after the 2024 schedules and pricing are available. The round trip ticket is usually around $550.
To protect your investment in this trip, we STRONGLY suggest you purchase Travel Insurance.  We have partnered with Squaremouth, a website that allows you to compare policies from multiple providers to choose the best one for you.
The lodge we are staying out is on the shores of a beautiful lake and is very remote.  Do not count on having Wifi, cell signal, and the like. Also, do not expect luxury-style accommodations. The rooms are spacious but basic (see photos in the lodge section below).  The base price assumes double occupancy. Single rooms are available for an additional fee. Delicious gourmet meals are provided by the in-house chef.  Lunches are of the sack-lunch variety as we will be out in the field.
We will have five full days of bear photography where our pilot will fly us to a location of our choosing.  This will allow us to visit new locations each day.  We will also be able to access places where other people don't go.  The pilots and guides at this lodge know the locations and bears intimately.
In lieu of an in-person orientation session, we will hold a zoom meeting with all participants prior to the trip to answer questions and ensure you are setup for success.  We don't want any last minute surprises before running to the airport!  Once we have the flight info for next year, we will email you detailed information along with checklists for clothing and gear to bring.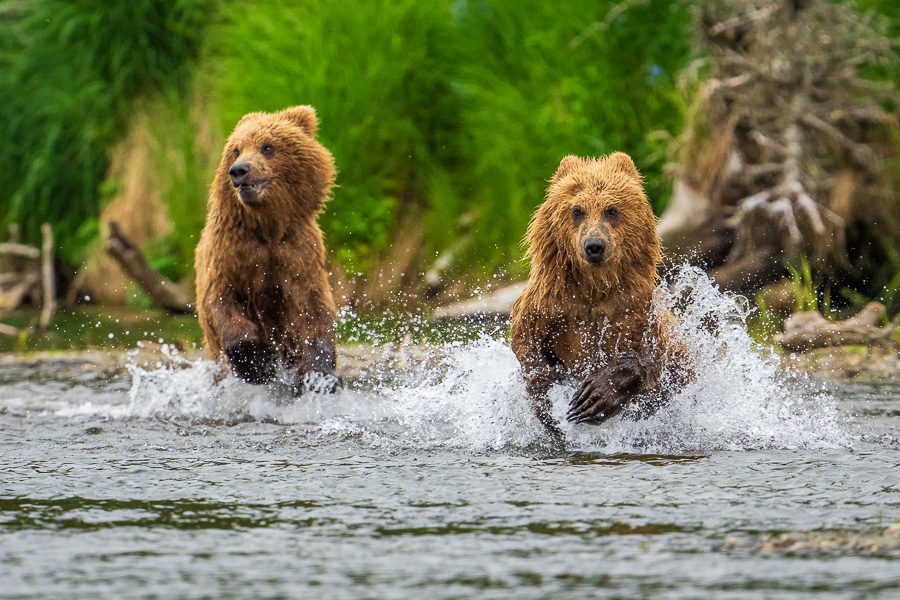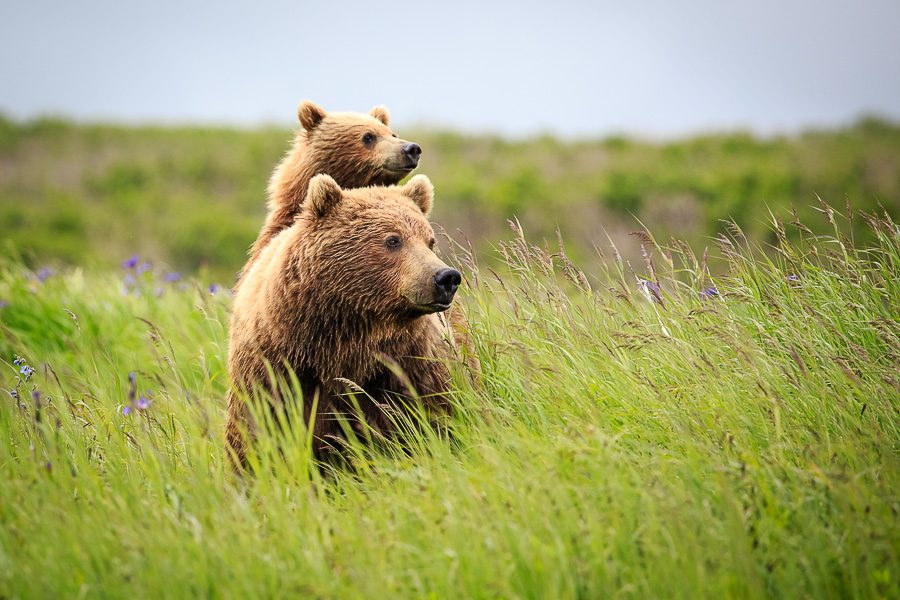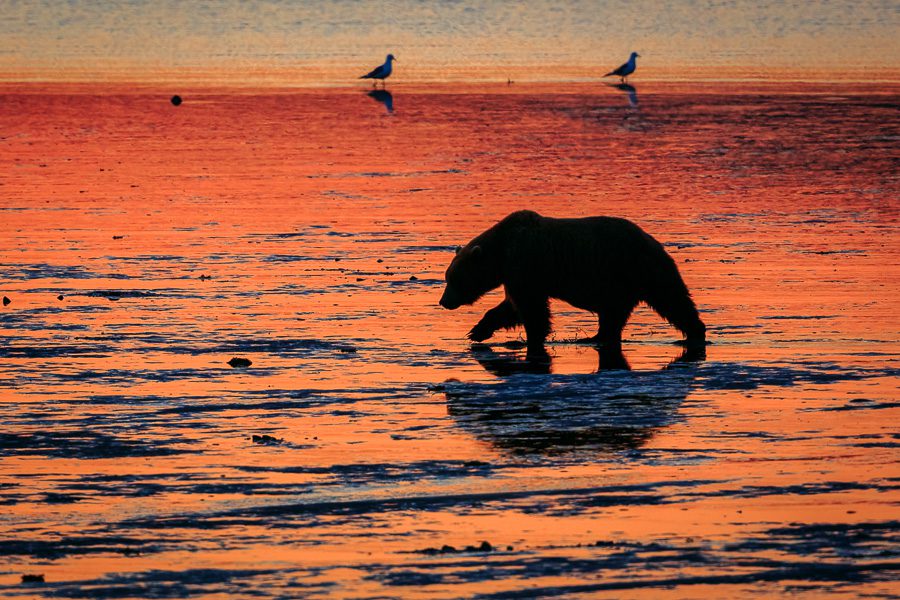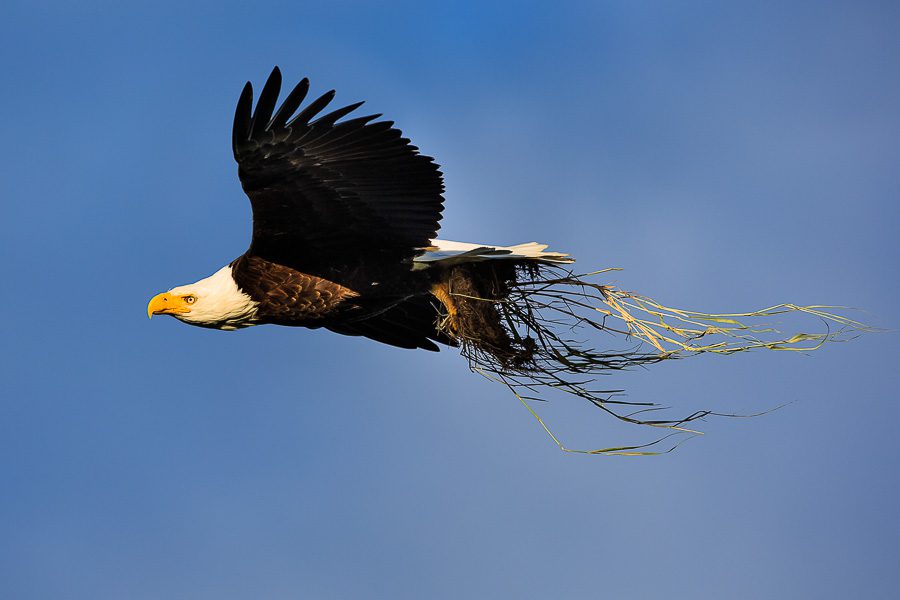 **Flying is always subject to the weather.  In the event of bad weather, our outings may be delayed.  If we cannot fly at all, we will schedule an alternate location/activity for that day.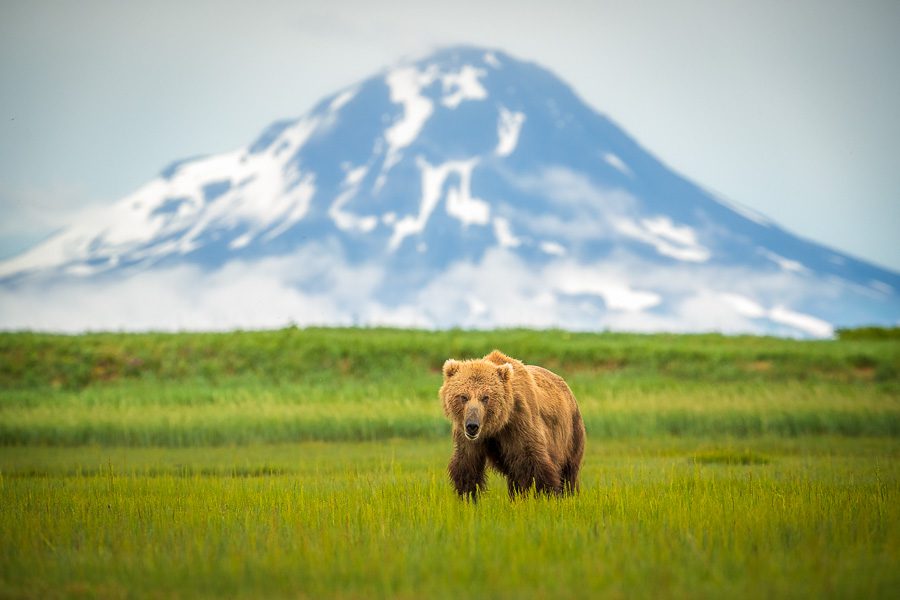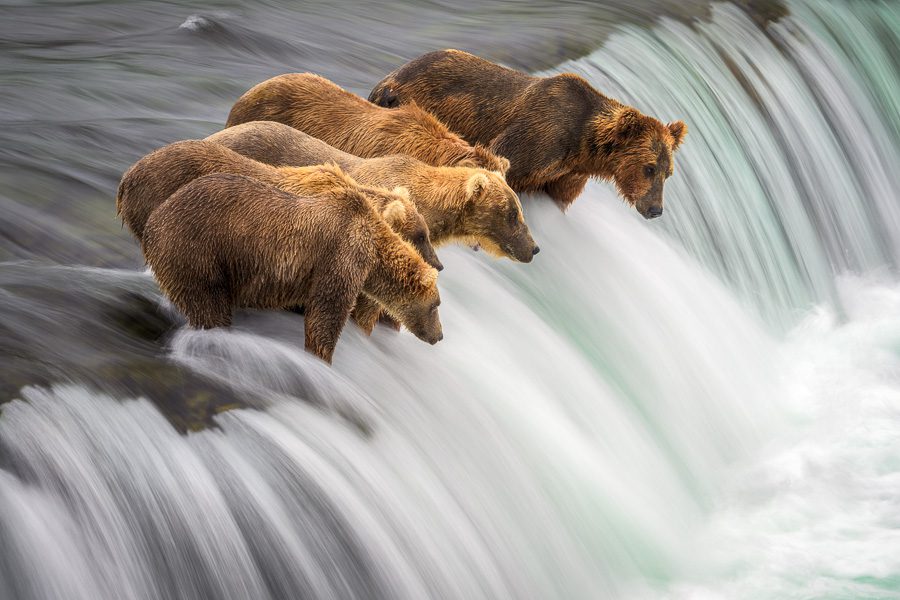 Pricing
$9995/person + Tax
Loyalty Program Members Get $500 Off!
Trip Includes:
5 nights double-occupancy lodging at the wilderness lodge.  Single-occupancy rooms available for an additional $1000.
Exclusive charter flights over 5 days to different bear viewing areas.
All meals, snacks, and non-alcoholic beverages.
In-field photography instruction and guiding.
Chest waders
Post-processing and image critique
Trip Does NOT Include:
Transportation to/from your home to Anchorage, AK.
Flight to the Wilderness Lodge. The 2023 ticket was around $550/person. We won't have 2024 prices until sometime in early 2024.
Alcoholic beverages.
Gratuities for Instructors, Local Guides and/or Drivers.
When you complete the checkout process, you will be given the option to either pay the full amount or put down a 50% deposit.  If you pay the deposit, the remaining amount will be charged 90 days prior to departure.  See the full Terms and Conditions.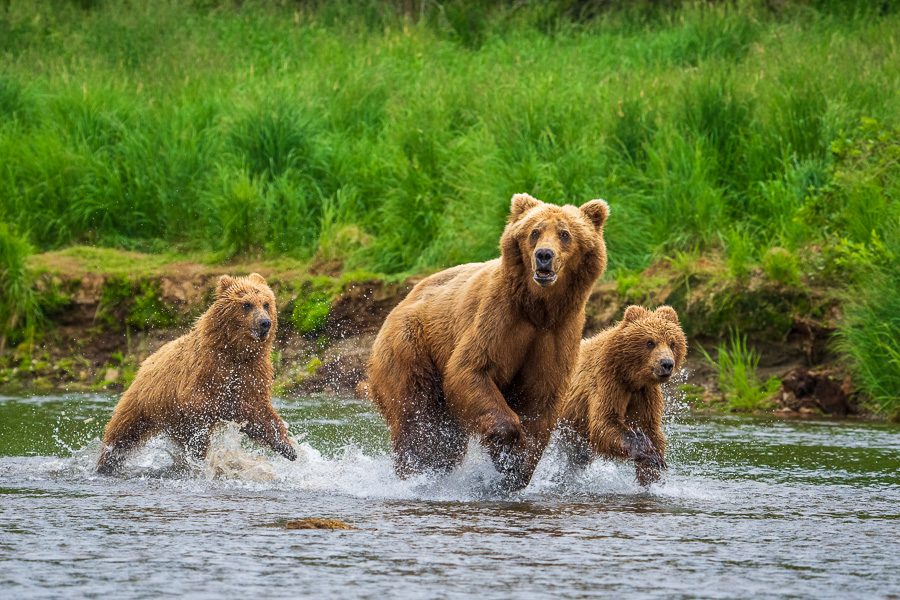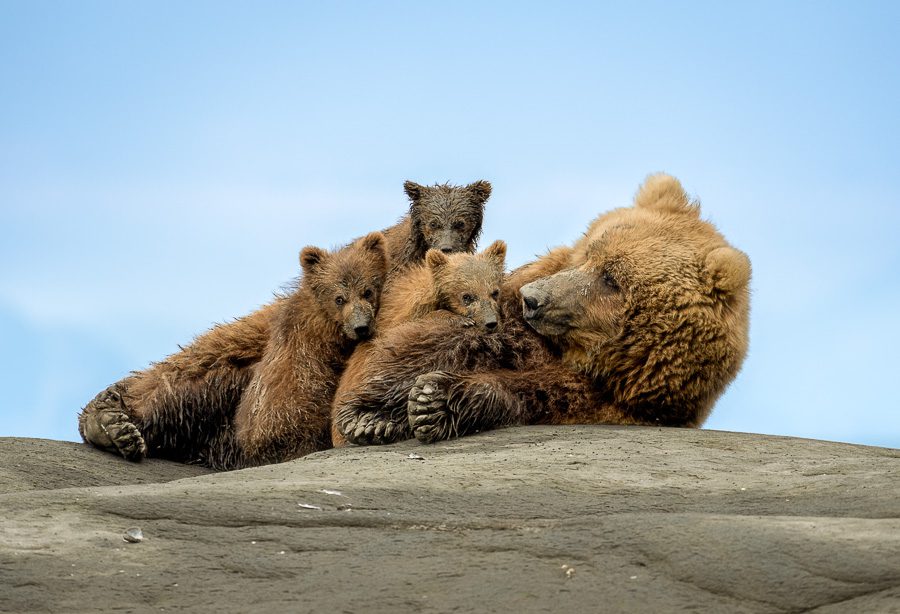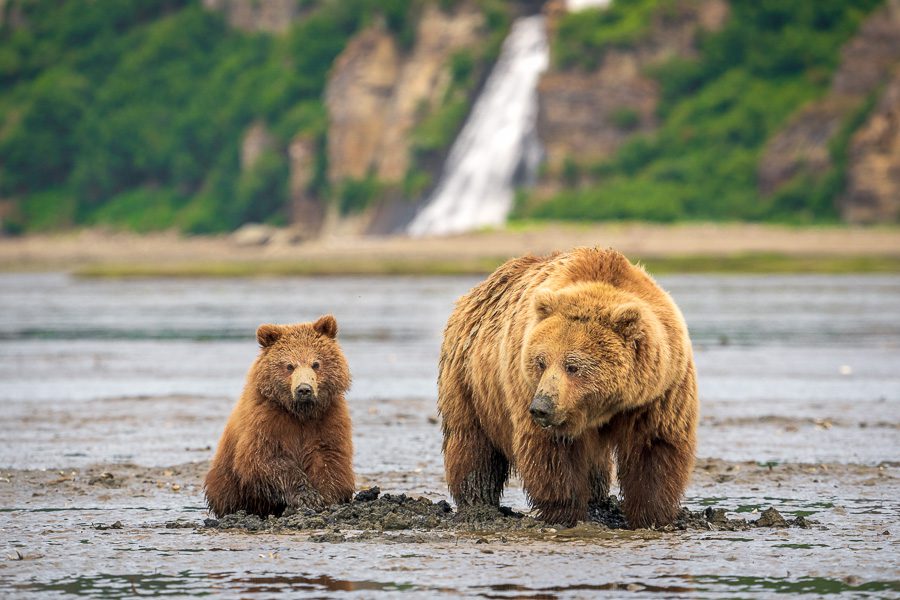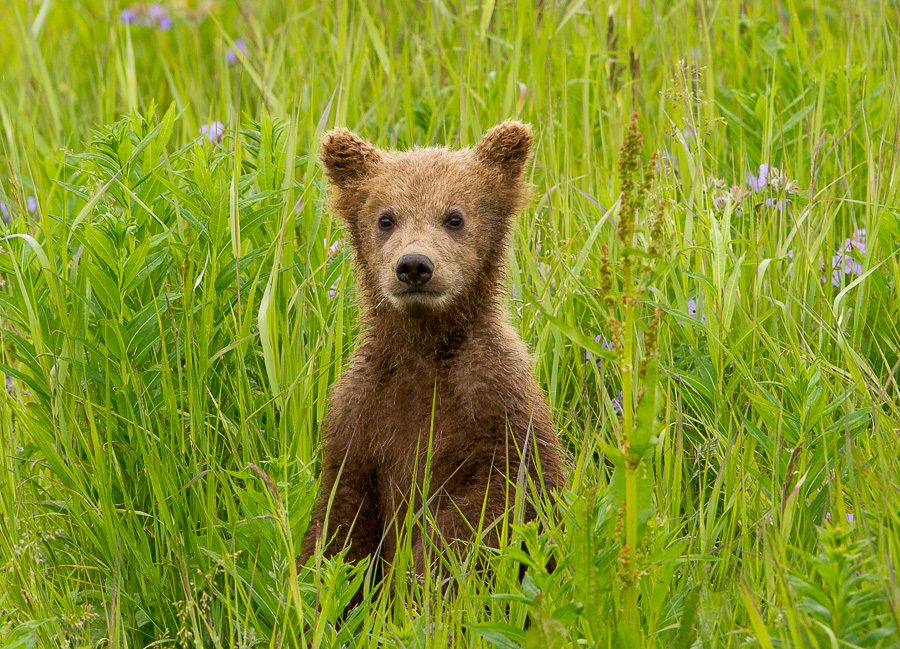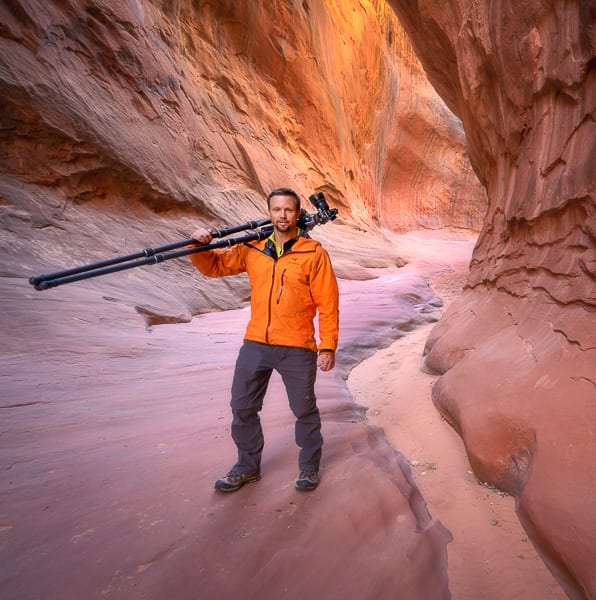 David Swindler
Founder - Photography Instructor
David Swindler is an award-winning landscape and wildlife photographer. Among others, he has been recognized by the International Photography Awards, Siena International Photo Awards, Sony World Photography Awards, International Landscape Photographer of the Year, and National Geographic. He received a degree in chemical engineering and worked in the semiconductor industry specializing in optics and photolithography. In 2014, he left his day job to follow his true passion. He has traveled to some of the most remote regions of the world and has extensive experience photographing a wide variety of subjects and conditions. As the founder of Action Photo Tours, he finds great satisfaction in helping others learn photography, especially in the wild desert environment near his home in Kanab, UT. David is an expert in night photography and loves to get out and shoot the starry night skies.
Gallery    Awards and Media Coverage
Having guided photo tours for years, David is very familiar with many different types of cameras.  He is a master with light and composition. But most importantly, his dedication to his clients is what really sets him apart! But don't take our word for it - read what others are saying: Trip Advisor.
You Might Also Be Interested In: