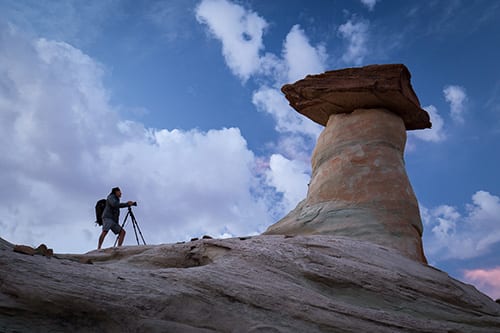 What Sets You Apart From Other Outfitters in the Area?
At Action Photo Tours, we cater directly to the needs of photographers. We schedule our trips around the best light and provide photo instruction in the field. Our private trips are fully customizable to ensure each participant gets the most educational and enjoyable experience possible. We keep our group sizes small. On the flip side, our competition will usually take you out in the middle of the day when the light isn't ideal. In addition, they typically don't have the photo expertise to teach you in the field.  Our hope is that you'll want to book many more tours with us!
If you have any doubts, read what our past clients are saying about our services:  Testimonials
A Photo Tour is one where photography is the primary objective. This means we'll either be getting up early or going to bed late as we chase the best light. We also give you invaluable photo instruction in the field, assisting you with your compositions and mastering the technical details. Everyone from beginner to advanced can benefit from this. If you like adventure, exploration, and taking stunning photos, then you'll have a great time on these trips!
Southern Utah & Northern Arizona are full of great photo locations - many of which are far from the typical tourist circuit. We've listed a few of the most popular spots here: Utah Photo Tours
There are myriad other places we can go that we haven't listed on the webpage. This is because we either don't want to disclose the locations or because we just don't get much demand for them. Just ask us if you're interested in alternative options - we love to get off the beaten path!
What Level of Photographer Do I Need to Be?
We take all types from beginners who are just learning to use their cameras to advanced users who want to hone and refine their skills. Whatever level you're at, we'll help you learn and enjoy the art of photography. With our small group sizes, you'll get plenty of individualized attention.
What Type of Camera Should I Bring?
We ask all participants to bring a digital camera along with a tripod. We'll work with all types of cameras. However, for the highest quality shots, we recommend bringing a digital SLR camera with a couple detachable lenses. Wide-angle lenses are the most useful for desert photography. Specific gear recommendations are covered in our Ebook. Please note that we do not specialize in film photography. You can bring a film camera if you like, but we won't be able to offer you the same level of instruction as the digital shooters.
If you want to rent camera gear, we recommend www.BorrowLenses.com. You can use this link to get a discount code for your rental: http://borrowlenses.com/discount/ACTIONPHOTOTOURS
Absolutely!  With constantly changing weather and road conditions, we may need to modify our plans.  In the event we can't go to the primary location, we have an entire arsenal of alternate locations we can hit. We have lots of experience in this area and you'll be happy with your alternate experience.
Do You Have the Proper Permits & Emergency Gear?
Great question.  Yes, we are authorized permit holders for the National Parks and BLM Lands we visit. We carry commercial auto insurance in addition to a general liability policy. All our guides are CPR & First Aid certified and we carry an emergency satellite beacon just in case. You are covered & protected on our trips.
What Is Your Cancellation Policy?
See our full Terms and Conditions for the cancellation policy.
If you must cancel a reservation, contact us as soon as possible. We are usually pretty relaxed when it comes to cancellations and will do all we can to be able to refund your deposit as long as we didn't have to turn away other clients on those days. Any cancellations must be sent in writing so that we have record of it. Email is preferred.
Should I Have Trip Insurance?
We highly recommend having your own trip insurance in the event something unexpected happens. This will cover any portion of your deposit we are unable to refund in case you have to cancel.
How Difficult Are the Trips?
We are operating in many remote desert locations and there are many environmental hazards to be aware of:
Extreme heat in summer
Freezing temps in the off-season
High winds and blowing sand
Thunderstorms & Flash Floods
Steep, off-camber terrain
Flash floods
And Much More
For each trip, we list the difficulty rating.
Easy: Motorized transport to the photo locations and only short walks required. May involve periods of standing or crouching.
Moderate: Mix of motorized transport and short hikes (2-4 miles max).
Strenuous: Long hikes and or backpacking. Good level of physical fitness is needed as we'll be on our feet most of the day.
It is important that all participants have decent mobility and physical fitness since very few of the places we visit are deemed "accessible."
Do You Combine Trips With Other People?
Depending on the location, we cap the maximum group size at either 5 or 6 people.  For the $199/person rate, we require a minimum group size of 3. We often will try to combine groups to help meet the minimum.  If we are unable to do this and the group size, falls below 3, then our private tour rate of $500 applies (for 1-2 people).
Do You Pick-Up Anywhere Outside of Kanab?
If you are coming from Page, AZ, contact us to arrange a meet-up along the highway. For Zion trips, we can pickup in Springdale, UT.  For Bryce Canyon, we can pickup in Bryce Canyon City.  Otherwise, all other trips will depart only out of Kanab, UT.  Contact us if you have any questions.
Where Can I Find the Detailed Terms and Conditions?
For all the details, please follow this link:
Here are some affiliate websites from other folks that I know and recommend: