Hidden Gems of the Southwest
Oct 7-12, 2022 - Sold Out!
Get off the beaten path on this 6-day adventure and explore some of the most geologically diverse lands on the planet!  We have special access to seldom photographed places across the Southwest. Dates are timed to capture some great shots with the full moon!  Trip includes several outings into Monument Valley culminating with an overnight trip to Hunts Mesa! Post-processing and image critique will be offered on the last day of the workshop.  Participants should be in good physical condition as we'll be walking up to 1-2 miles per day over rocky and sandy terrain. 
$3495

Includes Lodging and Outfitting
5 Students per Instructor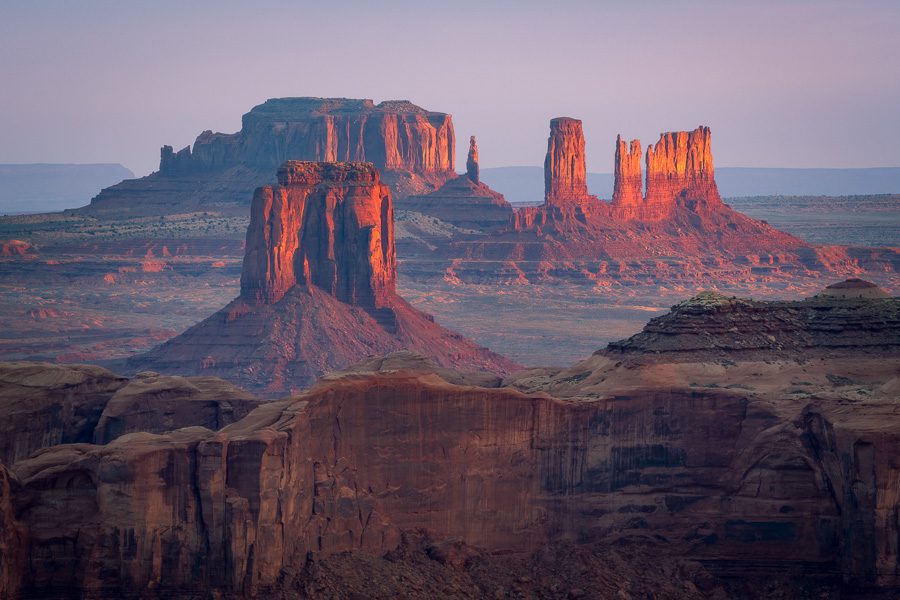 Highlights
Photograph some of the most remote and stunning landscapes in the Southwest with our special access!
Trip includes 4 nights hotel and a fully outfitted camping trip to Hunt's Mesa.
Learn new night photography skills! Dates are optimized for some spectacular full moon shooting.
Expect plenty of individual attention and learning with our small groups.
Workshop fee includes the Navajo & Hopi guides, fees, and permits.
All ground transportation is provided.
Post-processing and image critique sessions will help you make the most of your images!
Day 1 (Oct 7):  Meet at 1PM in Page, AZ for a mandatory orientation session.  After a quick dinner, we'll head out to our sunset spot. We decide as a group to check out some interesting rock formations and hoodoos. We get some great light along with the full moon. We return to Page after dark.
Day 2 (Oct 8):  We wake well before sunrise to photograph a gigantic arch. The light is spectacular and the sky fires up for an incredible show.  We head back to Page for breakfast and then make our way over to Monument Valley. After checking into the hotel, we meet our Navajo guides and photograph some of the backcountry areas that afternoon. At sunset we strategically place ourselves to capture the full moonrise over the formations.
Day 3 (Oct 9):  We are up early to shoot sunrise in the Monument Valley backcountry. We stop at several different photo spots as the light changes.  In the afternoon, we load up for a rough ride to the top of Hunt's Mesa. The vistas from up here are simply stunning! This is the part of Monument Valley not many folks get to see.  We stay up after dark to capture some moonscapes before retiring to our tents.
Day 4 (Oct 10):  We wake up early to capture a brilliant sunrise on Hunt's Mesa. After a hearty breakfast we break camp and photograph an interesting arch. That afternoon we drive to Tuba City, check into our hotel, and spend the evening exploring a remote canyon with intricate geology and astonishing rock formations. We stay out after dark for our last shooting opportunity with the moonrise.
Day 5 (Oct 11):  We shoot sunrise over a dramatic canyon that comes alive as the morning light accents the features and colors.  In the afternoon we explore an area with formations of all sorts of odd shapes and colors. The views here are nothing short of impressive!
Day 6 (Oct 12):  It's another early morning as we head out to photograph one of our favorite views of the Grand Canyon. The drive is long and rough, but the solitude we have at such an amazing view more than makes up for it. We return to Page, AZ for lunch and do an afternoon post-processing and image critique session.  The workshop will conclude by 4PM.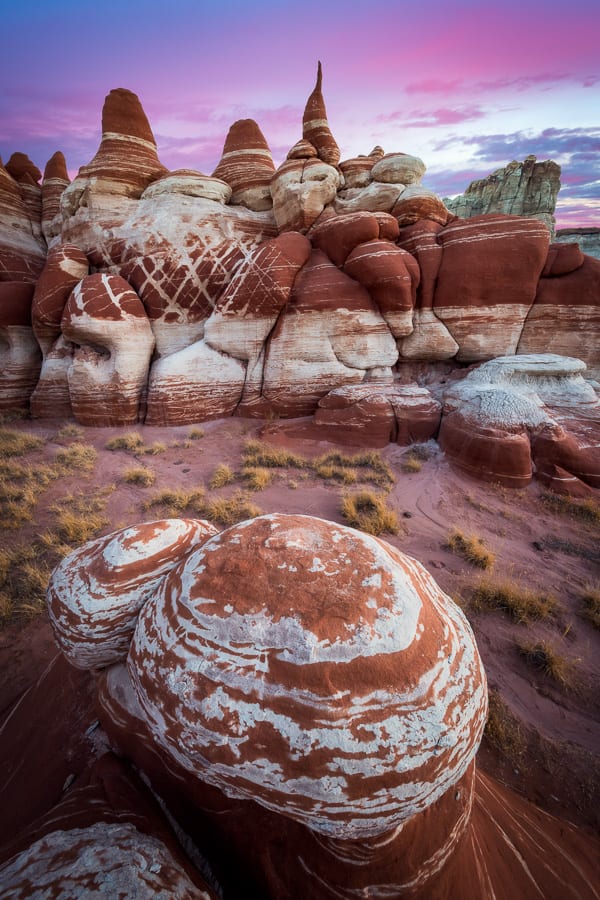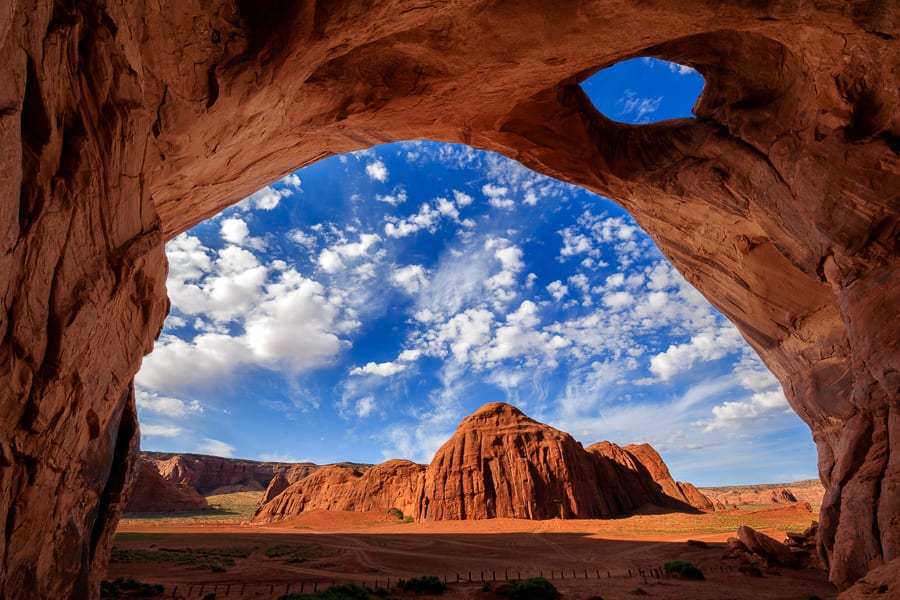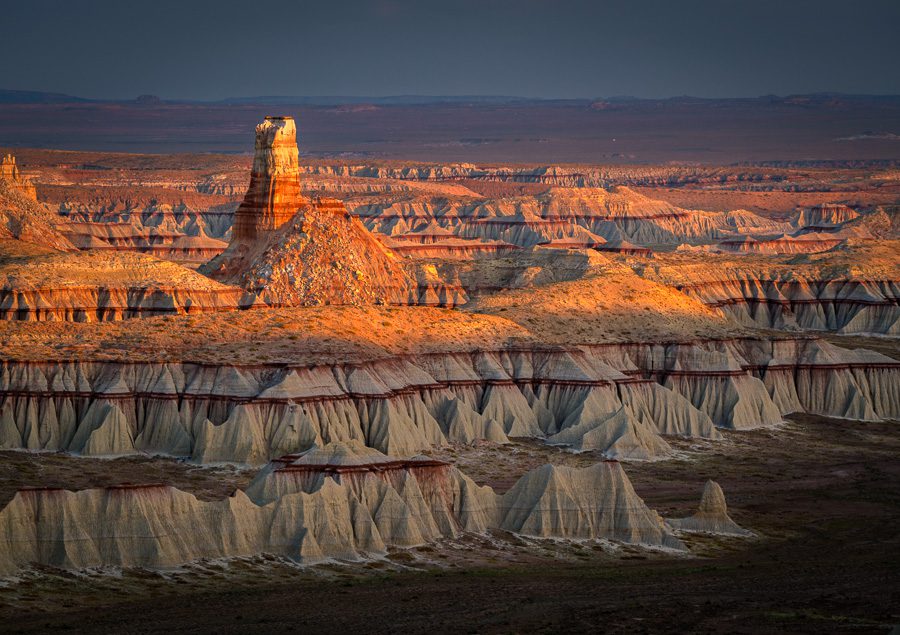 Logistics
Please arrive in Page, AZ prior to 1PM on Oct 7 for the orientation session. Hotel stays for the nights of Oct 7, 8, 10, and 11th are included in the workshop fee.  The base price assumes double occupancy.  Single rooms are available for an additional fee (see the Pricing section below). The night of Oct 9th will be our overnight camping trip.
Participants should have their own transportation to get to/from Page, AZ.  We provide all transportation during the workshop to the shooting locations. Since luggage space is limited in the workshop vehicle, you are welcome to follow us in your own vehicle as we travel between Page, Monument Valley, and Tuba City (all paved roads).
Everyone on this trip should be in reasonably good physical condition.  We aren't planning any long hikes on this trip, but the uneven terrain, sand and steep uphills can make short hikes seem much harder.  You should be comfortable walking at least a couple miles per day with your camera gear.
The weather can be variable in mid Oct. Usually, temps are fairly mild with lots of sun during the day. However, it can get cold if a front blows in and wind storms are always a possibility. Make sure you dress appropriately and bring lots of warm layers so you don't get cold while photographing at night.  Please see the gear list further down.
We will provide food during the Hunt's Mesa Overnight Camping portion.  All other meals will be on your own, even if we are eating as a group. To give you flexibility in your travel plans, we are not including the final night of hotel on Oct 12th. It is up to you if you want to stay in the Page area or head elsewhere.
We are using authorized Navajo and Hopi guides for many of the areas we visit. The cost of these guides is included in the workshop fee but they appreciate tips and gratuities if you feel so inclined.
Pricing
$3495/person + Tax
Single Occupancy adds an additional $400
Save 10% with our Loyalty Program
Trip Includes:
4 nights of hotels with double occupancy.  Single occupancy adds $400
Fully outfitted overnight camping trip to Hunt's Mesa.
All Navajo and Hopi guides, park fees, and Navajo permits.
All ground transportation and photography guiding during the trip.
Post-processing and image critique
Trip Does NOT Include:
Transportation to/from your home to Page, AZ.
Alcoholic Beverages.
Meals and snacks with exception of the Hunt's Mesa Overnight portion.
When you complete the checkout process, you will be given the option to either pay the full amount or put down a 50% deposit.  If you pay the deposit, the remaining amount will be charged 90-days prior to arrival to the credit card we have on file.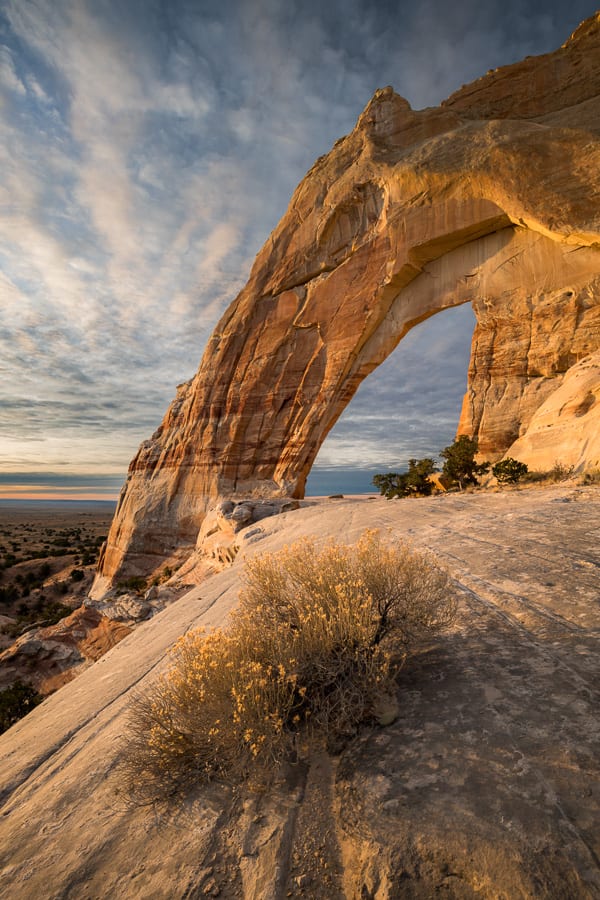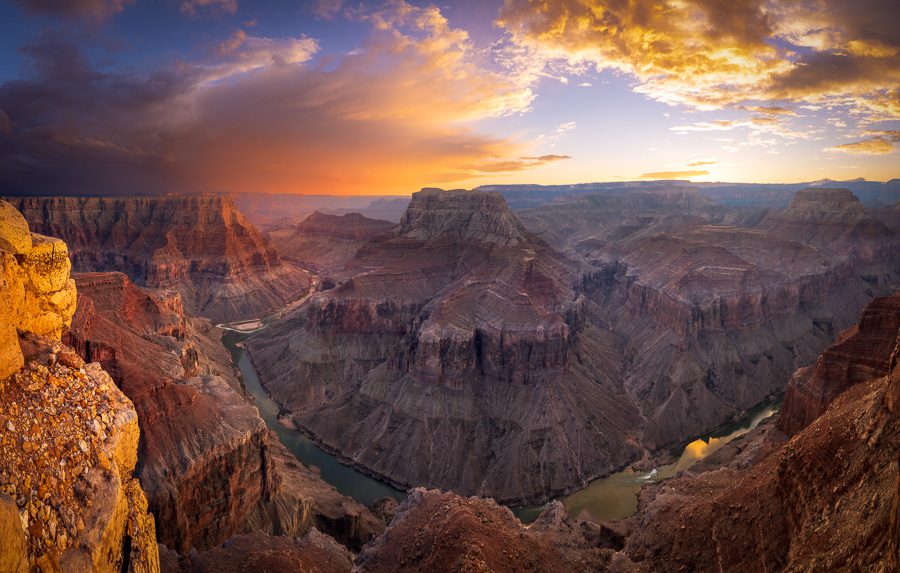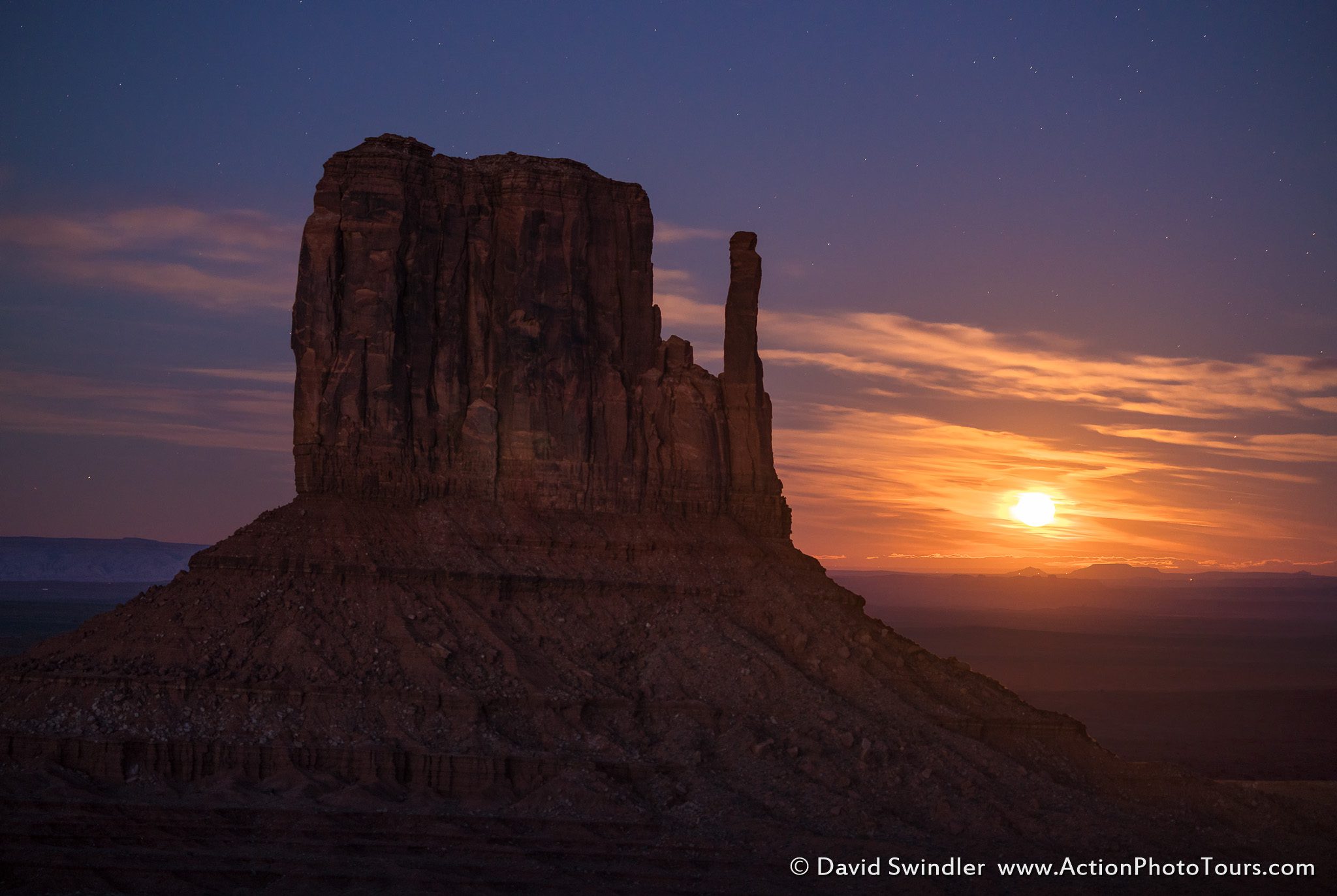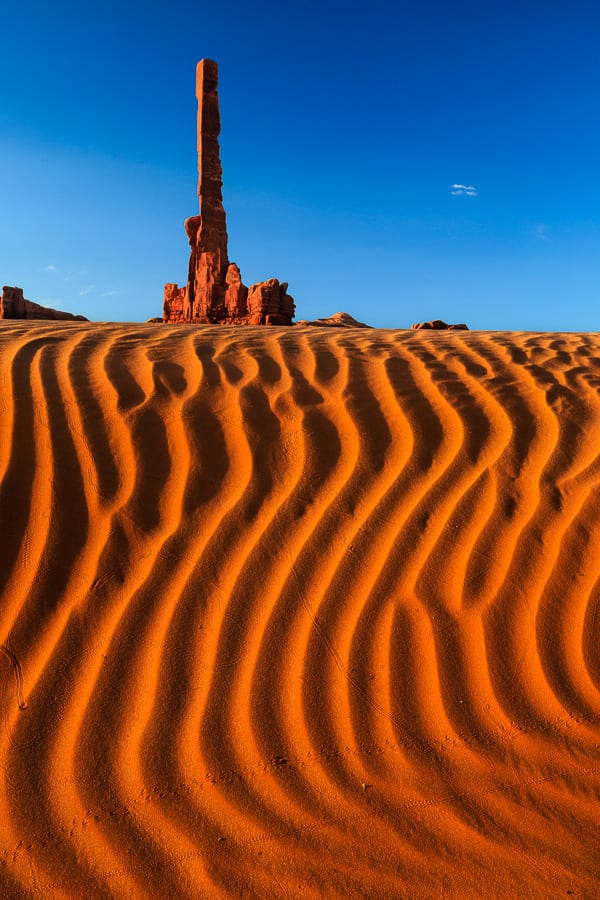 Recommended Camera Gear
Sturdy tripod and ballhead
Digital SLR or Mirrorless Camera Body.
Wide angle lens in the 16-35mm range.  If you have an ultra-wide in the 11-14mm range, bring it along since there are many places we can utilize it. For night photography, it's best to have a lens that is f/2.8 or faster.
Mid-range zoom lens in the range of 24-100mm.
Long telephoto lenses will come in handy in many locations. We really like the 100-400mm zoom lens.
Circular polarizer filters are useful.  Bring any ND filters if you have them.
Extra batteries, memory cards, and cleaning supplies.
Remote cord for your camera.
Laptop if you wish to backup your photos or follow along during the post-processing instruction.
Personal Gear List
Sturdy hiking footwear, hiking socks, and long pants .
A rain jacket and a warm layer.
Headlamp
Sunscreen, Sunglasses, Warm Hat, Sun Hat, and Gloves
Water bottle or hydration bladder.
Hiking poles if you like having them.
Please don't overpack, as we'll only have enough room in the vehicle for one suitcase and one camera bag.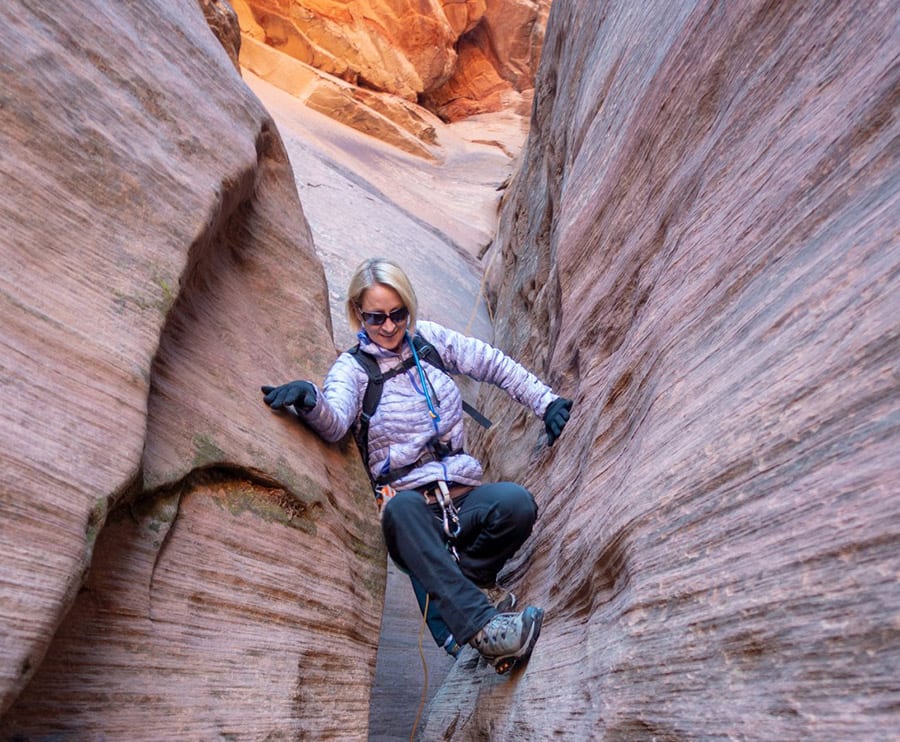 Amy Osness
From an early age, Amy knew she had a wandering spirit.  Her desire for adventure and passion for nature, stayed with her into adulthood, prompting her to pursue photography as an expressive art form.
The moments captured by Amy's camera are far removed from the "point and click" variety.  She often spends hours and even days scouting possible shoot locations.
Amy loves exploring and photographing all the natural wonders that surround her hometown of St. George, Utah.
Amy's profile can be found at Nature's Eye Photography