May 7-11, 2024 - Sold Out
Join us in Hanksville, UT for a foray into some remote and seldom photographed parts of the Utah badlands.  Come witness one of the most spectacular and otherworldly landscapes on Earth! This is one of the best places for aerial shots and drones are definitely encouraged.  Dates are timed for the best chances of spring wildflowers.  Even better, we'll have dark skies to shoot the Milky Way when it's clear!  This workshop is rated Moderate for physical intensity with 2-4 miles of hiking per day.  All transportation is provided in 4x4 lifted trucks. We also have a Ladies-Only Workshop on Sept 21-25, 2024.
4 Students per Instructor
Max 8 Students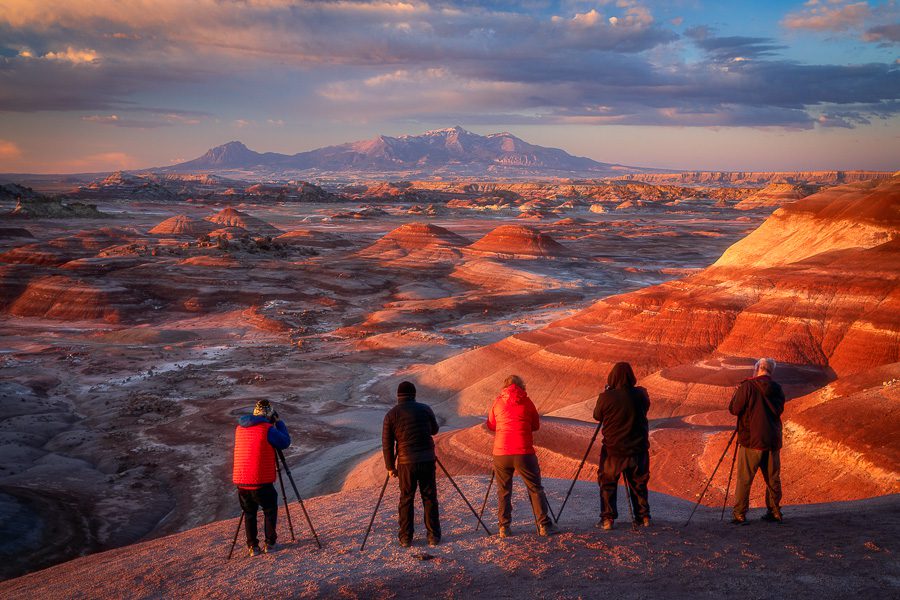 Highlights
The badlands of central Utah are filled with spectacular photo spots that will blow your mind!
The workshop dates are optimized for great weather, spring wildflowers, and dark skies for the Milky Way.
With a small group, we guarantee plenty of individual attention.  You will learn many new camera skills while visiting spectacular locations.
We provide all 4x4 transportation during the workshop so you don't have to worry about the rough roads.
Post-processing and image critique sessions will be scheduled throughout to help make the most of your images.
This is one of the best locations anywhere in the world to fly a drone and capture amazing aerial shots!
Itinerary
The itinerary is flexible based on weather, current conditions, and group interest. The workshop dates are timed for the best chances of finding wildflowers. However, wildflowers in the desert are not guaranteed and may not bloom during dry years.  The following itinerary is just an example of what you can expect.
Day 1:  Meet at 4PM in Hanksville, UT for a mandatory introductory session.  After dinner, we head out to a nearby location for sunset and twilight photos.
Day 2:  For sunrise, we find a nice area with emerging wildflowers and catch some great color in the sky!  We head back to town for a midday break and meet up after lunch for a post-processing session. In the evening we venture out to shoot the badlands.
Day 3:  With clear skies overnight, we get up extra early to capture the Milky Way in one of our favorite locations. We stay out to shoot sunrise before heading back to town. After breakfast we do a short hike through a slot canyon.  The afternoon forecast is calling for clouds, so we drive out to a seldom visited viewpoint in the stark badlands.
Day 4:  With good clouds forecast for sunrise, we wake before dawn to photograph one of our favorite morning locations.  You'll get wide landscapes, abstracts, and much more. This is also the perfect place to take drone aerials.   You'll know what we mean that this place is almost like being on a different planet!  We find more locations with beautiful wildflowers before heading back to town. We do another post-processing session and then venture out for our final sunset shoot.
Day 5: Mother nature give us one more shot at the Milky Way, so we get up extra early and capture the Milky Way over some stunning monolithic formations. After sunrise we return to Hanksville and say our goodbyes.  The workshop will conclude by 11AM.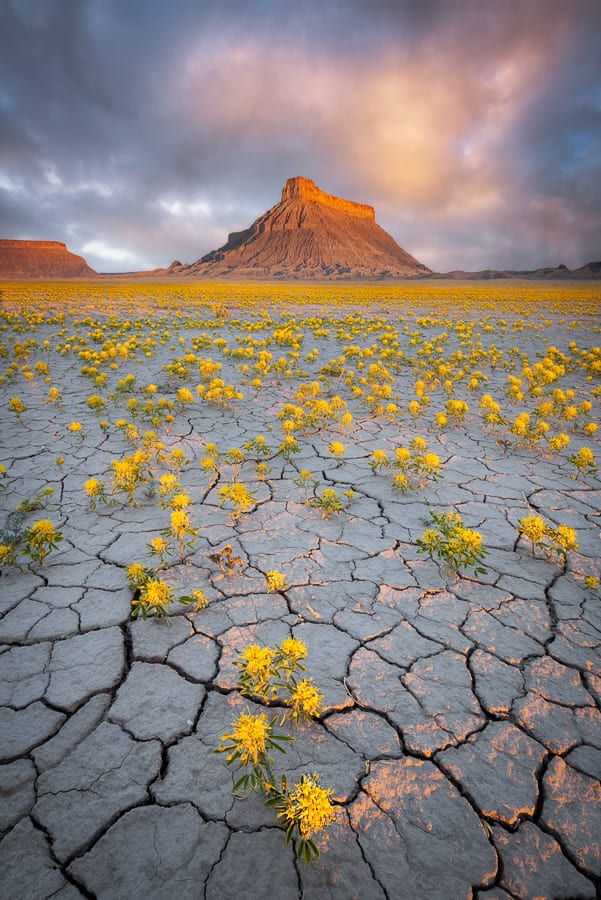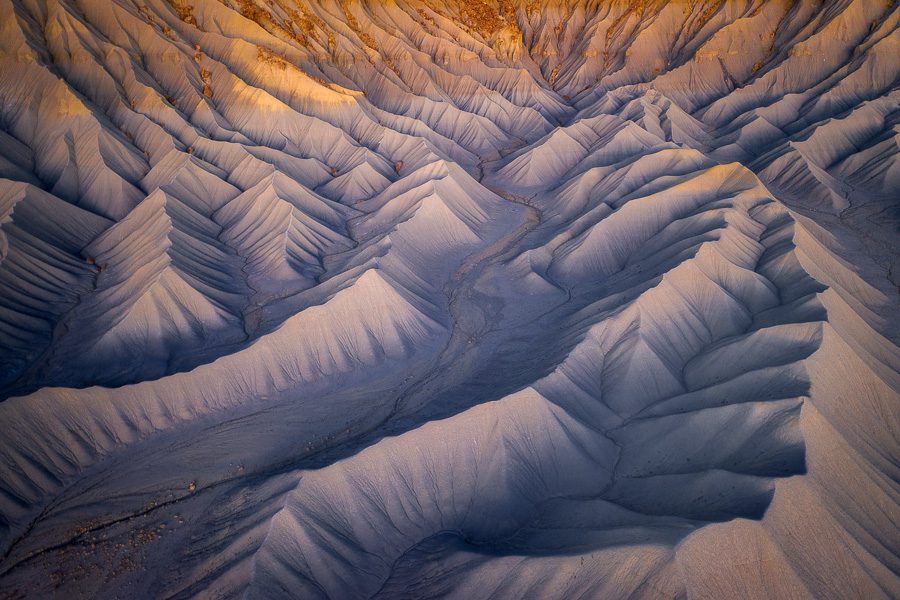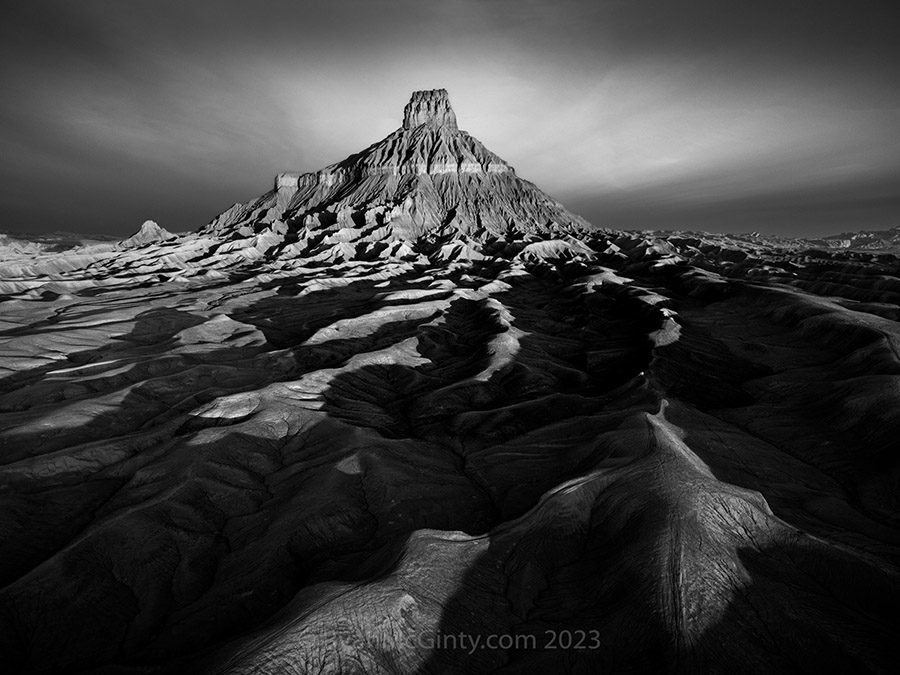 Logistics
Please arrive in Hanksville, UT prior to 4PM on the first day of the workshop. Lodging is not included in the workshop but we have a block of cabins reserved for our guests at Duke's Slickrock.  We will email participants once they have opened up bookings for next year. You will need lodging for four nights.
All transportation during the workshop is included in lifted 4x4 trucks. However, there is no public transportation to Hanksville so you'll need your own vehicle to get there. The nearest major airport is SLC International.
Everyone on this trip should be in reasonably good physical condition.  We aren't planning any long hikes, but the uneven terrain, sand, and steep uphills can make short hikes seem much harder.  You should be comfortable walking around 2-3 miles per day while carrying your gear.
We are keeping the itinerary flexible since we can't control the weather.  Don't worry - we'll make the best possible use of our time. Our job is to get you the most stunning photos and help you learn as much as possible!
The weather is highly variable in early spring. It could be sunny and warm or a cold front might come in and bring some rain and snow. The nights will be cold, so you will want warm layers. It can also be windy in the spring so come prepared with a wind/rain jacket.  Please see the gear list further down.
Food options are limited in Hanksville.  If you have specific dietary needs, it might be best to pick-up food in a larger town before arriving in Hanksville.  The cabins all have microwaves and fridges.
Additional Notes
Many of the areas we visit are perfect for using a drone camera.  It's up to you if you want to bring a drone on this trip and we will let you know where it's possible to fly it.  Please let us know if you intend to bring a drone so we can plan out the logistics with the other participants and the itinerary. We will be more than happy to help teach and instruct you on your drone photography.
We are authorized permit holders with the National Park Service and Bureau of Land Management (BLM). We carry a satellite beacon in case we run into any emergencies in the backcountry.
We keep our groups small so we can give you adequate individual attention.  Education and instruction is an important component of our workshops which is why we also schedule plenty of post-processing time throughout our days together.  Come explore our amazing world with us!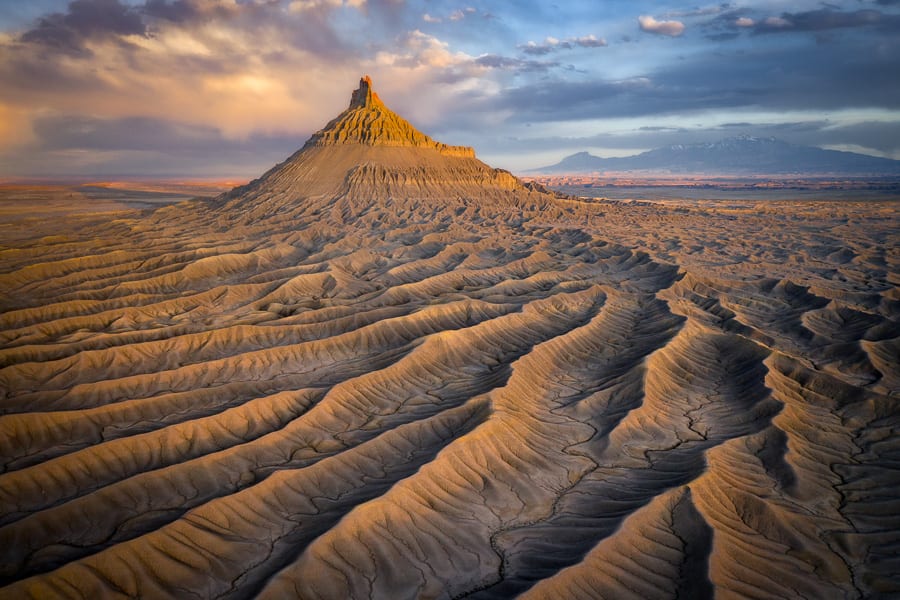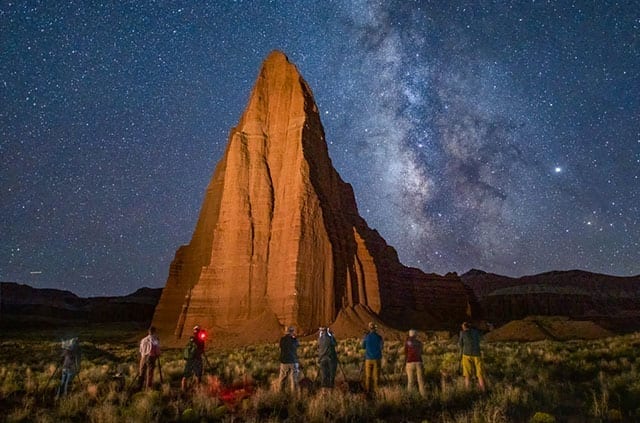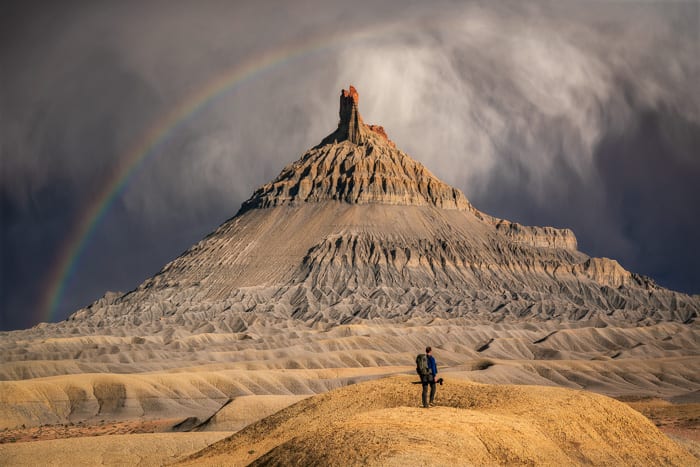 Pricing
$2195 per Person
Join our Loyalty Program and Save 10%!!
Trip Includes:
5-Day Intensive Photo Workshop with 2 Pro Instructors.
All Ground Transportation in Lifted 4x4 Trucks.
Post-processing instruction and image critique.
Park Entrance Fees
Lighting equipment and fixtures for night photography.
Pre-Workshop Zoom Meeting
Trip Does NOT Include:
Transportation to/from your home to Hanksville, UT.
Hotel Accommodations.
Beverages
Meals and snacks.
Instructor Gratuities.
When you complete the checkout process, you will be given the option to either pay the full amount or put down a 50% deposit.  If you pay the deposit, you will be sent a payment link for the remaining balance approximately 90 days prior to the workshop.
Recommended Camera Gear
Sturdy tripod and ballhead
Digital SLR or Mirrorless Camera Body.
Wide Angle Zoom Lens.  Anything in the 14-24mm range will work well.
Mid-range zoom lens in the range of 24-100mm.
Long telephoto lenses will come in handy for creating abstract images. We really like long zoom lenses like the 100-400mm, 150-600mm, etc.
Circular polarizer filters are useful.  Bring any ND filters if you have them.
Extra batteries, memory cards, and cleaning supplies.
Remote cord for your camera. An intervalometer will be especially useful for doing long exposures at night.
Laptop if you wish to backup your photos or follow along during the post-processing instruction.
We may be able to rent you gear if you don't have everything you need.
Personal Gear List
Sturdy hiking footwear, hiking socks, and long pants .
A rain jacket and several warm layers since it can get cold at night.
Headlamp for night hiking
Sunscreen, Sunglasses, Hat.
Water bottle or hydration bladder.
Hiking poles if you like having them.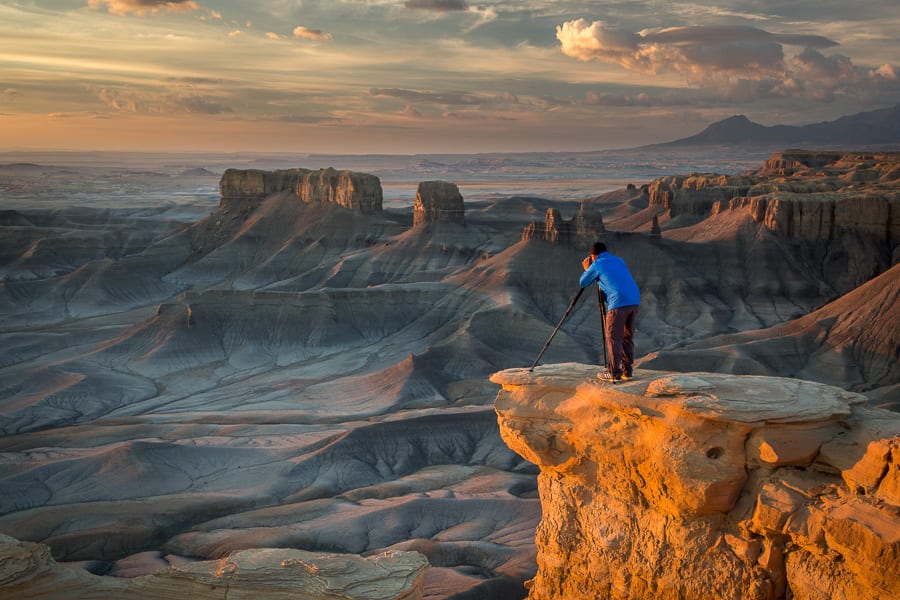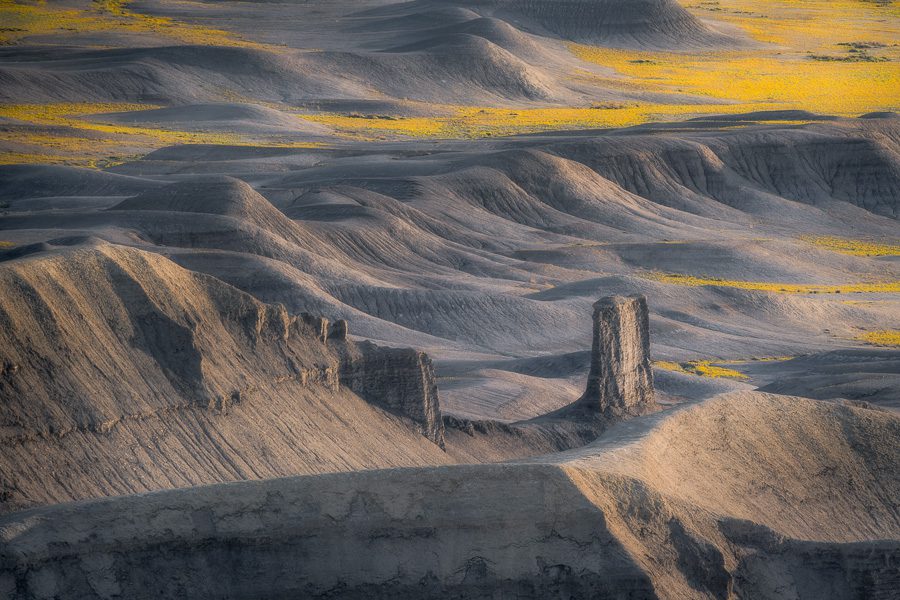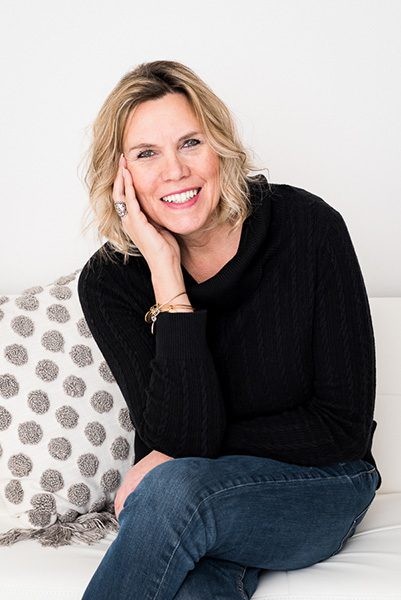 Wendy Casey
Photography Instructor
Wendy is proud to be a Utah Native and began hiking and camping with her parents at a very young age. She has many fond memories hiking to amazing viewpoints and taking in the grandeur that is Utah. Her interest in photography began in the 80's where she made her film images come to life in a darkroom.
She now enjoys the creativity of the digital world by photographing a wide range of interests, from Landscape, Wildlife, Portraits, to Sports. Her favorite is capturing epic scenery with a human interest.
When Wendy and her husband Randy are not at home on their farm, they are out on a trail somewhere, exploring, photographing and creating videos of their adventures.  Wendy has a lot of experience with horses on their ranch and will be an instructor on some of our wild horse and ranch workshops.
Over the years, she has participated in many art shows. Her local favorites are the Kimball Arts, Park City Art Festival and Midway Swiss Days. She has shipped her art around the world  and has her work hanging throughout the state in hospitals, clinics and many large and small businesses. Her images have also been featured in and on the covers of local magazines.
Wendy loves to help others develop their passion for photography and capture through the viewfinder, winning scenes to last forever and an epic story to go with it.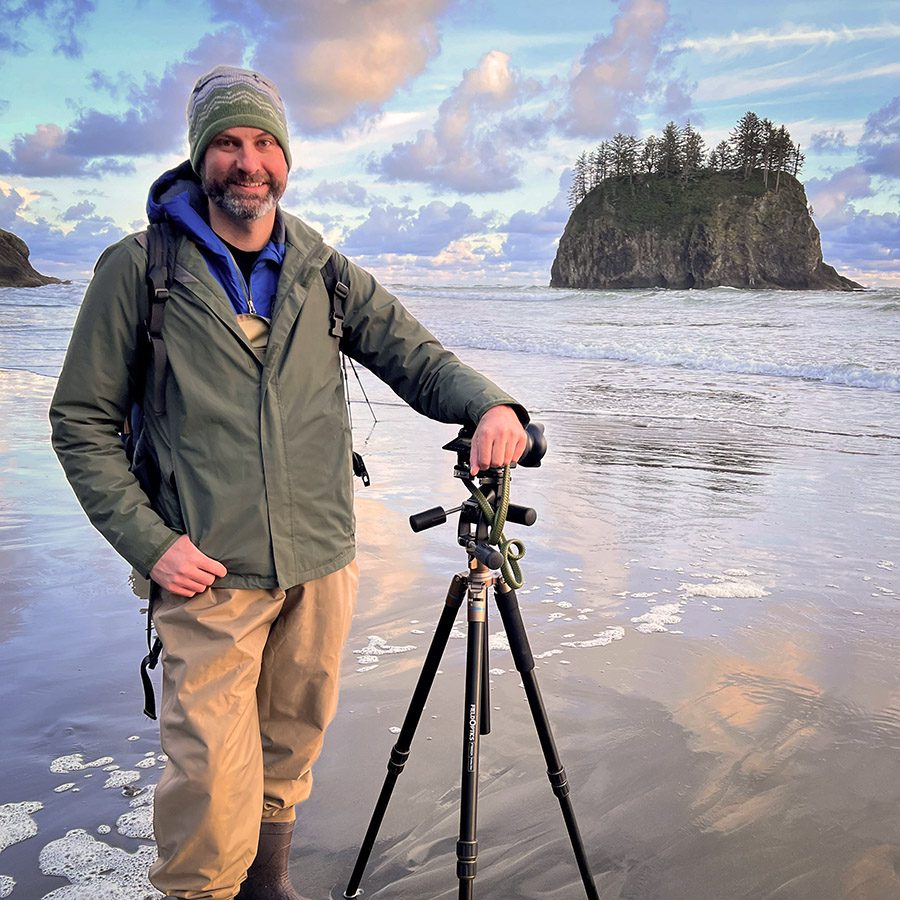 Ryan McGinty
Photography Instructor
Ryan McGinty is a seasoned landscape photographer living in the Palouse area of southeastern Washington.  His first-hand experience in this unique agricultural area makes him the perfect instructor to lead people to out-of-the-way places for those once-in-a-lifetime rainbows, sunsets and sunrises in the beautiful rolling hills. He loves chasing the light and diligently checks weather apps to get the latest sun and rain predictions, cloud formations, wind and temperatures for the best locations and light.
His interest in photography started at an early age and continued in college with graduate work at Brooks Institute of Photography.  His experience in portrait, wedding, film, and medium and large format photography give him an extraordinary background for his award-winning landscape photography.
His passion for the Palouse is only exceeded by his passion for photography and his desire to show people his favorite places.  He takes a legitimate interest in his clients and strives hard to ensure they get the best shots. His photographs have been published in books, calendars and travel guides.