Zion Fall Colors Workshop
When autumn beckons, there are few places more scenic than Zion National Park. Over the course of 5 days, we'll don our hiking boots and explore many of Zion's best autumn locations including the world-class Narrows! The itinerary is kept flexible to allow us to chase the best colors and conditions.  No long hikes are planned, but walking through water in the Narrows can be physically taxing and good mobility and balance are essential. Post-processing and image critique sessions will help make the most of your images.
4 Students per Instructor
Max 8 Students
Amy Osness
2nd Instructor TBD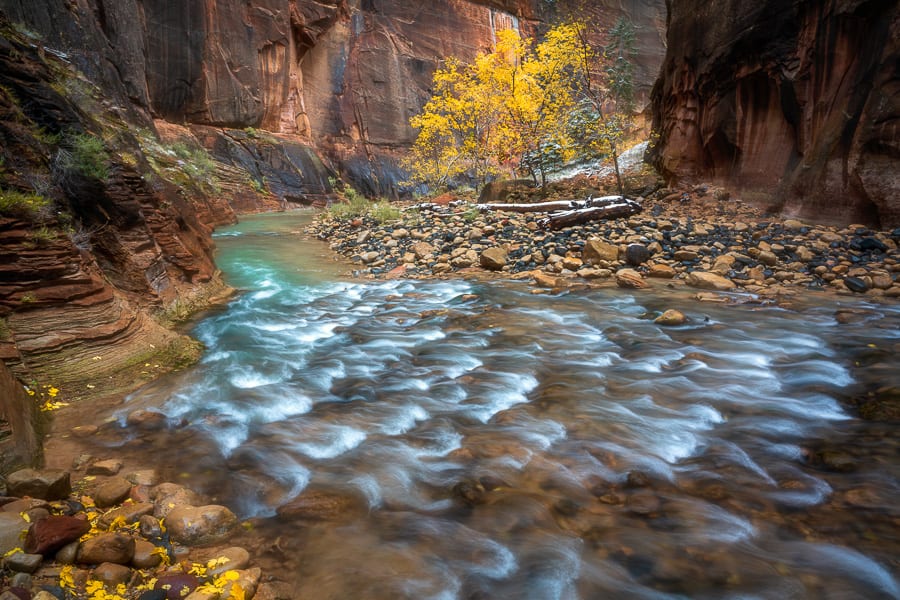 Highlights
November is the perfect time to see the brilliant fall colors in Zion National Park.
Put the "action" into your photography and hike through stunning canyons graced with autumn foliage. Good fitness and mobility are a must.
Learn new photography skills and receive image critique from pro-photographer instructors. Group size is capped at 4 students per instructor to ensure plenty of individual attention.
Post-processing instruction is included to improve your skills in Photoshop and Lightroom.
Transportation is provided for all workshop outings so you don't have to worry about any rough roads.
Itinerary
In order to give our clients the best possible photography experience, we keep the itinerary flexible to account for autumn color, weather conditions, and group interest. The workshop dates coincide with historical peak fall color in Zion. However, fall color can be a fickle thing and it sometimes comes earlier or later than predicted. The itinerary below is just an example of what you can expect. We will optimize your time for the best possible photography.
Day 1:  The Workshop begins at 1PM in Springdale, UT where we'll meet for a short orientation session where you'll learn some of the photo techniques you'll be using during our time together. After that, we head into the canyon and do a short hike with dramatic canyon views graced with autumn foliage. We return to town for dinner and get fitted for any wading gear you may need.
Day 2: Today we spend our entire time deep in the Zion Narrows. We are the first ones into the canyon which allows us to photograph many areas without the crowds.  The autumn colors are at peak and we find compositions where we can utilize soft water effects, accented by brilliant trees in the background.  After we exit the Narrows, we may shoot sunset depending on time before heading back to town for dinner.
Day 3: We are up early to photograph a waterfall rimmed by gorgeous autumnal trees set deep in a jagged amphitheater. We photograph several other areas before heading back to town for lunch.  After lunch, we have an image critique session before heading out for our sunset shoot along the Virgin River.
Day 4: It's another early morning sunrise shoot followed by breakfast in town. We do a post-processing session before lunch and then decide to do a longer 6-mile round trip hike over easy terrain to a spectacular sunset location.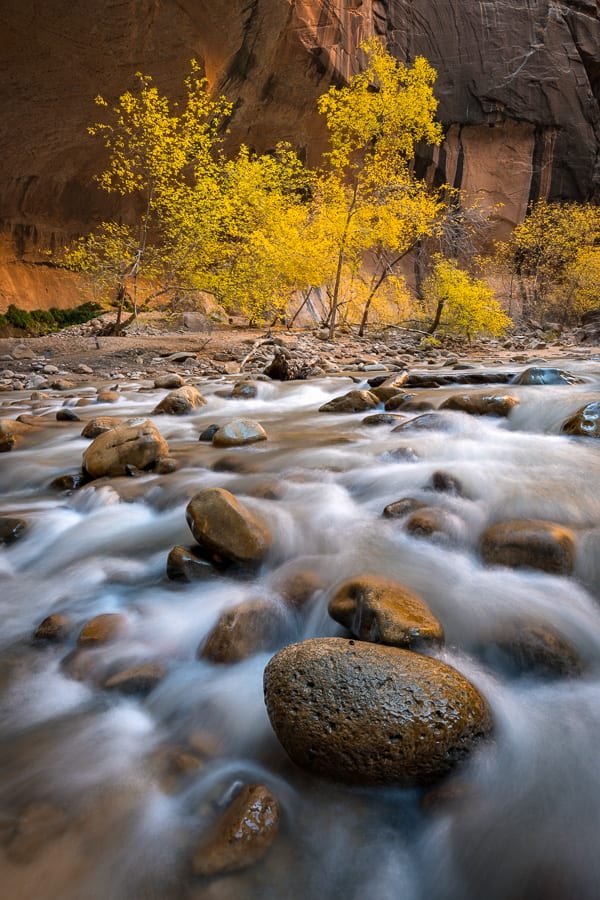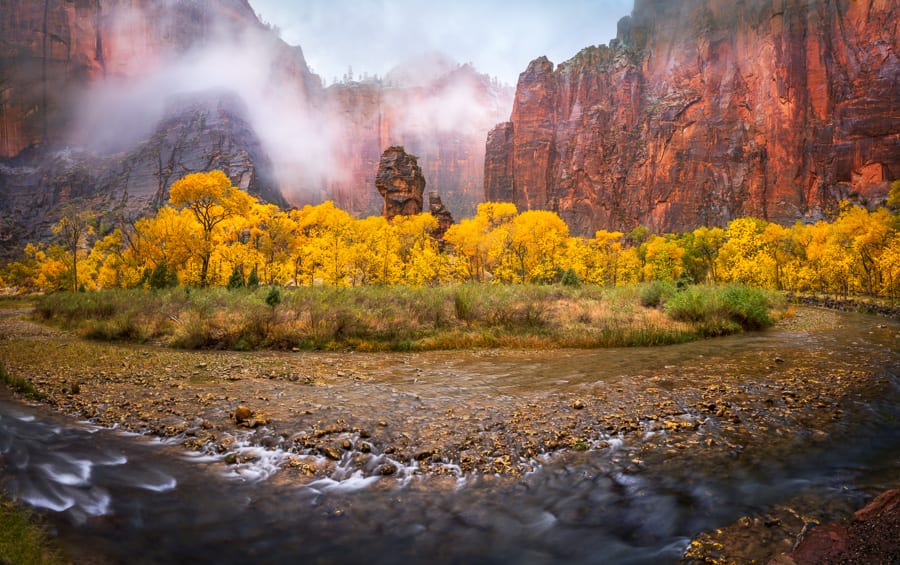 Itinerary Cont.
Day 5: We wake well before dawn for our final sunrise shoot. It's just a short 1-hr hike in and we enjoy colorful clouds and dramatic light. We hit several other locations before the good light dissipates.  We return to town for breakfast and check out of the hotel.  The workshop will conclude no later than 11AM.
Logistics
The trip will begin and end in Springdale, UT.  Transportation will be provided for all workshop outings.  Most people will fly into either Las Vegas or St George, UT and rent a car to arrive in Springdale.
We did not include hotel stays in the workshop package to give you the flexibility to stay where you'd like.  You will need lodging for the nights of Nov 7th, 8th, 9th, and 10th.  The group will be based at the Best Western Plus Zion Canyon Inn & Suites. If you wish to stay elsewhere, you would be responsible for getting to our central meeting point each day.  
This can be a hiking intensive workshop, especially with our full day in the Zion Narrows.  We aren't planning any long hikes and most days will fall in the range of 2-5 miles of cumulative walking. However, hiking in the Narrows is physically taxing and good balance and mobility are essential.  You should be comfortable hiking these sorts of distances while carrying your camera gear, drinking water, and lunch. All participants need a pair of chest waders for hiking the Narrows. Alternatively, there are many outfitters in Springdale that will rent you a cold-water wading package (shoes, neoprene socks, dry pants, hiking pole).
The days can start getting cold in November, so make sure you bring some warm layers, a waterproof rain jacket, sturdy hiking boots, wool socks, and warm hat and gloves.  Trekking poles are highly recommended for better balance when hiking in the water.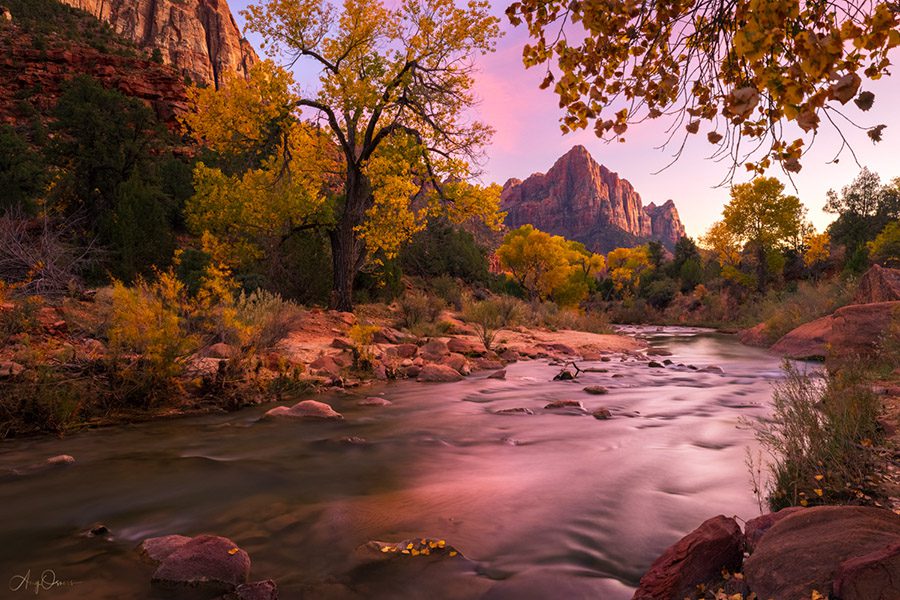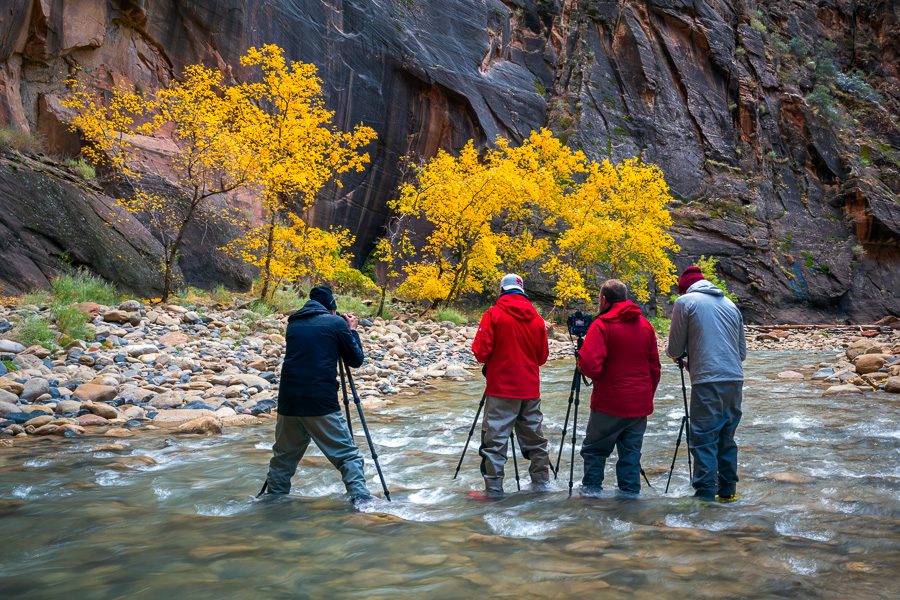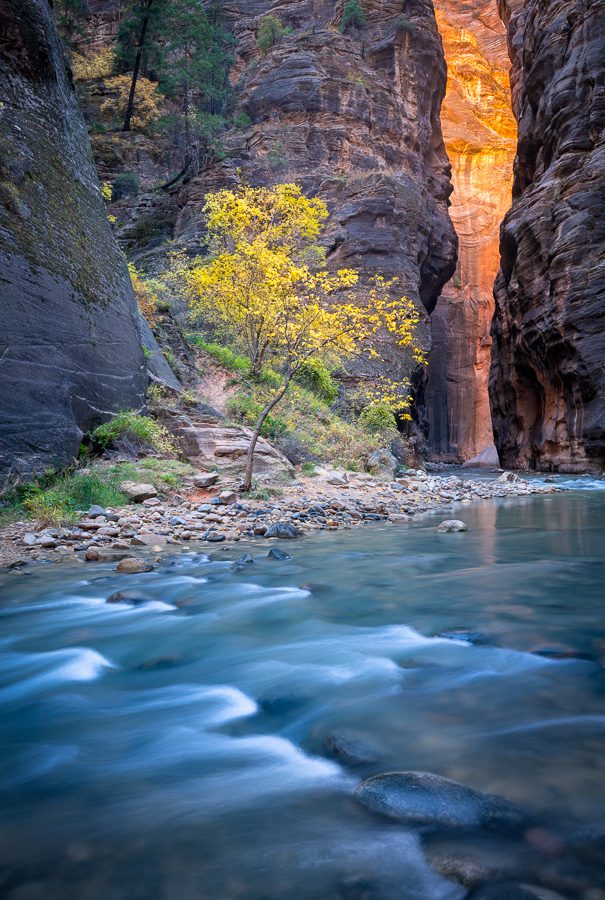 Pricing
$2095/person + Tax
Join our Loyalty Program and Save 10%!!
Trip Includes:
5-Day Intensive Photo Workshop
All ground transportation and photography guiding during the trip.
Post-processing instruction and image critique
Park entrance fees.
Trip Does NOT Include:
Transportation to/from your home to Springdale, UT.
Hotel Accommodations.
Alcoholic Beverages.
Rental Gear (cold water wading package)
Meals and snacks
Instructor Gratuities
When you complete the checkout process, you will be given the option to either pay the full amount or put down a 50% deposit.  If you pay the deposit, the remaining amount will be charged 90-days prior to arrival to the credit card we have on file.
Recommended Camera Gear
Sturdy and lightweight tripod and ballhead
Digital SLR or Mirrorless Camera Body.
Wide angle lens (16-35mm is perfect).  For crop sensor, you'll want 10-22mm. Ultrawide Angle Lenses in the 11-14mm range will also work nicely.
Mid-range zoom lens in the range of 24-100mm.
Long telephoto lenses can come in handy in case of wildlife encounters. However, in the interest of keeping your pack weight light, we don't recommend bringing them on the hikes.
Circular polarizer filters are a must.  Bring any ND filters if you have them.
Extra batteries, memory cards, and cleaning supplies.
Comfortable hiking backpack that can carry your camera gear, tripod, lunch, and drinking water.
Laptop if you wish to backup your photos or follow along during the post-processing instruction.
Personal Gear List
Sturdy hiking footwear, hiking socks, and long pants .
Chest Waders and or Cold Water Rental Package from an outfitter in Springdale, UT.
A rain jacket and several warm layers since it can get cold in the mornings.
Headlamp.
Sunscreen, Sunglasses, Warm Hat & Gloves.
Water bottle or hydration bladder.
Trekking Poles.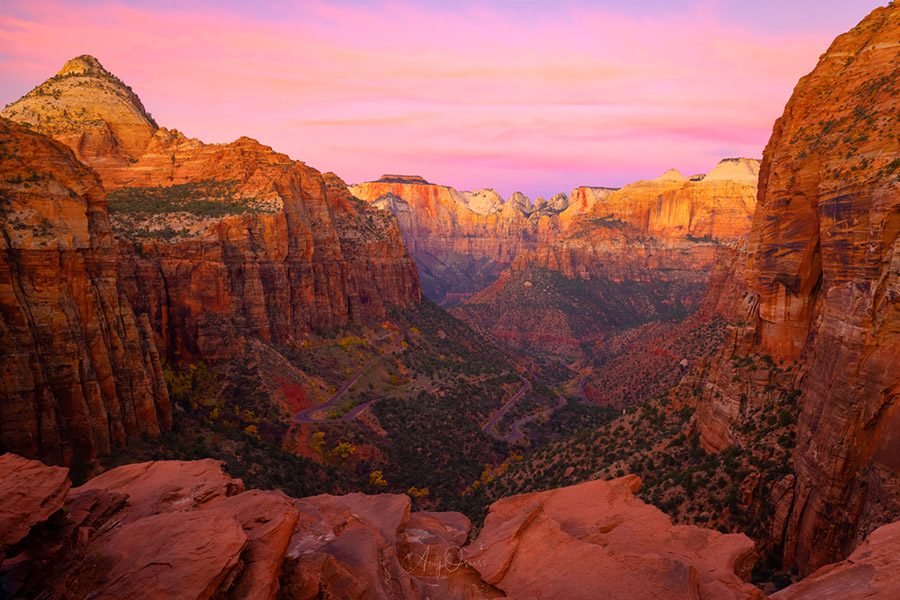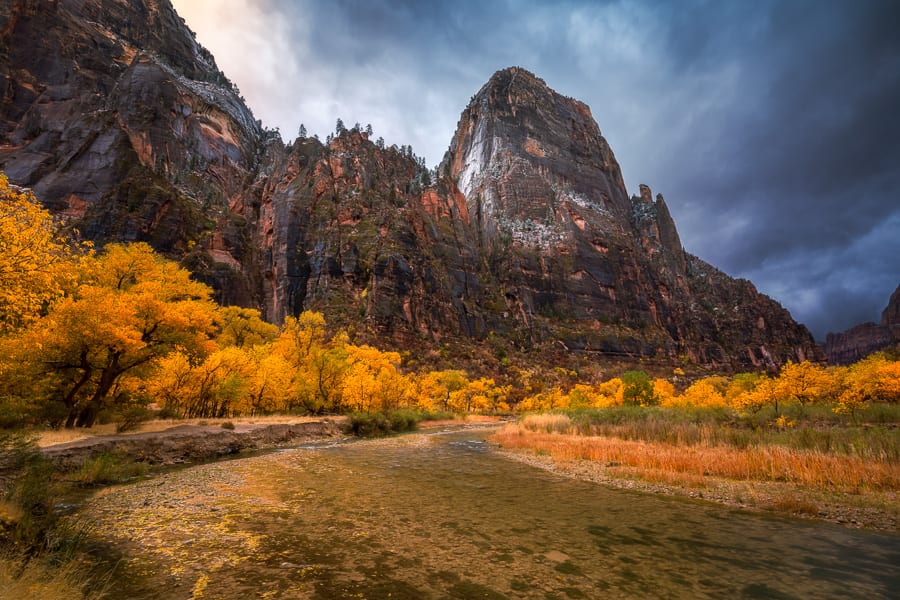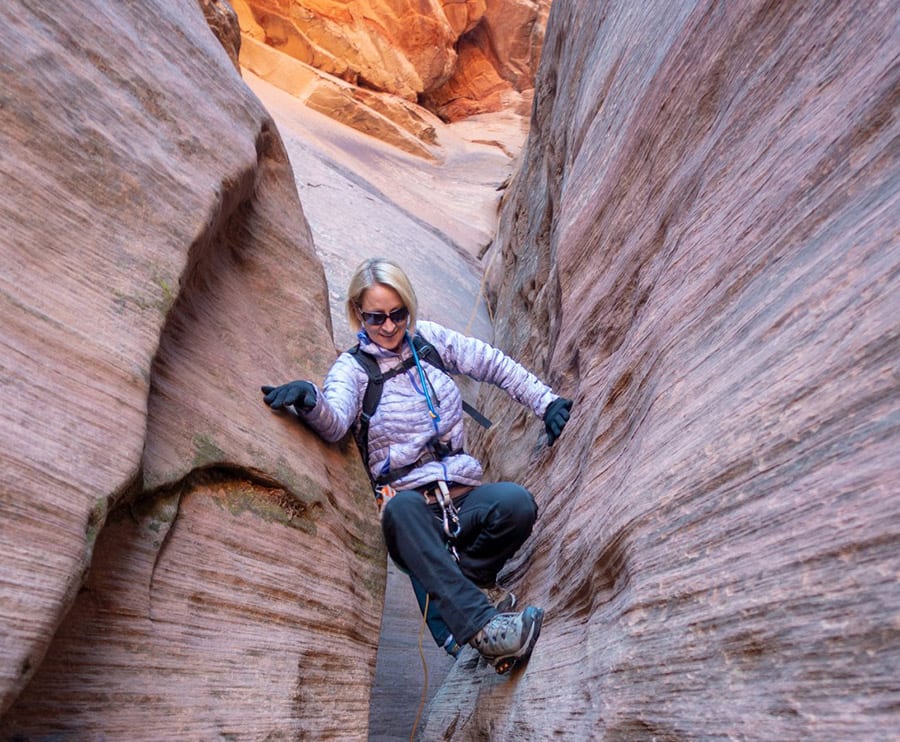 From an early age, Amy knew she had a wandering spirit. Her desire for adventure and passion for nature, stayed with her into adulthood, prompting her to pursue photography as an expressive art form.
The moments captured by Amy's camera are far removed from the "point and click" variety. She often spends hours and even days scouting possible shoot locations.
Amy loves exploring and photographing all the natural wonders that surround her hometown of St. George, Utah.