Eastern Sierras and Death Valley
Variety is the name of the game on this 7-day photo adventure.  We'll explore many of our favorite locations along the Eastern Sierras such as the Alabama Hills, the Bristlecone Pines, Mono Lake, Eureka Dunes, the Racetrack, and many hidden gems.  You'll photograph crazy rock formations, arches, hot springs, jagged mountain peaks, sand dunes, Death Valley's famous moving rocks, and much more.  Night photography is also an option if skies are clear! We aren't planning any long hikes on this workshop.  The sand dunes will be the most physically taxing part and participants will need to be able to walk 1-2 miles in the sand with their camera gear for the best photos.  Some of the photo locations will be at high altitudes.
2 Instructors
Max 8 Students
Kevin McNeal
Johnny Adolphson (Nov)
Nickolas Warner (Dec)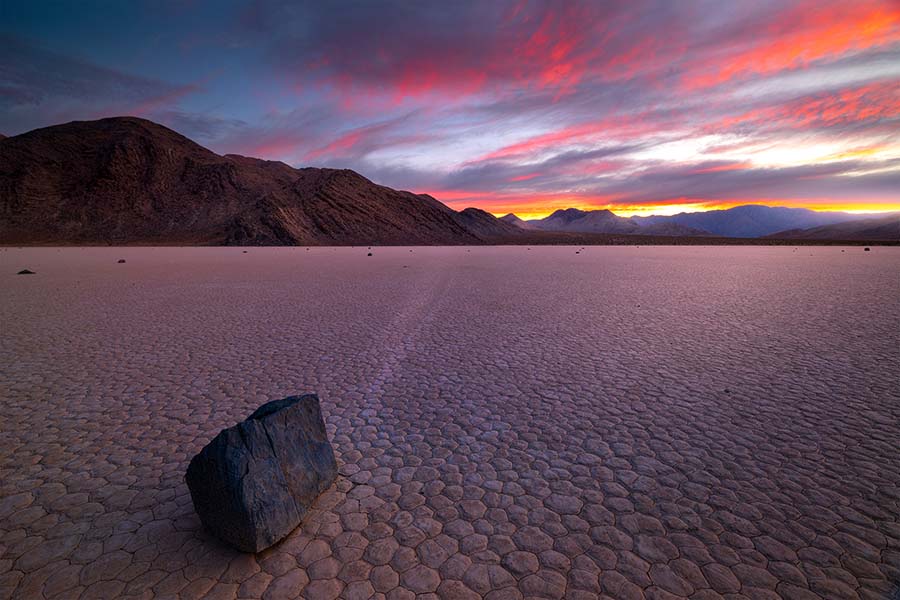 Highlights
Contemplate the mystical moving rocks at the Racetrack Playa and photograph the undulating patterns and curves at Eureka Dunes.
Explore the many arches and bizarre rock formations at the Alabama Hills.
Experience the dramatic and snowy Eastern Sierra Mountains with lakes, hot springs and so much more!
Walk among the ancient bristlecone pines and capture the tufa formations at Mono Lake.
Take your photos to the next level with in-field instruction and digital darkroom training by our pro photographers.
When skies are clear, we'll incorporate some night photography.
Itinerary
The exact itinerary will be kept flexible to account for the weather and current conditions. The itinerary below is just an example of what you can expect.
Day 1:  Meet at 1PM in Stovepipe Wells for a mandatory orientation session. We'll cover the photo techniques you'll be learning during our time together. From there we'll load up and head to Aguereberry Point for our sunset shoot.  We return after dark to check into our hotel rooms and grab dinner at the on-site restaurant.
Day 2:  We depart early for sunrise at Ubehebe Crater and then it's off to the races as we make the long, rough drive out to the infamous Racetrack Playa!  We'll enjoy a boxed lunch and then photograph the famous moving rocks through sunset. We return to Stovepipe Wells for a late dinner.
Day 3:  It's another early morning as we check out of our hotel, and head to one of our favorite overlooks for sunrise.  From there, we continue on our journey toward Bishop where we'll eat lunch and check into our hotel rooms.  Sunset location will be determined by conditions and group consensus - we have many options available!
Day 4: Nothing beats a day at the Dunes!  We wake early to catch sunrise at Eureka Dunes and spend the rest of the day exploring and photographing this fascinating area.  Listen closely, and you'll hear the sands sing!  After sunset, we return to Bishop for dinner.
Day 5:  We capture a phenomenal sunrise at the hot springs and return to town for breakfast and a short midday break. That afternoon, we drive high up into the mountains to photograph the ancient bristlecone pines. Their knarled bark and interesting textures create some unique photo opportunities. We return to town after sunset.
Day 6:  It's another early morning as we make our way to the mythical Mono Lake for sunrise.  We explore tufas of all shapes and sizes before heading back to Bishop for a late breakfast. From there we check out of our hotel and head for Lone Pine where we'll shoot sunset among the rock formations of the Alabama Hills.  We return after dinner to do a little night photography.
Day 7:  It's hard to believe this is our final morning in the beautiful Eastern Sierras.  We shoot sunrise in the Alabama Hills before returning to Stovepipe Wells.  If you'd like to add more to your adventure, consider adding our 5-day Death Valley Workshop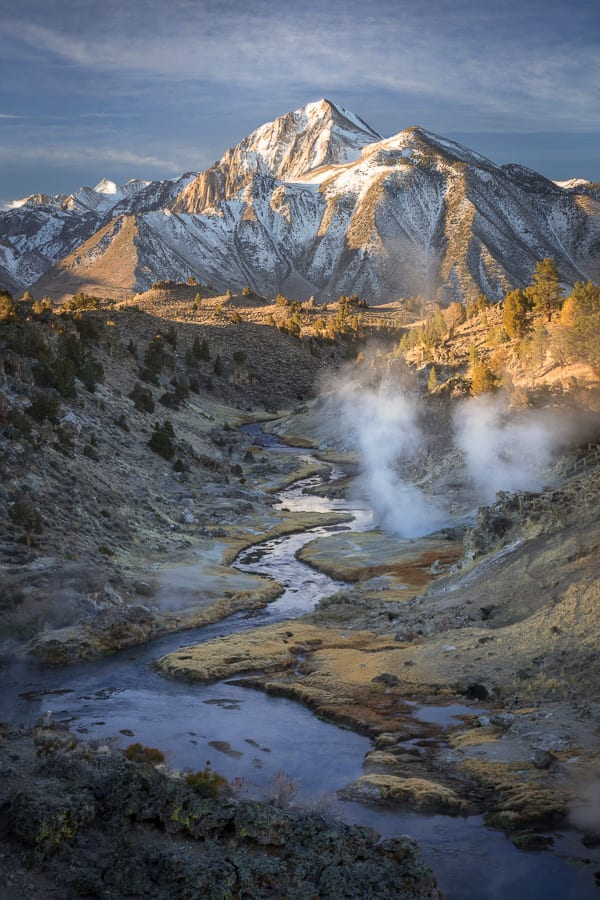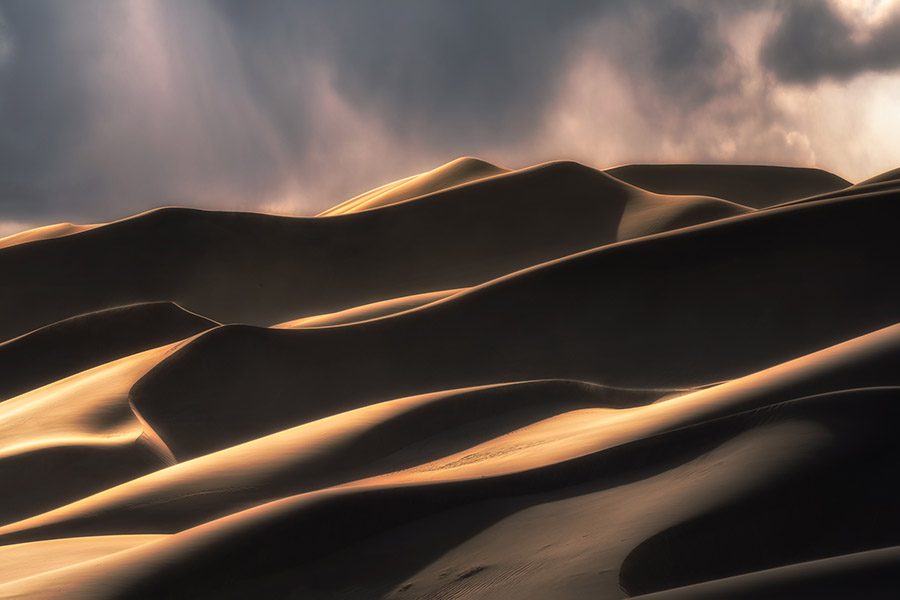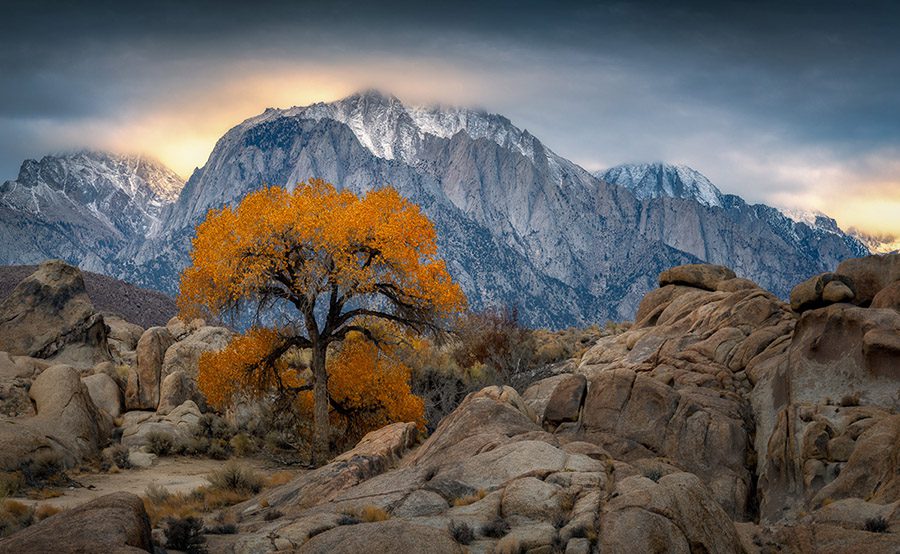 Logistics
Plan to arrive in Stovepipe Wells prior to 1PM on the first day.  We will start with an orientation session covering workshop logistics and photo techniques.  We will be providing all transportation for this workshop but you are welcome to follow along in your own vehicle when we relocate between Stovepipe Wells, Lone Pine, and Bishop (all paved highways). Having your own vehicle will give you more flexibility for shopping and dining options.
Six nights of double occupancy hotel lodging are included in the workshop price.  Single occupancy is available for an additional charge (see Pricing section below). You can select double or single occupancy when booking.  Please note that meals and snacks are not included in the workshop price.
Weather permitting, we will try to incorporate some night photography.  Please note that the galactic core of the Milky Way will have dipped below the horizon by Nov/Dec. However, we can still capture other parts of the Milky Way when skies are clear. The Nov dates will have more opportunities for shooting starry night skies. The Dec dates will give opportunities to capture the full moon with the landscapes.  We will still be able to shoot the starry night skies on the last 2 nights on the Dec workshop.  We recommend a wide angle lens that is f/2.8 or faster for night photography and a telephoto lens in the 100-400mm range for the full moon.
There is a chance the backroads could be impassable due to recent precipitation or snow.  If that were to happen, we would find suitable alternatives for our itinerary.  We reserve the right to modify the itinerary based on safety concerns and current conditions.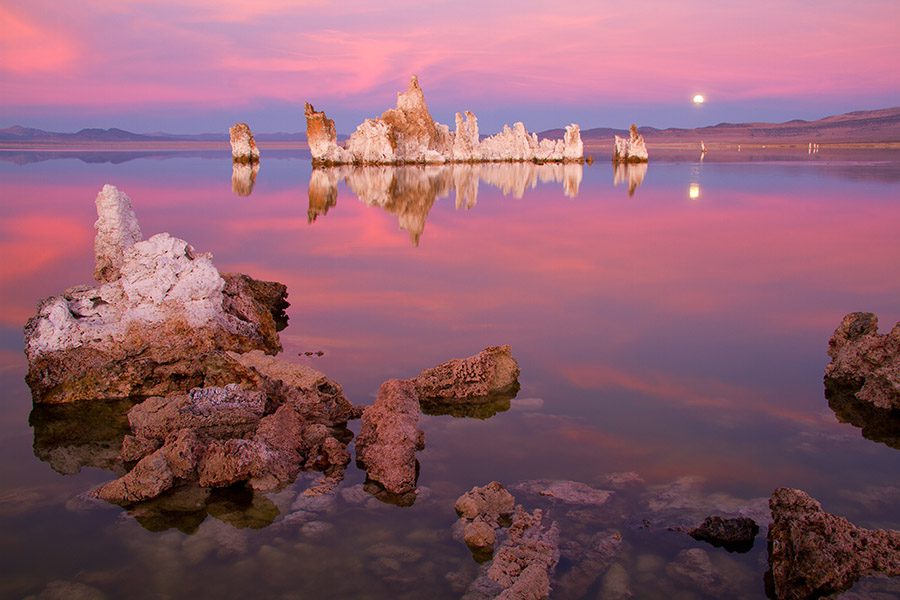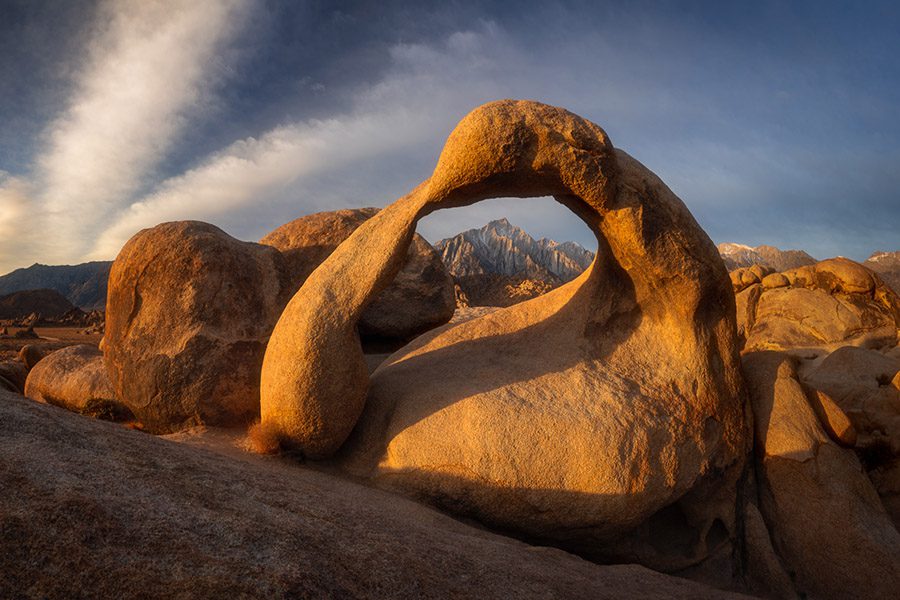 Pricing: 7Days + Lodging
$3250/person + Tax
Save 10% by Joining Our Loyalty Program
Trip Includes:
7 Day Intensive Photo Workshop with max of 8 participants and 2 professional photographers.
Six nights double occupancy hotel lodging.

Single occupancy lodging is available for an additional $500.

All ground transportation to/from Stovepipe Wells.
Photography guiding and instruction throughout the trip.
Post-processing and image critique sessions.
Night photography.
Trip Does NOT Include:
Meals, beverages, and snacks.
Transportation to/from your home to Stovepipe Wells.
Alcoholic Beverages
Instructors:
Nov 12-18:  Kevin McNeal & Johnny Adolphson
Dec 7-13:  Kevin McNeal & Nickolas Warner
When you complete the checkout process, you will be given the option to either pay the full amount or put down a 50% deposit.  If you pay the deposit, the remaining amount will be charged 90 days prior to arrival to the credit card we have on file.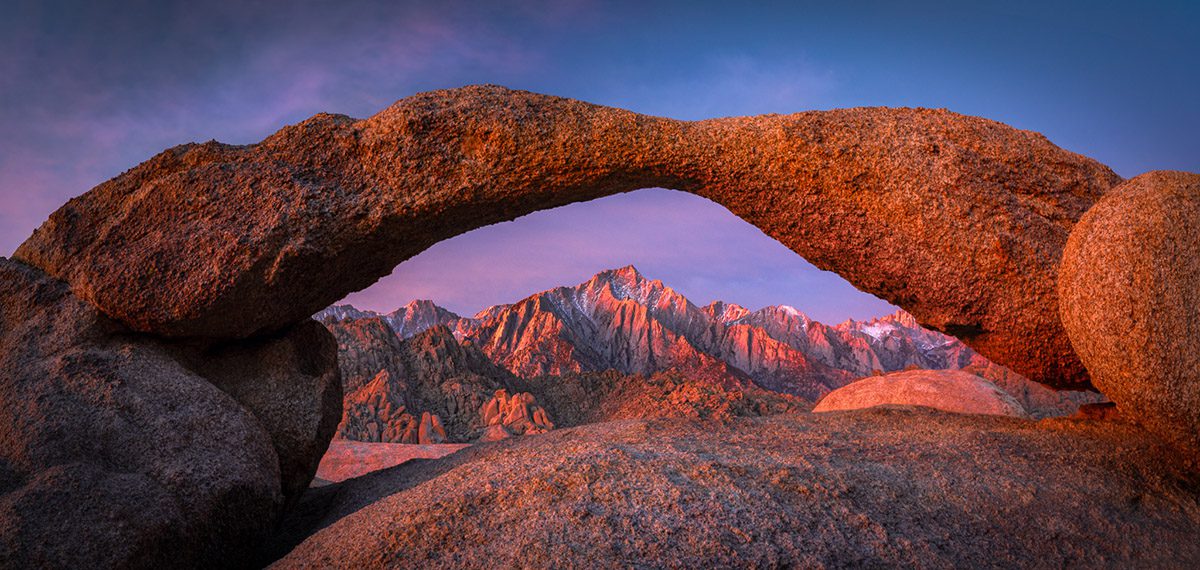 Recommended Camera Gear
Sturdy tripod and ballhead
Digital SLR or Mirrorless Camera Body.
Wide angle lens in the 14-30mm range. For night photography, you will need a lens that is at least f/2.8 or faster.
Mid-range zoom lens in the range of 24-100mm.
Long telephoto lenss for landscape compression and wildlife encounters.  We recommend something in the 100-400mm range.
Circular polarizer filters for your lenses.  If you like shooting with grads, bring them along.
Extra batteries, memory cards, and cleaning supplies.
Remote cord for your camera.
Cover for your camera/lens to protect against weather and high winds.
Laptop if you wish to backup your photos or follow along during the post-processing instruction.
Personal Gear List
Sturdy hiking footwear, hiking socks, and hiking pants.
A rain jacket and several warm layers (upper and lower body) as it can get very cold in the high country.
Headlamp
Sunscreen, Sunglasses, Sun Hat, Warm Hat, and Gloves
Water bottle or hydration bladder.
Hiking poles if you like having them.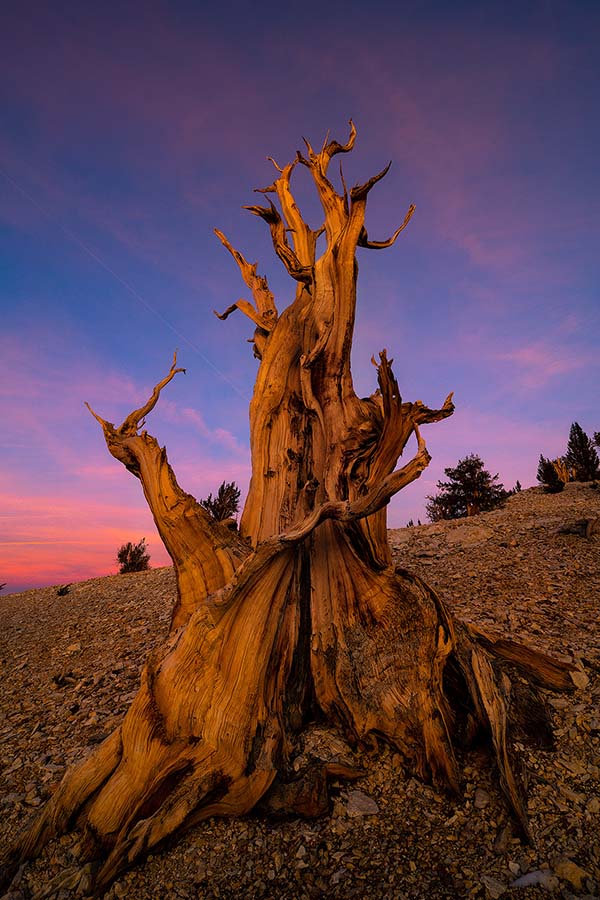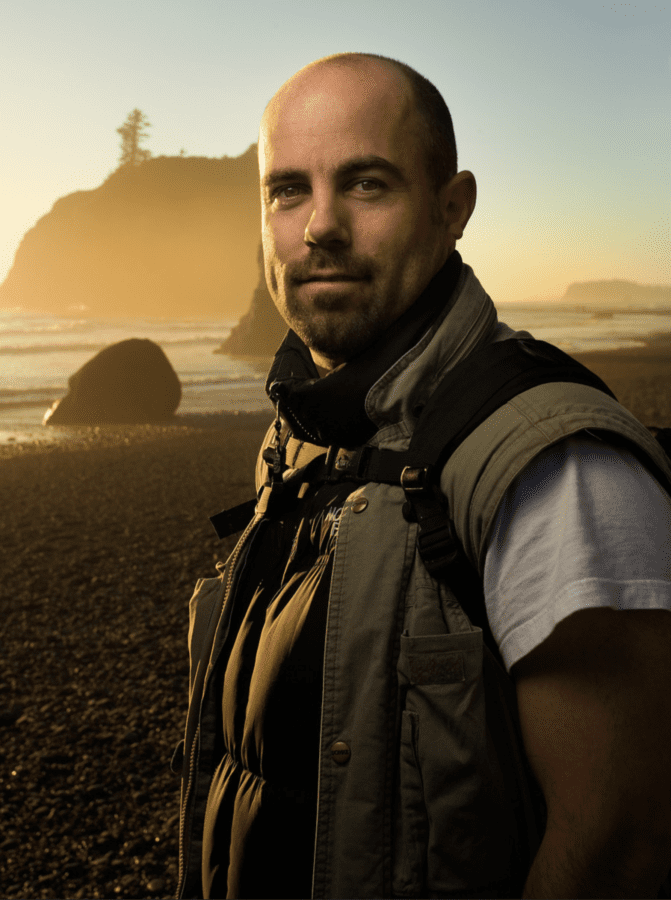 Kevin McNeal
Photography Instructor
Kevin McNeal is a Washington-State photographer who is passionate about photographing grand landscapes that reflect the most unique places on earth. Capturing moments of magic light and transferring this to print is the ultimate goal. His images hold a combination of perseverance, patience, and dedication to capture landscapes in fresh ways. The stories of how these images are rendered come across in the feelings the images convey. He has traveled all over North America, shooting diverse landscapes and finding remote places with the hope that we can convey to the public that this earth is worth caring for. His award winning images can be seen in galleries and showings across the United States.  He was recently invited to the Art Wolfe Art Gallery for the Environmental Photography Invitational. Kevin was the grand winner of the Landscape category for the Natures Best Magazine and was selected for the Smithsonian National Museum of History in Washington D.C..  He is a regular contributor to publications like Outdoor Photographer.
Artist's Statement
"I believe that the Earth shares secrets with us that only can be discovered by trying to understand our position on this planet. We are never fully intimate with the planet but are given brief moments that make our souls want more. These glimpses of nature's power are fleeting and never the same twice. I also believe it is important to share with those who want it. The treasures that await us given the patience that is out there. What I try to do is bring some of that magic to my images to share with the rest of the world. Each of my images tells a story that everyone can relate to in some way whether it is success, fear, or challenging oneself to overcome obstacles
Kevin's portfolio can be found at www.kevinmcnealphotography.com.
Johnny Adolphson
Photography Instructor
Johnny is a published landscape/fine art photographer living in Heber City, Utah.  His award winning art can be found on the walls of clinics, hospitals, airports, hotels, restaurants and private homes throughout Northern Utah. In addition to being a photography guide, Johnny spends the winter months working as a powder ski guide.  His years as a wildland firefighter show in his exceptional backcountry navigation and survival skills.
With landscape photography being Johnny's passion, he spends the majority of his free time exploring Utah's vast wilderness areas in search of hidden gems and new photo ops. Johnny is intimately familiar with the Wasatch and Uinta mountain ranges of Northern Utah as well as the the deserts of Southern Utah. Johnny loves to share his passion for photography with others.
See more of Johnny's work below and be sure to follow him on Instagram:
Nickolas Warner
Photography Instructor
Nickolas is a photographer and tour guide with a particular interest in extreme and unusual locations.  His travels have taken him to some fascinating locations, but the American Southwest is his favorite place to photograph.
Nickolas spent the past decade guiding in Alaska, where he provided instruction on photographing the aurora borealis, and shared his knowledge of the far north's rugged terrain and resilient wildlife.
When not guiding, Nickolas enjoys long distance hiking and extended backpacking trips through remote wilderness areas.
Nickolas's portfolio can be found at Nickolas Warner Photography