Bisti Badlands Fall Photo Workshop
Sept 30 - Oct 4, 2023 - Sold Out
Oct 15-19, 2023 - Sold Out
Let your imagination run wild in one of the most bizarre and alien landscapes! We will be visiting areas in and around Shiprock and the Bisti Badlands of New Mexico. The dates are optimized for prime Milky Way shooting and pleasant temperatures! Expect plenty of individual attention with 4 students to one instructor.   The group will be accompanied by Navajo Guides while on reservation lands.
2 Instructors
8 Students Max
Nickolas Warner (Sep 30)
David Swindler & John Haymore (Oct 5)
Nickolas Warner & Ryan McGinty (Oct 15)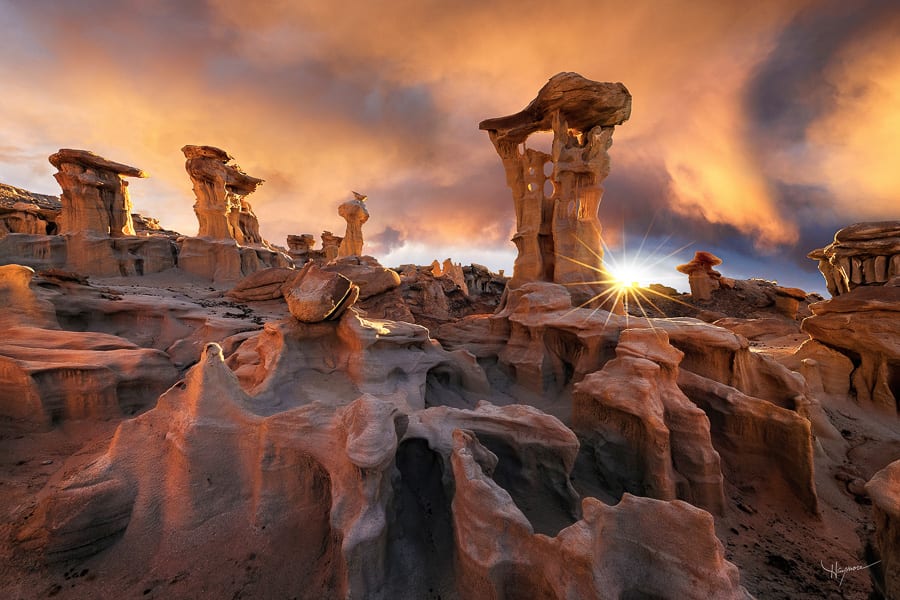 Highlights
The badlands of New Mexico are truly astonishing, with whimsical hoodoos, jagged spires, arches, fossils, and much more! The incredible diversity here will get your creative juices flowing.
Dates are timed for optimal Milky Way shooting. Expect to do lots of night photography as long as skies are clear!
We will be using local Navajo Guides to get off the beaten path and into some very unique areas.
Expect to learn many new techniques and come prepared to shoot a wide range of desert subjects.
You will have plenty of individual attention with a max group size of 8 students and 2 instructors.
Post-processing and image critique sessions will be scheduled throughout the workshop to help make the most of your images.
Itinerary
The exact itinerary will be kept flexible to account for the weather and current conditions. The badlands are spectacular in all different weather conditions and the itinerary below serves only as an example of what we might do.
Day 1:  Meet at 1PM in Farmington, NM for a mandatory orientation session. We will cover many techniques you will be using during the workshop and discuss the itinerary in detail.  After a quick dinner, we'll meet up with our Navajo Guide to photograph sunset and Milky Way.  We return to town around midnight.
Day 2:  It's a short night and we are up early to photograph sunrise in the Badlands.  A quick half-mile hike puts us in an area with some incredible formations and hoodoos. We just can't get enough of the otherwordly shapes and spires. We return for breakfast and then meet together for a post-processing session. We take a well-deserved afternoon break and then head out for our sunset shoot. Some stormy clouds have moved in and we capture some dramatic light and glow!
Day 3:  We are up early again for golden light in a new area of the badlands. There is so much to explore and photograph here! We do another post-processing and image critique session when we return to town. Mid-afternoon we venture out onto the Navajo reservation with our local guide. He takes us to some really unique rock formations!  After sunset, we all group together at our favorite formations to capture the brilliant Milky Way.
Day 4:  Based on the forecast, we decide to revisit one of our favorite areas of badlands for sunrise. Mother Nature is kind to us and we get a couple hours of soft light and perfect clouds.  We return to the hotel for an image critique and post-processing session.  After lunch and a mid-day rest break, we head out for our sunset shoot, if skies are clear, we will stay out for Milky Way.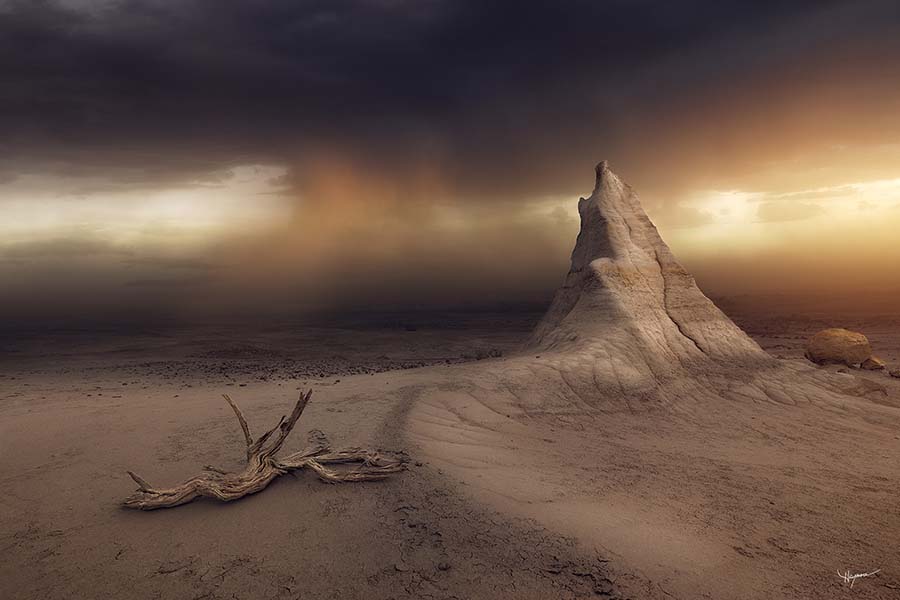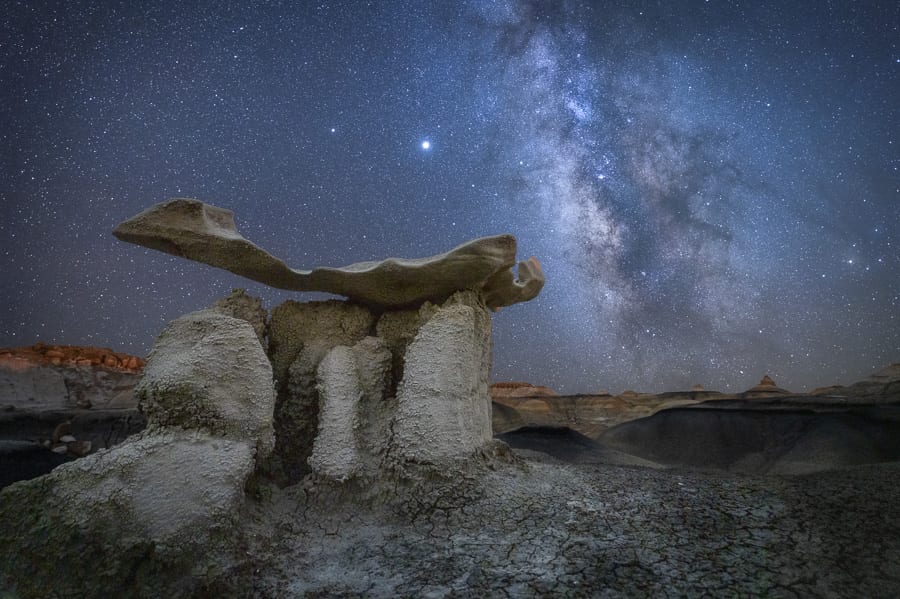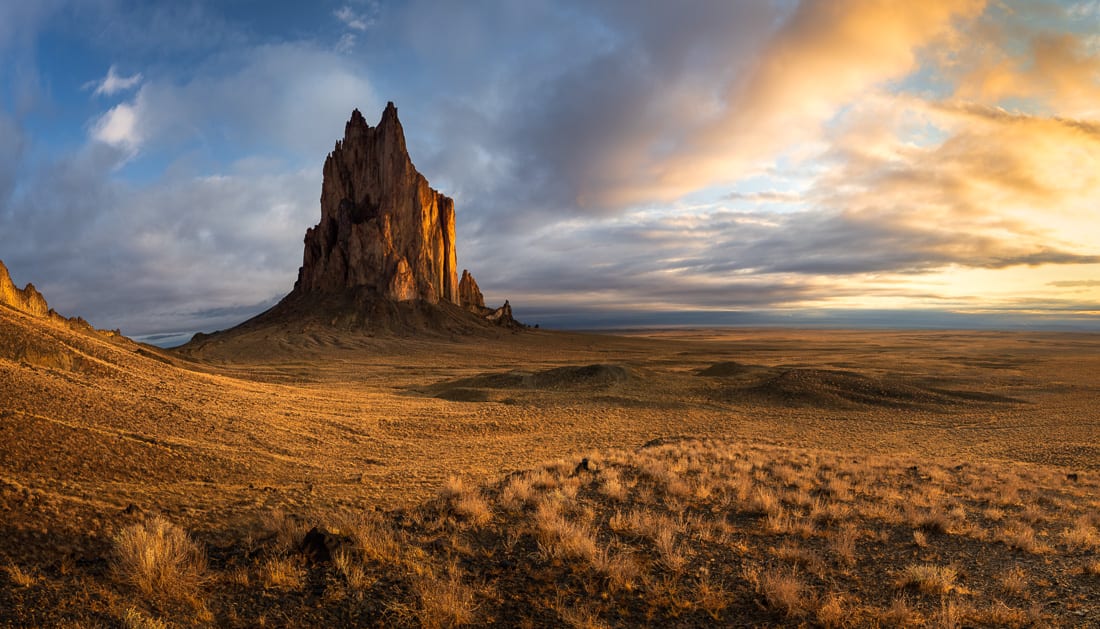 Itinerary, cont.
Day 5:  It's hard to believe it's the last day!  We wake up for our final sunrise at Shiprock, capturing the dramatic grandeur of the monolith as soft morning light illuminates the jagged ridges. We return to town in time for breakfast and check out of our hotels. We reluctantly say goodbye to all the new friends we have made! The workshop will conclude by 10AM so you can plan your return travel after that.
Logistics
Please plan your travel so that you are in Farmington, NM no later than 1PM on on the first day.  We will begin promptly with our orientation session and group meeting.
For those who are flying in, Durango, CO is the closest airport. It's a one hour drive from Farmington but the flight options are fairly limited. Albuquerque International Airport is a 3-hour drive from Farmington and has much more availability.
Transportation will be provided during the workshop for all participants. You are welcome to follow us in your own vehicle, but we recommend everyone ride together since we may out late at night or going on some rough or muddy roads . Each participant will need to get to Farmington, NM on their own.  If you don't want to rent a car, we may be able to arrange car-pooling with other workshop attendees.
Lodging is not included in the workshop fee so you have the option to stay wherever you like.  The group will be based at the Comfort Suites Farmington, NM and we have reserved a block of rooms for our guests.  Please call them at (505) 325-9414 and mention you are with the Action Photo Tours group to receive our group rate.
Our goal is to maximize your photography while you are here. This can mean long days and not a lot of sleep. We will utilize the middle of the day for rest breaks and post-processing sessions.
This workshop is rated Moderate for activity level. No long hikes are planned but participants should be able to hike 2-4 miles each day to get to the shooting locations.  The workshop will conclude by 10AM on the last day.  You can either head back home after that time or spend additional days in the area.
Nickolas Warner is instructing the Sept 30th group (will be a max of 5 students without a 2nd instructor).  For the Sept 30th group, we will have best conditions for shooting the Milky Way the nights of Oct 2nd and 3rd. David Swindler and John Haymore will be instructing the Oct 5-9 group and Nickolas Warner and Ryan McGinty will be instructing the Oct 15-19 group.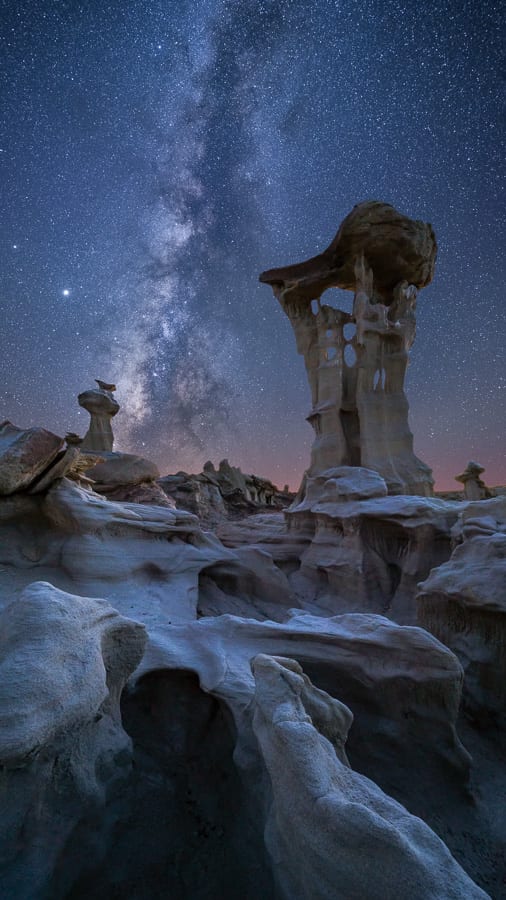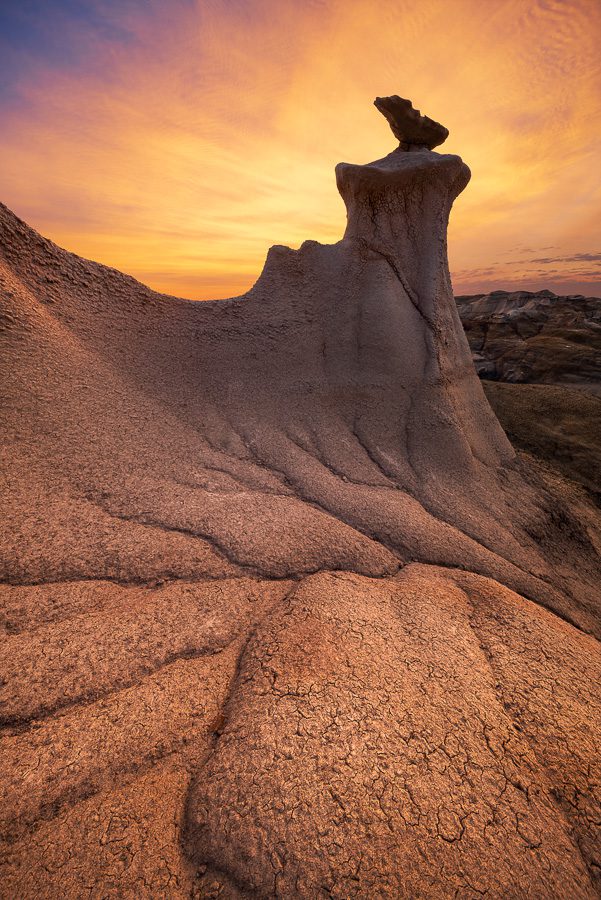 Pricing
$2195/person + Tax
Join our Loyalty Program and Save 10%!!
Trip Includes:
All Ground Transportation
Navajo Guides
In-Field Photography Instruction
Post-processing and Image Critique
Trip Does NOT Include:
Transportation to/from your home to Farmington, NM.
Overnight Lodging
Meals and Beverages.
Instructor Gratuities.
When you complete the checkout process, you will be given the option to either pay the full amount or put down a 50% deposit.  If you pay the deposit, the remaining amount will be charged 90-days prior to arrival to the credit card we have on file.
Recommended Camera Gear
Sturdy tripod and ballhead
Digital SLR or Mirrorless Camera Body.
Wide angle lens in the 16-35mm range. For night photography, you need a wide angle lens that is f/2.8 or faster.
An ultra-wide lens like an 11-24mm or a fisheye will allow you to make very creative compositions.
Mid-range zoom lens in the range of 24-100mm.
Telephoto lenses are optional and there won't be much use for them.
Circular polarizer filters and ND filters for your lenses.  If you like shooting with grads, bring them along.  A 9 or 10-stop ND filter will be useful for creating very long exposures.
Backpack to carry your gear.
Extra batteries, memory cards, and cleaning supplies.
Remote cord for your camera.
Laptop if you wish to backup your photos or follow along during the post-processing instruction.
Personal Gear List
Sturdy hiking footwear, hiking socks, and long pants .
Warm jacket for cool mornings
Headlamp
Sunscreen, Sunglasses, Sun Hat.
Water bottle or hydration bladder.
Hiking poles if you like having them.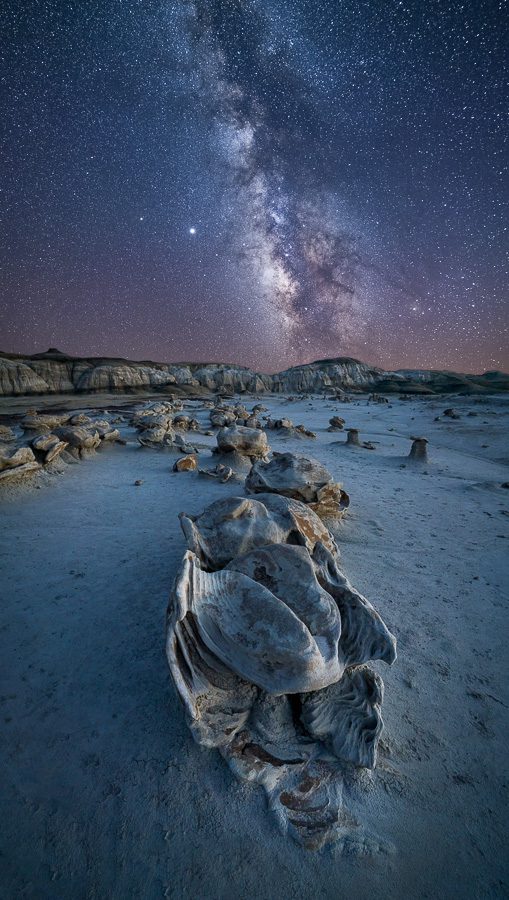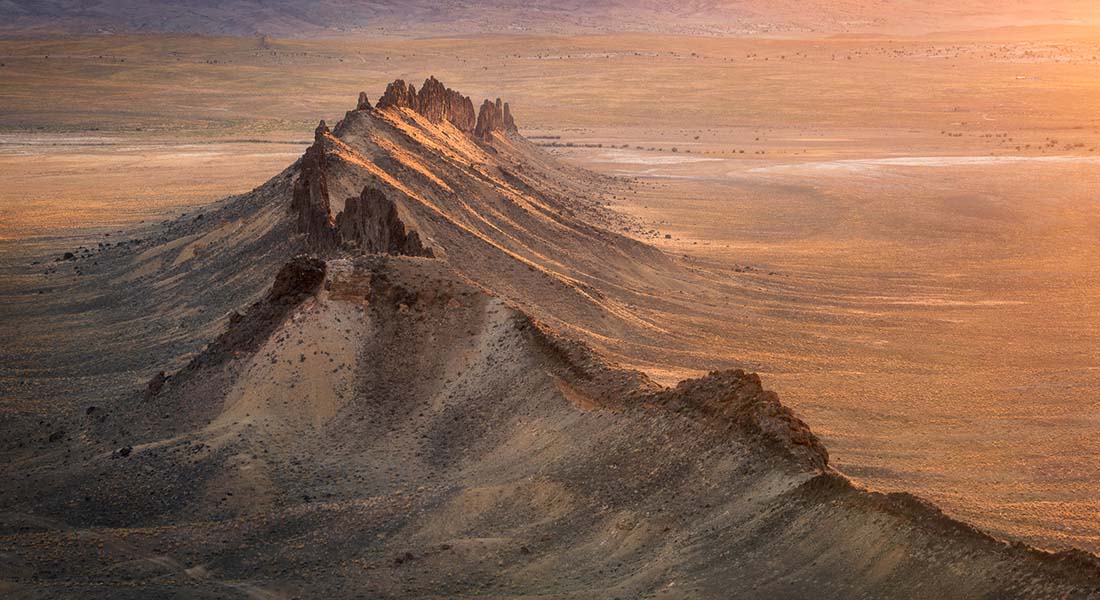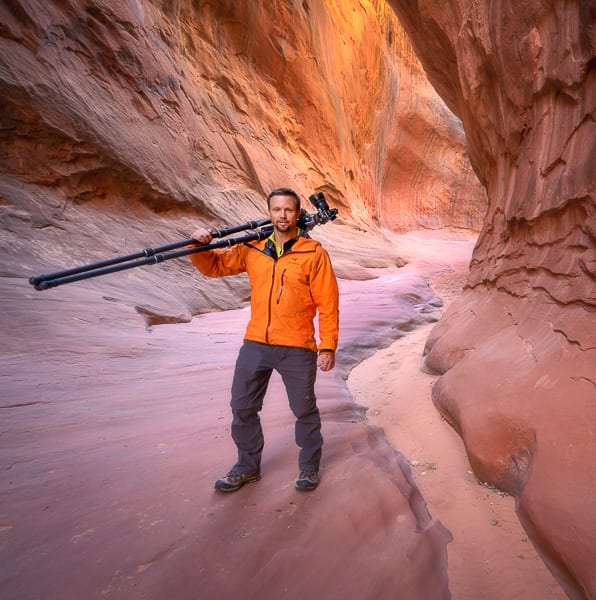 David Swindler
Founder - Photography Instructor
David Swindler is an award-winning landscape and wildlife photographer. Among others, he has been recognized by the International Photography Awards, Siena International Photo Awards, Sony World Photography Awards, International Landscape Photographer of the Year, and National Geographic. He received a degree in chemical engineering and worked in the semiconductor industry specializing in optics and photolithography. In 2014, he left his day job to follow his true passion. He has traveled to some of the most remote regions of the world and has extensive experience photographing a wide variety of subjects and conditions. As the founder of Action Photo Tours, he finds great satisfaction in helping others learn photography, especially in the wild desert environment near his home in Kanab, UT. David is an expert in night photography and loves to get out and shoot the starry night skies.
Gallery    Awards and Media Coverage
Having guided photo tours for years, David is very familiar with many different types of cameras.  He is a master with light and composition. But most importantly, his dedication to his clients is what really sets him apart! But don't take our word for it - read what others are saying: Trip Advisor.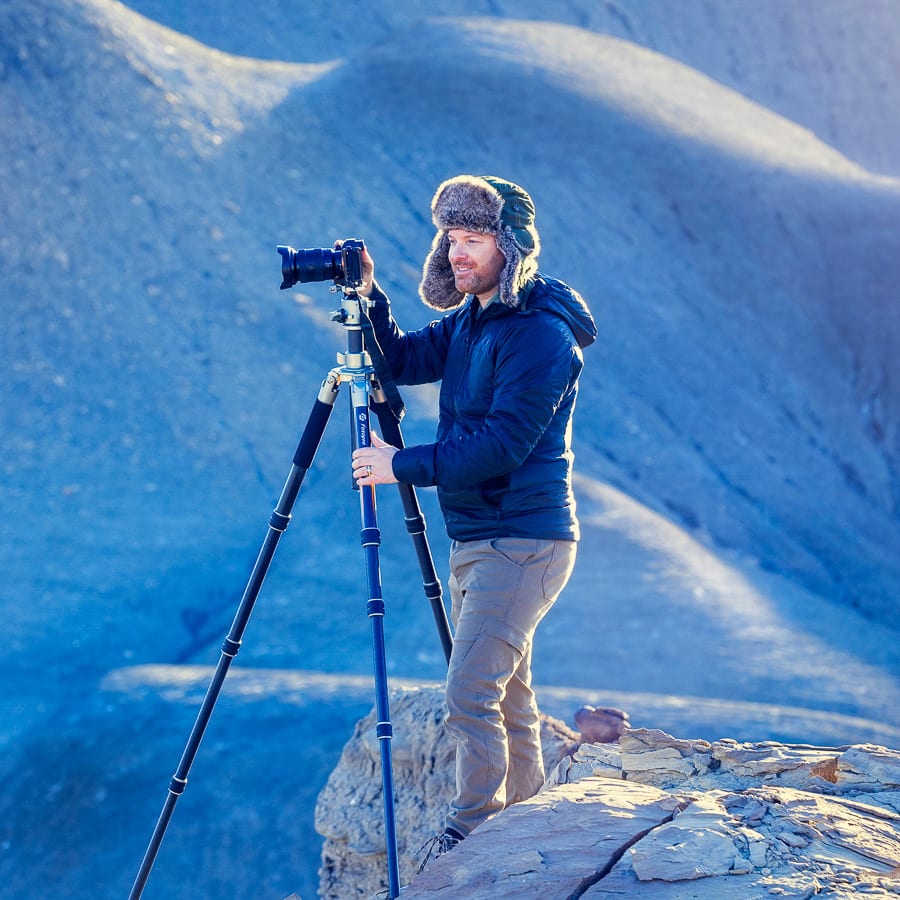 John Haymore
Photography Instructor
John Haymore is a Utah-based photographer with a deep passion for landscapes. Ever since he took his first road trip to Moab over twenty years ago, he's been in awe of the magnificent sandstone formations that the Southwest holds. Those encounters with serene locations left him craving for a way to hold on to those memories and preserve the surrounding beauty. He believes in blending conservation with landscape photography to educate and raise preservation through principles of responsible stewardship for our public lands.  A Graphic Designer by trade, John focuses on building brands and visual communication. He believes everything in this world should be thoughtfully designed and has spent the last decade turning ideas into visual solutions that evoke emotional responses.
John not only loves teaching photographers in the field, but he is equally proficient at teaching computer skills to raise students' post-processing IQ's. John's images have won numerous awards, including top finishes in the prestigious Epson Pano Awards!
View John's Portfolio Here:  Gallery
Nickolas Warner
Photography Instructor
Nickolas Warner is an award-winning photographer with recognition by the Epson Pano Awards, International Landscape Photographer of the Year, and Outdoor Photographer. He has a particular interest in extreme and unusual locations.  His travels have taken him to some fascinating locations, but the American Southwest is his favorite place to photograph.
Nickolas spent the past decade guiding in Alaska, where he provided instruction on photographing the aurora borealis, and shared his knowledge of the far north's rugged terrain and resilient wildlife.
When not guiding, Nickolas enjoys long distance hiking and extended backpacking trips through remote wilderness areas.
Nickolas's portfolio can be found at Nickolas Warner Photography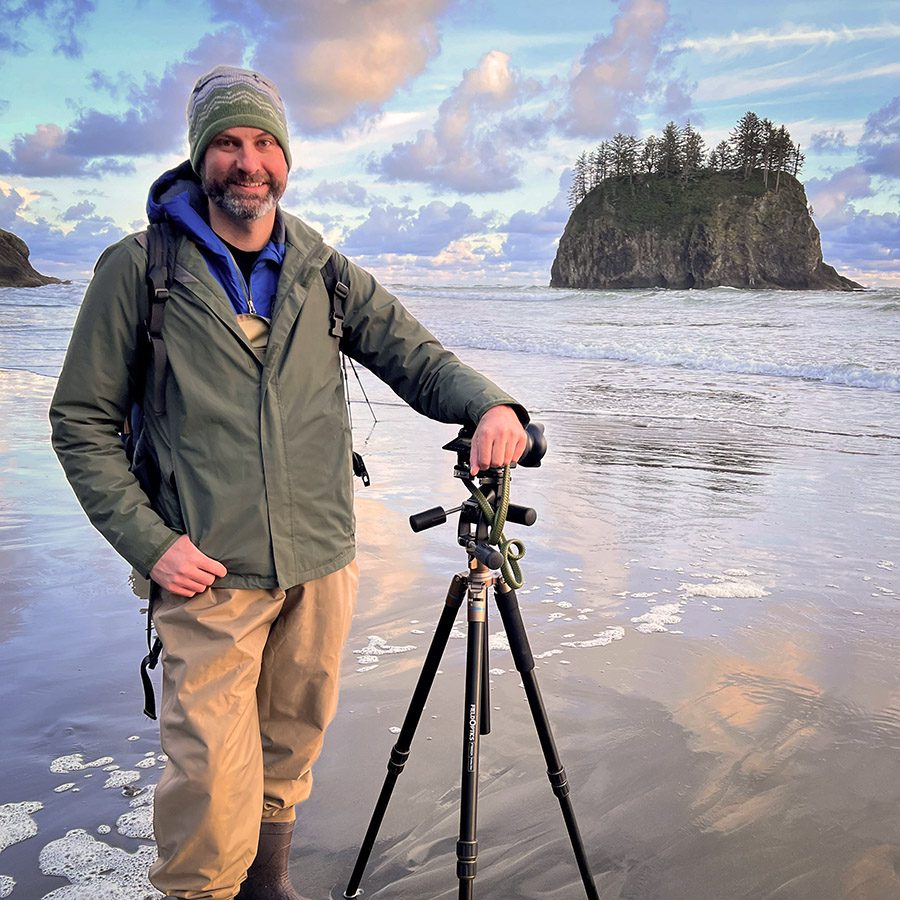 Ryan McGinty
Photography Instructor
Ryan McGinty is a seasoned landscape photographer living in the Palouse area of southeastern Washington.  His first-hand experience in this unique agricultural area makes him the perfect instructor to lead people to out-of-the-way places for those once-in-a-lifetime rainbows, sunsets and sunrises in the beautiful rolling hills. He loves chasing the light and diligently checks weather apps to get the latest sun and rain predictions, cloud formations, wind and temperatures for the best locations and light.
His interest in photography started at an early age and continued in college with graduate work at Brooks Institute of Photography.  His experience in portrait, wedding, film, and medium and large format photography give him an extraordinary background for his award-winning landscape photography.
His passion for the Palouse is only exceeded by his passion for photography and his desire to show people his favorite places.  He takes a legitimate interest in his clients and strives hard to ensure they get the best shots. His photographs have been published in books, calendars and travel guides.