Sept 21-25, 2024 - Sold Out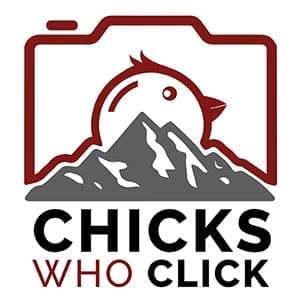 Mission:
To promote participation of women in nature photography by building a community that fosters confidence, support, and meaningful connections.
Who Is It For:
Women photographers interested in building a sisterhood to learn new skills, share adventures, pursue passions, and venture beyond comfort zones, TOGETHER.
Chicks Who Click Special!  Join a dynamic group of women photographers to take in the incredible scenery of the Utah Badlands!  You'll venture into some remote and uniquely beautiful parts of the desert during our 5-day adventure.  Late Sept welcomes the advent of cooler temperatures and dramatic skies. When skies are clear in the evening, we'll venture out to shoot the Milky Way. And for those who have drones, this is one of the best places in the world for aerial photography!   Come witness one of the most spectacular landscapes on Earth and experience the camaraderie of Chicks Who Click! We also have a Co-Ed Version of this workshop May 7-11, 2024.
2 Instructors
Max 8 Students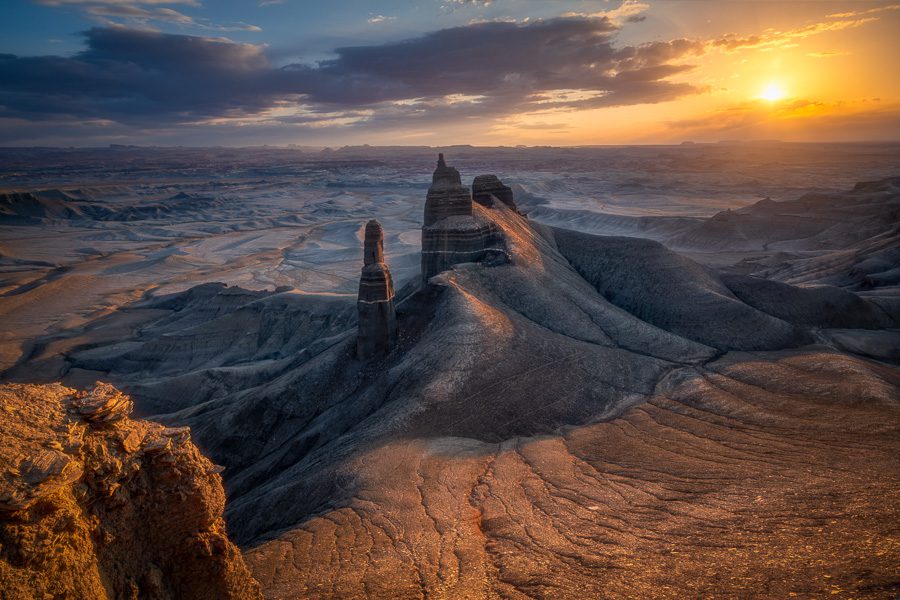 Highlights
Chicks Who Click Special! Join the fun camaraderie and energetic spirit of this group of Women Photographers.
The badlands of central Utah are filled with spectacular photo locations that will blow your mind!  This workshop is designed for those who truly want to get off the beaten path and improve their photography.
Photograph the Milky Way on nights with clear skies.
With 2 instructors and a maximum of 8 participants, we guarantee plenty of individual attention.  You'll learn many new camera skills and techniques.
Transportation is provided in lifted 4x4 trucks so you don't have to worry about the rough roads.
Post-processing and image critique sessions will be scheduled throughout the workshop to help make the most of your images.
Itinerary
The itinerary is being kept flexible to allow us to chase the best conditions. If skies are clear, we'll stay out later to photograph the Milky Way. If storms and clouds are moving through, we'll spend more time photographing during the day. The itinerary below is just an example of what you can expect.
Day 1:  Meet at 4PM in Hanksville, UT for a mandatory introductory session.  After a quick dinner break we head up into the badlands for one of our favorite overlooks for big views, telephoto landscapes, and aerial shots.  The golden light at sunset is sublime but it gets even better as we continue shooting into the blue hour.
Day 2:  We wake before sunrise to photograph some impressive hoodoos. After breakfast we photograph a beautiful slot canyon, looking for that soft reflected light and maybe some light beams. In the evening we hike out into the badlands and capture some impressive light and clouds.
Day 3:  It's another early morning departure to an amazing viewpoint of the badlands. This place is almost like being on a different planet!  We return to Hanksville mid-morning for a rest break and then hold an image critique session. In the afternoon we head up to Capitol Reef and photograph the fall colors up that way. We head into Cathedral Valley for sunset and stay out to capture the Milky Way.
Day 4:  We're out again at dawn to capture first light on stunning sections of badlands. The angled light will make the landscape come alive!  During the day, we meet for a post-processing session.  Since the evening forecast looks clear, we head out to one of our favorite locations for night photography.  You'll be thrilled with the images you capture!
Day 5: We wake up early and drive to one of our favorite overlooks for sunrise. We return to Hanksville and say our final goodbyes.  The workshop will conclude by 11AM.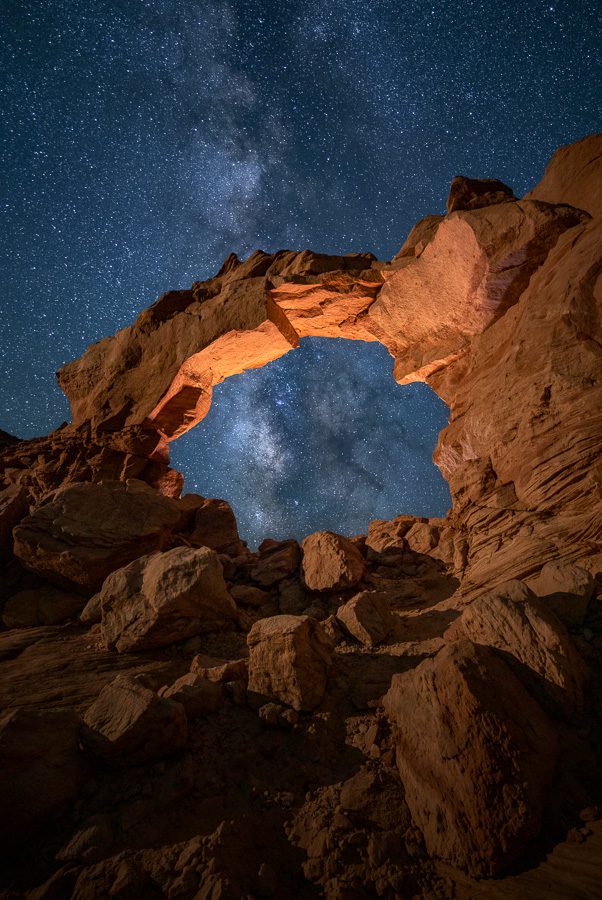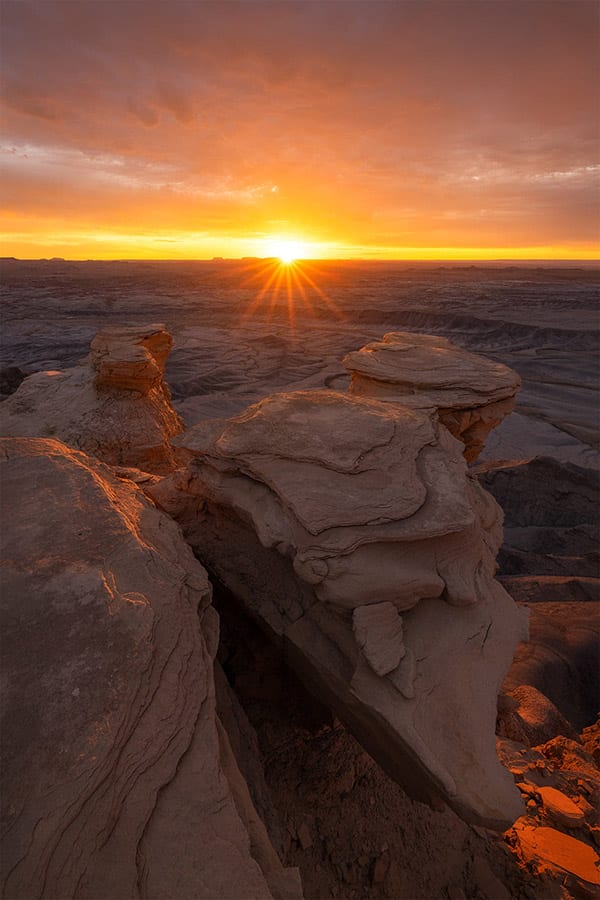 Logistics
Please arrive in Hanksville, UT prior to 4PM on Sept 21st. Lodging is not included in the workshop but we have a block of cabins reserved for our guests at Duke's Slickrock.  We will email participants once they have opened up bookings for next year. You will need lodging for the nights of Sept 21, 22, 23, and 24th.
All transportation during the workshop is included in lifted 4x4 trucks. However, there is no public transportation to Hanksville so you'll need your own vehicle to get there. The nearest major airport is SLC International.
Everyone on this trip should be in reasonably good physical condition.  We aren't planning any long hikes, but the uneven terrain, sand, and steep uphills can make short hikes seem much harder.  You should be comfortable walking around 2-3 miles per day while carrying your gear.
We are keeping the itinerary flexible since we can't control the weather.  Don't worry - we'll make the best possible use of our time. Our job is to get you the most stunning photos and help you learn as much as possible!
The weather is highly variable in early spring. It could be sunny and warm or a cold front might come in and bring some rain and snow. The nights will be cold, so you will want warm layers. It can also be windy in the spring so come prepared with a wind/rain jacket.  Please see the gear list further down.
Food options are limited in Hanksville.  If you have specific dietary needs, it might be best to pick-up food in a larger town before arriving in Hanksville.  The cabins all have microwaves and fridges.
This area definitely has potential to become the next photography hotspot. We don't want to see that happen since it is such a delicate area that can't handle a lot of traffic. We will ask all participants to not the reveal the locations of many places we shoot when posting their photos.
Additional Notes
Many of the areas we visit are perfect for using a drone camera.  Bringing a drone is completely optional.  However, if you do bring a drone, please learn how to fly it BEFORE coming to the workshop.  We cannot fly your drone for you. But we are more than happy to set you up on compositions and help you with your drone photography.
The workshop is capped at 8 participants so that we can give you adequate individual attention.  We are licensed commercial guides for the areas that we'll take you too. We carry a satellite communication device and safety equipment in case we run into any emergencies in the backcountry.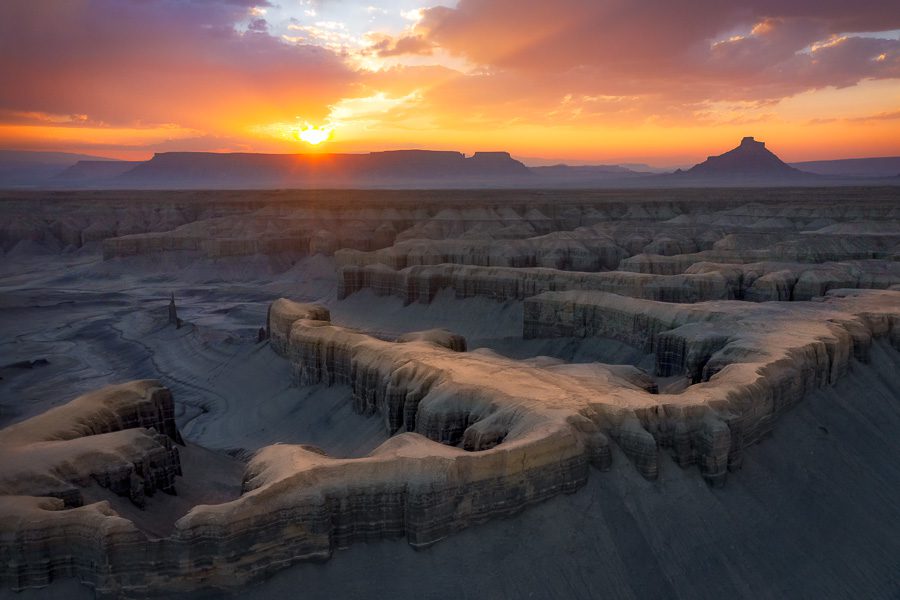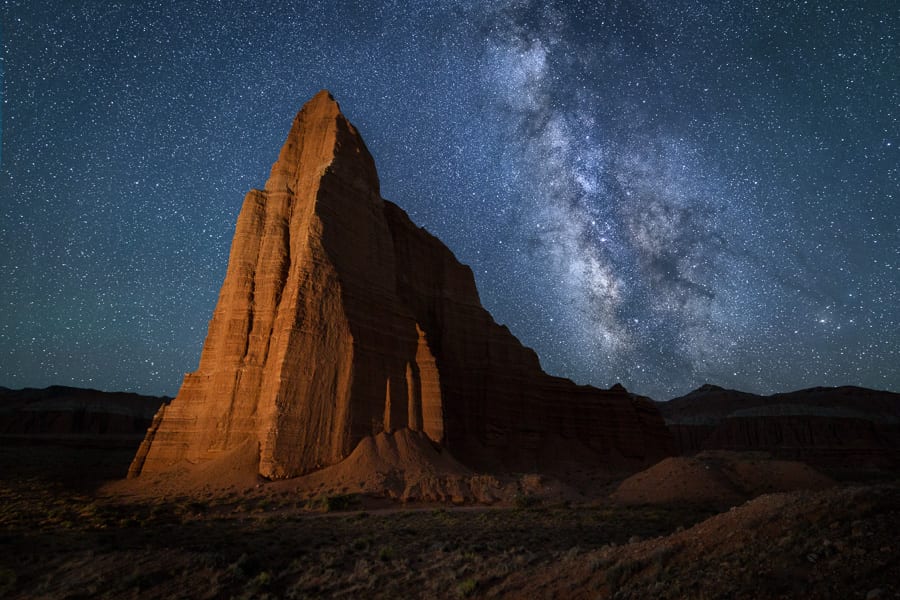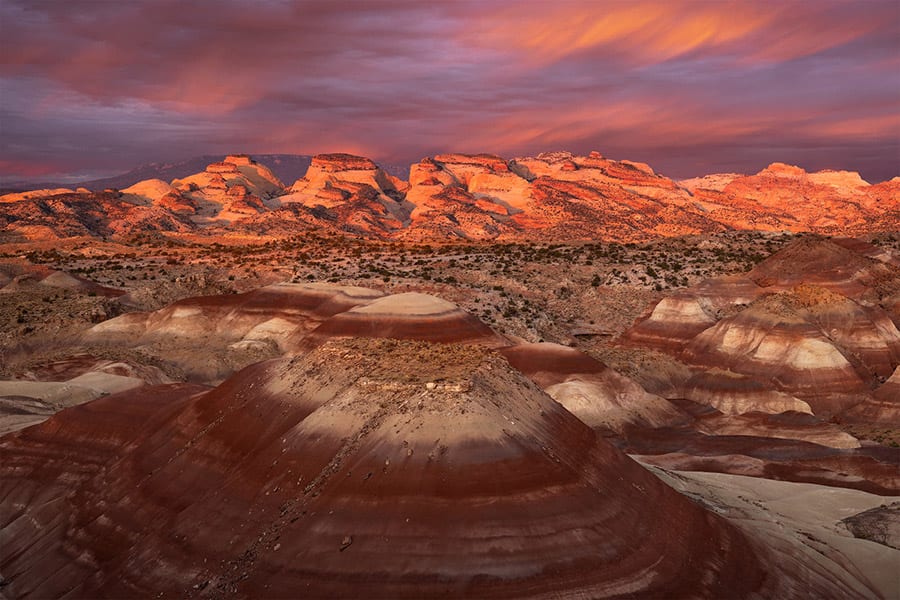 Pricing
$2195 per Person
Join our Loyalty Program and Save 10%!!
Trip Includes:
5-Day Intensive Photo Workshop with 2 Pro Instructors.
All Ground Transportation in Lifted 4x4 Trucks.
Post-processing instruction and image critique.
Park Entrance Fees
Lighting equipment and fixtures for night photography.
Pre-Workshop Zoom Meeting
Trip Does NOT Include:
Transportation to/from your home to Hanksville, UT.
Hotel Accommodations.
Beverages
Meals and snacks.
Instructor Gratuities.
When you complete the checkout process, you will be given the option to either pay the full amount or put down a 50% deposit.  If you pay the deposit, you will be sent a payment link for the remaining balance approximately 90 days prior to the workshop.
Recommended Camera Gear
Sturdy tripod and ballhead
Digital SLR or Mirrorless Camera Body.
Wide Angle Zoom Lens.  Anything in the 14-24mm range will work well.
Mid-range zoom lens in the range of 24-100mm.
Long telephoto lenses will come in handy for creating abstract images. We really like long zoom lenses like the 100-400mm, 150-600mm, etc.
Circular polarizer filters are useful.  Bring any ND filters if you have them.
Extra batteries, memory cards, and cleaning supplies.
Remote cord for your camera. An intervalometer will be especially useful for doing long exposures at night.
Laptop if you wish to backup your photos or follow along during the post-processing instruction.
We may be able to rent you gear if you don't have everything you need.
Personal Gear List
Sturdy hiking footwear, hiking socks, and long pants .
A rain jacket and a warm layer since it can get cold at night.
Headlamp for night hiking
Sunscreen, Sunglasses, Hat.
Water bottle or hydration bladder.
Hiking poles if you like having them.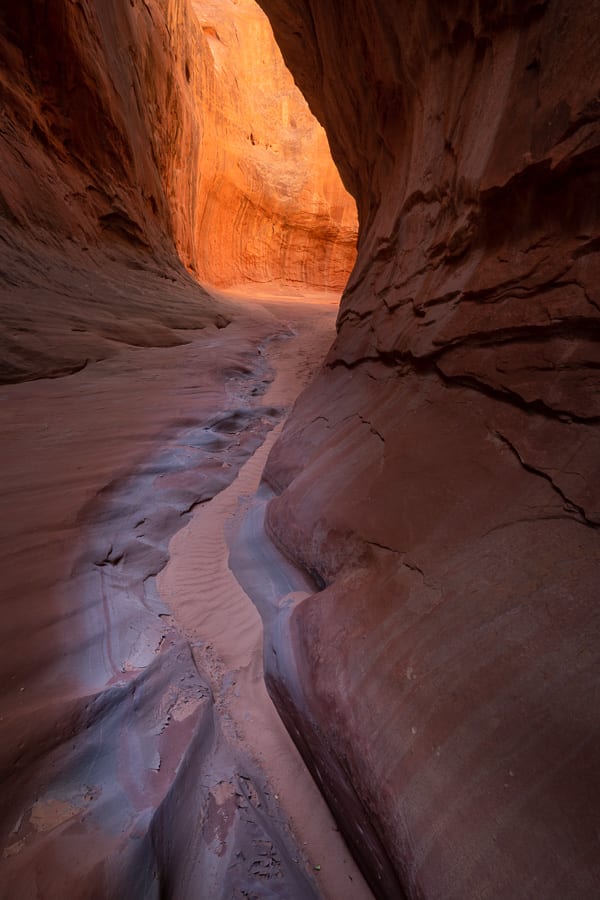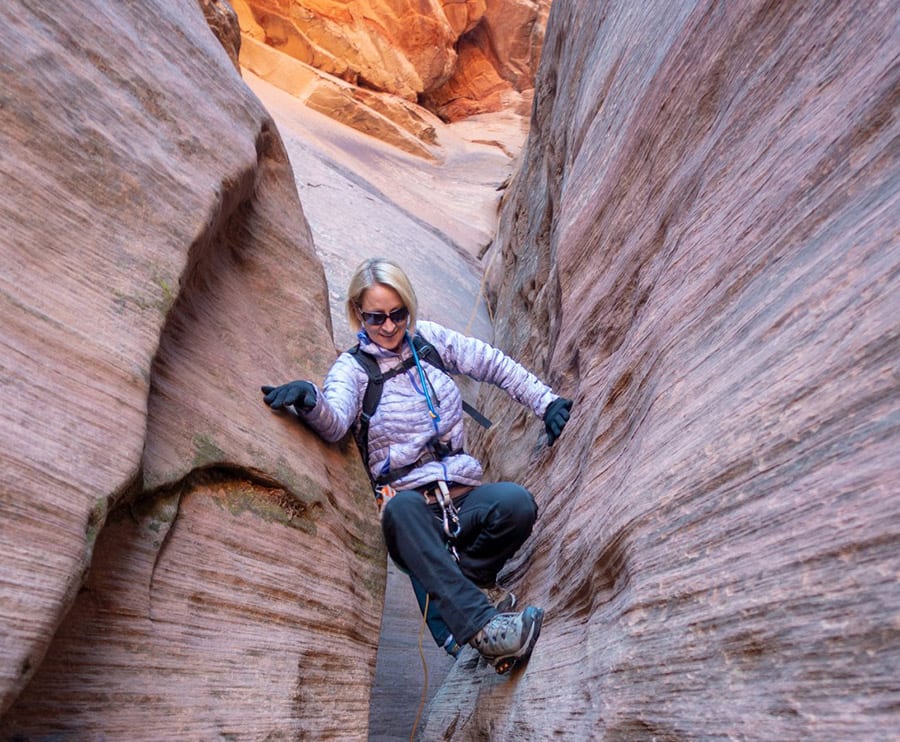 From an early age, Amy knew she had a wandering spirit. Her desire for adventure and passion for nature, stayed with her into adulthood, prompting her to pursue photography as an expressive art form.
The moments captured by Amy's camera are far removed from the "point and click" variety. She often spends hours and even days scouting possible shoot locations.
Amy loves exploring and photographing all the natural wonders that surround her hometown of St. George, Utah.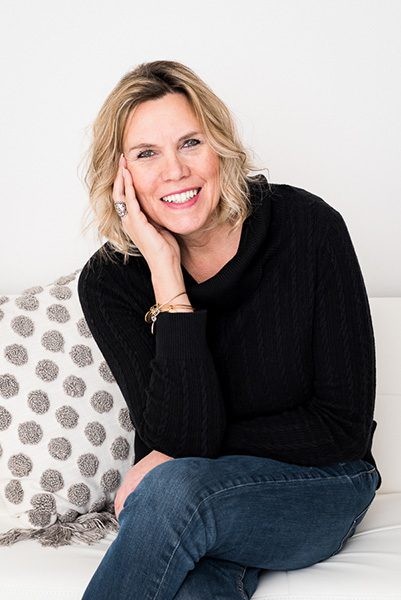 Wendy Casey
Photography Instructor
Wendy is proud to be a Utah Native and began hiking and camping with her parents at a very young age. She has many fond memories hiking to amazing viewpoints and taking in the grandeur that is Utah. Her interest in photography began in the 80's where she made her film images come to life in a darkroom.
She now enjoys the creativity of the digital world by photographing a wide range of interests, from Landscape, Wildlife, Portraits, to Sports. Her favorite is capturing epic scenery with a human interest.
When Wendy and her husband Randy are not at home on their farm, they are out on a trail somewhere, exploring, photographing and creating videos of their adventures.  Wendy has a lot of experience with horses on their ranch and will be an instructor on some of our wild horse and ranch workshops.
Over the years, she has participated in many art shows. Her local favorites are the Kimball Arts, Park City Art Festival and Midway Swiss Days. She has shipped her art around the world  and has her work hanging throughout the state in hospitals, clinics and many large and small businesses. Her images have also been featured in and on the covers of local magazines.
Wendy loves to help others develop their passion for photography and capture through the viewfinder, winning scenes to last forever and an epic story to go with it.