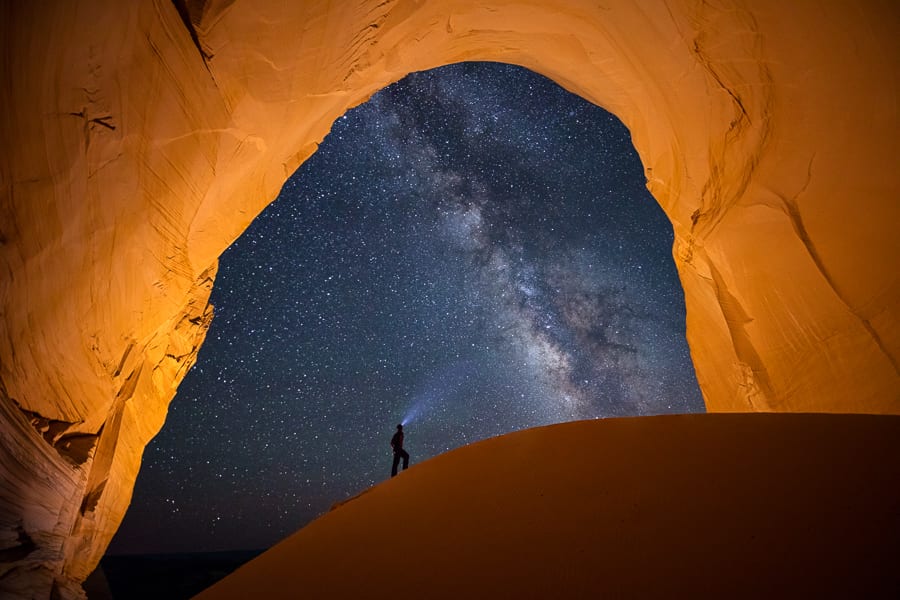 Highlights
Learn how to capture the full grandeur of the Milky Way and incorporate foreground with both natural and carefully planned low-level lighting.
Leave the difficult 4x4 driving and route finding to us and maximize your photography time.  Professional photo instruction and critique included on all trips to help you get the highest quality night images.
Small group size capped at 5 people to ensure personalized instruction and individualized attention.
Expert local guiding to the best night photography spots for the time of year you visit.
We have permits to guide in Bryce Canyon, Grand Canyon, Lake Powell, Zion, White Pocket, Grand Staircase Escalante, Capitol Reef, and more. There's no shortage of places we can go!
Post-Processing Sessions can be scheduled after your tour to help maximize your image's potential.
Trip Details
Tour Length:  8 hours
Drive Time:  Variable - depends where we go.
Time Spent on Location:  Variable - depends where we go.
Tour Departure Time: Please see the time listed on your booking since the times vary throughout the year.  Please arrive around 10 mins early to load your gear and finish the check-in process.  The return time is approximately 8-9 hours after the departure time. Note that we operate on Utah time which is one hour ahead of Las Vegas.  During the months of Daylight Savings (approx mid-March through early Nov), Utah is also one hour ahead of Arizona.  Please take this into consideration if traveling from out of state.
Post-Processing Post-processing is an integral part of creating stunning night images. That is why we include a post-processing session on every one of our night photography workshops.
Tour Pricing: Please click on the Book Now button for the latest pricing. Our tours require a 2-person minimum. Single individuals can always go, but may need to pay the 2-person rate if nobody else decides to join.
Tour Meetup Location: You will meet at our home in Kanab, UT. The address will be given in your confirmation email. This is a safe place to park your vehicle. If you like, you can leave any valuables inside the house. Once you arrive, we'll ask you to load your gear and sign a liability release waiver. If you haven't yet paid in full, we'll take the remaining payment via cash or credit card. Contact us if you are unable to get to the meet-up spot and we'll make alternate arrangements. Las Vegas is the closest major airport to Kanab. There is no public transportation to Kanab, so you'll need your own rental car or private vehicle. We recommend that you stay in a hotel in Kanab the evening of your tour. There are many good hotels in the area like Hampton Inn, Holiday Inn Express, Comfort Inn & Suites, and the Canyons Botique.
Permits: No permits are required to access the areas we'll be going to.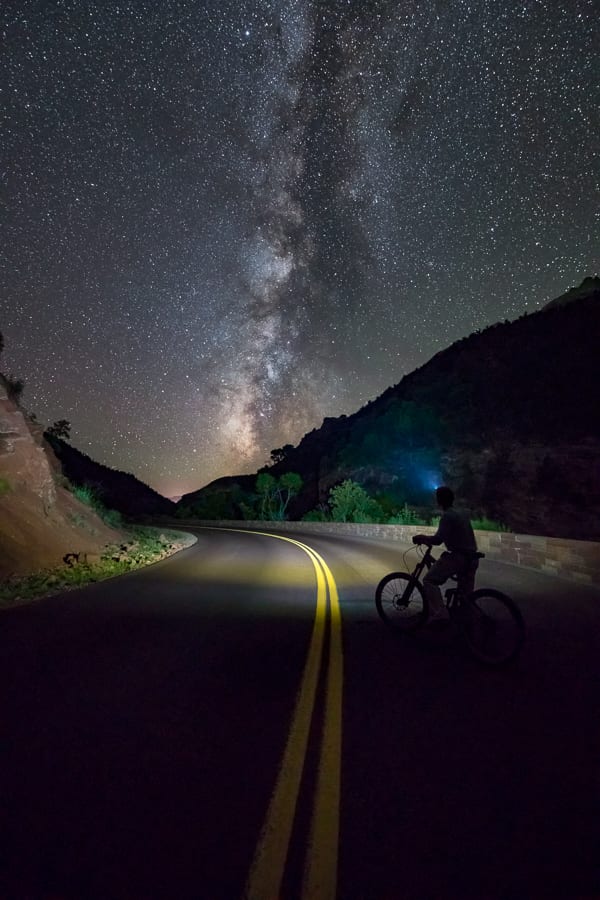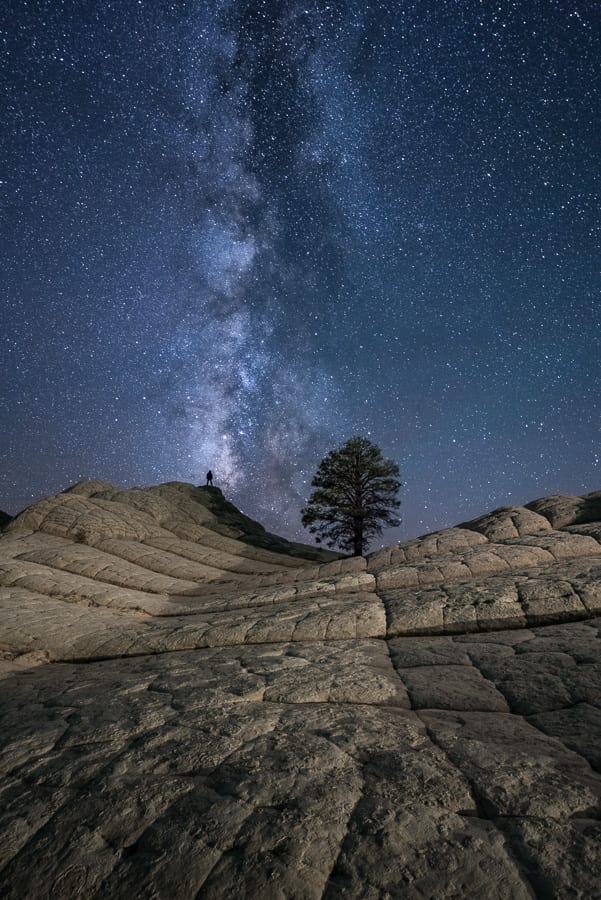 More Trip Details....
Tour Meetup Outside Kanab: Depending on where we go, we may be able to pick you up in Springdale or Bryce Canyon City. If you want us to meet you somewhere besides Kanab, please contact us ahead of time to make arrangements.
Weather Conditions: The weather conditions vary widely depending on time of year and location. Expect cold temperatures at night in the spring/fall/winter months. Bryce Canyon National Park can be especially cold at night. Make sure you dress appropriately. Warm layers, long pants, hat, and gloves will pay dividends when you're standing around in the cold. We cannot offer refunds due to weather unless we cannot go out at all. If skies are cloudy, we'll adjust the tour time to incorporate more daytime photography. We'll still teach you how to do the night photography in the field.
Hiking / Fitness: Most of our night locations don't require much hiking. However, there are certain places where significant hiking may be required. Let us know if you are not very mobile so we can make appropriate modifications.
More Trip Details
Food/Water: We do not provide food on our outings.  All participants should bring food/water to hold them through dinner and while hiking. Many folks will eat their dinner during the drive back to Kanab.  We will have a cooler where you can store food and drink.
What to Wear: You should check the weather forecast prior to coming on the trip. It's best to assume that it will be colder than expected, especially since we'll be standing around a lot. Make sure you bring some warm layers, long pants, hat, and gloves. If rain or snow is in the forecast, bring a rain jacket. We recommend wearing sturdy footwear due to the possible presence of loose terrain, snow, and ice.
Cell Phones: Bring your cell phone along! They are great for using sky viewing apps like PhotoPills or looking up twilight times. There are USB ports in our vehicles so bring a charging cable if you need one.
Group Size: Our groups will never exceed 5 people per guide. We like to keep our photo tours small so we can give adequate individual attention. For those photographers that feel more independent, we will allow you to wander away from the group and explore on your own within reasonable limits.
Guides:  Due to scheduling complexities, we often don't know which guide will accompany your group until a day or two prior.  If you want a specific guide, then please Contact Us to make your request. Although we'll do our best to make it happen, please note that there are no guarantees.
Safety: Our guides are trained in CPR/First-Aid. All 4WD vehicles are equipped with extraction equipment and a first-aid kit. We carry a satellite beacon with us in case of emergencies outside of cell range.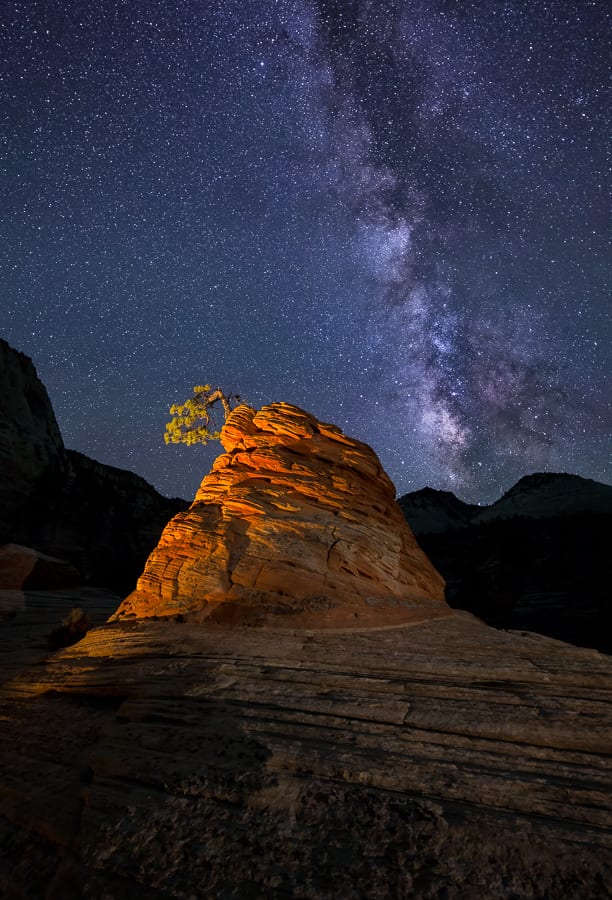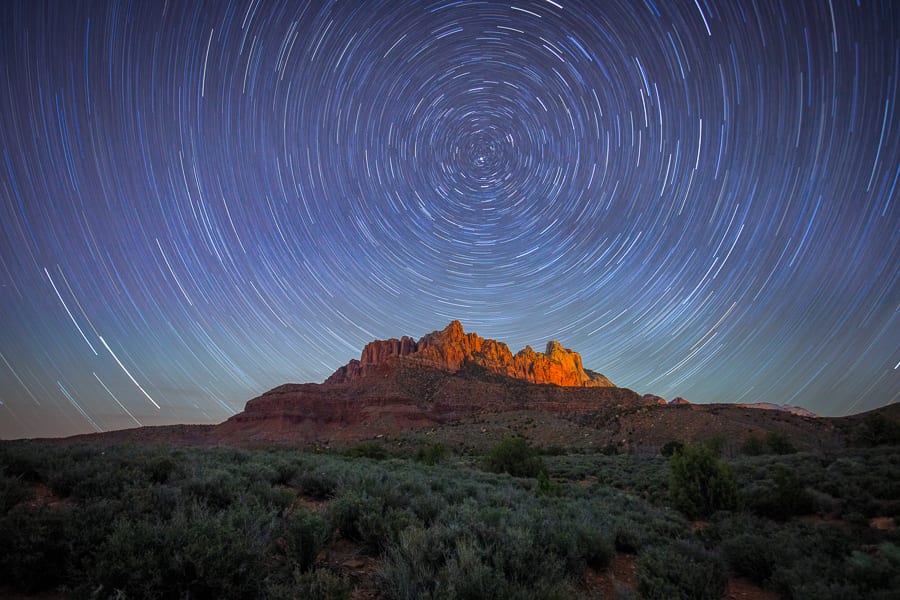 Camera Gear
Camera Gear: All participants will need a sturdy tripod. Full-frame camera bodies work best for night photography. If you are using a crop-sensor body, you will get a lot more noise. A fast wide-angle lens is needed. Our favorite night lenses include the Nikon 14-24 f2.8, Rokinon 14mm f2.8, Canon 16-35 f2.8 III, and Tamron 15-30 f2.8 A remote cord or intervalometer is also needed. Make sure you practice using your camera in the dark before you come. Don't forget to bring a headlight! Please contact us if you'd like to rent any camera gear for your outing.
Cancellation/Re-Scheduling: Please see our Terms and Conditions.
Need More Information? Contact Us!
Phone Number: 435-767-0222