Testimonials | Action Photo Tours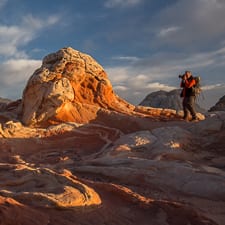 "With a permit for The Wave being virtually impossible to obtain in March, I decided to photograph the White Pocket area instead...a place off the beaten path, and a place like nowhere else, including The Wave. Since White Pocket is so remote, and is 5x larger than The Wave, it made the most sense to camp out there overnight, to be there for the best light both days. David was very accommodating with this, and the price was very fair. He knows all of the best locations, so you don't have to waste precious time chasing the light around. Not only is David a great photographer, but he's a great teacher as well, and I wound up learning a tremendous amount (better composition and focus, intricate workings of the camera beyond simply reviewing the histogram, night photography pointers, etc.). Highly recommended, will book with again next time I want to photograph something epic in this vast area."
-Tim - Virginia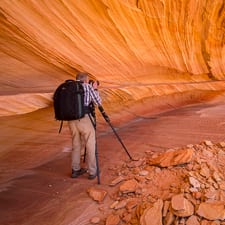 "I recently had the pleasure of attending a 5 day photo workshop with David Swindler of Action Photo Tours based in Kanab, UT.  David was well-organized and punctual in leading this small group tour and took great pains to customize the itinerary to the desires and abilities of each group member.  He is an amazingly skilled photographer, providing instruction in a broad variety of topics and specific techniques,.. always providing input in a very gentle manner.  David is an experienced outdoorsman, familiar with all the popular locations as well as with a multitude of lesser known locations that would have been very difficult to find and photograph on my own.  Throughout the workshop, he was genuine, patient, enthusiastic and very focused on meeting the needs and desires of each participant.  Overall, David is a master photographer, experienced outdoorsman and a great guy.  I would recommend him very highly and look forward to joining him again in the near future."
-Jim - Colorado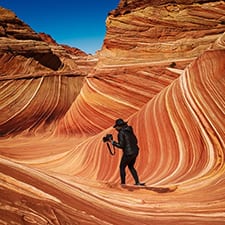 "David Swindler is one of the best at what he does. He is passionate about landscape photography and about creating the 'perfect' photo tour for his clients. He exudes enthusiasm for shooting from just the 'right' spot for sunrise and sunset as well as helping to capture all the moments in-between for his photography group of experts to neophytes. You will enjoy and benefit from David's knowledge of photography, his experience of this unique and beautiful terrain and his wit. It is truly the photographic expedition of a lifetime!"  
-Marie - Rhode Island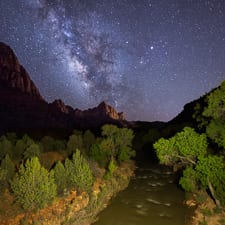 "The photography tour I did with David will never reach the end. All his ideas and the techniques will remain in my mind and it shows in the photos I took in Utah and Arizona. His full knowledge about the Milky Way made a fabulous and an amazing experience and it was the top of my trip all the way from Jeddah, Saudi Arabia. Without any hesitation will look forward to another photography tour with Action Photo Tours."
-Mohammed - Saudi Arabia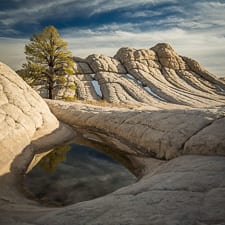 "I found Action Photo Tours (David Swindler) on the Internet when I was looking for someone to take me into White Pocket. I was impressed by the content on the website and by the over-all quality of David's pictures. I figured that this guy might be able to teach me something. I was right. We had a fantastic day at White Pocket. David showed us the area and where he thought the best photo sites were, and he was great about helping us get some well composed shots. White Pocket is a treasure, and we had the whole area to ourselves that day in early Feb. 2016. Thanks, David."
-Rodney - Idaho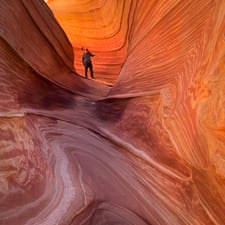 "I and the others in our tour had a great experience with David in Southern Utah. Besides visiting the Wave and Antelope Canyon, David led us to to some scenic but rarely visited locations such as White Pockets, Water Pockets, North Coyote Butte, etc. We practiced some of the photographic techniques that David introduced to us in his opening day seminar. David is an excellent photographer, an excellent teacher, and an excellent and helpful guide in the field. David really enjoys his work and I highly recommend joining David in one or more of his photo tours."
-Paul - Idaho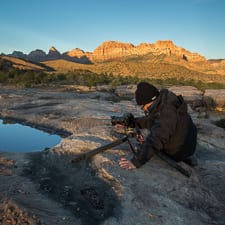 "I was looking for several things when I booked with Action Photo Tours. I wanted to learn more about photographic techniques (I consider myself an advanced amateur) and I wanted to do some night photography. Equally important, I wanted someone familiar with the area who could take me to places where I could get interesting photographs at times when the lighting was likely to be optimum. David Swindler fulfilled all of those expectations. All the truly outstanding photographers I have known share one characteristic, a desire to achieve perfection in their photographs. David shares that characteristic and enthusiastically teaches the details that he considers when taking a photograph. On a personal level, David is energetic, easy to get along with and enthusiastic about landscape photography. These characteristics helped make the entire photo tour a very enjoyable experience."  
-Paul - Florida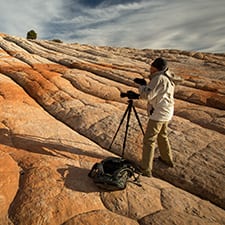 "David is the best in the Southwest. Always on time, very knowledgeable about the areas he takes you to. He also has a great knowledge of composition and camera use and takes you to spots that a lot of people don't get to see. Provides input to help improve your compositions as well."
- Dennis- Las Vegas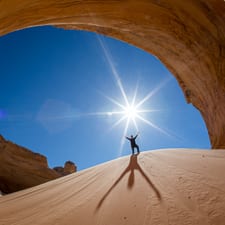 "We went in a group of three and David was our guide going through the amazing landscape of Coyote Buttes and the Wave. David was the best tour guide. Besides being real easy to talk to he would give pointers on getting the best photos and directed us to places we would've never gone if we'd gone alone. One of the most amazing hikes of my life!"
- Rene - The Netherlands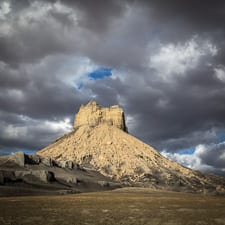 "I was very fortunate  having David Swindler be my guide visiting Arizona and Utah. As a photographer new to landscape photography, I have hired guides throughout North America to help me. I must say David has been the best photo guide I ever used. He was not only a knowledgeable  guide, but also a great teacher, pleasant,  and genuine human being. As opposed to other guides who took me to locations and then they took photos for their own portfolios, David paid attention to me and showed me not only great locations but  also creative shot angles and composition. He taught me about histograms, color temperature choices, perspective using different lenses, geology of the area and various techniques regarding light, for shooting from sunrise, to mid-day, to moonlight. Being a senior citizen, I also appreciated how he went at a pace to accommodate me and even helped me carry some of my equipment at times. He is outstanding as a photo guide and in serving his customers. Five Stars!"
-Ken - Michigan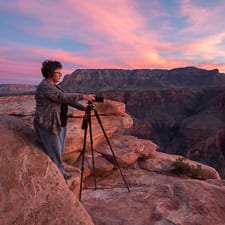 "In planning a trip to southern Utah and northern Arizona, my husband and I realized that some of the places where we wanted to hike and photograph would be difficult to access. We decided that it would be in our best interest to employ a guide. However, I didn't want just a guide. I wanted someone who would also help me improve my photography. David Swindler was perfect on both counts.
We spent five days with David - hiking, photographing, and learning from him. His knowledge of the area enabled us to see places we would not have been able to see otherwise. His photography instruction was excellent, and he knew the best places to go and the optimal time to be there to get the best photographs.  When I did not have the best lens for a situation, he would loan me his. He was always pleasant, adaptable, and ready to lend a helping hand.
We highly recommend his services and hope to have more excursions with him. "
-Brenda - South Carolina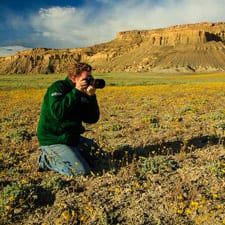 "I had the wonderful experience of attending the Grand Escalante Tour with David Swindler in May of 2015. David is a world-class photographer and accomplished traveler and outdoorsman, and he put together a great itinerary for the trip that included many locations that I would otherwise not even know about or be able to get to on my own. His teaching, both for the beginning workshop and in the field, is friendly, easy-going, and helpful, and he is there first and foremost to help the attendees, not to further his own goals or get his own shots. I consider myself a pretty experienced photographer, but I learned many new tips and techniques from David throughout the week. Even better, David is approachable and fun, and we had many fun conversations and group discussions throughout the week. David was flexible and tailored the schedule to meet the needs of our group and the weather, and even in difficult or unexpected circumstances he kept a smile on his face and met everyone's needs. I came home with many, many truly stunning and unique images from the trip thanks to David and his hard work, and I can't wait to go on my next adventure with David and Action Photo Tours."
                - Matt - New Mexico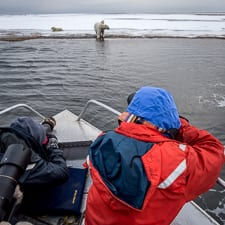 "The 2015 Alaskan Polar Bears Photo Tour with David Swindler of Action Photo Tours LLC could easily be called the trip of a lifetime.  Every day brought new surprises, great opportunities for polar bear and Kaktovik photography, and quality time with a top-notch instructor.   As I mentioned to David several times, the tour had exceeded all of my expectations!  I would highly recommend this tour if a unique and amazing photography experience is your main goal." 
-Cheryl - Atascadero, CA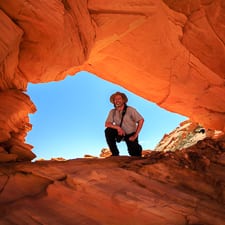 "I booked a Coyote Buttes photo tour with "Action Photo Tours" in April of 2015. I've been hesitant to book ANY "Photo Tour" because they can be quit pricy and I didn't see the value for an experienced photographer like myself. I went with David because the price was right. I would have paid more if I had taken the trip by myself. I was amazed by the whole experience. I learned more on this trip than any other single event in my 20+ years of photography. David is an excellent guide, a world-class photographer, an expert on equipment (cameras, lenses, filters, etc), a master of post-processing and is easy to get along with. So, I ended up with an inexpensive vacation with a world-class photo workshop added on. I've already booked another trip with Action Photo Tours and would highly recommend David to anyone looking for a great adventure." 
-Glen - Boise, ID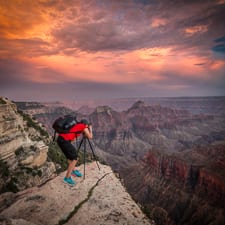 "Attending the work shop with David is very amazing, I never had any experience in camping which we did in his workshop. Learning new stuff like night photography that I really enjoyed! ..Most of all we had so much fun in the trip. I really recommend it for anyone who wants to have a great time to take images ""
- Sarah - Kuwait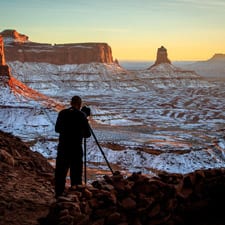 "Employed David as my guide for a visit to the False Kiva in Canyonlands. His communication was very responsive in the first instance and when we met up was particularly helpful and patient with regards settings for the shoot as I was not very experienced in night photography. Came away with good knowledge and a great evening of memories."
- Mark - United Kingdom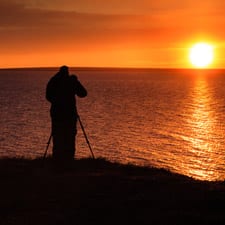 "I recently had the pleasure to go with David Swindler on the Aurora and Polar bear photo adventure, and I really enjoyed this trip tremendously. David is an excellent guide, always ready to help and share his knowledge and tips – I learnt so much from him and my photography improved tremendously due to his guidance. David loves what he does and it shows. He is always up to take pictures at the crack of dawn, and even venture out at night after a full day of shooting polar bears to look for the Aurora Borealis and take pictures until late at night. David booked a great captain who took us close to the polar bears and made sure that we got great pictures. I can only say the best of David, his polar and Aurora tour, and do highly recommend him." 
-Axel - Los Angeles, CA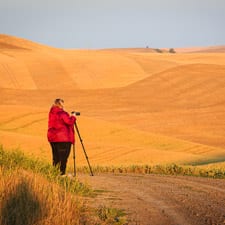 "I had the wonderful opportunity to explore the Palouse area of Washington with David Swindler as my guide. David planned an excellent itinerary that encompassed the entire Palouse area in the short time I had for the trip. He made the most of each day from sunrise to the dark of night. As an experienced outdoors-man and first class photographer he led me to the best places to take amazing photos. I ventured to the cliff's edge, explored dilapidated relics long forgotten and chased moose through a wheat field. Things I never would have done without a wonderful guide to lead the way. The one on one time spent in the field was invaluable, nothing can compare to having an expert by your side as you attempt to capture amazing sights. David's excellent teaching skills helped my photography improve immensely. As a beginning photographer I found that by the end of the trip I was seeing the world in a new way, visually I was thinking in a new language. My only wish is that I could have had more time for a longer trip but hopefully I will be able to go on many more of David's tours in the future." 
- Lusina - Boise, ID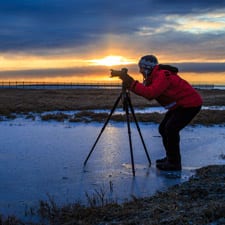 "David Swindler is a top notch nature, landscape, and wildlife photography guide. I learned so much from him on this expedition every step of the way. He prepped us with an intricate yet easy to follow overview about all the things to remember to do when shooting nature, landscapes, and wildlife, and was always there to remind you to actually do them while trying to capture shots. He is patient, kind, and diplomatic even when things are not going so well with the weather or other obstacles that come up. I would highly recommend him to even the most accomplished photographers.
In fact, there was a master photographer sharing our boat tour who David taught as well as all os us how to photograph the Aurora Borealis, which can be quite technically challenging to capture. That was more inspiring to me than photographing polar bears, who we got to really study up close and personal from the safety of a boat. David's own excitement and enthusiasm for nature photography ignites your own passion making you a better all around fine artist. He also was a wonderful host who made you feel like you were traveling with your best friend, rather than being on a tour, and he always went out of his was to tailor the trip or outings to your interests and desires."
- Brian - Los Angeles, CA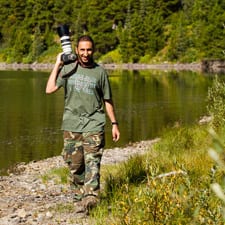 "I was very happy for the trip I had with David during the first week of Sep 2014. He was very flexible with my requirements. I had to change destination and itinerary couple of times, yet he was very flexible and adoptive for my requirements. Beside his flexibility, he is very committed for his guests to obtain the best shots they are looking, and very punctual as well. Next time I am planning to go with him for photography tour in Alaska."
- Mohamed - United Arab Emirates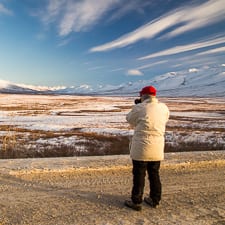 "The Polar Bears & Arctic Wildlife was truly a photographer's trip by a photographer for photographers. An amazing experience to capture images of wildlife and landscapes few will be able get. If you want to be pampered, take an European river cruise. If you want stunning images and be up close and personal with wildlife, take this Action Photo Tour."
-Anita - Santa Maria, CA