White Pocket Monsoon Photo Workshop
Aug 8-11, 2024 - 2 Spots Left!
Monsoon season is one of the best times to photograph White Pocket. This is when we have best chances for big clouds, lightning, storms, and water reflections. Our fully outfitted overnight camping trip allows you to photograph sunset, sunrise, and the Milky Way if skies are clear! During our 4 days together you'll shoot a good variety of Southwest locations. Post-processing instruction and image critique also included. If you'd like to extend your trip, consider pairing with our Grand Canyon Monsoon Workshop Aug 4-8, 2024!
5 Students per Instructor
Max 10 Students
Nickolas Warner
Amy Osness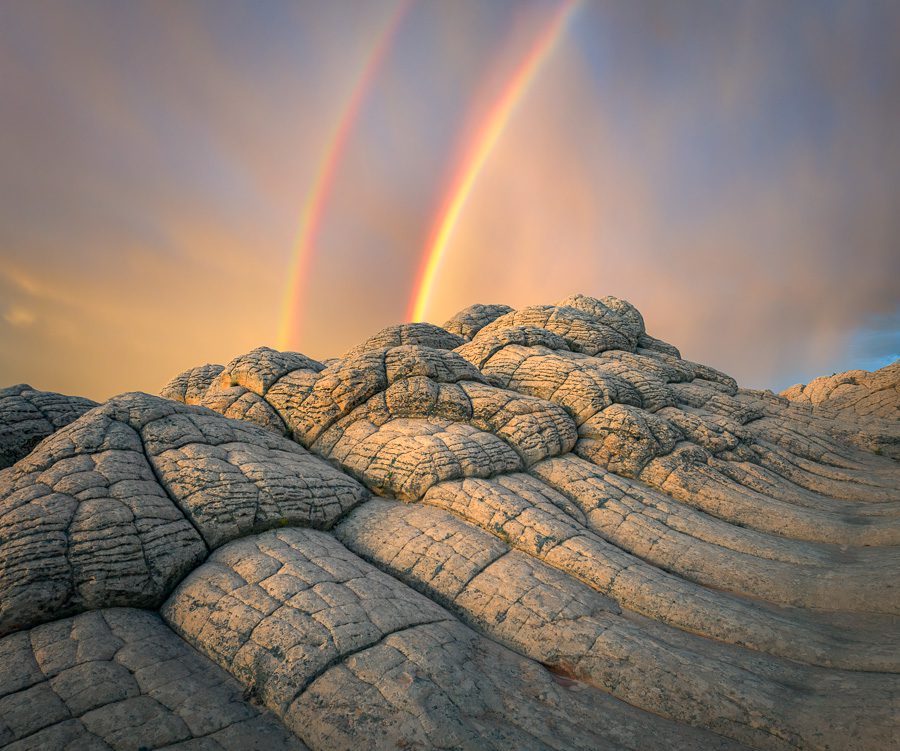 Highlights
Fully outfitted overnight camping trip to White Pocket during the height of monsoon season. Chances are good for dramatic skies, storms, and full water pockets!
When skies are clear in the evening, we'll go out and photograph the Milky Way. The workshop dates are timed to avoid moon interference.
Learn many new photographic and post-processing techniques from pro instructors.
The itinerary and locations are flexible so we can chase the best weather conditions. We have permits to operate all around the Southwest so we have lots of options!
Post-processing and image critique sessions will be provided throughout the workshop.
Can't get enough of the Monsoon Mania?  Consider joining our Grand Canyon Moonsoon Workshop Aug 4-8, 2024!
Itinerary
The itinerary is being kept flexible to allow us to chase the best conditions. The only day/location that is fixed is our White Pocket Overnight camp.
Day 1 (Aug 8):  Meet at 1PM in Kanab, UT for a mandatory introductory session.  When finished, we start the drive out to White Pocket.  We quickly set up camp and then photograph into the evening & night hours. We will supply tents, sleeping bags, pads, pillows, chairs, meals, and snacks. At night, we'll photograph the Milky Way if skies are clear and you'll learn both natural and low-level lighting techniques. Note that a hotel room will be provided for all participants on this evening in case of bad weather. The room will also allow you to shower and rest up as soon as we return the next day without waiting for a late afternoon check-in.
Day 2 (Aug 9): Sunrise/Morning at White Pocket and then we break camp and return to Kanab for showers and a midday rest break.  We hold an afternoon post-processing session where you'll get some great tips for your Milky Way images before heading out for a sunset shoot after dinner.  We'll stay out and shoot Milky Way if skies are clear.  But if there are storms in the area, we might be photographing lightning!
Day 3 (Aug 10): We begin with a post-processing and image critique session and then decide as a group where we want to go shoot that evening based on the weather forecast. We have permits to guide all over the Southwest so we have lots of options to choose from. After shooting some dramatic monsoon light at sunset, we head back to Kanab.  Since the skies have cleared on the drive back, we head over to the Great Chamber for Milky Way photos which is one of our premiere night locations.
Day 3 (Aug 11):  We decide to get up early to capture sunrise in Zion National Park.  We return to town for breakfast and have one final classroom session.  The workshop will conclude by noon.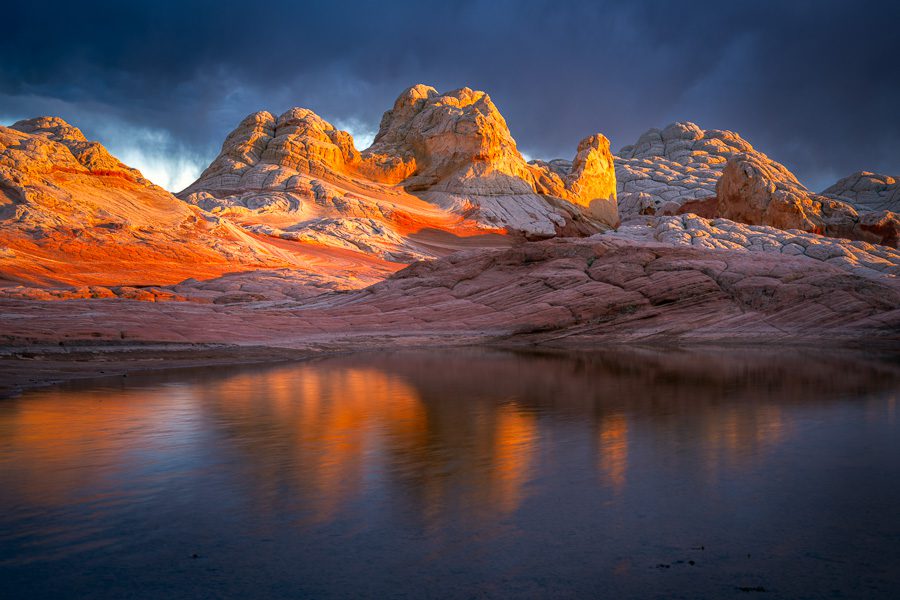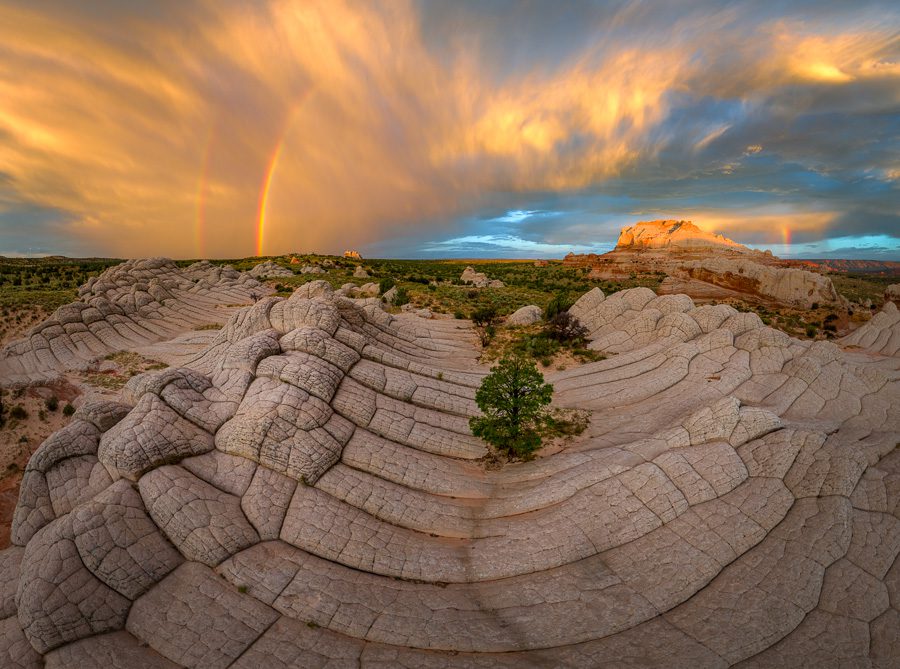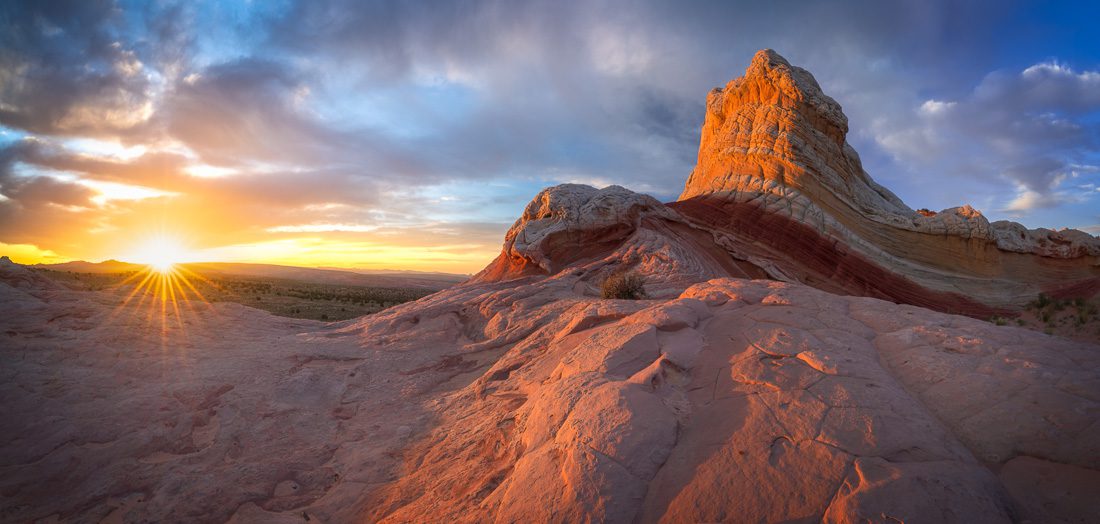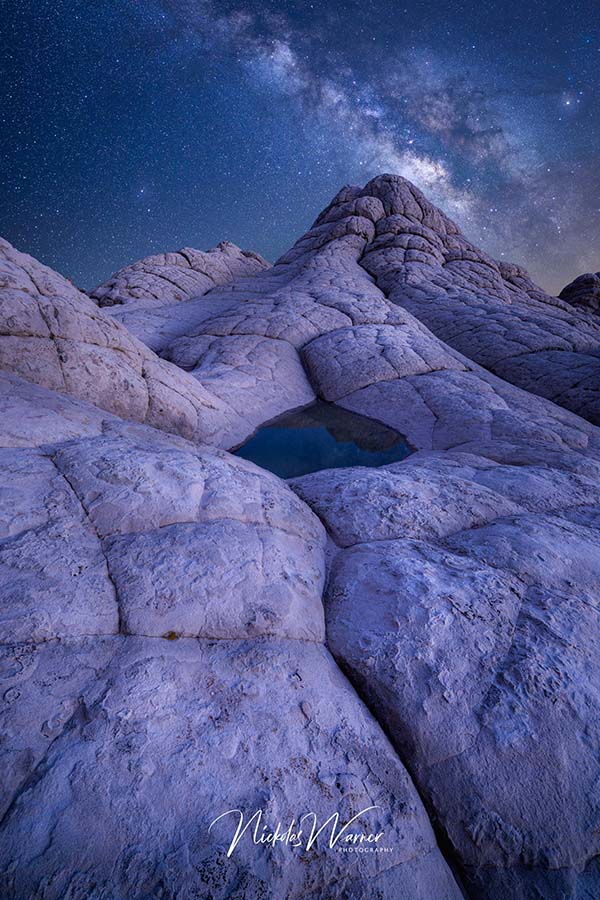 Logistics
Please arrive in Kanab, UT prior to 1PM on Aug 8th for a mandatory orientation session. Las Vegas is the closest major airport and it's a 3-hour drive from there to Kanab.  There are no public transportation options to Kanab, UT.
When you make your booking, you have the option to add our pre-booked lodging package at the Holiday Inn Express. If you decide to book your own lodging, you are responsible for getting to the Holiday Inn for our workshop outings. We are including a hotel stay for the night of Aug 8th as it will give us flexibility in the event of bad weather. The hotel room will also allow you to shower and catch up on sleep when we get back the next morning without waiting for a late afternoon check-in. We will finish the workshop around noon on Aug 11th.  It's up to you if you want to stay in Kanab that night or head somewhere else.  Want to extend your trip?  Consider pairing this workshop with our Grand Canyon Monsoon Workshop Aug 4-8, 2024.
All participants on this trip should be in reasonably good physical condition.  We aren't planning any long hikes on this trip, but the uneven terrain, sand, and heat can make short hikes seem much harder.  You should be comfortable walking around 2-3 miles per day.
We timed this workshop for the best chance of monsoon storms and dramatic clouds. However, this is no guarantee of monsoon activity. In the event we get blue-sky weather, we'll focus more on night photography as our dates are free of moon interference.
The weather can vary quite a bit from kvery sunny and hot to cooler and wet when storms come in.  See the gear list further down for specific recommendations.  No matter what the weather does, we'll get awesome photos. If it's exceptionally wet, some of the dirt roads may be impassable. We'll modify the itinerary accordingly should that be the case. Transportation will be provided in 4WD trucks so we can handle most conditions.
Food and camping gear will be provided for the White Pocket overnight portion. Gear includes a tent, sleeping bag, sleeping bag liner, pillow, pad, and chair along with dinner, breakfast, and snacks. Please let us know if you have any dietary restrictions.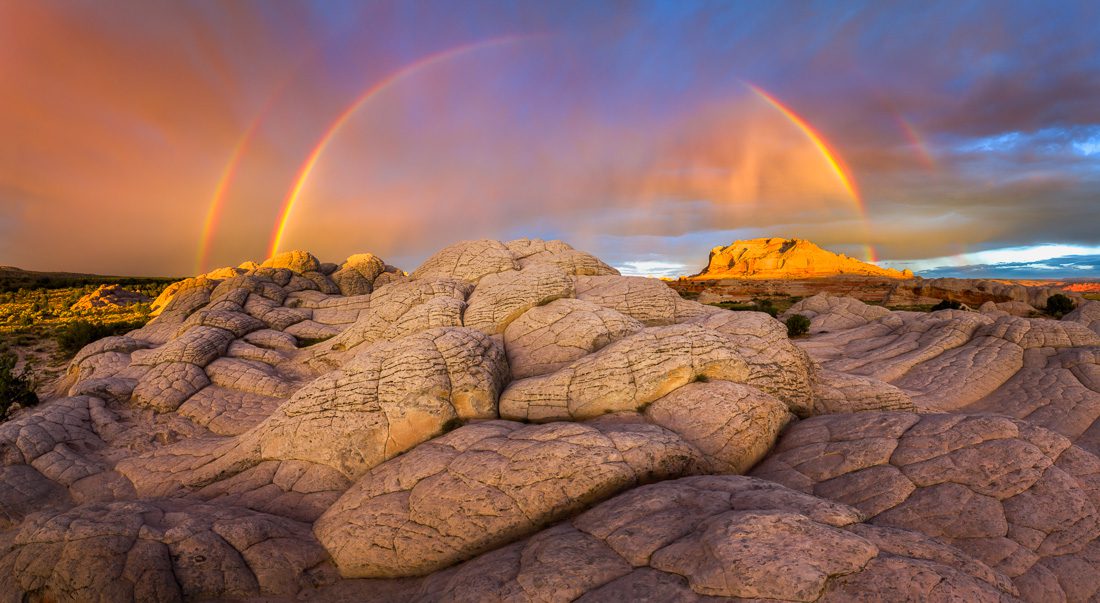 Pricing
$1850 per Person
Join our Loyalty Program and Save 10%!!
Trip Includes:
4-Day Intensive Photo Workshop with 2 Pro Instructors.
All Ground Transportation in Lifted 4x4 Trucks.
Post-processing instruction and image critique.
Park Entrance Fees
Lighting equipment and fixtures for night photography.
Pre-Workshop Zoom Meeting
Camping Gear at White Pocket
Meals, Beverages, and Snacks while at White Pocket.
Trip Does NOT Include:
Hotel lodging. If you wish to include a pre-paid 3-night hotel package at checkout, it is $550 or $275 for single and double occupancy respectively.
Transportation to/from your home to Kanab, UT.
Alcoholic Beverages.
All other meals and snacks outside of the White Pocket overnight.
Instructor Gratuities.
When you complete the checkout process, you will be given the option to either pay the full amount or put down a 50% deposit. If you pay the deposit, you will be sent a payment link for the remaining balance approximately 90 days prior to the workshop.  See the full Terms and Conditions.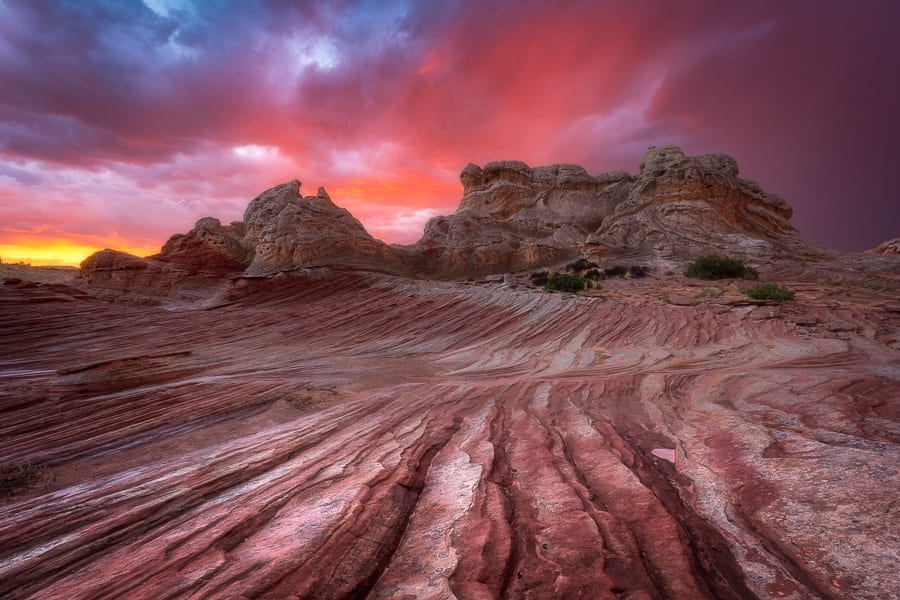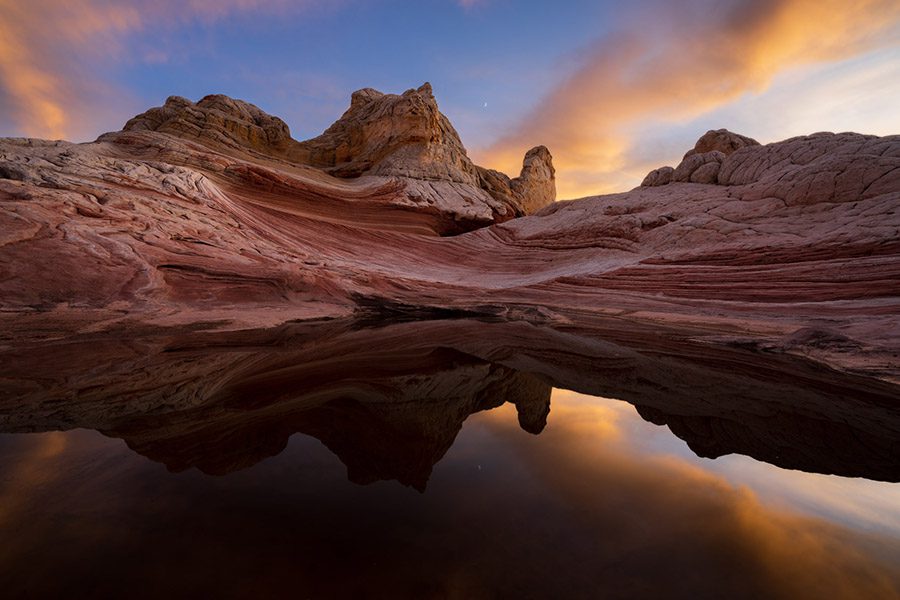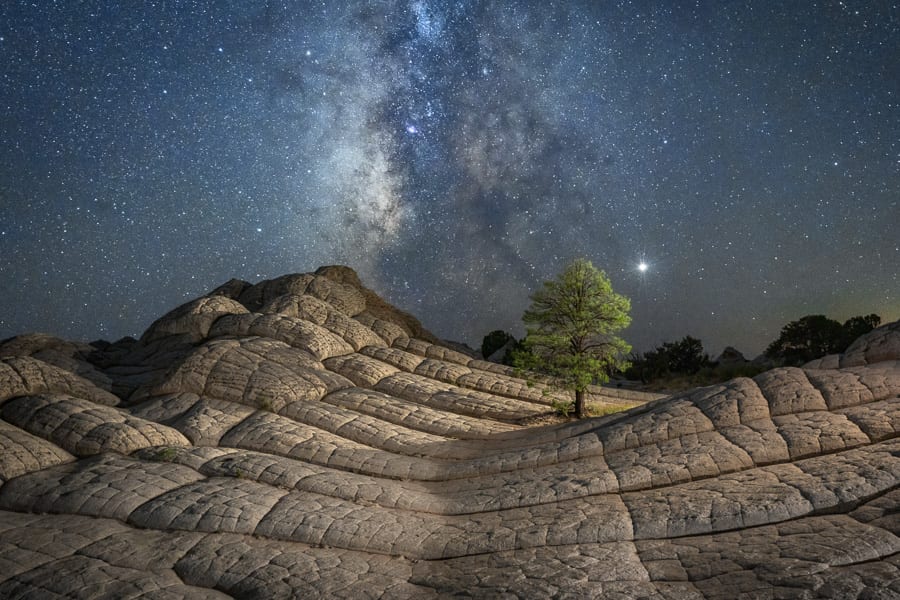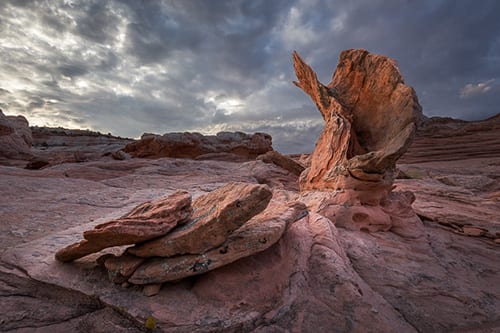 Recommended Camera Gear
Sturdy tripod and ballhead
Digital SLR or Mirrorless Camera Body.  A full-frame camera is recommended for night photography.
Backpack to comfortably carry your camera gear. Make sure you have a rain cover for your backpack.
Wide Angle Lens. We recommend a 16-35mm lens.  If you have wider lenses in the 11-15mm range, bring them along!  For night photography, you will want a wide angle lens that is at least f/2.8 or faster.
Mid-range zoom lens in the range of 24-100mm.
Telephoto lenses will come in handy if we go to Bryce, Alstrom Point, or the Grand Canyon.
Circular polarizer filters are useful.  Bring any ND filters if you have them.
Extra batteries, memory cards, and cleaning supplies.
Remote cord for your camera.
Laptop if you wish to backup your photos
Personal Gear List
Sturdy hiking footwear, hiking socks, and long pants (keeps sand out of your shoes).
A rain jacket and one warm layer since it can get cooler at night.
Personal toiletries for the overnight trip.
Headlamp for night photography.
Sunscreen, Sunglasses, Sun Hat
Water bottle or hydration bladder
Nickolas Warner
Photography Instructor
Nickolas Warner is an award-winning photographer with recognition by the Epson Pano Awards, International Landscape Photographer of the Year, and Outdoor Photographer. He has a particular interest in extreme and unusual locations.  His travels have taken him to some fascinating locations, but the American Southwest is his favorite place to photograph.
Nickolas spent the past decade guiding in Alaska, where he provided instruction on photographing the aurora borealis, and shared his knowledge of the far north's rugged terrain and resilient wildlife.
When not guiding, Nickolas enjoys long distance hiking and extended backpacking trips through remote wilderness areas.
Nickolas's portfolio can be found at Nickolas Warner Photography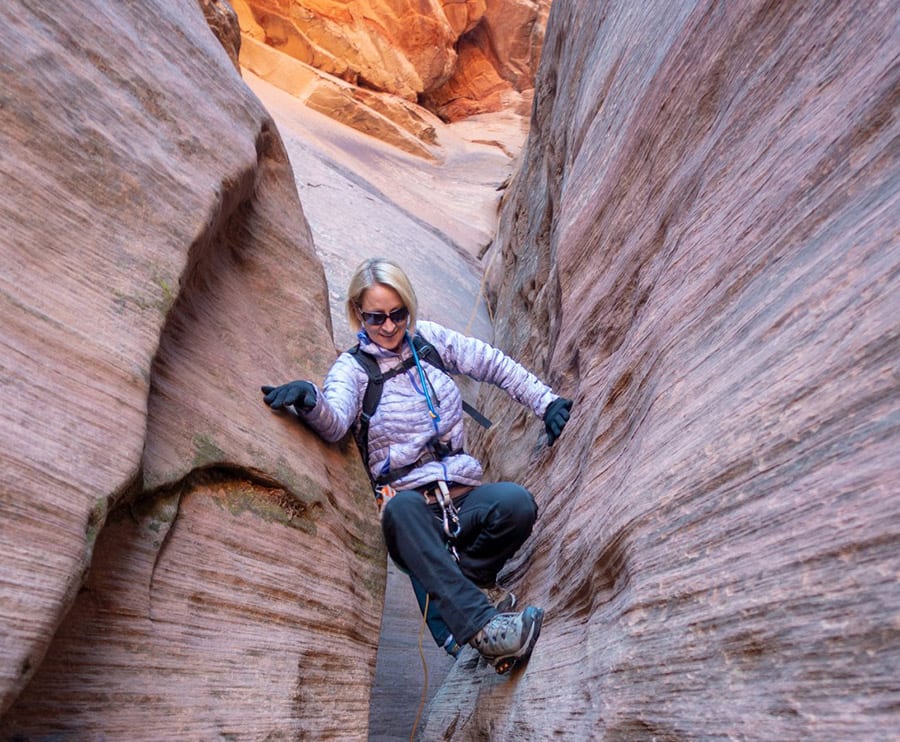 Amy Osness
Photography Instructor
From an early age, Amy knew she had a wandering spirit. Her desire for adventure and passion for nature, stayed with her into adulthood, prompting her to pursue photography as an expressive art form.
The moments captured by Amy's camera are far removed from the "point and click" variety. She often spends hours and even days scouting possible shoot locations.
Amy loves exploring and photographing all the natural wonders that surround her hometown of St. George, Utah.