Grand Canyon Monsoon Photo Workshop
When monsoon storms roll in, there's no better place to be than the Grand Canyon.  We'll spend two nights at the North Rim Lodge, hopefully chasing dramatic skies, lightning, and storms. With clear skies, conditions are perfect for Milky Way photography! With permits to guide all over the Southwest, we'll chase the best conditions depending on the weather forecast. Expect to learn many new photographic skills, weather forecasting techniques, and post-processing tricks. Extend your trip with our White Pocket Monsoon Workshop Aug 8-11, 2024.
5 Students per Instructor
Max 10 Students
Nickolas Warner
Amy Osness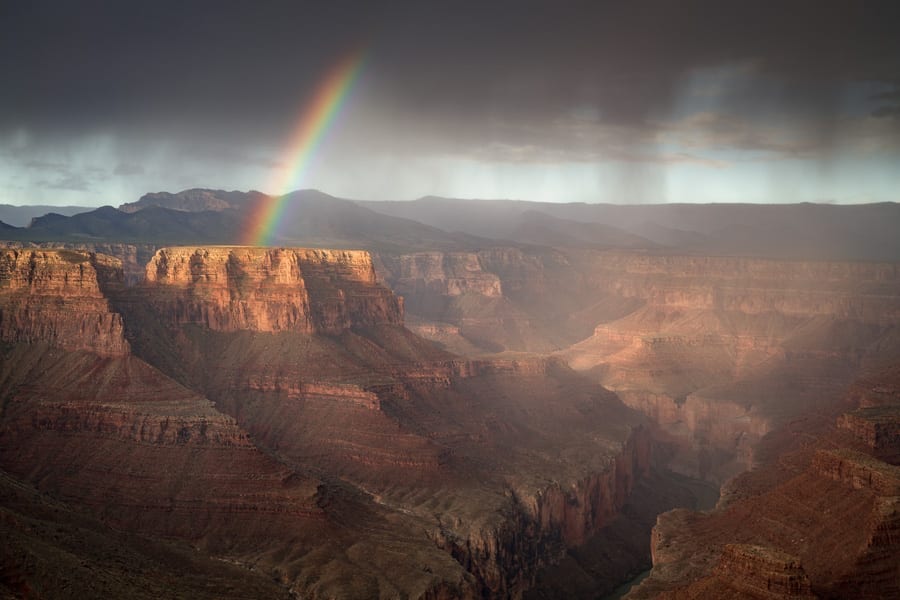 Highlights
Monsoon season is a great time to photograph the Grand Canyon with the chance of dramatic skies, rainbows, lightning, and epic light.
Enjoy the quiet North Rim of the Grand Canyon away from the maddening crowds of the South Rim.
Workshop dates are timed for optimal monsoon conditions. In the event storm activity is quiet, we'll do Milky Way shoots since there is no moon interference on our dates.
Our itinerary is flexible so we can chase the best conditions. We have permits to guide all over the Southwest.
Some locations we visit are far off the beaten path. You will acquire a diverse set of images during our time together.
Learn new photography skills, weather forecasting techniques, and post-processing tricks from pro instructors.
Want to extend your trip?  Consider joining our White Pocket Monsoon Workshop Aug 8-11, 2024.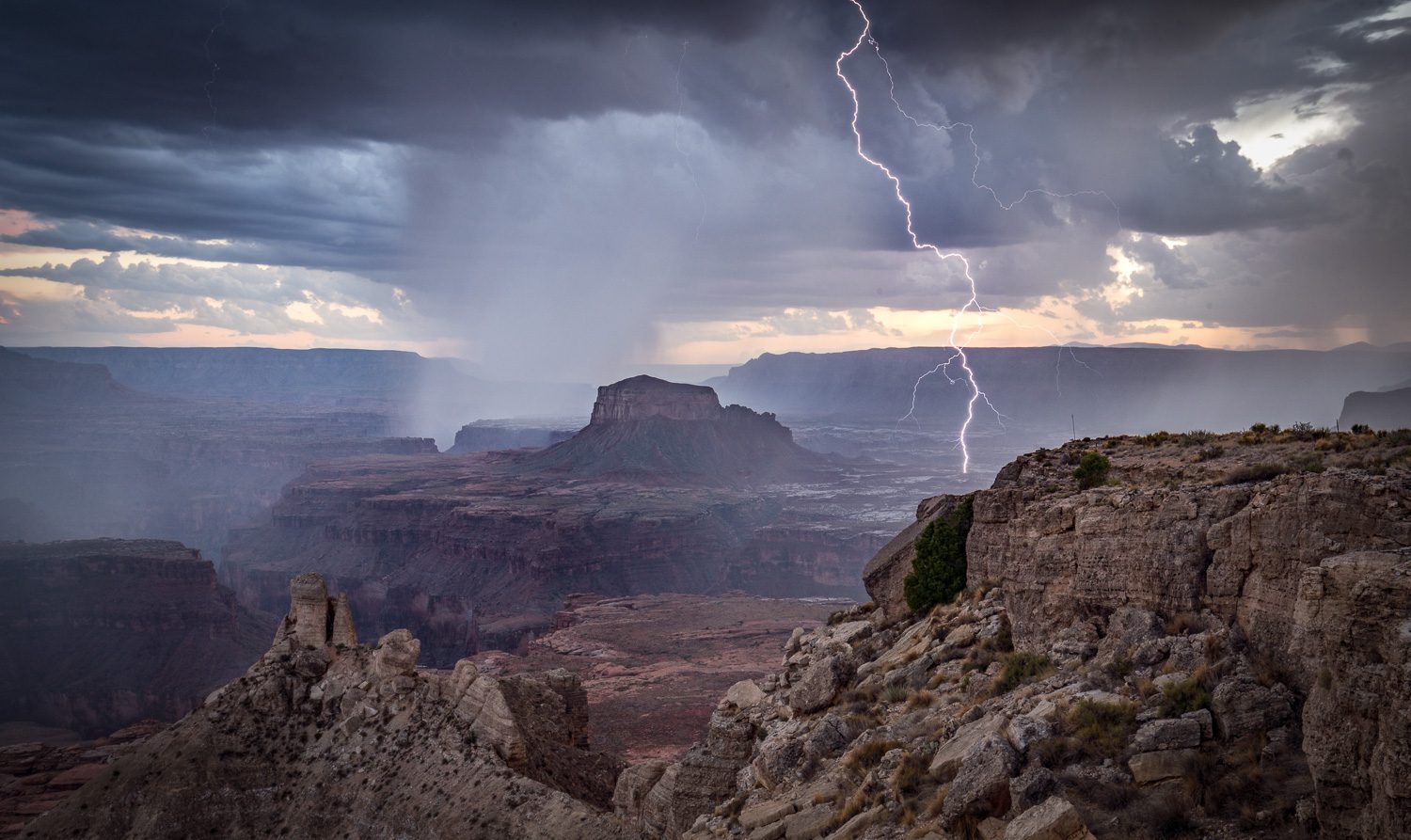 Itinerary
The itinerary is being kept flexible to account for weather and current conditions. Expert forecasting, group consensus and weather will dictate our final itinerary.
Day 1 (Aug 4):  Meet at 1PM in Kanab, UT for a mandatory introductory session.  We'll cover logistics and make plans for our upcoming days together before driving out to the Grand Canyon. With a sky full of dramatic clouds, we are treated to a brilliant sunset! We check into the North Rim Lodge after dark.
Day 2 (Aug 5):  We are up early for sunrise at one of our favorite east-facing viewpoints. After breakfast, we do some short hikes along the rim and then enjoy a midday break. We regroup later in the afternoon and head out to very remote and photogenic viewpoint.  As storms start to move across the canyon, we get out our lightning triggers to capture the bolts. The light breaks through at sunset treating us to a distant rainbow and impressive colors! When we get back to the lodge, we notice the skies have cleared, so we stay out to take some Milky Way photos over the canyon.
Day 3 (Aug 6):  We wake up early and go out to Cape Royal for sunrise. The skies are pretty clear so we focus more on the light as it illuminates and accentuates the canyon features.  After checking out of the hotel, we head back to Kanab and review the weather forecast. We see a good chance of storms up over Lake Powell, so we head over that way to capture a nice display of lightning into the late evening hours.
Day 4 (Aug 7): This is our "open" day and the itinerary will be dictated by the weather forecast and group interest. We have permits to guide all over the Southwest, so we have the freedom to go where we'll have best conditions. We'll return to the hotel well after dark. Hopefully we'll be shooting a storm. If skies are clear, we'll plan a Milky Way shoot.
Day 5 (Aug 8):  Departure day or you can join our our White Pocket Monsoon Workshop Aug 8-11, 2024.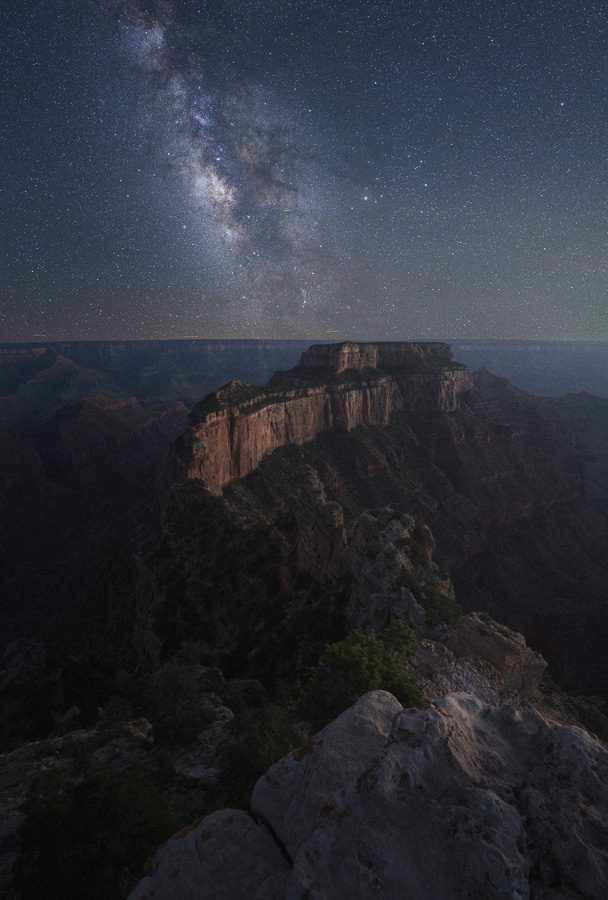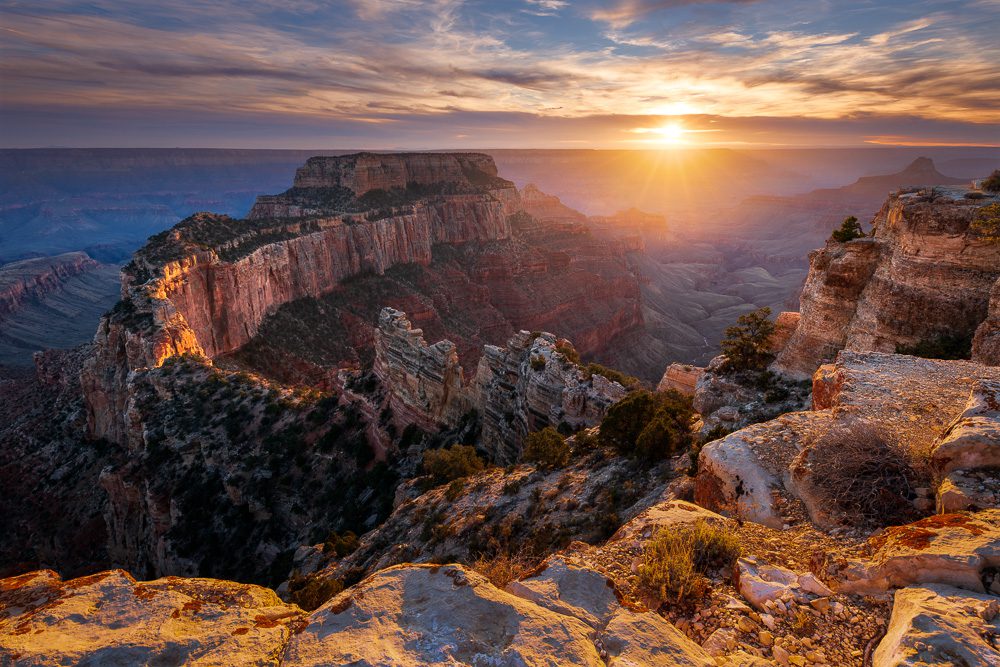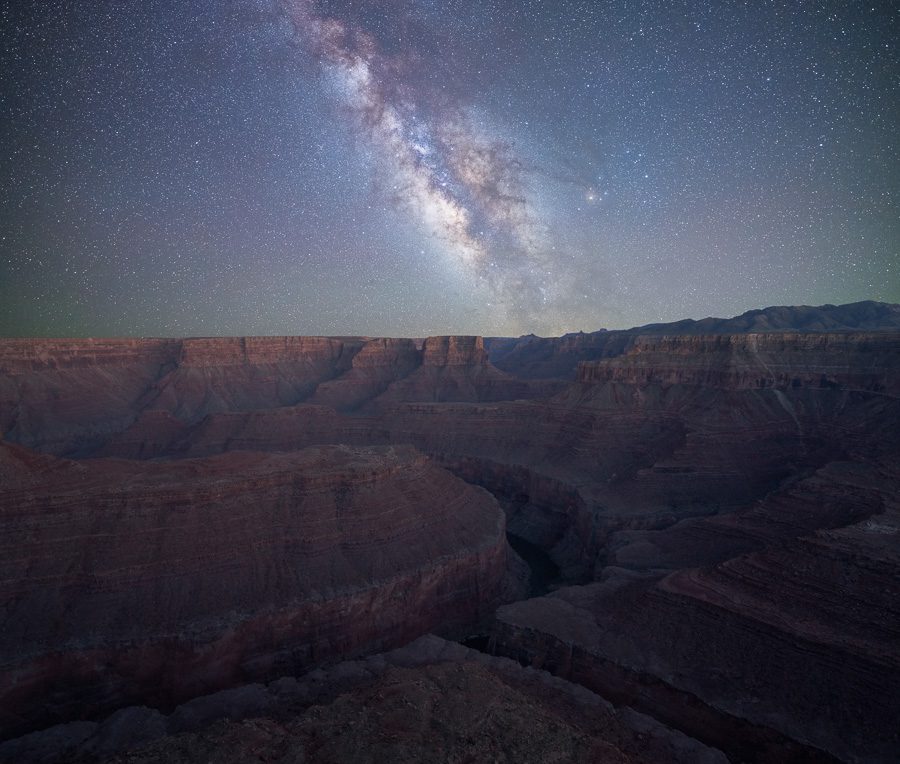 Logistics
Please arrive at the Holiday Inn Express in Kanab, UT on Aug 4th prior to 1PM Utah time for a mandatory orientation session.  Las Vegas is the closest major airport and it's a 3-hr drive to Kanab.  There is no public transportation to Kanab. Once you are there, all transportation will be provided for the workshop outings.  If you prefer, you are welcome to drive your own vehicle out to the North Rim.
Lodging is in short supply so we have pre-paid for 4 nights of hotel accommodations for all workshop participants.  During checkout you will add your lodging package based on either single or double occupancy.  See the Pricing section for more details.
All participants on this trip should be in reasonably good physical condition.  Although we aren't planning any long hikes on this trip, the uneven terrain and elevation can make short hikes seem much harder.  You should be comfortable walking around 1-3 miles per day while carrying your camera gear. Bring your hiking poles if you like using them.
See the gear list further down for specific recommendations.  No matter what the weather does, we'll get awesome photos.  Make sure you bring warm clothes since we will be at high elevation and it can get cold at night or if a storm moves in. A rain jacket is a must in case the weather is unsettled. You will also want a rain cover for your camera backpack.
If skies are clear at night, we will photograph the Milky Way. Each participant will need their own headlight. We also recommend everyone bring a fast wide angle lens (f/2.8 or faster) along with a remote cord for long exposures.
The workshop will conclude the morning of Aug 8th in Kanab.  You can stay longer in the area or head somewhere else. If you can't get enough of the Monsoon Mania, consider joining our White Pocket Monsoon Workshop Aug 8-11, 2024.
Pricing
$1795 Per Person
Join our Loyalty Program and Save 10%!!
Trip Includes:
5-Day Intensive Photo Workshop with 2 Pro Instructors.
All Ground Transportation in Lifted 4x4 Trucks.
Permits and fees for National Parks and all areas we visit.
Night photography and instruction.
Post-processing training and image critique
Pre-workshop zoom meeting
4-night lodging package will be added to your booking based on single or double occupancy. Cost is $375 or $750 for double or single respectively.
Trip Does NOT Include:
Transportation to/from your home to Kanab, UT.
Meals, beverages, and snacks
Instructor Gratuities.
When you complete the checkout process, you will be given the option to either pay the full amount or put down a 50% deposit. If you pay the deposit, you will be sent a payment link for the remaining balance approximately 90 days prior to the workshop.  See the full Terms and Conditions.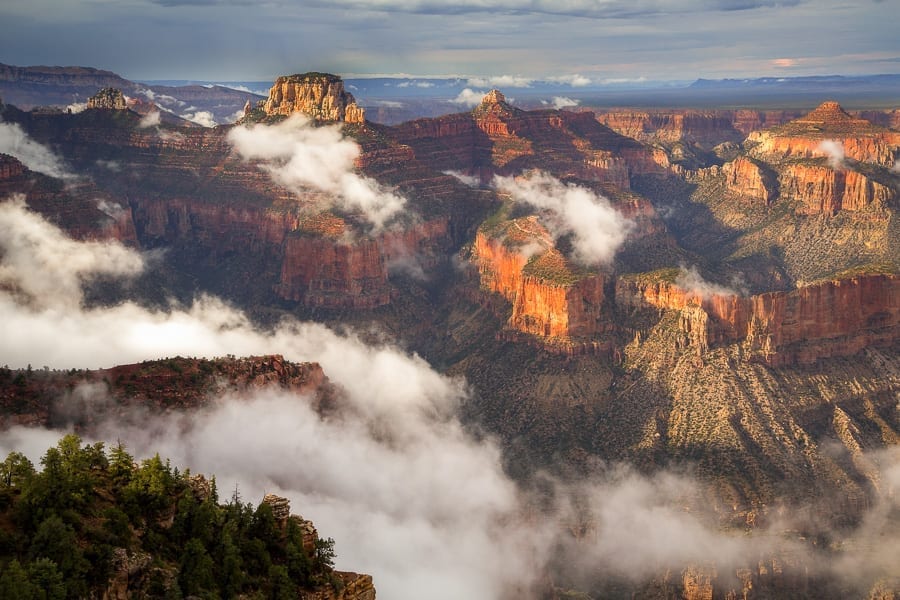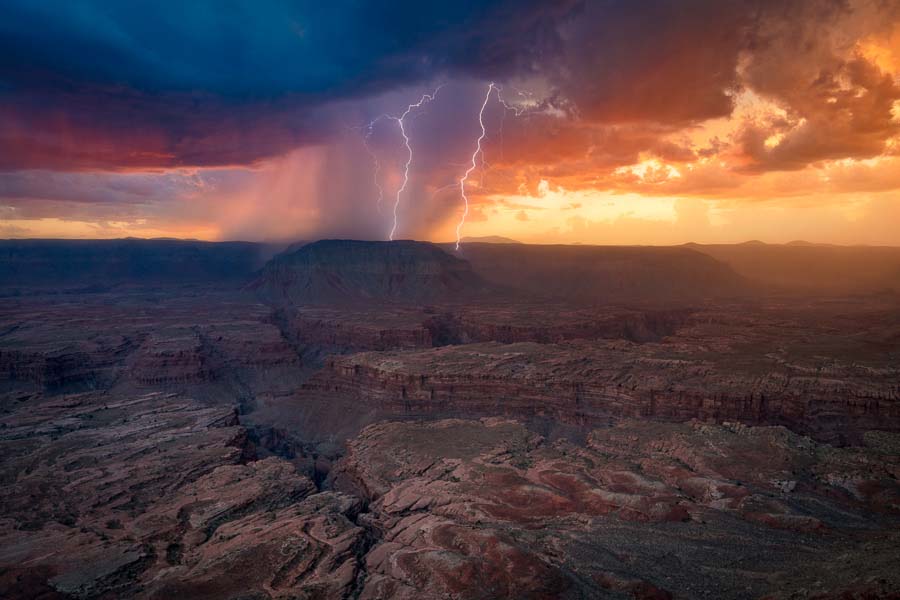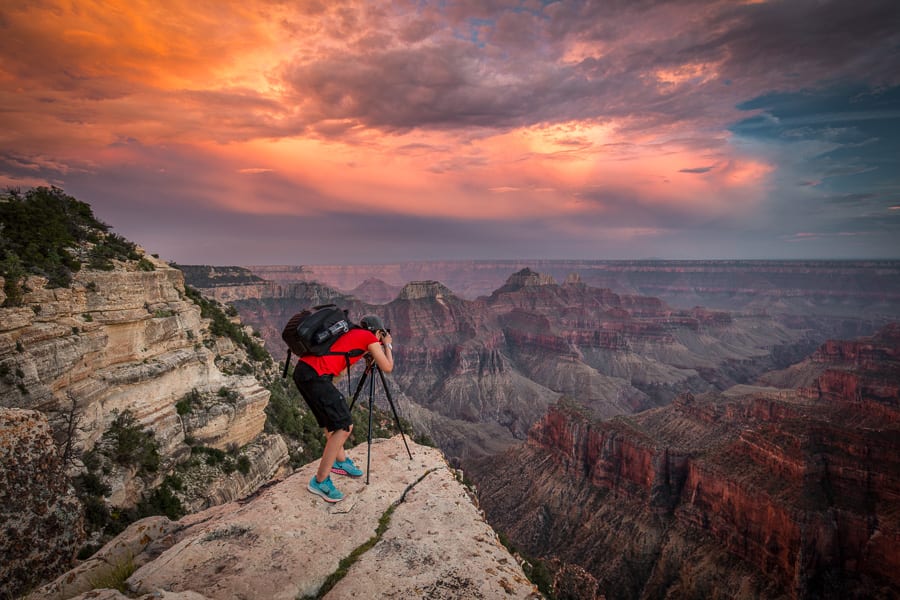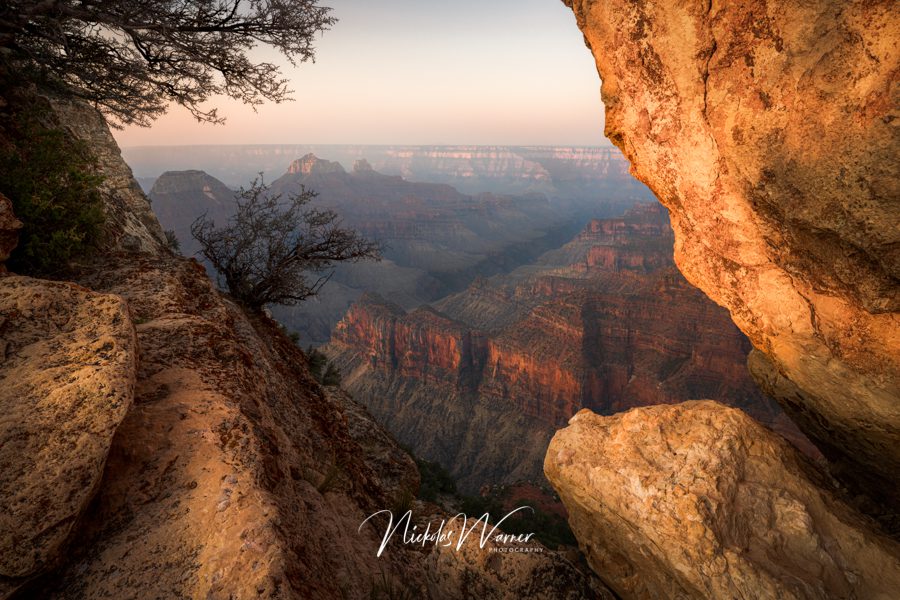 Recommended Camera Gear
Sturdy tripod and ballhead
Digital SLR or Mirrorless Camera Body.
Wide Angle Zoom Lens (16-35mm on full frame, 10-22mm on crop sensor).
Mid-range zoom lens in the range of 24-100mm.
Telephoto lenses are optional but are useful for distant storms, cloud patterns, and canyon details.  Suggest 100-400mm range.
Bring a circular polarizer filter and or 3-stop ND filter for your wide angle and mid-range zoom lenses.
Lightning trigger. We recommend the Lightning Trigger Brand LT-IV for best results.
Extra batteries for your camera and lightning trigger along with extra memory cards.
A blower and micro-fiber cloth for cleaning.
Remote cord for your camera.
Backpack or case for your gear.
When it starts raining, we will be packing up. Bring your lens hoods to help keep droplets off your lens!
Laptop if you wish to backup your photos or follow along during the post-processing instruction.
Personal Gear List
Sturdy footwear, hiking socks, and long pants.
A rain jacket since it can get cold when storms roll in.
Headlamp for when we are out at night.
Sunscreen, Sunglasses, Sun Hat
Water bottle.
Nickolas Warner
Photography Instructor
Nickolas Warner is an award-winning photographer with recognition by the Epson Pano Awards, International Landscape Photographer of the Year, and Outdoor Photographer. He has a particular interest in extreme and unusual locations.  His travels have taken him to some fascinating locations, but the American Southwest is his favorite place to photograph.
Nickolas spent the past decade guiding in Alaska, where he provided instruction on photographing the aurora borealis, and shared his knowledge of the far north's rugged terrain and resilient wildlife.
When not guiding, Nickolas enjoys long distance hiking and extended backpacking trips through remote wilderness areas.
Nickolas's portfolio can be found at Nickolas Warner Photography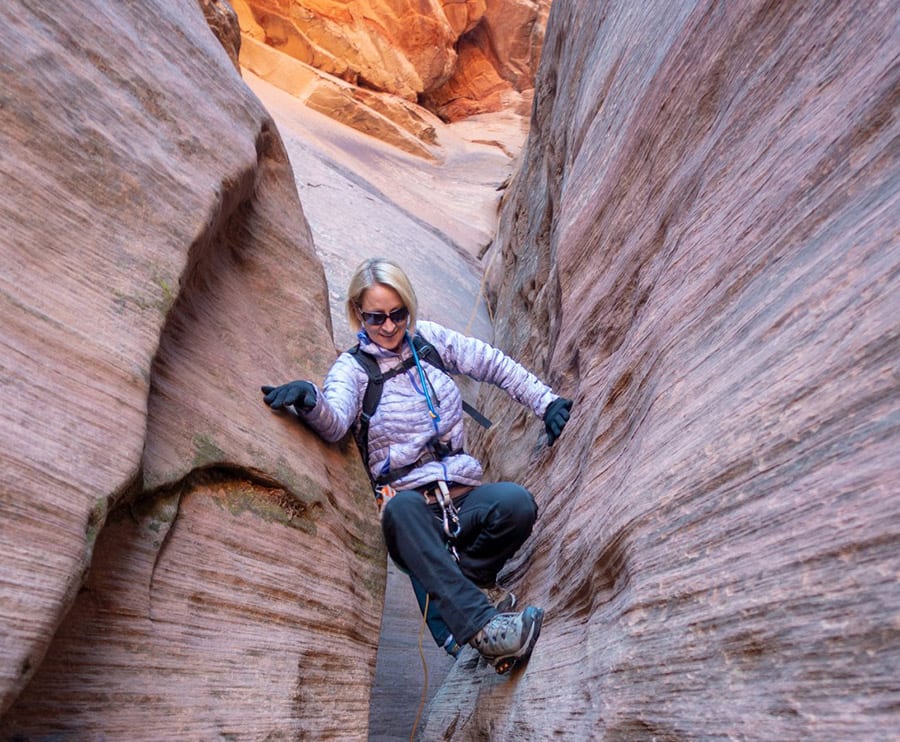 Amy Osness
Photography Instructor
From an early age, Amy knew she had a wandering spirit. Her desire for adventure and passion for nature, stayed with her into adulthood, prompting her to pursue photography as an expressive art form.
The moments captured by Amy's camera are far removed from the "point and click" variety. She often spends hours and even days scouting possible shoot locations.
Amy loves exploring and photographing all the natural wonders that surround her hometown of St. George, Utah.