Jan 20-28, 2024 - Sold Out
Jan 28 - Feb 5, 2024 - Sold Out
This 9-Day Canadian Rockies Winter Photo Workshop will transport you to the most awe-inspiring landscapes of ice, snow, frozen waterfalls, rushing rivers, and jagged peaks. Experience the frozen bubbles of Abraham Lake, hike through canyons lined with ice formations, explore the deep blue chambers of an ice cave, and photograph majestic mountains coated in deep snow.  If skies are clear and conditions look good, we'll be on the lookout for the Northern Lights!  Workshop includes all lodging and ground transportation.
4 Students per Instructor
Max 8 Students
Kevin McNeal
2nd Instructor TBD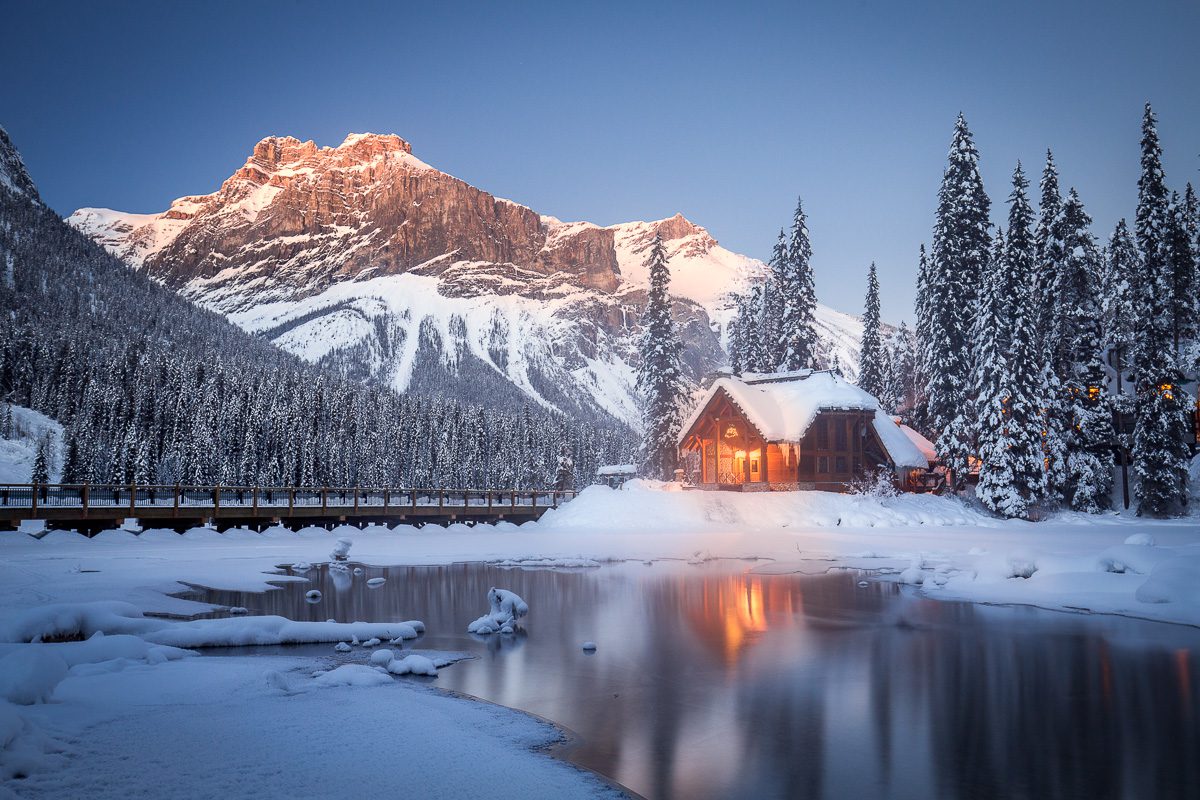 Highlights
Winter is an ideal time to visit the Canadian Rockies. The snow and ice magically transform the landscape, the light angles stay low, the crowds are gone, and short days mean we can actually get normal sleep!
Dates are timed for best chances of seeing ice bubbles on Abraham Lake along with prime winter conditions in the Canadian Rockies.
Photograph everything from ice caves, frozen waterfalls, secluded canyons, to snowy mountain peaks. The options are limitless.
Enjoy a small group with 1 or 2 professional photography instructors.
If skies are clear, we'll be on the watch for the aurora borealis!
Leave the stressful winter driving to us! All transportation and lodging are included during the workshop so you can focus on the photography.
Itinerary
Winter conditions in the Canadian Rockies are harsh and unpredictable. Changes to the itinerary may be made based on weather and current conditions to help maximize your photography. Note: The itinerary for Jan 28 - Feb 5 will be in reverse.  See the Logistics Section for more details.
Day 1 (Sat Jan 20): Meet at noon for a mandatory orientation session near the Calgary International Airport.  Next, we'll drive to the town of Banff and get settled into our hotel. We shoot sunset at a partially frozen lake with iconic views of Mt Rundle. After dinner, we meet up for a post-processing session where we learn new techniques for editing the photos you have just taken.
Day 2 (Sun Jan 21): This morning we wake up to a snowstorm. So we go up into the trees to shoot snowy abstracts. We have a couple short hikes planned for today that take us into some absolutely breathtaking areas, including a side canyon with amazing ice structures. More snow is forecasted later in the evening, so we return early for a post-processing session to hone our skills.
Day 3 (Mon Jan 22): We are up before dawn for a sunrise shoot with the beautiful mountains in the distance. A little atmospheric fog adds a nice ambient quality to our photos.  We check out of our hotel and drive to Lake Louise for lunch. After checking into our hotel, we venture out to one of our favorite views in the Canadian Rockies, hoping for some dramatic light and clouds.
Day 4 (Tues Jan 23):  For sunrise we make our way to an classic view along the Bow River. It's really cold this morning so we get lots of atmospheric fog as warm light fills the scene.  We photograph several spots along the river before heading back to Lake Louise.  After lunch we head out to a canyon with incredible ice textures and finish with a sunset shoot near the outflow of a lake. We stay through blue hour to get some moody long exposures. We return to Lake Louise for dinner and then take a few night shots of the ice sculptures talented artists have created on the lake!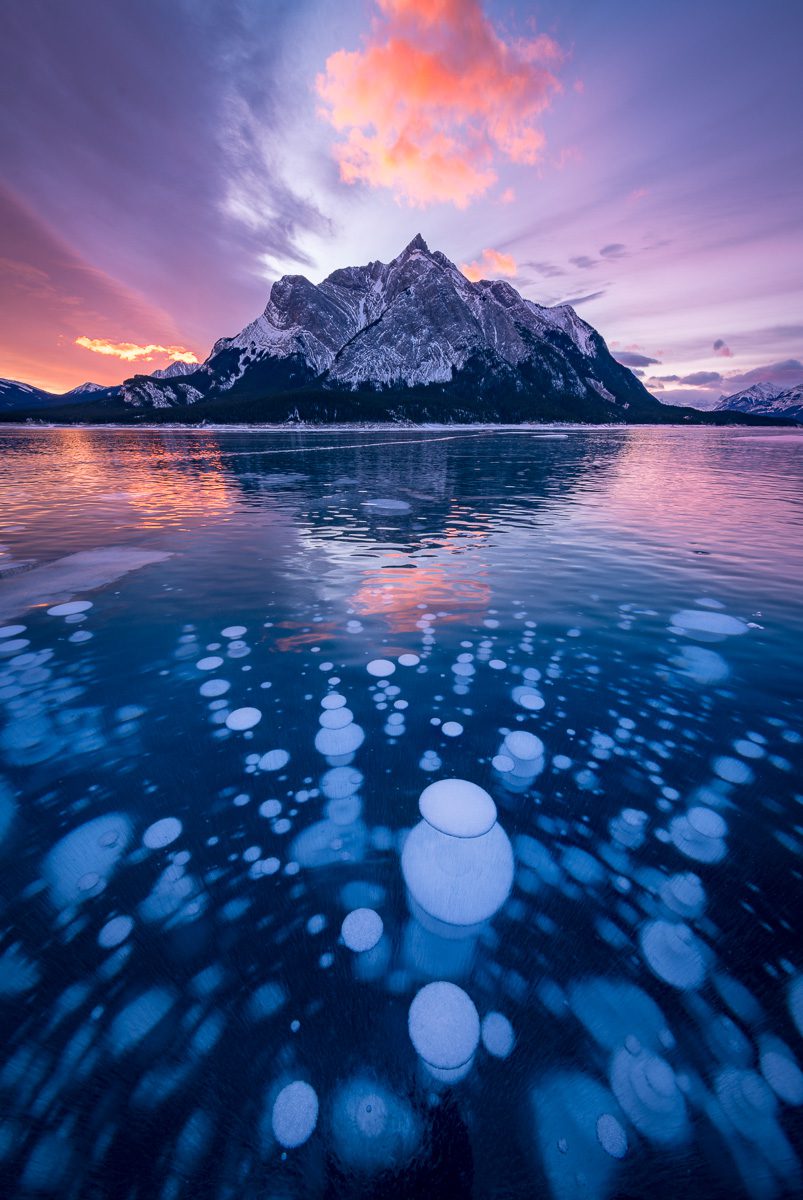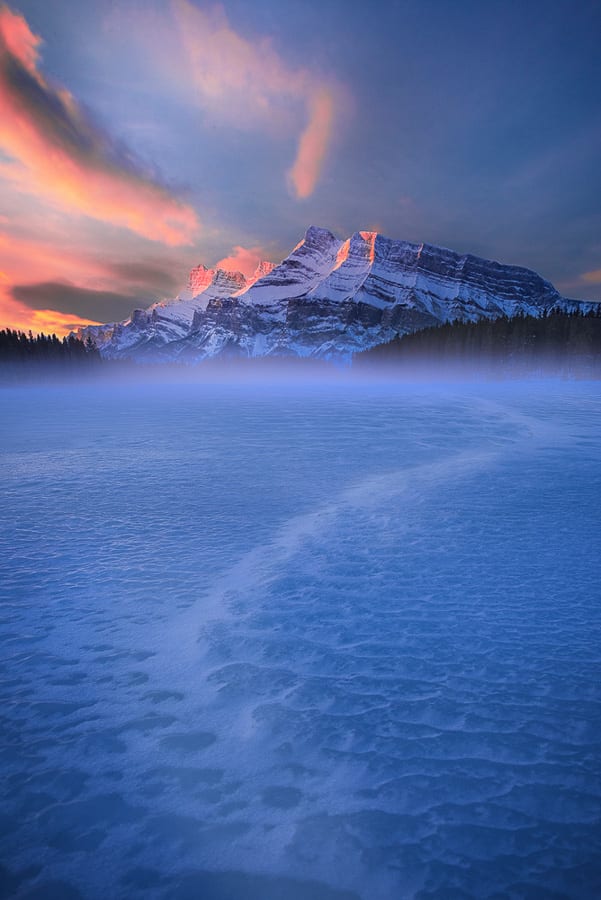 Itinerary cont.
Day 5 (Wed Jan 24): Today, the winds are high and a little snow fell overnight, creating some neat wind effects in the snow.  We check out of the hotel early and shoot sunrise along the way. As we venture further into Banff National Park, the mountains become more jagged and prominent. We stop to explore an ice cave and then hike over to a waterfall with some crazy looking beaded ice patterns! After a long day we reach Nordegg and check into our hotel, excited to explore Abraham Lake the next few days!
Day 6 (Thurs Jan 25): We wake up early to get out on the ice before sunrise. Clouds have moved in overnight and we are treated to brilliant colors that reflect off the ice!  During the day, we explore several sections of the frozen lake before deciding where we want to shoot sunset.  After dinner, the skies have cleared and we have fun doing some creative lighting on the ice during the twilight hour.
Day 7 (Fri Jan 26):  We wake up early to get out on the ice before sunrise. Clouds have moved in overnight and we are treated to brilliant colors that reflect off the ice!  During the day, we explore several sections of the frozen lake before deciding where we want to shoot sunset. With an active aurora forecast, we strategically go to a location with fantastic north-facing views.  Luckily for us, the lights become active around 9PM and we have a great time photographing them for a couple hours.
Day 8 (Sat Jan 27): We are out early again for another sunrise on Abraham Lake. This time we go out to a spot which often has the largest bubbles and most pronounced ice buckling.  We then do a short hike over to a frozen waterfall canyon before heading back for a late breakfast and shower. We pack up and start our drive back towards the Calgary Airport. If time permits, we might be able to look for some snowy owls to photograph. We arrive in Calgary after dark and check into our hotel near the International Airport.
Day 9 (Sun Jan 28) This is our departure day.  You can plan your return travel for any time today.
Pricing - 9 Days
$4850 USD PER PERSON + Tax
Join our Loyalty Program and Save 10%!!
Trip Includes:
8 Nights Double Occupancy Lodging. Single rooms are available for an additional $850/person.
Photography guiding and instruction throughout the trip.
Post-processing and image critique sessions.
All ground transportation and park entrance fees during the workshop.
Snowshoes and Poles for all guests.
Trip Does NOT Include:
Flights to/from Calgary.
Meals, beverages, and snacks.
Alcohol
When you register, you will be given the option to pay a 50% deposit or the full workshop fee.  If you pay the deposit, the remaining balance will be charged 90 days prior to departure to the credit card we have on file.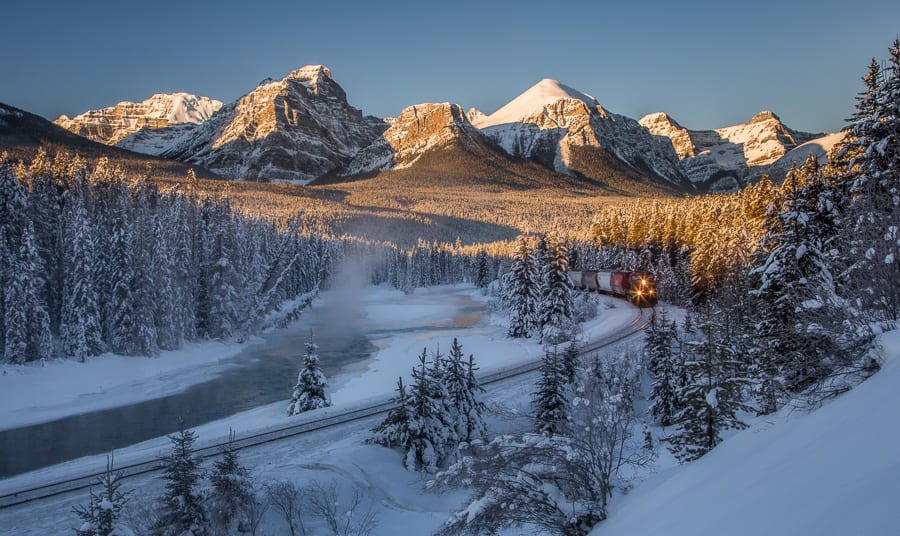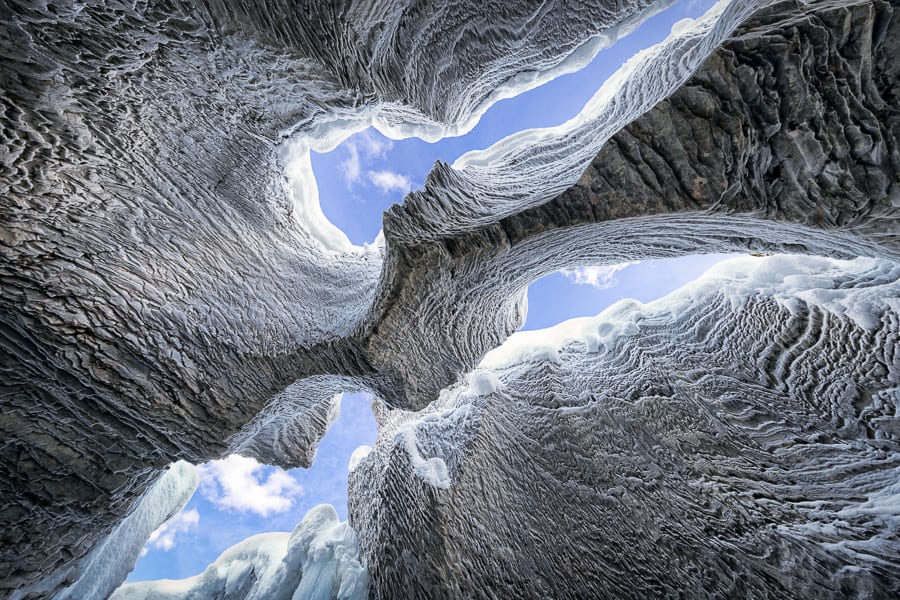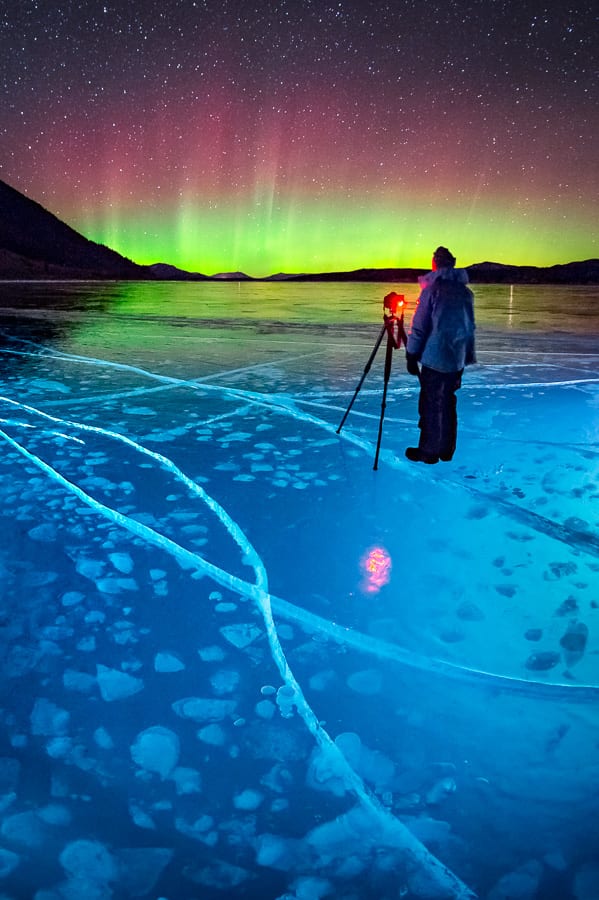 Logistics
Workshop 1 Jan 20-28: You will need to arrive prior to 12PM on Jan 20th for our meeting near the Calgary Airport (exact location given after booking). You may want to arrive the evening before and spend an extra night in Calgary. The workshop will conclude by late evening on the 27th and we have included one night of hotel near the Calgary Airport for that night. We recommend you book your return travel anytime on Jan 28th.
Workshop 2 Jan 28 - Feb 5: You will need to arrive prior to 7PM on Jan 28th for our meeting near the Calgary Airport (exact location given after booking). The workshop will conclude by 1PM on Feb 5th where we'll drop everyone off at the airport. If you don't wish to fly home that evening, you can book another night of hotel in Calgary at your expense.
Workshop tuition includes 8 nights double occupancy lodging.  Single rooms are available for an additional charge (see Pricing Section above). We will spend 2 nights in Banff, 2 nights in Lake Louise, 3 nights in Nordegg, and one night in Calgary.
To avoid weekend crowds, the itinerary for the Jan 28 - Feb 5 workshop will be in reverse. This workshop begins with 1 night in Calgary, 3 nights in Nordegg, 2 nights at Lake Louise, and 2 nights in Banff.
Expect 1-2 miles of moderate hiking each day to reach the locations we will photograph. If the snow is deep, it will make the hiking more difficult. Snowshoes and poles will be provided for all participants. All participants should have micro-spikes for hiking (see gear list below). We only recommend this workshop to participants that have good balance since the snow and ice can make simple walks much more difficult.
You will need to be prepared for all types of weather.  It can be bitterly cold this time of year. High winds can make walking difficult and will make it feel even colder. Once you sign-up for the workshop, we will give you a comprehensive gear list to ensure you are adequately prepared for these extreme conditions.
We highly recommend travel insurance to cover any non-refundable fees and airline travel you may have in connection with the workshop.=
Since we will be traveling together as a group, luggage space is limited. Each participant is limited to one suitcase along with their camera gear.
Recommended Camera Gear
Sturdy tripod and ballhead
Digital SLR or Mirrorless Camera Body.
Wide angle lens in the 16-35mm range. You can utilize an ultra-wide angle lens in the 11-15mm range on this trip. However, this lens is completely optional. Having a fast wide angle lens (i.e. f/2.8 or faster) will help with night photography and aurora borealis.
Mid-range zoom lens in the range of 24-100mm.
Long telephoto lenses will come in handy for landscape compression and wildlife encounters. We recommend a 100-400mm for maximum flexibility.
Circular polarizer filters and ND filters for your lenses.  If you like shooting with grads filters, bring them along.  A 9 or 10-stop ND filter will be useful for creating very long exposures.
Lots of extra batteries since they will not last very long in the cold.
Memory cards and cleaning supplies.
Cover for your camera/lens to protect against high winds and snow.
Camera backpack you can use while hiking.
Laptop if you wish to backup your photos or follow along during the post-processing instruction.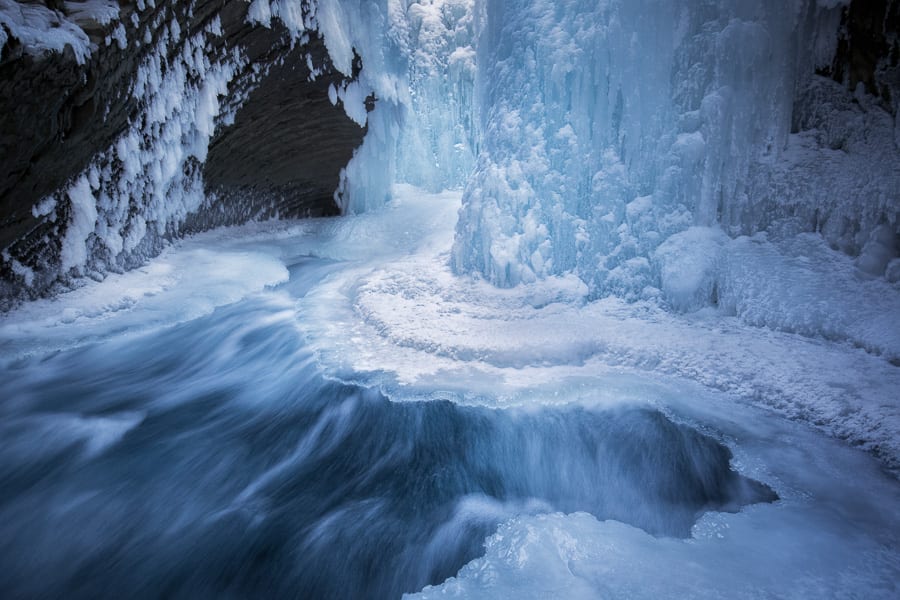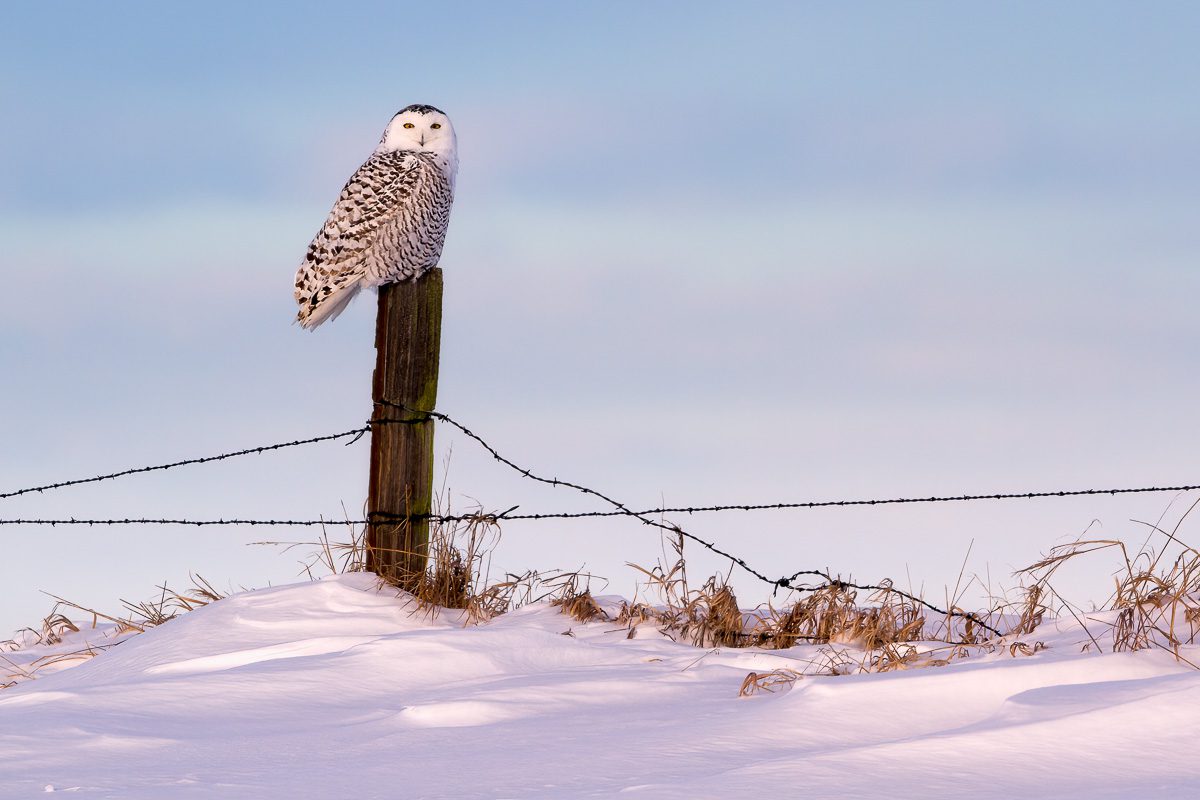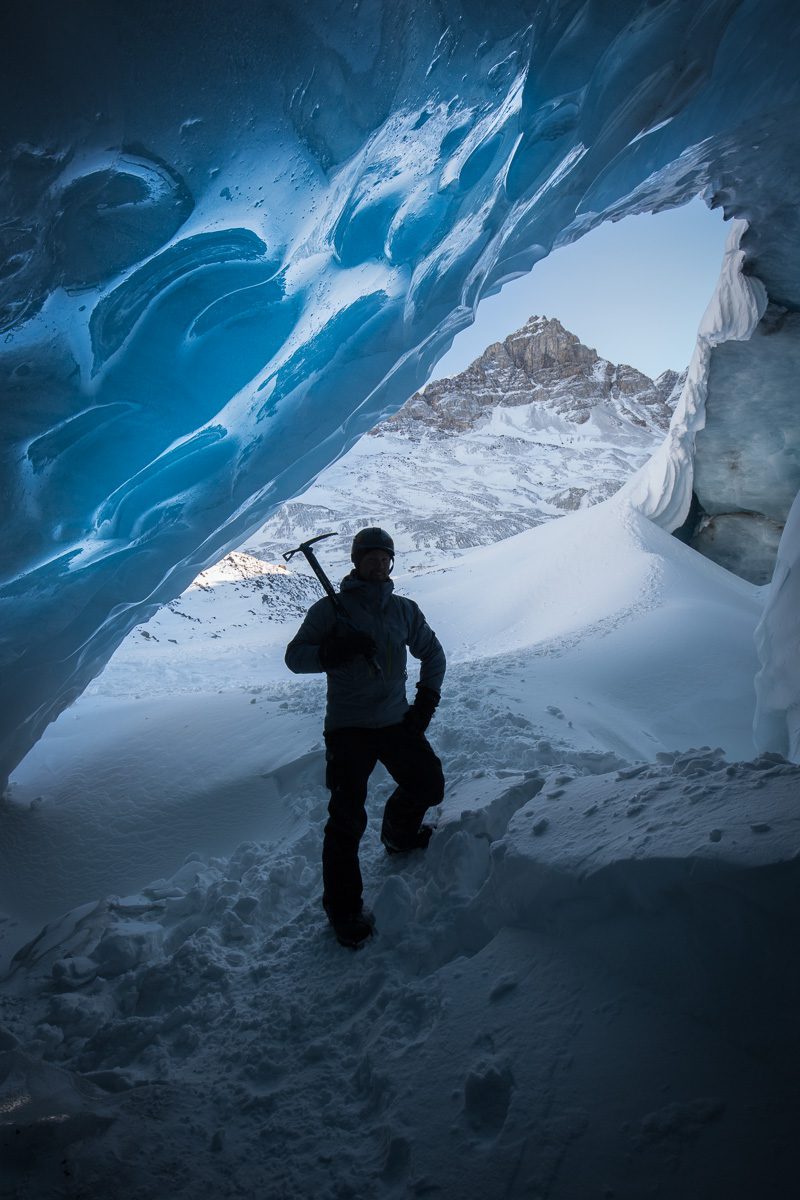 Personal Gear List
Warm, moisture wicking base layers for both upper and lower body. We recommend heavy-weight base layers for the cold temperatures.
Several warm layers like a down puffy, winter coat, and or fleece jacket.
Waterproof outer shell jacket (helps protect against wind and snow).
Warm winter boots with thick wool socks. We recommend something like Baffin Boots to keep your feet warm.
Waterproof snow pants with cuff that can go over your boots. If your pants do not have a cuff, make sure you get some gaitors to wear.
Warm gloves or mittens along with a pair of glove liners. We like to remove our bulky outer gloves when making camera adjustments and the glove liners will keep your hands from freezing.
Warm hat, buff, and or facemask.  These items are essential when the temperature really drops.  You will want to protect your face from the wind!
Micro-spikes. Make sure you get the ones with actual spikes on them (no rollers or Yak-Tracks).  Here is an example from Amazon: Unigear Micro Spikes.
Sunglasses and sunscreen for sunny days. The light reflecting off the snow can be intense.
Chemical hand/feet warmers can come in handy if you get cold extremities.
Thermos for bringing along your favorite hot beverage.
Headlamp for night photography.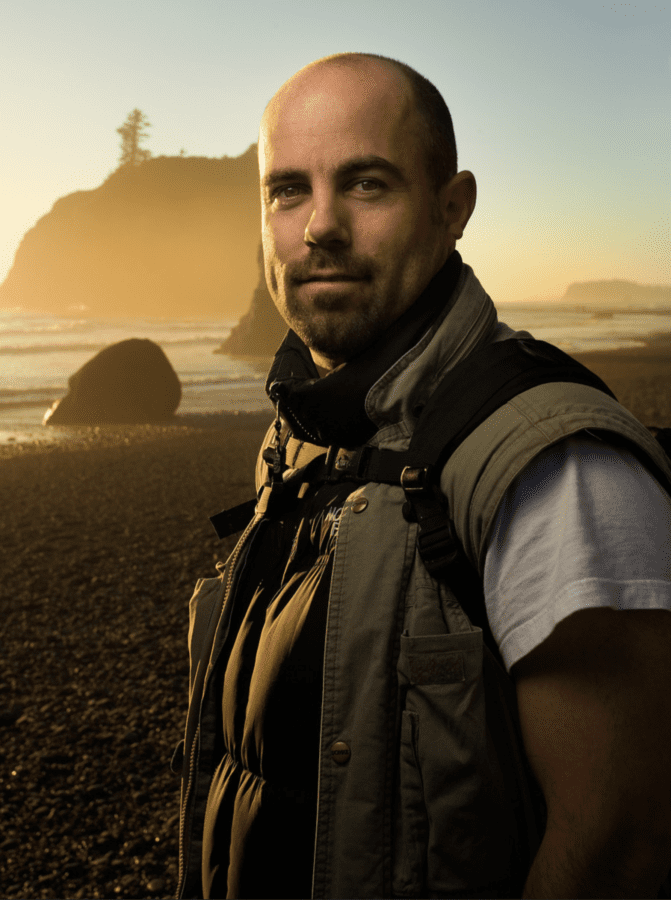 Kevin McNeal
Photography Instructor
Kevin McNeal is a Washington-State photographer who is passionate about photographing grand landscapes that reflect the most unique places on earth. Capturing moments of magic light and transferring this to print is the ultimate goal. His images hold a combination of perseverance, patience, and dedication to capture landscapes in fresh ways. The stories of how these images are rendered come across in the feelings the images convey. He has traveled all over North America, shooting diverse landscapes and finding remote places with the hope that we can convey to the public that this earth is worth caring for. His award winning images can be seen in galleries and showings across the United States.  He was recently invited to the Art Wolfe Art Gallery for the Environmental Photography Invitational. Kevin was the grand winner of the Landscape category for the Natures Best Magazine and was selected for the Smithsonian National Museum of History in Washington D.C..  He is a regular contributor to publications like Outdoor Photographer.
Artist's Statement
"I believe that the Earth shares secrets with us that only can be discovered by trying to understand our position on this planet. We are never fully intimate with the planet but are given brief moments that make our souls want more. These glimpses of nature's power are fleeting and never the same twice. I also believe it is important to share with those who want it. The treasures that await us given the patience that is out there. What I try to do is bring some of that magic to my images to share with the rest of the world. Each of my images tells a story that everyone can relate to in some way whether it is success, fear, or challenging oneself to overcome obstacles
View Kevin's Portfolio.