Olympic National Park Photo Workshop
May 21-25 2019, 8 Participants
Join us for one of our few non-desert workshops! We are so excited to get up to Olympic National Park and photograph coastlines, rain forest, and glaciated peaks. Learn new techniques from professional photographers that will improve your photography in any landscape!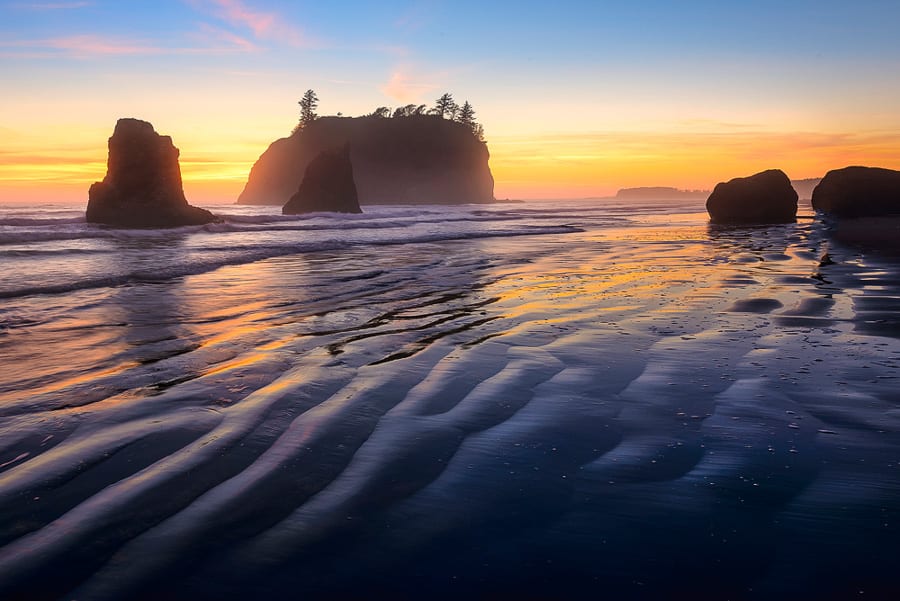 Highlights
Photograph three distinct ecosystems, ranging from rugged coastlines, old-growth rainforest, and glaciated peaks.  There is so much diversity to enjoy!
Trip includes 4 nights lodging at the fabulous Lake Crescent Lodge where we'll be centrally located for our favorite photo spots.
Learn many new photographic techiniques from pro photographers Kevin McNeal and David Swindler. Enrollment is capped at 8 people, ensuring plenty of individual attention
The workshop dates are optimized for top-notch spring greenery, alpine wildflowers, and  the best tide conditions for the coast.
We provide all the transportation during the workshop so you don't have to worry about trying to follow us and park your own vehicle.
Post-processing and image critique sessions will be scheduled throughout the workshop to help make the most of your images.
Itinerary
The exact itinerary will be kept flexible to account for the weather and current conditions in the park. We will optimize our time for the best possible photography. The itinerary below is just an example of what you can expect.
Day 1 (Tues May 21):  Meet at 10AM at the Crescent Lake Lodge for a mandatory introductory session.  We'll cover many of the shooting techniques you will use throughout the workshop. After lunch, we'll head out to photograph the jagged coastline and stay out through sunset to capture some amazing light.
Day 2 (Wed May 22):  We wake up early and head up well before sunrise to photograph the wildflowers and big views from Hurricane Ridge with bands of fog rolling through far below. We do some modest hiking to experience many different vantage points.  We return to the hotel for lunch and a midday break and then head out to photograph Sol-Duc Falls. We end the day photographing a different beach with myriad tidepools and seastacks.
Day 3 (Thurs May 23):  Since it's a drizzly day, we skip sunrise to get some much needed sleep.  We meet up mid-morning for a post-processing session along with image critique.  After lunch, we venture deep into the Hoh Rainforest to capture the amazing greens of this verdant place.  We stay out photographing until close to sunset.
Day 4 (Fri May 24):  The forecast is looking good for sunrise, so we awake early and capture some great light around Crescent Lake.  After that we hike out to some waterfalls and also get some great wildlife shooting opportunities. We do another post-processing session in the afternoon and then head back to the coast for sunset photos.
Day 5 (Sat May 25):  Since the wildflowers were so good, we head back up to Hurricane Ridge for sunrise.  We capture a variety of photos from expansive views to intimate wildflower portraits.  We head back to the hotel at 10AM and reluctantly say good-bye to all the friends we have made.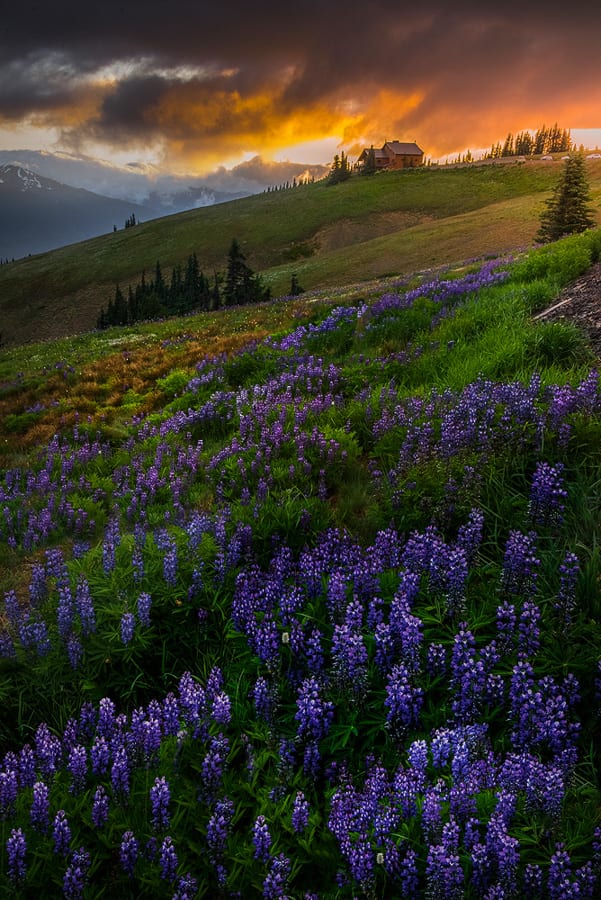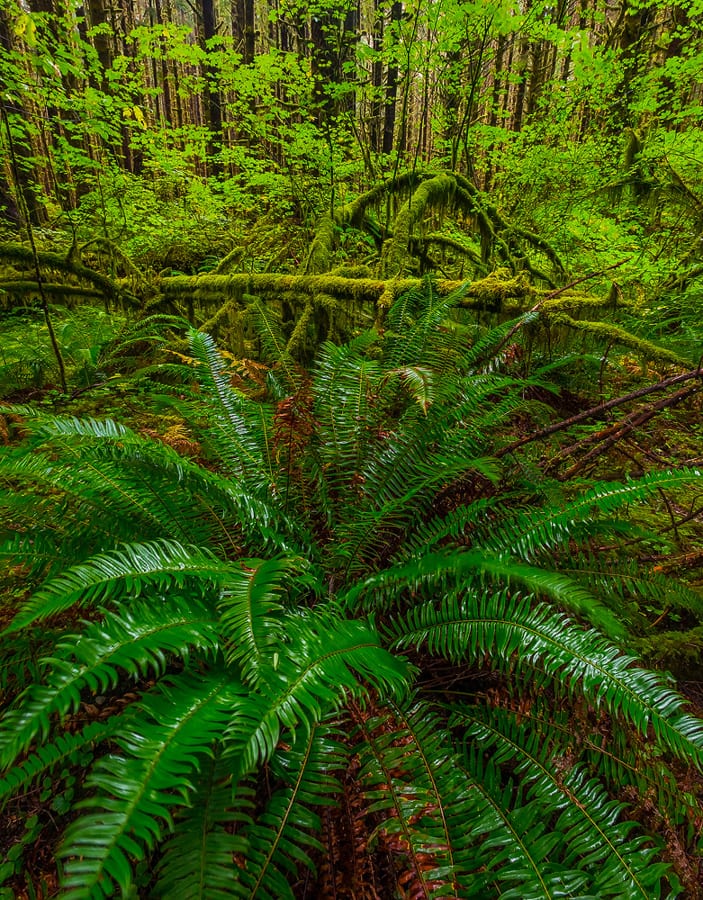 Logistics
Please arrive at the Crescent Lake Lodge prior to 10AM on May 21st for the orientation session. All hotel stays are included in the workshop fee.  The price assumes single-occupancy lodging.  If you would like double occupancy with one queen bed, we can give you a $300 discount per person. If you need two queen beds, we can give a $200 discount per person. Please let us know your preferred room option when making your booking.
Participants should have their own vehicle to get to the Lake Crescent Lodge.  All transportation during the workshop is included but you are welcome to follow us in your own vehicle if you prefer. Everyone on this trip should be in reasonably good physical condition.  We aren't planning any long hikes on this trip and you should be comfortable hiking 2-4 miles per day while carrying your photo gear.
Food is not included as part of the workshop.  You are free to bring your own food or eat at the restaurant at the lodge.  We will make food stops when we are driving between photo stops.
The temperatures should be pretty temperate in mid-May on the coast and in the rainforest.  Due to the elevation, it can be cold up on Hurricane Ridge, so make sure you bring some warm layers and a shell jacket.  Rain can fall about anytime, so make sure you bring a rain jacket and something to cover your backpack with. If it's only lightly raining, we'll stay out shooting so bring something to cover your camera with so it doesn't get wet.  Please see the gear list further down.
Pricing
$2295/person + Tax
Price assumes Single Occupancy. If you would like Double Occupancy, we can give you a $200-$300 discount per person.
Trip Includes:
4 nights of hotels.  Single occupancy is assumed.
Park Entrance Fees
All ground transportation and photography guiding during the trip.
Post-processing and image critique
Trip Does NOT Include:
Transportation to/from your home to Lake Crescent Lodge.
Alcoholic Beverages.
Meals and snacks.
When you complete the checkout process, you will be given the option to either pay the full amount or put down a 50% deposit.  If you pay the deposit, the remaining amount will be charged 60-days prior to arrival to the credit card we have on file.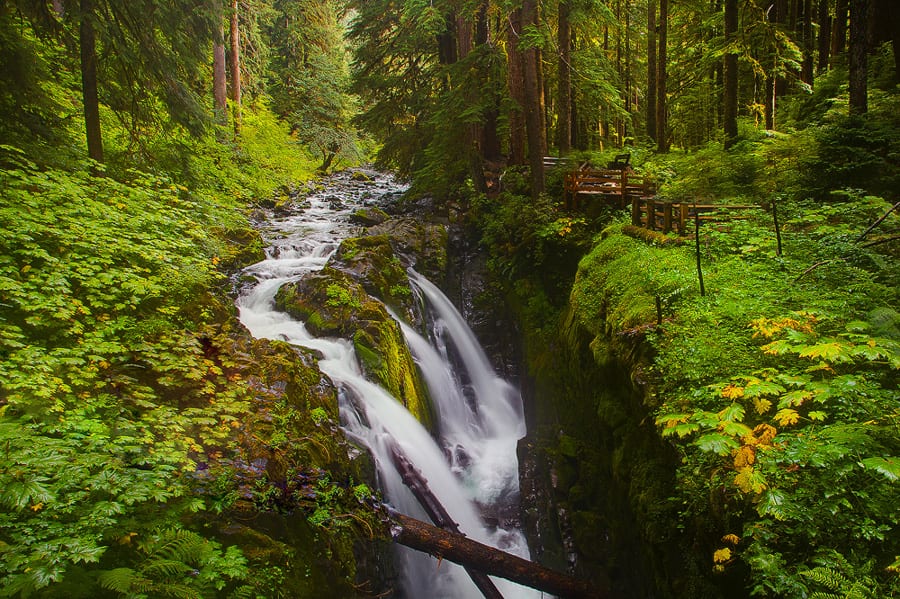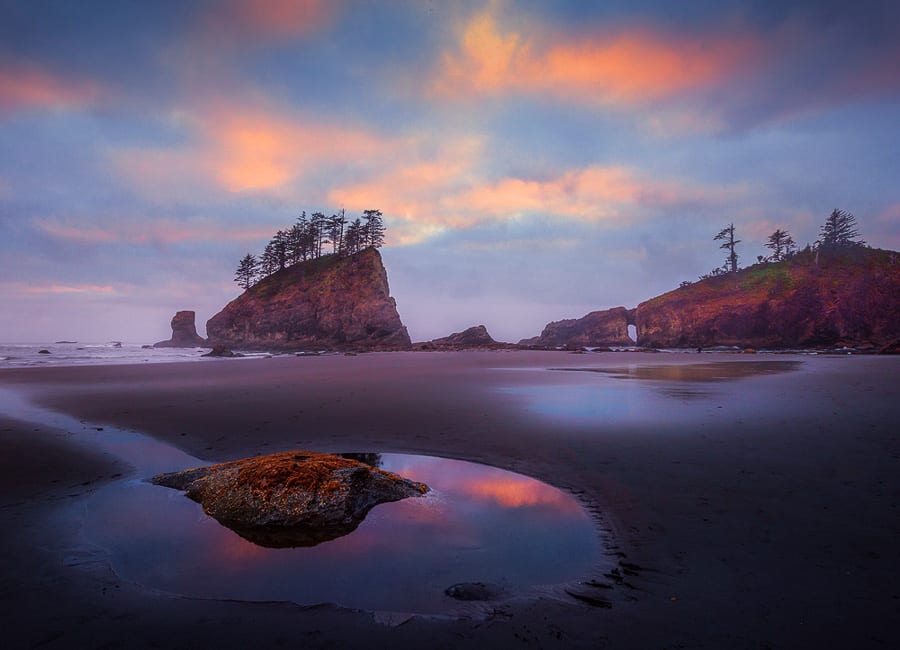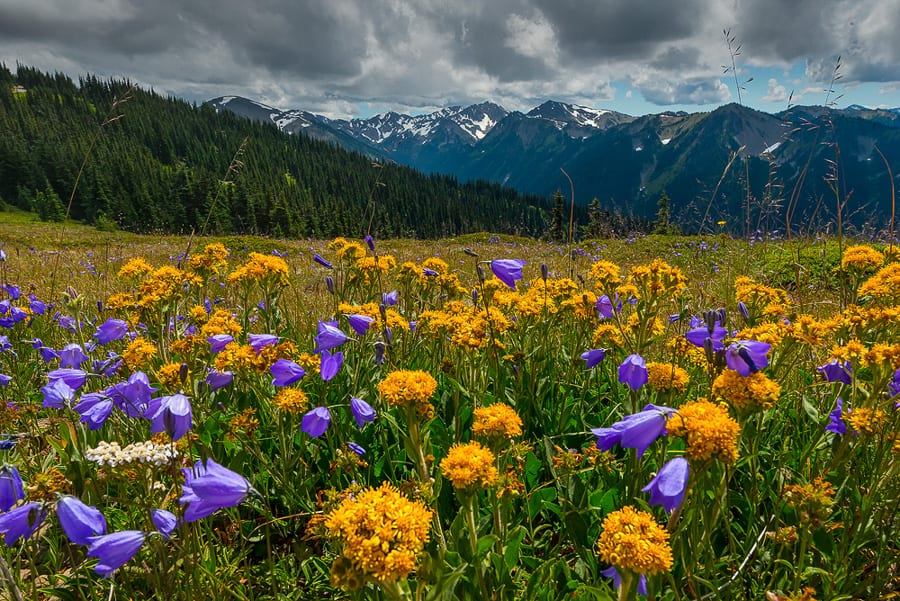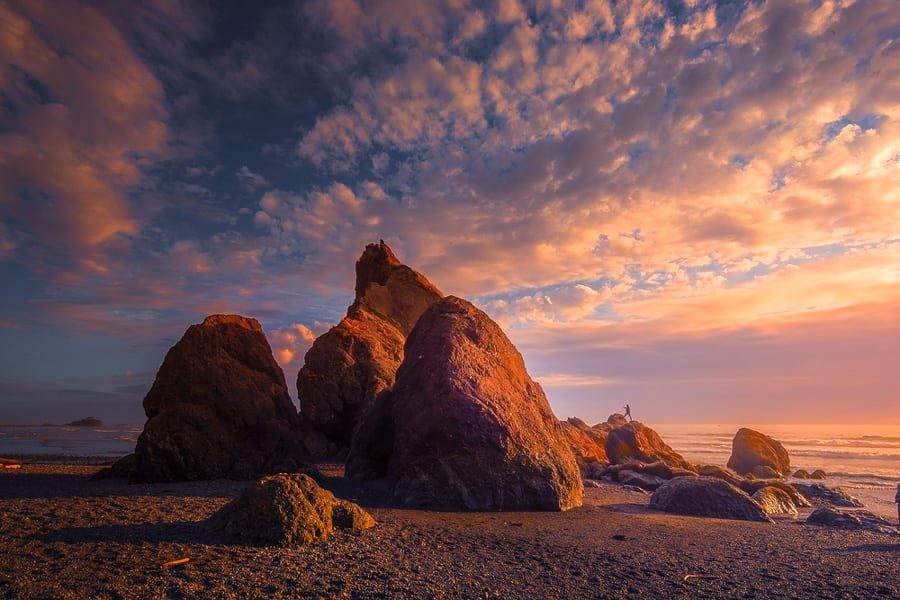 Recommended Camera Gear
Sturdy tripod and ballhead
Digital SLR or Mirrorless Camera Body.
Wide angle lens in the 16-35mm range.
Mid-range zoom lens in the range of 24-100mm.
Long telephoto lenses will come in handy for wildlife encounters.
Circular polarizer filters and ND filters for your lenses.  If you like shooting with grads, bring them along.  A 9 or 10-stop ND filter will be useful for creating very long exposures.
Extra batteries, memory cards, and cleaning supplies.
Remote cord for your camera.
Laptop if you wish to backup your photos or follow along during the post-processing instruction.
Personal Gear List
Sturdy hiking footwear, hiking socks, and long pants .
A rain jacket and several warm layers.
Headlamp
Sunscreen, Sunglasses, Sun Hat, and Gloves
Water bottle or hydration bladder.
Hiking poles if you like having them.
Instructor - Kevin McNeal
Kevin McNeal is a Washington-State photographer who is passionate about photographing grand landscapes that reflect the most unique places on earth. Capturing moments of magic light and transferring this to print is the ultimate goal. His images hold a combination of perseverance, patience, and dedication to capture landscapes in fresh ways. The stories of how these images are rendered come across in the feelings the images convey. He has traveled all over North America, shooting diverse landscapes and finding remote places with the hope that we can convey to the public that this earth is worth caring for. His award winning images can be seen in galleries and showings across the United States.  He was recently invited to the Art Wolfe Art Gallery for the Environmental Photography Invitational. Kevin was the grand winner of the Landscape category for the Natures Best Magazine and was selected for the Smithsonian National Museum of History in Washington D.C..  He is a regular contributor to publications like Outdoor Photographer.
Artist's Statement
"I believe that the Earth shares secrets with us that only can be discovered by trying to understand our position on this planet. We are never fully intimate with the planet but are given brief moments that make our souls want more. These glimpses of nature's power are fleeting and never the same twice. I also believe it is important to share with those who want it. The treasures that await us given the patience that is out there. What I try to do is bring some of that magic to my images to share with the rest of the world. Each of my images tells a story that everyone can relate to in some way whether it is success, fear, or challenging oneself to overcome obstacles
Kevin's portfolio can be found at www.kevinmcnealphotography.com.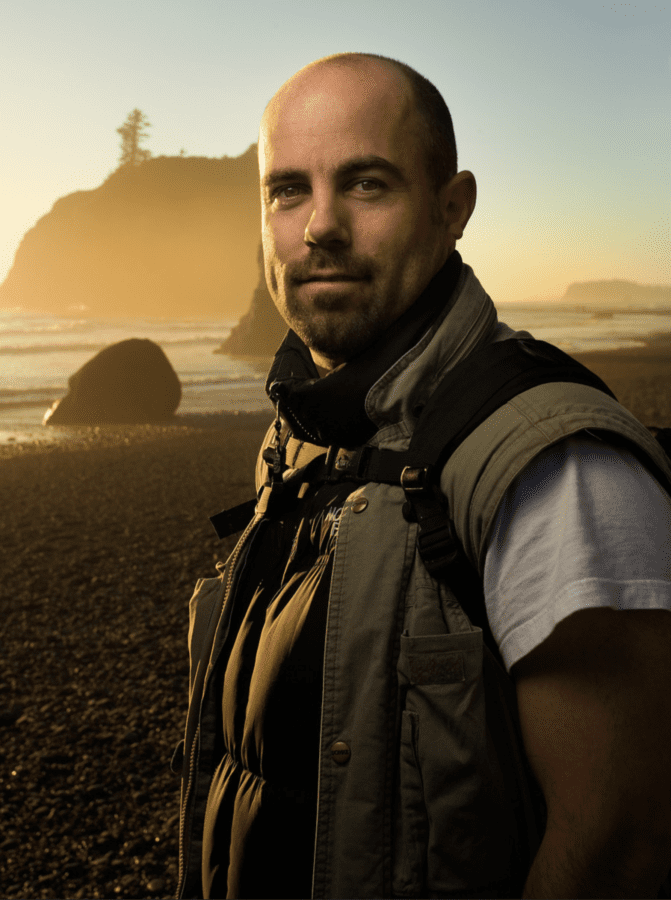 Instructor - David Swindler
David Swindler is a National Geographic award-winning landscape and wildlife photographer.  He received a degree in chemical engineering and worked many years in the semiconductor industry specializing in optics and photolithography. Thus, the technical side of photography came very easy to him. Back in 2014 he decided to quit his day job to follow his true passion. As a photographer, he has traveled to many locations around the world and has extensive experience with landscape, wildlife, night, and macro photography. He finds great satisfaction in helping others learn photography, especially in the wild desert environment near his home in Kanab, UT.  Follow the links below to see more of Mr. Swindler's work.
Gallery    Media Recognition    500px     Flickr
Mr Swindler has been leading guided photo tours for several years and knows many different camera systems and how to capture the best photos. On his trips, you'll travel to impressive locations and receive photography instruction at the same time! Unlike many other photo guides, his clients are his top priority while out in the field. Read what others are saying about his trips here: Trip Advisor. Mr Swindler has extensive outdoor experience and will ensure your safety and well-being. If you have any questions, please Contact Us and we'll be happy to assist. Happy travels!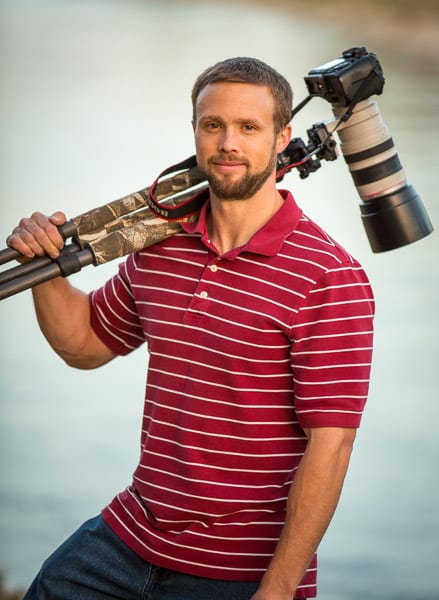 Need More Information? Contact Us!
Phone Number: 435-767-0222