Reflection Canyon Photo Workshop
Various Dates - April/May 2022
Join us in Reflection Canyon, a remote and impressive viewpoint high over Lake Powell. It certainly qualifies as one of the most stunning views in the entire Southwest! If skies are clear we will capture brilliant shots of the Milky Way over the canyon.  We will access the canyon by boat and we will provide the gear needed for overnight camping. Note that this trip is rated challenging due to steep uphill hiking from where we dock the boat. All participants need to be in good physical condition, without a fear of heights, and no mobility or balance issues. You will need to carry your camping gear, water, food and camera gear.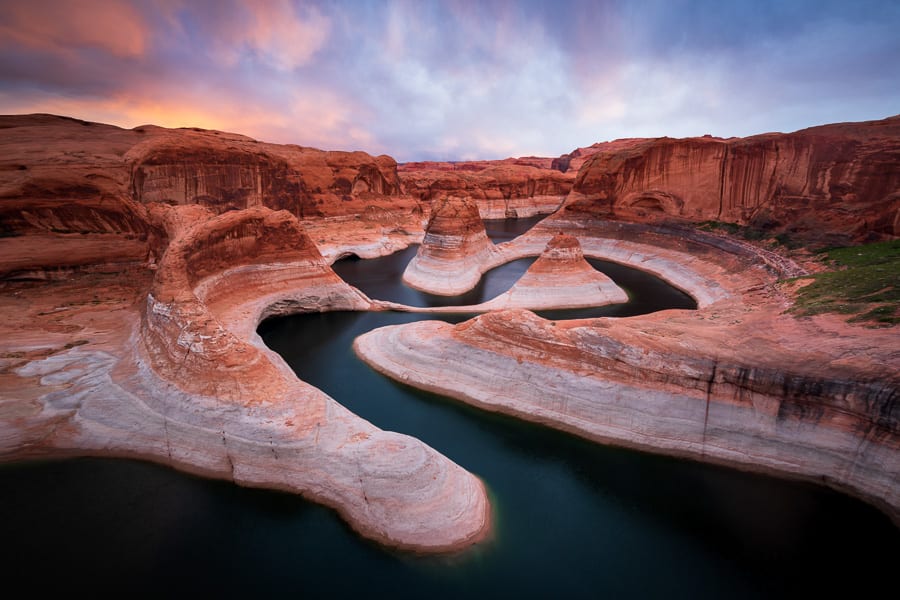 Highlights
Reflection Canyon is one of the most scenic views in the entire state of Utah! The spring months are best with water levels at their lowest.
Dates are timed for dark skies to capture the Milky Way over the canyon!
Trip includes round-trip boat transportation and fully outfitted camping (weather permitting).
The Milky Way is angled low to the horizon which is perfect for landscape images and panoramics.
The workshop includes bonus post-processing session held via Zoom after you return home.
Learn many new photography techniques both in the field and in the digital darkroom from pro instructor David Swindler.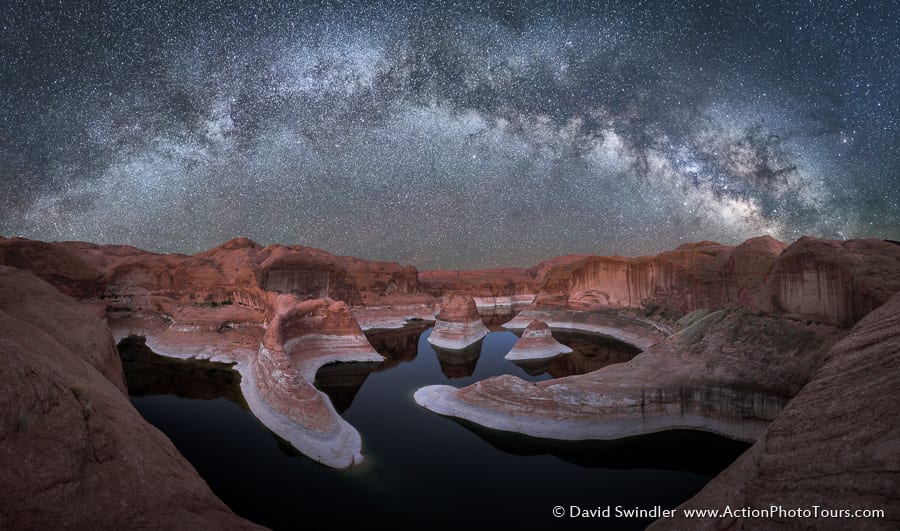 Itinerary
Day 1:  Meet at 1:30PM Mountain Daylight Time (Utah time) in front of the Visitor Center at Antelope Point Marina.  After a brief safety talk, we board the boat and head for Reflection Canyon.  Once there, we pack up the gear and start the hike up to the rim.  After dinner, we'll shoot sunset and get to bed early.
Day 2:  We awake at 2AM to clear skies and a brilliant arc of the Milky Way over the canyon.  After photographing the Milky Way, we catch another couple hours of sleep before waking to shoot sunrise.  We break camp and then start the return boat trip.  The workshop will conclude around noon at the marina.
A pre-trip orientation meeting will be scheduled via Zoom before the workshop to ensure you have everything you need. We will schedule a bonus post-processing session via Zoom after you return home.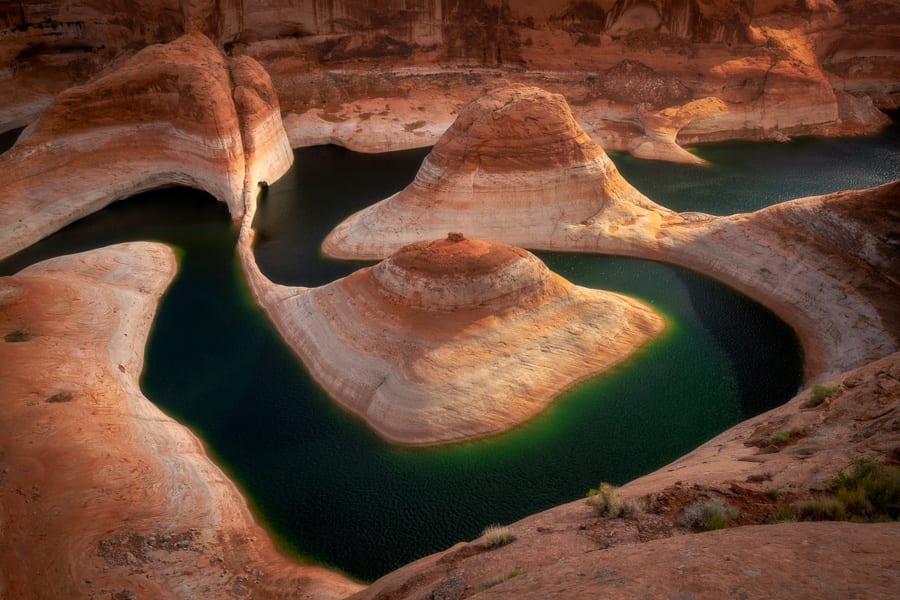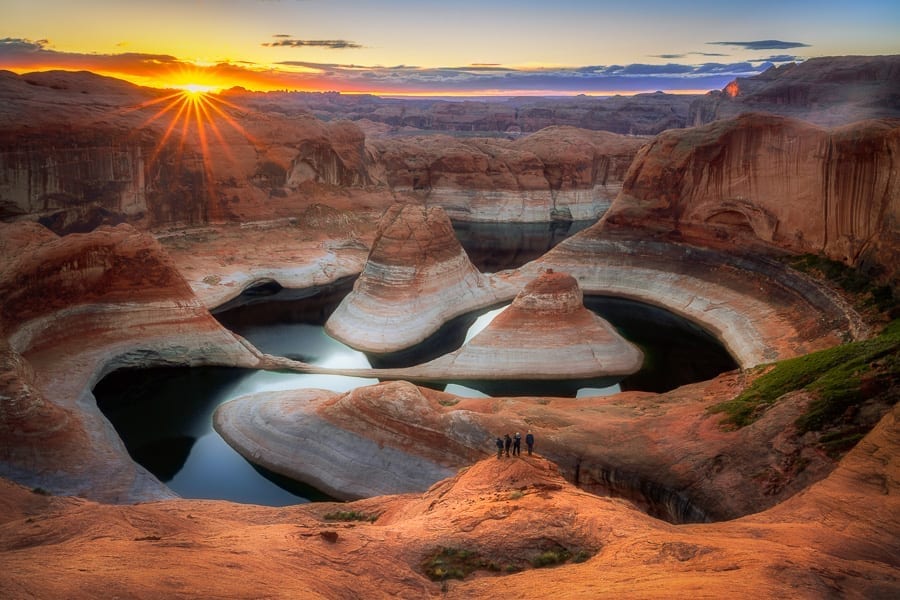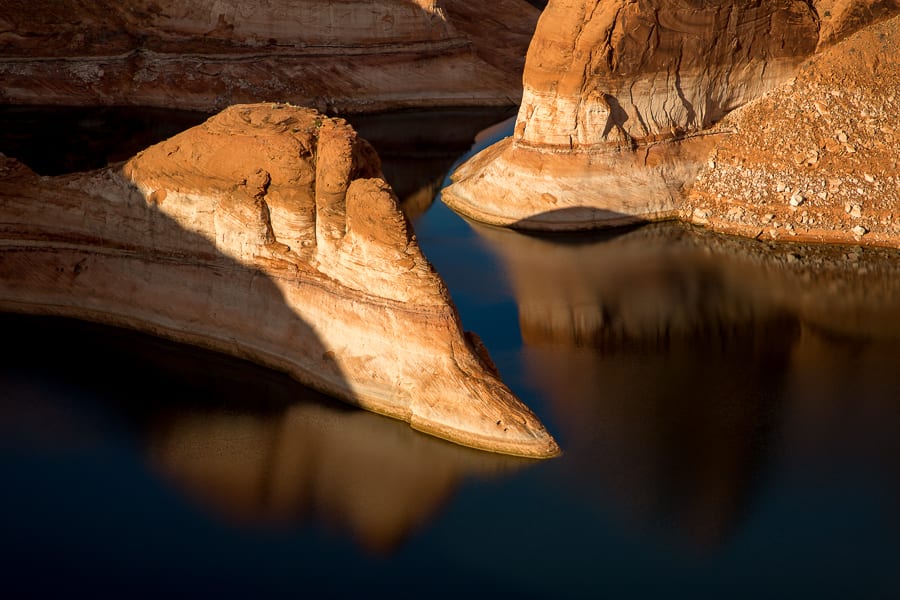 Logistics
Plan to arrive at Antelope Point Marina no later than 1:30PM MDT (Utah time).  You will want to eat lunch prior to the workshop, so make sure you grab something beforehand. If you'd like to eat at the marina restaurant, arrive at least 90 mins prior to departure time.
IMPORTANT: This workshop is rated challenging. All participants on this trip need to be in Good Physical Condition, without a fear of heights, and free from mobility or balance issues. You will need to carry your camping gear, water, food and camera gear. When we go in via boat, the hike up to the rim is steep and strenuous. It's only a half mile long, but it's not recommended for those with poor mobility and fitness. The overnight trip will include all your camping gear and food so please let us know if you have any dietary restrictions. You will need a larger backpack to carry the overnight gear along with your camera gear.
We timed this workshop for optimal Milky Way and water levels. However, we can't control the weather and if skies are cloudy overnight we may not be able to photograph the Milky Way.
The water levels in Lake Powell can change drastically one year to the next. If levels change unexpectedly, we may not be able to dock the boat, making it impossible to access Reflection Canyon due to sheer cliffs. The weather is also a factor. If it's stormy and or windy, the boat will not be able to go out safely.
If weather and or lake levels prevent us from taking the boat to Reflection Canyon, we will reimburse participants their share of the boat costs and organize an overnight trip to an alternate location that has good Milky Way shooting.
Expect extremely variable weather in April and May.  It can be warm and pleasant or cold and windy. You need to come prepared for the worst conditions. Please see the gear list below.
Recommended Camera Gear
A lightweight tripod and ballhead you don't mind hiking with. Make sure it isn't flimsy as it can often be windy on the rim!
Digital SLR or Mirrorless Camera Body. We recommend full-frame cameras for best night photography.
Wide Angle Lens f/2.8 or faster for night photography in the range of 14-24mm.
Mid-range zoom lens in the range of 24-100mm (Optional)
Circular polarizer filters are useful.  Bring any ND filters if you have them for creating long exposures.
Extra batteries, memory cards, and cleaning supplies.
Remote cord for your camera. An intervalometer will be especially useful for doing long exposures at night.
Personal Gear List
Sturdy hiking footwear, hiking socks, and long pants.
Large, comfortable backpack that can carry your camera gear, tripod, and overnight gear.
Overnight toiletries, sunscreen, hat and sunglasses.
A rain jacket and some warm layers since it can get cold at night and on the boat.
Warm gloves and hat.
Headlamp for night photography.
Water bottle or hydration bladder.
Hiking poles if you like using them.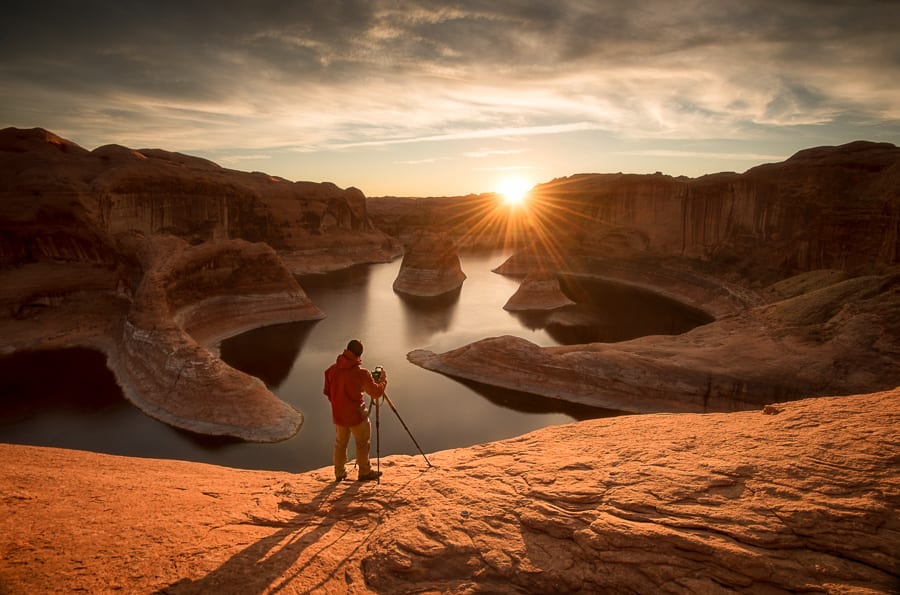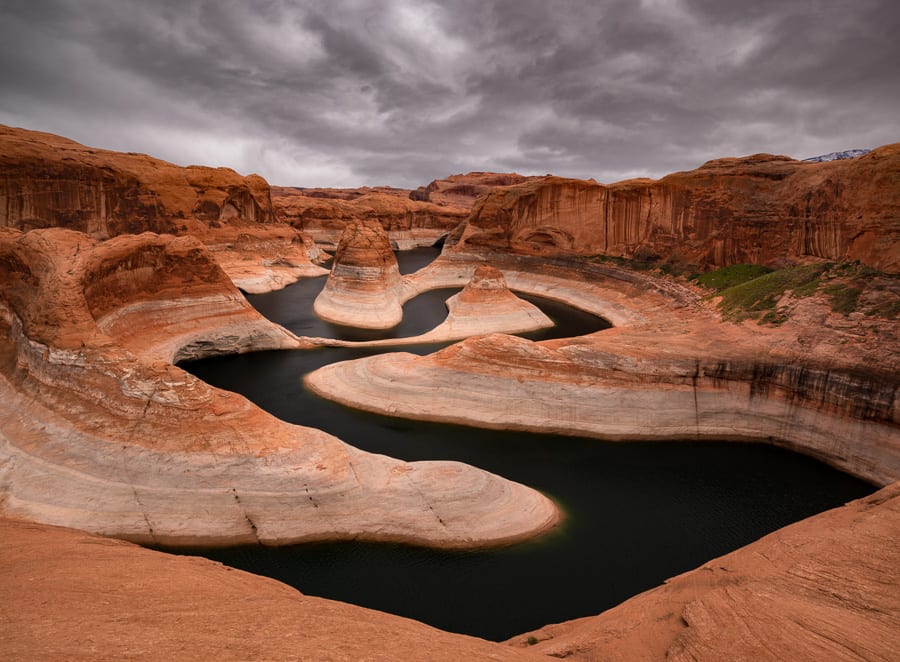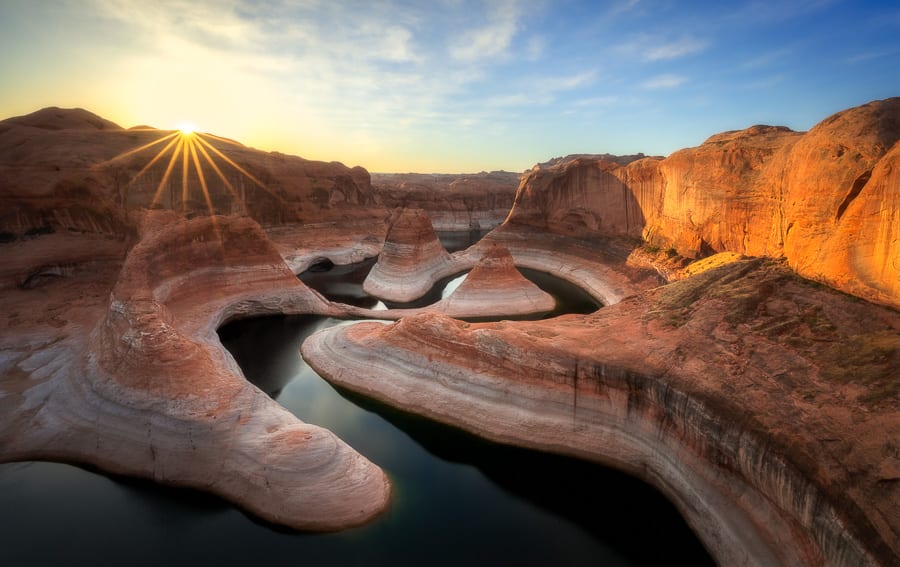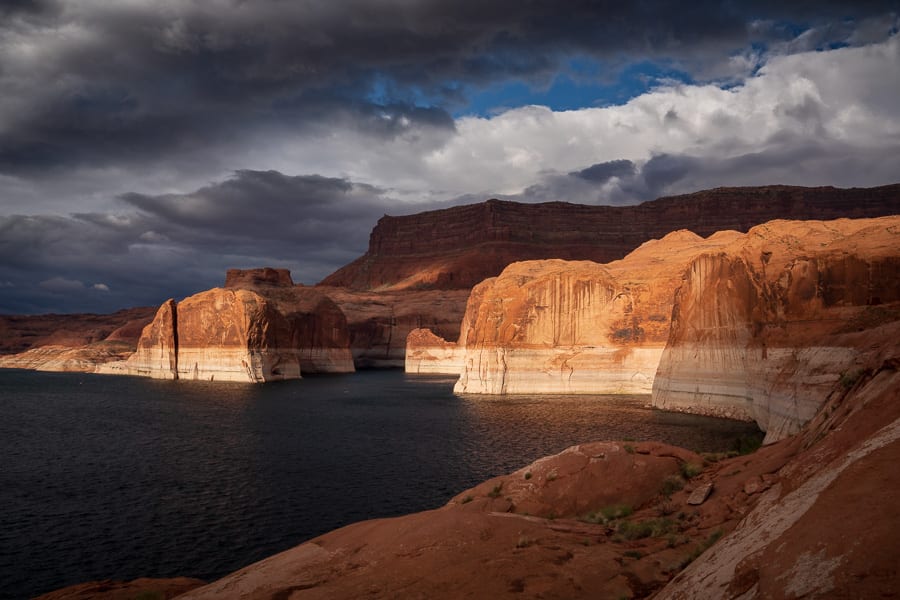 Pricing
$1295 per person
Trip Includes:
Boat transportation to/from Reflection Canyon.
Camping gear and food for the overnight trip (dinner and breakfast)
In-field photography guiding
Light snacks and water.
Bonus post-processing session via Zoom after the trip.
Trip Does NOT Include:
Transportation to/from your home to Antelope Point Marina.
Hotel Accommodations
Restaurant Meals
Alcoholic beverages
When you complete the checkout process, you will be given the option to either pay the full amount or put down a 50% deposit.  If you pay the deposit, the remaining amount will be charged 90-days prior to arrival to the credit card we have on file.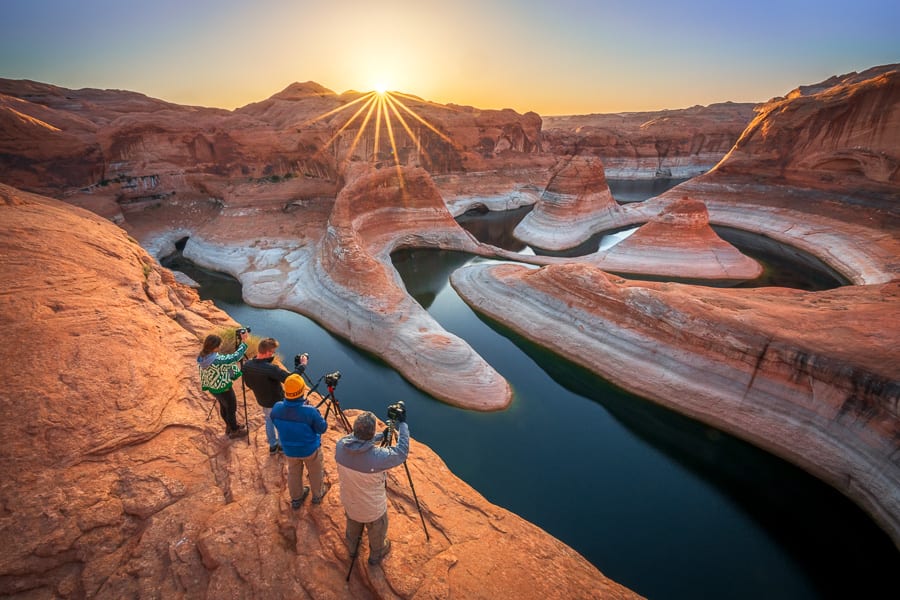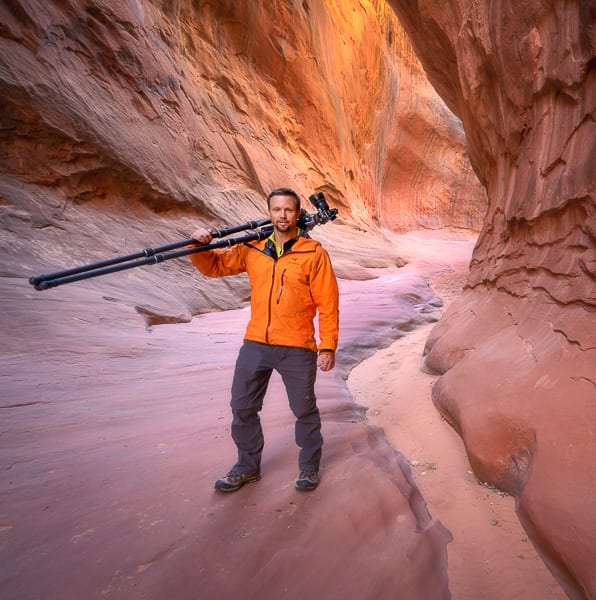 David Swindler
David Swindler is an award-winning landscape and wildlife photographer.  Among others, he has been recognized by Sony World Photography Awards, International Landscape Photographer of the Year, and National Geographic.  He received a degree in chemical engineering and worked in the semiconductor industry specializing in optics and photolithography. In 2014, he left his day job to follow his true passion. He has traveled to some of the most remote regions of the world and has extensive experience photographing a wide variety of subjects and conditions. He finds great satisfaction in helping others learn photography, especially in the wild desert environment near his home in Kanab, UT.  David is an expert in night photography and loves to get out and shoot the starry night skies. Catch a glimpse of David's work in the slideshow, and follow the links below to see more!
Gallery    Awards and Media Coverage
Having guided photo tours for years, David is very familiar with many different types of cameras.  He is a master with light and composition. But most importantly, his dedication to his clients is what really sets him apart!   Just read what others are saying here: Trip Advisor.