Iceland IN Winter Photo Workshop
Feb 27 - Mar 8, 2024 - Sold Out
March 8-18, 2024 - Sold Out
Immerse yourself in the awe-inspiring and rugged beauty of the land of fire and ice on our 11-day Winter in Iceland Workshop. Capture the Northern Lights as they dance across the sky. Photograph crystal clear icebergs as they wash up on the smooth black sands. Feel the roar of powerful waterfalls surrounded by columns of ice. Step inside massive ice caves and marvel at the deep blue colors and undulating textures.  Iceland is absolutely amazing in winter!  You'll learn many new photo skills and techniques from your pro instructors.
5 Students per Instructor
Max 10 Students
Kevin McNeal
Raymond Hoffman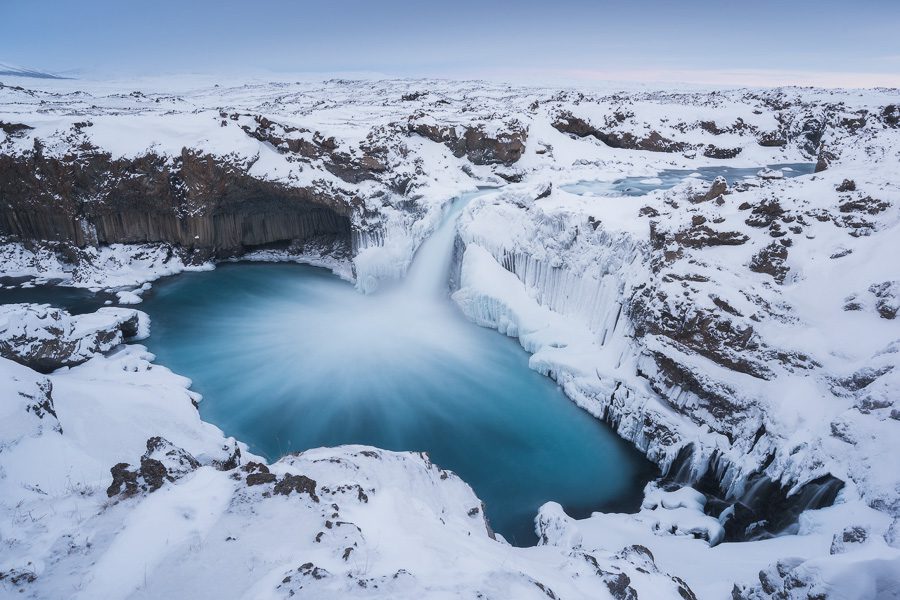 Highlights
Experience the beauty of icy waterfalls, deep canyons, rugged sea stacks, deep-blue ice caves, jagged mountains, pristine icebergs, and much more!
The dates are timed for active aurora borealis and dark skies! We'll be on the lookout each evening when skies are clear.
Safely visit the surreal ice caves where you'll be surrounded by otherworldly colors and textures.
Explore the Northern reaches of the island with spectacular waterfalls and geothermal features.
Learn from award-winning photographers both in the field and in the digital darkroom.
Focus on your photography - all lodging and transportation are included.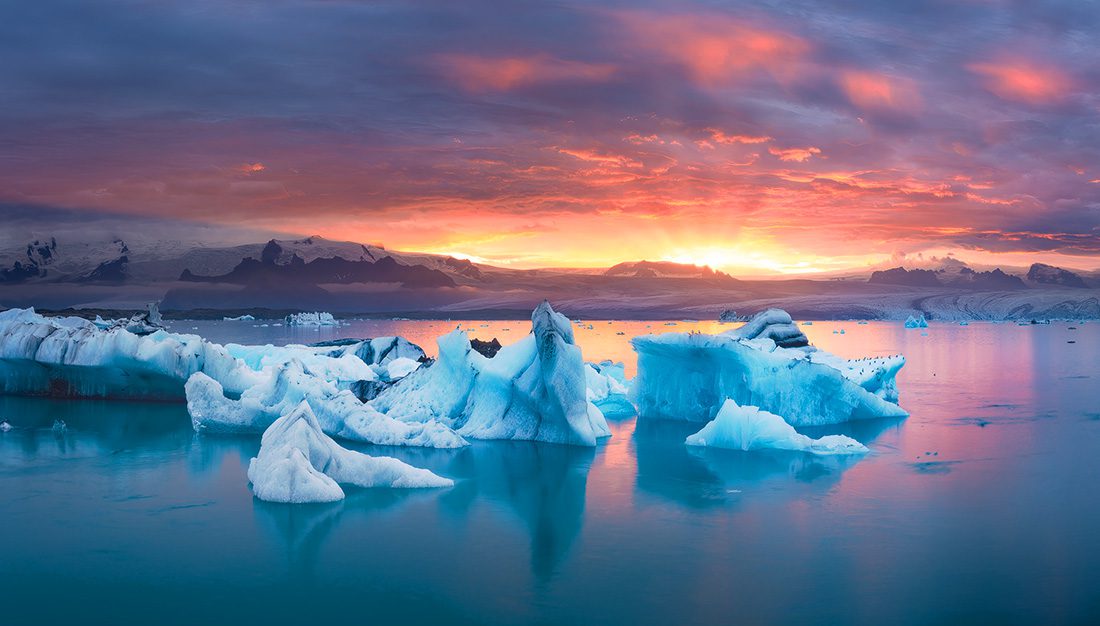 Itinerary
The itinerary may be subject to change due to the unpredictability of Icelandic weather. However, we will make every effort to optimize our shooting conditions no matter what the weather throws at us.
Day 1: The workshop starts in the capital city of Reykjavik, where we will meet over a welcome dinner to get to know each other and discuss the workshop itinerary. Note - lunches and dinners are not included in the workshop fee.
Day 2: We set off early to start our adventure along the famous South Coast where you will get a taste of all the natural wonders Iceland has to offer: waterfalls, volcanic craters, lava fields and black sand beaches. It is especially beautiful in winter with the rugged, volcanic landscape draped in a soft blanket of snow and ice.  We retire for the night in the scenic village of Vik.
Day 3: We continue our journey along the South Coast, visiting the Skaftafell Nature Reserve, Jökulsárlón Glacier Lagoon and the famous Diamond Beach for sunset.  We will spend the night in Jökulsárlón
Day 4:  It's Ice Cave Day!!  After capturing the magnificent striations, color and textures of the caves, we continue on to Vesterhorn, and Fjallsárlón Glacier Lagoon.  We end our day in hopes of capturing the Northern Lights dancing above Diamond Beach.
Day 5:  Today will be spent photographing lesser know areas around Vatnajökull National Park, and of course, Vatnajökull itself, Europe's largest glacier.  If the forecast looks good, we will be out chasing Aurora again!
Day 6: Today, we begin our journey through the seldom-travelled Eastfjords. This region is so remote, we are unlikely to encounter crowds at our shooting destinations.  If the Aurora forecast looks promising, we will capture her dancing over Lake Lagarfljó
Day 7:  We are up early for our journey north to Lake Mývatn.  We will be stopping along the way to  photograph waterfalls, geothermal areas and other spectacular winter sights.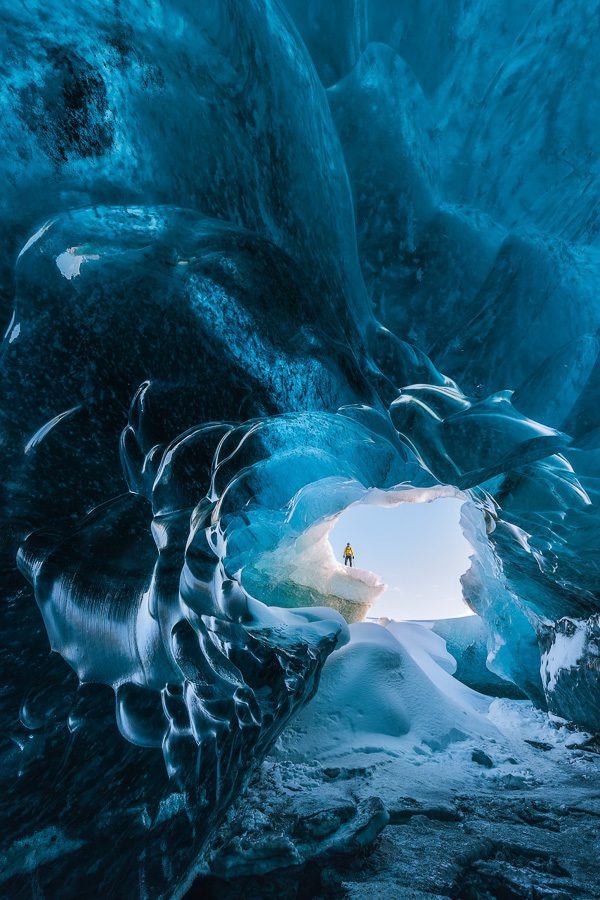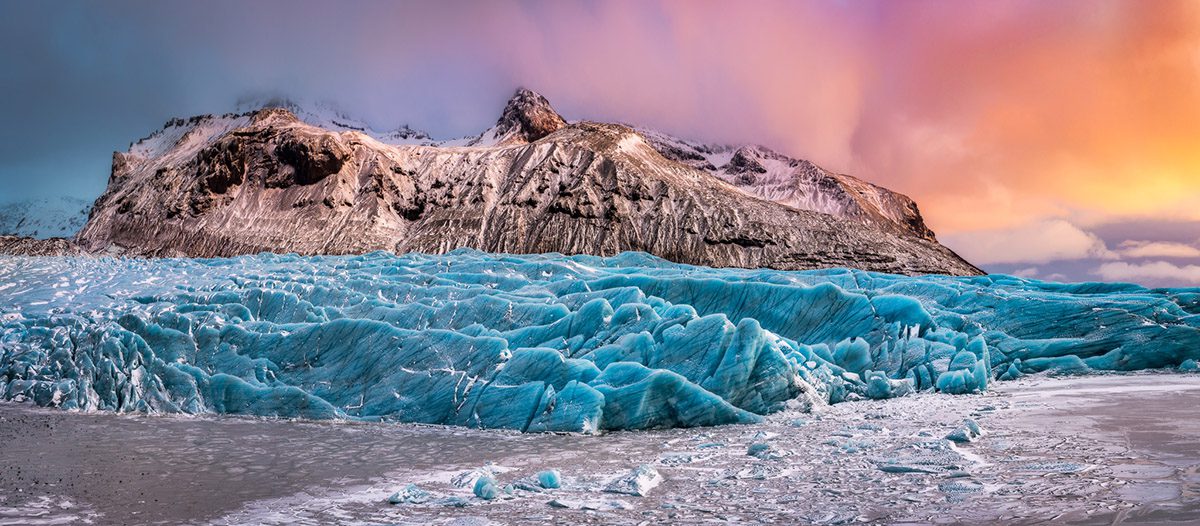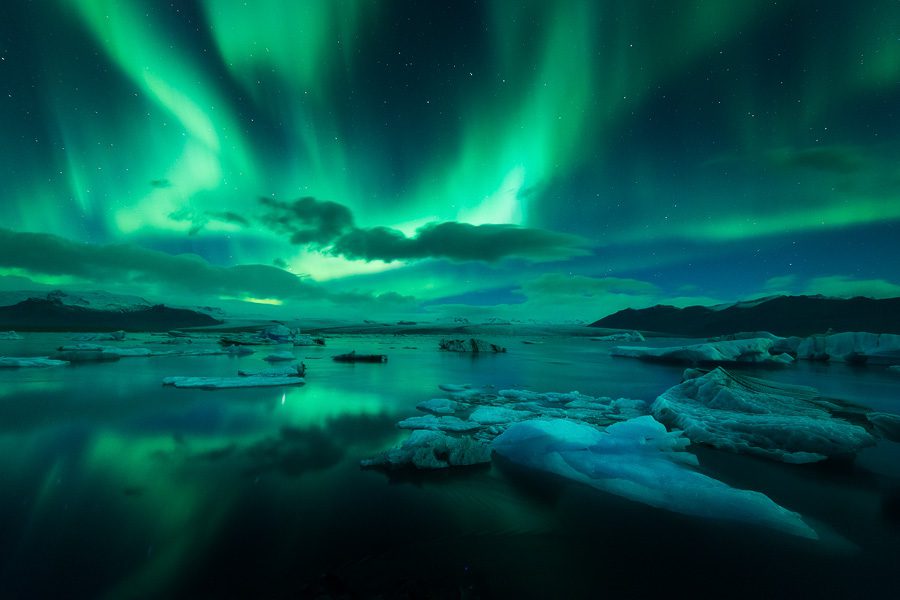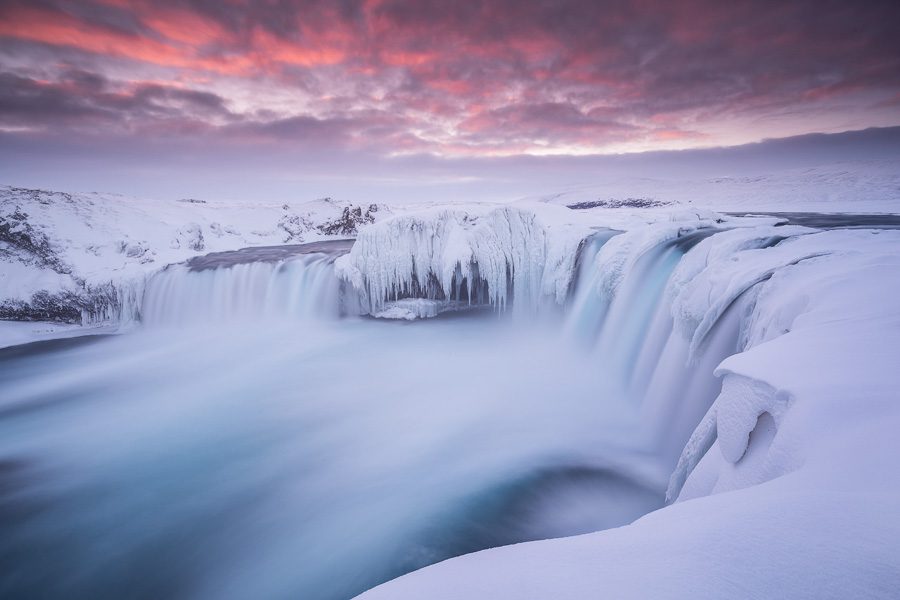 Itinerary (Cont.)
Day 8:  We spend the day photographing around the Lake Mývatn region. You will marvel at basalt stacks rising from the water, the geothermal areas of Mount Námaskarð, Pseudocraters and dormant peaks. Game of Thrones fans will find delight at photographing many of their favorite shooting locations.
Day 9: We are up early to to continue our journey through Northern Iceland.  You will fall in love with the picturesque towns and villages of the Northern Fjords, and marvel at the dramatic mountain peaks of the Tröllskagi Peninsula.  We end our day with a sunset shoot at Mývatn.

Day 10:  This is our last full day together, and we make the most of it by traveling the famed Golden Circle route, photographing waterfalls rimmed by dazzling icicles, steaming geysers, deep canyons, and much more. Expect a full day of photography from sunrise to sunset.  We arrive back in Reykjavik late in the evening, and enjoy a final dinner together.

Day 11:  After breakfast you will make your way to the airport to fly home, with memories to last a lifetime, new friends, and an impressive portfolio full of amazing images of Iceland as a winter wonderland.
Pricing
$5500/Person + Tax 
Trip Includes:
11-day workshop with 10 nights accommodation in double occupancy rooms. A $900/person charge will be added for those wanting single occupancy.
Two professional photographer guides who will provide a combination of instruction, masterclasses, post-processing assistance and in-field guidance.
Transportation during the workshop in comfortable vehicles modified to handle the Icelandic winter road conditions
Breakfasts at the hotels during the workshop
Trip Does NOT Include:
International Flights to/from Iceland.
Airport transfers to/from Reykjavik to the international airport.
Lunches, dinners, snacks, and beverages.
Gratuities for Photo Guides, Local Guides and/or Drivers.
A 50% deposit is required to secure your spot.  The remaining balance will be charged 90 days prior to the workshop.  We are unable to provide the 10% loyalty discount on international workshops we run with third parties.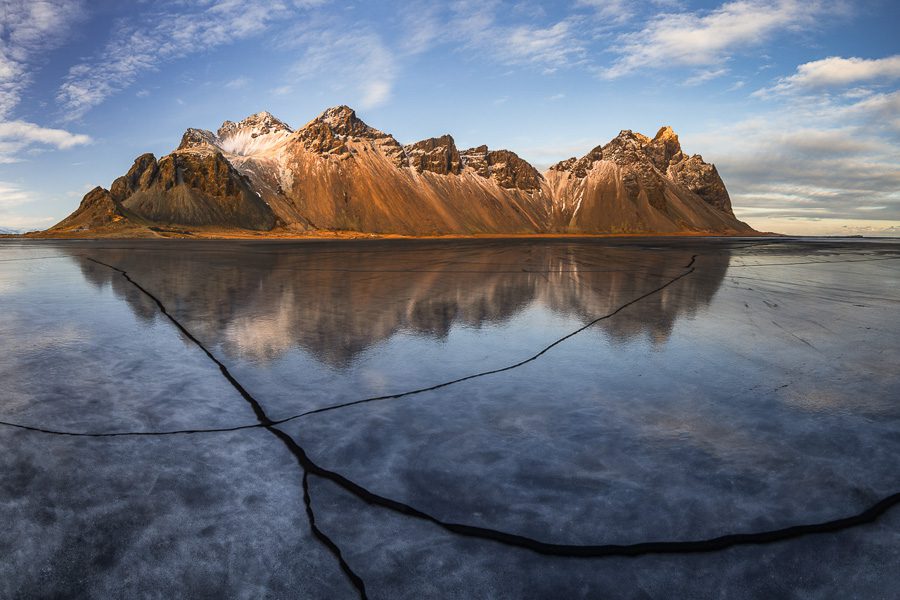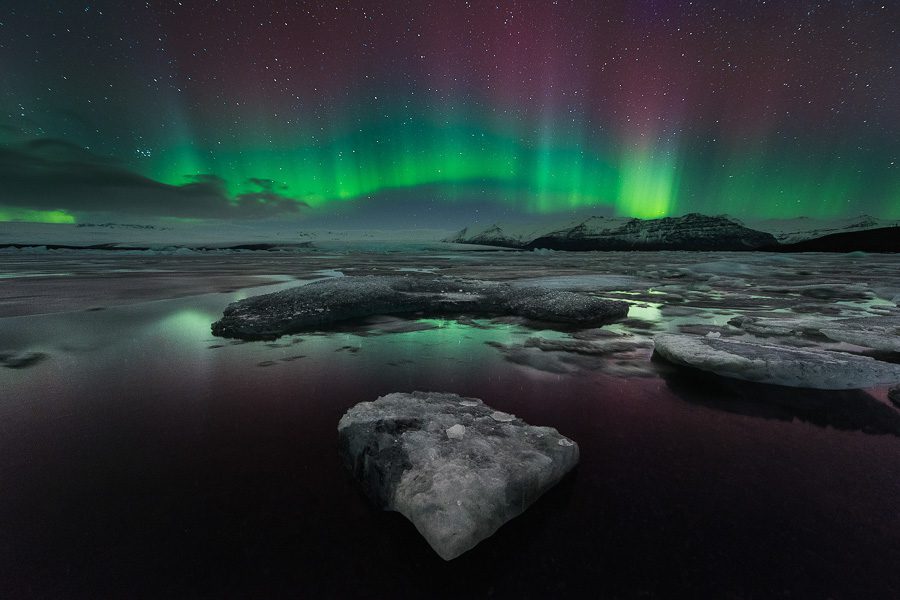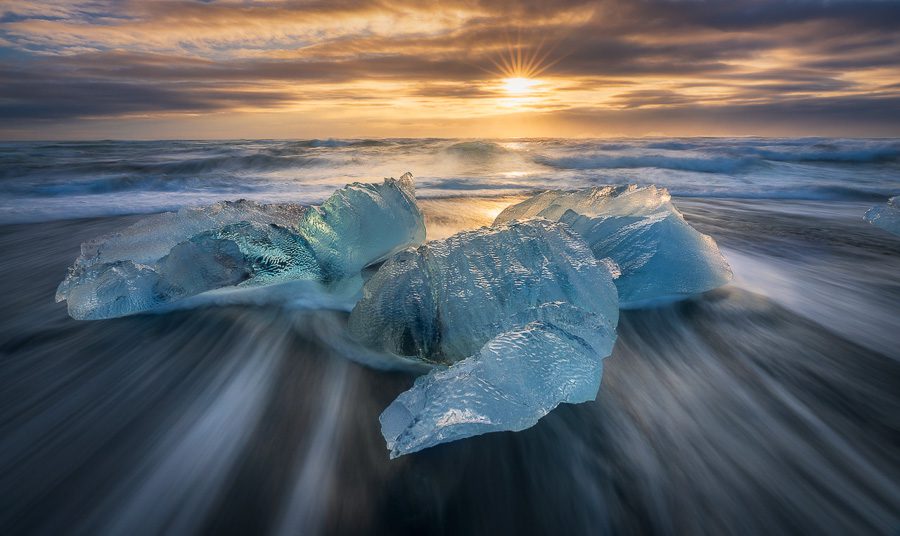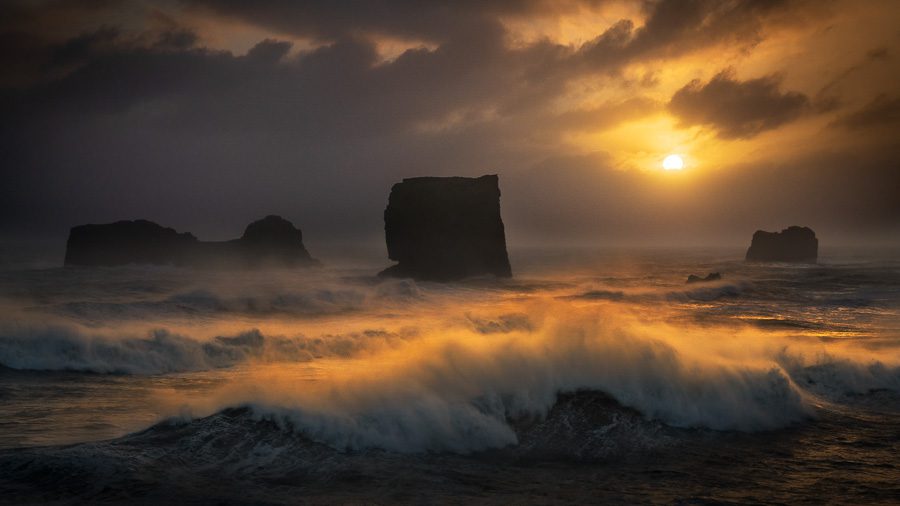 Additional Information
Max group size of 10 participants with 2 instructors, allowing for plenty of 1-to-1 time.
Moderate hiking is required to reach some locations.
Winter weather is unpredictable in Iceland. Warm sunshine, gale force winds, frigid temperatures, and snow are all possible - even within the same day! Make sure you dress appropriately. See the gear list further down.
Each day we will check the Northern Lights forecast and the latest weather. If conditions are not favorable, we will use the time in the evening for editing sessions and presentations.
We highly recommend travel insurance to cover any non-refundable fees and airline travel you may have in connection with the workshop.
Iceland is absolutely stunning from the ground, but it is equally amazing from above. If you own a drone, you are welcome to bring it along.
Gear will be provided for walking into the ice caves safely.
Recommended Camera Gear
Sturdy tripod and ballhead
Digital SLR or Mirrorless Camera Body.
Fast wide angle lens in the 14-35mm range. We recommend a lens that is f/2.8 or faster for night photography.
Mid-range zoom lens in the range of 24-100mm.
Telephoto lenses will come in handy for landscape compression and wildlife encounters.
Circular polarizer filters and 3-stop ND filters for your lenses.  If you like shooting with grads, bring them along.  Very dark ND's can be useful for creating long exposures.
Extra batteries, memory cards, and cleaning supplies.
Remote cord for your camera.
Cover for your camera/lens to protect against high winds and precipitation.
Camera backpack you can use while hiking.
Drone for aerial photography (optional).
Laptop if you wish to backup your photos (optional)
Personal Gear List 
Sturdy waterproof winter boots and wool hiking socks. Gaitors can be useful to keep snow out of your boots.
Base layers for both upper and lower body.
Warm layers - puffy jackets, fleece, etc.
Waterproof outer shell jacket.
Warm hat, thick waterproof gloves, and thinner glove liners
Micro-spikes for traction in snow and ice.
Hip or chest waders for photographing on the coast (optional)
A more complete packing list will be sent after registration.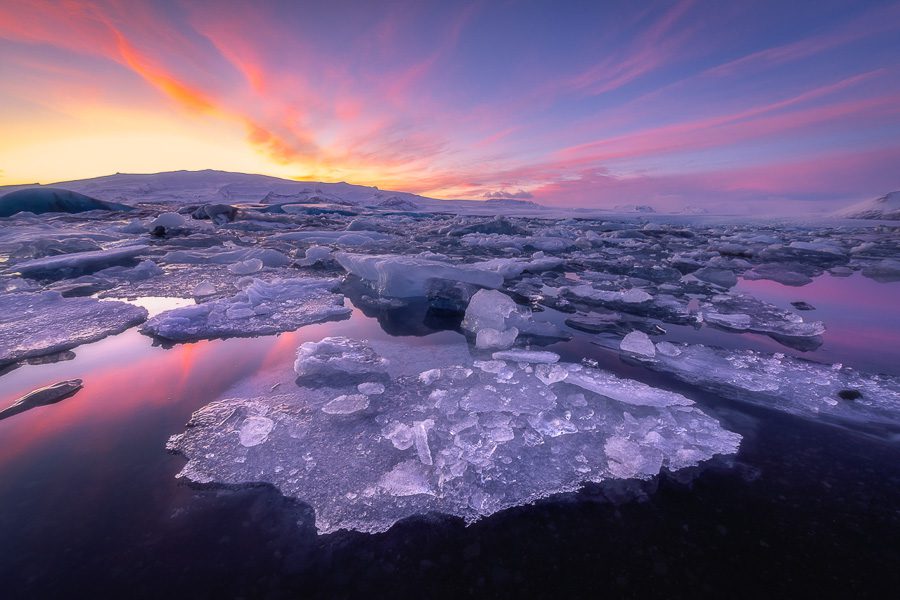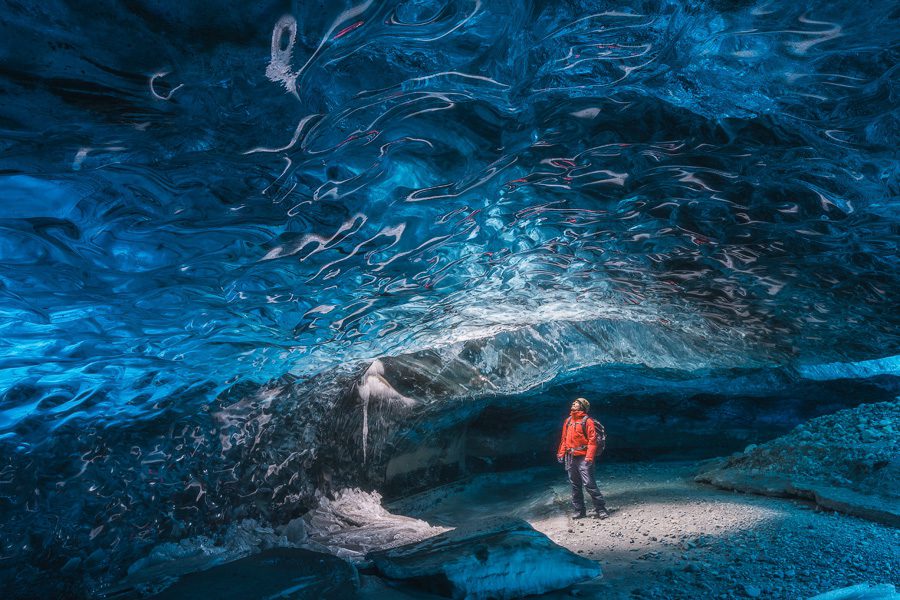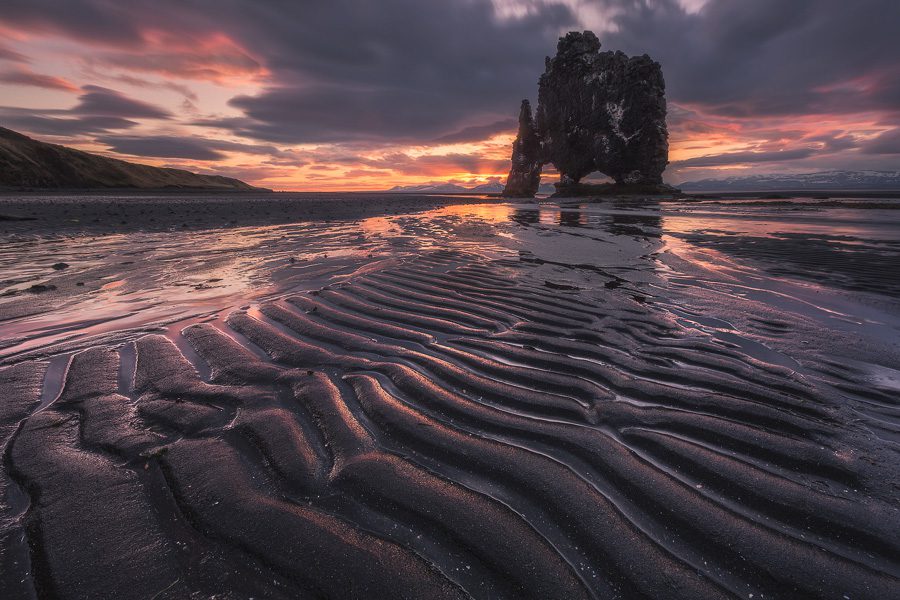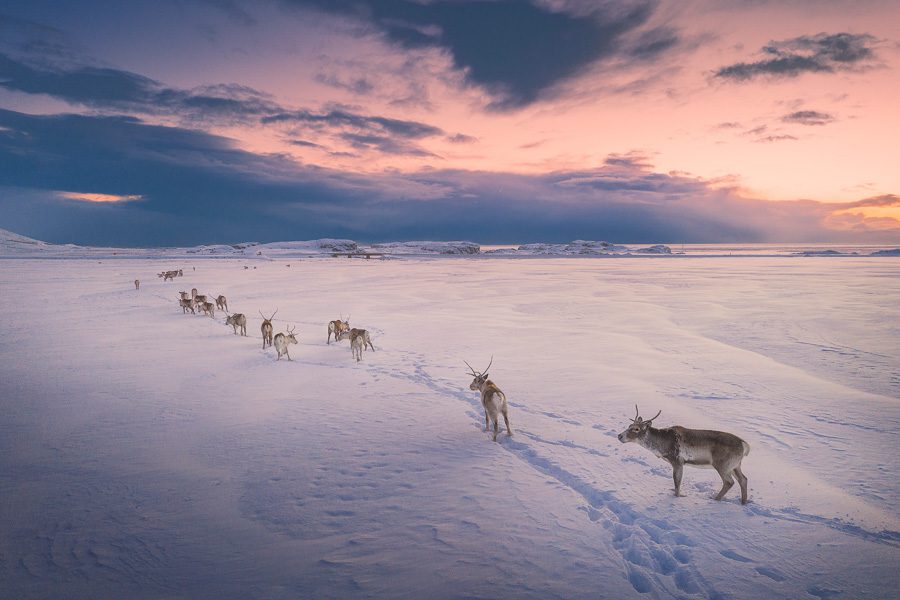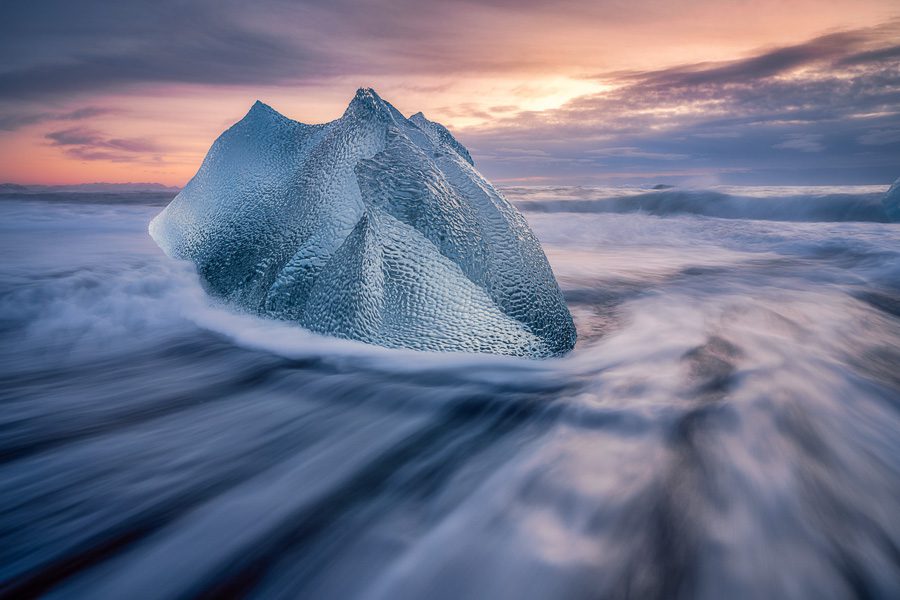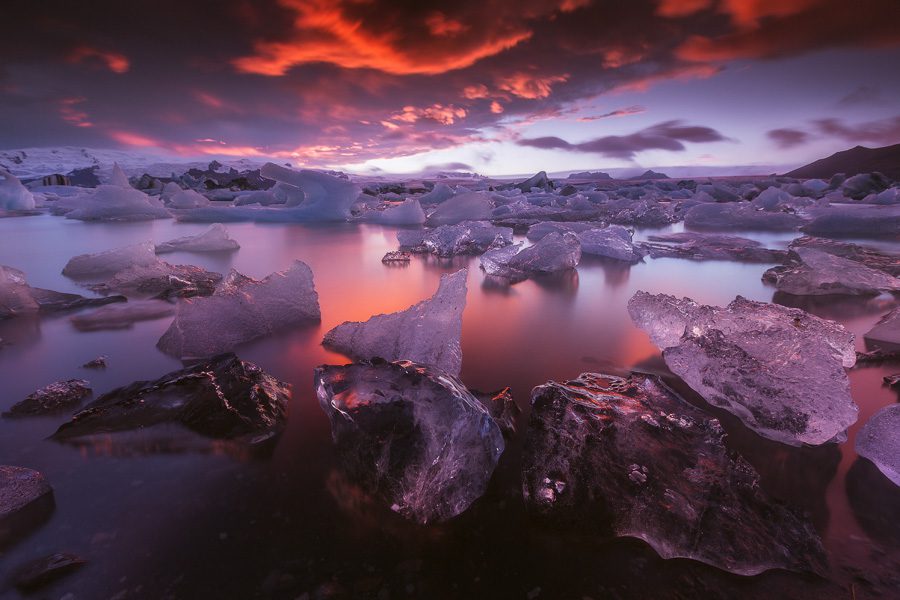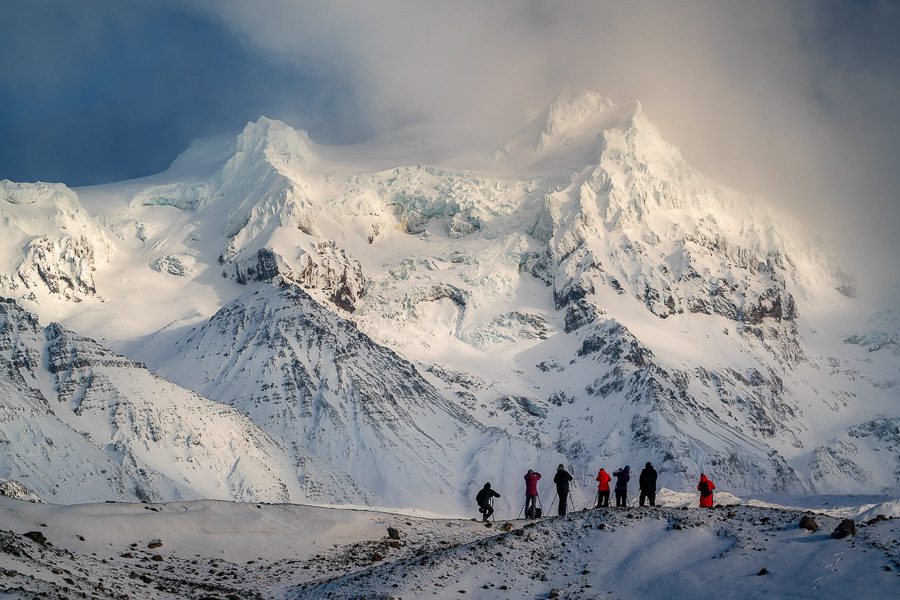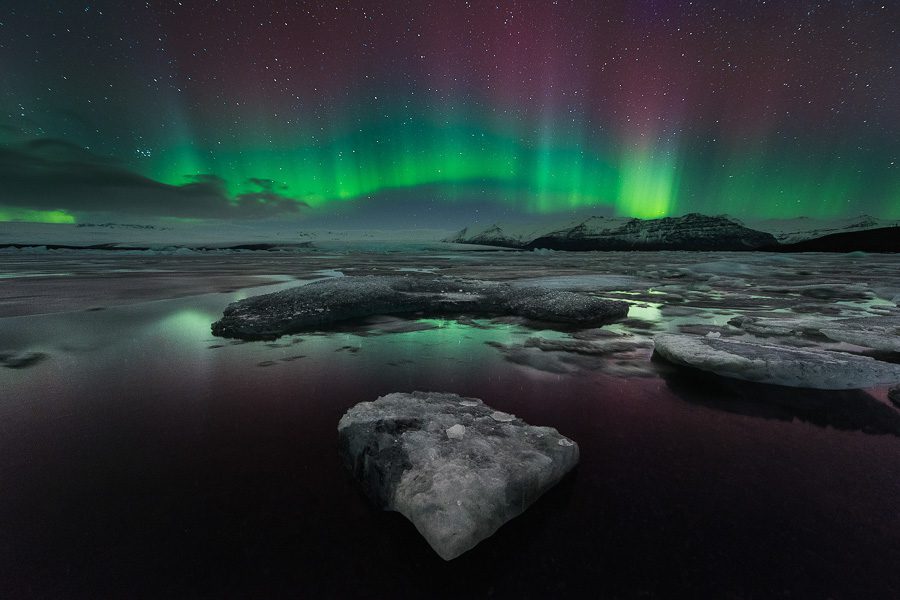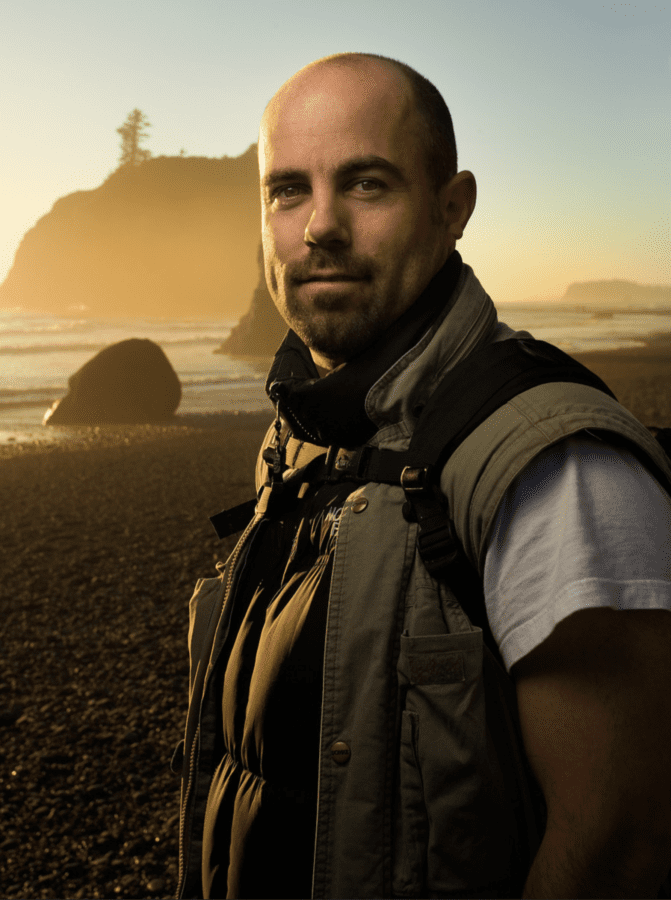 Kevin McNeal
Photography Instructor
Kevin McNeal is a Washington-State photographer who is passionate about photographing grand landscapes that reflect the most unique places on earth. Capturing moments of magic light and transferring this to print is the ultimate goal. His images hold a combination of perseverance, patience, and dedication to capture landscapes in fresh ways. The stories of how these images are rendered come across in the feelings the images convey. He has traveled all over North America, shooting diverse landscapes and finding remote places with the hope that we can convey to the public that this earth is worth caring for. His award winning images can be seen in galleries and showings across the United States.  He was recently invited to the Art Wolfe Art Gallery for the Environmental Photography Invitational. Kevin was the grand winner of the Landscape category for the Natures Best Magazine and was selected for the Smithsonian National Museum of History in Washington D.C..  He is a regular contributor to publications like Outdoor Photographer.
Artist's Statement
"I believe that the Earth shares secrets with us that only can be discovered by trying to understand our position on this planet. We are never fully intimate with the planet but are given brief moments that make our souls want more. These glimpses of nature's power are fleeting and never the same twice. I also believe it is important to share with those who want it. The treasures that await us given the patience that is out there. What I try to do is bring some of that magic to my images to share with the rest of the world. Each of my images tells a story that everyone can relate to in some way whether it is success, fear, or challenging oneself to overcome obstacles
Kevin's portfolio can be found at www.kevinmcnealphotography.com.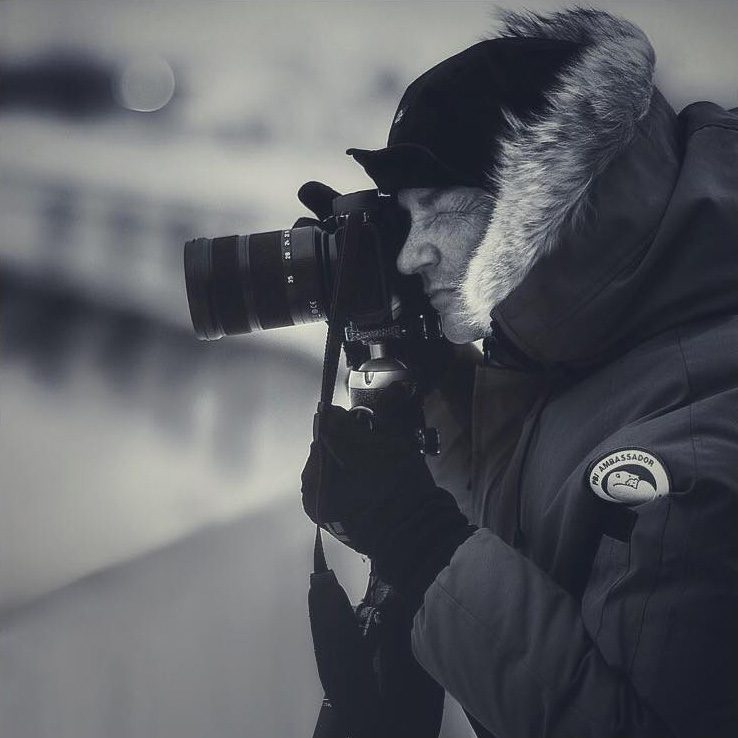 Raymond Hoffman
Raymond is an award-winning photographer known for his magnificent landscape photos. His career took off in 2011 when he was voted "Best Nature Photographer" by one of Europe's largest online photo communities.  Raymond's work has been featured in various publications, and he actively takes on assignments for publishers and advertising agencies.
Raymond also works as a nature photographer, leading tours across the stunning nordic nations.