Alaska Aurora Borealis Photo Workshop
Feb 10-17, 2024 - Sold Out!
Experience Alaska's winter beauty as the mysterious Northern Lights dance across the skies and golden light illuminates the snowy landscapes.  Our journey will take us far above the Arctic Circle in chase of the aurora borealis, stunning scenery, dramatic mountains, and arctic wildlife. And there's more - you will gaze in awe at a stunning ice cave and spend a day with dog mushers!  With a max group size of 6 participants and 2 instructors, you'll get plenty of individual attention and room to spread out in the vehicles.
$4500

Includes all Lodging & Transportation
3 Students per Instructor
Max 6 Students
Nickolas Warner
Kevin McNeal (Feb Only)
David Swindler (Mar Only)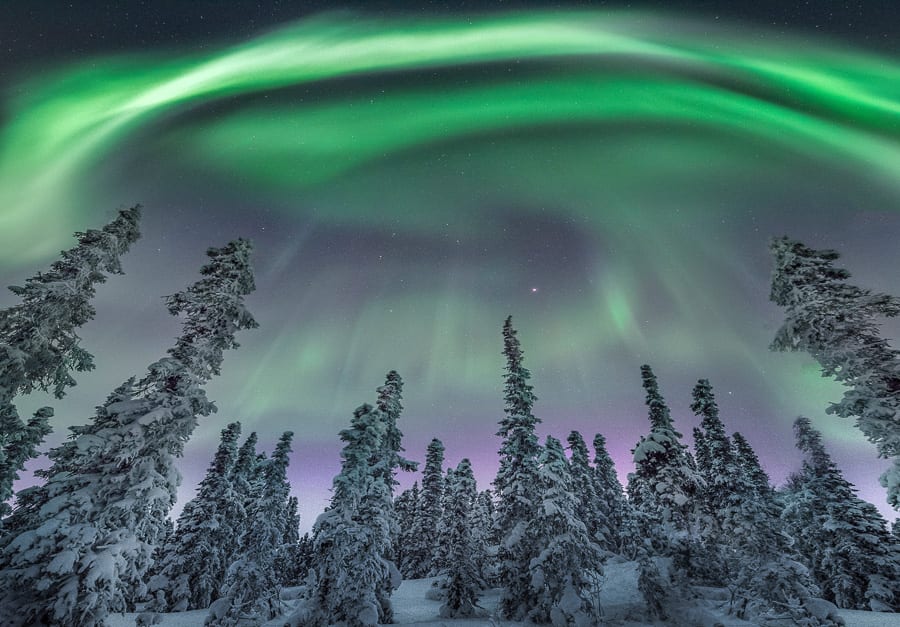 Highlights
Journey well above the Arctic Circle where we'll be directly under the auroral band for best Northern Lights viewing!  Workshop dates are timed for dark skies with little to no moon interference.
Experience the dramatic snow-covered landscapes of North Central Alaska. Low sun angles throughout the day will produce rich colors and warm light.
Gaze in awe inside a spectacular ice cave, shimmering with the most amazing ice crystals!
Small group of 6 students with 2 instructors will ensure plenty of individual attention and comfort.
Pro-photographers Nickolas Warner and Kevin McNeal will get you to the best spots for aurora. Both in-field instruction and digitial darkroom training will be provided.
Workshop includes all transportation and lodging along with a dog-mushing experience!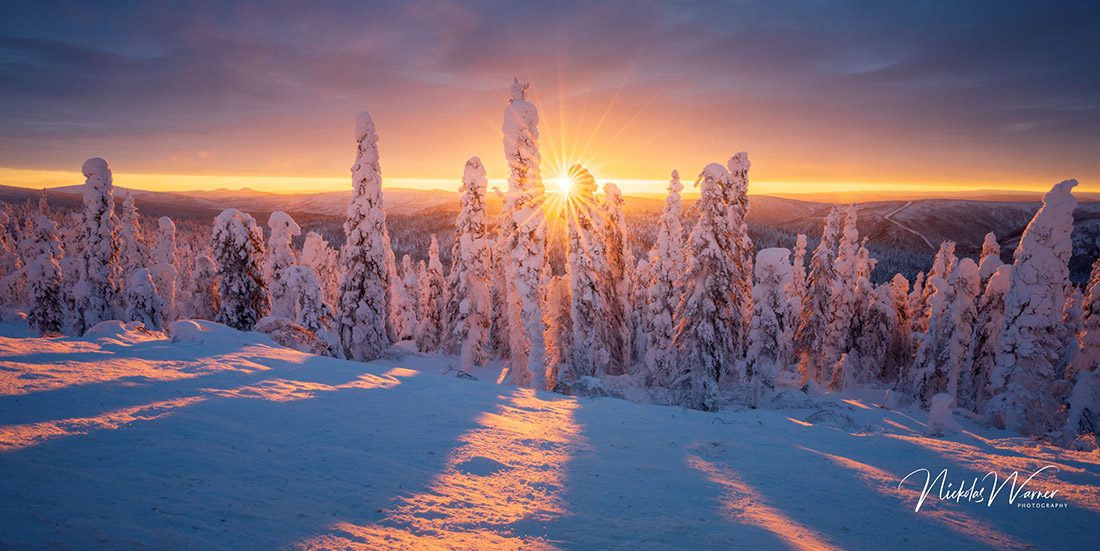 Itinerary
The itinerary may be subject to change due to the unpredictability of Arctic weather. We will make every effort to optimize our shooting conditions no matter what the weather throws at us.  Please see the March Dates section below for itinerary modifications on the 2nd group.
Day 1: Meet at 6PM in Fairbanks, Alaska for a mandatory introductory session and meet and greet. If aurora activity looks promising, we'll head out for a quick shoot after dark.
Day 2: We are up early this morning for our ice cave adventure! Equipped with snow shoes and helmets, we hike to the foot of the glacier and gaze in awe at the incredible ice formations inside.  We spend several hours photographing before making our way back to the vehicle.  After dinner and a short rest break, we take advantage of clear skies and head out to capture the amazing Aurora Borealis!
Day 3:  After breakfast, we head out for a day of fun and adventure with the dog mushers!  We'll see some beautiful scenery and have a blast playing with the puppies! Depending on conditions, we may be able to check out the World Ice Art Championships, where we'll wander amongst the stunning sculptures and watch the artists at work.  We head out again in the evening to photograph the Northern Lights.
Day 4: The Aurora put on quite a show the night before and so we catch up on some much needed sleep this morning.  After breakfast, we begin our journey into the far north, taking lots of photos along the way and stopping for wildlife sightings.  After checking in to our hotel, we shoot sunset and aurora at a place well known for frost-covered trees!
Day 5: We hit the road and journey well north of the Arctic Circle. After lunch, we photograph a number of spectacular mountains and rugged landscapes. After a warm dinner, we venture out for Aurora photography at some of our favorite locations.
Day 6:  Today we explore many areas to the North and experience the mighty Brooks Range!  We even find some great wildlife shooting opportunities with the caribou!  A fresh coat of snow makes the landscape sparkle and come alive in the beautiful low-angle light. The forecast looks promising, so after dinner we chase the Northern Lights.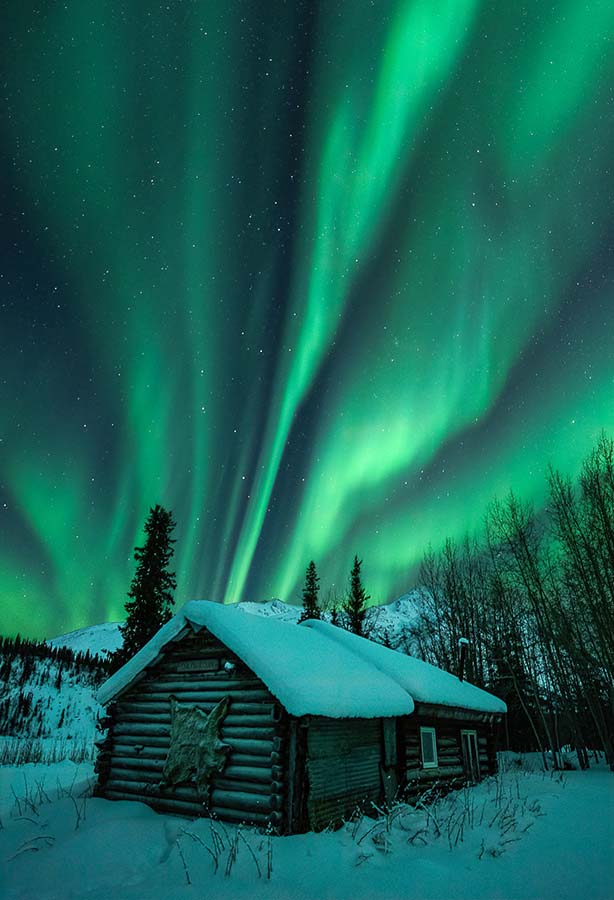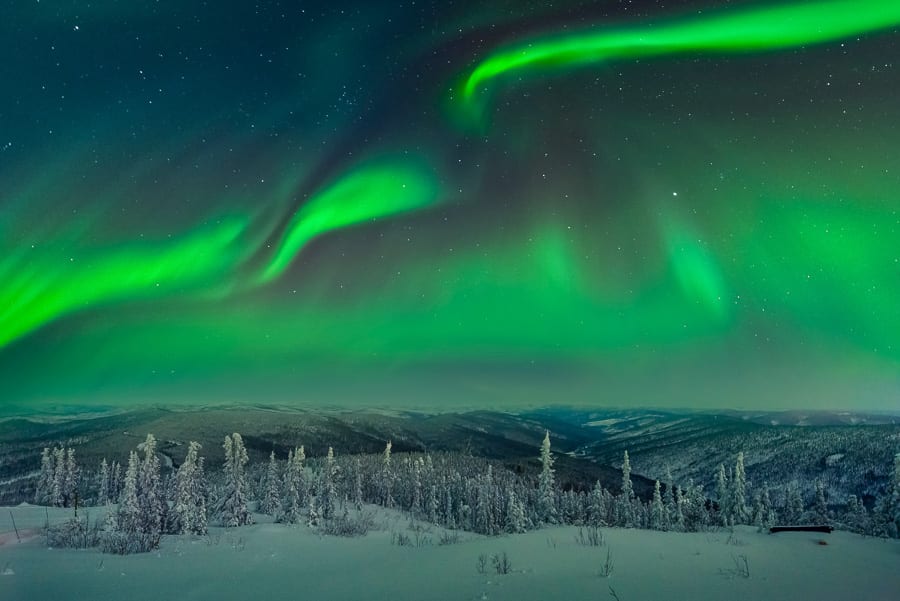 Itinerary, cont.
Day 7: It's time to start heading south again.  After a quick breakfast, we hit the road hoping for a spectacular sunrise along the way. We stay one more night at the place known for frost-covered trees. We shoot sunset at scenic area overlook and then cross our fingers for good aurora activity on our final night.
Day 8:  This is our last day together.  After a sunrise shoot, we enjoy breakfast before making our way back to Fairbanks.  The workshop will conclude by 1:00PM, allowing you the option of either staying one more night in Fairbanks or catching a late evening flight back home.
Logistics
Plan to arrive in Fairbanks no later than 5PM on the first day.
Mild to moderate hiking is required to reach some locations. For the ice cave day, the hiking could be more strenuous (max of 2-3 miles).  We will have snowshoes for all participants for the ice cave day.
Winter weather is unpredictable in Alaska and temperatures can be very cold.  We will email you a list of personal items and recommended clothing after you sign up for the trip.
Lodging in the arctic is very expensive and in short supply.  When we are outside of Fairbanks, two hotel nights will not have en-suite bathrooms.  There will be shared mens/women's restrooms with showers in the hallway.  All other nights will have private en-suite bathrooms.
Food is not included in the workshop fee.  We will be stopping for meals at either stores or restaurants during our journey.
There is no need for you to rent a car.  The hotel will provide free shuttle service to/from the Fairbanks International Airport.  Once you are with us, we will provide all transportation for the workshop.
Due to the high costs of operating in the Arctic, we are unable to offer the 10% Loyalty Program Discount on this workshop.
We highly recommend Travel Insurance to cover any non-refundable fees or medical coverage during the workshop.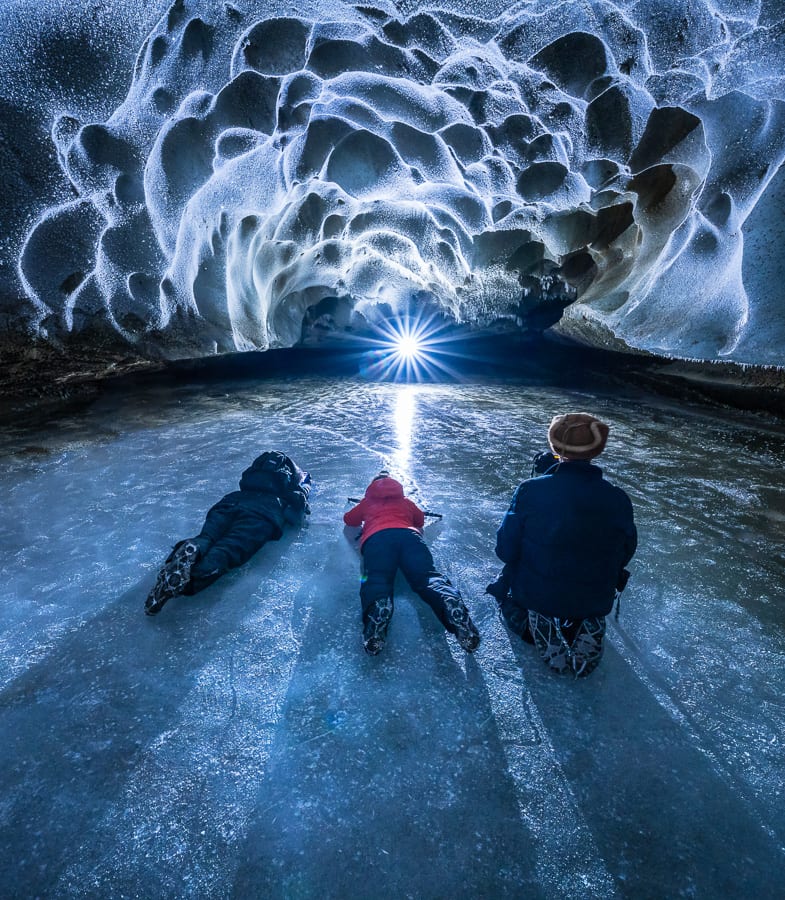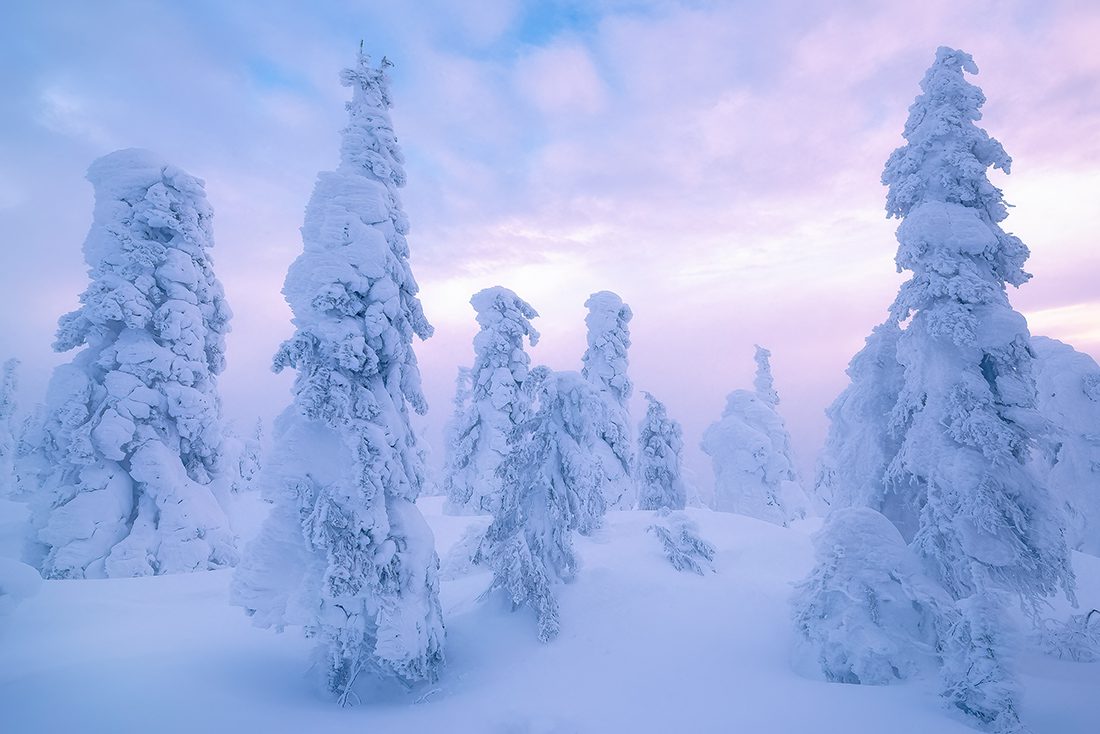 March Dates
The Feb 29-Mar 7 dates have a slightly modified itinerary.  We will spend one less night in Fairbanks and include one night up in Prudhoe Bay, the northernmost part of our journey.  Staying in Prudhoe Bay will allow us to look for musk oxen and caribou!  During winter, the musk oxen are in rut and heated battles may be observed!  There are no guarantees we will see them as it will be weather and conditions dependent.
Crossing the North Slope is all weather dependent.  If a snowstorm or blizzard is moving through, we will not be able to go up to Prudhoe Bay for safety reasons.
Our dog mushing experience in Feb is done with an actual Iditarod competitor. Since the Iditarod will be happening during our March dates, we will NOT do the dog mushing experience on that workshop. But we will be plenty busy looking for Arctic wildlife and Northern Lights!
Note that the ice cave excursion takes a full day.  If we do the ice cave on the 2nd day of the workshop, we will not be able to shoot the aurora borealis on the first night. This is a decision we'll make as a group depending on weather and conditions.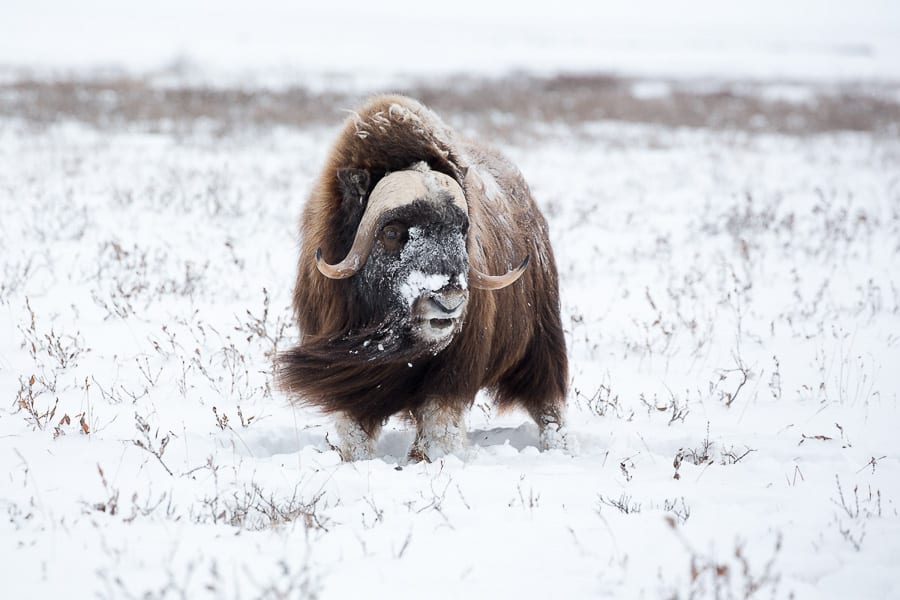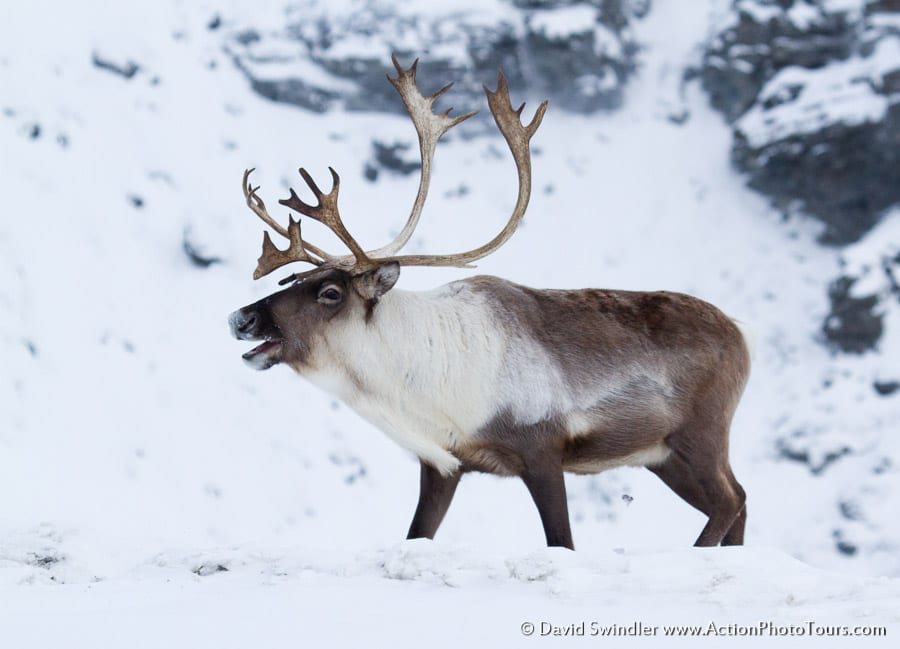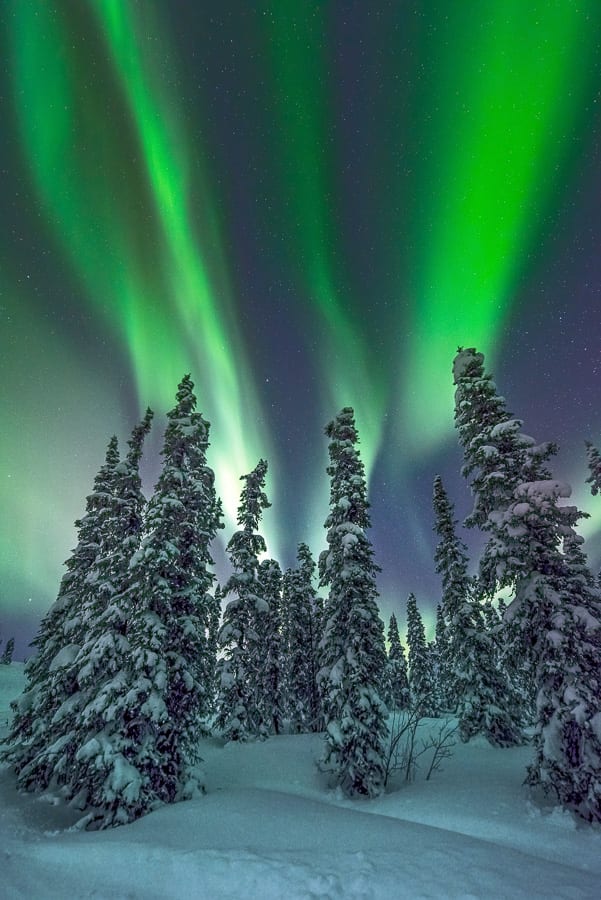 Pricing - 8 Days
$4500/person + Tax 
Trip Includes:
7 Nights Double Occupancy Lodging. Single Occupancy is available for an additional $900.
Photography guiding and instruction throughout the trip.
Post-processing and image critique sessions.
Dog Mushing Experience (Feb Dates Only)
All Ground Transportation in Winter-Equipped Vehicles
Gear Rental for the Ice Cave
World Ice Championship Tickets (conditions permitting)
Trip Does NOT Include:
Flights to/from Alaska.
Meals, beverages, and snacks.
Alcohol
Instructor Gratuities
A 50% deposit is required to secure your spot.  The remaining balance will be charged 90 days prior to the workshop.  Due to the high costs of operating in the Arctic in Winter, we are unable to offer the 10% Loyalty Program Discount on this workshop.
Recommended Camera Gear
Sturdy tripod and ballhead
Digital SLR or Mirrorless Camera Body.
Fast wide angle lens in the 14-35mm range. We recommend a lens that is f/2.8 or faster for night photography.
Mid-range zoom lens in the range of 24-100mm.
Telephoto lenses will come in handy for landscape compression and wildlife encounters.
Circular polarizer filters and 3-stop ND filters for your lenses.  If you like shooting with grads, bring them along.  Very dark ND's can be useful for creating long exposures.
Extra batteries, memory cards, and cleaning supplies.
Remote cord for your camera.
Cover for your camera/lens to protect against high winds and precipitation.
Camera backpack you can use while hiking.
Drone camera for aerial photography (optional).
Laptop if you wish to backup your photos or follow along during the post-processing instruction.
Personal Gear List
Lots of warm clothes!  We will email you a recommended list with many more details.
Microspikes are recommended for walking on slick surfaces.
Warm, waterproof winter boots.
Sunglasses
Thermos for hot beverages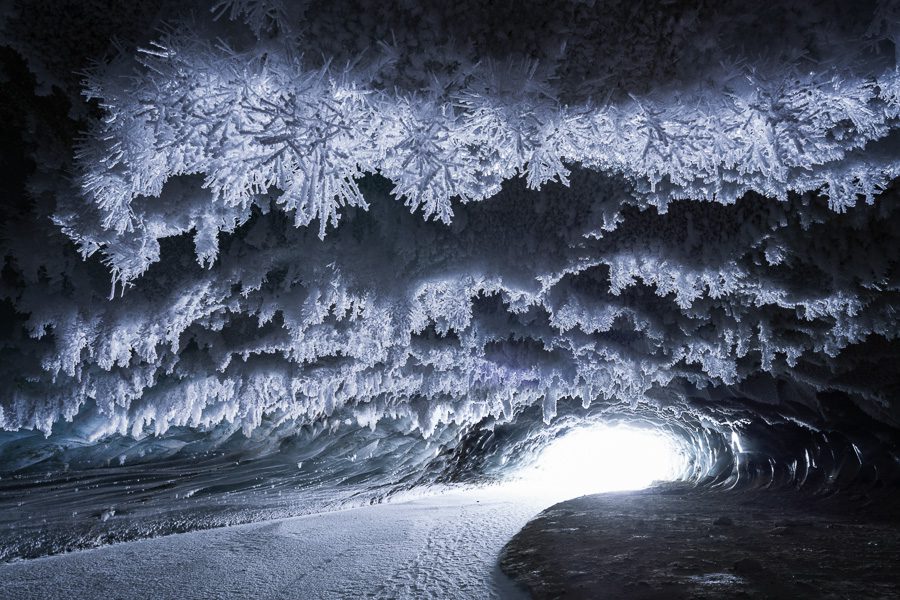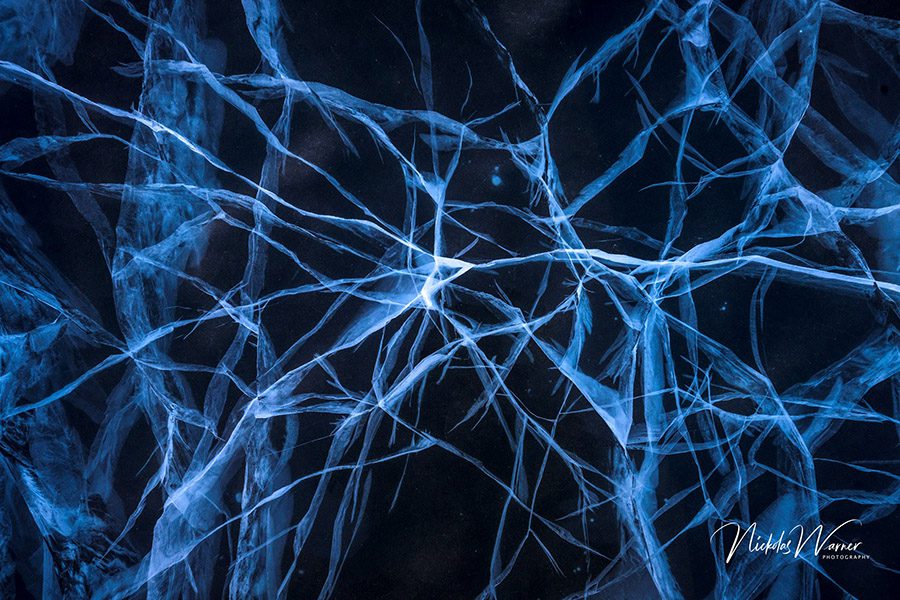 Nickolas Warner
Photography Instructor
Nickolas Warner is an award-winning photographer with recognition by the Epson Pano Awards, International Landscape Photographer of the Year, and Outdoor Photographer. He has a particular interest in extreme and unusual locations.  His travels have taken him to some fascinating locations, but the American Southwest is his favorite place to photograph.
Nickolas spent the past decade guiding in Alaska, where he provided instruction on photographing the aurora borealis, and shared his knowledge of the far north's rugged terrain and resilient wildlife.
When not guiding, Nickolas enjoys long distance hiking and extended backpacking trips through remote wilderness areas.
Nickolas's portfolio can be found at Nickolas Warner Photography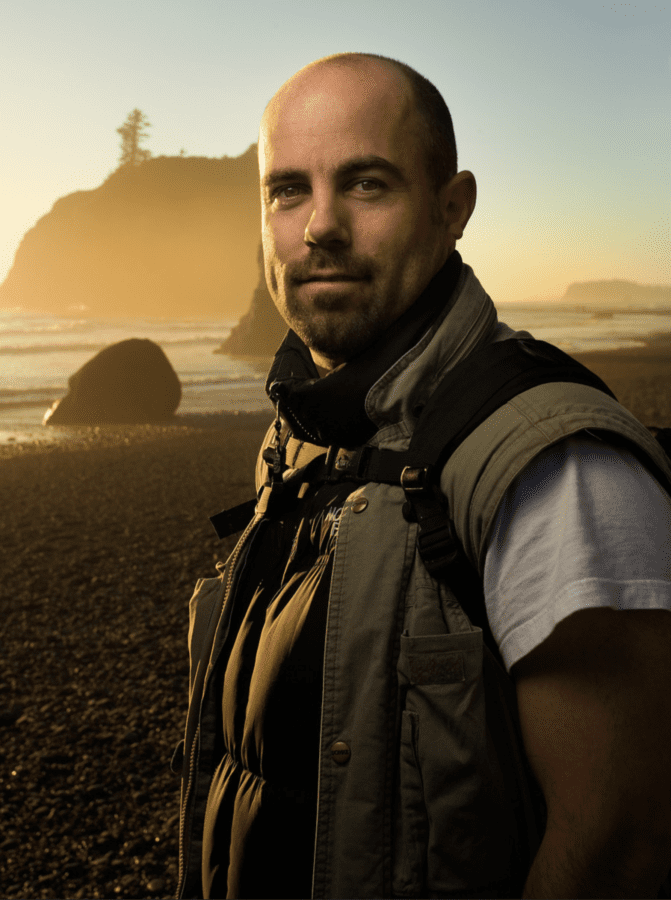 Kevin McNeal
Photography Instructor
Kevin McNeal is a Washington-State photographer who is passionate about photographing grand landscapes that reflect the most unique places on earth. Capturing moments of magic light and transferring this to print is the ultimate goal. His images hold a combination of perseverance, patience, and dedication to capture landscapes in fresh ways. The stories of how these images are rendered come across in the feelings the images convey. He has traveled all over North America, shooting diverse landscapes and finding remote places with the hope that we can convey to the public that this earth is worth caring for. His award winning images can be seen in galleries and showings across the United States.  He was recently invited to the Art Wolfe Art Gallery for the Environmental Photography Invitational. Kevin was the grand winner of the Landscape category for the Natures Best Magazine and was selected for the Smithsonian National Museum of History in Washington D.C..  He is a regular contributor to publications like Outdoor Photographer.
Artist's Statement
"I believe that the Earth shares secrets with us that only can be discovered by trying to understand our position on this planet. We are never fully intimate with the planet but are given brief moments that make our souls want more. These glimpses of nature's power are fleeting and never the same twice. I also believe it is important to share with those who want it. The treasures that await us given the patience that is out there. What I try to do is bring some of that magic to my images to share with the rest of the world. Each of my images tells a story that everyone can relate to in some way whether it is success, fear, or challenging oneself to overcome obstacles
Kevin's portfolio can be found at www.kevinmcnealphotography.com.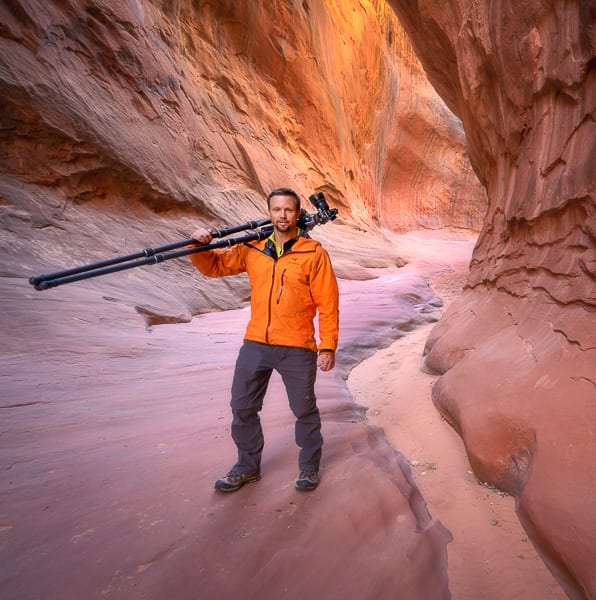 David Swindler
Founder - Photography Instructor
David Swindler is an award-winning landscape and wildlife photographer. Among others, he has been recognized by the International Photography Awards, Siena International Photo Awards, Sony World Photography Awards, International Landscape Photographer of the Year, and National Geographic. He received a degree in chemical engineering and worked in the semiconductor industry specializing in optics and photolithography. In 2014, he left his day job to follow his true passion. He has traveled to some of the most remote regions of the world and has extensive experience photographing a wide variety of subjects and conditions. As the founder of Action Photo Tours, he finds great satisfaction in helping others learn photography, especially in the wild desert environment near his home in Kanab, UT. David is an expert in night photography and loves to get out and shoot the starry night skies.
Gallery    Awards and Media Coverage
Having guided photo tours for years, David is very familiar with many different types of cameras.  He is a master with light and composition. But most importantly, his dedication to his clients is what really sets him apart! But don't take our word for it - read what others are saying: Trip Advisor.