The Wave and Beyond Photo Workshop
Nov 11-17, 2023 - Sold Out!
Photograph the iconic Wave!  Explore the sandstone wonderlands of both Coyote Buttes North and South on this rarely offered photo workshop. When we're not hiking into remote corners of the desert, we'll be capturing the stunning fall colors of Zion Canyon. With a flexible itinerary, we'll be able to take advantage of the best weather and conditions. This trip is physically challenging and is only for those with very good fitness and stamina.  But the rewards are well worth it as you'll photograph some of the world's most extraordinary sandstone formations!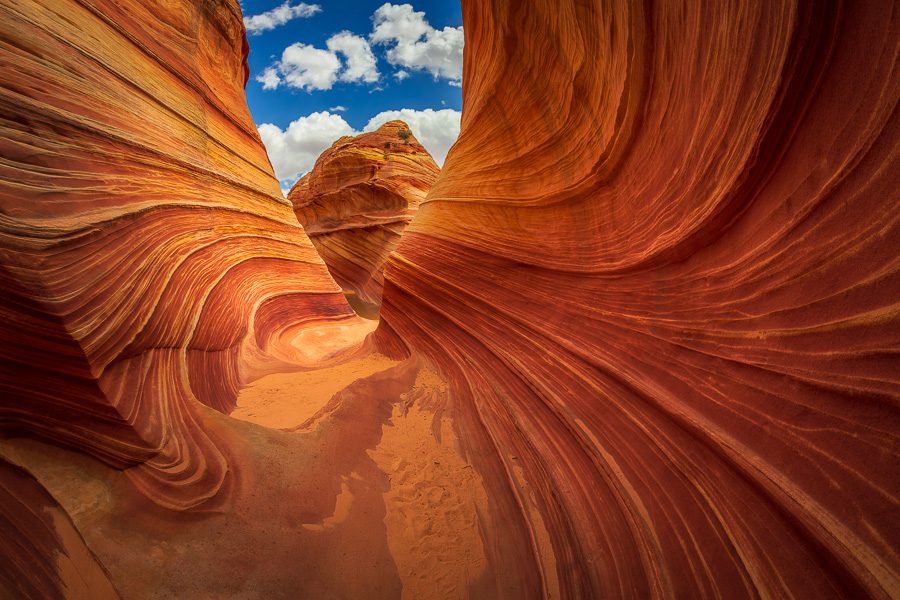 Highlights
Photograph the iconic Wave along with all the hidden gems throughout the Coyote Buttes.
Spend one day exploring the vast South Coyote Buttes with its incredible diversity, colors, and hoodoos, and stripes.
Capture the stunning fall colors of Zion Canyon at the peak of the autumn.
The highly coveted Coyote Buttes permits have been acquired for our group.
Learn new photography skills and post-processing techniques from pro-photographer instructors.
Transportation provided for all workshop outings so you don't have to worry about the rough roads.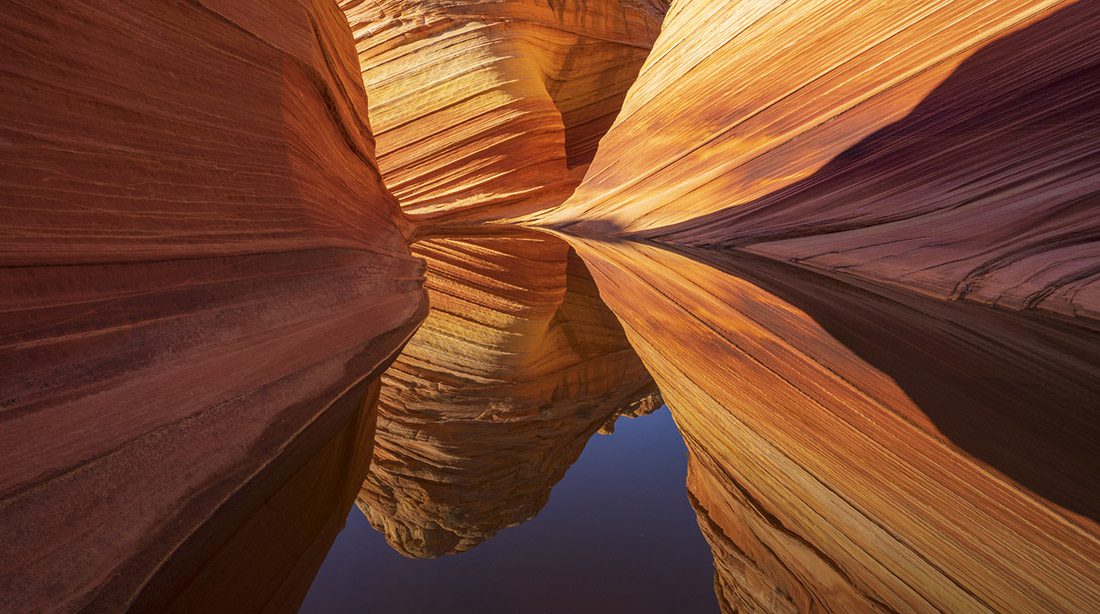 Itinerary
In order to give our clients the best possible photography experience, we keep the itinerary flexible to account for weather, conditions, and group interest. The itinerary below is just an example of what you can expect. The only days that are fixed are the Coyote Buttes North and South excursions.
Day 1:  We begin at 1PM with a short orientation session and classroom style instruction.  When we're done, we get fitted into our cold water wading gear and photograph the beautiful fall colors along Zion Canyon.
Day 2: Today we spend our entire time deep in the Zion Narrows. We get there early to photograph many areas without the crowds.  The autumn colors are at peak and we find compositions where we can utilize soft water effects, accented by brilliant trees in the background.
Day 3: Get ready to wow your senses at South Coyote Buttes! This is a large area with lots to explore. You'll photograph a plethora of sculpted hoodoos, pinnacles, stripes, and striking sandstone colors. As the golden light illuminates the formations, new textures and
Days 4-5: These are "Open" days where we'll decide as a group where to go based on conditions and weather. With a more fit group, we hope to take you to remote spots in the desert that few people ever visit.  We have lots of great ideas in mind! We may also have time to do some post-processing and image critique sessions.
Day 6:  This is the moment you've all been waiting for - the Wave!!  We hit the trail well before dawn to maximize your photography options. But we won't stop at just the Wave.  There are so many other hidden gems scattered throughout Coyote Buttes North.  The cool temperatures in November are perfect for hiking. We'll end the day capturing sunset light on the 2nd Wave before hiking back out after dark.  We are exhausted but absolutely ecstatic with the images we captured!
Day 7:  Departure day. You can plan your return travel anytime.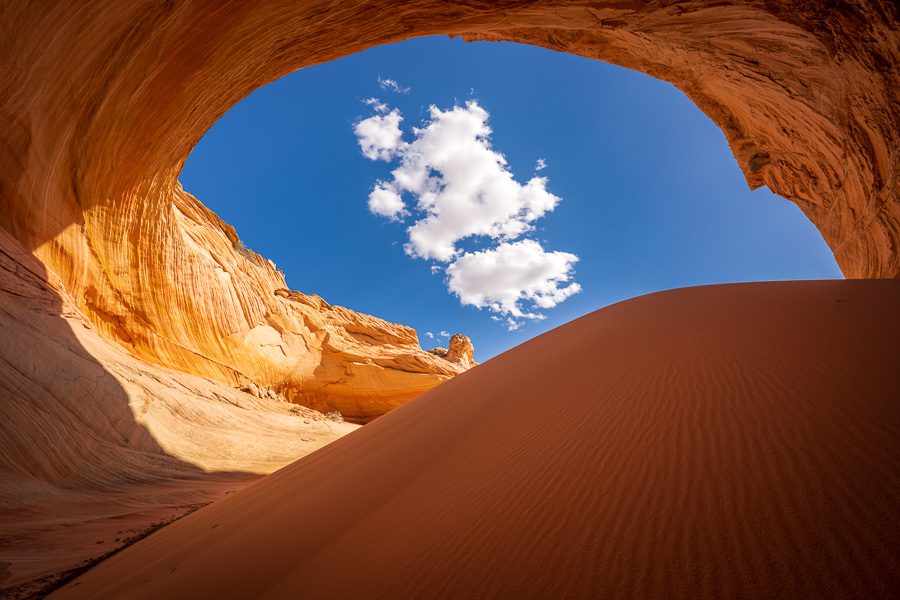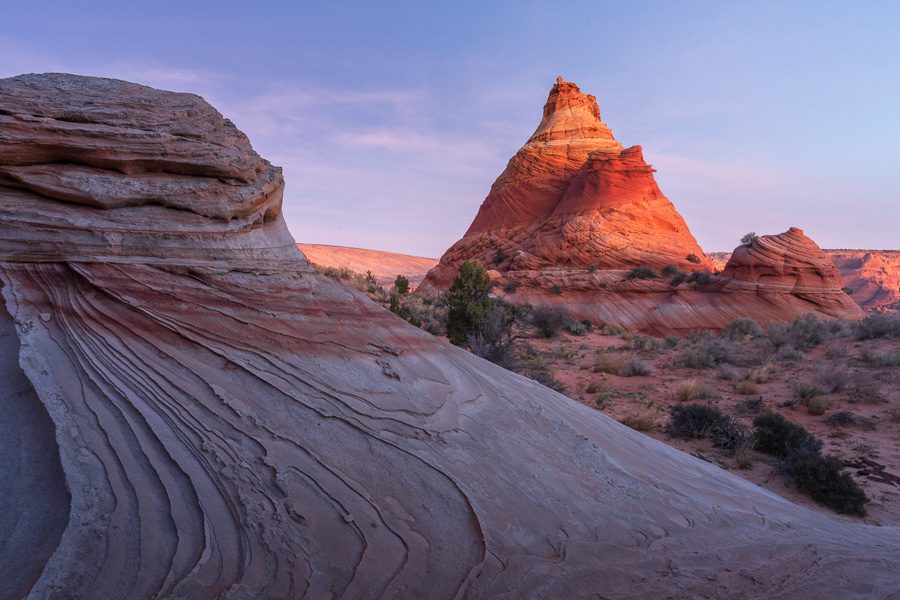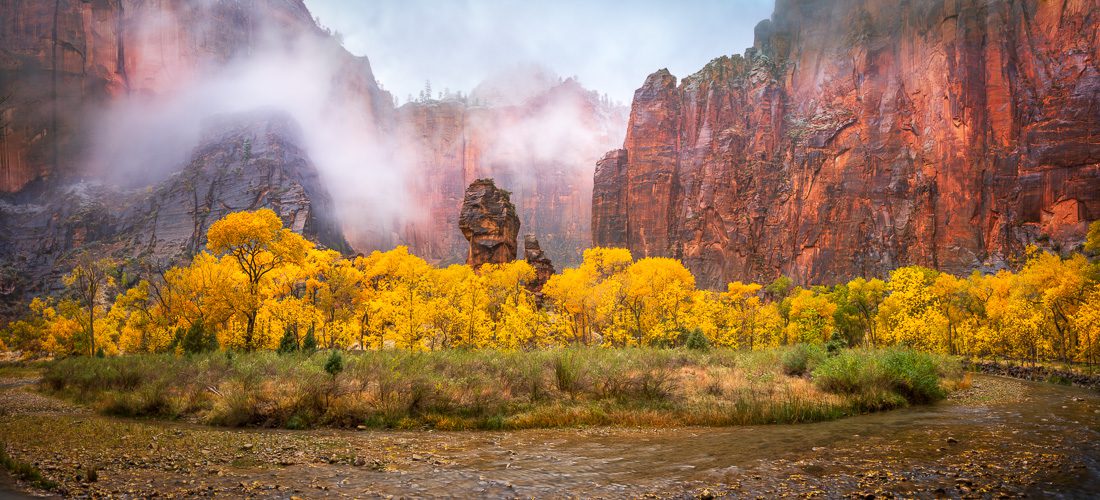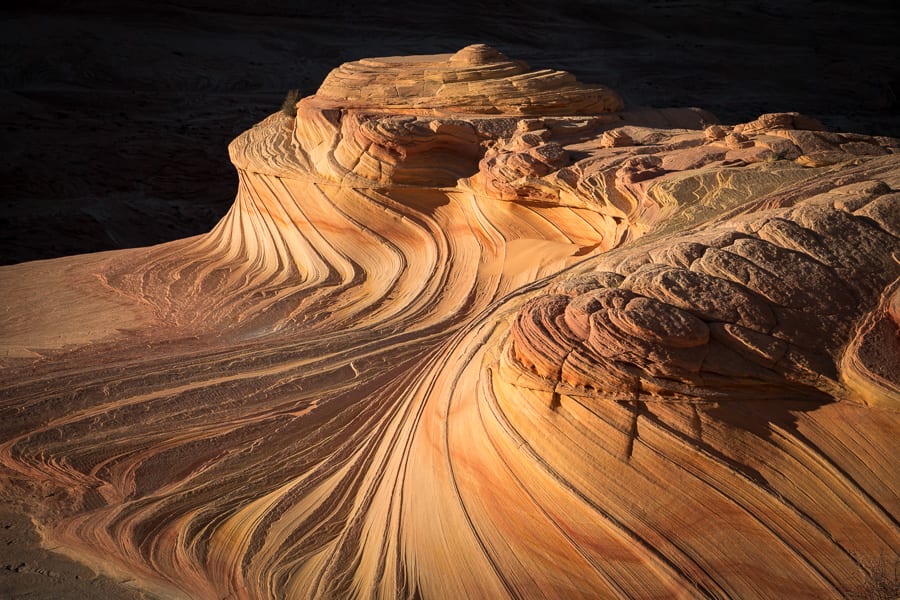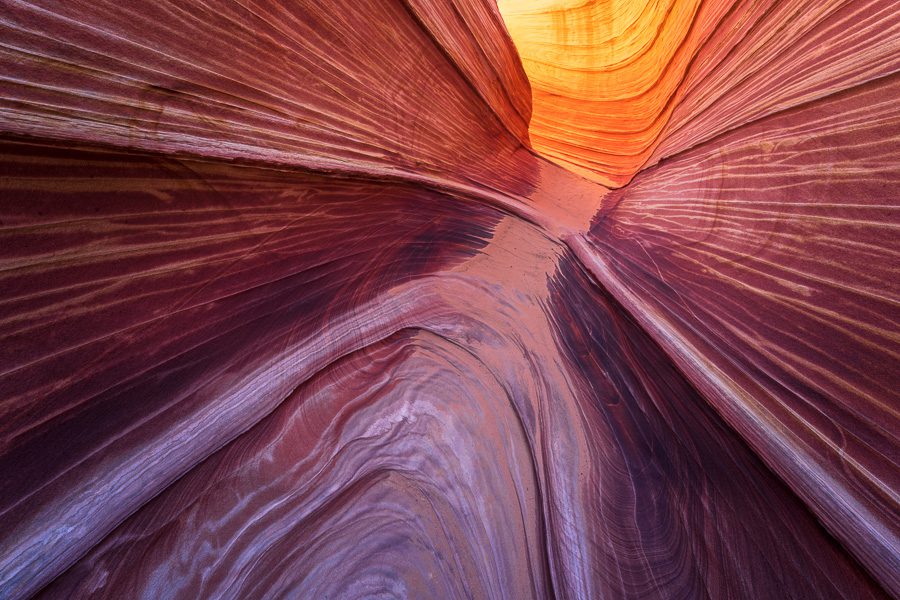 Logistics
Hotel accommodations are not included in the workshop fee, allowing you the flexibility to stay where you'd like.  Kanab has many great hotels such as the Best Western, Hampton Inn, Holiday Inn Express, La Quinta, along with many AirBnb's.  You will need lodging for the nights of Nov 11, 12, 13, 14, 15, and 16th. Nov 17th is the departure day and you can plan your return travel anytime that day.
Rough roads are the norm out here and transportation will be provided during the workshop. However, you will need your own transportation to get to/from Kanab.  The closest major airport is Las Vegas which is roughly 3 hours away. The central meeting point for the workshop is the Best Western Red Hills.
Excellent fitness, balance, and mobility are required to attend this workshop. Hiking to the Wave is serious business and we could cover 9-10 miles while we are out.  The terrain can be steep, loose, and uneven in places and you'll need to be able to carry your camera gear, tripod, food, and water. How much we hike on the other days of the workshop will depend on where we go but you can expect 2-6 miles each day.  The good thing is that temperatures are usually on the cool side in mid-November which makes the hiking much more pleasant.
Unless you bring your own waders, we will stop at an outfitter to rent cold-water wading gear for the Narrows. Everyone needs sturdy hiking boots and you'll want to dress in layers as temps can be very cold in the morning but warm quickly during the day. Please see the gear list further down.
Food is not included in the workshop fee but there are many restaurants in Kanab along with 2 grocery stores. When we're out all day, you'll need to pack a lunch and you'll have time to do that the day before.
Pricing
$3100/person + Tax
Join Our Loyalty Program and Save 10%!
Trip Includes:
6-Day Intensive Photo Workshop with 1 Pro Instructor.
All Groud Transportation in Lifted 4x4 Trucks.
Permits for both North and South Coyote Buttes.
Post-processing instruction and image critique.
Park Entrance Fees
Trip Does NOT Include:
Transportation to/from your home to Kanab, UT
Hotel Accommodations
Meals, Snacks, and Beverages.
Cold Water Wading Gear Rental
Instructor Gratuities.
When you complete the checkout process, you will be given the option to either pay the full amount or put down a 50% deposit.  If you pay the deposit, the remaining amount will be charged around Aug 12th to the credit card we have on file.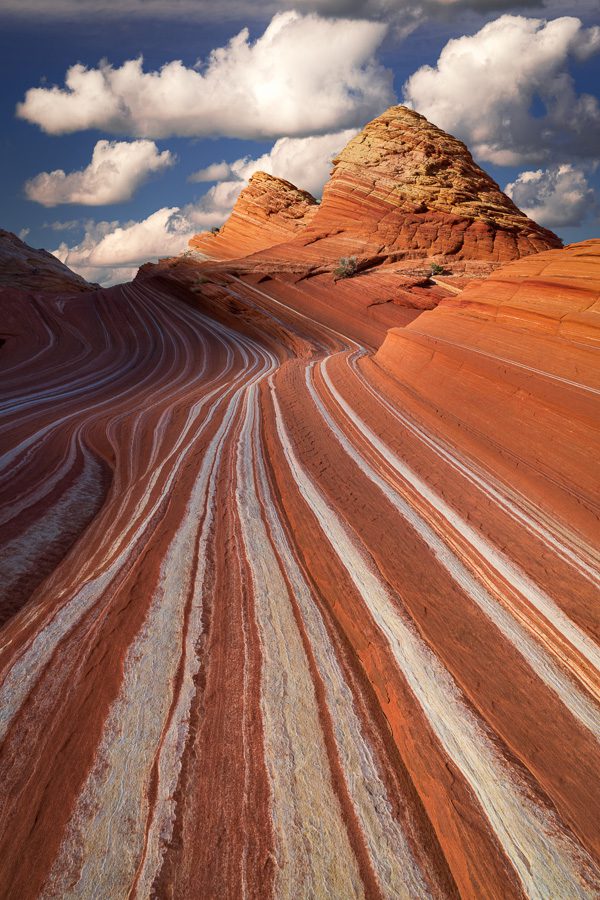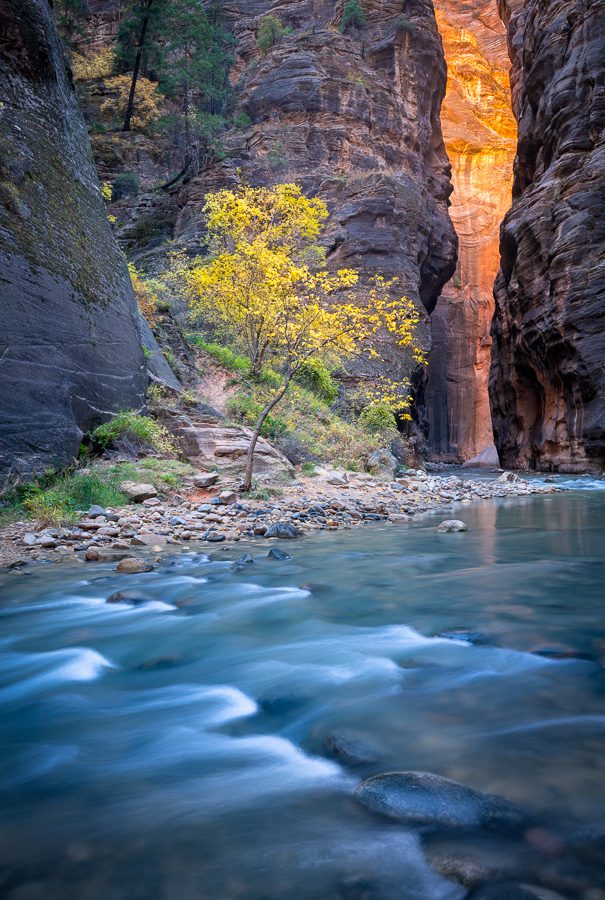 Recommended Camera Gear
Tripod you can hike with but is also sturdy enough for photographing in wind and moving water.
Digital SLR or Mirrorless Camera Body.
Wide angle lens (16-35mm is perfect).  For crop sensor, you'll want 10-22mm. Ultrawide Angle Lenses in the 11-14mm range will also work nicely.
Mid-range zoom lens in the range of 24-100mm.
Telephoto lenses may have some use for abstract shots and wildlife sightings. However, in the interest of keeping your pack weight light, we don't recommend bringing them on the hikes.
Circular polarizer filters are recommended.  There is no need for ND filters.
Extra batteries, memory cards, and cleaning supplies.
Comfortable hiking backpack that can carry your camera gear, tripod, lunch, and drinking water.
Laptop if you wish to backup your photos.
Personal Gear List
Sturdy hiking footwear, hiking socks, and long pants .
A rain jacket and several warm layers since it can get cold at night.
Headlamp with fresh batteries.
Sunscreen, Sunglasses, Warm Hat & Gloves.
Long-johns for both lower and upper body to wear under the wading gear.
Water bottle or hydration bladder.
Chest Waders (optional). We will stop at an outfitter to rent wading gear if you don't have your own.
Trekking Poles - bring them if they help you.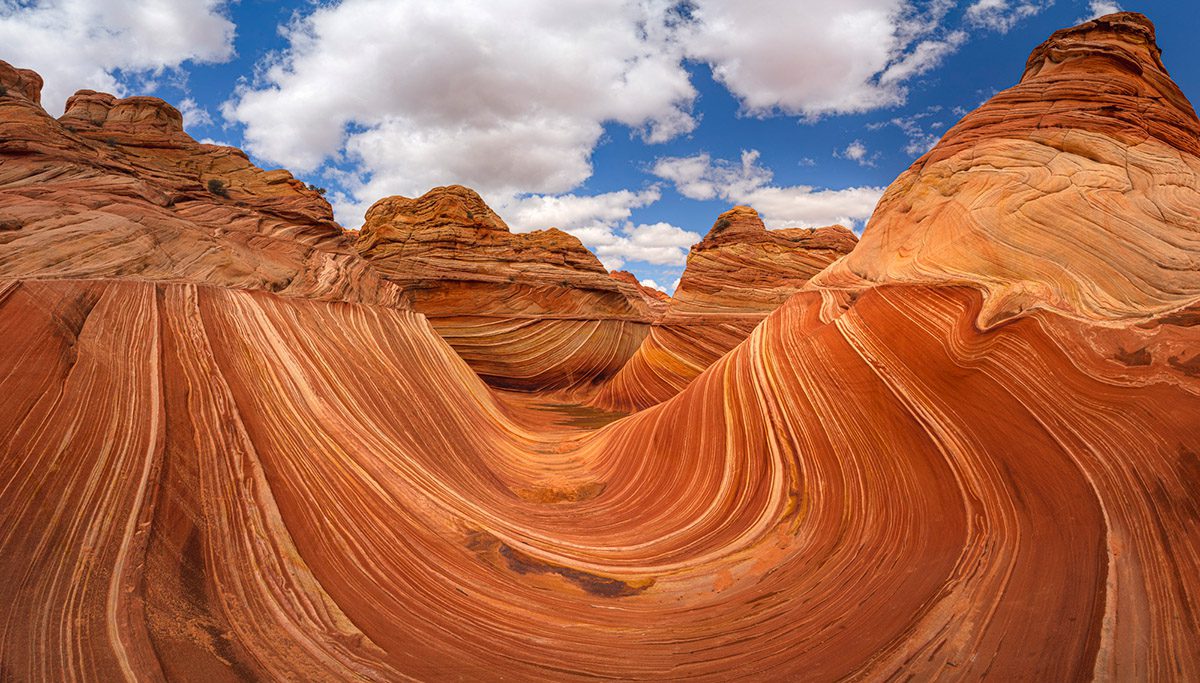 Nickolas Warner
Photography Instructor
Nickolas Warner is an award-winning photographer with recognition by the Epson Pano Awards, International Landscape Photographer of the Year, and Outdoor Photographer. He has a particular interest in extreme and unusual locations.  His travels have taken him to some fascinating locations, but the American Southwest is his favorite place to photograph.
Nickolas spent the past decade guiding in Alaska, where he provided instruction on photographing the aurora borealis, and shared his knowledge of the far north's rugged terrain and resilient wildlife.
When not guiding, Nickolas enjoys long distance hiking and extended backpacking trips through remote wilderness areas.
Nickolas's portfolio can be found at Nickolas Warner Photography