High Uintas Backpacking – Henry's Fork & Kings Peak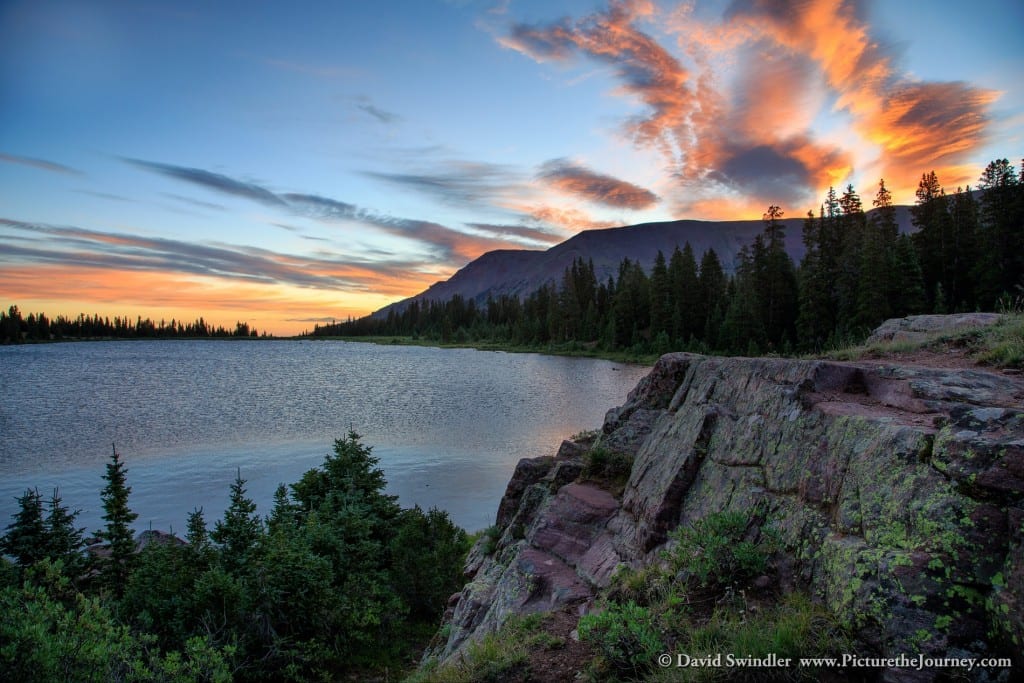 The Henry's Fork and Kings Peak area of the High Uinta Wilderness is another great option for summer backpacking. Here you'll be treated to verdant alpine valleys, sparkling lakes, and a chance to summit Utah's highest peak! Henry's Fork Trailhead is easy to access via a good gravel road that is suitable for passenger cars. The first several miles of the hike are pretty flat with occasional views of the river, but overall the views are pretty nondescript. That quickly changes once you get to Elkhorn Junction with your first glimpse into Henry's Fork Basin. For the shortest route, head straight towards Dollar Lake. However, the scenery is more impressive if you take the fork to Bear Lake and come around the far side of Henry's Lake. That is the route I have outlined in purple below. It really doesn't add much distance to the overall hike.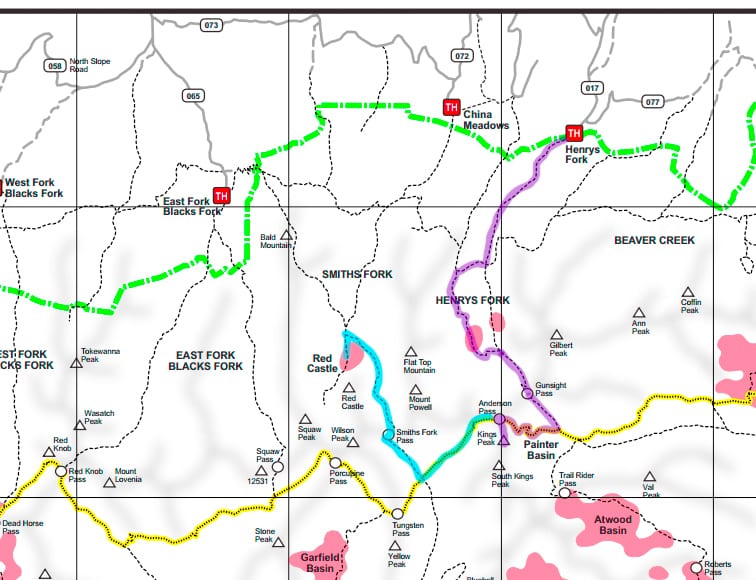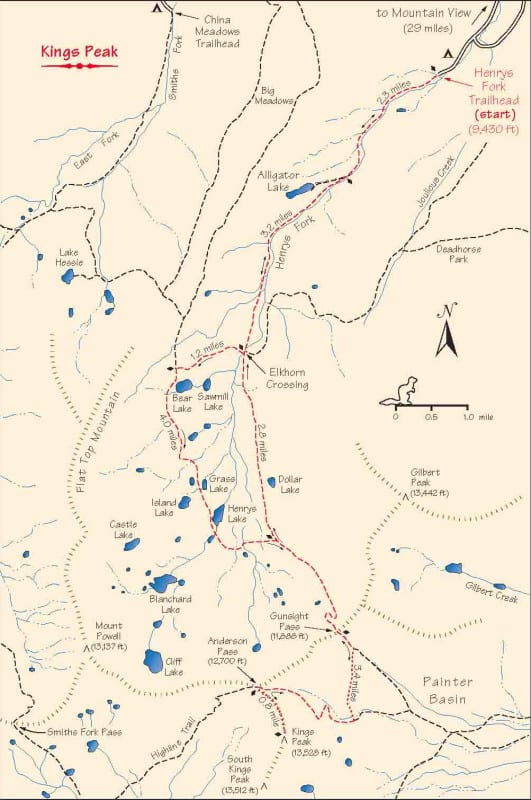 Once you get to Henry's Lake, there are many great campsites to choose from. This is a great spot to base camp at if you're attempting to summit King's Peak as an out-and-back. In our case, we did a loop hike from Red Castle Lakes (click here for the article on Red Castle Lakes). If you're thinking about doing this, be forewarned that it is a long day. The nice thing is that you can drop packs at Anderson Pass and then it's just a short jaunt to the summit and back (800 vertical feet). Henry's Fork Lake has some nice spots for photography. I grabbed the shot below at sunrise from the north side of the lake.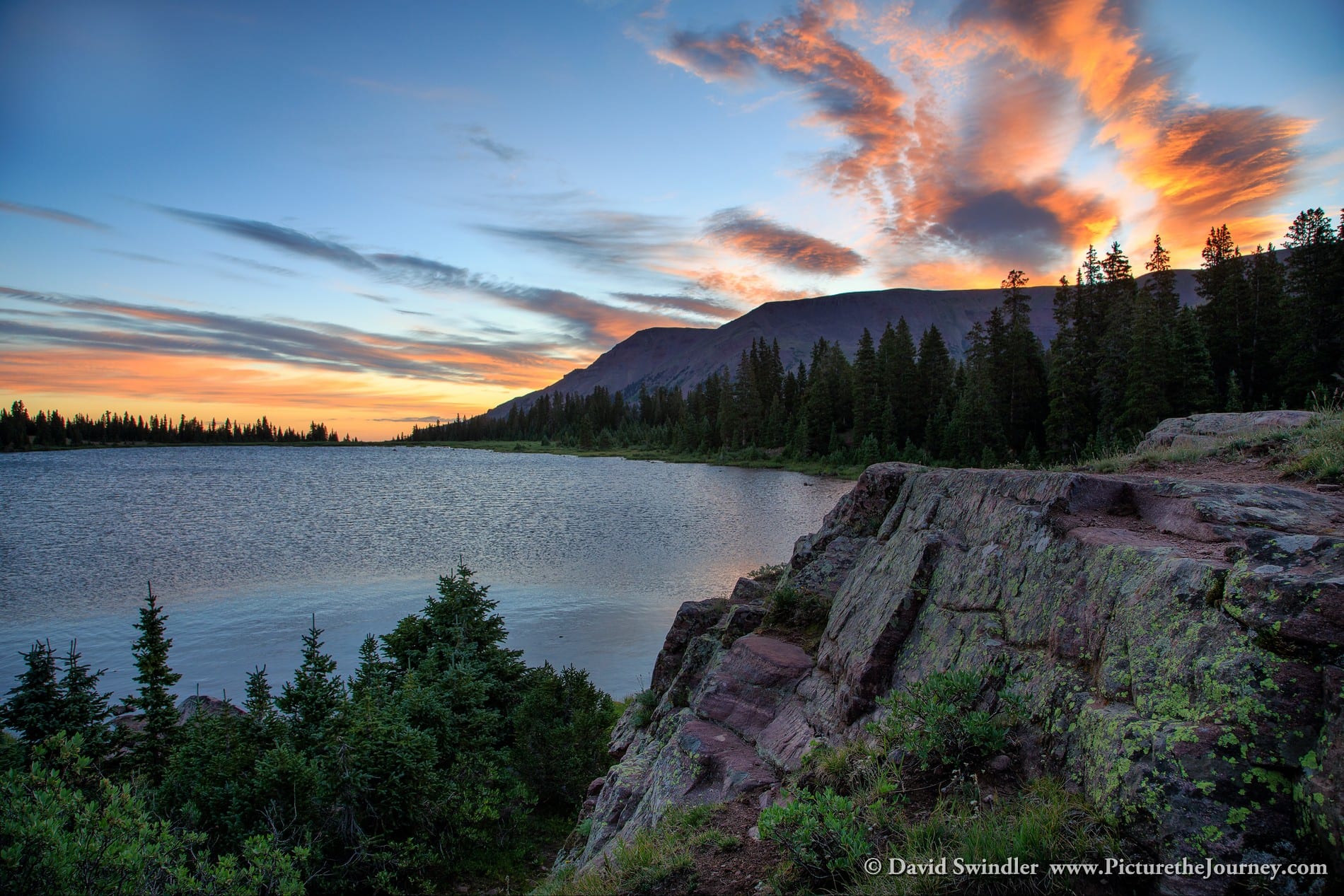 If you have the time and energy, I highly recommend exploring around the lake basin. If you follow the stream uphill, you'll soon come to a delightful waterfall that offers many photographic angles. If you continue up past the waterfall, you'll find Blanchard and Cliff Lakes. If you decide to camp up here, you'll almost certainly have solitude (Dollar and Henry's Lakes are popular with Boy Scout troops).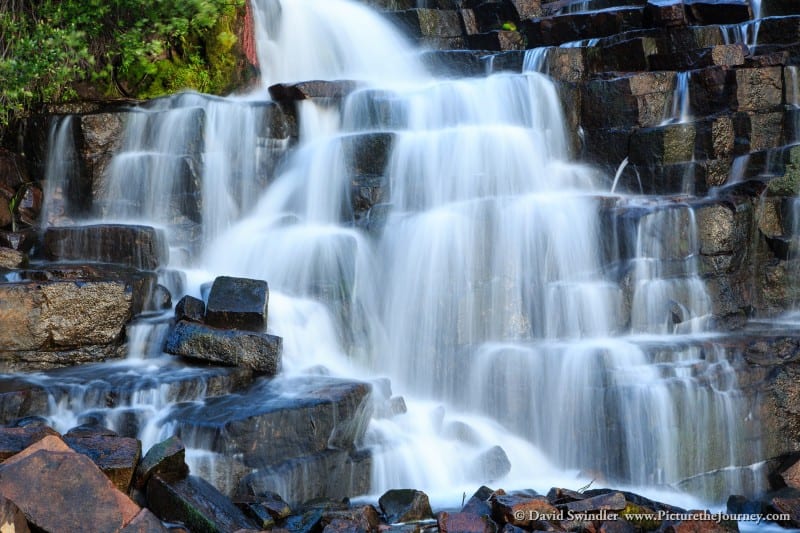 My favorite spot in this basin is found further up the trail from Henry's Lake. Once you crest a small summit, you'll find a small sheepherders cabin (see picture below). It doesn't look like it's been used in quite some time! You'll find many great photo spots from here until you reach the main trail junction. This area is best photographed in late afternoon/evening.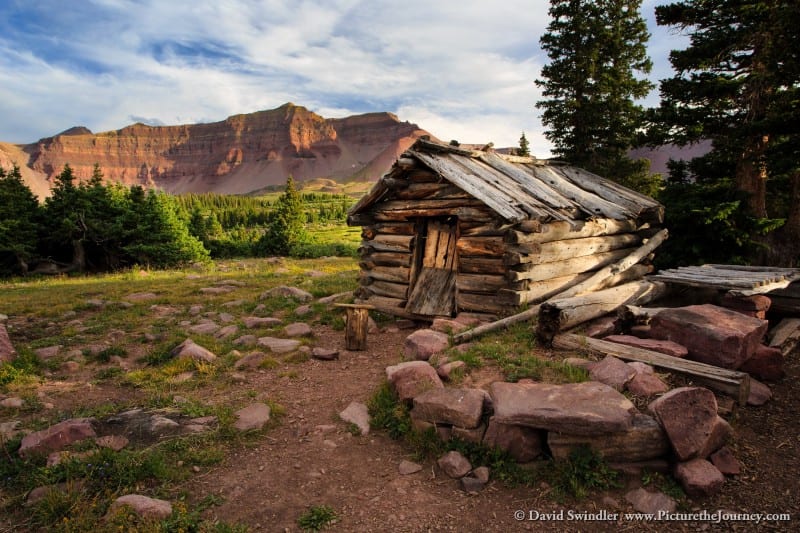 When I was there in the first week of August, I was a little past prime for the wildflowers. However, there were still a few blooms visible from below the cabin.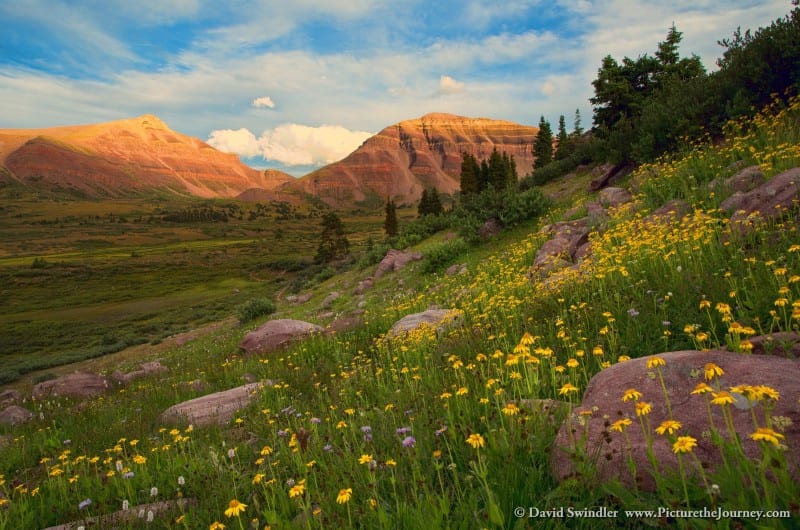 During the summer season, the High Uintas are known for having unstable weather. It's often clear and sunny in the morning. But by afternoon the clouds start building and can lead to violent thunderstorms. If venturing above the tree line, try to plan your hikes and climbs for early in the morning. These stormy afternoon clouds can work great for photographers, like in this shot from Henry's Fork Basin. Just make sure you bring along good rain gear!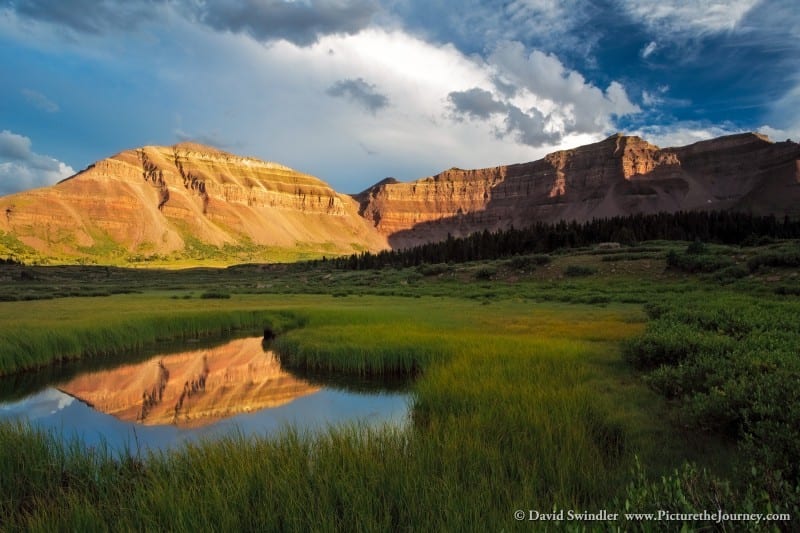 Once you get to the trail junction, head up to Gunsight Pass. From here you two options. You can head along the main trail to Painter Basin and then bear right. This is definitely longer. If you don't mind a little rock scrambling, I recommend taking the shortcut route. Look for a small path with cairns on the scree field on your right shortly after the pass. The initial scree field is the most difficult to negotiate. The shot below is my Dad coming down this part with Painter Basin in the background. Once you get over the top of the scree, just navigate cross-country towards Anderson Pass. This will save you lots of time!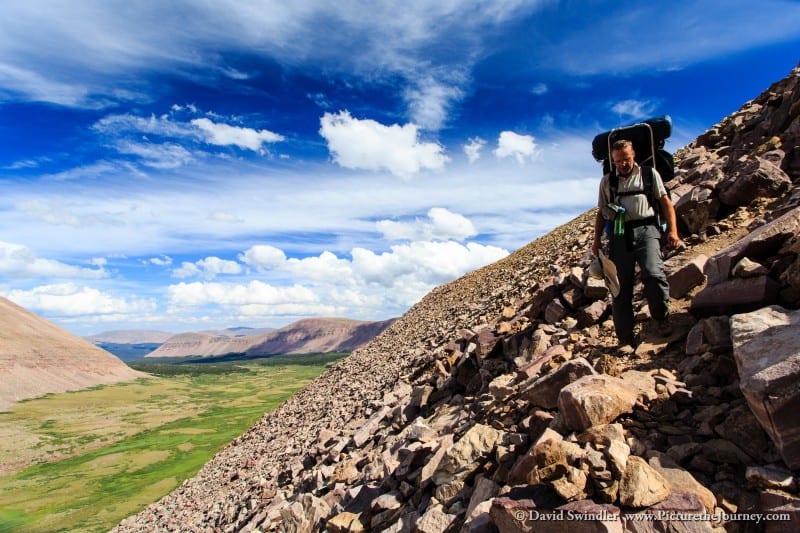 Anderson Pass is pretty high at 12,700 ft. From here you have excellent views of the glacial valleys below. I took the following picture from the west side of the pass. You can really see the glacial action in these valleys as evidenced by the U-shape. Unfortunately, my wide-angle lens doesn't really show the true depth of the scene.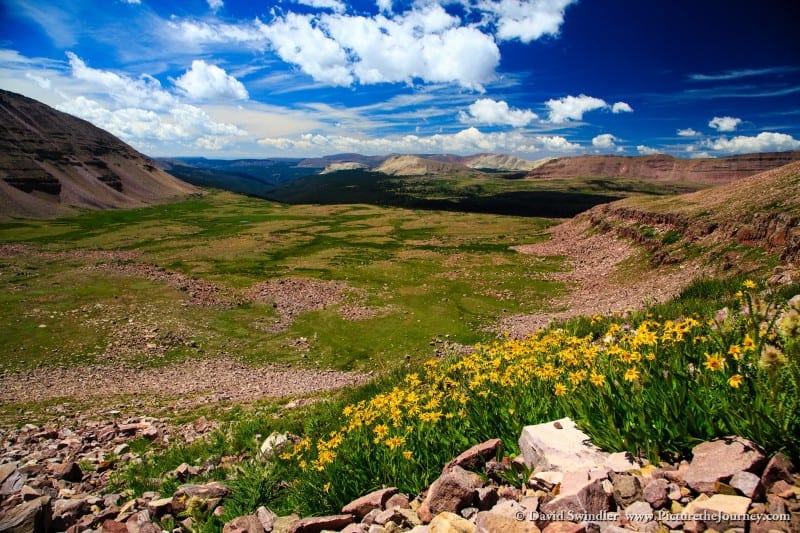 From Anderson Pass, it's just a quick 800 vertical feet to the summit of King's Peak. It involves some mild rock scrambling but it's pretty easy. The summit of the mountain is not what you'd expect – it's just a pile of boulders! I took a few self-portraits on the top of Utah's highest peak (13,528 ft). I like the shot below because you see the curvature of the earth. If you look carefully on the right side of the image, you can see Henry's Lake. Kings Peak is barely visible from the lake. You'll have to look for it when you get back to camp.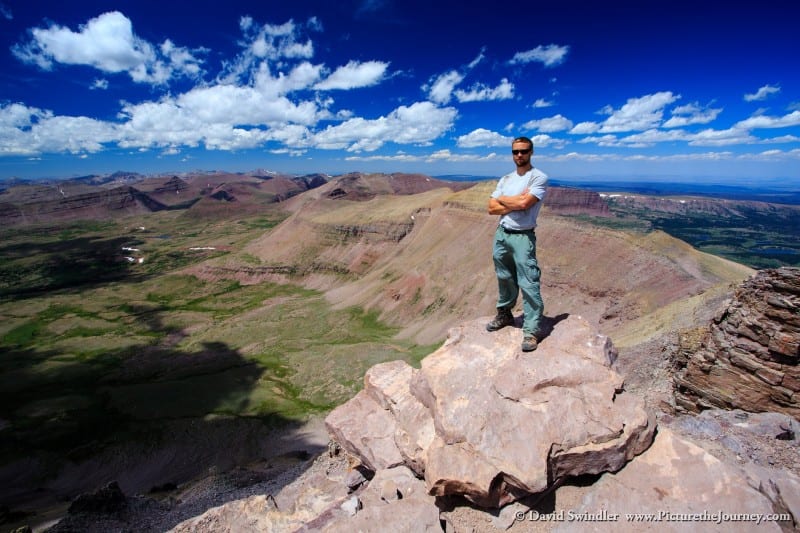 On the way back down, I found a nice field with cotton grass. Oddly enough, there was some stagnant water in the middle with a deep red color. I don't know what created that color, but it certainly made for an interesting image.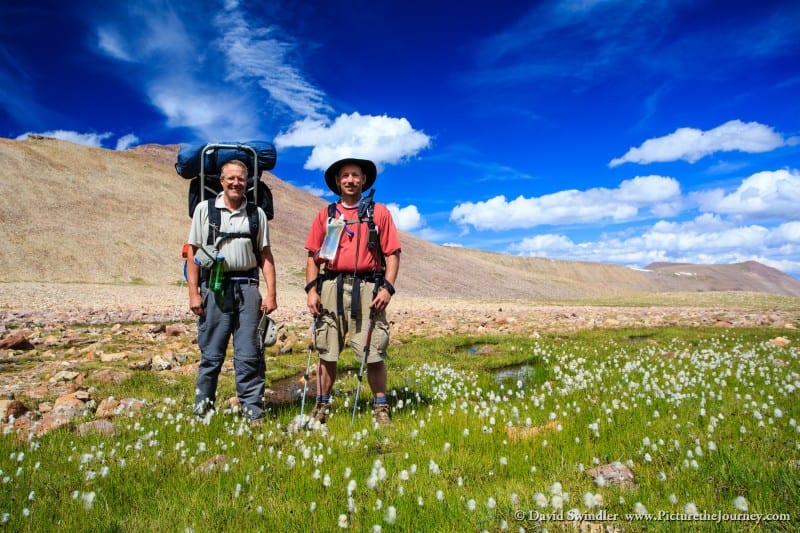 Despite the popularity of this area, it is definitely worth a visit. Solitude can easily be found if you camp away from the main lakes near the trails. However, if you combine Henry's Fork with other destinations along the Highline Trail, it's unlikely you'll see many other people once you're past Anderson Pass. Happy exploring! Stay tuned for my article next week on the Amethyst Basin area of the High Uintas.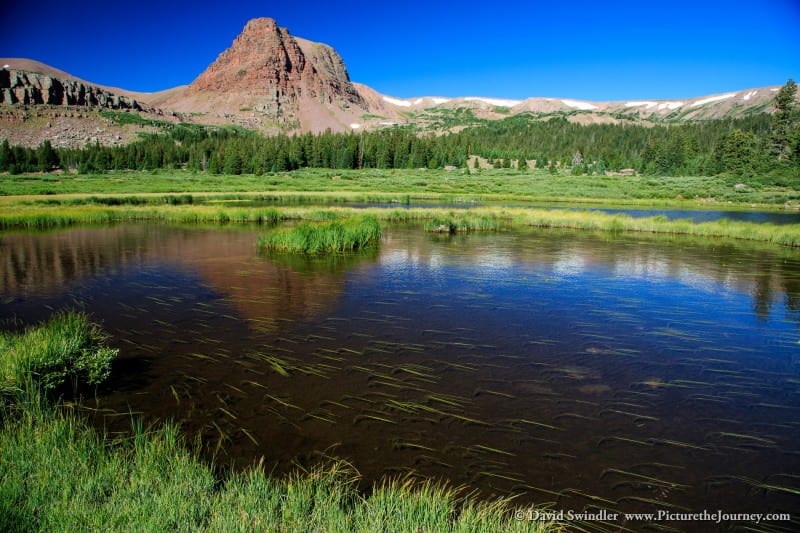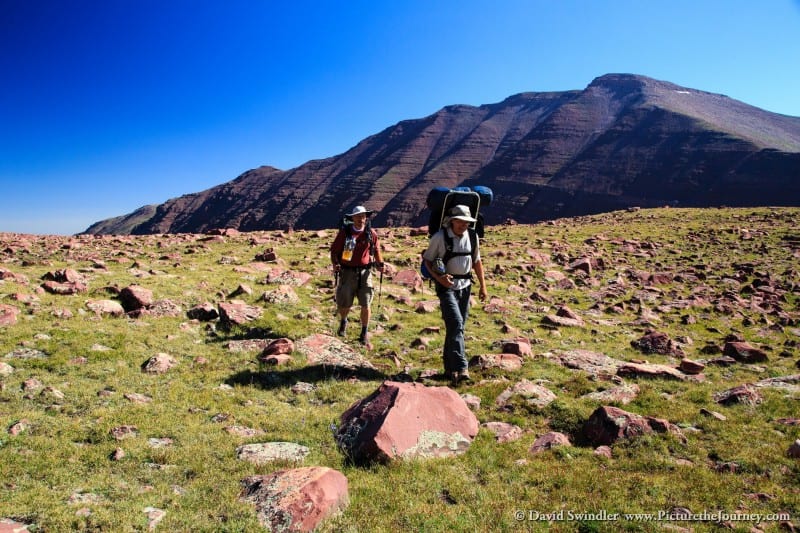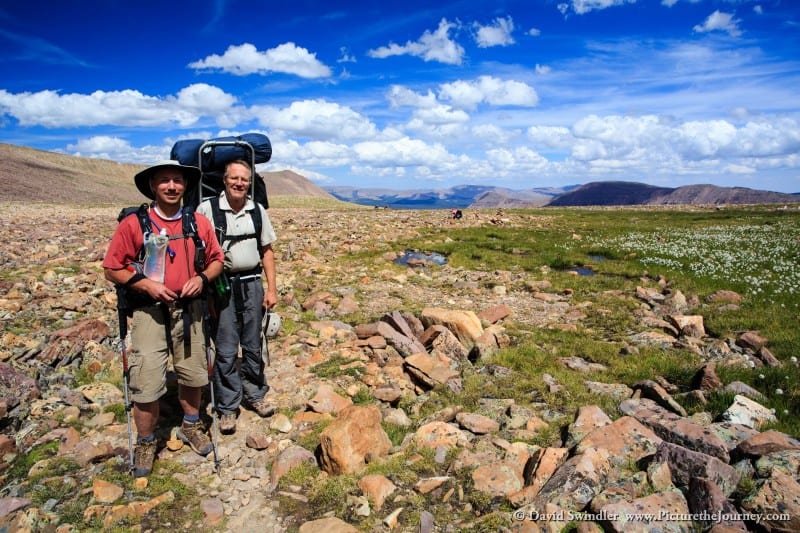 High Uintas Backpacking – Henry's Fork & Kings Peak