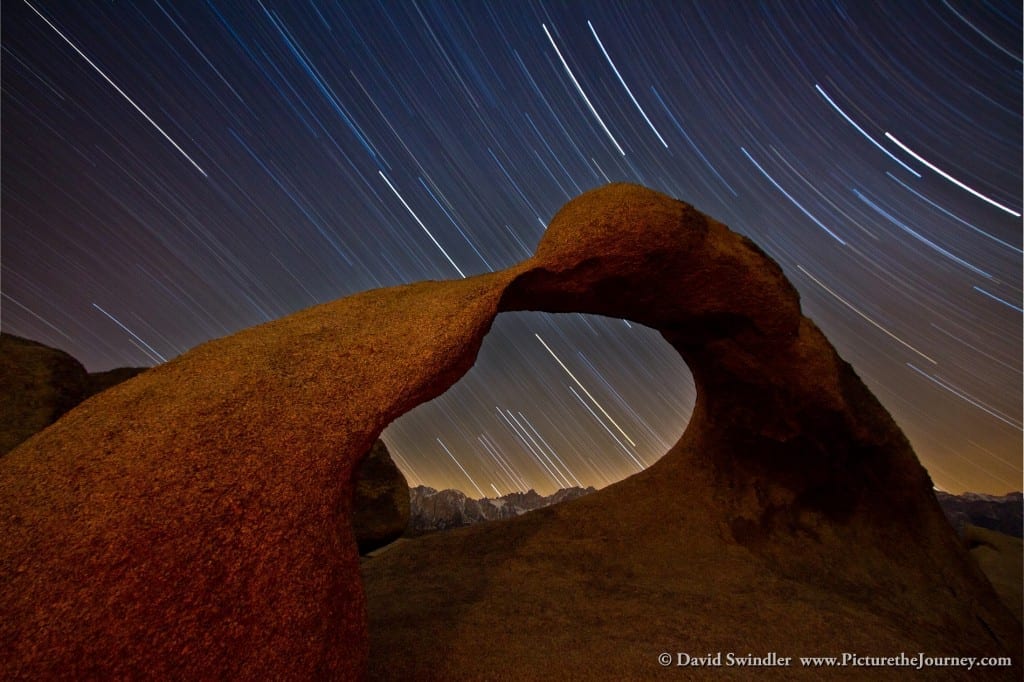 If you like Westerns, you definitely need to visit California's Alabama Hills.  Over 150 different movies and a handful of TV shows have filmed here, including The Lone Ranger.  The rugged, dry terrain against a backdrop of the tall Sierra Nevada Mountains makes this a picture perfect setting.  But what really sets the Alabama Hills apart are the bizarre rock formations that extend as far as the eye can see.  These rock formations and arches can be particularly photogenic, especially when framed especially when framed with the Whitney Range in the background.  Located within close driving distance from Death Valley, this area should be on your itinerary if you're in the area. Similar to my advice for Death Valley, I recommend visiting during the Winter months since it can get hot and windy at other times of the year. If you're interested, click here for a map of the various film locations.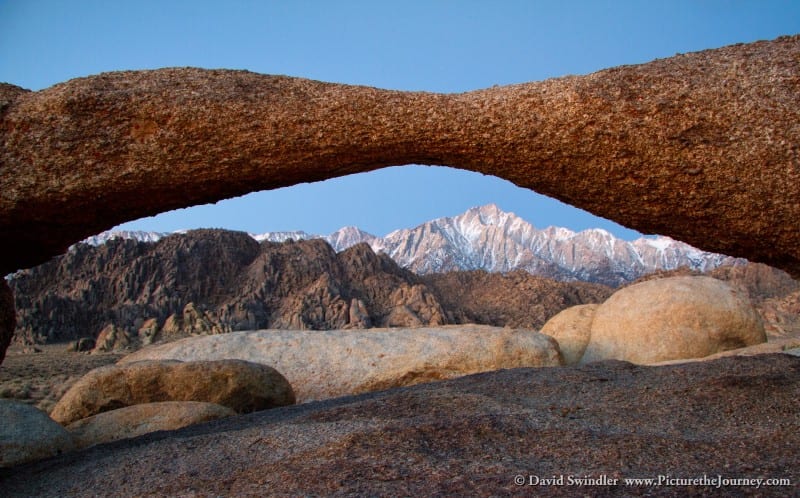 The Alabama Hills are teeming with dozens of natural arches. Some are easy to find while others may require a GPS and some exploring. There used to be a good online resource with a list of all the arches with their GPS coordinates. Unfortunately, this website no longer exists. If you want a comprehensive guide, you'll probably need to purchase a book/e-book on the area. My favorite arches are Mobius, Lathe, Double, Eye of Alabama, Whitney Portal, and Lone Pine. The image above is Lathe Arch with Lone Pine Mountain in the background. Lathe Arch isn't very big and it was a tight squeeze to get behind it for this shot. Lathe Arch is close to the famous Mobius Arch but is easily missed unless you know where it's at.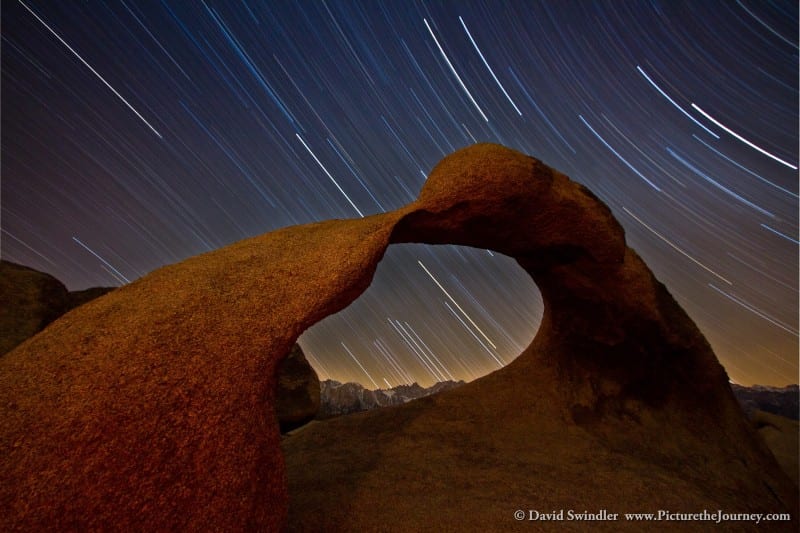 I camped near Mobius Arch since I wanted to try photographing star trails. That night it was extremely windy. I placed my tripod as low to the ground as I could for better stability. Even still, I feared for my camera and lens! I set everything up for an hour-long exposure and used my headlamp to light up the arch from the side. The wind was blowing so hard it would almost knock we over while I was light painting. I went back to bed but I couldn't sleep. With each large gust of wind I kept wondering if my tripod was still standing upright. I couldn't believe how long it took for that hour to pass. Finally, the time was up and I rushed back to the arch, relieved to find my gear still intact. Even more amazingly, the image looked sharp so the wind must not have caused too many vibrations.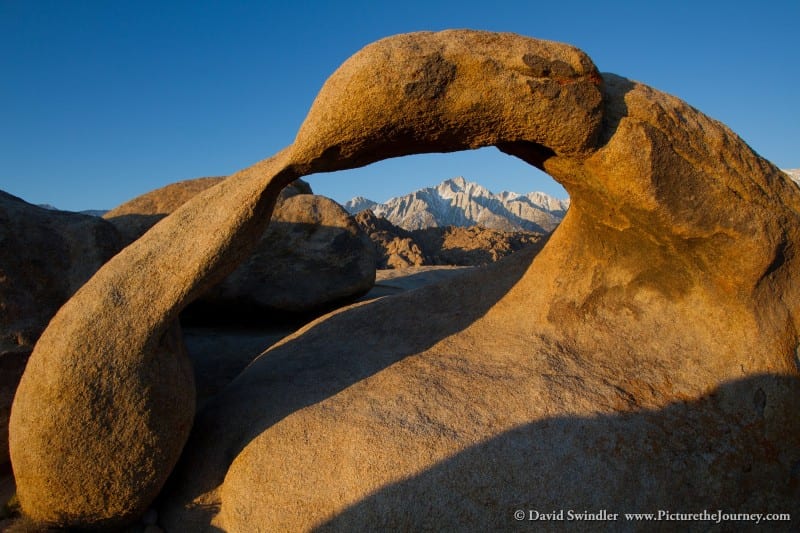 The next morning, I took the classic shot of Mobius Arch with Lone Pine Peak (see image above). The lovely warm light and deep rich shadows only lasted a few minutes. The calm morning sure was a nice contrast to the wind the night before. Later that morning we hiked around and found several more arches. Double Arch was fun to photograph from the underside. Whitney Portal was a very narrow arch that we tried climbing on for some interesting portraits. The Eye of Alabama Arch was another one of my favorites and can be seen in the shot below. In short, the Alabama Hills are a very interesting area and I definitely hope to return someday.  Happy exploring!