Wahweap Hoodoos Photography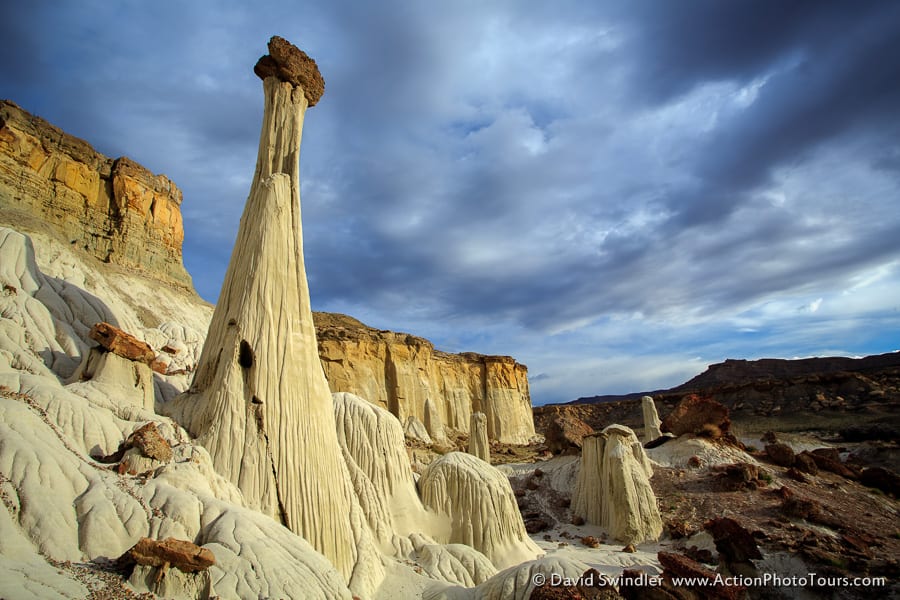 The Wahweap Hoodoos are a unique collection of toadstools, spires, and balanced rocks located in Utah's Grand Escalante National Monument. They are famous for their white/grey color and have long been popular with photographers. It's a remarkable place to visit and it's definitely worth the 9-mile round trip hike.  I'll give more information on how to get here at the end of this article.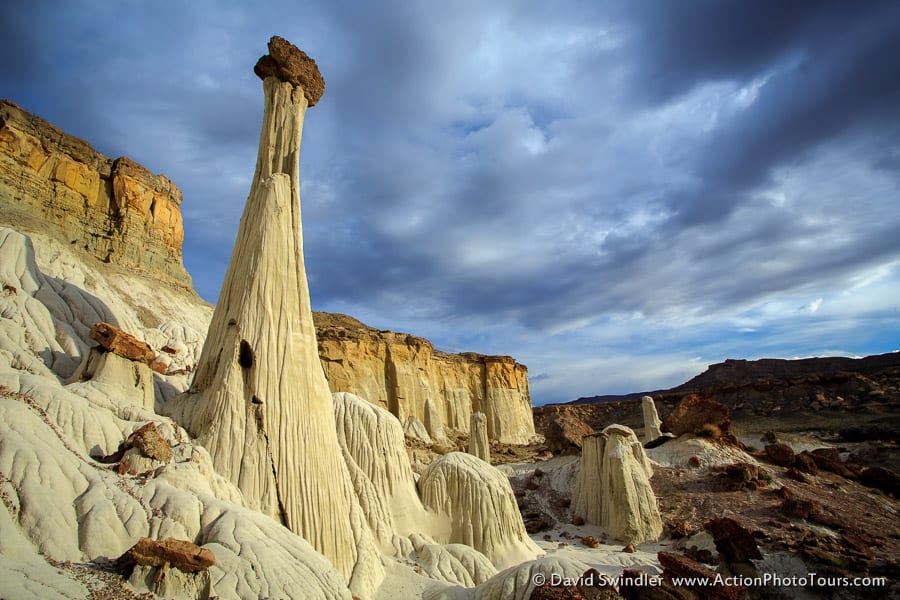 The hoodoos in the image above are known as the Towers of Silence. Indeed, silence is exactly what you hear! The canyon walls on either side help block the wind and it's unlikely you'll see anyone else out here – especially if you go early in the morning. The white color comes from a soft entrada sandstone. Over time, this layer has been steadily eroded. On top, there is a harder layer of dakota sandstone that has protected some of sandstone, forming many toadstools. If you look carefully in the image above, you can see the red colored dakota sandstone at the tops of the background cliffs.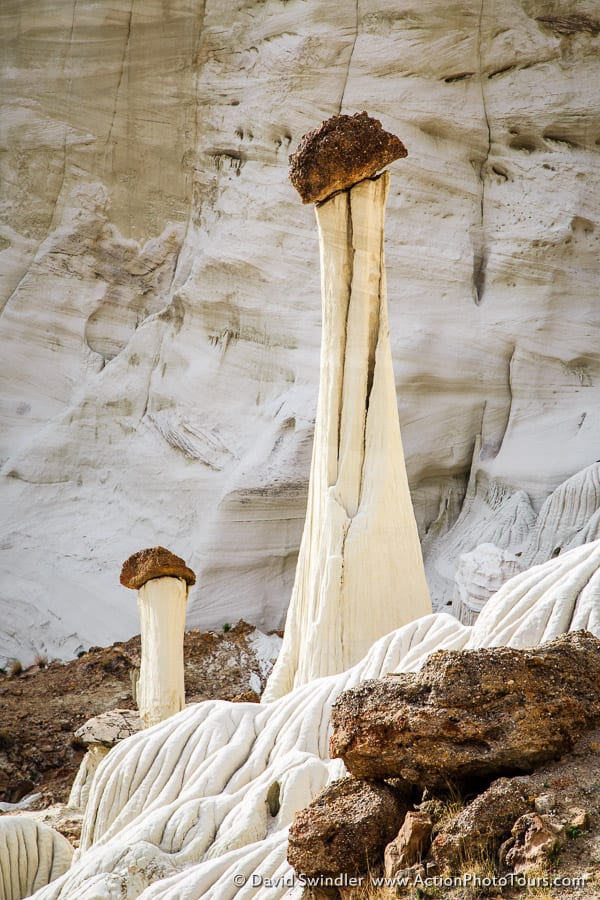 Here's a closer shot of the Towers of Silence. You can easily see the two layers here. When you're there in person, it's really amazing to see how much erosion has occurred since the red dakota layer is so much higher than the top of the hoodoos. The hoodoos come in all sizes – some are only inches tall while others tower high above you.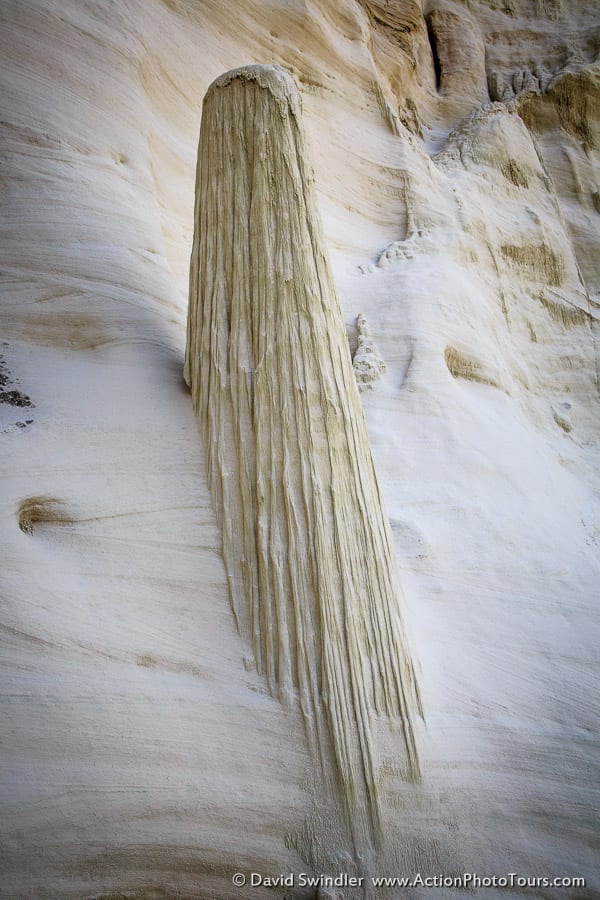 Ghostly white formations are everywhere. Unique erosion patterns give them nice shapes and textures. If you are visiting Wahweap, it's best to avoid the summer months since the hike is very exposed to the sun and quite hot. The spring and fall are much more pleasant.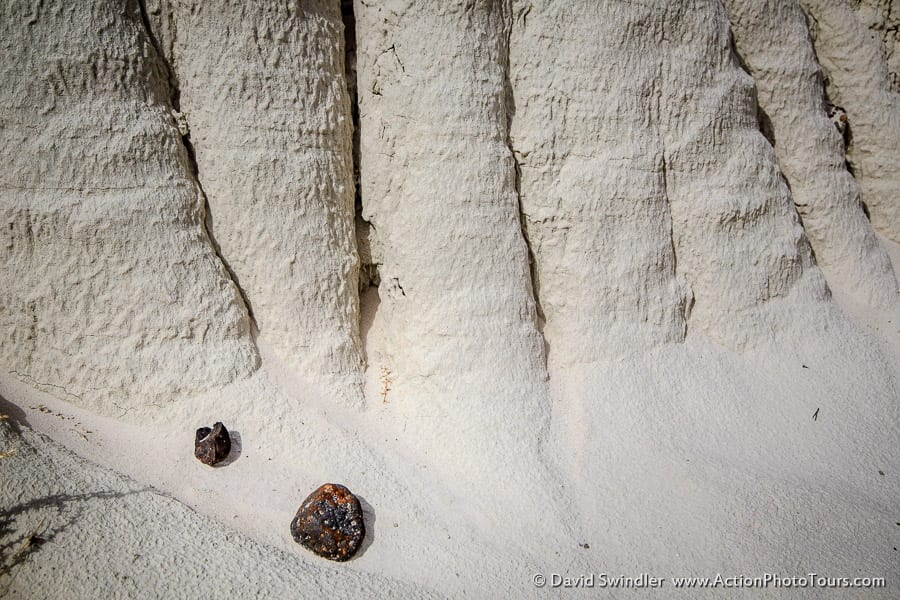 I love the erosion patterns here. They are perfect for more abstract compositions like this one above. Small dakota sandstone rocks fell to the bottom and gave nice visual interest to the fluted entrada sandstone.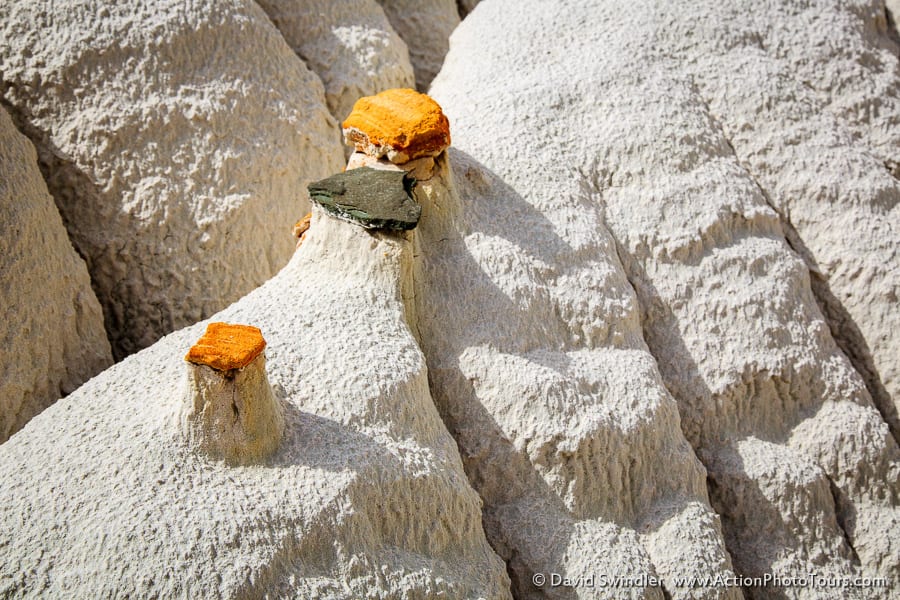 Some of the hoodoos are tiny. These little guys were only a couple inches tall. I'm amazed at how well the dakota layer can protect the softer underlayer!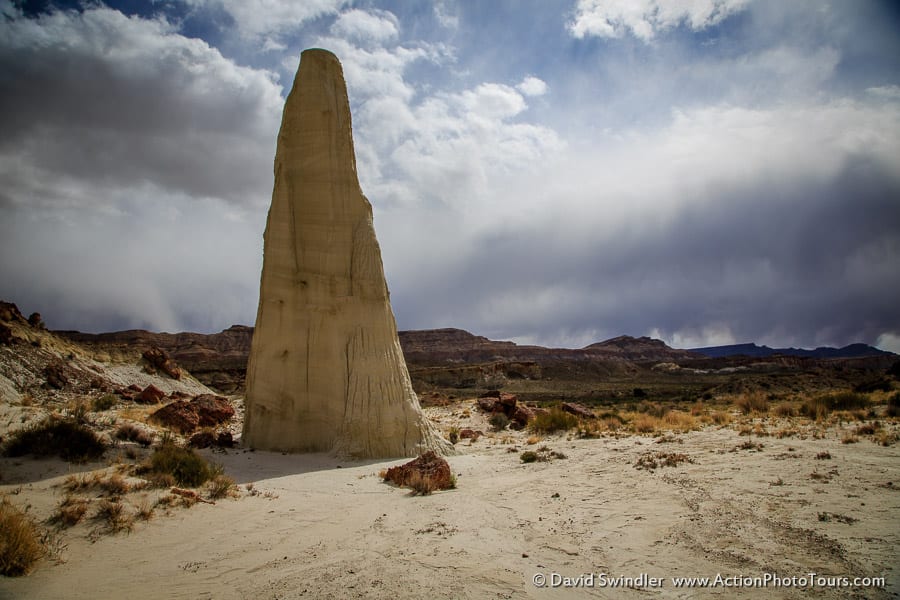 It's best to come prepared for all types of weather. Thunderstorms can develop even when the day starts out clear and sunny. This is a particularly tall hoodoo with some storm clouds brewing in the background. On our hike out, we ran into some hikers in light shirts and shorts that were pretty cold with all the wind this storm was brewing.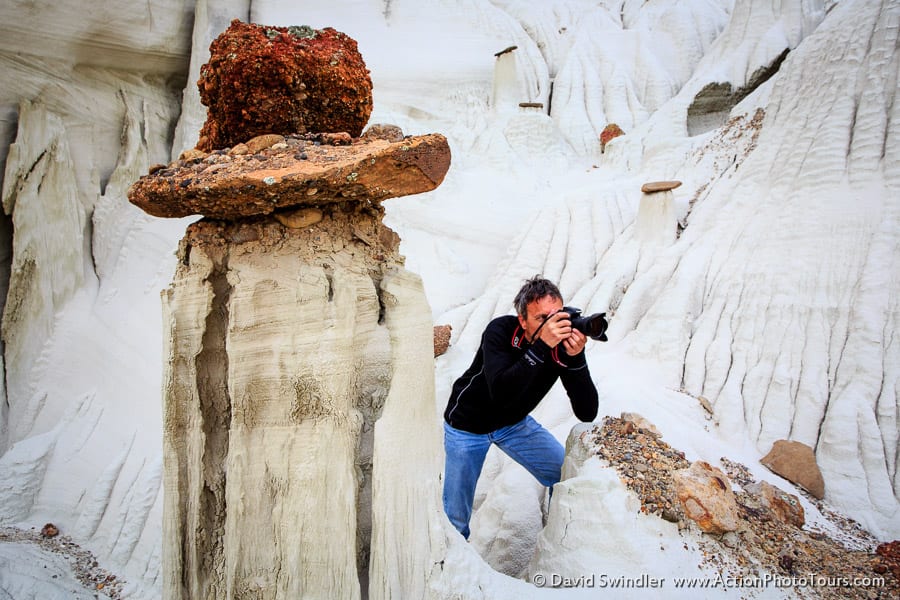 Wahweap is a paradise for photographers. My friend Darin is peeking out from behind a neat looking hoodoo. For photography, it's best to arrive early in the morning. In fact, I recommend starting well before dawn and hiking in with a headlamp. You'll just need to be careful not to lose the way (more on that later).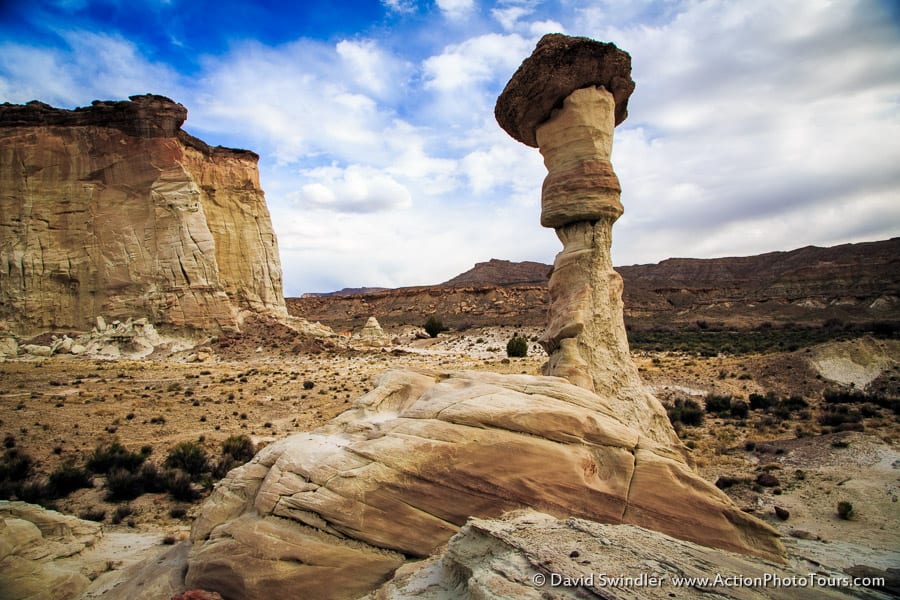 There are three main areas of hoodoos. Most people just visit the Towers of Silence, but I recommend visiting the other two areas, especially since they are on the way. They may not have as impressive white color, but they are still worthy of a good photograph!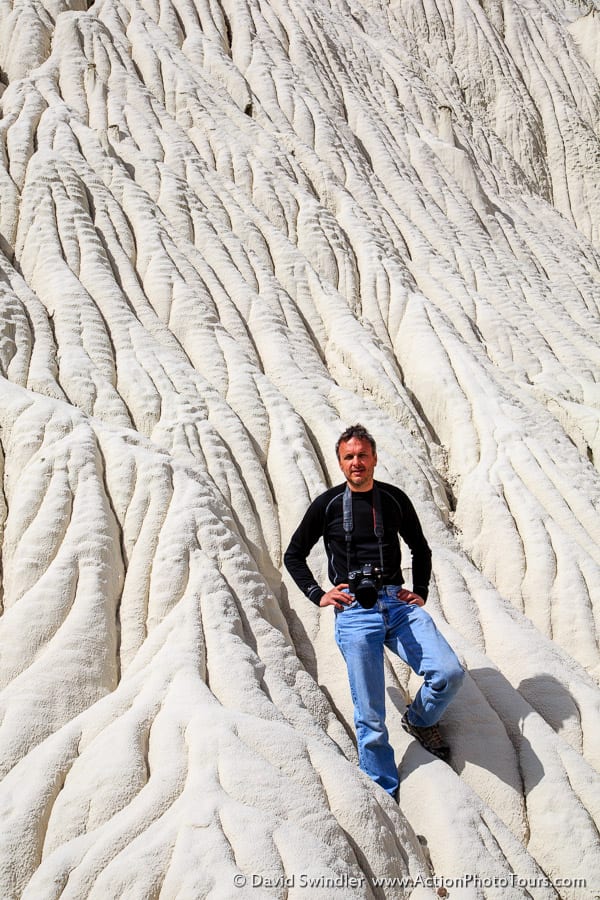 Some of the fluted erosion patterns are huge! Here I captured my friend Darin exploring out near the Towers of Silence.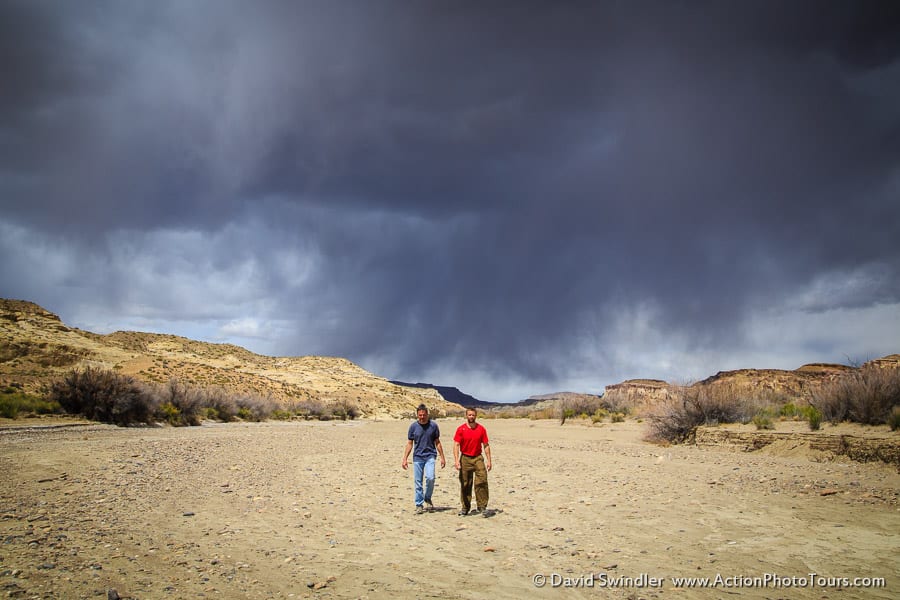 This webpage has the best information on how to get here: http://www.zionnational-park.com/wahweap-hoodoos.htm. There is a small parking area just north of Big Water, Utah. From here, you simply walk up the wash. If you're hiking in while it's dark, it's easy to take a side canyon on the left that will dead-end and leave you quite a ways from where you want to be. Use the GPS if you have any doubt and stay right at any junctions. The shot above is from the lower portion of the wash as the storm continues to make it's way closer.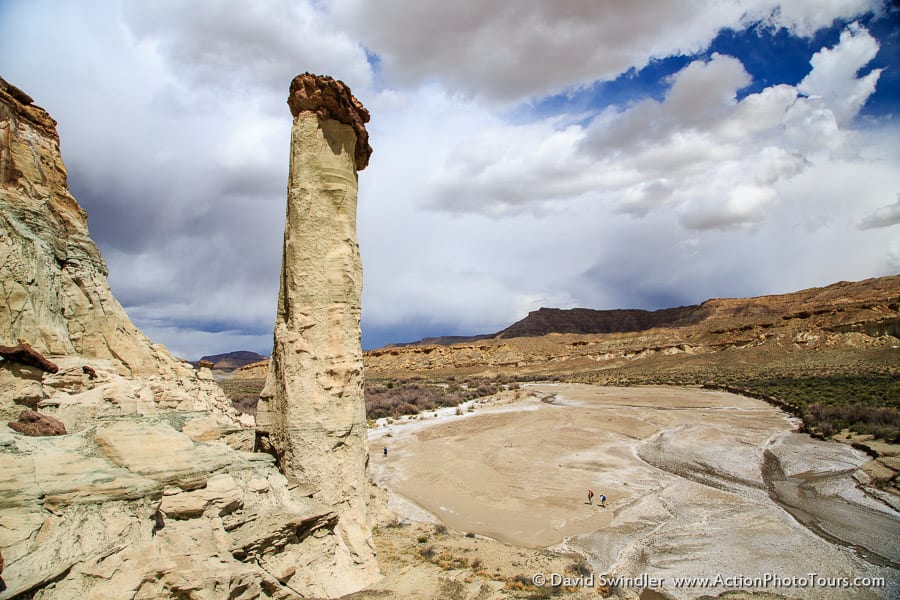 This is one of the first hoodoos you'll see at mile 3.6. It's worth climbing out of the wash to get a closer view of them (plus they're much more photogenic from up higher). There are some hikers down in the wash for a nice sense of scale!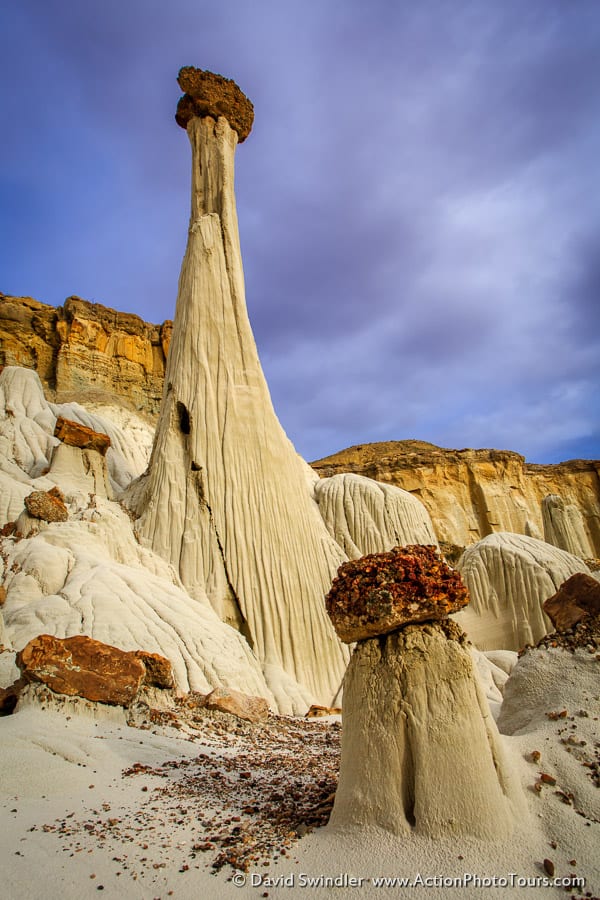 In closing, here's one more shot of the Towers of Silence with some nice early morning light. If you're interested in photographing this area, I'm offering a photo trip to Wahweap in April. You can check it out here: Coyote Buttes Photo Trip. I'm also more than happy to lead private excursions to the area – just send me an email. Happy exploring!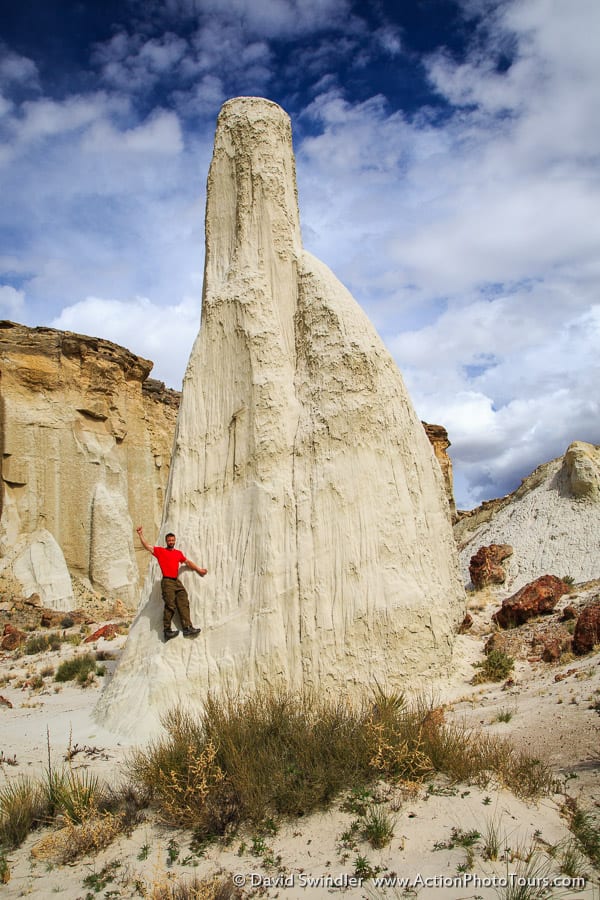 Wahweap Hoodoos Photography