Photographing the Dalton Highway – Part 1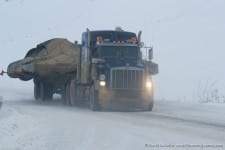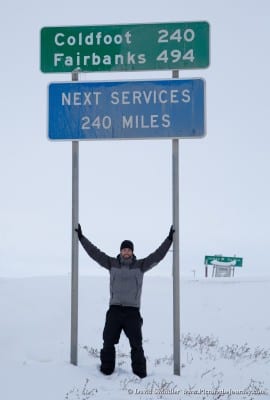 The Dalton Highway was originally built in 1974 to support the trans-Alaska pipeline. It takes off from the Elliott Highway north of Fairbanks and runs 414 miles all the way to Deadhorse, stopping just shy of the Arctic Ocean. Unless you have special tour arrangements, you won't actually get to see the Arctic Ocean due to restrictions from the oil fields. This road is commonly known as the Haul Road and supports healthy population of large semi-trucks with oversized loads. These trucks have one goal – to get their loads to/from Prudhoe Bay as quickly as possible. Thus, it is imperative that you give the trucks the right-of-way when driving the highway. If you don't, you'll probably end up with a broken windshield at best or get run off the road. When I drove it, I pulled over for every truck I saw and never had any issues. The Dalton is one of the most remote roads in the world. During most of the year, there is only one place to get gas en-route in Coldfoot, Alaska. It's 240 miles from Coldfoot to Prudhoe Bay, so it doesn't leave much in reserve. I spent a few days in the Brooks Range before heading back to Coldfoot. By the time I got there, I only had 18 miles left before empty. It is recommended that you carry an extra spare tire, camping gear, cold weather gear, food, and even a satellite phone in case you run into trouble. Also, make sure your insurance will cover you if you need to get towed. Any towing service up here would be very expensive! Once you have the basics covered, the Dalton is a fun and unforgettable experience in Alaska's northernmost clime.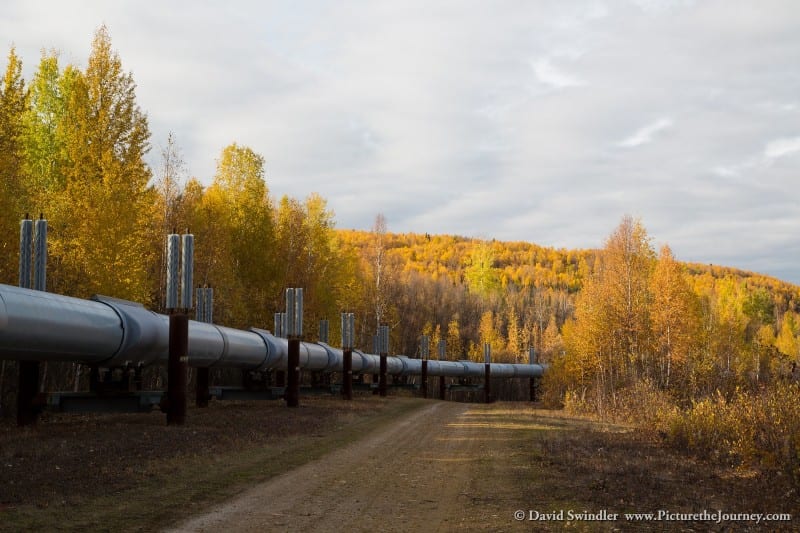 I drove the highway during the first part of October. This is the off-season and I didn't see any other tourists. As I drove north from Fairbanks, the trees were in their last stages of color before winter began setting in. The highway follows the Alaska Pipeline for most of its length. There are many sections where you don't see it at all since the pipeline occasionally runs underground. The pipeline was quite the feat of engineering. In the picture above, you can see posts sticking up above the pipeline. These are fins that help disperse heat so it doesn't melt the permafrost. In addition, there are mechanical rollers on each section to help the pipeline flex under extreme temperature changes.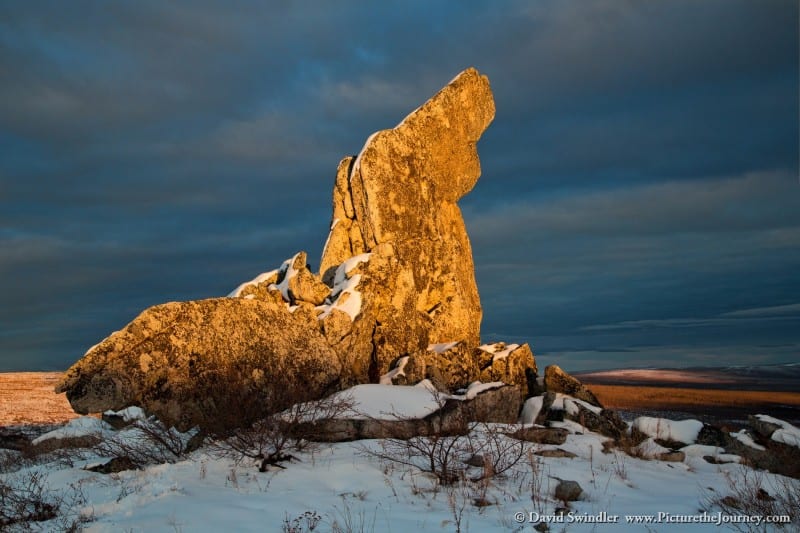 At mile 56 you cross the Yukon River. This is a huge bridge and is fun to drive over. The light was pretty flat when I crossed, so I didn't stop to take any photos. At mile 97, you reach Finger Mountain. This is a large rock that sticks up out of the tundra. It's very easy to see from far away and early bush pilots would use it for navigation since the "finger" points the way back to Fairbanks. I took the shot above at sunset. I was hoping the sky would clear up that night so I could try photographing the Aurora Borealis here, but unfortunately more clouds rolled in.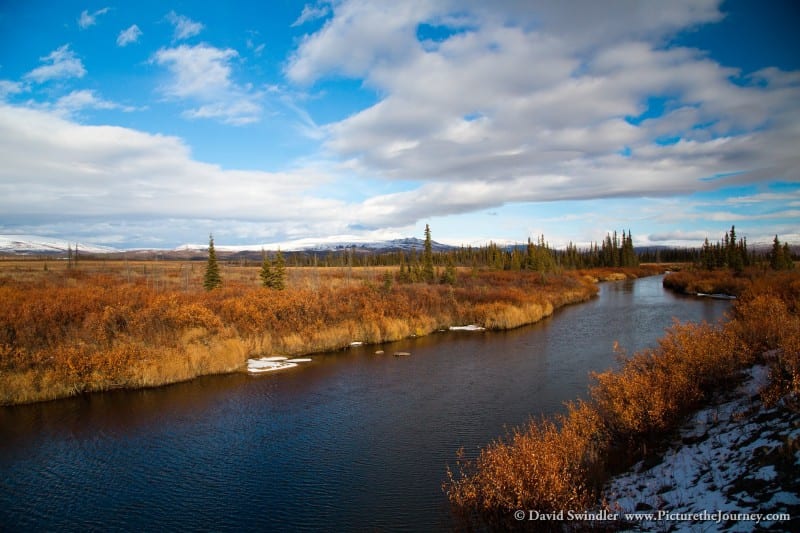 Shortly past Finger Mountain, you'll cross the Kanuti River very close to its headwaters. This river drains an area the size of Delaware and gets very large before it finally reaches the ocean. Some lingering fall color made this a very colorful shot. In addition, I found blueberries that I could eat even this late in the season.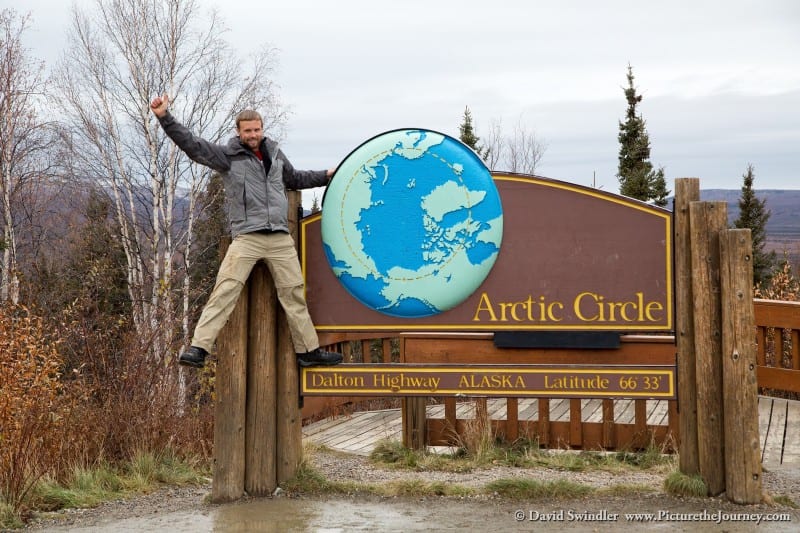 At mile 115, the BLM has constructed a little wayside to commemorate crossing the Arctic Circle. There is a little campground here which is surprisingly nice. This wayside is worth a stop as proof you made it to the Arctic Circle. Above this line, you'll start getting entire days around summer solstice where the sun doesn't set. The opposite holds true in the winter where you won't see the sun at all.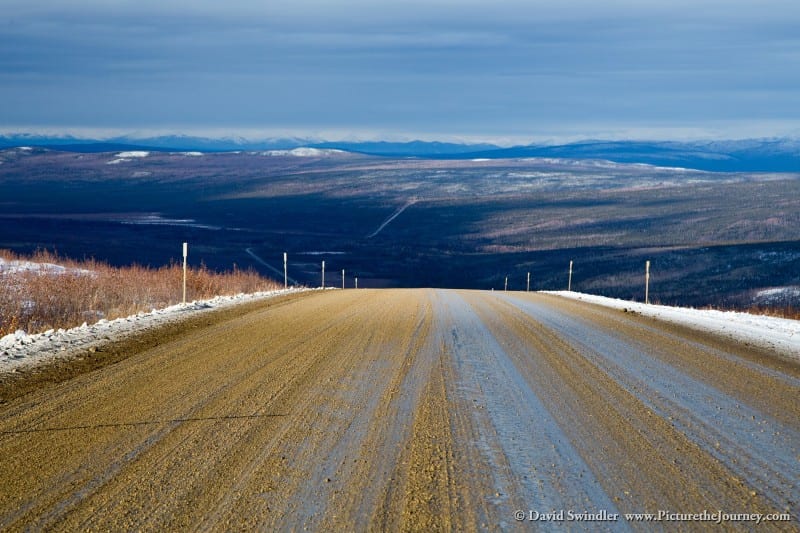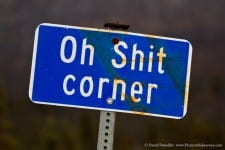 During the next section, there are some really steep hills. They are fun to drive down, but I was a little worried about getting back up them if I had to pullover for a semi-truck. The picture above is a hill known as Beaver Slide. Luckily, no trucks came while I was going up. Otherwise, I might have gotten stuck in the mud!
Alaskans definitely have a sense of humor with their road signs. I remember crossing a creek that was called "No Name Creek". Kind of funny they would go to the trouble to put up a sign like that! This sign on the left was my favorite. I definitely slowed down for this corner…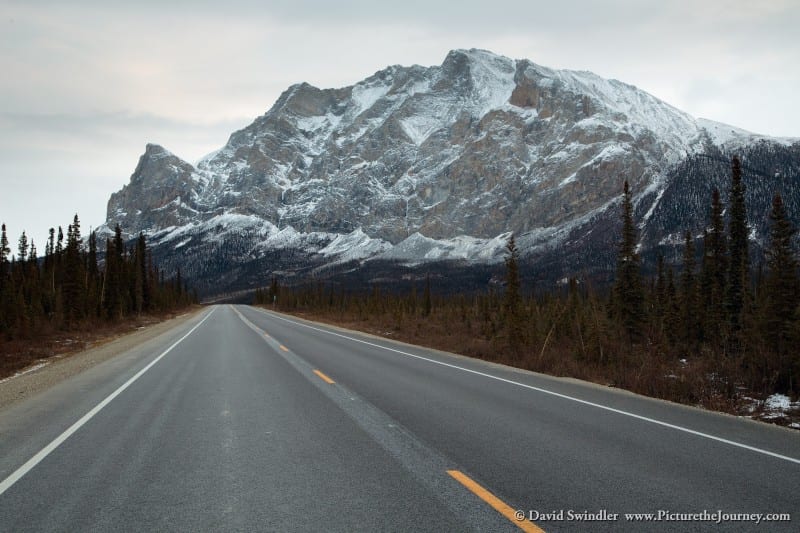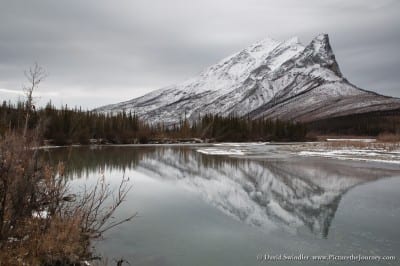 Believe it or not, there is actually a paved portion of the Dalton Highway near Coldfoot. It's a nice break from all the gravel and mud. One of the prominent sights along this section is the massive Sukakpak Mountain. It had awesome waterfalls of frozen ice all over it. If it were closer to civilization, I bet it would be popular with ice climbers. On the north side of the mountain, you can catch some nice reflections in the river like the shot on the left. I saw some moose in this area, so keep your eyes open.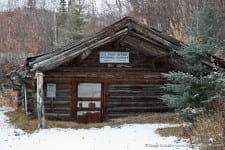 The small town of Wiseman is worth a stop on your journey. It's just a few miles off the main road. There are cabins here you could stay in you didn't want to camp. The shot on the right is the old post office they used to have. The people in Wiseman were very friendly and there was still some fall color in places. In addition, I was very surprised by the amount and variety of birds.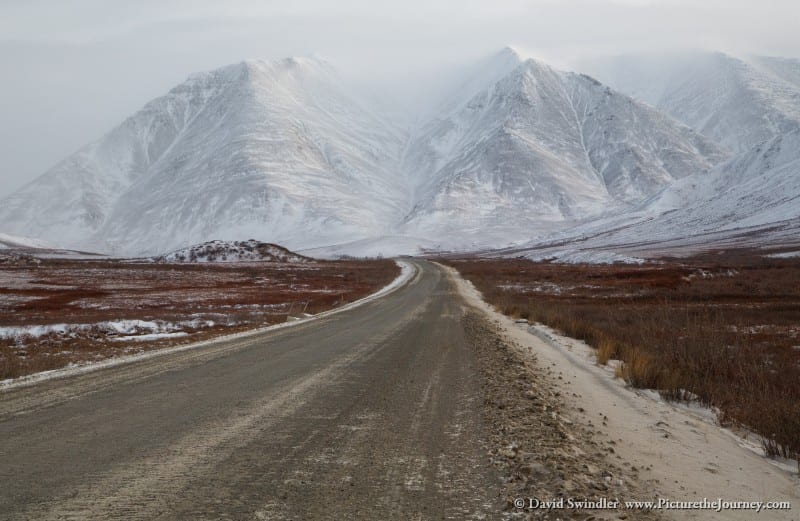 As you head north from Wiseman, you'll soon get your first glimpse of the Brooks Range. These are impressive mountains, especially when they are snow covered. By the time you get this far north, you're beyond the tree line and you'll only see tundra until you get to Prudhoe Bay. Stayed tuned for Part 2 of this article which I'll publish next week. I'll talk about all the wildlife I saw up in the Brooks Range and show more shots of this beautiful mountain range. Hopefully you'll also be inspired to drive the Dalton Highway!
Photographing the Dalton Highway