Slot Canyon Photo Tour - Half Day
Our half-day Slot Canyon Photo Tour is perfect for those who want a shorter trip but with amazing photo opportunities. This tour is rated Moderate for physical intensity with 1-2 miles of hiking and some mild rock scrambling.  An exciting and rough 4WD adventure through deep sand will take us right to the mouth of the canyon!  Maximize your photos with professional photography instruction.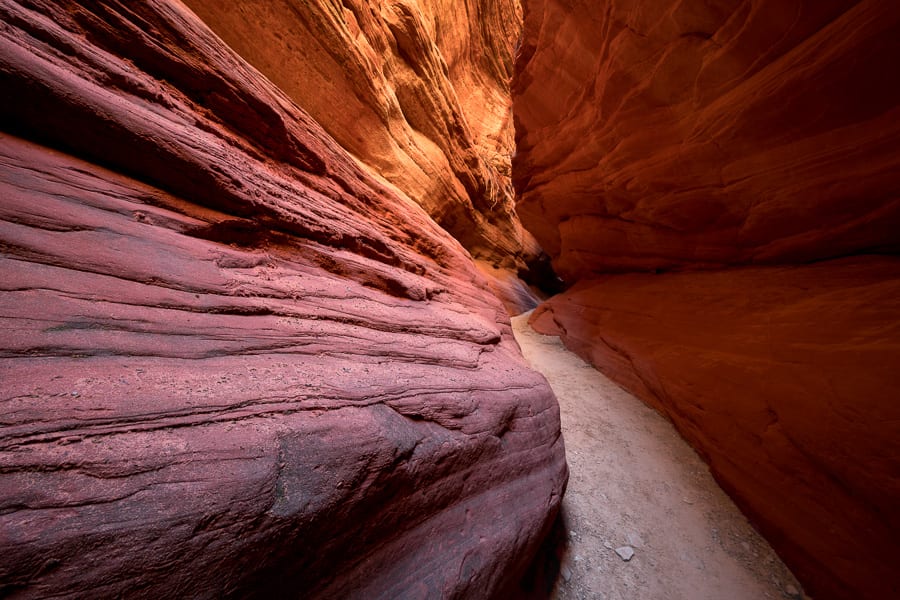 Highlights
Our half-day Slot Canyon Photo Tour is perfect for those who want a shorter trip but with amazing photo opportunities.
Visit a beautiful sandstone slot canyon, layered with the mystical glow of reflected light.
Photographers love this canyon since it has similarities to Antelope Canyon but without the crowds.  You won't be rushed to take your photos!
This trip is physically easy since we drive right to the mouth of the canyon and walk over mostly flat ground.
Depending on time, we may be able to visit some Native American Ruins, caves, and more.
Small group size capped at 5 people to ensure personalized instruction and individualized attention.
Trip Details
Tour Length:  4 hours
Drive Time:  A little over 30 min each way with about 20 min on rough 4WD roads.
Time Spent on Location:  Approx 3 hrs
Tour Departure Time: This trip leaves Kanab at 8AM and returns around noon. Please arrive around 10 mins early to load your gear and finish the check-in process. Note that we operate on Utah time which is one hour ahead of Las Vegas. During the months of Daylight Savings (approx mid-March through early Nov), Utah is also one hour ahead of Arizona. Please take this into consideration if traveling from out of state.
Tour Pricing: This trip runs $149/person if the minimum group size of 2 is met. In the event we have only 1 person, then we give you the option to pay the 2-person rate of $298, reschedule for a different date, or get a full refund and not go out. If you decide to pay the 2-person rate, you'll get a private tour.
Tour Meetup Location: You will meet at our office in Kanab, UT. The address will be given in your confirmation email. This is a safe place to park your vehicle and you can leave any valuables inside. Once you arrive, you'll load your gear and sign a liability release waiver. Las Vegas is the closest major airport to Kanab. There is no public transportation to Kanab, so you'll need your own rental car or private vehicle. We recommend that you stay in a hotel in Kanab the evening of your tour. There are many good hotels in the area like the Best Western, Hampton Inn, Holiday Inn Express, Comfort Inn & Suites, and the Canyons Botique.
Permits:  We hold commercial use permits for the places we visit from the Kanab Field Office.
Group Size: Our groups will never exceed 5 people per guide. We like to keep our tours small so we can give adequate individual attention.
Instructors:  Due to scheduling complexities, we don't know which instructor will accompany your group until a day or two prior.  If you want a specific instructor, then please Contact Us to make your request. Although we'll do our best to make it happen, please note that there are no guarantees.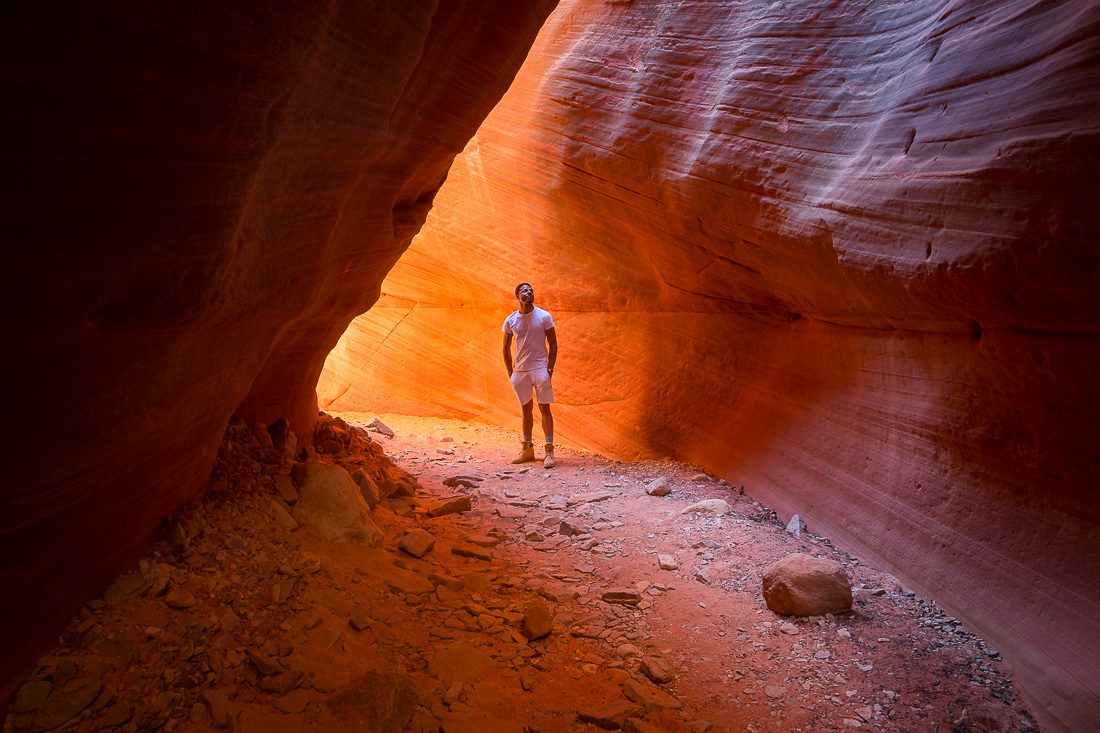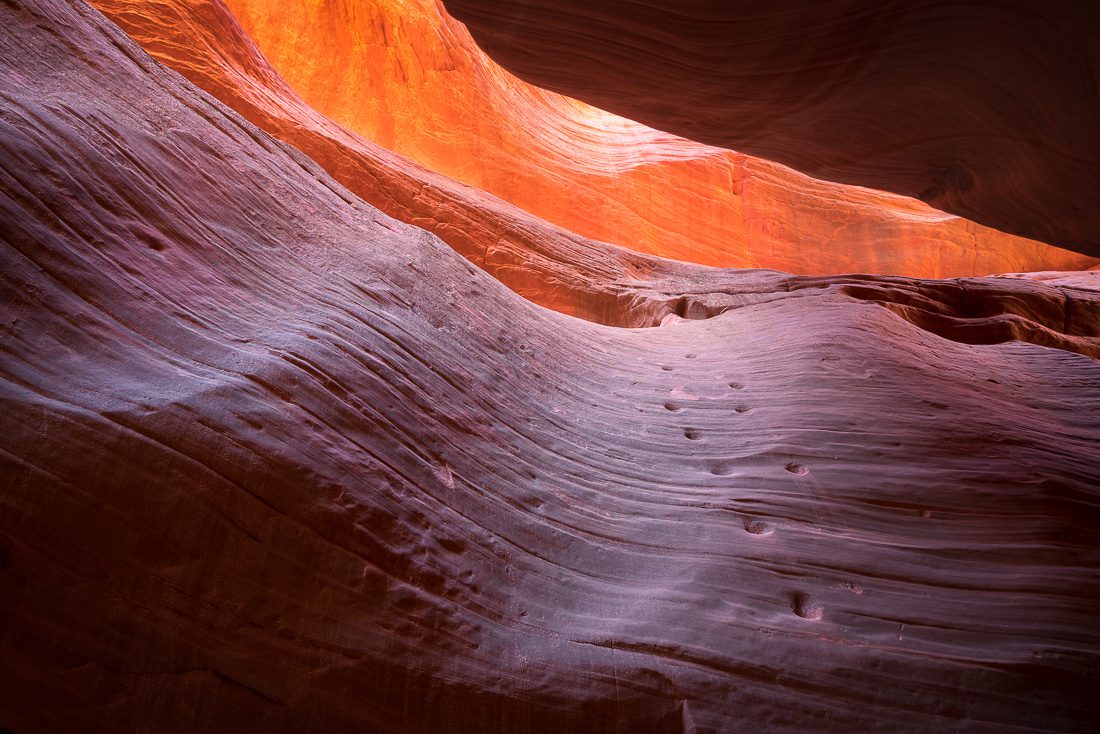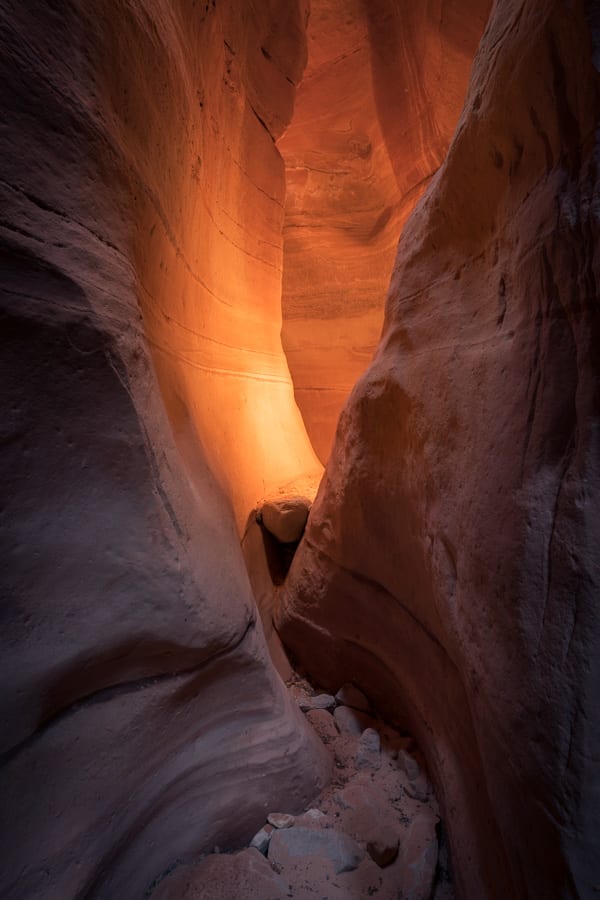 Trip Details
Weather Conditions:  If the weather is inclement or unsafe for a slot canyon visit, your tour guide will suggest you visit an alternate destination. This decision will be made the day of the outing based on the consensus of the group. If significant rain is in the forecast, we cannot visit the slot canyon due to flash flood risk. Note that we cannot offer refunds due to weather unless we cannot go out at all. Make sure you dress and prepare adequately for the weather the day of your tour.
Hiking / Fitness: We'll only do short and easy hikes on this trip. Total mileage won't exceed 1-2 miles. Some mild rock scrambling may be required halfway through the canyon, but our guides will help you negotiate it safely.
Food/Water: We do not provide food on our outings. All participants should bring food/water to hold them through while hiking. We will have a cooler where you can store food and drink.
What to Wear: You should check the weather forecast prior to coming on the trip (search for Kanab, UT on Weather.com). If it's going to be hot, wear light-colored clothing and a hat. If the temperatures are cold, bring some warm layers and long pants. Don't forget sunglasses and sunscreen. If it's very cold and or windy, don't forget a jacket, warm hat and some gloves. If rain or snow is in the forecast, bring a rain jacket. We recommend wearing sturdy footwear due to the uneven terrain and sand.
Restroom Facilities: There are limited facilities where we will visit. If you need to use the restroom in the backcountry, we will have toilet paper, hand sanitizer, and a shovel available.
Full-Day Option:  If you want a more adventurous outing, consider our Full Day Slot Canyon Tour.
Camera Gear
Camera Gear: A wide angle zoom lens is the most useful on this trip (equivalent 16-35 on a full-frame camera or 10-22mm on a crop sensor). A mid-range lens can also come in handy (24-70 on full frame or 18-55 on crop sensor). You won't need a polarizer for this canyon. All photographers should bring a tripod. Don't forget extra batteries, memory cards, and cleaning supplies.
Photography Advice: Read our article on Slot Canyon Photography
Safety: Our guides are trained in CPR/First-Aid. All 4WD vehicles are equipped with extraction equipment and a first-aid kit. We carry a satellite beacon with us in case of emergencies outside of cell range.
Cancellation/Re-Scheduling: Please see our Terms and Conditions.