Slot Canyon Photo Tour - Full Day
Our full-day Slot Canyon Photography Tour is designed for those craving adventure. We'll customize the outing to the level of physical exertion you desire, with the majority of locations being of Moderate to Difficult intensity. Professional photography instruction is included to help make the most of your images.  Exactly where we go will depend on the weather and current conditions.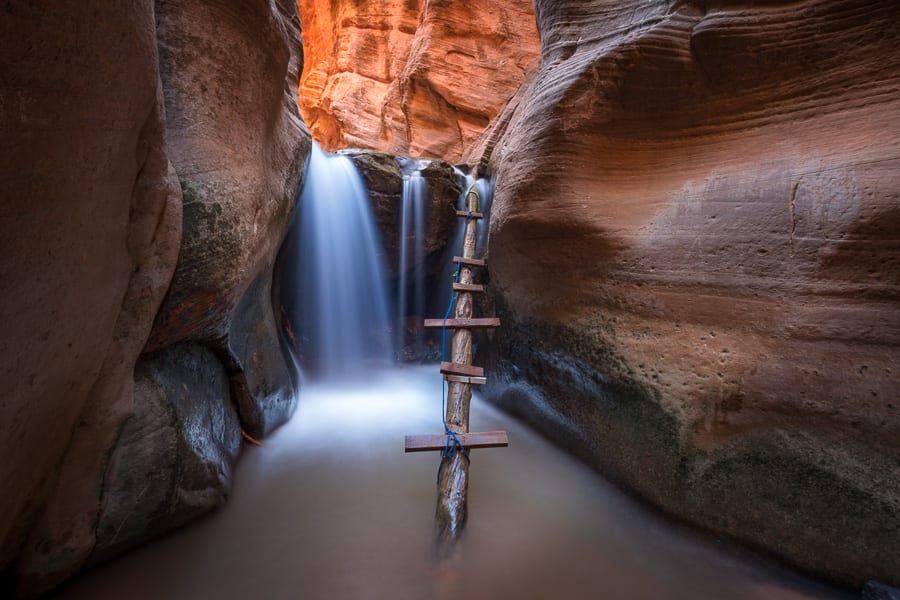 Highlights
Our full-day Slot Canyon Photography Tour is designed for those craving adventure. We'll customize the outing to the level of physical exertion you desire!
Trek through narrow and winding slot canyons while photographing some of the most jaw-dropping scenery you've ever seen.  We'll get you to the best parts at the best times of the day!
Less strenuous options are available. Just let us know your desired level of physical activity.
Professional photography instruction included on all outings.  Take your slot canyon shots to the next level!
Small group size capped at 5 people to ensure personalized instruction and individualized attention.
Trip Details
Tour Length:  8 hours
Drive Time:  It depends on where we go.  The closest canyons are around 30 mins drive from Kanab.  Others are about an hour away.
Time Spent on Location:  Approx 5-6 hrs
Tour Departure Time: This trip is slated to leave Kanab at 8AM and returning around 4PM.  However, this start time can be flexible depending on your travel needs. Please arrive around 10 mins early to load your gear and finish the check-in process. Note that we operate on Utah time which is one hour ahead of Las Vegas. During the months of Daylight Savings (approx mid-March through early Nov), Utah is also one hour ahead of Arizona. Please take this into consideration if traveling from out of state.
Tour Pricing: Please click on the Book Your Tour button for the latest pricing. Most of our tours require a 2-person minimum. Single individuals can always go, but may need to pay the 2-person rate if nobody else decides to join.
Tour Meetup Location: You will meet at our office in Kanab, UT. The address will be given in your confirmation email. This is a safe place to park your vehicle and you can leave any valuables inside. Once you arrive, you'll load your gear and sign a liability release waiver. Las Vegas is the closest major airport to Kanab. There is no public transportation to Kanab, so you'll need your own rental car or private vehicle. We recommend that you stay in a hotel in Kanab the evening of your tour. There are many good hotels in the area like the Best Western, Hampton Inn, Holiday Inn Express, Comfort Inn & Suites, and the Canyons Botique.
Permits:  We hold commercial use permits for the locations we visit.
Group Size: Our groups will never exceed 5 people per guide. We like to keep our tours small so we can give adequate individual attention.
Instructors:  Due to scheduling complexities, we don't know which instructor will accompany your group until a day or two prior to your tour. If you want to request a specific instructor, please Contact Us to make your request. Although we'll do our best to make it happen, please note that there are no guarantees.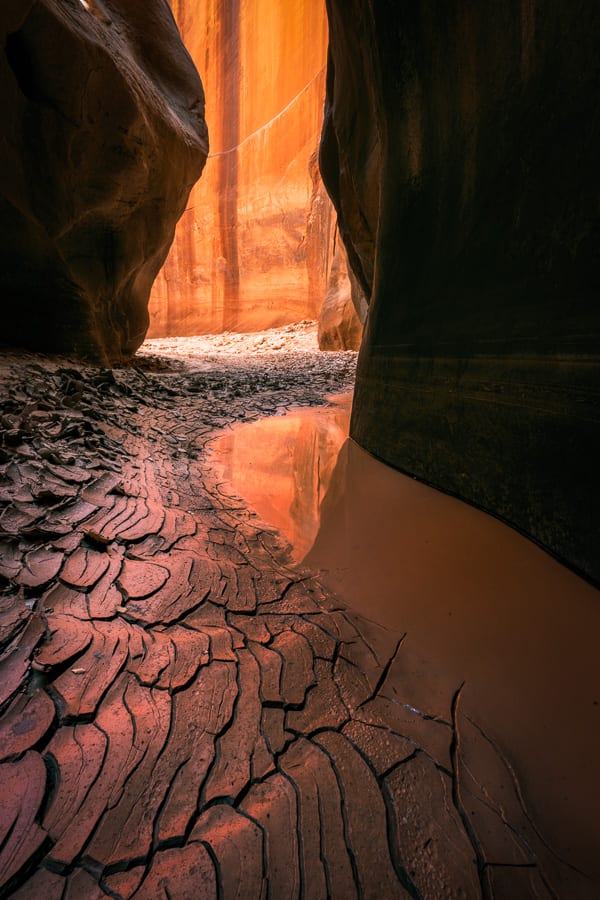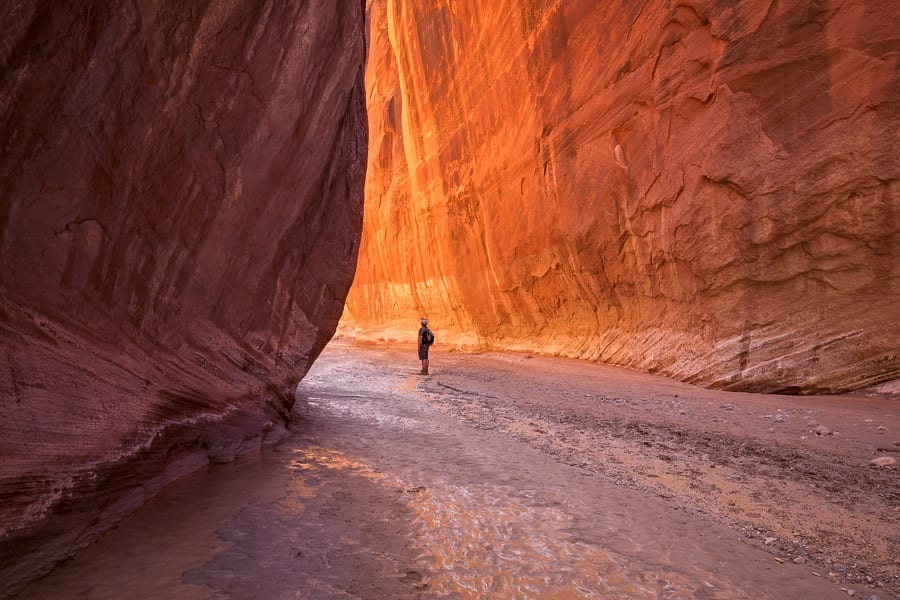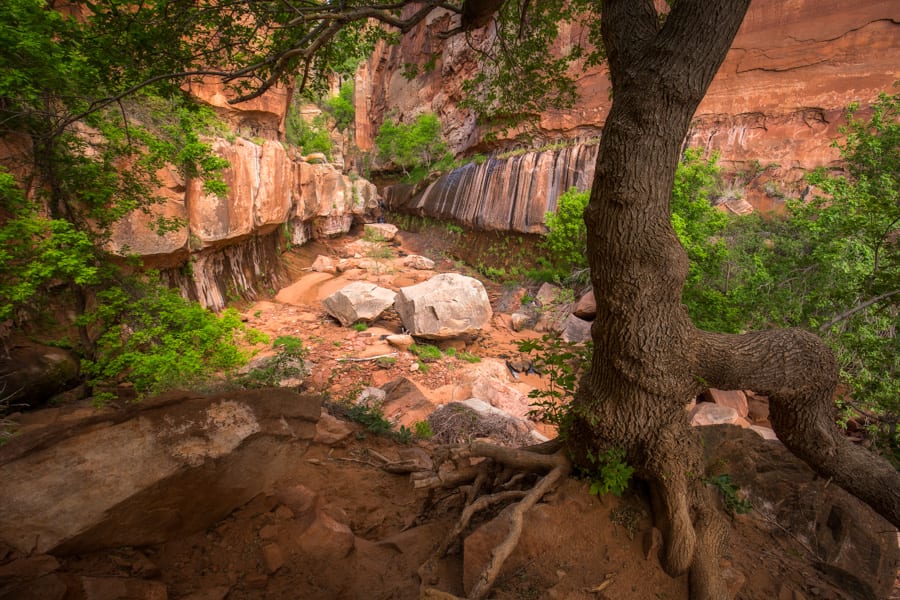 Trip Details
Weather Conditions: With this being a slot canyon tour, we cannot go if rain is in the forecast. Should this happen, we will make alternate arrangements and may have to visit an alternate destination. This decision will be made the day of the outing based on the consensus of the group. Your safety is our top priority! Note that we cannot offer refunds due to weather unless we cannot go out at all. There can be mud and water in the canyons after recent rains. Even though it might be hot outside the canyon, temperatures can drop quickly, so make sure you bring a jacket.
Hiking / Fitness: When you book the tour, please let us know what level of hiking difficulty you want and we'll make sure we go to the best canyons for you.
Food/Water: We do not provide food on our outings. All participants should bring food/water to hold them through while hiking. We will have a cooler where you can store food and drink.
What to Wear: You should check the weather forecast prior to coming on the trip (search for Kanab, UT on Weather.com). If it's going to be hot, wear light-colored clothing and a hat. If the temperatures are cold, bring some warm layers and long pants. Don't forget sunglasses and sunscreen. If it's very cold and or windy, don't forget a jacket, warm hat and some gloves.
Restroom Facilities: There are limited facilities where we will visit. If you need to use the restroom in the backcountry, we will have toilet paper, hand sanitizer, and a shovel available. You can dig a hole back behind a bush to do your business.
Half-Day Option: If you want a less strenuous day, consider our Half-Day Slot Canyon Photography Tour.
Camera Gear
Camera Gear: A wide angle zoom lens is the most useful on this trip (equivalent 16-35 on a full-frame camera or 10-22mm on a crop sensor). A mid-range lens can also come in handy (24-70 on full frame or 18-55 on crop sensor). Bring a polarizer to cut glare from the water.  ND filters are nice for long exposures of water. All photographers should bring a tripod. Don't forget extra batteries, memory cards, and cleaning supplies.
Photography Advice: Read our article on Slot Canyon Photography
Safety: Our guides are trained in CPR/First-Aid. All 4WD vehicles are equipped with extraction equipment and a first-aid kit. We carry a satellite beacon with us in case of emergencies outside of cell range.
Cancellation/Re-Scheduling: Please see our Terms and Conditions.