Make Your Photography Backpack Lighter By Asking These Five Questions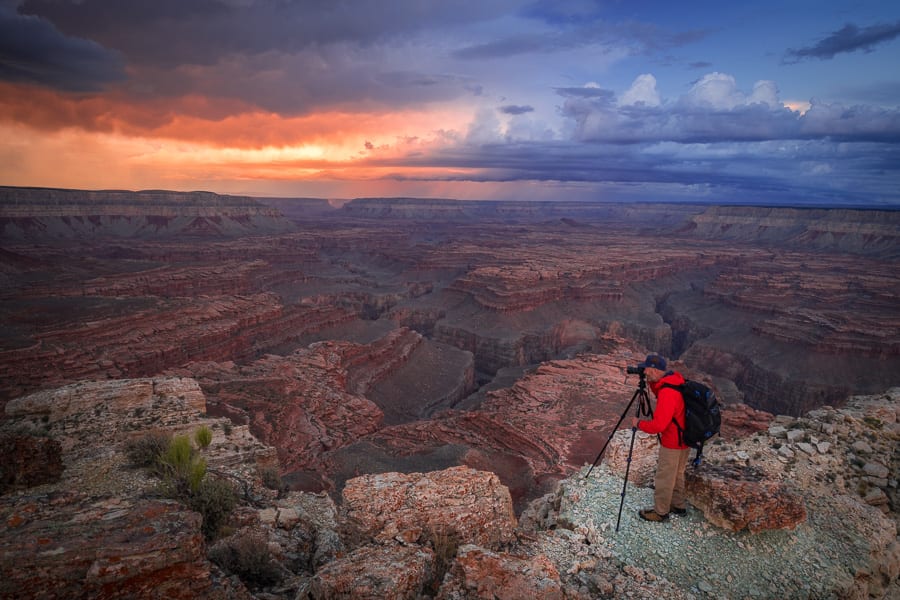 Have you ever been halfway through a long hike, (or even barely started up the trail!) and thought to yourself, "I really shouldn't have brought all this gear!" Well, you're not alone. Many landscape photographers have wondered how to make a photography backpack lighter
The dilemma of what camera gear to bring (or, what to leave behind) is one that is faced by new and experienced photographers alike. Whether you are buying your first aftermarket lens, or you already own a half-dozen lenses and want to bring them all!
Before we go any further, though, let's be honest: if you're in half-decent shape, you should be able to carry at least one camera and lens on a day hike or an easier overnight backpacking trip. Hit the trail, and go have fun!
You should still read this article, of course, because it will come in handy as you consider upgrading your camera body to something better (and/or more lightweight?) and expanding your lens collection. Should you buy that exotic, giant, heavy lens that all your friends are drooling over? Or, should you just get the more lightweight option, even if it isn't flawlessly sharp?
If you ask yourself the following five questions, you will be able to shed quite a few pounds from your backpack. Your shoulders, spine, and hips will thank you after you've been hiking for a day or two or three!
How Much Water and Food Do You Need?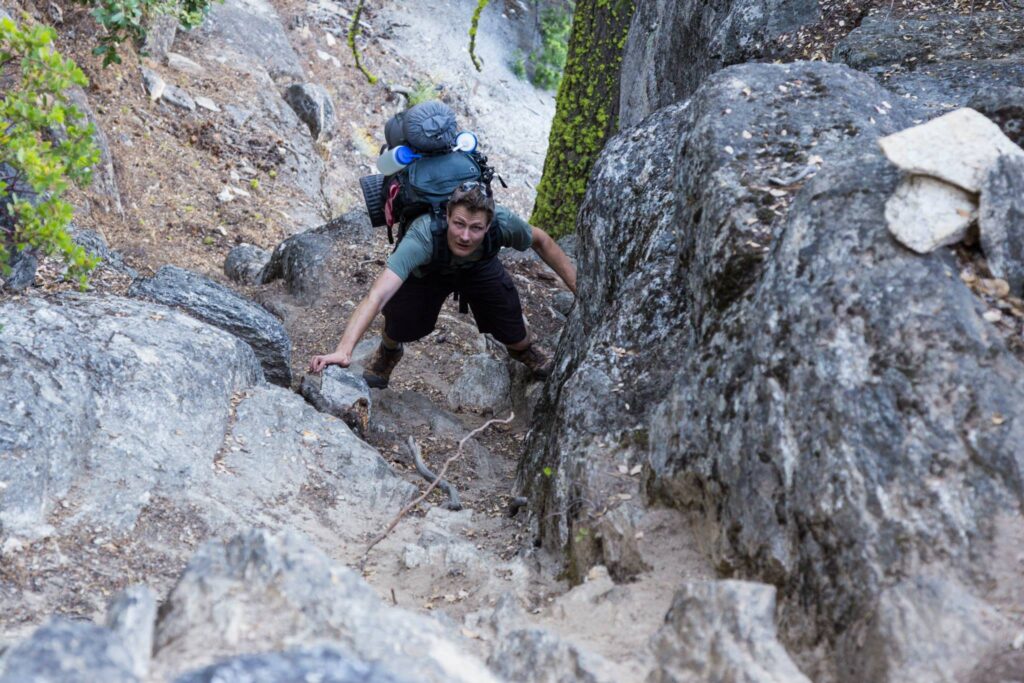 Okay, before we discuss camera gear: SAFETY FIRST! Do not lighten your backpack by bringing less food or water than the recommended daily ration.
Don't leave that spare Nalgene water bottle behind just to make room for that big exotic lens you recently purchased. Never "cut it close" on food just because you couldn't decide which piece of camera gear to leave at home or at trail camp.
Always bring all the essential amount of water, food, and other safety items that you need, such as those warm & waterproof layers, survival essentials, etc. You just never know when you might break your ankle and suddenly a half-day hike could turn into an overnight emergency.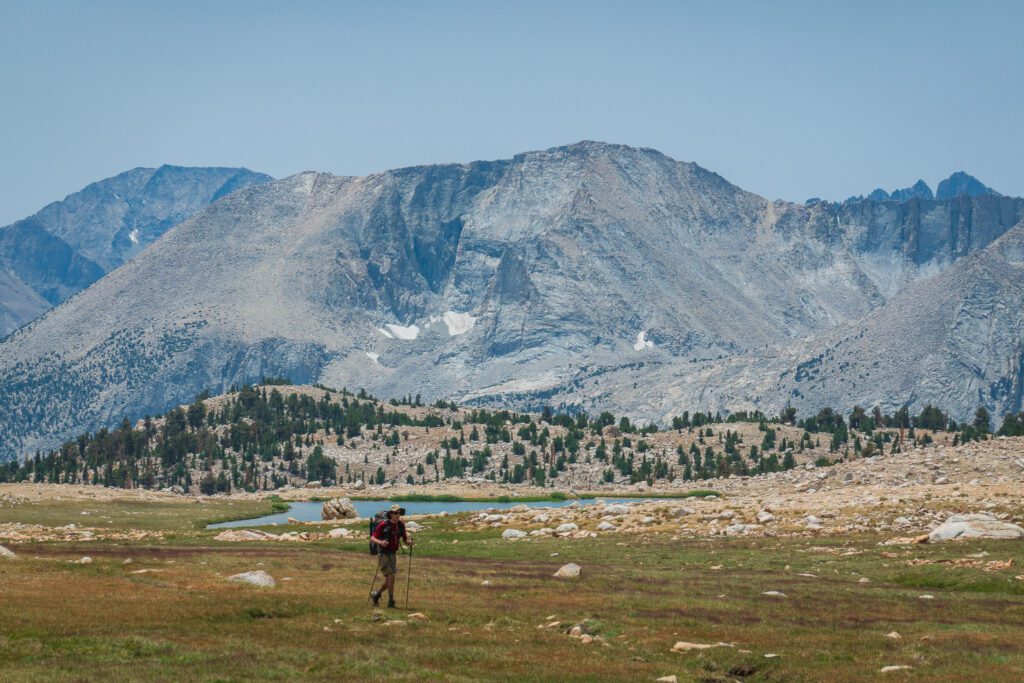 Can you save weight on some essential items? Yes indeed, and you don't have to spend hundreds of dollars on a more lightweight sleeping bag or tent that only saves you one pound.
First and foremost, always double-check the weather. Be prepared for the worst, but also, don't over-pack. You might only need a rain shell, or a lightweight fleece, as opposed to a big puffy down jacket. Another relatively affordable way to lighten your load while also increasing your comfort level is to purchase some lightweight hiking pants. I don't care how many Instagram pics you've seen of people striking their best wanderlust pose wearing torn blue jeans…don't fall for it!
Next, research the water access for the locations you will be visiting or passing through. In some mountain areas, you can rely on streams, lakes, and snowmelt to give you a consistent water supply every day, so that you never need to carry much more than a liter at a time. But in more arid locations, such as the American Southwest, you cannot trust that a stream or pond will be there …thus, you must pack enough water for your entire trip!
If you do plan to refill your water supply while in the wilderness, always remember to have a water filter/purifier with you. (And trust me, if you're using a type of filter that requires backwash cleaning, bring that plunger! It only weighs a few ounces, and it could make a huge difference depending on your water sources.)
The Lightest Camera For Hiking: Do You Really Need That Sensor?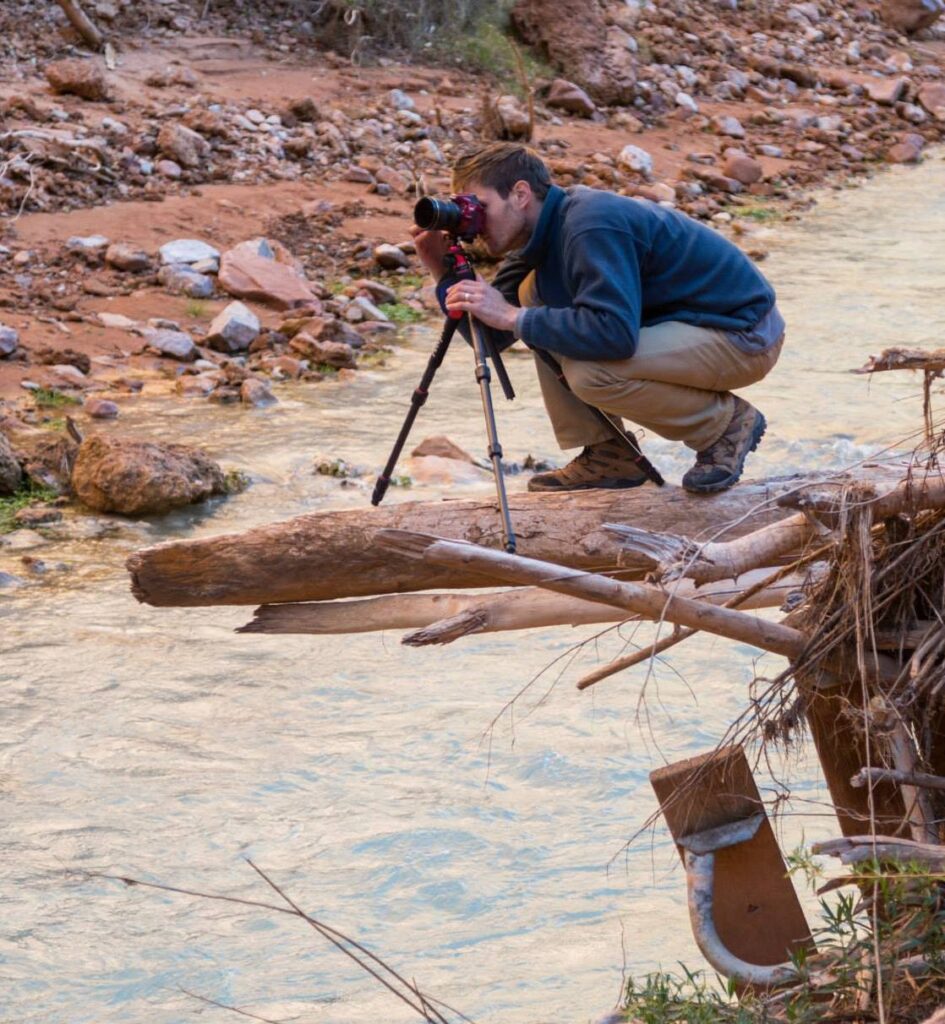 Now, for the tough questions. Let's shed some gear weight, but do it in a way that won't make a difference in our ability to capture great images.
First and foremost, there's a secret that most camera companies don't want you to know: sensor technology has come a very long way in the past decade! Full-frame sensor cameras are no longer an absolute must-have, like they used to be for high-quality, professional results "back in the day". (That is, a mere ~10 years ago)
You can, in fact, get incredible results from almost any interchangeable lens camera on the market today.
Especially if you spend most of your time at ISO ~100 you will barely see any difference between images captured on a full-frame camera and an APS-C crop-sensor camera. It's true!
Forget the "lab tests" that reduce a sensor to a bunch of numbers about noise levels or dynamic range. I've been doing real-world tests for more than 10 years, and I've watched new cameras arrive with better and better performance in the field. Today's cameras are incredible.
I like hiking and adventure so much that I own two different camera systems: I have one high-end full-frame system for the absolute best image quality, but I also own (or at least have access to) an APS-C (or even Micro Four Thirds) system for those times when I have to hike 20 miles in a day or be in the wilderness for a week straight. Lately, I've even been toying with the idea of buying an ultralight Sony RX100 series camera! The camera and 24-200mm equivalent lens weighs just ~10 oz (~300g).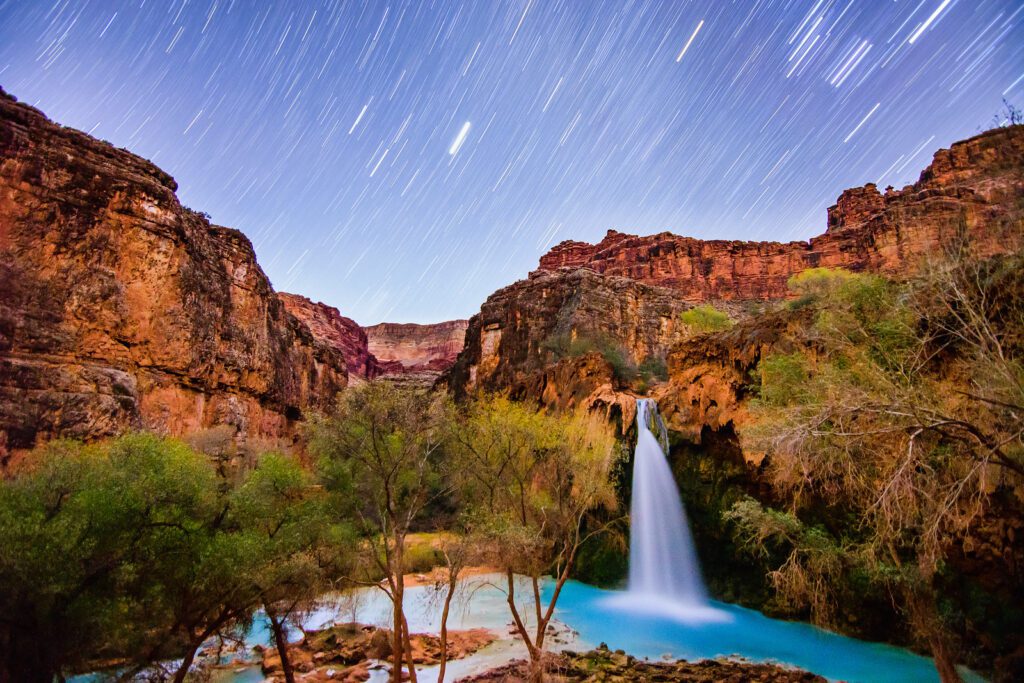 By the way, are you wondering what is my all-time favorite APS-C camera for lightweight hiking and backpacking? The relatively old, and therefore incredibly affordable, Nikon D5300.
Made in 2014, it was Nikon's first DX camera body with a truly impressive 24-megapixel sensor that roughly matched its FX full-frame sibling, the D750. It was also one of the only cameras Nikon ever made with GPS built-in if you like to geotag your photos.
A Nikon D5300 and a Nikkor 10-20mm f/4.5-5.6 (equivalent to 15-30mm) weights just 1.68 lbs (453g). A Nikon D750 and a Tamron 15-30mm f/2.8 weighs 4.27 lbs. And, that's only one wide-angle focal range! Apples VS oranges? Yes, it is a totally unfair comparison. But, will you see a difference between the two kits, at ISO 100 and f/~8? Not really.
The Best Lens For Hiking: Do You Really Need That Aperture?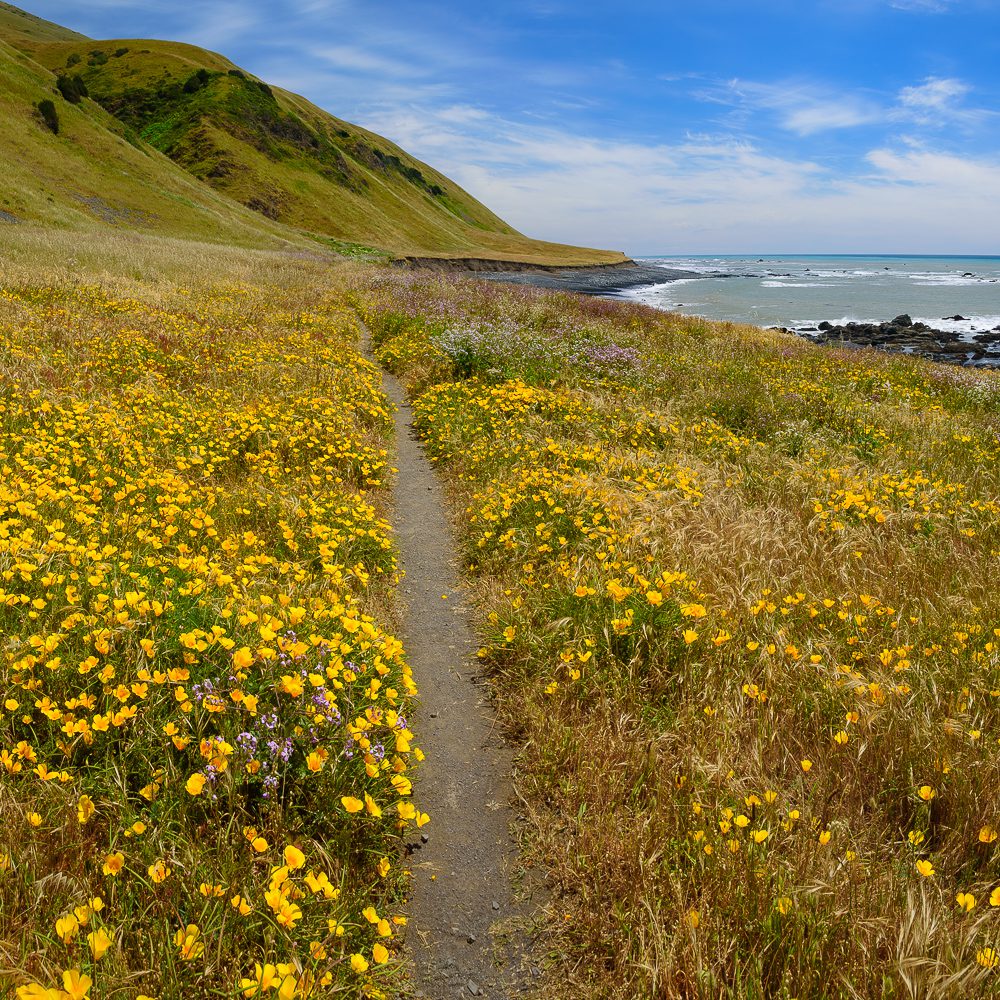 These days, virtually all lenses are very sharp unlike lenses that were made 10-15 years ago. Yes, that's right, even the slower, less exotic f/4 lenses are sharp. In fact, so are the variable-aperture kit lenses that you can buy as a bundle with your camera body! Once you stop down the aperture one or two stops, pretty much every lens made in the last few years is sharp enough.
So, ask yourself: what is your photographic style and what aperture(s) do you need to accomplish your creative goals? My prediction is, a lot of hikers and backpackers don't actually need a "holy trinity" of f/2.8 zooms in their backpack. So, trade that 70-200 2.8 for a 70-200mm f/4, or even a 70-300mm!
But what if you do astro-landscape photography, too?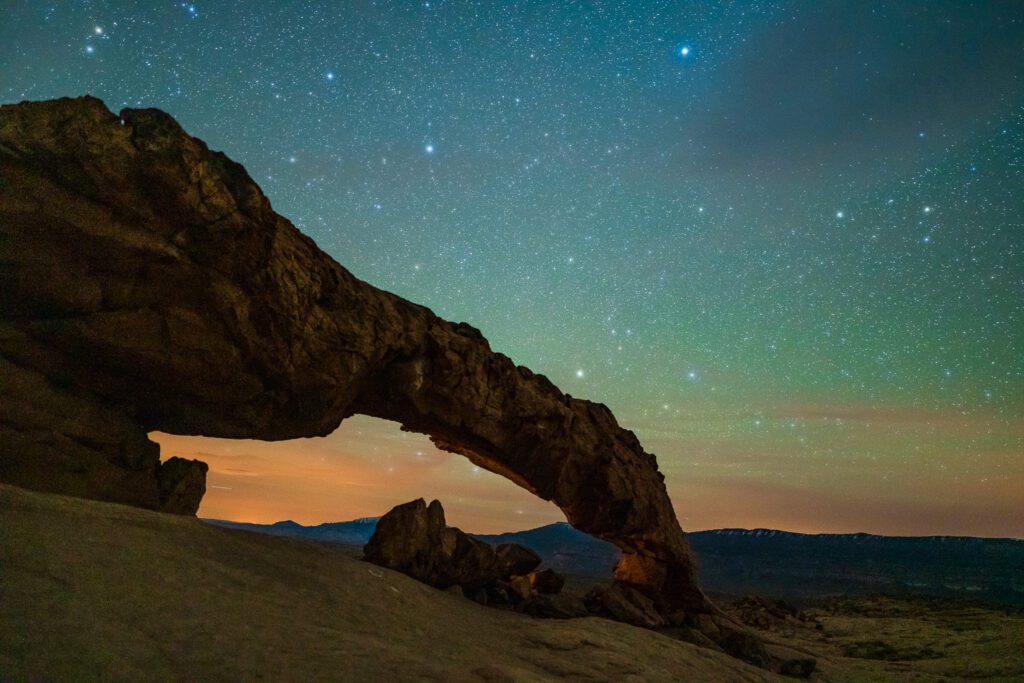 But what if you like to photograph the Milky Way above your landscape too? You might actually need that f/2.8 or faster lens. However, you probably still don't need every lens in your bag to be an f/2.8 zoom.
You can probably make your one "indulgence" an f/2.8 wide-angle zoom, or just a 20mm f/1.8 or similar 24mm prime. (Note: we're talking about nightscape photography here, not deep-sky astrophotography!)
Thankfully, there are some pretty lightweight f/2.8 zooms on the market now, too. Tamron's 17-28mm f/2.8 is the ultralight ultra-wide champion on full-frame, at a mere 14.8 oz. (0.92 lb / 420 g) Other mirrorless lenses are shedding weight too, though, such as the Nikon Z 14-24mm f/2.8 (1.43 lb / 650 g) or the Sigma 14-24mm f/2.8 (1.75 lb / 795 g) Both of these full-frame mirrorless lenses are significantly more lightweight than their older DSLR versions.
If you're using an APS-C or Micro Four Thirds system, then the f/2.8 (and faster) wide-angle lenses are also quite lightweight!
Last but not least, there are a few variable aperture zoom lenses that offer f/2.8 on the wide end. They are f/4 or f/5.6 on the telephoto end but that is where you are less likely to do nightscape photography:
Tamron 28-200mm f/2.8-5.6
Tamron 17-35mm f/2.8-4
Nikon 16-80mm f/2.8-4 DX (APSC)
There are many more options available, of course, depending on the camera system you are using, and whether or not you are willing to consider options from third parties like Rokinon/Samyang, Laowa/Venus, and others.
Wide Angle & Telephoto Lenses For Landscape Photography: Do You Really Need That Focal Length?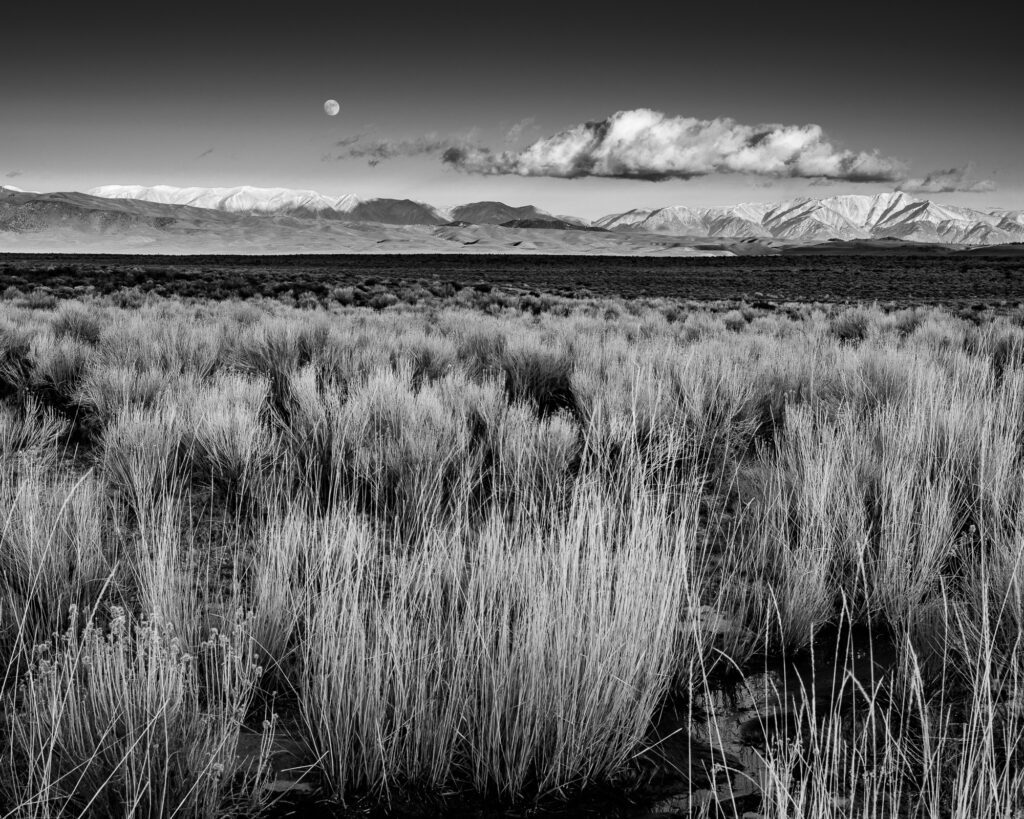 Last but not least, you must ask yourself if you really need that last millimeter on the ultra-wide end of your focal range, or that extra 100mm on the super-telephoto end? In other words, you'll tally up an absolutely enormous weight difference between two different sets of lenses along these lines:
16-35mm wide-angle zoom
Simple 50mm prime
70-300mm f/4-5.6
Versus, for example:
12-24mm or 14-24mm wide-angle zoom
24-105mm zoom
100-400mm or 150-500mm zoom
Those wide-angle zooms often come in either f/2.8 or f/4 forms, too, which adds (or saves) even more weight. Either way, no matter which camera system you're using, the difference in weight between two such kits will add up to a pretty staggering number.
Ask yourself: what subjects will you be photographing? How far do you have to hike to get there? Some locations and subjects really don't need extreme-ultra-wide focal lengths; 17mm or even 20mm will be wide enough. Or, alternately, some locations that do really lend themselves to extremely ultra-wide focal lengths might not require you to also bring your biggest, heaviest telephoto zoom. Either way, you can usually shed some weight at one end of your focal range or the other.
What if you've never been to a location before?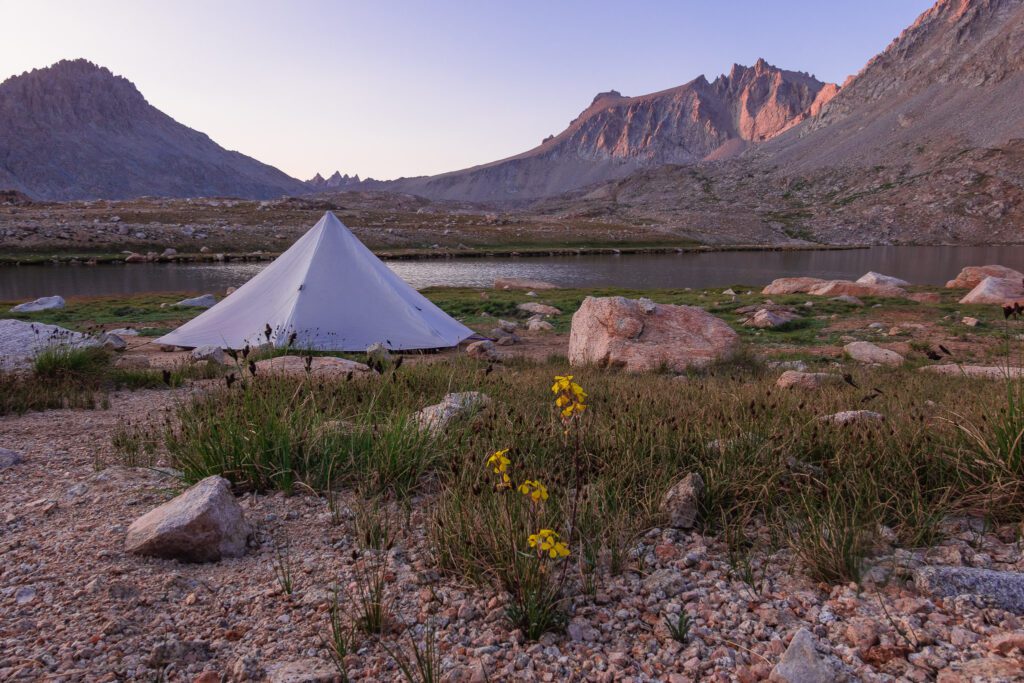 One conundrum that many people like to ponder is, what if you're visiting a new location for the very first time. Obviously, you don't want to risk missing a single shot!
Just take a few extra minutes when you are researching a new location to think about the type of photos you might be taking. Is this trip/location going to be all about distant landscapes and wildlife? Or will it be all about tight spaces in slot canyons?
Sure, sometimes the answer is, "both!" but, depending on what you're going to encounter on any given day, you might bring a certain lens on one day hike and another lens on a different day hike. Or, if you're going on an overnight hike, you might gauge how much gear you bring based on how many miles you have to hike each day.
Climbing two mountain peaks in one day? It might be smart to leave your giant full-frame kit behind, and opt for a compact Sony RX-type camera instead if you want to be completely unencumbered.
I know, I'm assuming something pretty significant: that you are able to own more than one camera and/or camera system. If that's out of your budget, don't worry, it is easy to find a happy middle ground with all of the camera gear you buy.
Look for the most lightweight camera body and lens combination that you will be able to take on long hikes, but you also won't feel like you're missing out on those days when you're photographing something truly spectacular.
Lightweight Travel Tripods: Do You Really Need A (Heavy) Tripod?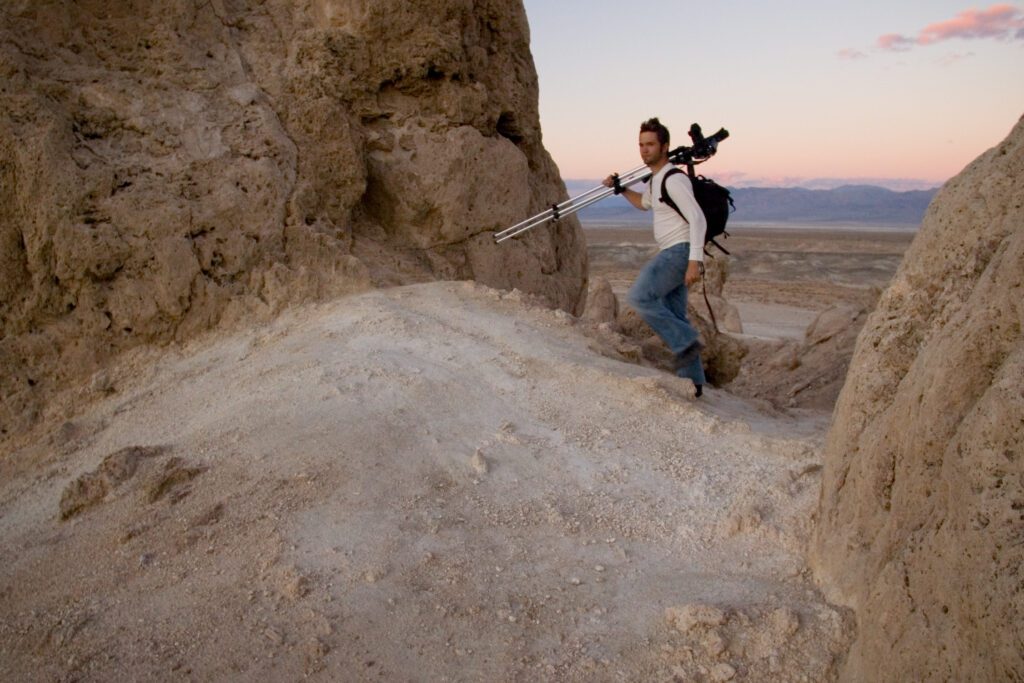 If you don't work with a very big, heavy camera system, or if you almost always shoot at wider focal lengths, then, quite honestly you just don't really need a massive tripod that weighs 4-5+ lbs.
Lightweight "travel tripods" (I usually loathe that term!) don't have to be short and wobbly, either. Unfortunately, most tripods under 3 lbs are terrible junk, so, maybe you had a bad experience with a travel tripod once.
A rock-solid tripod could be necessary if you have a huge, heavy camera , or you work in windy conditions, and especially if you shoot at focal lengths such as 200mm, 300mm, 400mm, etc. It also gets risky if your shutter speeds are always really slow.
However, if you're just going on a quick hike with your trusty 24-105mm f/4 lens or a compact wide-angle zoom, then you really don't need the extreme stiffness and stability of a heavy-duty tripod that allows you to get sharp results at super-telephoto focal lengths.
There are quite a few great tripods out there that weigh a mere 2 lbs or so, and yet are still stiff, rugged, and quite tall, too! Recommending specific tripods is another article for another day, but I will say that my favorite brands when it comes to travel tripods specifically for hiking and backpacking are Slik (one of the oldest brands around) and Feisol.
Again, most "travel" tripods are short, wobbly, and simply not very good quality. However, if you stick with a quality brand, you'll be surprised at how strong even their most lightweight model is.
Conclusion | How To Make a Photography Backpack Lighter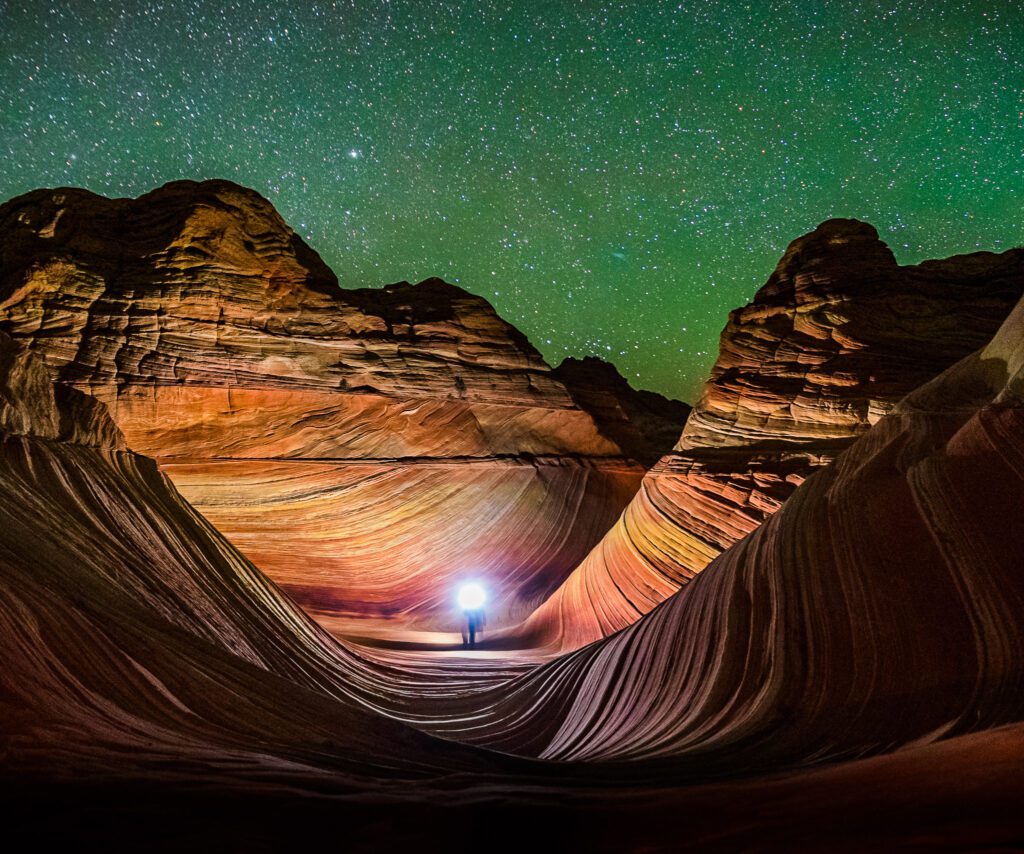 The more time you spend with all of your camera gear weighing down on your back, shoulders, and/or hips, the more you might truly regret buying (and packing) all of the heaviest equipment. Just because it's the absolute best that money can buy, doesn't mean it's the RIGHT choice for your adventurous lifestyle!
If you can afford to have more than one option, that's great! Buy that exotic, heavy lens and the lightweight, portable one. Or, buy that ultralight 1.9 lb tripod and the heavy-duty 5-lb monster.
However, most people may be limited to choosing just one lens for each focal range, or just one camera or tripod. Still, hopefully, the tips in this article will help you know what gear is right for you when it's time to make a big purchase decision!
Remember, just because a camera or lens is highly portable doesn't mean it compromises performance or image quality! Also, the lighter your backpack, the more you'll actually enjoy your adventure.