Tenerife Astrophotography
June 19-25, 2023 - Sold Out!
If you are a fan of brilliant night skies, our 7-day Tenerife Astrophotography Workshop is perfect for you!  Located in Spain's Canary Islands, Tenerife has the perfect mix of high-altitude desert and rugged seascapes. With lunar-like nightscape foregrounds coupled with wildflowers and colorful clouds on the coast, you'll come away with a diverse set of images. The workshop fee includes 6 nights single occupancy lodging at a 4-star hotel, ground transportation, and breakfasts.  Time will be set aside during the day for image critiques and post-processing instruction to take your night photography to the next level.
$2995

Includes Single Lodging/Breakfasts
5 Students per Instructor
Max 10 Students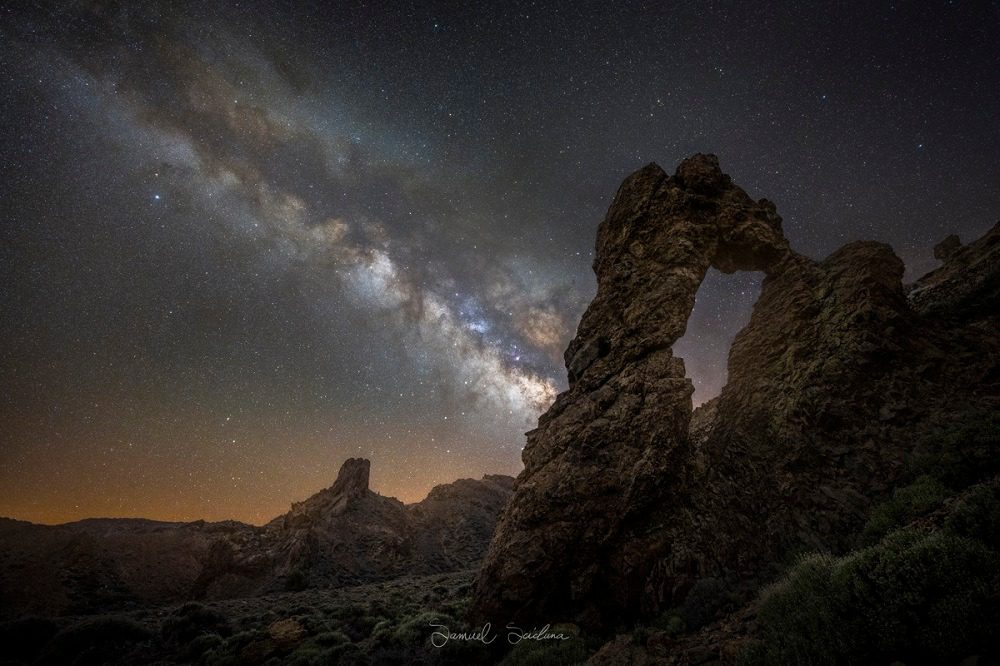 Highlights
Capture dark skies and lunar-like landscapes on our 7-Day Tenerife Astrophotography Workshop!
Photograph rugged seascapes, fog, forests, lighthouses, and colorful clouds in the coastal regions.
Expand your night photography skills with daily in-field instruction and digital darkroom training.
Learn many new techniques from night photography experts.
Workshop includes 6-nights single occupancy lodging, breakfasts, and ground transportation.
Experience the local cuisine and cultures of the Canary Islands.
Itinerary
Day 1:  Meet at 2PM at the Tenerife Norte Airport (TFN) and drive to our hotel.  After checking in, we hold a short orientation session and then break for dinner and then head to the coast to capture sunset images with seastacks and arches.  The sky lights up with brilliant colors and we capture some great images.  We load back into the van and drive up to Teide National Park. Even when it is cloudy on the coast, it is almost always clear in the high-altitude desert landscapes at Mt Teide! We hike out to various rock formations and capture stunning Milky Way images. Depending on energy level of the group, we may stay out for sunrise before heading back to the hotel for breakfast.
Day 2: We sleep during the day so we are ready for our next night of astrophotography.  We meet up at 4PM for a classroom session where we go over how to edit our shots from the night before.  We break for dinner and then hike out to a photogenic lighthouse for sunset.  As with the previous day, we drive back up to the high country and photograph different rock formations with the brilliant Milky Way overhead. We even find the endemic Tower of Jewels wildflowers to complement the night skies!
Days 3-6:  The itinerary will be kept flexible depending on weather and conditions.  But almost always, it will be partly cloudy on the coast for sunset (i.e. colorful skies & drama) and crystal clear up at Mt Teide.  Each day we'll meet late afternoon for a classroom session before going out to shoot sunset along the Coast.  We'll then drive to the high country for Milky Way shooting.  Some nights we could stay out through sunrise.  We'll sleep the next day after breakfast.
Day 7:  This is our departure day.  Most likely we'll have a shorter night of shooting since we won't be able to sleep as late.  After checking out of the hotel, we drive you back to the Tenerife Norte Airport.  The workshop will conclude by noon.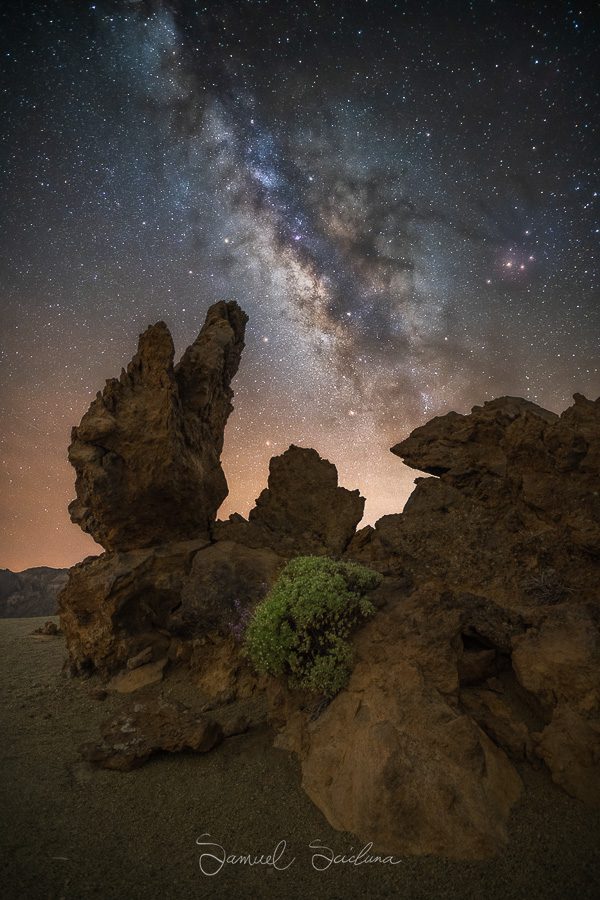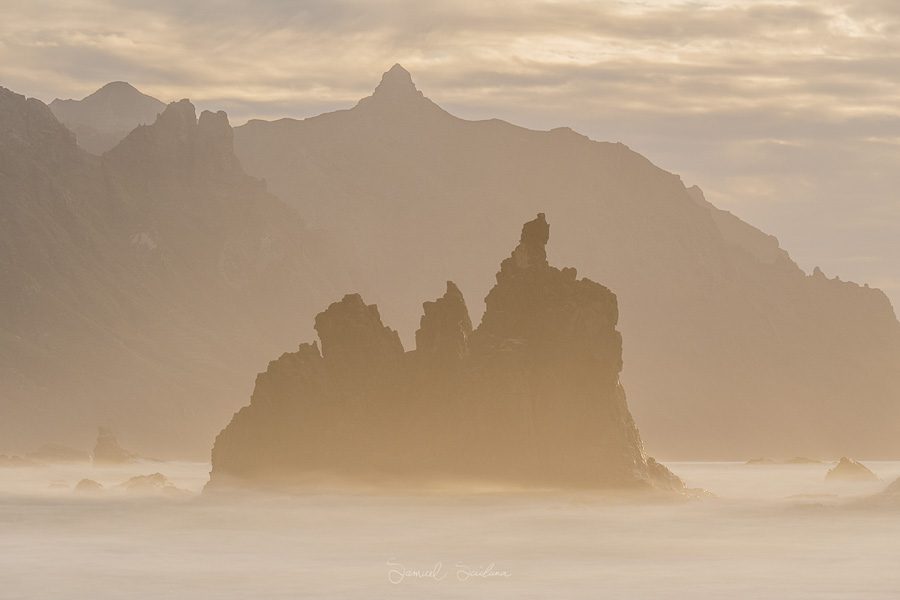 Logistics
Six nights of single occupancy lodging is included in the workshop fee.  We are staying at a 4-star modern hotel with a pool that includes breakfast each morning.
Since we are sleeping a lot during the day, it's important that you bring ear plugs, eye-covers, and whatever you need to help sleep soundly.
Food is not included in the workshop fee besides the hotel breakfasts.  There are many restaurants within walking distance of the hotel.
All ground tranportation will be provided in 2 large vans. We recommend each participant not bring more than 1 large suitcase and 1 camera pack so we have plenty of room for everyone's luggage.
This workshop is rated Difficult for physical difficulty. We aren't planning any long hikes (think 2-4 miles total) but we'll be out and away from the vehicles for hours at a time.  Some of the hikes pass through areas that can be rough, steep, or uneven . These sections require good fitness, balance, and mobility and there may be some mild rock scrambling needed to reach some of the coastal locations.
Night Photography
The focus of the workshop is on night and astrophotography. We will have nearly 7 hours of dark sky shooting each night and the Milky Way is visible all night long. We'll get a great mix of Milky Way panos, horizontal shots, and vertical compositions.
In the high desert of Tenerife, skies are almost always clear each night, giving us many opportunities for astrophotography.
The dates are timed for minimimal moon interference. On the last couple nights we'll even have a very faint moon to illuminate some foregrounds!
We will teach various night foreground enchancement methods both in the field and in the digital darkroom.
For night sky noise reduction, we will teach the stacking method. This does not requie any additional equipment.
If you have a tracker, you are welcome to bring it along, but you'll need to be proficient in aligning it and setting it up away from the group.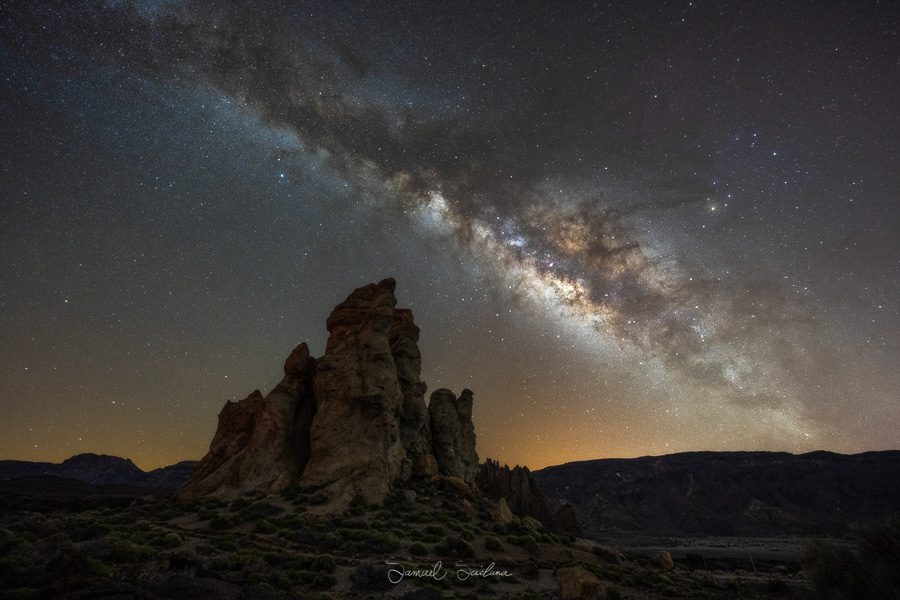 Pricing
$2995/Person + Tax 
Join our Loyalty Program and Save 10%!
Trip Includes:
6 nights SINGLE occupancy lodging at a modern 4-star hotel.
Breakfasts each morning.
Professional photographer instructor(s) who will provide a combination of instruction, masterclasses, post-processing assistance and in-field guidance.
Ground transportation throughout the workshop.
Entrance fees.
Trip Does NOT Include:
International Flights to/from Tenerife
Lunches, Dinners, Snacks, and Beverages.
Gratuities for Photo Guides, Local Guides and/or Drivers.
A 50% deposit is required to secure your spot.  The remaining balance will be charged 90 days prior to the workshop and notification will be sent out beforehand if you need to change your payment method.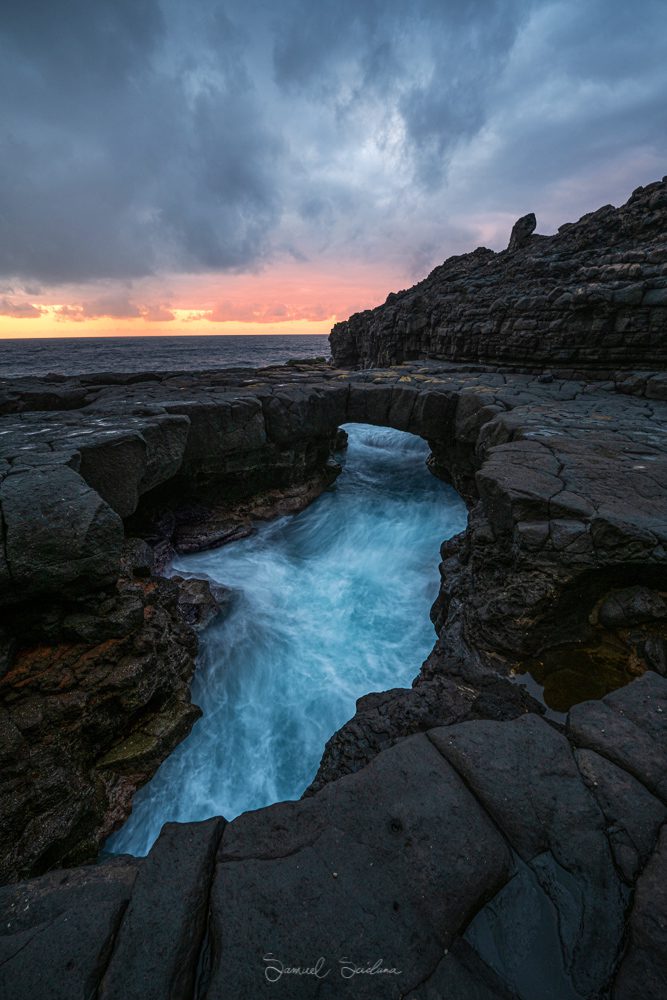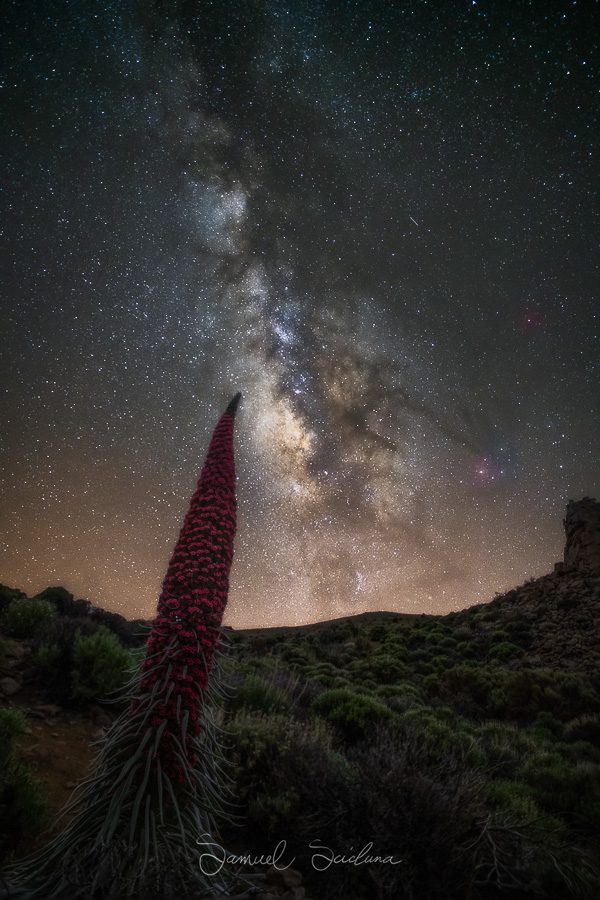 Recommended Camera Gear
Sturdy tripod and ballhead
Digital SLR or Mirrorless Camera Body.
Fast wide angle lens in the 14-35mm range that is f/2.8 or faster. If bring primes, make sure you have at least a couple different focal lengths.
Mid-range zoom lens in the range of 24-100mm.
Telephoto lenses will come in handy for landscape compression, street photography, and possible wildlife.
Circular polarizer filters.  Bring a set of 3, 6, and 9-10 stop ND's if you want to do long exposure seascapes.
Extra batteries, memory cards, and cleaning supplies.
Remote cord for your camera.
Cover for your camera/lens to protect against spray and precipitation.
Camera backpack.
Drone for aerial photography (optional).
Laptop if you wish to backup and edit your photos.
Personal Gear List 
Sturdy closed-toe hiking shoes.
Waterproof outer shell jacket.
Sandals or water shoes for photographing on the coast.
Warm layer - puffy jacket, fleece, etc.
Sunscreen, sunglasses, hat
A more complete packing list will be sent after registration.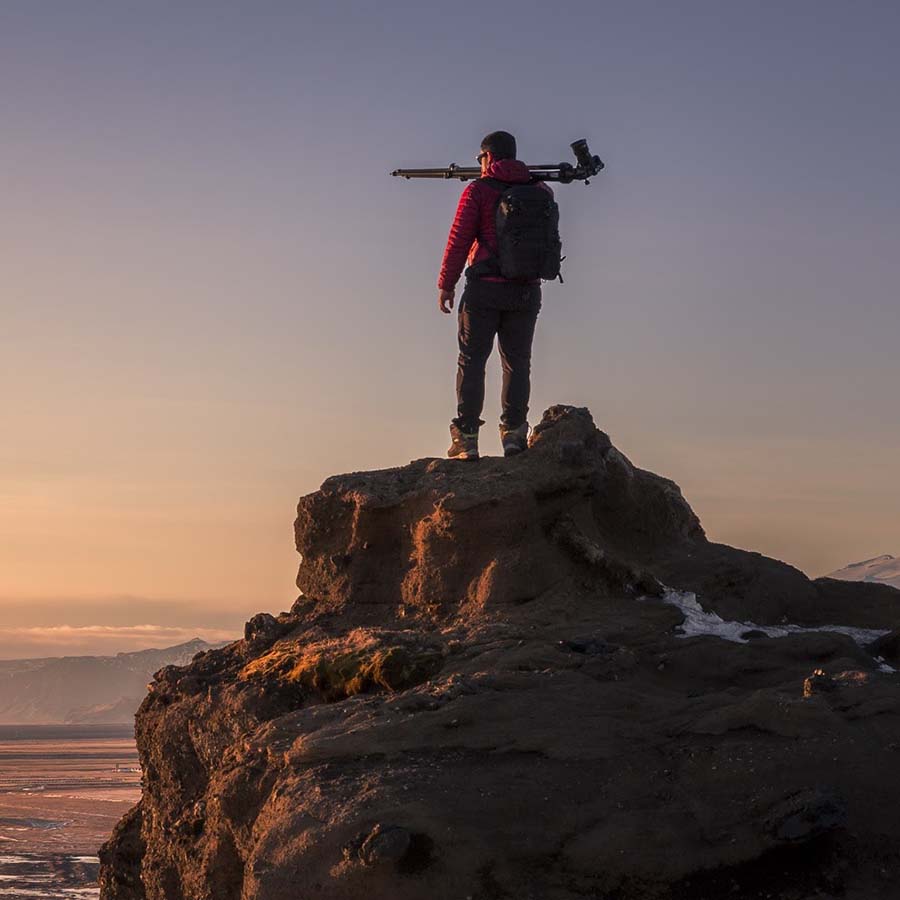 Samuel Scicluna
Growing up on the island of Malta, Samuel has always felt a special bond with the sea, and this is where his passion for photography began.
In 2014, Samuel went on an expedition to Mount Etna and later that year also climbed Monte Rosa.  Spending time in the mountains  sparked an interest in landscape photography, and he found himself longing for ethereal vistas and majestic mountains.
Through his extensive travels, Samuel has  expanded his portfolio to include cityscapes and astrophotography.
Samuel loves the outdoors, and spends his free time camping, hiking, climbing, and exploring new locations.
See more of Sam's work at his Website.