Secret Slot Canyon Photo Workshop
Apr 3-8, 2023 - 1 Spot Available!
Hikers Special!  Trek into some of the Utah's most stunning backcountry slot canyons in search elusive light beams and beautiful sandstone formations. This is one photo adventure you won't want to miss. This workshop requires a high degree of fitness and mobility, but the rewards are plentiful as we are surrounded by gorgeous scenery and breathtaking views!  And it's not just canyons - we'll have opportunities to shoot a variety of landscapes with the bonus of the full moon! 
2 Instructors
Max 8 Students
Nickolas Warner
John Haymore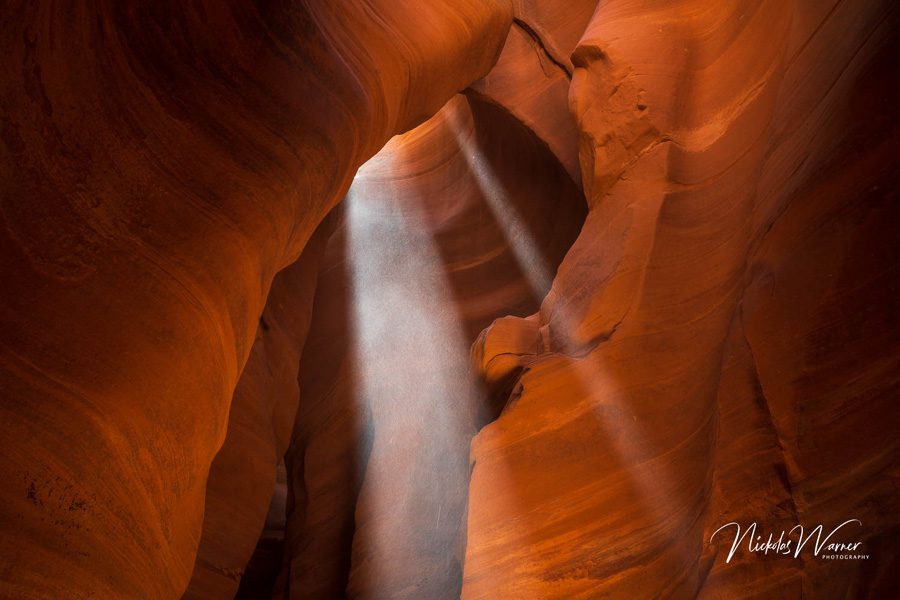 Highlights
Explore some of Utah's most spectacular backcountry slot canyons in search of light beams and spectacular sandstone formations!
Get far off the beaten path and visit canyons few other have seen!
When we're not in the canyons, we can capture a variety of landscape shots!
Workshop includes 4 nights hotel lodging and 1 night of outfitted camping/meals.
Group size is capped at 8 students to ensure plenty of individual attention.
Learn new photography skills and post-processing techniques from pro-photographer instructors.
Transportation provided for all workshop outings so you don't have to worry about the rough roads.
Itinerary
In order to give our clients the best possible photography experience, we keep the itinerary flexible to account for weather, conditions, and group interest. The itinerary below is just an example of what you can expect.
Day 1:  We begin at 4PM with a short orientation session and classroom style instruction.  After dinner, we head out to a nearby overlook for sunset.
Day 2: We are up early for the long, rough drive to our next slot canyon adventure. The hike in is beautiful and we are rewarded some exquisite light and sculpted sandstone formations.  We return to town after dark, exhausted but thrilled with the images we captured!
Day 3: We load up for our overnight camping adventure and head deep into the backcountry. After camp is setup, we descend into one of our favorite slot canyons in the area. We've even timed it for capturing some light beams!! It's a full day of hiking and photography and we return to camp for a hearty dinner.
Day 4: Today is another all-day hike into a uniquely beautiful slot canyon full or arches and photogenic twists and turns.  We'll work together as a team as we wiggle our way through this gorgeous slot.  Once we're back on top, we'll break camp and head back to town for a much needed shower and dinner.
Day 5:  This morning we visit a slot canyon known for its hole covered walls, water pockets, and photogenic mud cracks.  After lunch, we hike into another striking canyon to capture the afternoon glow.  We return for a short post-processing session before our sunset shoot.
Day 6:  After breakfast, we meet for a final post-processing and image critique session.  The workshop will conclude by 11AM.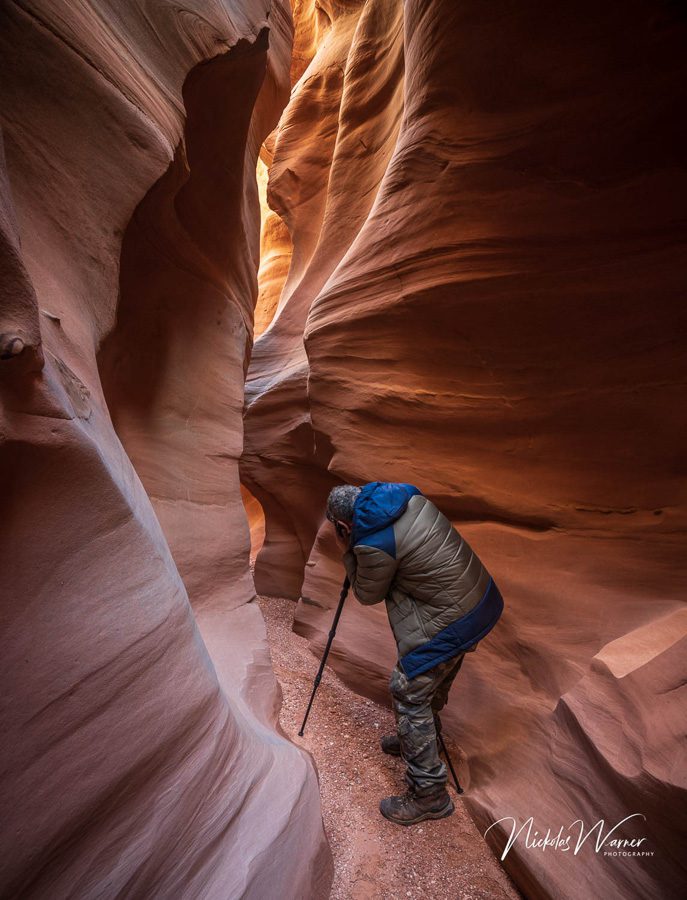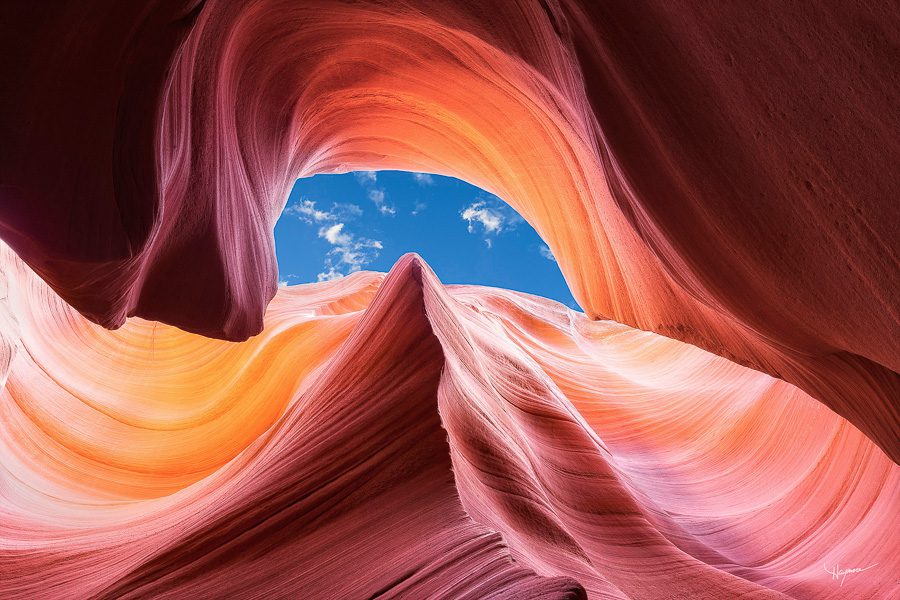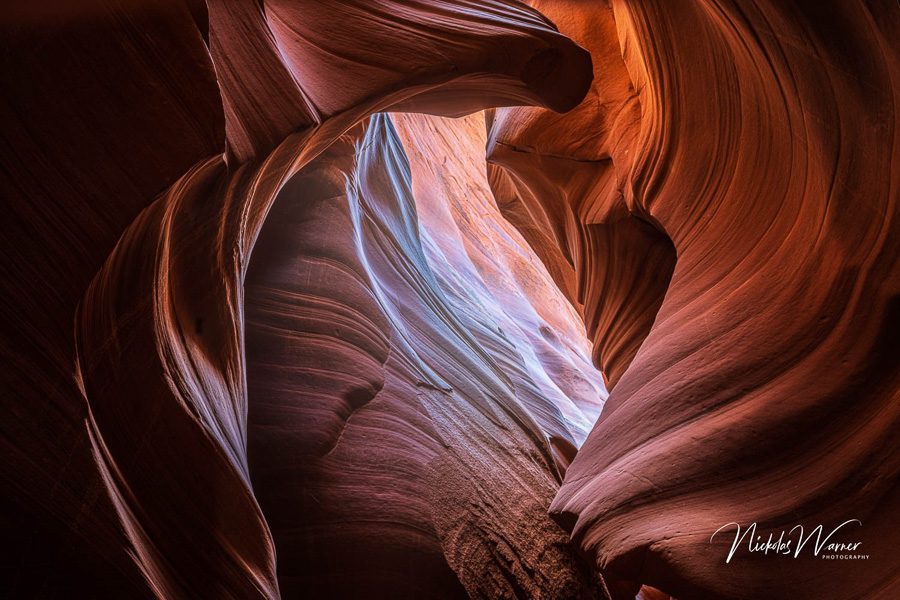 Logistics
Due to the sensitive nature of these lesser-known Utah slot canyons, we aren't releasing the workshop location publicly.  You will receive all necessary information to plan your travel after booking.  We ask all participants to not geo-tag nor name the locations when posting their images.
The workshop fee includes 4 nights of hotel lodging and 1 night of outfitted camping.  We'll provide a tent, sleeping bag, pad, pillow, and chair for the camping night. Meals will also be included for the camping portion (dinner, breakfast, and lunch).  All other meals, snacks, and beverages are on your own.
Excellent fitness, balance, and mobility are required to attend this workshop. None of the hikes are particularly long, but they are strenuous due to the steep, rocky, and rough terrain.  Our longest hike will be 8 miles and you will need to carry your tripod, camera gear, water, and food.  Once in the canyons, we'll have to climb up and over some mild obstacles.  The instructors will be on hand to help everyone out as needed.  Several of the canyons will have very narrow sections that may not accommodate larger body types.  Contact Us if you have any concerns about your ability.
Some of the places we go may require some brief wading through shallow water.  We recommend bringing a pair of neoprene socks and a pair of shoes you can get wet.  You will also want a pair of sturdy hiking boots.  Temperatures can be cold in the mornings and at night in April.  Bring plenty of warm layers to keep you warm. It can heat up rapidly in the midday sun.  See the gear list further down.
Rough roads are the norm out here.  Transportation will be provided in lifted 4WD trucks.
Pricing
$2800/person + Tax
Join Our Loyalty Program and Save 10%!
Trip Includes:
4 Nights Double Occupancy Hotel Lodging.  Single Occupancy is available for an additional $400.
One night of fully outfitted camping.
1 Dinner, 1 Breakfast, and 1 Lunch during the camping portion.
All ground transportation and photography guiding during the trip.
Post-processing instruction and image critique
Trip Does NOT Include:
Transportation to/from your home to the workshop location in Utah.
Meals, Snacks, and Beverages except for the overnight camp.
Instructor Gratuities.
When you complete the checkout process, you will be given the option to either pay the full amount or put down a 50% deposit.  If you pay the deposit, the remaining amount will be charged 90-days prior to arrival to the credit card we have on file.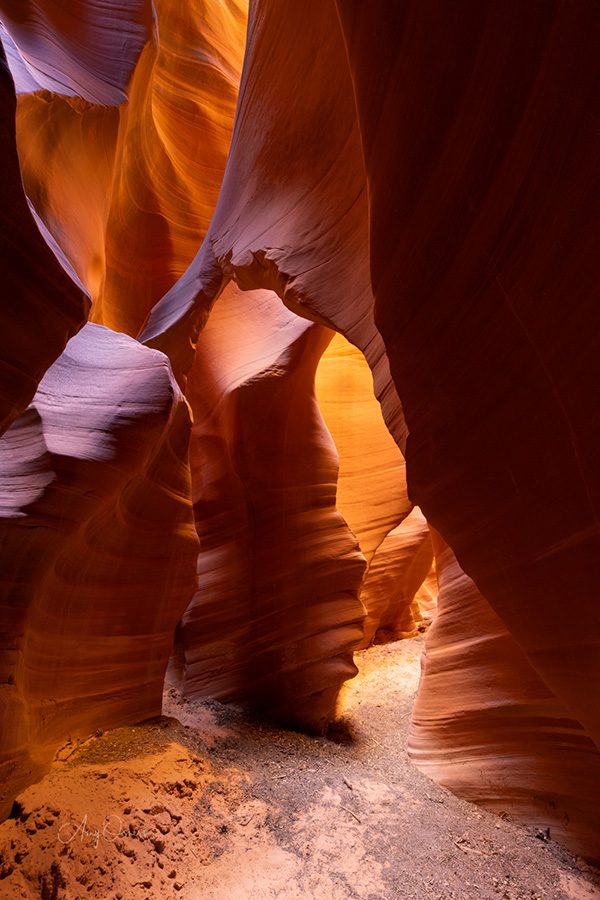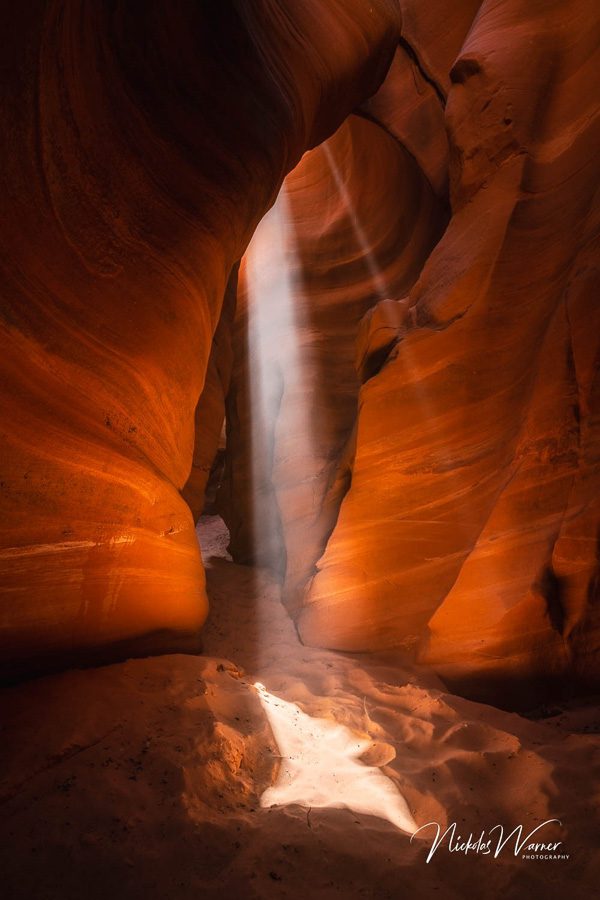 Recommended Camera Gear
Tripod you can hike with
Digital SLR or Mirrorless Camera Body.
Wide angle lens (16-35mm is perfect).  For crop sensor, you'll want 10-22mm. Ultrawide Angle Lenses in the 11-14mm range will also work nicely.
Mid-range zoom lens in the range of 24-100mm.
Long telephoto lenses can come in handy for abstract shots and photographing the full moon. However, in the interest of keeping your pack weight light, we don't recommend bringing them on the hikes.
Circular polarizer filters are recommended.  There is no need for ND filters.
Extra batteries, memory cards, and cleaning supplies.
Comfortable hiking backpack that can carry your camera gear, tripod, lunch, and drinking water.
Laptop if you wish to backup your photos or follow along during the post-processing instruction.
Personal Gear List
Sturdy hiking footwear, hiking socks, and long pants .
Neoprene socks and a pair of shoes you can get wet.
A rain jacket and several warm layers since it can get cold at night.
Headlamp.
Sunscreen, Sunglasses, Warm Hat & Gloves.
Water bottle or hydration bladder.
Snacks for 3 days of hiking lunches.  Best to buy before you arrive since the local grocery store has limited supply.
Trekking Poles - Optional. They will have to be stowed on your backpack when we are in the slot canyons.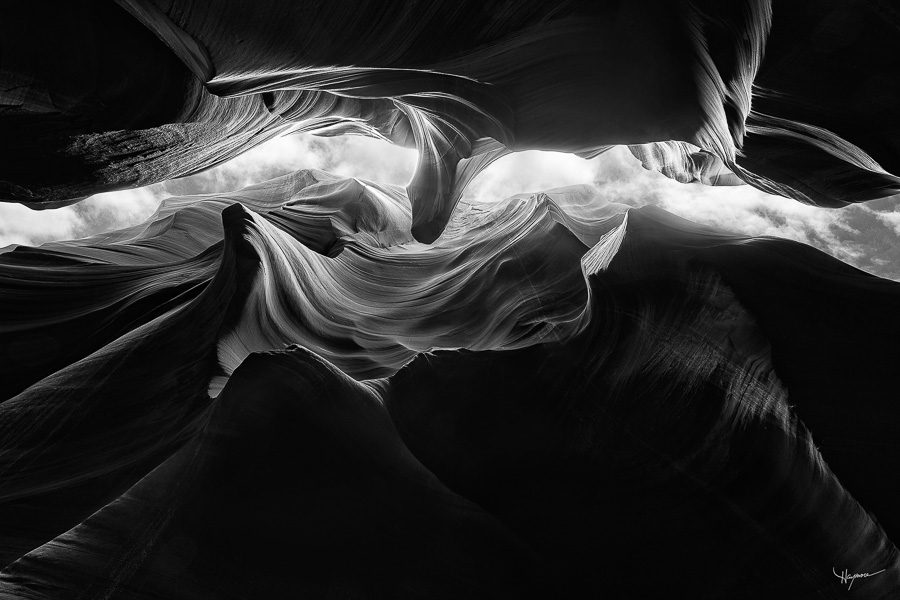 Nickolas Warner
Photography Instructor
Nickolas Warner is an award-winning photographer with recognition by the Epson Pano Awards, International Landscape Photographer of the Year, and Outdoor Photographer. He has a particular interest in extreme and unusual locations.  His travels have taken him to some fascinating locations, but the American Southwest is his favorite place to photograph.
Nickolas spent the past decade guiding in Alaska, where he provided instruction on photographing the aurora borealis, and shared his knowledge of the far north's rugged terrain and resilient wildlife.
When not guiding, Nickolas enjoys long distance hiking and extended backpacking trips through remote wilderness areas.
Nickolas's portfolio can be found at Nickolas Warner Photography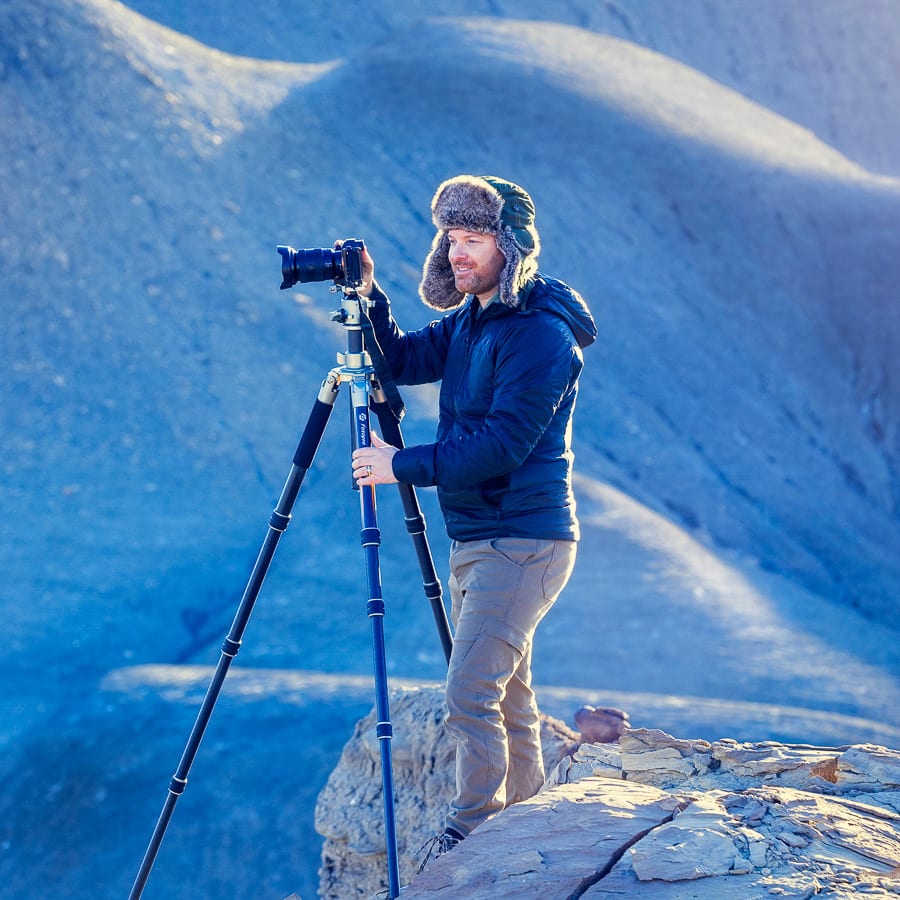 John Haymore
Photography Instructor
John Haymore is a Utah-based photographer with a deep passion for landscapes. Ever since he took his first road trip to Moab over twenty years ago, he's been in awe of the magnificent sandstone formations that the Southwest holds. Those encounters with serene locations left him craving for a way to hold on to those memories and preserve the surrounding beauty. He believes in blending conservation with landscape photography to educate and raise preservation through principles of responsible stewardship for our public lands.  A Graphic Designer by trade, John focuses on building brands and visual communication. He believes everything in this world should be thoughtfully designed and has spent the last decade turning ideas into visual solutions that evoke emotional responses.
John not only loves teaching photographers in the field, but he is equally proficient at teaching computer skills to raise students' post-processing IQ's. John's images have won numerous awards, including top finishes in the prestigious Epson Pano Awards!
View John's Portfolio Here:  Gallery