Explore stunning desert scenery accompanied by beautiful autumn colors on our Red Rocks and Aspens Photo Workshop! Expect lots of variety and many new locations. We'll be based in St George for the first three nights and then move up to the high country for our final three nights.  Good fitness and mobility are a must as we'll be hiking 2-8 miles roundtrip to some of the shooting locations.  You'll love the expansive views, the mesmerizing red rocks, and the exquisite autumn colors. If skies are clear, we hope to do at least one night of Milky Way photography. Join us for a 7-day adventure in the Utah wilds!
4 Students per Instructor
Max 8 Students
Nickolas Warner
Amy Osness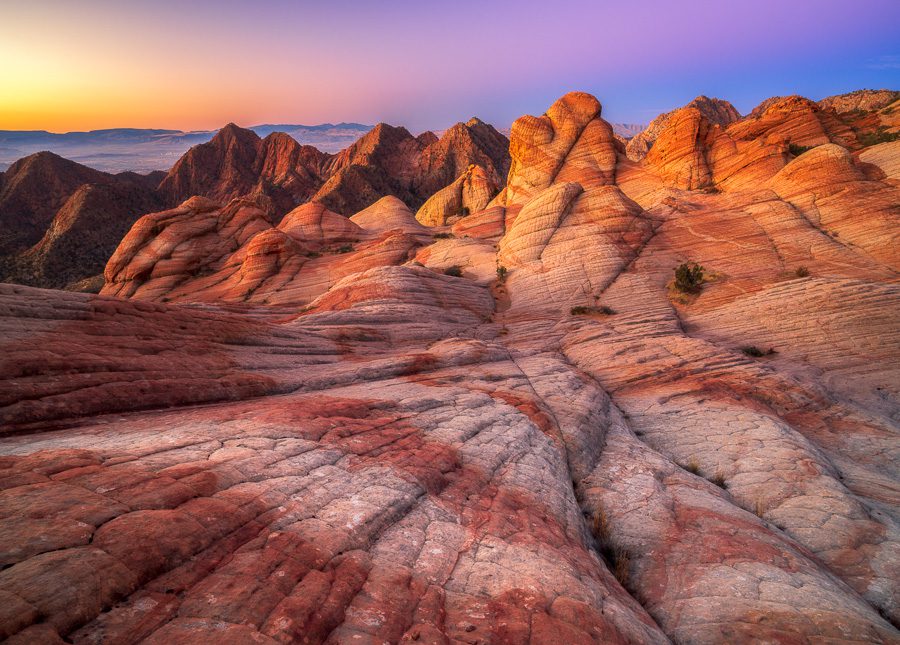 Highlights
Photograph many new desert and high-country locations that haven't been offered in our past workshops!
Capture the aspens as they explode into a spellbinding array of reds and oranges throughout the high country.
Hike through a beautiful riparian canyon with waterfalls and huge alcoves.
Marvel at the intricate stripes and colors of the desert sandstone.
Gaze in awe over huge viewpoints that will take your breath away.
Small group of 8 students and 2 pros.
Post-processing and image critique sessions will be scheduled to make the most of your images.
Itinerary
The itinerary is kept flexible to allow us to chase the best weather and conditions.  The itinerary below is just an example of what you can expect.
Day 1:  Meet at 1PM in St George, Utah for a mandatory introductory session. After an early dinner break, we start our hike into some wonderful sandstone formations with interesting patterns, lines, colors, and textures.  We capture last light and colorful tones in the sky before donning our headlights for the hike out.
Day 2:  We awake well before dawn to hike up the rim of a beautiful volcanic crater. From there we photograph multiple layers of cliffs and sandstone formations. This is also a great place for aerial photography if you have a drone! After lunch we do a short hike out to a sandstone cave, which perfectly frames the cloud-filled sky. We enjoy dinner and then head up to Zion for one of our favorite sunset views!
Day 3: We wake up extra early to hike out to an amazing viewpoint with a deep canyon and fluted rock formations. The angled morning light perfectly illuminates the scene.  When we return to town, we can visit some other locations or we might take a break and hold a classroom session. That evening we head out to a waterfall framed by yellow cottonwood trees.
Day 4: It's another early morning as we hike back out to the sandstone formations. But at sunrise the light is totally different, allowing us to photograph some new sections. We have a great time working on many different compositions.  We check out of the hotel and make our way into the high country.  After checking into our new hotel, we drive out to one of our favorite vistas with formations remniscent of Bryce Canyon along with huge 270-degree views. The light doesn't disappoint and we are all thrilled with the images we capture.
Day 5: For sunrise we photograph the aspen trees adorned with their fall colors. With a party cloudy day, we are able to shoot for several hours and take advantage of the best autumn conditions.  That evening we head up to the Bristlecone Pine forest.  If skies are clear after sunset, we'll stay out for a Milky Way shoot.
Day 6: Today is a full day excursion through a beautiful riparian canyon. Known for small waterfalls and huge alcoves, you'll get to practice a variety of different photo techniques.  After the hike we return for a well-deserved dinner.
Day 7: It's our last day together and we go back out to capture the fall colors all around us.  After breakfast we check out of the hotel and reluctantly say our goodbyes.  The workshop will conclude no later than 11AM today.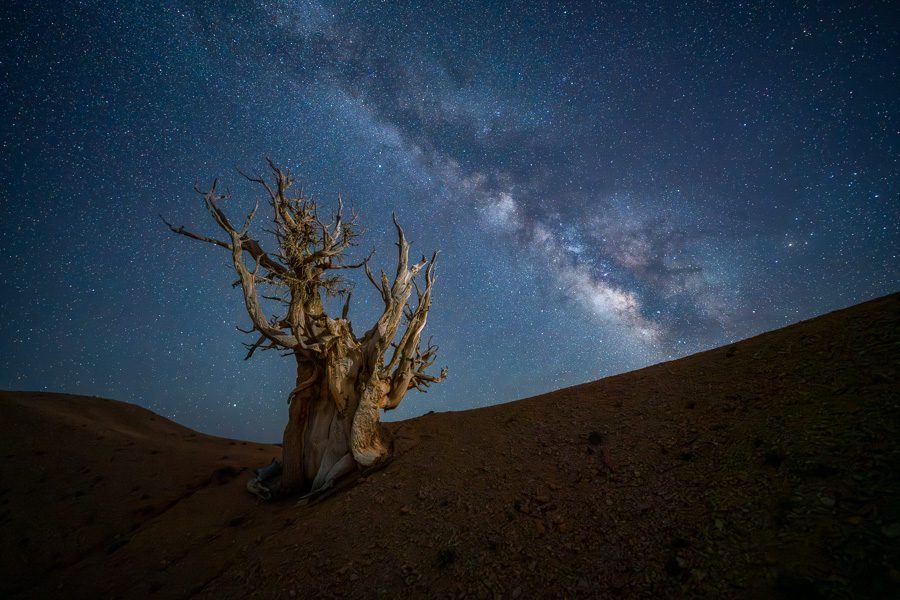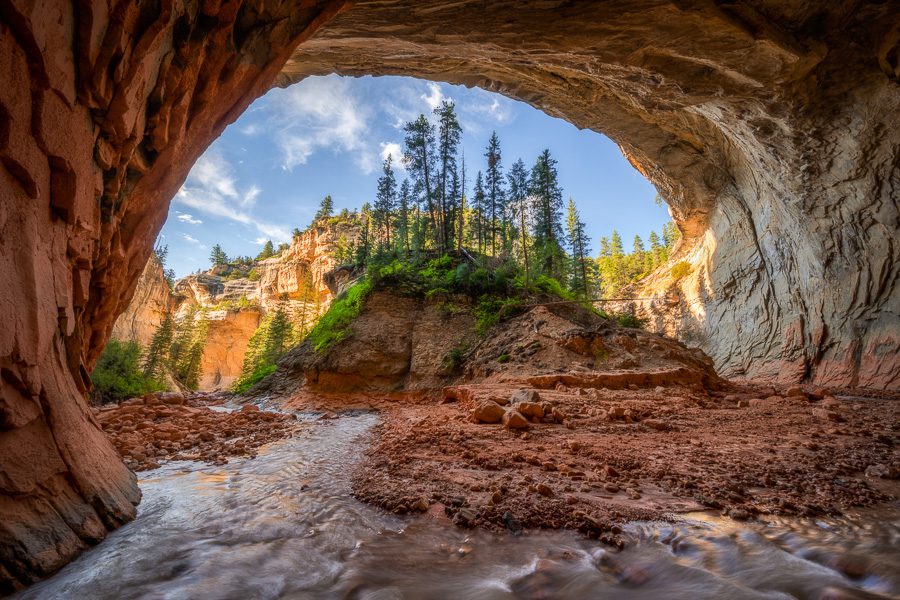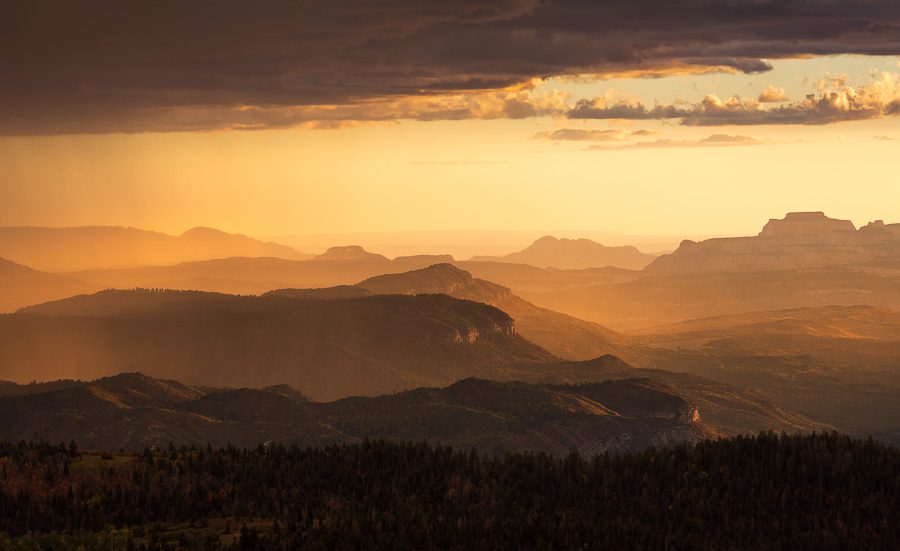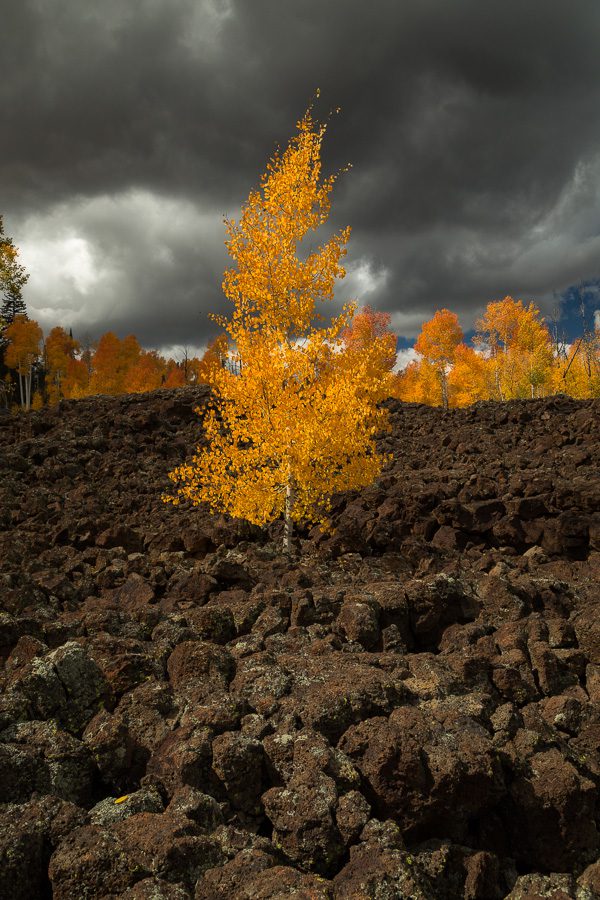 Logistics
Plan to arrive in St George, UT prior to 1PM on the first day for a mandatory orientation session. We will cover many photo techniques you will use throughout the workshop along with logistics and daily plans.
Las Vegas is the nearest major airport which is 2 hrs away.  There is regular shuttle service between Las Vegas and St George via the St George Shuttle or Salt Lake Express.  St George has a small regional airport if you wish to fly directly there, but rental car options are limited and it's a a 20-25 min drive to the center of town.
Lodging is in short supply so we have pre-paid for 6 nights of hotel accommodations for all workshop participants.  During checkout you will add your lodging package based on either single or double occupancy.  See the Pricing section for more details.
All ground transportation is included for the workshop outings.  However, you may still want your own vehicle for dining and shopping flexibility. It is easy to drive your own vehicle when we change hotels on Day 4 (all paved highway).  Note that meals, snacks, and beverages are not part of the workshop fee.
This workshop is rated Difficult for activity level. Our longest hike will be around 8 miles.  The terrain is pretty flat but it can be loose, uneven, and off-camber. Other days we can be hiking anywhere from 2-7 miles. Everybody on this workshop needs to physically fit and able to hike these distances while carrying their camera gear, tripod, food, and water. Note that some locations will be at high altitude which can make simple walks much more difficult.
We are keeping the itinerary flexible since we can't control the weather.  Don't worry - we'll make the best possible use of our time. Our job is to get you the most stunning photos and help you learn as much as possible!
Expect hot temperatures in the lower elevations.  In higher elevations, it can be considerably colder, especially at nights and in the mornings.  Please dress in layers and see the gear list further down. About a month or two before the workshop, we'll hold a zoom meeting with all participants.
Pricing
$2995 per Person
Save 10% by Joining Our Loyalty Program
Trip Includes:
All ground transportation and photography guiding during the trip.
Post-processing and image critiques
Park entrance fees.
Pre-workshop zoom meeting.
6-night lodging package will be added to your booking based on single or double occupancy. Cost is $650 or $1300 for double or single respectively.
Trip Does NOT Include:
Transportation to/from your home to St George, UT.
Beverages, Meals, and Snacks
Instructor Gratuities.
When you complete the checkout process, you will be given the option to either pay the full amount or put down a 50% deposit. If you pay the deposit, you will be sent a payment link for the remaining balance approximately 90 days prior to the workshop.  See the full Terms and Conditions.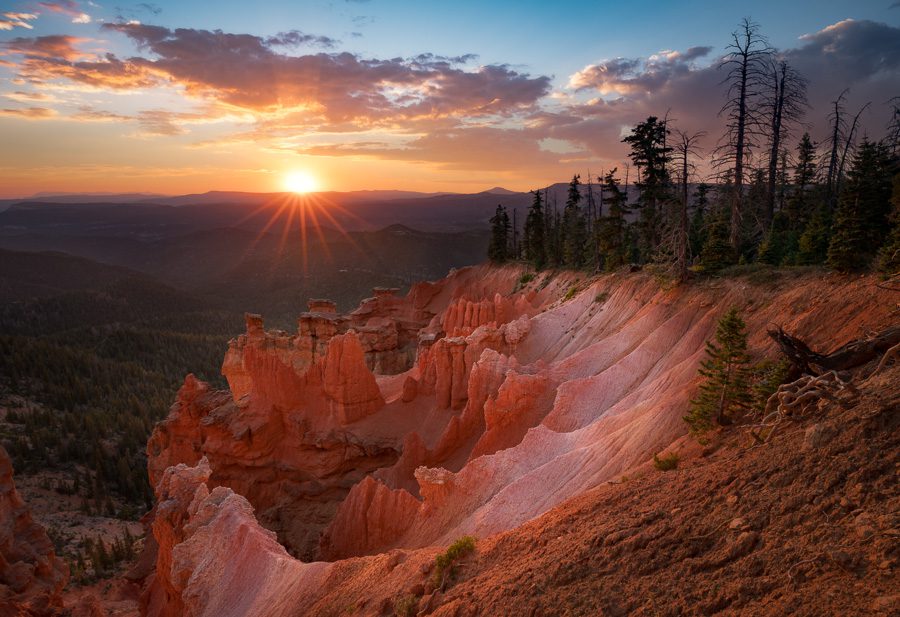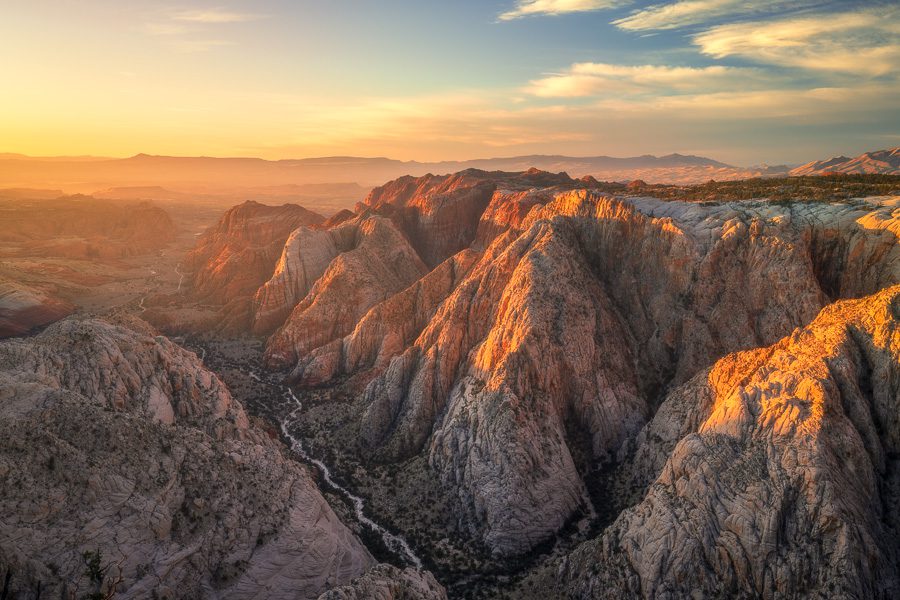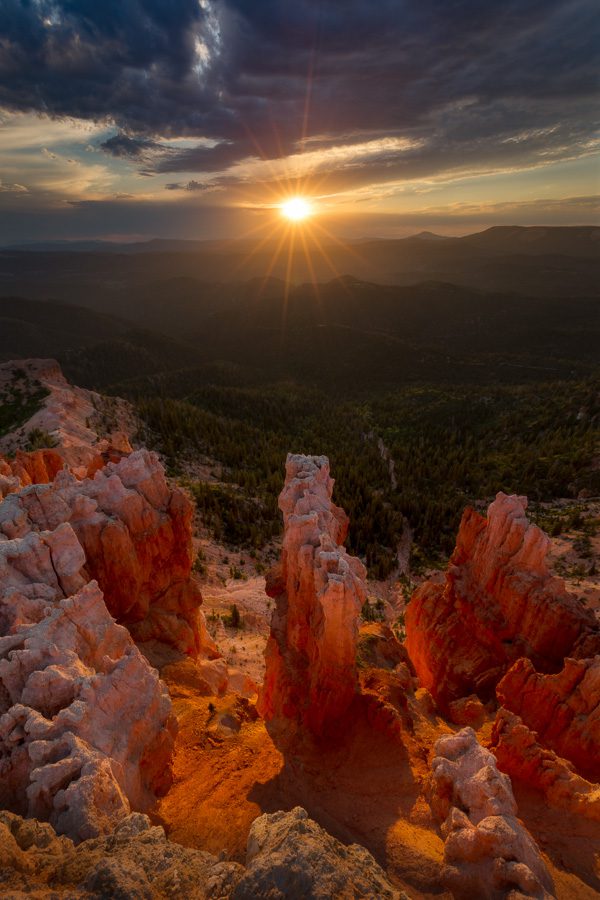 Recommended Camera Gear
A sturdy yet hikeable tripod. We are happy to give recommendations.
Digital SLR or Mirrorless Camera Body.
Wide angle lens in the 16-35mm range, preferably f/2.8 or faster for night photography. Ultra-wide angle lenses may allow you to be more creative in your compositions.
Mid-range zoom lens in the range of 24-100mm.
Telephoto lenses in the 100-400mm range for landscape compression and abstracts.
Macro Lens (optional) if you like shooting details of fall foiliage.
Circular polarizer filters and ND filters for your lenses.
Comfortable hiking backpack that can carry your camera gear, tripod, lunch, and drinking water.
Extra batteries, memory cards, and cleaning supplies.
Remote cord for your camera.
Laptop if you wish to backup your photos.
Personal Gear List
Sturdy hiking footwear, hiking socks, and long pants.
Neoprene socks and a pair of shoes you can get wet.
A rain jacket and several warm layers since it can get cold at night.
Headlamp
Water bottle or hydration bladder.
Hiking poles if you like having them.
Sunscreen, Sunglasses, Warm Hat & Gloves.
Hiking snacks (best to buy before you arrive at orientation).
Nickolas Warner
Photography Instructor
Nickolas Warner is an award-winning photographer with recognition by the Epson Pano Awards, International Landscape Photographer of the Year, and Outdoor Photographer. He has a particular interest in extreme and unusual locations.  His travels have taken him to some fascinating locations, but the American Southwest is his favorite place to photograph.
Nickolas spent the past decade guiding in Alaska, where he provided instruction on photographing the aurora borealis, and shared his knowledge of the far north's rugged terrain and resilient wildlife.
When not guiding, Nickolas enjoys long distance hiking and extended backpacking trips through remote wilderness areas.
Nickolas's portfolio can be found at Nickolas Warner Photography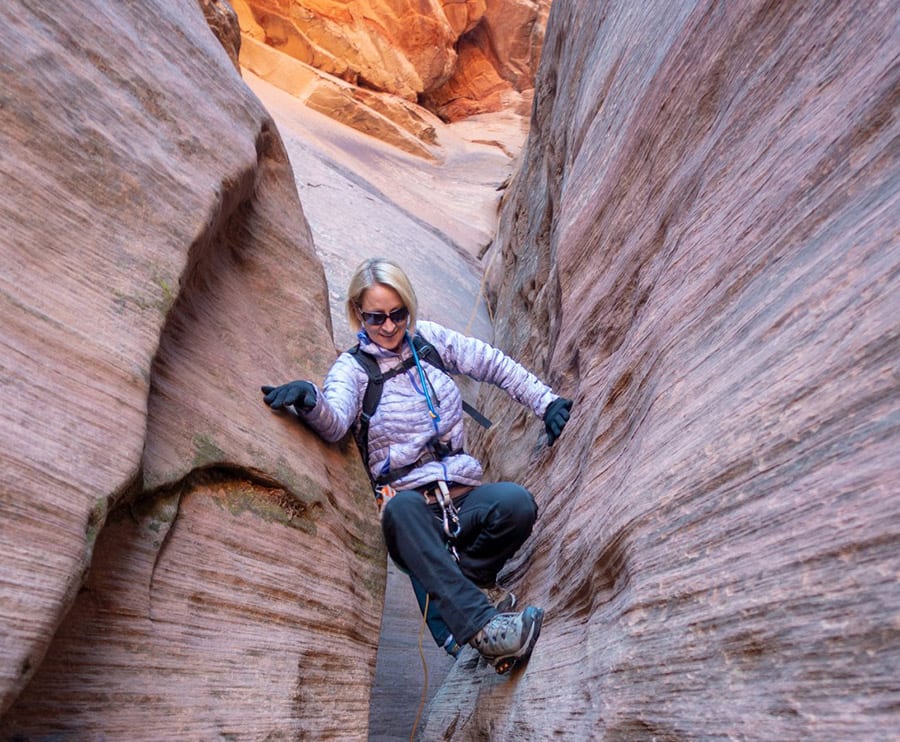 Amy Osness
Photography Instructor
From an early age, Amy knew she had a wandering spirit. Her desire for adventure and passion for nature, stayed with her into adulthood, prompting her to pursue photography as an expressive art form.
The moments captured by Amy's camera are far removed from the "point and click" variety. She often spends hours and even days scouting possible shoot locations.
Amy loves exploring and photographing all the natural wonders that surround her hometown of St. George, Utah.