July 12-15, 2023 - Sold Out
Designed to accompany our Incredible Indonesia Photo Workshop, we'll spend 3 days sailing around the Komodo Islands on a private, liveaboard Phinisi.  One of the highlights will be photographing the world famous Komodo Dragons in their native habitat!  The rest of the time we'll be busy exploring other beautiful islands such as Padar and the stunning pink beach.  If conditions permit, we might even get to swim with manta rays and do some snorkeling.  
$1950

Includes Boat, Lodging, Food
6 Students per Instructor
Max 12 Students
David Swindler
Daniel Kordan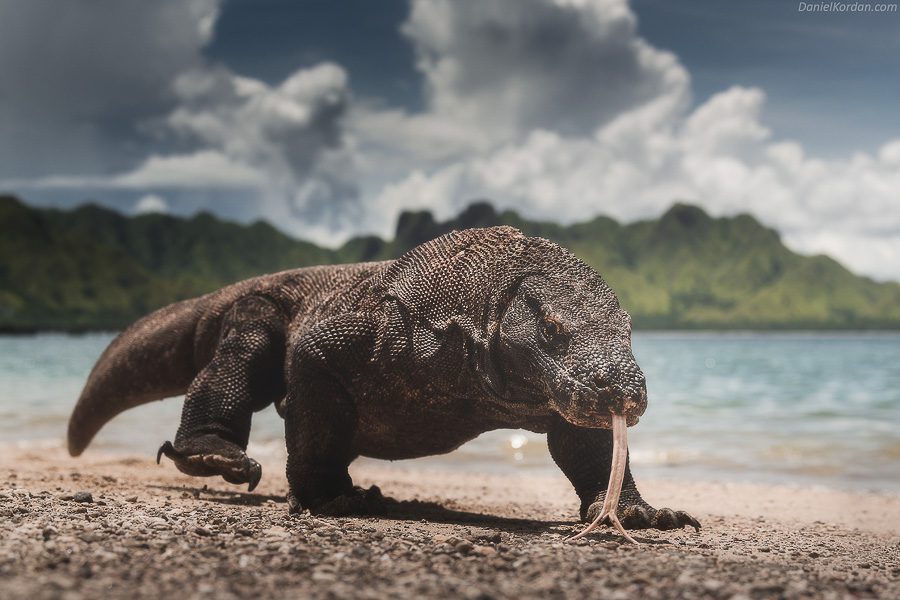 Highlights
Explore the diverse Komodo Islands on board our private, liveabord Phinisi.
Photograph the world famous Komodo Dragons!
Gaze in awe at the stunning vistas from Padar.
Walk the pristine, brilliant pink beaches.
Swim with Manta Rays and snorkel in some of the most biodiverse waters on Earth!
Workshop includes boat transportation, lodging on the Phinisi, and meals.
Supercharge your photography education with pro-photographers David Swindler and Daniel Kordan.

Itinerary
Day 1 (July 12):  If you are transferring from our Incredible Indonesia Workshop, we'll fly from Surabaya back to Bali.  If you are just joining us, we'll meet at our upscale hotel in Bali this evening for our orientation session.
Day 2 (July 13):  After a big breakfast, we take off for the airport, arriving no later than noon in Labuan Bajo, the gateway to the Komodo Islands.  We immediately board our private Phinisi which will be our home for the next 3 days. We set sail for Padar, an island with stunning views and incredible landscapes.  The rugged hills and bays stretch on for miles. We'll base here for the night.
Day 3 (July 14): We awake early for sunrise at Padar before heading over to Komodo Island.  We meet with the rangers and then head out on walks in search of the Komodo Dragons.  Endemic to these islands, the Komodo Dragon is the largest lizard species on Earth!  We'll base near Komodo Island for the night.
Day 5 (July 15):  We awake early and photograph the brilliant pink beaches.  From there we head to Takka Makasar where we can take amazing drone images and even swim/snorkel with the manta rays!  We head back to Labuan Bajo late afternoon and catch a return flight to Bali.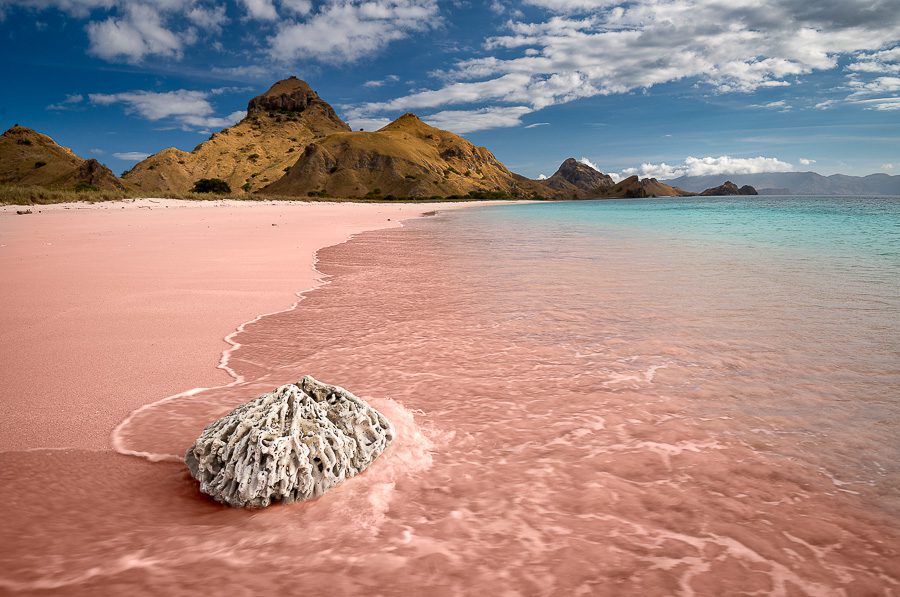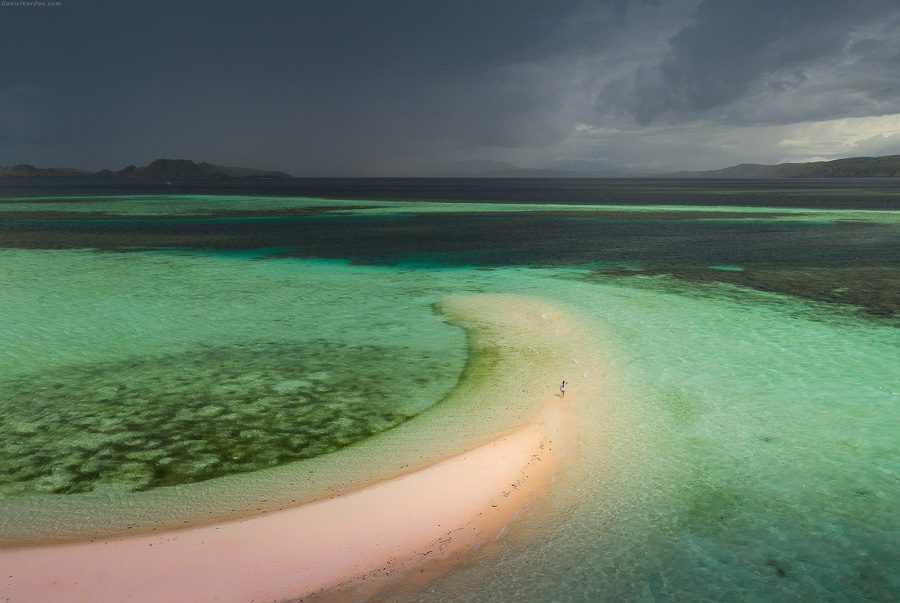 Logistics
This workshop is designed to accompany our Incredible Indonesia Photo Workshop July 4-12, 2023.  Hotel is included in Bali for the night of July 12th.
Max group size of 12 participants with 2 instructors.
Moderate hiking of 2-3 miles per day is required to reach some locations. The hike to the Padar viewpoint is short but strenuous.
If you have a drone, bring it along!  We can fly drones in many parts of Indonesia.
We will be taking domestic flights between Bali and Labuan Bajo. It is not necessary to book these flights very far in advance. We will give you the recommended flights to book when we are 3-4 months out from the workshop dates.
For convenience, we recommend flying into and out of Bali on your international flight.
Due to extreme price fluctuation, the entry fees to Komodo National Park are not included in the workshop fee. There is rumor the entrance fee could increase to ~$250/person in 2023 from current levels of around $20/person. We will let you know what the prices are when we are closer to our travel dates.
We highly recommend travel insurance to cover any non-refundable fees and airline travel you may have in connection with the workshop.
Dinner is not included the night of July 12th to give you more flexibility in how you spend your time between workshops.
On July 15th, we'll return to Labuan Bajo after disembarking the boat in the afternoon.  You have the option to return to Bali that evening or spend more time on your own on the island of Flores. No lodging is included the night of July 15th.
Pricing
$1950/Person + Tax 
Trip Includes:
4-day workshop with 2 nights accommodation on the Phinisi Boat and one hotel night in Bali.  A $900/person charge will be added for those wanting single occupancy.
Two professional photographer guides who will provide a combination of instruction, masterclasses, post-processing assistance and in-field guidance.
Ground and boat transportation throughout the workshop.
All meals, snacks, and non-alcoholic beverages except for dinner on July 12th.
Trip Does NOT Include:
International Flights to/from Indonesia.
Domestic flights to Labuan Bajo (usually priced between $100-$150 USD).
Entrance fees to Komodo National Park.
Alcoholic beverages.
Gratuities for Photo Guides, Local Guides and/or Drivers.
A 50% deposit is required to secure your spot.  The remaining balance will be charged 90 days prior to the workshop.  Since this workshop is an international collaboration with Daniel Kordan, we are not able to offer the 10% loyalty discount.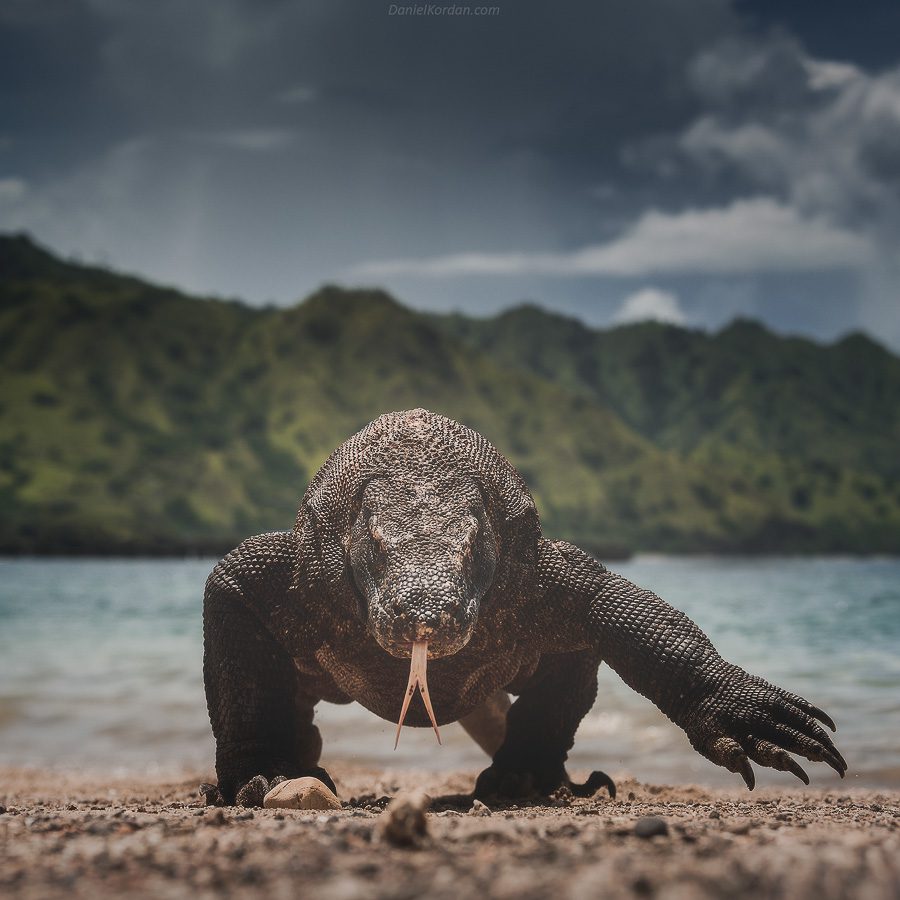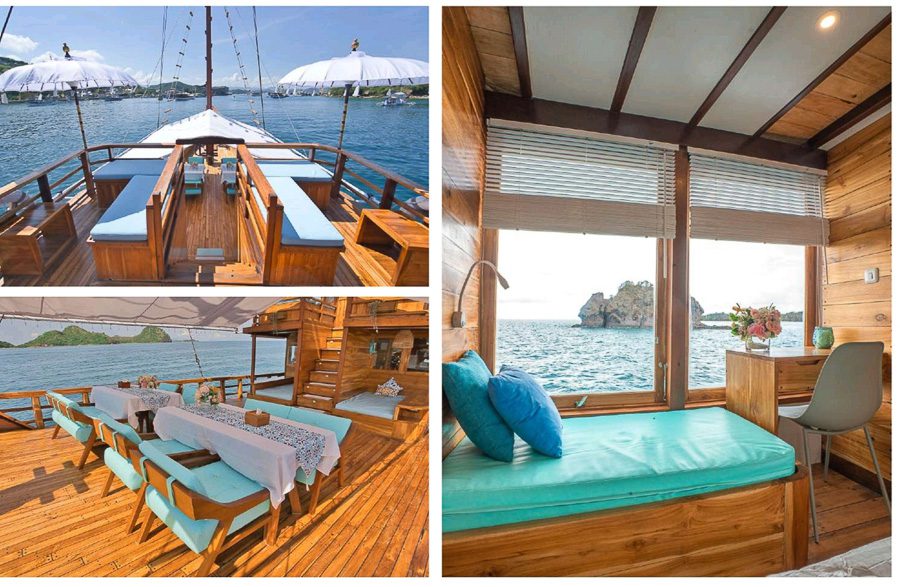 Recommended Camera Gear
Sturdy tripod and ballhead
Digital SLR or Mirrorless Camera Body.
Fast wide angle lens in the 14-35mm range. If wanting to do night photography, we recommend a lens that is f/2.8 or faster.
Mid-range zoom lens in the range of 24-100mm.
Telephoto lenses will come in handy for landscape compression, wildlife encounters.
Circular polarizer filters.  Bring a set of 3, 6, and 9-10 stop ND's for your wide angle zoom lens. If you like shooting with grads, bring them along.
Extra batteries, memory cards, and cleaning supplies.
Remote cord for your camera.
Cover for your camera/lens to protect against spray and precipitation.
Camera backpack.
Drone for aerial photography (optional).
Laptop if you wish to backup your photos (optional)
Personal Gear List 
Sturdy closed-toe hiking shoes.
Waterproof outer shell jacket.
Sandals or water shoes for photographing on the coast.
Sunscreen, sunglasses, hat
A more complete packing list will be sent after registration.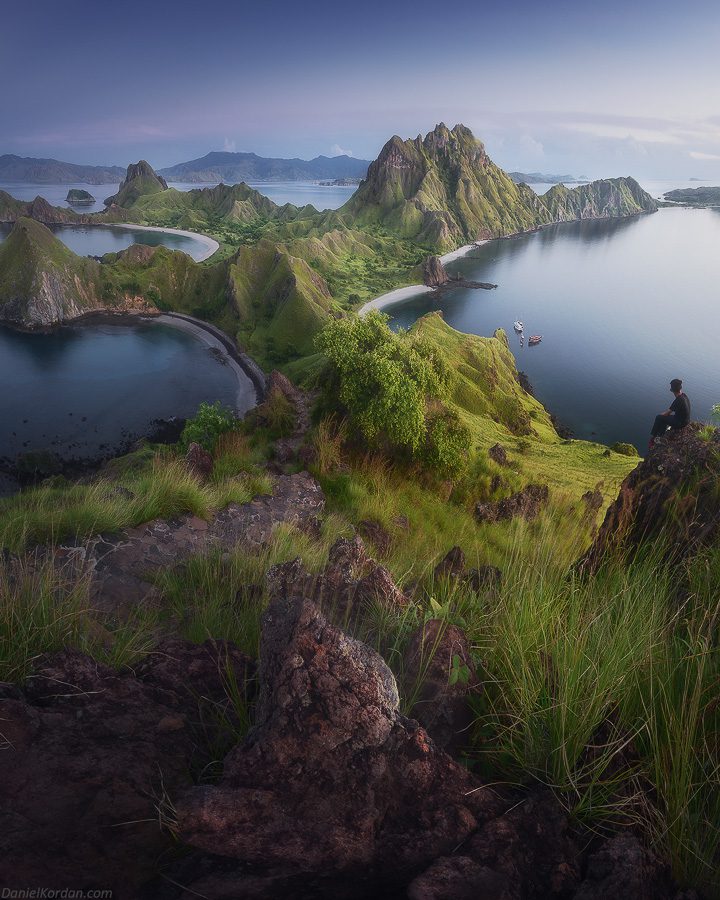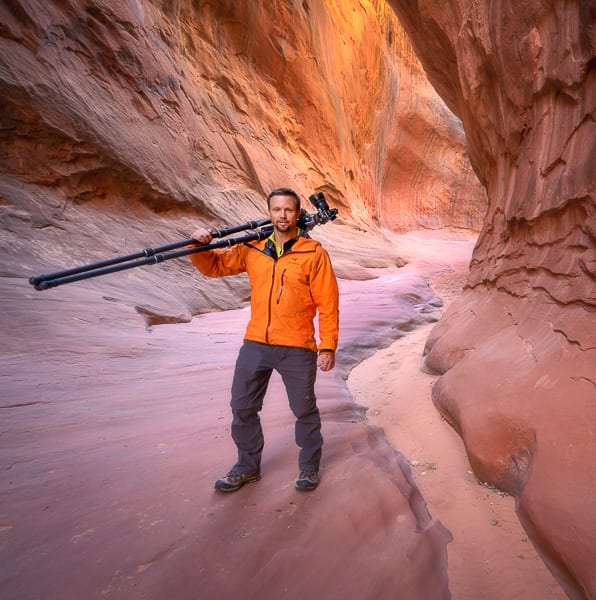 David Swindler
Founder - Photography Instructor
David Swindler is an award-winning landscape and wildlife photographer.  Among others, he has been recognized by International Photography Awards, Siena International Photo Awards, Sony World Photography Awards, International Landscape Photographer of the Year, and National Geographic.  He received a degree in chemical engineering and worked in the semiconductor industry specializing in optics and photolithography. In 2014, he left his day job to follow his true passion. He has traveled to some of the most remote regions of the world and has extensive experience photographing a wide variety of subjects and conditions. He finds great satisfaction in helping others learn photography, especially in the wild desert environment near his home in Kanab, UT.  David is an expert in night photography and loves to get out and shoot the starry night skies. Catch a glimpse of David's work in the slideshow, and follow the links below to see more!
Gallery    Awards and Media Coverage
Having guided photo tours for years, David is very familiar with many different types of cameras.  He is a master with light and composition. But most importantly, his dedication to his clients is what really sets him apart!   Just read what others are saying here: Trip Advisor.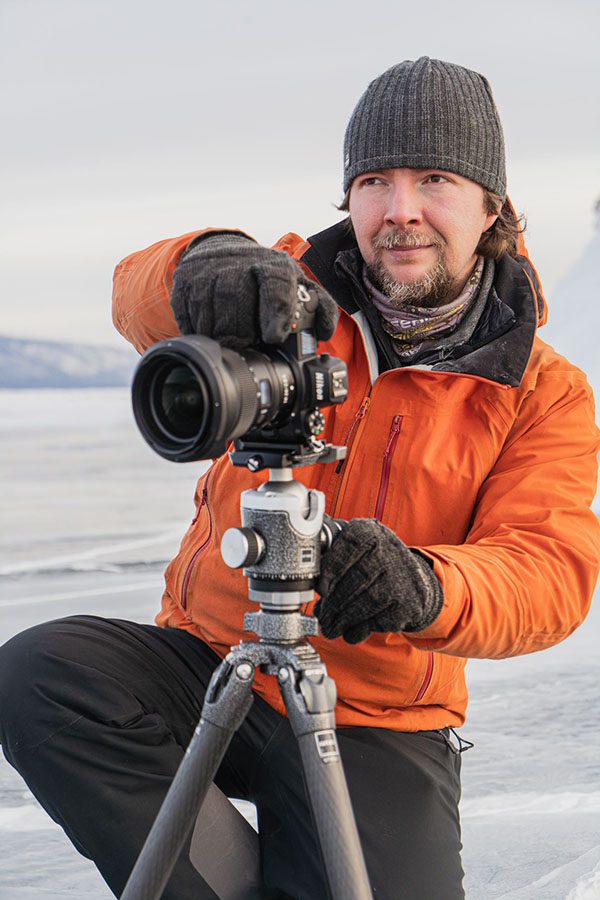 Daniel Kordan
Photography Instructor
Daniel Kordan was born in a small town about 120 km outside Moscow.  As a child, Daniel was so eager to experience nature, that he often wandered around before sunrise to experience the beautiful foggy lakes, and enchanting hoarfrost of the Russian winters.
In his early years, Daniel attended art school where he learned to paint.  This undoubtedly led to his understanding of harmony and composition in photography.
Daniel spends 9-10 months out of the year traveling the world. He describes his love for travel as "Living the World" and being a "World Citizen"  One of his current projects is a yachting expedition called: "Two poles". traveling from Saint-Petersburg to Antarctica, through Svalbard and Greenland.
Daniel feels he has many areas to left explore. and studies the world map with great excitement knowing that there are always new and exciting destinations to explore!
Catch a glimpse of Daniel's work in the slideshow, and follow the links below to see more!