July 4-12, 2023 - Sold Out!
Explore the diverse islands of Sumba, Lombok, and East Java over 9 action-packed days on our Incredible Indonesia Photo Workshop!  Supercharge your photography and post-processing skills with pro-photographers David Swindler and Daniel Kordan.  Indonesia is sure to impress, from the dancing trees of Walakiri Beach to the bellowing volcanoes at Bromo, you'll be busy pressing that shutter button!  Workshop includes lodging, ground transportation, and all meals. Extend your trip with our Komodo Islands Extension July 12-15! 
$5500 

Includes Lodging/Food
6 Students per Instructor
Max 12 Students
David Swindler
Daniel Kordan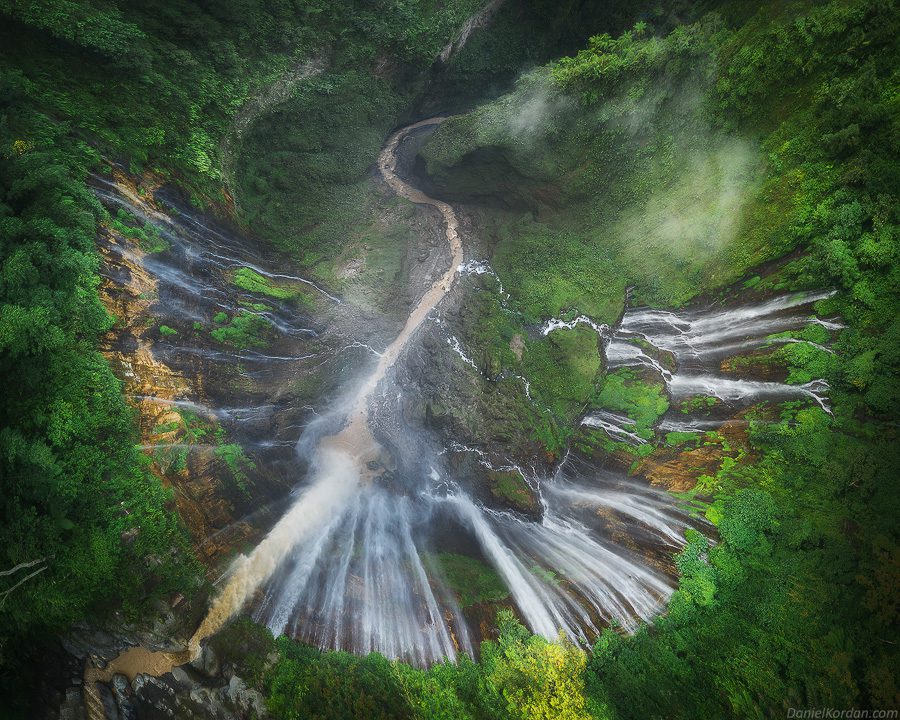 Highlights
Experience the incredible diversity of Indonesia as we explore the islands of Sumba, Lombok, and East Java!
Photograph the dancing trees at Walakiri, the rugged coastline of Lombok, the austere volcanic landscape at Bromo, the massive Sewu waterfall, soaring vistas, and much more!
Workshop includes 9 action-packed days with lodging, meals, and ground transportation.
Supercharge your photography education with pro-photographers David Swindler and Daniel Kordan.
Explore the idyllic countryside and rice terraces of Indonesia along with the friendly locals where you'll learn more about their history and culture.
Extend your trip with our Komodo Islands Extension July 12-15!

Itinerary
Day 1:  After arriving in Waingapu, we drive to our newly-built 4 star hotel at the beach where we'll have lunch and get settled into our rooms. That afternoon we head towards Walakiri beach! It is our first sunset here and we'll spend at least 2 sessions here to capture different weather conditions. We've chosen perfect dates for the trip because we'll have low tide and mirror-like reflections at sunset. We take a variety of shots of the dancing mangrove trees until it gets dark. Dinner will be served at local hotel restaurant with amazing seafood.
Day 2: We awake early for sunrise over grassy hills which will make you feel like you are in the midst of Africa! We'll try to find Sumba horses roaming in the endless savannah with first rays of light flaming on the golden grass! After breakfast we photograph a large waterfall canyon that is often referred to as the "Grand Canyon" of East Sumba."  In the evening we have another chance to photograph the dancing trees! With low tide at sunset, you can explore many different compositions among the various groups of trees and find the "perfect" reflections.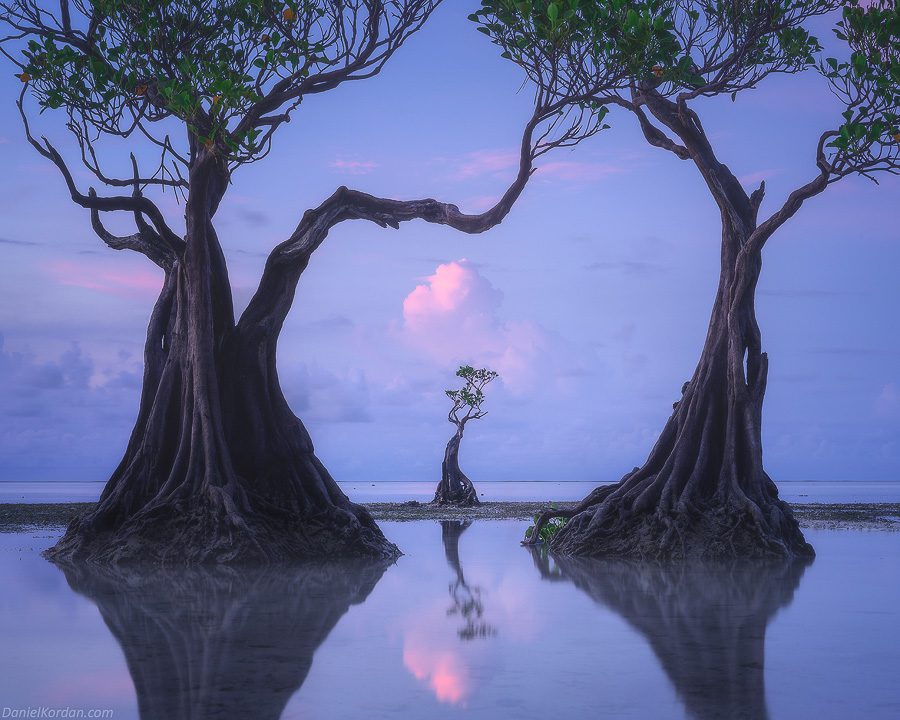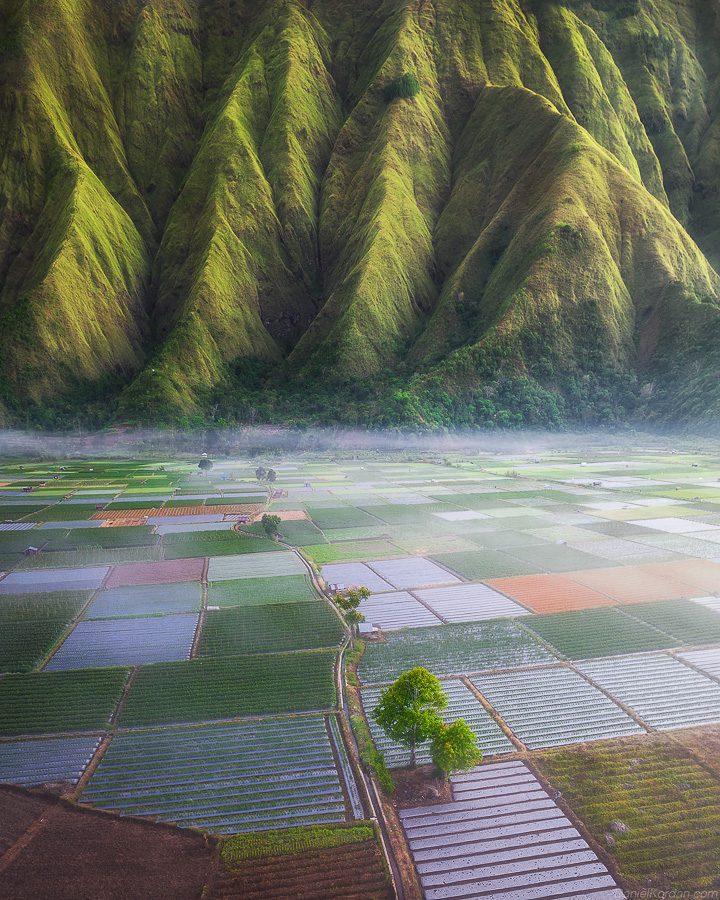 Itinerary, cont.
Day 3:  We leave early the next morning for Lombok Island! After our flights, we make our way towards the mighty Rinjani Volcano.  We check into our hotel and venture out to the Sembalun area overlooking the volcano and myriad colorful fields patches below.  Compositions abound for wide angle to telephoto focal lengths.  The drone shots are also amazing!
Day 4: We wake to a wonderful sunrise over colorful fields and green textured mountains around Mt Rinjani and the Sembalun ridge. The panoramic views are breathtaking!  After breakfast we head to Tiu Kelep waterfall, boasting many creative compositions.  The walk to the falls is easy but you'll want your rain jacket and camera cover!  When we're done, we continue our journey to the Kuta area with modern hotels and well known surf spots. Our focus will be on seascape photography for the next few days, including our sunset shoot this evening.
Day 5:  At sunrise we do seascape photography at either Semeti, Malimbu, Telawas, or Awang beaches. We choose according to tide and weather conditions.  Just after sunrise we have a wonderful breakfast and head over to Benang Stokel and Benang Kelambu Waterfalls – a couple hidden gems in Lombok. It almost feels like Jurassic Park with walls of green plants hanging down.  We do one more sunset shoot along the coast.
Day 6: Sunrise gives us another try for Semeti, Malimbu, Telawas, or Awang beaches where we can really practice long exposures with filters and create different effects with the water.  After breakfast, we pack up and depart from Lombok en route to East Java.  We arrive in Surabaya and then make our way to the beautiful rice terraces of Trawas.
Itinerary, cont.
Day 7:  It is a peaceful morning as we venture out into the pristine rice terraces.  We are greeted with cool morning mist and colorful clouds.  We are also able to capture some of the workers out in the fields.  After breakfast, we pack up and drive to our next location where we shoot a variety of waterfalls and river scenes.
Day 8:  This morning we take in sunrise at Tumpak Sewu Waterfall, a true "Niagara" of Java island. This spectacular waterfall careens deep into the canyon. Here you have an option to fly a drone or hike to the base of the waterfall to shoot the curtains of cascades all around you. Even though it's a steep hike, it's really worth visiting the lower viewpoint! Later that day we drive over to the volcanic caldera of Bromo.  How much time we have for photography will depend on road conditions/closures.  With clear skies this evening we stay out late to capture the Milky Way!
Day 9:  Despite the short night, we are up early to capture a gorgeous sunrise over the caldera as it bellows smoke and fog swirls around the base.  It is quite the sight to behold! We then take some photos with a local horseman as he stirs up dust and we capture some dramatic shots! We return for breakfast and start the journey back to Surabaya.  The workshop will conclude by midday. Or continue with our Komodo Islands Extension!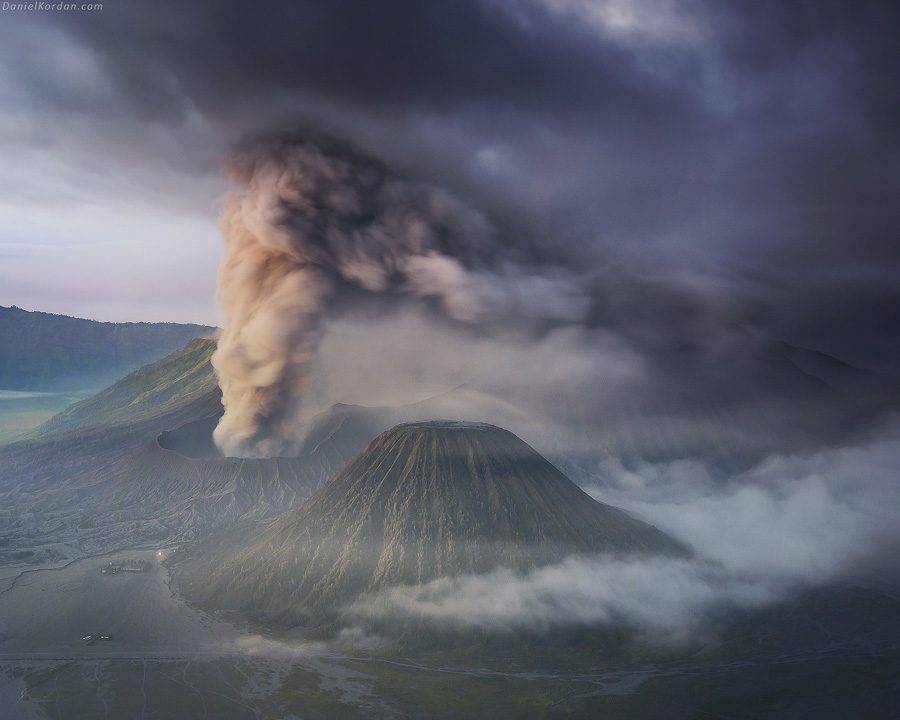 Pricing
$5500/Person + Tax 
Trip Includes:
9-day workshop with 8 nights accommodation in double occupancy rooms. A $750/person charge will be added for those wanting single occupancy.
Two professional photographer guides who will provide a combination of instruction, masterclasses, post-processing assistance and in-field guidance.
Ground transportation throughout the workshop.
All meals, snacks, and non-alcoholic beverages.
Entrance fees and local guides.
Trip Does NOT Include:
International Flights to/from Indonesia.
Domestic flights to Sumba, Lombok, and Java (usually priced between $100-$150 USD).
Alcoholic beverages.
Gratuities for Photo Guides, Local Guides and/or Drivers.
A 50% deposit is required to secure your spot.  The remaining balance will be charged 90 days prior to the workshop.  Since this workshop is an international collaboration with Daniel Kordan, we are not able to offer the 10% loyalty discount.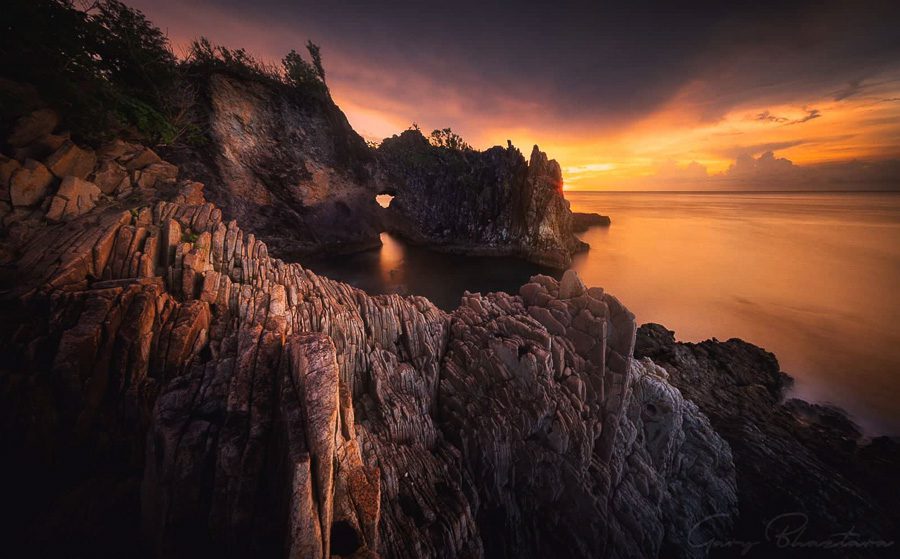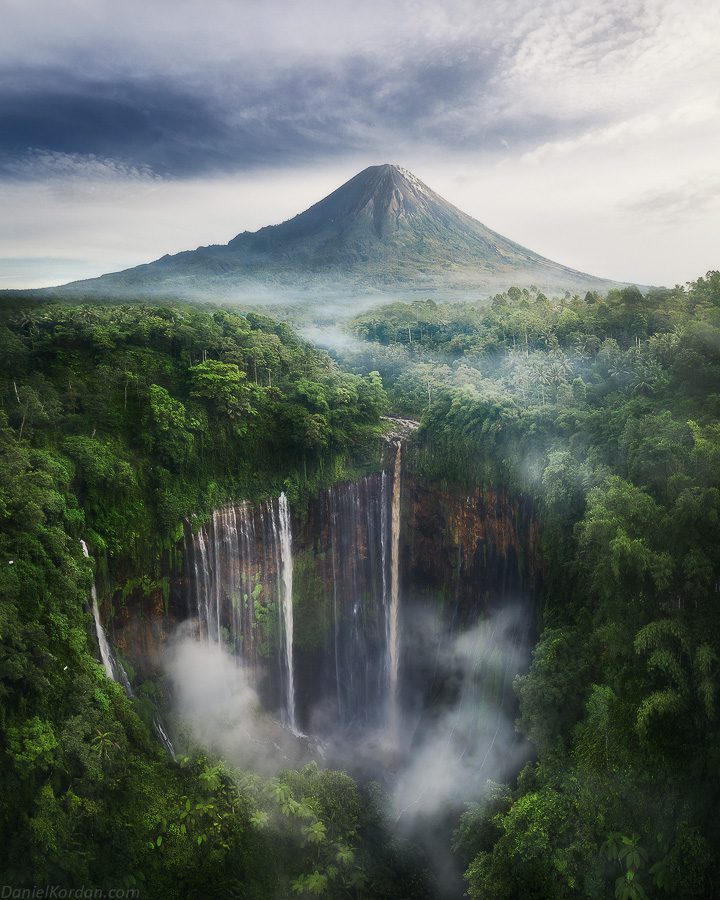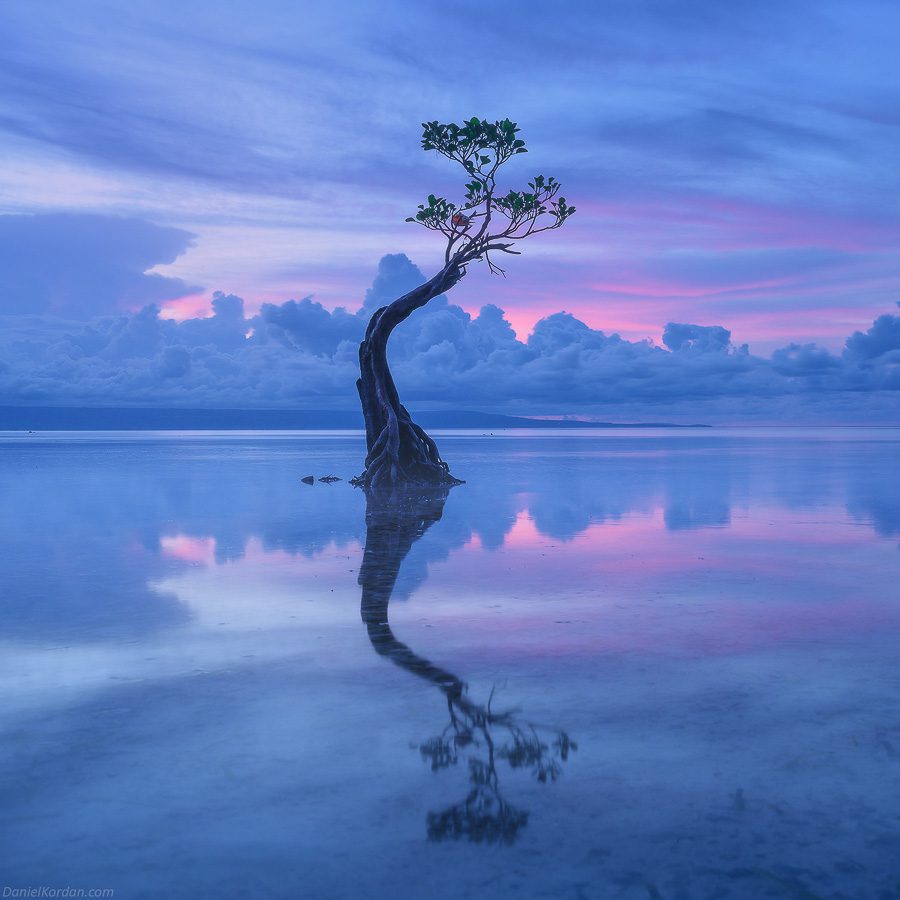 Additional Information
Max group size of 12 participants with 2 instructors, allowing for plenty of 1-to-1 time.
Moderate hiking of 1-2 miles is required to reach some locations. The steep hike to the base of Sewu Waterfall can be very strenuous for some people.
If you have a drone, bring it along!  We can fly drones in many parts of Indonesia.
We will be taking domestic flights to Sumba, Lombok, and East Java, routing through Bali.  It is not necessary to book these flights very far in advance. We will give you the recommended flights to book when we are 3-4 months out from the workshop dates.
For convenience, we recommend flying into and out of Bali on your international flight.
We highly recommend travel insurance to cover any non-refundable fees and airline travel you may have in connection with the workshop.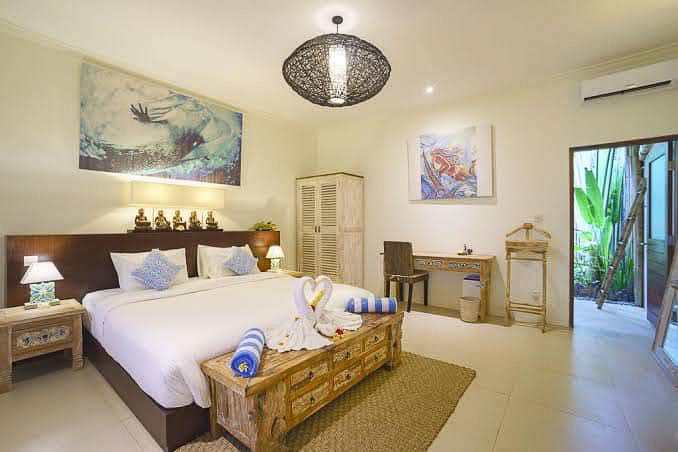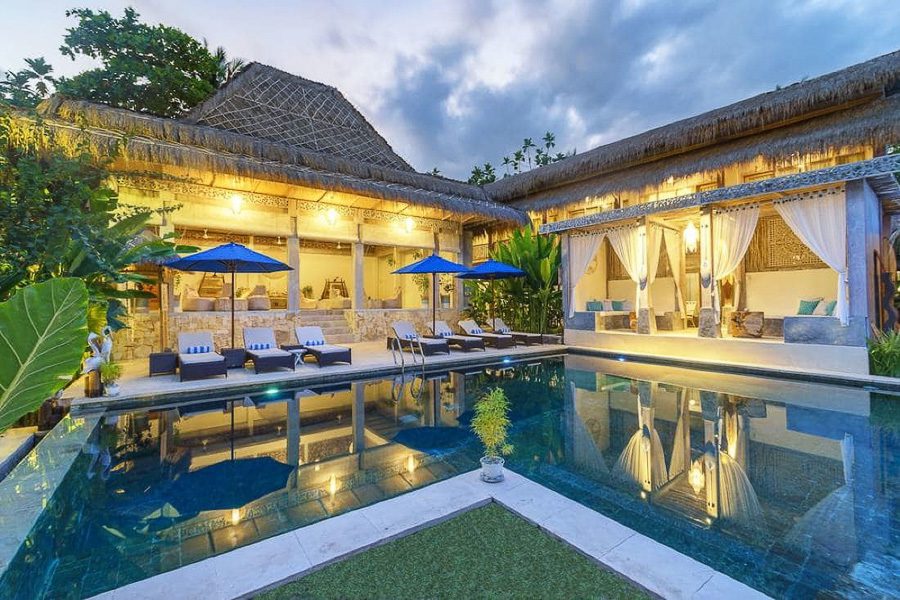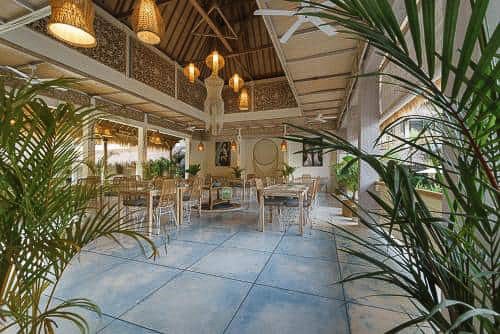 Recommended Camera Gear
Sturdy tripod and ballhead
Digital SLR or Mirrorless Camera Body.
Fast wide angle lens in the 14-35mm range. If wanting to do night photography, we recommend a lens that is f/2.8 or faster.
Mid-range zoom lens in the range of 24-100mm.
Telephoto lenses will come in handy for landscape compression, street photography, and possible wildlife.
Circular polarizer filters.  Bring a set of 3, 6, and 9-10 stop ND's for your wide angle zoom lens. If you like shooting with grads, bring them along.
Extra batteries, memory cards, and cleaning supplies.
Remote cord for your camera.
Cover for your camera/lens to protect against spray and precipitation.
Camera backpack.
Drone for aerial photography (optional).
Laptop if you wish to backup your photos (optional)
Personal Gear List 
Sturdy closed-toe hiking shoes.
Waterproof outer shell jacket.
Sandals or water shoes for photographing on the coast.
Warm layer - puffy jacket, fleece, etc.
Waterproof outer shell jacket.
Sunscreen, sunglasses, hat
A more complete packing list will be sent after registration.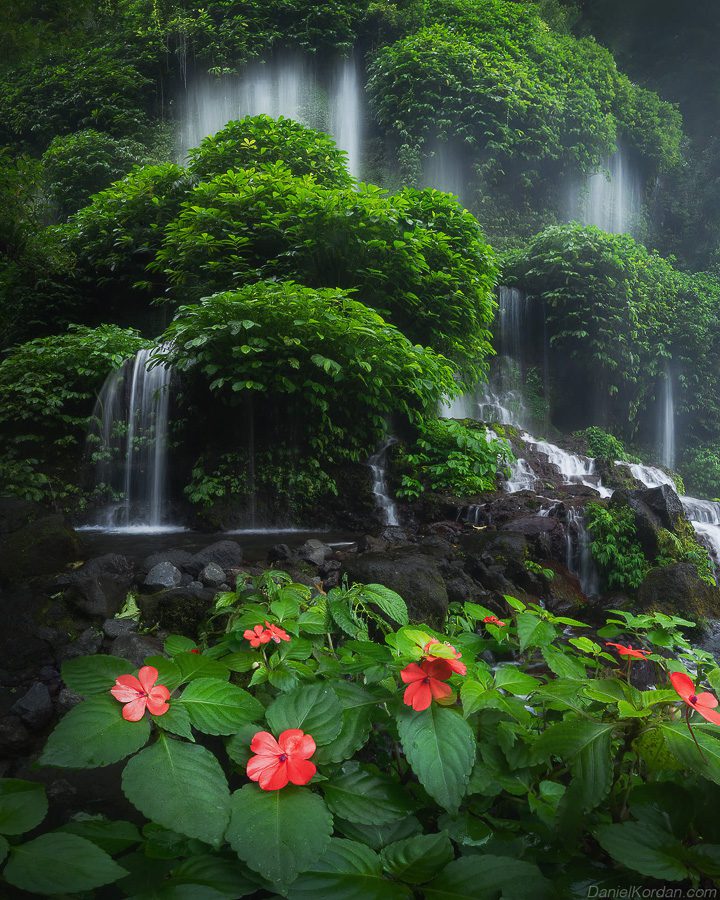 Explore the breathtaking Komodo Islands July 12-15 on board a private Phinisi Boat! We'll spend 3 days sailing around the Komodo Islands where one of the highlights will be photographing the world famous Komodo Dragons in their native habitat! The rest of the time we'll be busy exploring other beautiful islands such as Padar and the stunning pink beach. If conditions permit, we might even get to swim with manta rays and do some snorkeling.
Photos by David Swindler and Daniel Kordan.  A couple photos of the Lombok Coast are courtesy of Chandra Chung and Gary Bhaztara, used with permission.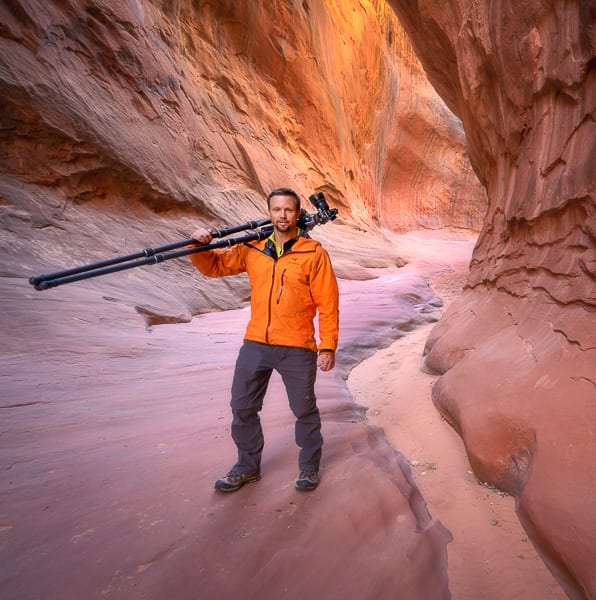 David Swindler
Founder - Photography Instructor
David Swindler is an award-winning landscape and wildlife photographer. Among others, he has been recognized by the International Photography Awards, Siena International Photo Awards, Sony World Photography Awards, International Landscape Photographer of the Year, and National Geographic. He received a degree in chemical engineering and worked in the semiconductor industry specializing in optics and photolithography. In 2014, he left his day job to follow his true passion. He has traveled to some of the most remote regions of the world and has extensive experience photographing a wide variety of subjects and conditions. As the founder of Action Photo Tours, he finds great satisfaction in helping others learn photography, especially in the wild desert environment near his home in Kanab, UT. David is an expert in night photography and loves to get out and shoot the starry night skies.
Gallery    Awards and Media Coverage
Having guided photo tours for years, David is very familiar with many different types of cameras.  He is a master with light and composition. But most importantly, his dedication to his clients is what really sets him apart! But don't take our word for it - read what others are saying: Trip Advisor.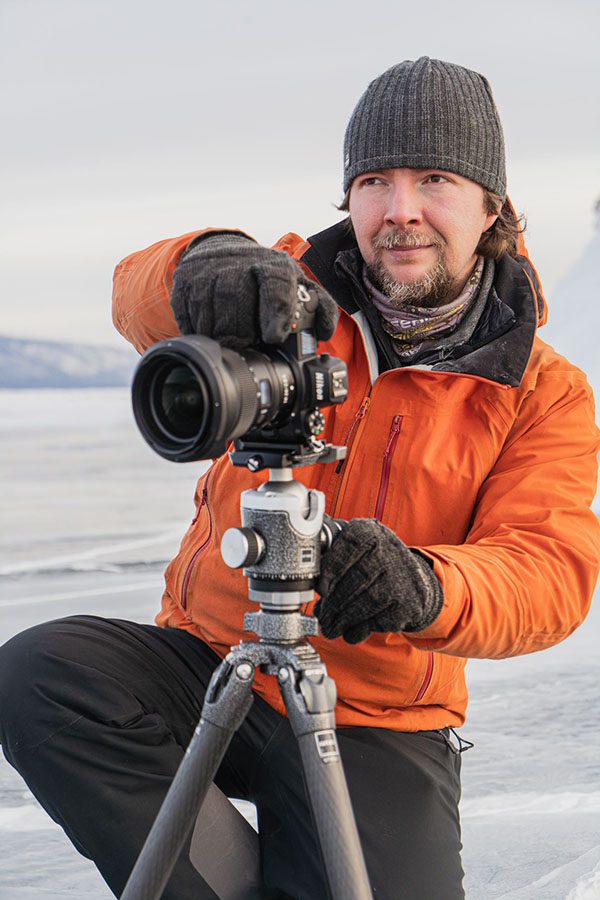 Daniel Kordan
Photography Instructor
Daniel Kordan was born in a small town about 120 km outside Moscow.  As a child, Daniel was so eager to experience nature, that he often wandered around before sunrise to experience the beautiful foggy lakes, and enchanting hoarfrost of the Russian winters.
In his early years, Daniel attended art school where he learned to paint.  This undoubtedly led to his understanding of harmony and composition in photography.
Daniel spends 9-10 months out of the year traveling the world. He describes his love for travel as "Living the World" and being a "World Citizen"  One of his current projects is a yachting expedition called: "Two poles". traveling from Saint-Petersburg to Antarctica, through Svalbard and Greenland.
Daniel feels he has many areas to left explore. and studies the world map with great excitement knowing that there are always new and exciting destinations to explore!
Catch a glimpse of Daniel's work in the slideshow, and follow the links below to see more!