Join us in Hanksville, UT for a foray into some remote and seldom photographed parts of the Utah badlands.  Come witness one of the most spectacular landscapes on Earth! With some of the darkest skies in the US, we will be venturing out to shoot the Milky Way early in the mornings. This workshop is rated Moderate for physical intensity with 2-4 miles of hiking per day.
4 Students per Instructor
Max 8 Students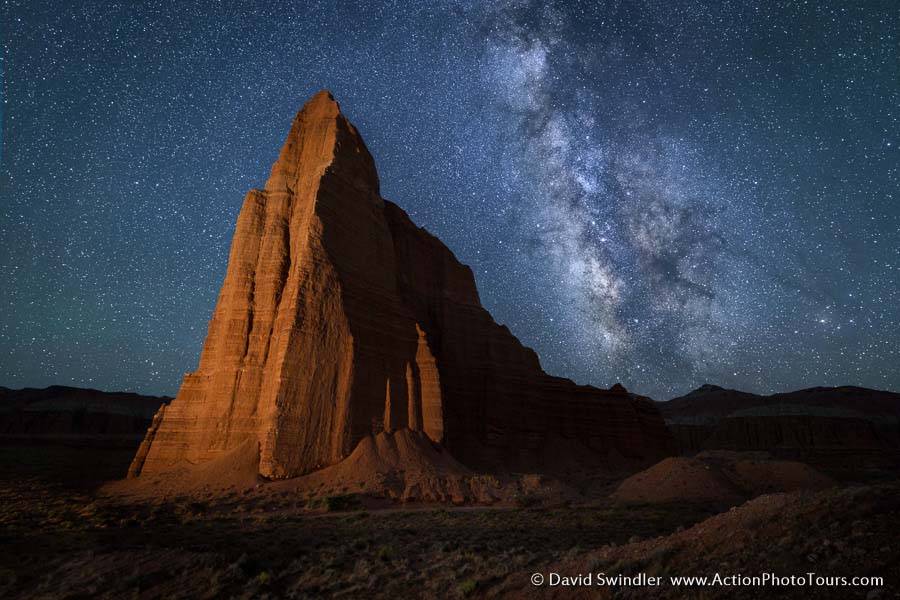 Highlights
The badlands of central Utah are filled with spectacular photo spots that will blow your mind!  This workshop is designed for those who truly want to get off the beaten path and improve their photography skills.
The workshop dates are optimized for great weather, atmospheric conditions, and Milky Way photography!  We'll concentrate on night photography as long as the skies are clear.
With a small group, we guarantee plenty of individual attention.  You will learn many new camera skills while visiting some of the most spectacular locations.
We provide all the transportation during the workshop so you don't have to worry about the rough roads.
Post-processing and image critique sessions will be scheduled throughout the workshop to help make the most of your images.
Itinerary
The itinerary is flexible to allow us to chase the best conditions. If skies are clear, we'll focus on Milky Way shooting in the early morning hours. If storms and clouds are moving through, we'll spend more time photographing during the day. The itinerary below is just an example of what you can expect.
Day 1 (Thurs May 5):  Meet at 2PM in Hanksville, UT for a mandatory introductory session.  After dinner, we head out to a nearby sunset location and get to bed early. Since skies are clear, we head out to Cathedral Valley to photograph sunset.  When darkness falls, we'll shoot some brilliant Milky Way panos while learning various foreground enhancement techniques. Expect a very late arrival back in Hanksville.
Day 2 (Fri May 6):  Since skies are clear, we wake up at 2AM and head out to Cathedral Valley. We'll shoot some brilliant Milky Way panos while learning various foreground enhancement techniques. For sunrise, we find a nice area with emerging wildflowers!  We head back to town for a midday break and meet up after lunch for a post-processing session. In the evening we venture out to shoot the Blue Hills and Badlands in soft twilight.
Day 3 (Sat May 7): We are awake again at 2AM for more night photography at an amazing viewpoint of the badlands. We'll practice our natural light shooting techniques and stay out again through sunrise. We do another post-processing session along with image critique this afternoon. The forecast is calling for clouds, so we hike out to a seldom visited viewpoint in the stark badlands.  We're in luck as the sky lights up brilliantly!  We head back to Hanksville and get to bed early.
Day 4 (Sun May 8):  With good clouds forecast for sunrise, we wake before dawn to photograph one of our favorite morning locations.  You'll get wide landscapes, abstracts, and much more. This is also the perfect place to take drone aerials.   You'll know what we mean that this place is almost like being on a different planet!
Day 5 (Mon May 9).We wake up early and drive to one of our favorite overlooks for sunrise. We return to Hanksville and say our goodbyes.  The workshop will conclude by 11AM.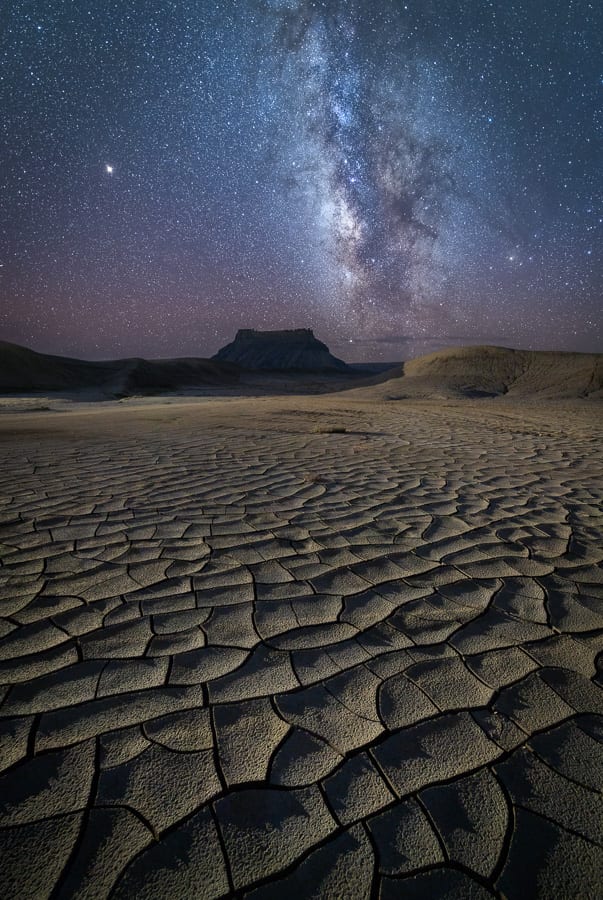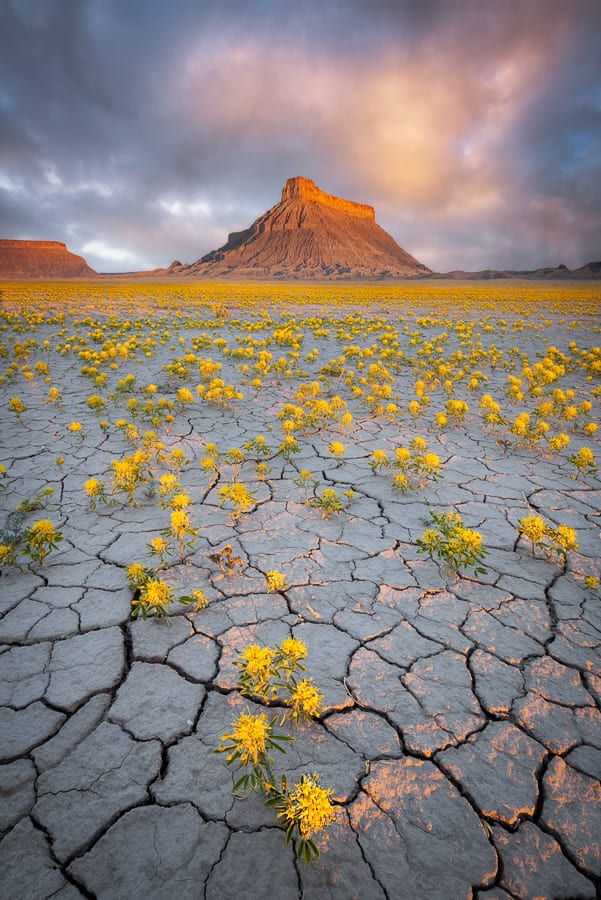 Logistics
Please arrive in Hanksville, UT prior to 2PM on May 5th. We didn't include hotel stays on this trip to allow you the flexibility of a lodging option of your choice.  We highly recommend you book a cabin at  Duke's Slickrock.  Take advantage of our special workshop rate by emailing them dukesslickrockcampground@gmail.com or calling (435) 633-6655 and mentioning Action Photo Tours.  You will need lodging for the nights of May 5th, 6th, 7th, & 8th.
All transportation during the workshop is included. Everyone on this trip should be in reasonably good physical condition.  We aren't planning any long hikes, but the uneven terrain, sand, and steep uphills can make short hikes seem much harder.  You should be comfortable walking around 3-4 miles per day.
We are keeping the itinerary flexible since we can't control the weather.  If we have clear skies, we'll do some night photography. But if skies are cloudy, we'll plan an outing to a different location and focus on sunrise/sunset photography. Don't worry - we'll make the best possible use of our time. Our job is to get you the most stunning photos and help you learn as much as possible!
The weather is highly variable in early spring. It could be sunny and warm or a cold front might come in and bring some rain and snow. The nights will be cold, so you will want plenty of warm layers. It can also be windy in the spring.  Please see the gear list further down.
This area definitely has potential to become the next photography hotspot. We don't want to see that happen since it is such a delicate area that can't handle a lot of traffic. We ask all participants to not reveal specific locations when posting shots online.
Additional Notes
Many of the areas we visit are perfect for using a drone camera.  It's up to you if you want to bring a drone on this trip and we will let you know where it's possible to fly it.  Please let us know if you intend to bring a drone so we can plan out the logistics with the other participants and the itinerary. We will be more than happy to help teach and instruct you on your drone photography.
David Swindler is the workshop instructor and he has lots of experience guiding groups in this area.  You can trust us to get you off the beaten path! We are authorized permit holders with the National Park Service and Bureau of Land Management (BLM). We carry a satellite beacon in case we run into any emergencies in the backcountry.
We keep our groups small so we can give you adequate individual attention.  Education and instruction is an important component of our workshops which is why we also schedule plenty of post-processing time throughout our days together.  Come explore our amazing world with us!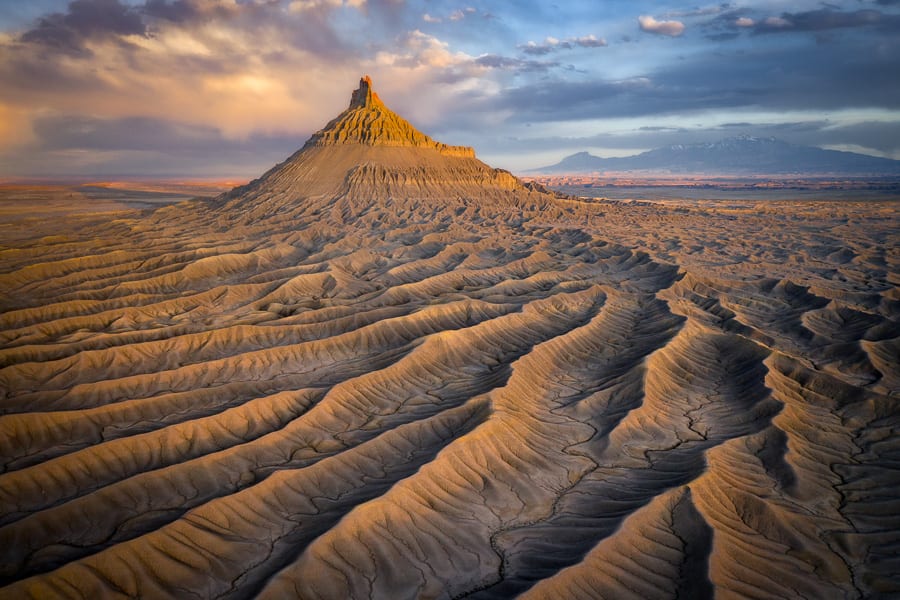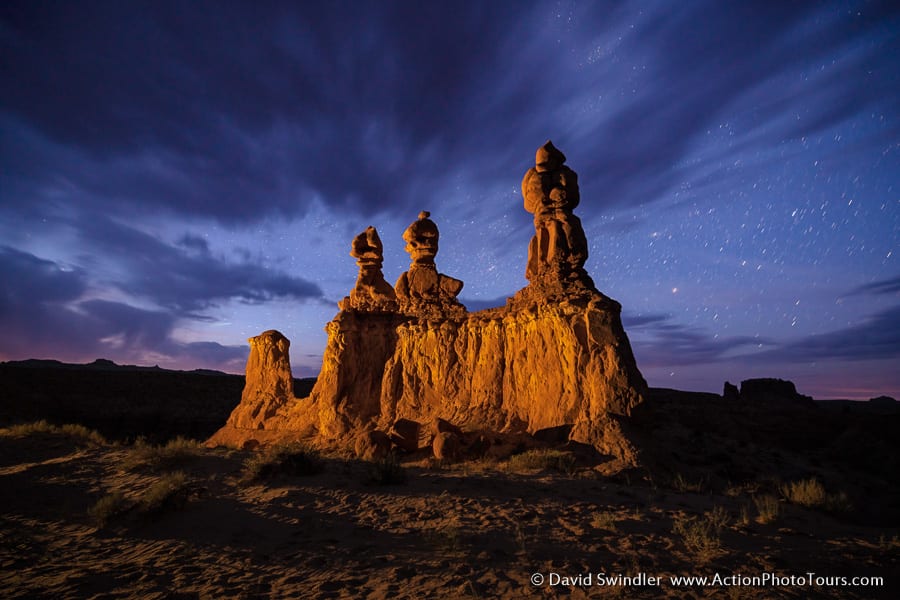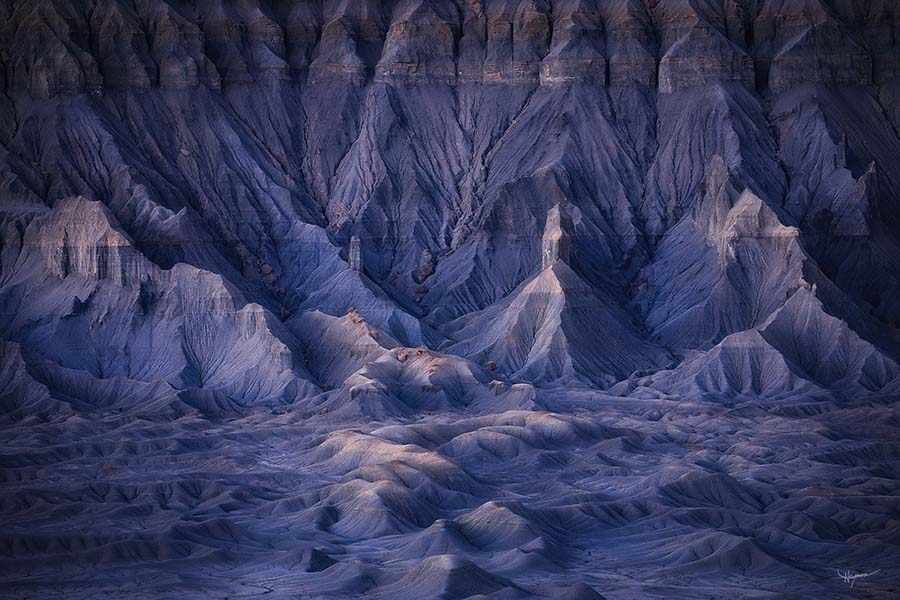 Pricing
$2095 per Person
Trip Includes:
All ground transportation and photography guiding during the trip.
Post-processing and image critique
Lighting equipment and fixtures for night photography.
Park entrance fees.
Trip Does NOT Include:
Transportation to/from your home to Hanksville, UT.
Hotel Accommodations.
Alcoholic Beverages.
Meals and snacks
When you complete the checkout process, you will be given the option to either pay the full amount or put down a 50% deposit.  If you pay the deposit, the remaining amount will be charged 90-days prior to arrival to the credit card we have on file.
Recommended Camera Gear
Sturdy tripod and ballhead
Digital SLR or Mirrorless Camera Body.
Fast Wide Angle Lens. Our favorite night photo lenses include Tamron 15-30mm f2.8, Rokinon 14mm f2.8, Nikon 14-24mm f2.8, and Canon 16-35mm III f2.8.
Mid-range zoom lens in the range of 24-100mm.
Long telephoto lenses will come in handy for creating abstract images. We really like our Sigma/Tamron 150-600mm lenses.
Circular polarizer filters are useful.  Bring any ND filters if you have them.
Extra batteries, memory cards, and cleaning supplies.
Remote cord for your camera. An intervalometer will be especially useful for doing long exposures at night.
Laptop if you wish to backup your photos or follow along during the post-processing instruction.
We may be able to rent you gear if you don't have everything you need.
Personal Gear List
Sturdy hiking footwear, hiking socks, and long pants .
A rain jacket and several warm layers since it can get cold at night.
Headlamp for night photography.
Sunscreen, Sunglasses, Hat.
Water bottle or hydration bladder.
Hiking poles if you like having them.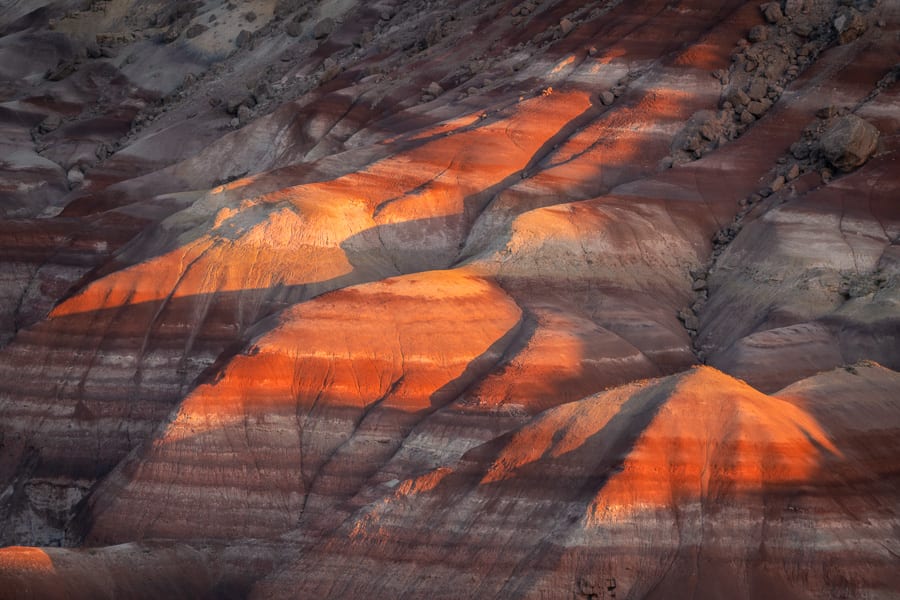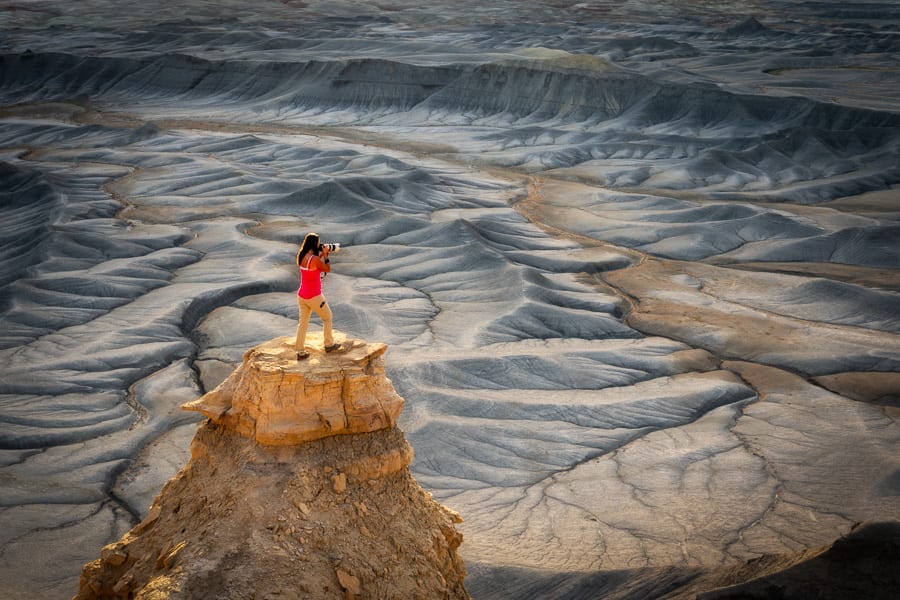 Testimonials
"Just finished a 5 day Utah Badlands Tour with Dustin and David. It was amazing!! The landscapes were phenomenal and the instruction was great!! The tour was professional and well organized. Now to process all those photos! "
- Jen - Ohio
"My experience on the Utah Badlands Photo Workshop singularly changed my outlook on landscape photography. Being a professional commercial photographer for the past decade, I thought I knew the boundaries of photography. However, David and Dustin generously and eloquently shared their photographic vision and helped push me beyond my limits to a place I had never been before. "
- A.J - UT
"Exceptional trip to the Utah Badlands with Action Photo Tours and trip leaders David Swindler and Dustin Lefevre. They know and care about the land and when to be where to observe and photograph this stunning area. I learned a ton of photography and connected with a great group of people."
- Meg, CA
"David and Dustin are passionate about getting you to unique and unknown locations and make sure they get you there for the best lighting conditions. They give you as much attention or independence as you need to have a successful workshop. David and Dustin also do a great job of balancing time in the field with time spent on photo editing."
- Ken, CA
"Just finished the Beyond the Badlands Workshop and it was awesome! David and Dustin were upbeat and know this area like the back of their hands. They were knowledgeable and always ready to help, no matter what your experience level, both with shooting and with post processing questions! "
- George, FL
"David and Dustin do an amazing job of both instructing and guiding clients to the most amazing and undiscovered places in the Badlands of Southern Utah. If you want to travel with real pros who get you to the best shots, in the best places and most importantly at the right times - go with the team at Action Photo Tours." 
- Richard, TX
"Fantastic trip, taken to places the normal person would not find or have the opportunity to photograph. If you like landscape photography, this is the group to travel with."
- James, GA
"The guides knew the best places and times to get some great photos. I learned a ton of tips to improve my photography."
- Jaime, CO
"Just finished the Beyond the Badlands Workshop and it was awesome! David and Dustin were upbeat and know this area like the back of their hands. They were knowledgeable and always ready to help, no matter what your experience level, both with shooting and with post processing questions! "
- George, FL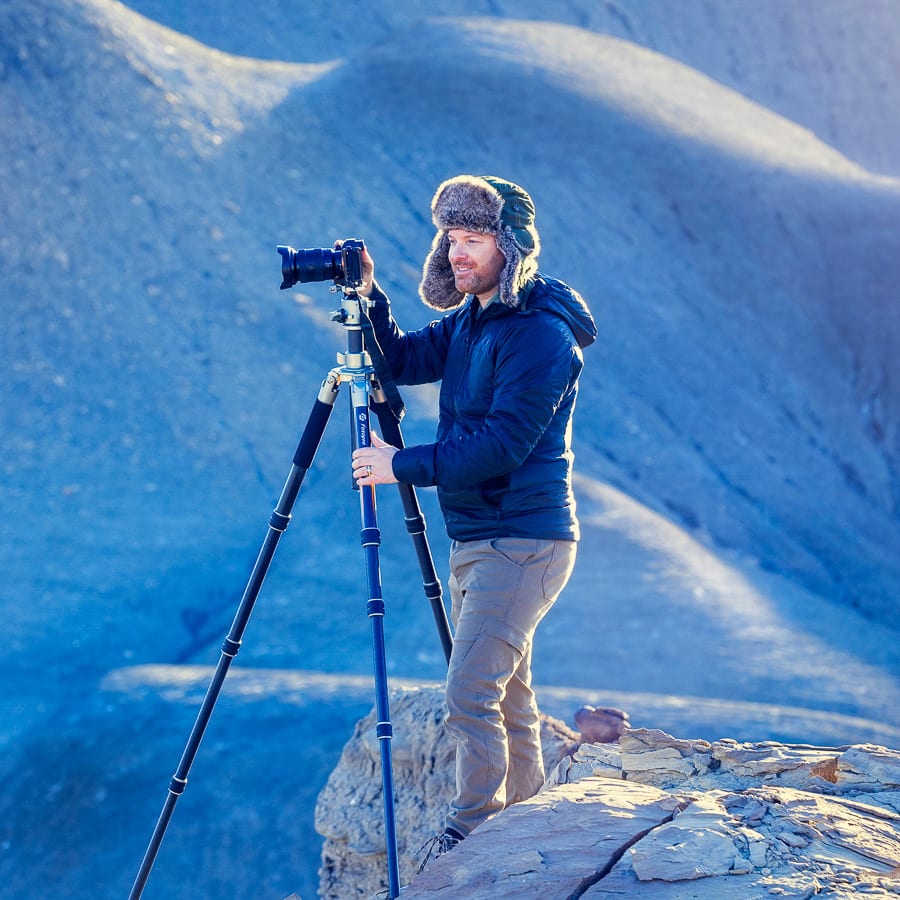 John Haymore
John Haymore is a Utah-based photographer with a deep passion for landscapes. Ever since he took his first road trip to Moab over twenty years ago, he's been in awe of the magnificent sandstone formations that the Southwest holds. Those encounters with serene locations left him craving for a way to hold on to those memories and preserve the surrounding beauty. He believes in blending conservation with landscape photography to educate and raise preservation through principles of responsible stewardship for our public lands.  A Graphic Designer by trade, John focuses on building brands and visual communication. He believes everything in this world should be thoughtfully designed and has spent the last decade turning ideas into visual solutions that evoke emotional responses.
John not only loves teaching photographers in the field, but he is equally proficient at teaching computer skills to raise students' post-processing IQ's. John's images have won numerous awards, including top finishes in the prestigious Epson Pano Awards!
View John's Portfolio Here:  Gallery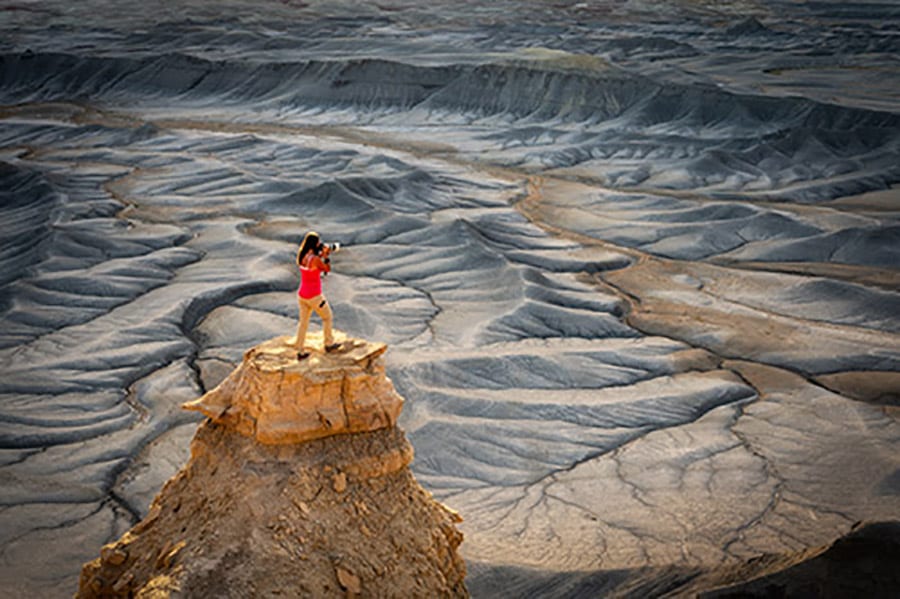 Nicole Pino
Many of you will have already interacted with Nicole well before you go on your first tour or workshop.  As our front office manager, she is the glue that holds our operation together and ensures everything runs perfectly. We couldn't do it without her hard work and dedication!  But not only that, she is is a talented photographer and an attentive teacher.  As one of our photography experts, you may be fortunate to have her as one of your instructors on a workshop.
Having an interest in photography from a very young age, Nicole certainly found her home and "happy place" in the photographic community.
Nicole is also a licensed boat captain, and you will see her on our Lake Powell Houseboat Workshops and Reflection Canyon Tours.  Lake Powell being one of her favorite places on Earth, she has spent many years exploring the lake and its side-canyons and knows it very well. She has a plethora of experience piloting boats both large and small.
Nicole is a Utah native and self-proclaimed "Gypsy at heart."  Having an incurable wanderlust and a love for the outdoors, she spends the majority of her free time traveling and exploring .  She enjoys sharing her passion for photography and love of nature with others.
View some of Nicole's work below and visit her on Instagram.