Winter In The Desert Photo Workshop
Photograph the Southwest's stunning red rock scenery accented by white winter snow! Crowds are minimal in the winter, allowing us a degree of solitude you can't get the rest of the year. Billowing fog, icicles, storms, and dramatic clouds are hopefully all in store!  Expect to learn many new photo techniques from Southwest guru Kathleen Gardner and Jeremy Woodhouse, who has been leading workshops all around the world for over 20 years!
$2395

Includes Single Occupancy Lodging
4 Students per Instructor
Max 8 Students
Kathleen Gardner
Jeremy Woodhouse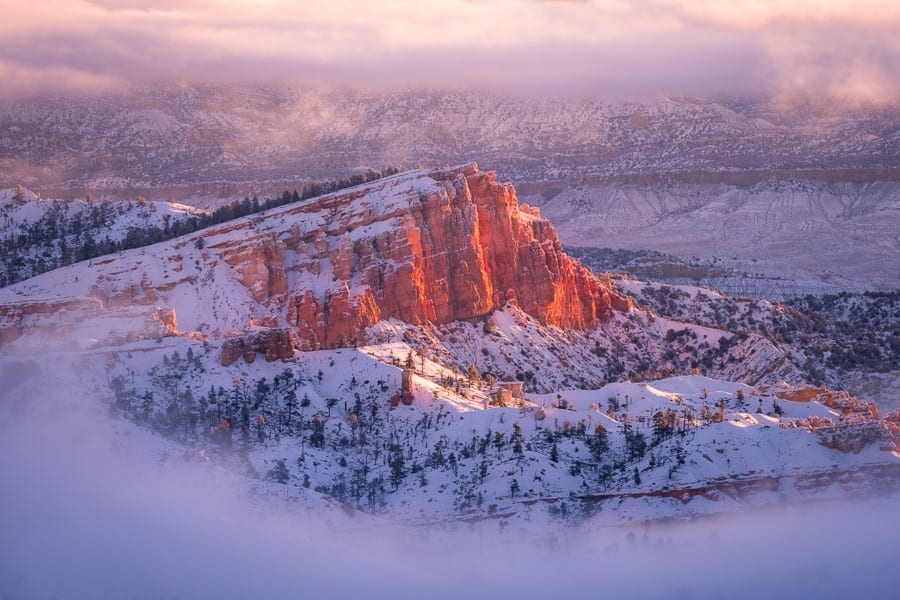 Highlights
Winter is the ideal time to visit the desert. With most of the tourists gone, you'll fill your lungs with fresh, crisp air each day. Enjoy the silence as the snow dampens all sound and highlights the wonders of the landscape.
The itinerary is being kept flexible so we can hit the best places for snowy landscapes.
Photograph magnificent vistas in the Grand Canyon, Zion, Bryce Canyon, and beyond! Intrepid travel and fresh perspectives are what we specialize in.
To ensure plenty of individual attention, group size is capped at 8 participants.
Learn from pro instructors Jeremy Woodhouse and Kathleen Gardner.
Workshop fee includes single-occupancy hotel lodging.
Itinerary
We keep a flexible itinerary in order find the best winter conditions and to deliver the best possible photography experience. We reserve the right to change the itinerary and shooting locations as needed. We'll spend most of our time in the field taking photos but include image critique and editing sessions throughout the workshop. Night photography is also an option if that is something the group wants to do. The itinerary below is just an example of what you can expect.
Day 1 (Feb 17): Arrive at the Best Western Red Hills in Kanab for a mandatory orientation that starts at 9AM.  If coming from Las Vegas, know that you will lose an hour when driving to Utah. After the session, we'll grab lunch, load up and drive to the South Rim of the Grand Canyon to shoot sunset.
Day 2 (Feb 18): Full day of shooting on the South Rim of the Grand Canyon. With fresh snow on the rim, compositions are endless with snowy foregrounds and the dramatic canyon below.  A few short hikes are planned for today. Return to our hotel in Tusayan after sunset.
Day 3 (Feb 19): We are up early for our final sunrise opportunity at the Grand Canyon and then start the drive back to Kanab. We photograph several places along the way and get back to town after dark.
Day 4 (Feb 20): With our flexible itinerary, we'll decide as a group where we want to photograph today and tomorrow.  The options are endless and include places like Bryce Canyon, Zion, White Pocket, South Coyote Buttes, and the Grand Staircase Escalante.  Expect a full day of shooting and a post-processing session in the evening.
Day 5 (Feb 21): This is our final day of shooting where you can apply all the techniques and skills learned throughout the workshop. We'll spend time editing and critiquing some of your photos, concluding with a group dinner at one of the most celebrated restaurants in Kanab.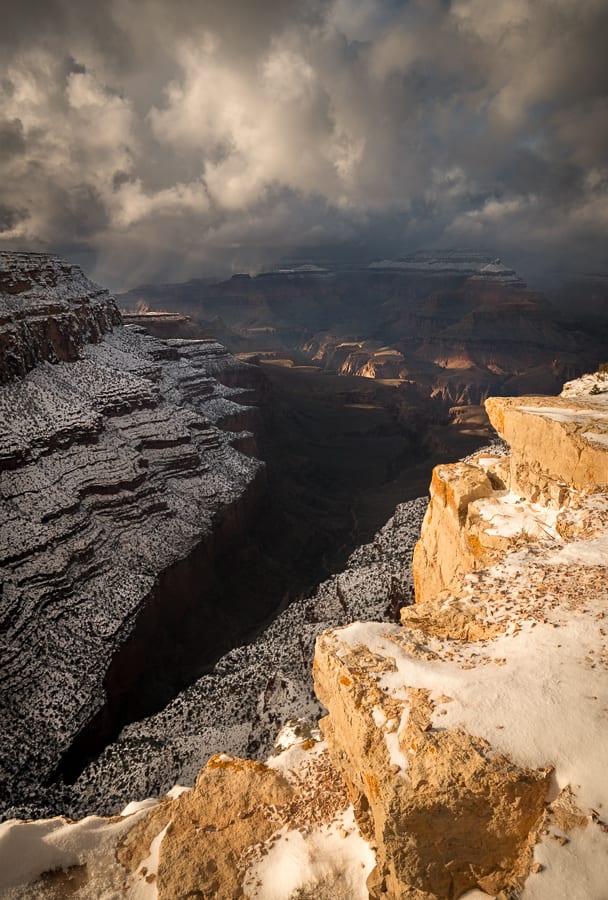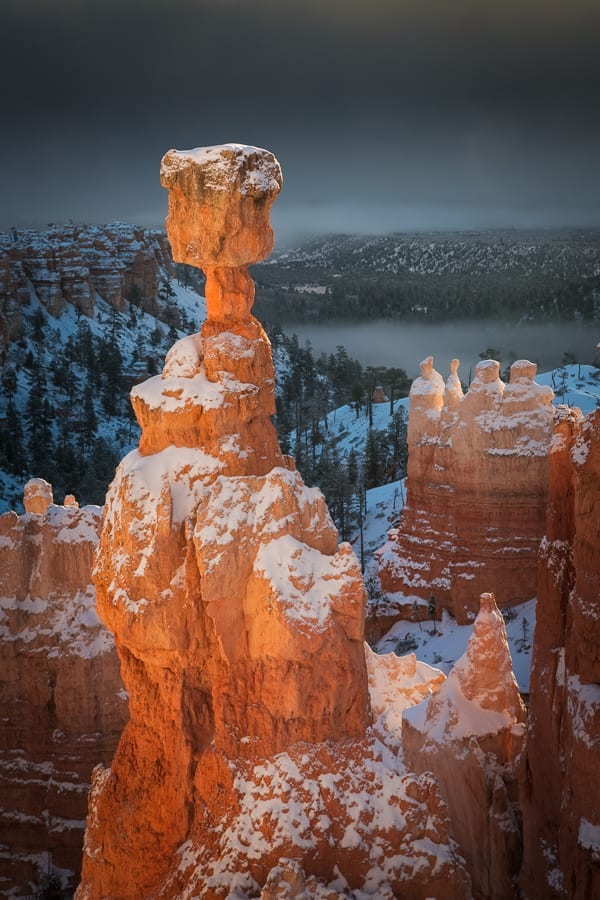 Logistics
Please arrive in Kanab, UT prior to 9AM on Tues Feb 17th for the orientation session at the Best Western Red Hills. Single-occupancy hotel lodging is included for each night of the workshop.  If you would like double-occupancy lodging, we can offer each person a $200 discount.  With exception of the final group dinner, meals are not included in the workshop. We will finish the workshop around 8PM on Feb 21st.  It's up to you if you want to stay in Kanab that night or head somewhere else.
All participants on this trip should be in reasonably good physical condition.  We aren't planning any long hikes on this trip, but the presence of snow can make short hikes seem much harder.  You should be comfortable walking around 2-4 miles per day.  For winter hiking, you will want to get a pair of micro-spikes so you don't slip on the ice.  Click Here for a recommended pair from Amazon.
We timed this workshop for a good chance of winter snow in the Southwest.  However, we can't control the weather and it's always possible we won't have snow at some or all of these locations. The weather can vary quite a bit in early Feb and you'll want to prepare for the worst.  We could have sunny weather and highs in the 40's but it will most likely be much colder.  It's not uncommon to see sub-zero morning temps in Bryce Canyon.  Please see the gear list further down for specific recommendations.  No matter what the weather does, we'll get awesome photos. If it's exceptionally wet, some of the dirt roads may be impassable and we'll modify the itinerary accordingly. Transportation will be provided in 4WD trucks so we can handle most winter conditions.
Pricing
$2395/Person - Single Occupancy
$200 Discount per Person for Double Occupancy
Trip Includes:
All ground transportation and photography guiding during the trip.
4 Nights Single Occupancy Hotel Lodging at the Best Westerns in Tusayan, AZ and Kanab, UT.  Discounts apply for double-occupancy.
Post-processing and image critique sessions.
All necessary permits and entry fees for the places we will visit.
Group dinner on our final day in Kanab.
Trip Does NOT Include:
Transportation to/from your home to Kanab, UT.
Alcoholic Beverages.
Meals and snacks with exception of the final group dinner.
When you complete the checkout process, you will be given the option to either pay the full amount or put down a 50% deposit.  If you pay the deposit, the remaining amount will be charged 30 days prior to departure to the credit card we have on file.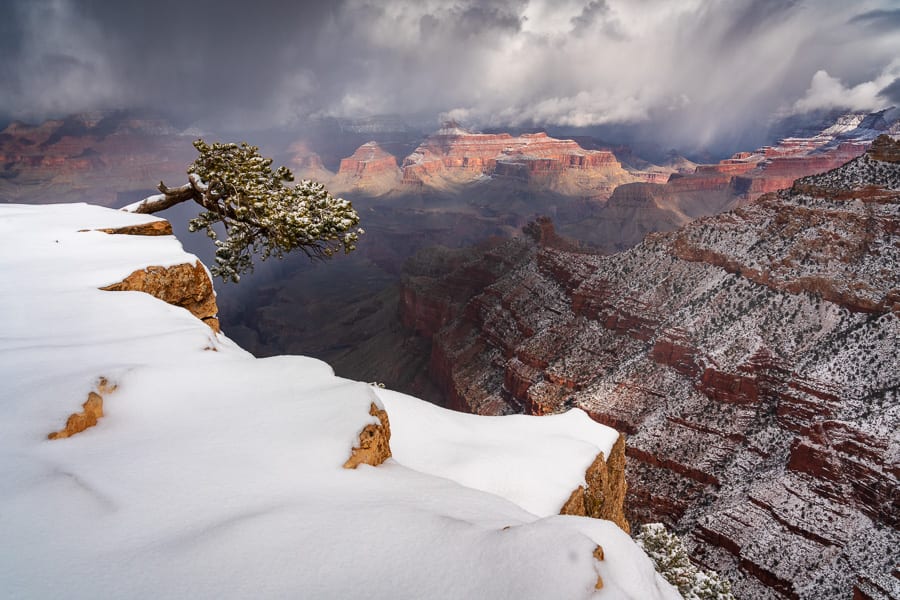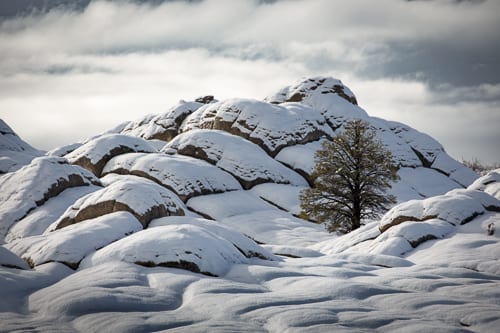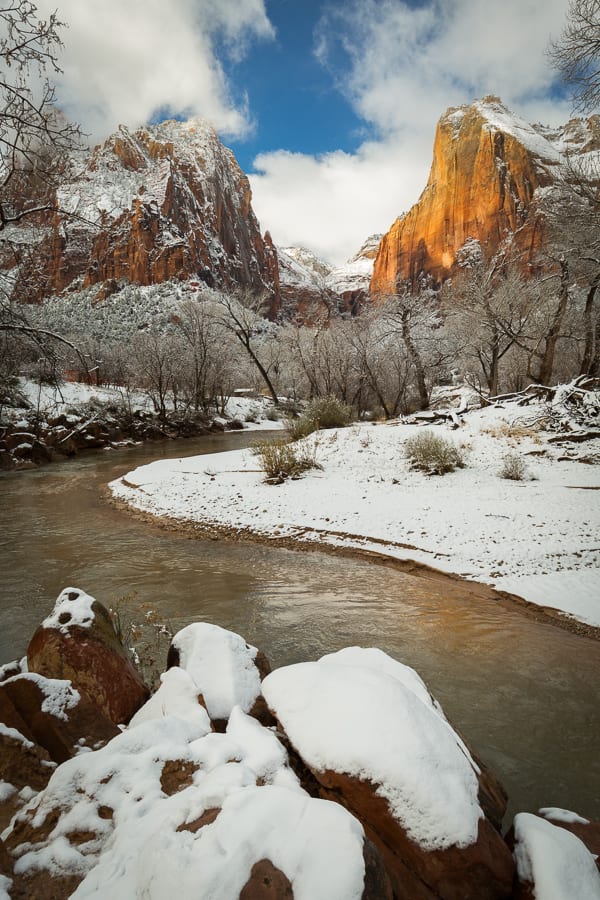 Recommended Camera Gear
Sturdy tripod and ballhead
Digital SLR or Mirrorless Camera Body.
Wide Angle Lens. Frame frame - aim for 16-35mm range or wider. Crop sensor, 10-22mm.
Mid-range zoom lens in the range of 24-100mm.
Telephoto lenses will come in handy in Bryce and the Grand Canyon.  Anything in the 70-400mm range.
Circular polarizer filters are useful.  Bring any ND filters if you have them.
Extra batteries, memory cards, and cleaning supplies.
Remote cord for your camera.
Laptop if you wish to backup your photos or follow along during the post-processing instruction.
We may be able to rent you gear if you don't have everything you need.
Personal Gear List
Sturdy hiking footwear, thick hiking socks, and long pants.
Several warm layers. For the most comfort, we recommend wearing moisture wicking base layers.  A fleece or down jacket will help keep you warm and a waterproof shell or coat should be worn on the outside.
Snow pants or gaitors that you can seal around your boots to keep snow out.  If your snow pants aren't insulated, make sure you wear an insulating base layer.
Warm hat, thick gloves, and glove liners (useful to operate your camera controls).
Micro-spikes or micro-traction devices will help when walking on slick surfaces.  Snowshoes will not be needed for where we're going.
Headlamp in case we are hiking in the dark.
Sunscreen, Sunglasses, Sun Hat
Water bottle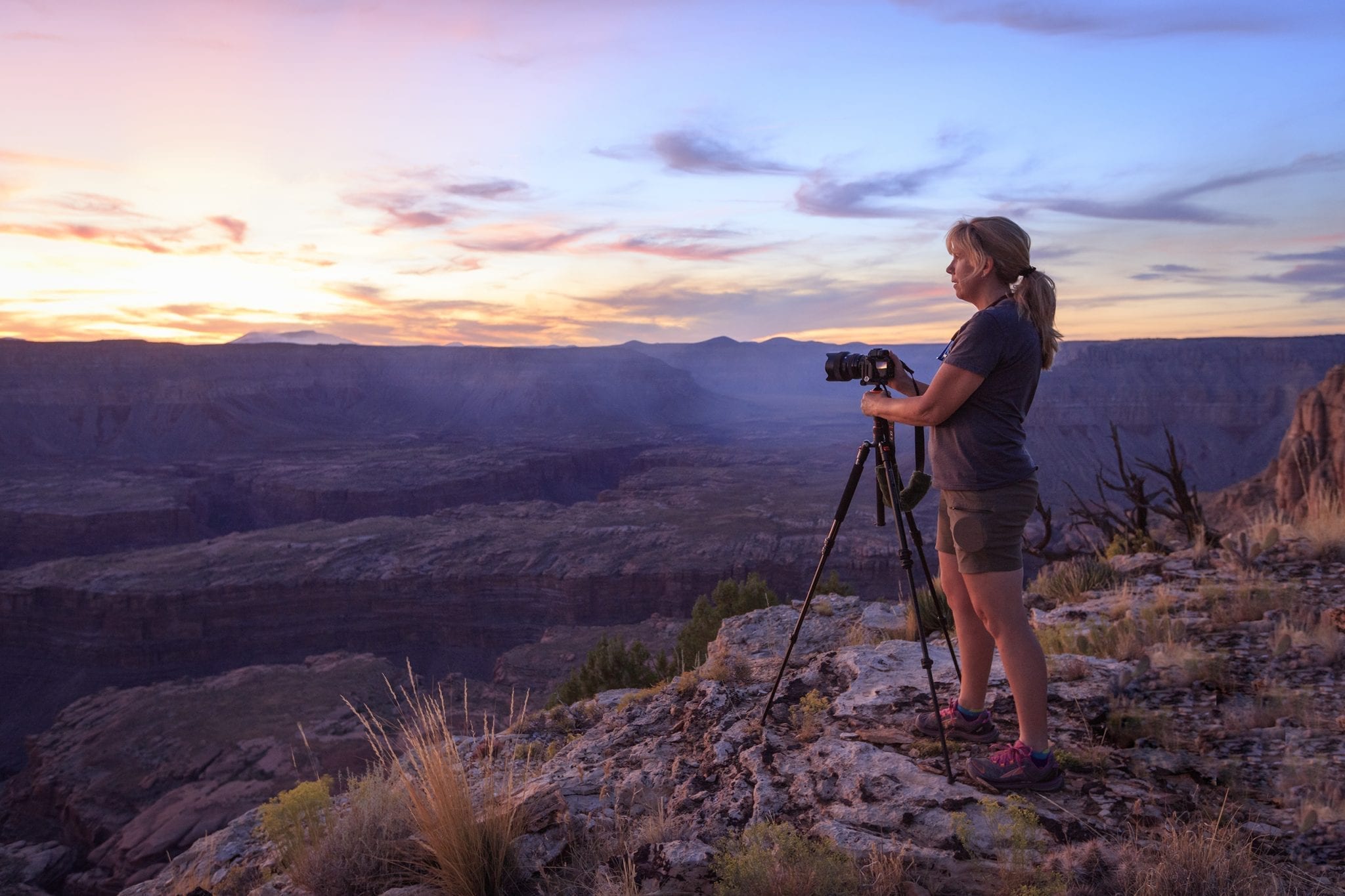 Kathleen Gardner
Kathleen moved to southern Utah in the summer of 2018 after living in the mountains of Idaho for 17+ years.  She grew up in Colorado, and spent much of her childhood visiting and exploring southern Utah with her family, so it only made sense that one day she would live here.
Her father, the geologist, made sure they spent their vacations exploring the lands and discovering new locations and places people had never been.  Kathleen loves to hike and photograph these places and is always discovering new hidden gems.
Kathleen has been a photographer for 35 years, dabbling in portrait and glamour, but always came back to nature, as that is where she feels most at home.  Don't let her beautiful landscapes fool you, there is one tough cookie behind that camera!  She has hiked the Grand Canyon, rim2rim2rim in 2 days, trekked 53 miles along the San Diego coastline, also in 2 days.  As if that weren't enough, she has kayaked and biked the entire length of the Florida keys in 3 days; kayaked, biked and hiked for 25 hours and 77 miles around Santa Barbara, as well as completing many obstacle course races over the past few years.  Kathleen loves to challenge herself and even moreso, loves the change it creates within herself, just as it does in nature.
See more of Kathleen's work below and follow her on Instagram: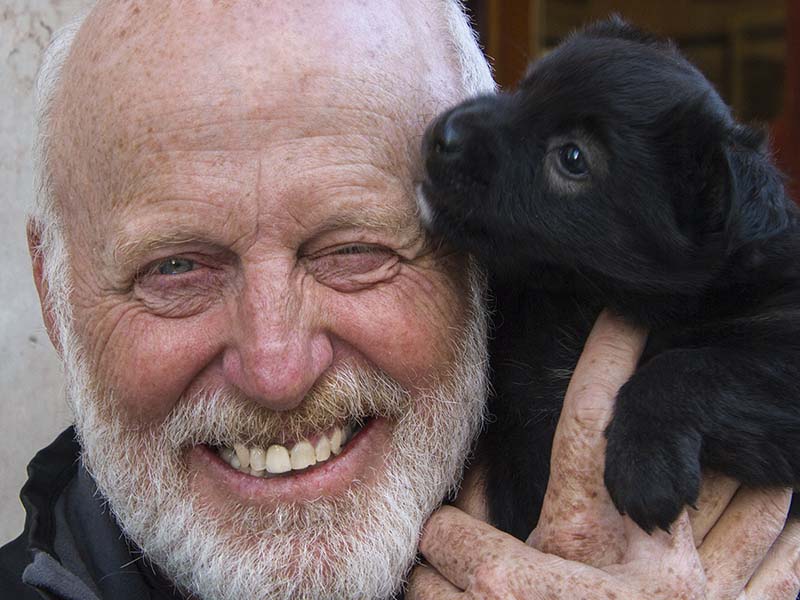 Jeremy Woodhouse
Jeremy has been a full time outdoor, travel and lifestyle photographer since leaving his graphic design job in 1999.  When it comes to photography, Jeremy is a Jack of all trades; being just as comfortable photographing Naga Sadhus at a Hindu festival as he is photographing puffins on the edge of a cliff in Iceland. He is know for his boundless energy and enthusiasm.
Working together with some of the best guides and tour operators in the industry, his goal is to always be in the right place at the right time
Awards include, Winner of the "Wild Places" award in the BG Wildlife Photographer of the Year Awards with his image of "Fly Geyser", and the Nature's Best Magazine Competition Grand Prize Winner for his image "Lightning over 12 Apostles", both photographed with a Fuji GX 617 Panoramic film camera.