On this workshop you will visit many stunning locations, photograph the Milky Way, and learn the most effective post-processing techniques. Get off the beaten path and enjoy some of the darkest skies in the lower 48 states!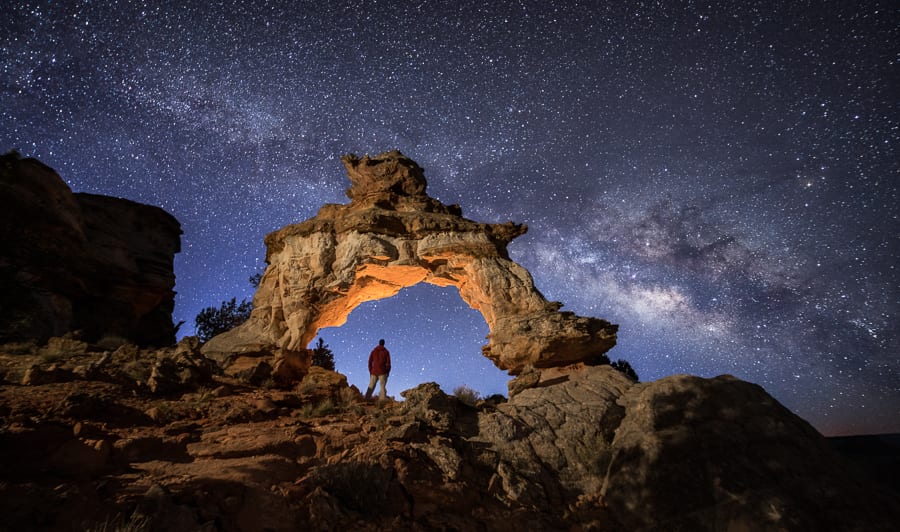 Highlights
Early spring is our favorite time of year to photograph the Milky Way. The Milky Way is angled low to the horizon and is perfect for landscape images and panoramics.  You will learn both natural light and low-level lighting techniques.
We have many unique spots scouted out for this workshop.  You can trust us to get you off the beaten path!
Post-processing time is included to help you make the most of your night sky images. Image critique will be given throughout the workshop.
The itinerary is kept flexible so we can chase the best weather conditions. As long as skies are clear, we'll focus on Milky Way shooting. We have permits to guide all throughout the Southwest!
Workshop capped at 8 participants and 2 instructors to ensure adequate individual attention.
Trip concludes at one of the best restaurants in Kanab to celebrate this novel experience and the new friends we've made.
Itinerary
The itinerary is being kept flexible to allow us to chase the best conditions. If skies are clear, we'll focus on early morning Milky Way shooting. If storms and clouds are moving through, we'll spend more time photographing during the day. The itinerary below is just an example of what you can expect.
Day 1 (Mon Mar 23):  Meet at 2PM at the Best Western in Kanab for a mandatory introductory session.  After a dinner break, we'll run out and grab sunset photos at a nearby location.
Day 2 (Tues Mar 24):  We'll leave at 2AM for a rough drive out to Alstrom Point, a superb viewpoint high above Lake Powell where we'll capture the full Milky Way arc.  We'll stay out there for sunrise and hit a few of our favorite spots on our way back to Kanb. After a midday nap, we'll reconvene for a late afternoon post-processing session.
Day 3 (Wed Mar 25):  We're up early again this morning to photograph the Milky Way near one of our favorite arches. You'll learn some advanced lighting techniques. We'll return to Kanab for breakfast and do another post-processing session. In the afternoon, we'll head out to one of our secret spots not far from town, with a nice collection of hoodoos and colorful rock formations.
Day 4 (Thurs Mar 26):  We lucked out!  Conditions look great for Milky Way this morning, so we're heading out to Bryce Canyon at 2AM. Bryce Canyon is a phenomenal place to learn both natural light and low-level lighting techniques and even how to blend the two techniques. We'll stay at Bryce through lunch.  We'll regroup a few hours later for a final post-processing session and our group dinner. You can always leave sooner to catch a flight if needed.
Workshop Extension:  If anyone is interested in extending the workshop by 1 or 2 days, please let us know and we can put together some great ideas for you!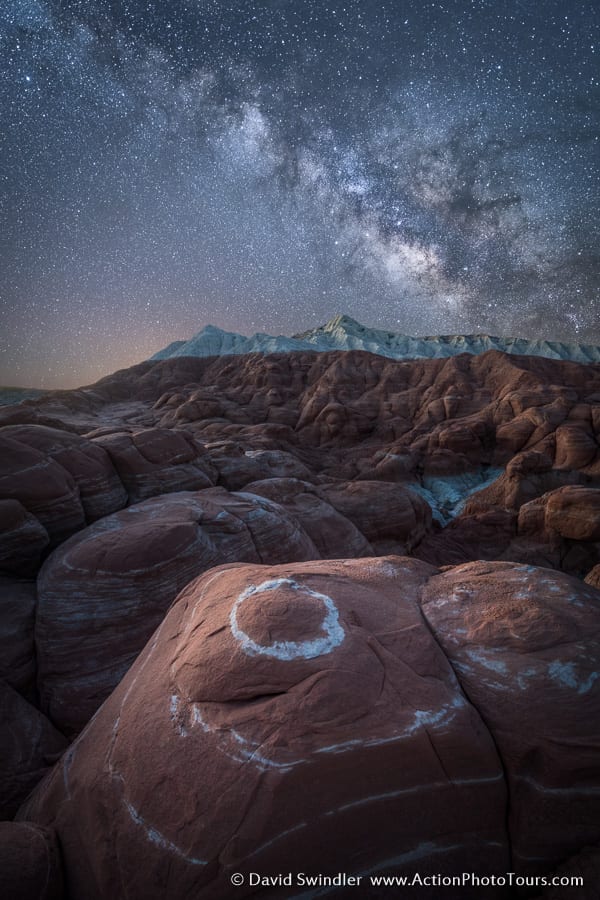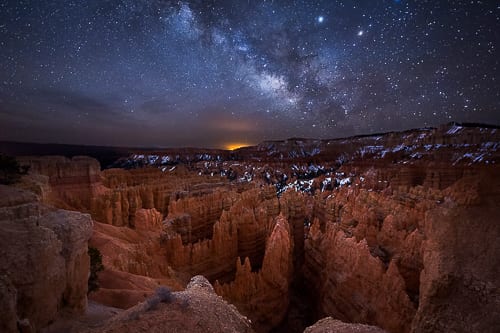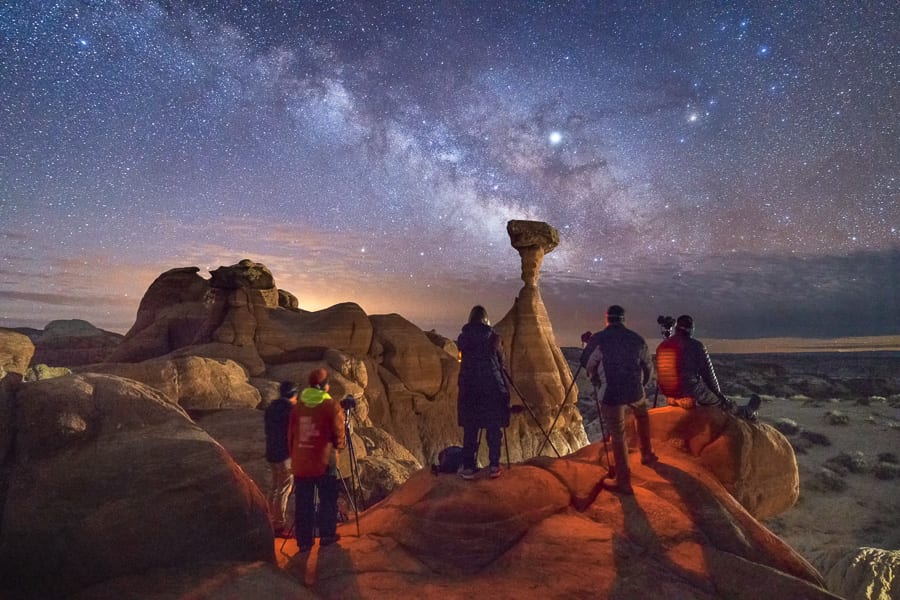 Logistics
The orientation session begins at 2PM on Monday March 23 at the Best Western Hotel in Kanab. We didn't include hotel stays on this trip to allow you the flexibility of a lodging option of your choice.  If you book with the Best Western Red Hills, you will get a 10% discount by mentioning our workshop. You will need lodging for the nights of 23, 24, and 25th.  We will finish the workshop around 8PM on March 26th so it's up to you if you want to stay in Kanab that night or head somewhere else.  You will also have the option to skip the last post-processing session and or group dinner if you need to catch a flight.
All participants on this trip should be in reasonably good physical condition.  We aren't planning any long hikes on this trip, but the uneven terrain, sand, and steep uphills can make short hikes seem much harder.  You should be comfortable walking around 2-3 miles per day.
We timed this workshop for optimal early spring Milky Way photography. However, we can't control the weather and if skies are cloudy one day, we'll plan an outing to a different location and focus on sunrise/sunset photography. Don't worry - we'll make the best possible use of our time. Our job is to get you the most stunning photos and help you learn as much as possible!
The weather can vary quite a bit in early spring. It could be temperate and sunny with cool nights.  Or it could be very cold, windy, and possibly even snowing. You need to come prepared for the worst conditions. Up at Bryce Canyon, it can be well below freezing early in the morning, so you'll need to bring warm layers to ensure you don't get cold photographing at night.  Please see the gear list further down.
Pricing
$1595/person
Trip Includes:
All ground transportation and photography guiding during the trip.
4-Day Workshop with 2 Instructors and 8 Participants.
Post-processing and image critique
Lighting equipment and fixtures for night photography.
Group dinner on our final day in Kanab.
Trip Does NOT Include:
Transportation to/from your home to Kanab, UT.
Hotel Accommodations.
Alcoholic Beverages.
Meals and snacks with exception of the final group dinner.
When you complete the checkout process, you will be given the option to either pay the full amount or put down a 50% deposit.  If you pay the deposit, the remaining amount will be charged 30-days prior to arrival to the credit card we have on file.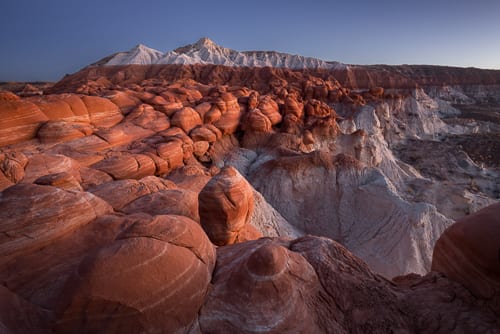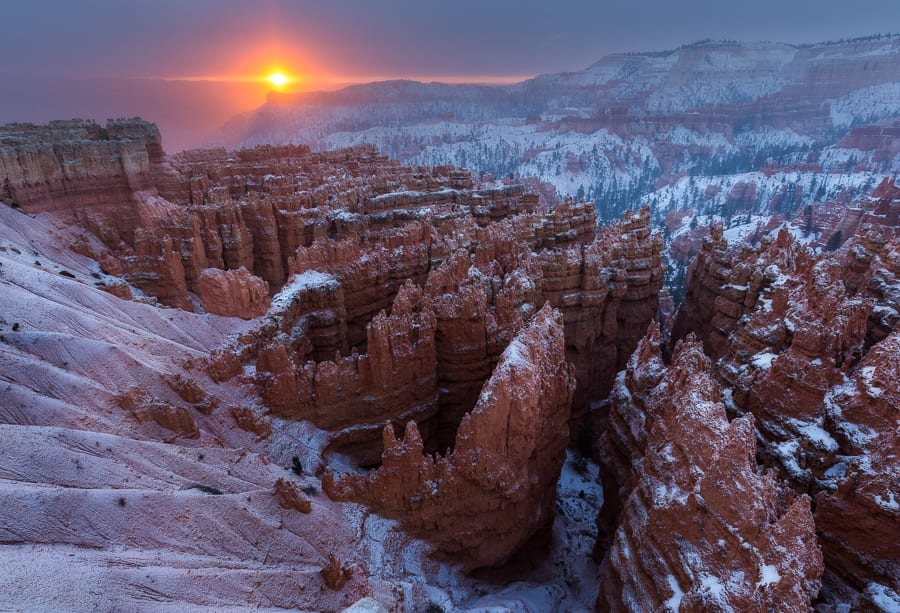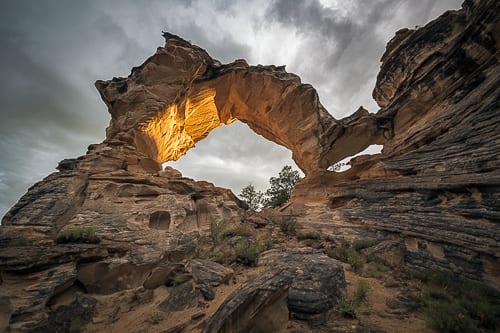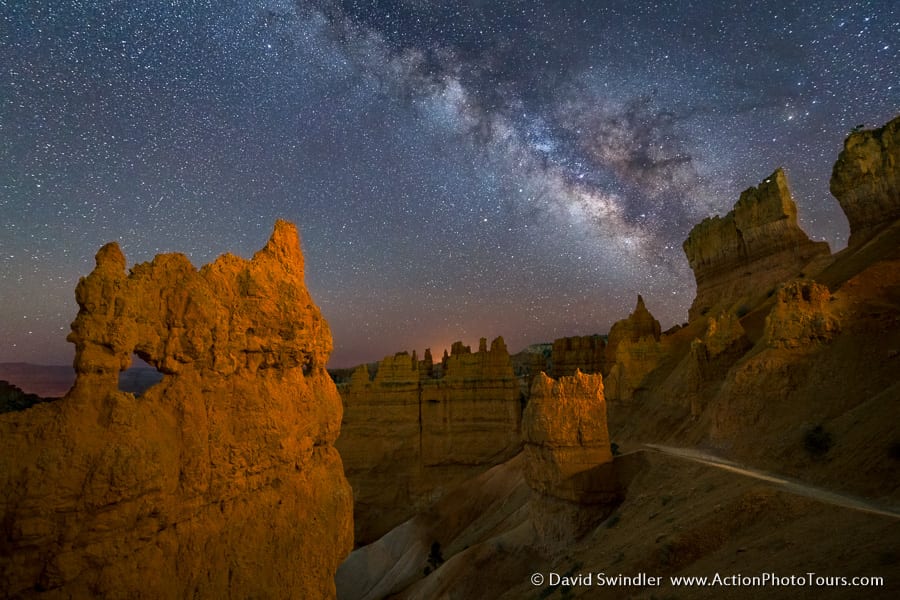 Recommended Camera Gear
Sturdy tripod and ballhead
Digital SLR or Mirrorless Camera Body.
Fast Wide Angle Lens. Our favorite night photo lenses include Tamron 15-30mm f2.8, Rokinon 14mm f2.8, Nikon 14-24mm f2.8, and Canon 16-35mm III f2.8.
Mid-range zoom lens in the range of 24-100mm.
Telephoto lenses will come in handy if we go to Bryce, Alstrom Point, or the Grand Canyon.
Circular polarizer filters are useful.  Bring any ND filters if you have them.
Extra batteries, memory cards, and cleaning supplies.
Remote cord for your camera. An intervalometer will be especially useful for doing long exposures at night.
Laptop if you wish to backup your photos or follow along during the post-processing instruction.
We may be able to rent you gear if you don't have everything you need.
Personal Gear List
Sturdy hiking footwear, hiking socks, and long pants .
A rain jacket and several warm layers since it can get cold at night.
Sun hat, winter hat, gloves.
Headlamp for night photography.
Sunscreen, Sunglasses.
Water bottle or hydration bladder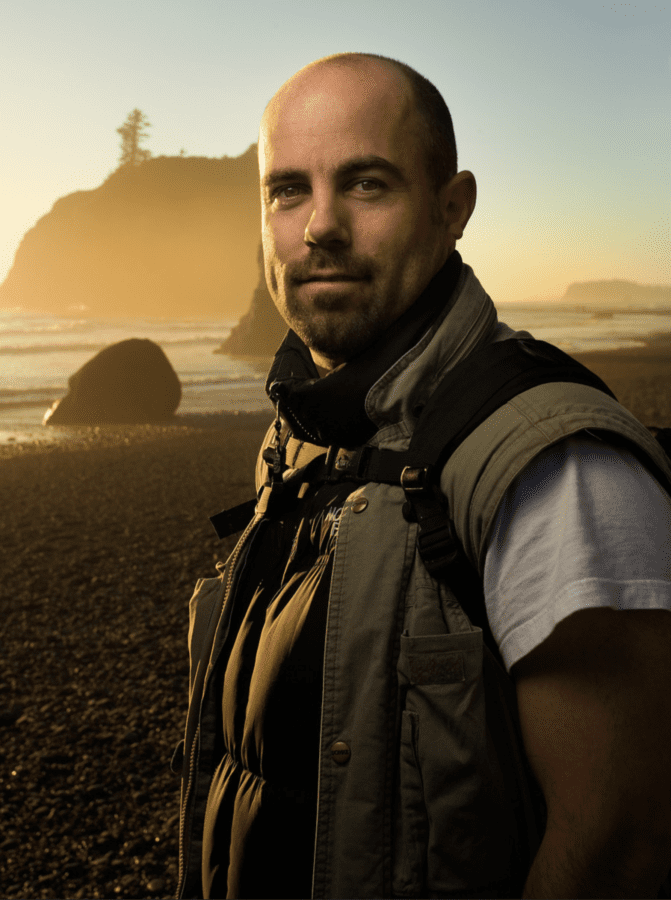 Instructor - Kevin McNeal
Kevin McNeal is passionate about photographing grand landscapes that reflect the most unique places on earth. Capturing moments of magic light and transferring this to print is the ultimate goal. His images hold a combination of perseverance, patience, and dedication to capture landscapes in fresh ways. The stories of how these images are rendered come across in the feelings the images convey. He has traveled all over North America, shooting diverse landscapes and finding remote places with the hope that we can convey to the public that this earth is worth caring for. His award winning images can be seen in galleries and showings across the United States.  He was recently invited to the Art Wolfe Art Gallery for the Environmental Photography Invitational. Kevin was the grand winner of the Landscape category for the Natures Best Magazine and was selected for the Smithsonian National Museum of History in Washington D.C..  He is a regular contributor to publications like Outdoor Photographer.
Artist's Statement
"I believe that the Earth shares secrets with us that only can be discovered by trying to understand our position on this planet. We are never fully intimate with the planet but are given brief moments that make our souls want more. These glimpses of nature's power are fleeting and never the same twice. I also believe it is important to share with those who want it. The treasures that await us given the patience that is out there. What I try to do is bring some of that magic to my images to share with the rest of the world. Each of my images tells a story that everyone can relate to in some way whether it is success, fear, or challenging oneself to overcome obstacles."
Kevin's portfolio can be found at www.kevinmcnealphotography.com.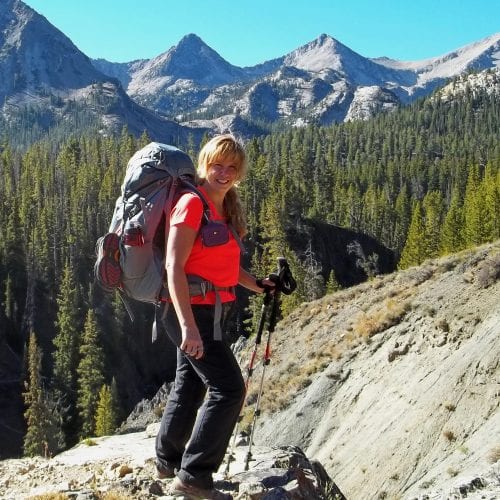 Instructor - Kathleen Gardner
Kathleen came to southern Utah in 2018 after living 17 years in the mountains of Idaho.  During that time, she spent a large part of her time exploring the beautiful state of Utah.  Kathleen is a "hiker extreme."  She was born and raised in the mountains of Colorado, and hiked her first fourteener at the age of 10!  Since then, she has continued on some extreme adventures which include hiking the Grand Canyon rim to rim to rim in 2 days!!  Kayaking, biking and hiking the length of the Florida keys; hiking, biking and kayaking around Santa Barbara for 25 hours on an adventure race; hiking from California's Oceanside Harbor to San Diego Harbor; as well as many years of hiking and backpacking in the Sawtooth and White Cloud Mountains of Idaho.  Kathleen has explored and hiked in 49 states with hopes of conquering Alaska in the near future.  She has a passion for the outdoors and is always looking for those hidden, untraveled areas.
.
Kathleen took up photography 35 years ago, starting with a basic film cameras and has since switched to digital.  She prides herself in taking shots of lesser known areas and loves to talk about nature and her adventures.  Having grown up with a geologist for a Dad, she has a vast interest in, and knowledge of rocks and therefore loves to learn the specific history of local areas.  If you are fortunate enough to go on one of our overnight tours and Kathleen is along, you will be treated to first class service as well as home-cooked dinners and breakfasts.
Need More Information? Contact Us!
Phone Number: 435-767-0222