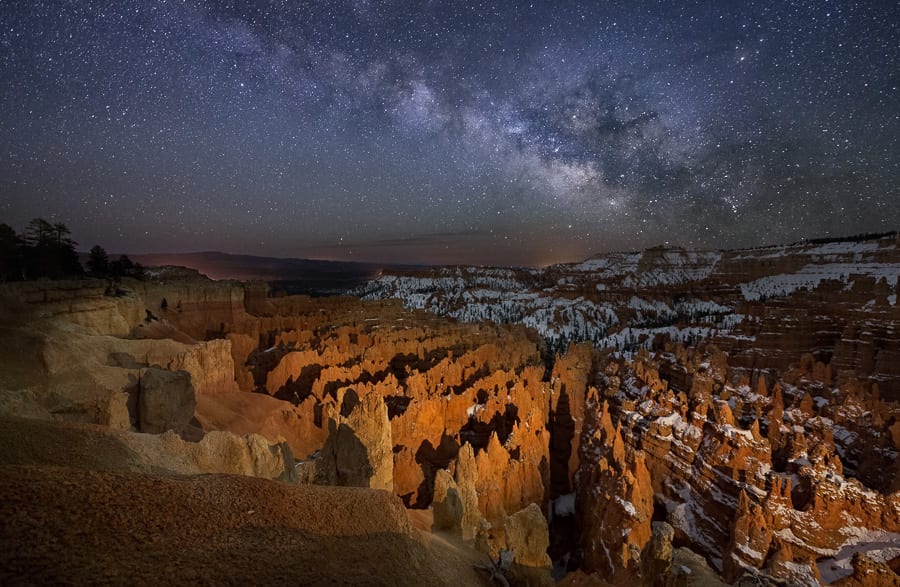 Highlights
Six full days of chasing light, stars and sunbeams in some of the most epic locations in the Southwest!!
Get off the beaten path and visit the otherwordly rock formations of White Pocket.
Slot Canyon Mania!  Workshop includes tours through Lower Antelope Canyon, Secret Canyon, and Peekaboo Canyons!
Photograph Bryce Canyon, Zion, and Lake Powell before the summer heat and crowds arrive.
When not out shooting, you'll be learning new post-processing skills from award-winning photographer Cody Wilson.
Enrollment is capped at 10 participants and 2 instructors to ensure adequate individual attention.
Itinerary
The itinerary is being kept flexible to account for weather and current conditions. Expert forecasting, group consensus and weather will dictate our final itineray.
Day 1 (Mar 14):  Meet at 12PM Arizona Time at the Best Western Plus Lake Powell in Page, AZ for a mandatory orientation session. We'll head out at 2PM for our tour of Lower Antelope Canyon and then finish the day with sunset out at Horseshoe Bend.
Day 2 (Mar 15):  We are up early for sunrise out at some unique rock hoodoos with great views down into the valley. We return for breakfast and then start our tour into Secret Canyon. You will love the stripes, swirls, and colors of this less-visited slot. After lunch, we load up for the rough drive out to Alstrom Point, a stunning viewpoint high above Lake Powell! You'll be awe-struck as the intense shades of orange and red give way to soft pastels as the sun sets.
Day 3 (Mar 16):  We photograph sunrise at a nearby location and then after breakfast we checkout of our hotel and drive to Kanab, UT.  We meet up for a couple hours of classroom based post-processing training and then finish the day with a sunset shoot in a remote area of Zion.
Day 4 (Mar 17): Today we photograph sunrise from a beautiful viewpoint in Zion. We enjoy a late breakfast when we get back to Kanab and then gear up for our adventure to White Pocket. Your mind will be blown by the amazing rock formations and picture-perfect compositions. Expect a late arrival back in Kanab.
Day 5 (Mar 18):  Today the group decides to sleep in and then we do another post-processing session.  This is our open day, and we decide to as a group where we want to go based on the weather and current conditions. We'll have lots of options to choose from!
Day 6 (Mar 19): With clear skies overnight, we wake up at 2AM to photograph the Milky Way at Bryce Canyon! Get ready to learn about lighting techniques and night photography!. We stay out at the canyon for sunrise and then grab breakfast as a group.  When we return to town, we'll do one final post-processing session and then say our good-byes.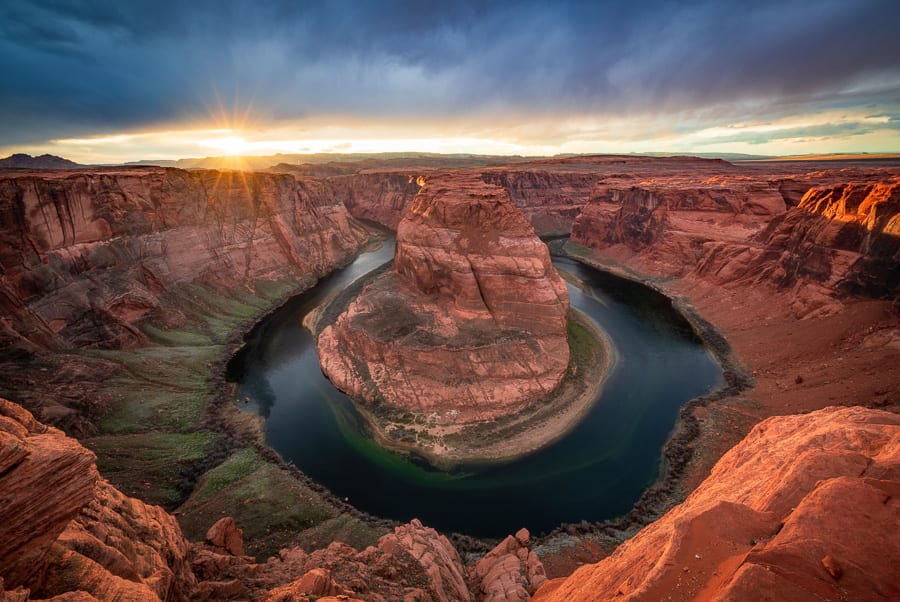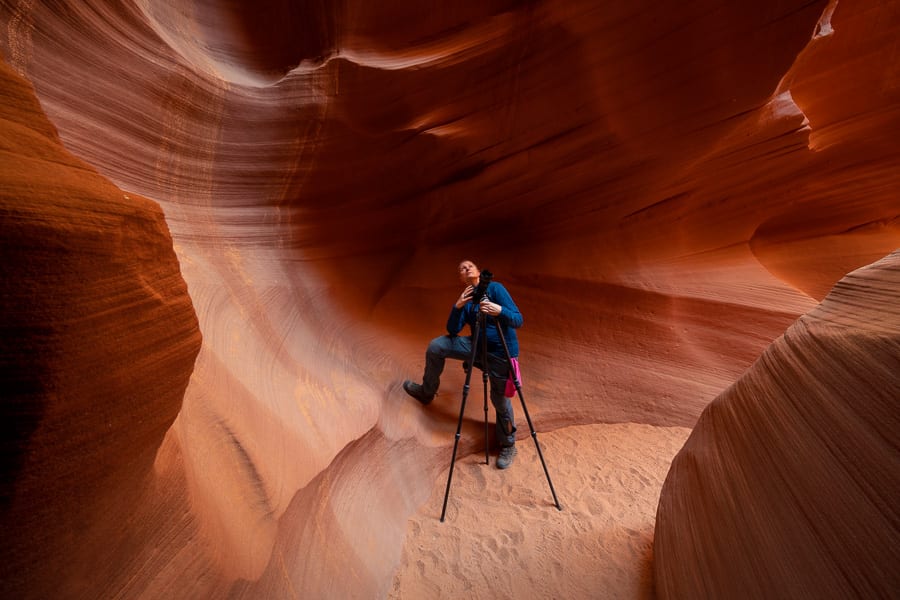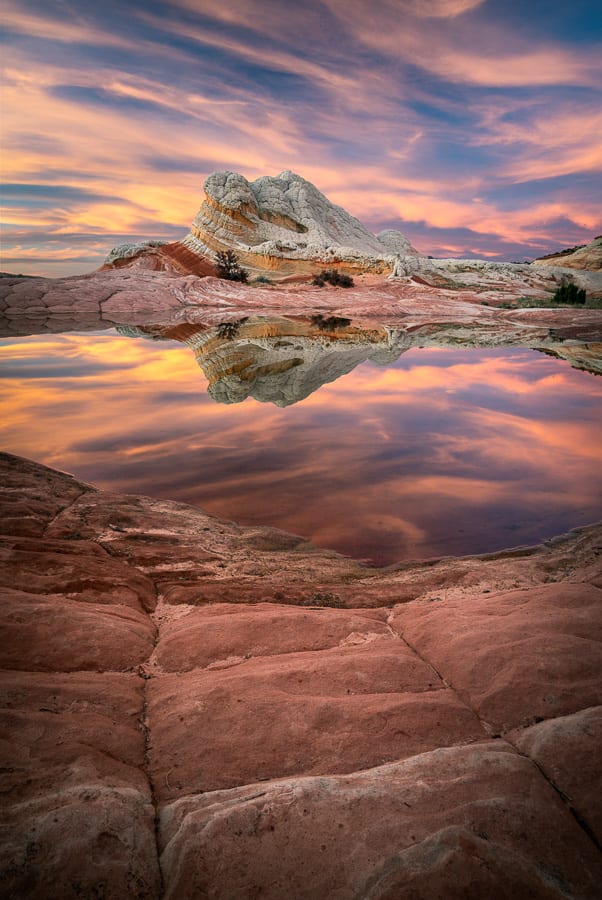 Logistics
Please arrive in Page, AZ prior to 12PM on March 14 for the orientation session at the Best Western Plus Lake Powell Hotel.  We will be staying in Page for the nights of March 14th and 15th and in Kanab, UT for the nights of March 16, 17, and 18th. The workshop will conclude mid-afternoon on March 19th in Kanab. The Outsiders Landscape Photography Conference begins on March 20th.
Hotel accommodations are included in the workshop fee and the price assumes single occupancy. If you would like double occupancy, please Contact Us and we can give each person a $200 discount.
For most people, Las Vegas will be the most convienent airport. It is a 3.5 hr drive to Kanab and a 4.5hr drive to Page, AZ. There are also a few flight options into Page, AZ and St George, UT.  Due to limited public transportation options, we recommend you rent a vehicle to get to the gateway locations. Transportation during the workshop is provided in our 2 vehicles and we will ride together as a group.
See the gear list further down for specific recommendations.  No matter what the weather does, we'll get awesome photos. If it's exceptionally wet, some of the dirt roads may be impassable. We'll modify the itinerary accordingly should that be the case. Transportation will be provided in 4WD trucks so we can handle most conditions.
For Antelope Canyon and Secret Canyon, we have to pay the Navajo for access.  These costs are substantial but are included in the workshop fee. Please note that tripods are not allowed in Lower Antelope Canyon but there is a lot of light in that canyon so it's feasible to shoot hand-held.
Each participant needs to be able to walk 2-4 miles per day. Although we aren't planning any long hikes on this trip, the uneven terrain, sand, and hot sun can make short hikes seem much harder.  In March, the weather is highly variable. It can be warm and sunny one day and cold and snowing the next. Please make sure you bring warm clothes, especially for photographing early in the morning and at night. See the gear list further down.
Pricing
$2995/Person + Tax
$200 Discount for Double Occupancy
Trip Includes:
6-Day Intensive Photo Workshop with 10 participants and 2 photography instructors.
5 Nights of Hotel Lodging in both Kanab, UT and Page, AZ. Price assumes single occupancy. If you would like double occupancy, we can offer each person a $200 discount.
All ground transportation during the trip.
All entrance fees for National Parks, Antelope Canyon, and Secret Canyon.
Post-Processing Classroom Sessions.
Night photography.
Trip Does NOT Include:
Transportation to/from your home to Page, AZ and Kanab, UT.
Meals and snacks.
Alcoholic Beverages.
When checking out, you can either pay the full amount or put down a 50% deposit.  If you pay the deposit, the remaining amount will be charged 60-days prior to the trip to the credit card on file.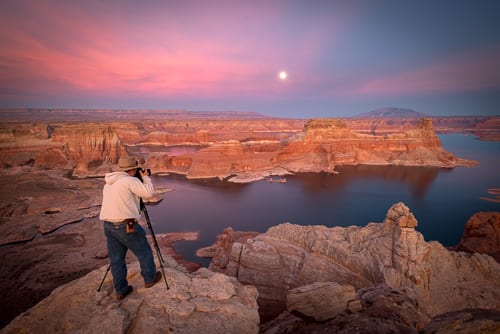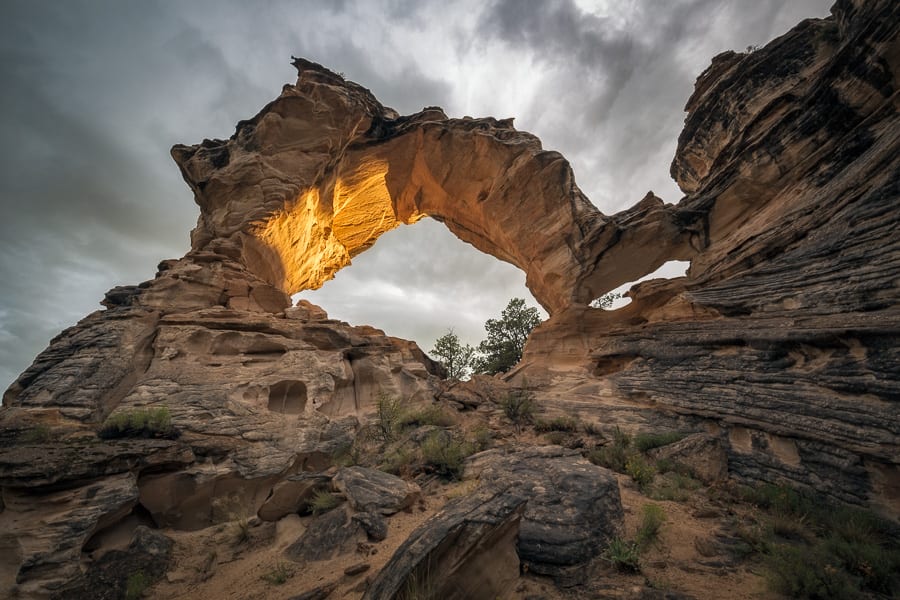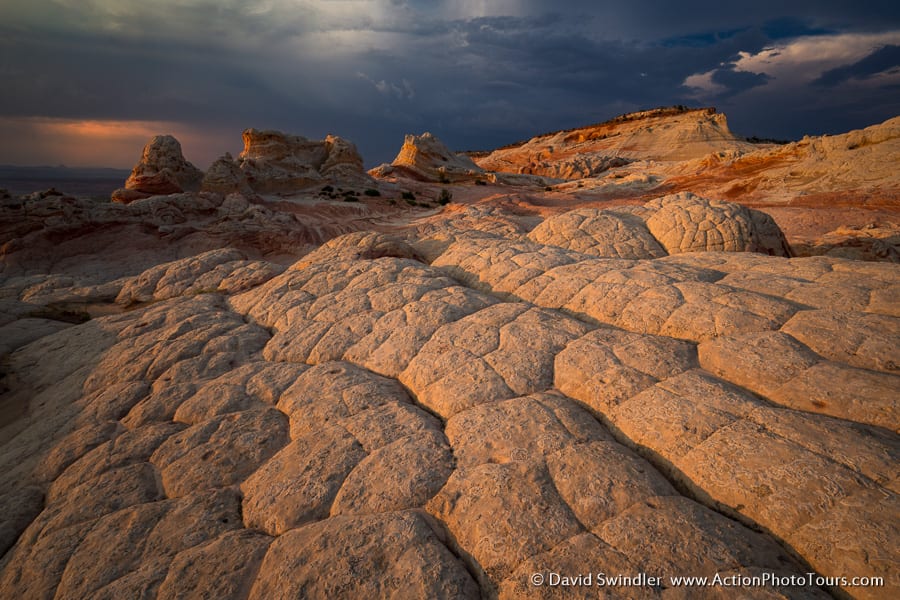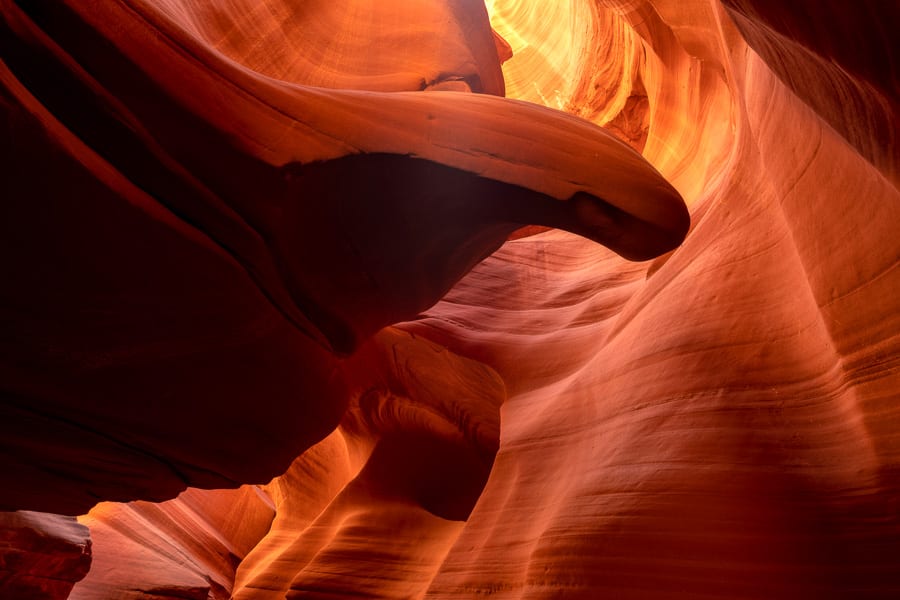 Recommended Camera Gear
Sturdy tripod and ballhead
Digital SLR or Mirrorless Camera Body.
Wide Angle Lens. Frame frame - aim for 16-35mm range or wider. Crop sensor, 10-22mm.
Mid-range zoom lens in the range of 24-100mm.
Telephoto lenses may come in handy in Zion and the Grand Canyon.
Circular polarizer filters are useful.  Bring any ND filters if you have them.
Extra batteries, memory cards, and cleaning supplies.
Remote cord for your camera.
Laptop if you wish to backup your photos or do any post-processing.
We may be able to rent you gear if you don't have everything you need.
Personal Gear List
Sturdy hiking footwear, hiking socks, and long pants (keeps sand out of your shoes).
Hiking poles or stick if you have balance issues.
A rain jacket and warm layers since it can get cold at night.
Headlamp for night photography.
Sunscreen, Sunglasses, Sun Hat
Water bottle or hydration bladder
INSTRUCTOR - Cody Wilson
Cody is an award winning photographer with 10 years of experience behind the camera.  He leads workshops in Norway, Iceland, Canada, and several locations across the United States.  Shooting with Cody involves careful study of weather patterns, skillful and adaptive "in-the-field" technique, and tasteful post processing.  Priding himself on the investment he has made in attending workshops from several of the world's best landscape photographers, Cody loves to share the knowledge he has accumulated and isn't happy until his clients go home with the best possible shot.
Cody spends most of his days in the foothills of the Cascades with his new puppy in Bend, Oregon.  In Bend, he balances his time between programming beautiful website galleries for other photographers and escaping to picturesque locations as often as possible.  Cody has also guided in the Southwest with Action Photo Tours for a season.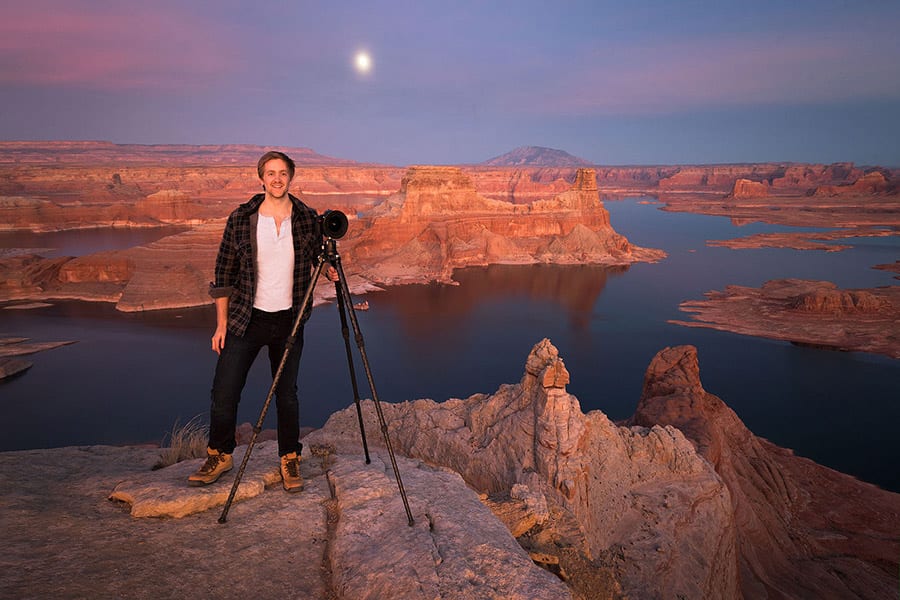 Instructor - Greg Olmstead
Greg is a talented wildlife/landscape photographer and much more!  He grew up exploring the outdoors all with a camera in his hand. His Father gave him his first camera at the age of 9. All through his school years, he was the class and yearbook photographer. He studied at BYU. Greg has been published in the Alaska Highway Book, Mile by Mile with Beaumonte Productions. He has also been published online by National Geographic!
Greg's passion in photography is "Wildlife" and is his first love.  If you go on tour with him, you'll likely see lots of wildlife in addition to just the landscape! Since he's been guiding for Action Photo Tours, he's fallen in love with landscape photography. He has never lost his sense of wonder as he shares our amazing landscapes with clients.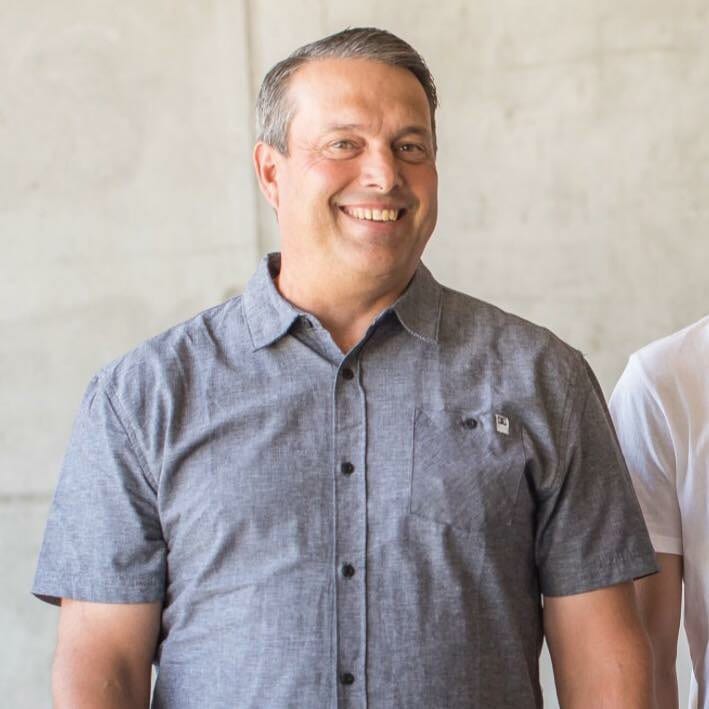 Need More Information? Contact Us!
Phone Number: 435-767-0222