Southern Utah Fall Colors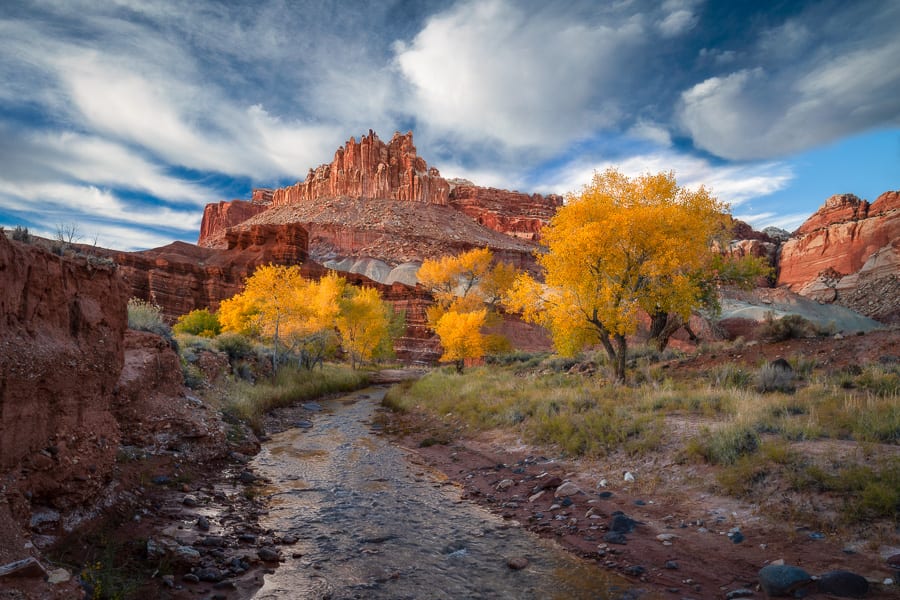 Highlights
Mid-October brings peak fall color to many of Southern Utah's most scenic destinations. The workshop will focus on Capitol Reef, Escalante, Zion and all areas in-between!
Learn new photography skills and receive image critique from pro-photographer Johnny Adolphson.
With permits to guide all over the Southwest, the itinerary will be kept flexible to allow us to chase the best fall colors. Our job is to get you the best photos possible!
Post-processing instruction is included throughout the workshop to improve your skills in Photoshop and Lightroom.
We provide the transportation during the workshop so you don't have to worry about the rough roads.
Includes a final group dinner at one of the nicest restaurants in town to celebrate this novel experience and the new friends we have made.
Itinerary
In order to give our clients the best possible photography experience, we keep the itinerary flexible to account for autumn color, weather conditions, and group interest. The workshop dates coincide with peak fall color in places like Capitol Reef, Escalante, and East Zion. However, fall color can be a fickle thing and it sometimes comes earlier or later than predicted. We reserve the right to change the itinerary and shooting locations accordingly.
Day 1 – Oct 18:  The Workshop begins at 8AM in Kanab, UT with a short orientation session and classroom style instruction.  After lunch, we head into Zion and the fall color is at peak! We can't get enough of the brilliant red maples, orange scrub oaks, and yellow cottonwoods.  We also visit a slot canyon where the trees are just beginning to change color.  The conditions are perfect for both big landscapes and more intimate abstracts.  We return to town after sunset.
Day 2 – Oct 19: We decide to visit Bryce Canyon this morning, so we wake early to be out on the rim before sunrise. We photograph the incredible reds, oranges, and pinks of the hoodoos throughout the morning before stopping for lunch and returning to Kanab for an afternoon post-processing session.  Based on the weather patterns, we decide to shoot sunset at a remote and seldom visited viewpoint of the Grand Canyon.
Day 3 – Oct 20: We return to Zion for one last sunrise and then load up the rig and head north towards Escalante, UT.  After checking into the hotel, we begin the afternoon with a hike through a tree-filled riparian area.  The fall colors deep in this canyon are simply incredible and we take our time photographing both grand and intimate scenes. The waterfall at the end of the canyon is just icing on the cake!  We shoot sunset overlooking the brilliant fall colors of the Escalante River.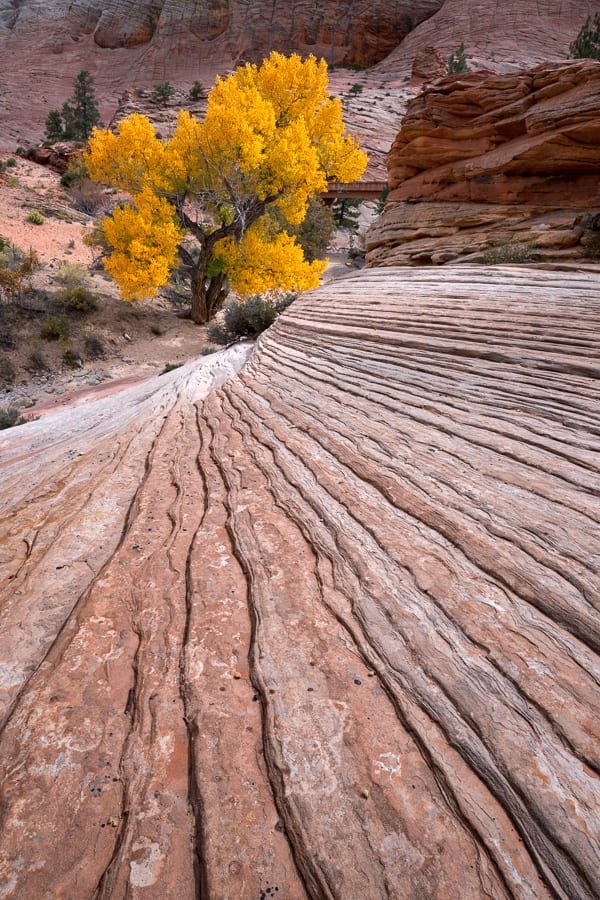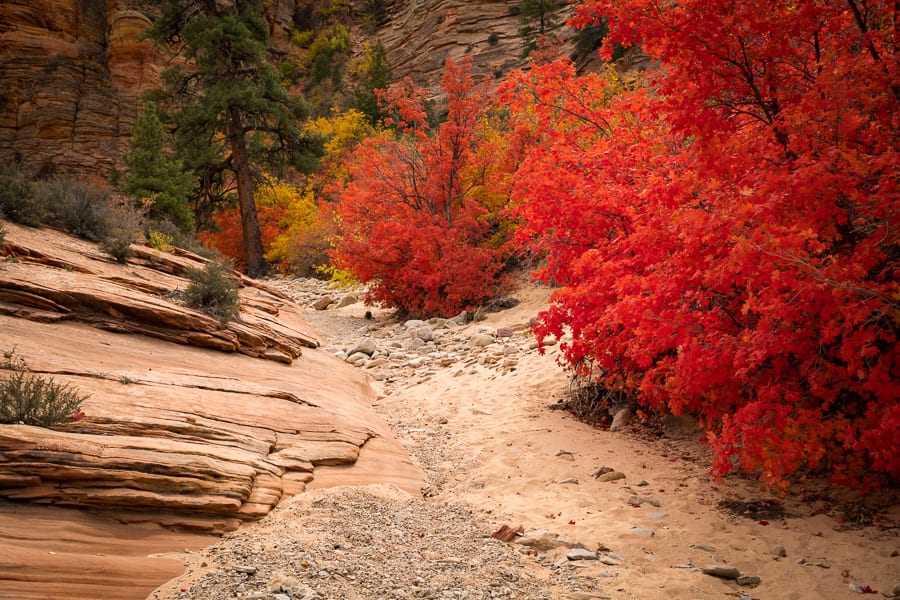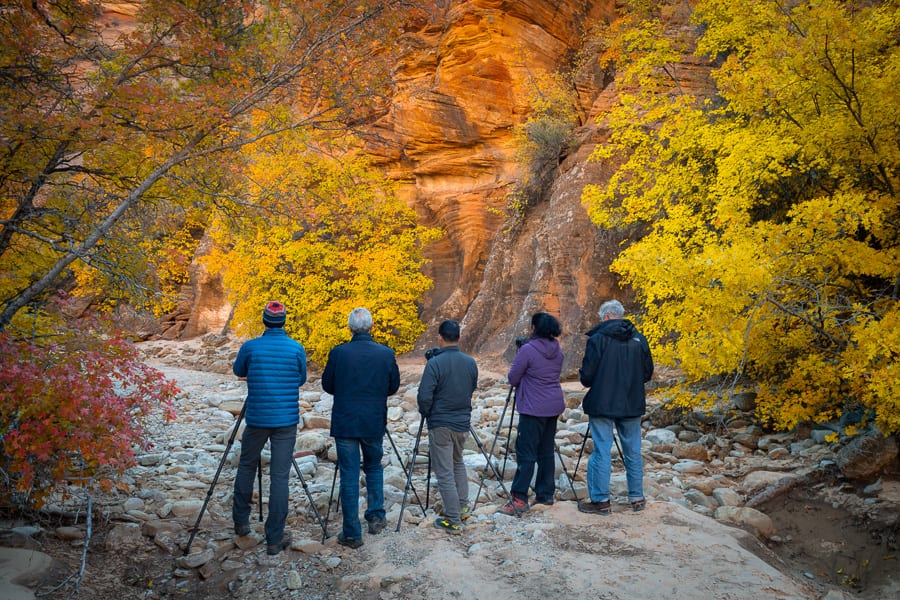 Itinerary Cont.
Day 4 – Oct 21: After our sunrise shoot in Escalante, we load up the rig and head north towards Capitol Reef National Park. This drive is incredibly beautiful and there's little wonder why it's deemed one of the most scenic highways in America.  We'll stop to photograph the prime fall colors along the way.  After photographing sunset from a beautiful viewpoint, we arrive in Torrey, UT after dark to check into our hotel.
Day 5 – Oct 22:  We are up well before dawn to photograph sunrise at a dramatic arch. Next, we visit several spots along the river with clusters of cottonwood trees in peak fall colors.  Their yellow color really pops in the mid-morning light and is the perfect complement to the blue sky above. We spend the rest of the day photographing areas in and around Capitol Reef National Park. After dinner, we elect to go out and shoot some moonscapes before retiring to bed.
Day 6 - Oct 23: We shoot our final sunrise in Capitol Reef and then check out of our hotel to begin our return journey to Kanab. We arrive back in town by lunch where we enjoy our final group meal before saying goodbye to all the new friends we have made.  The workshop will conclude no later than 2PM.
Logistics
The trip will begin and end in Kanab, UT.  We will provide transportation to workshop participants but you also have the option to follow us and drive your own vehicle.  The roads we will be driving between Kanab, Escalante, and Capitol Reef are suitable for passenger cars.  We will ride together in our 4WD trucks whenever we venture off-road.  If you do decide to ride with us between Kanab, Escalante, and Capitol Reef, just make sure you don't pack too many things since cargo space is limited.
Hotel stays and included in the workshop fee.  We will be in Kanab the nights of Oct 18th and 19th, in Escalante Oct 20th, and in Torrey Oct 21st and 22nd.  The workshop will conclude by 2PM on Oct 23rd.  It's up to you if you want to spend the night of the 23rd in Kanab or head off somewhere else.
We aren't planning any difficult hikes on this workshop, but we may have some days where we'll hike up to 6-miles over easy terrain.  All participants should be in good physical condition to be able to hike with their camera gear. Make sure you bring cold weather clothing in case we get some nippy mornings in the high country.
Drones are prohibited in the National Parks, although there are some areas outside of the parks they can be flown.  You are welcome to bring a drone, but please be cognizant of other workshop participants and their enjoyment.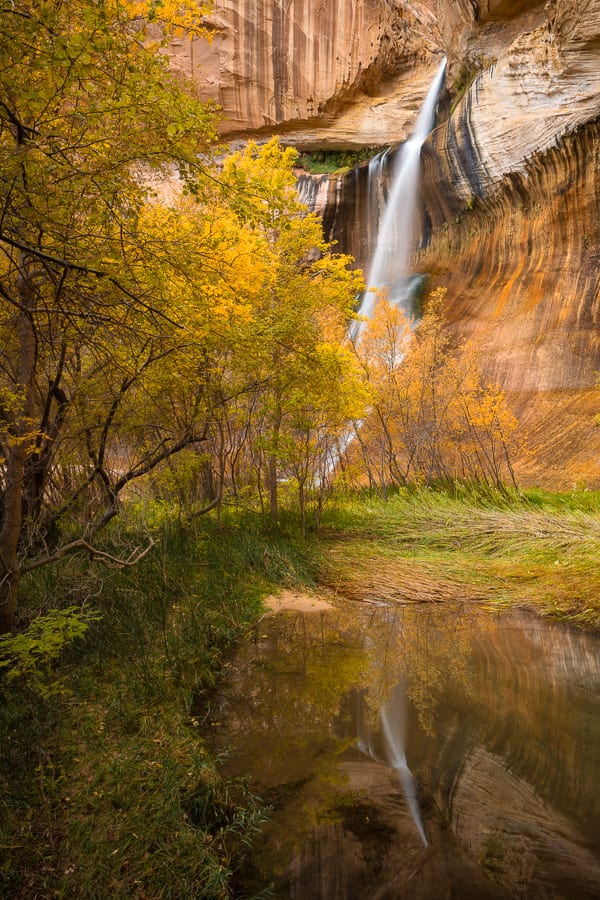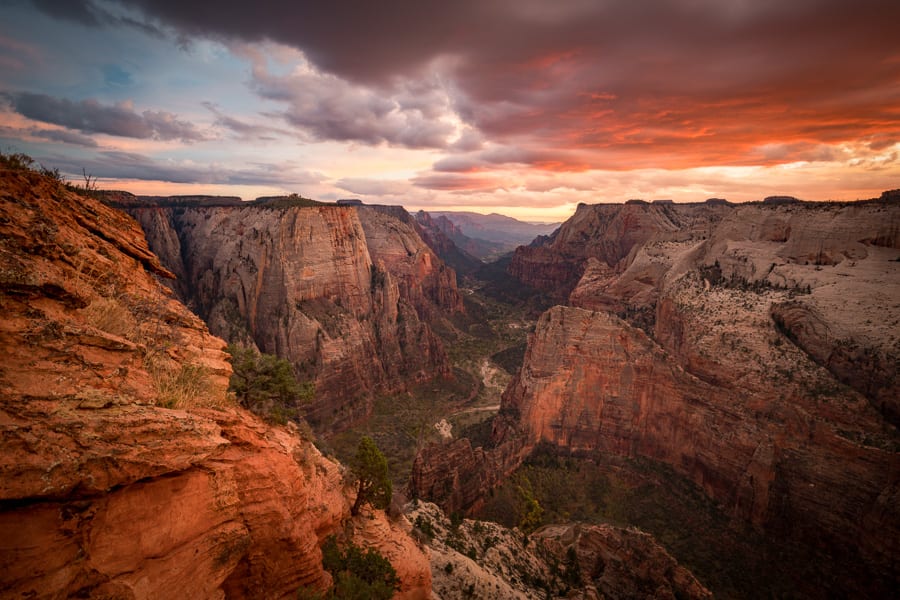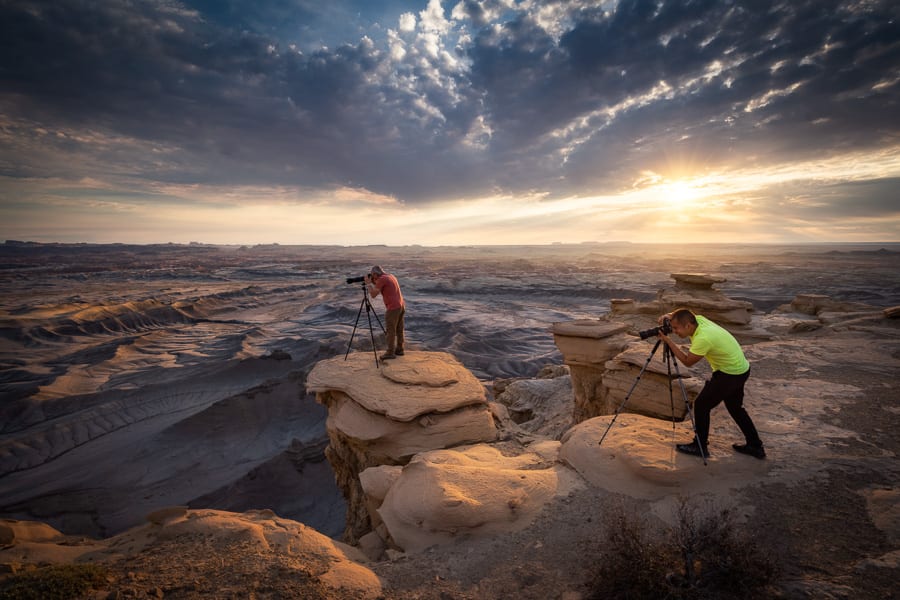 Pricing
$2695/person + Tax
Trip Includes:
6-Day Intensive Photo Workshop
All ground transportation and photography guiding during the trip.
5 nights of single-occupancy lodging. If you would like double occupancy, we can give you a $400/person discount.
Post-processing instruction and image critique
Park entrance fees.
Final group lunch.
Trip Does NOT Include:
Transportation to/from your home to Kanab, UT.
Alcoholic Beverages.
Meals and snacks with exception of final group lunch.
When you complete the checkout process, you will be given the option to either pay the full amount or put down a 25% deposit.  If you pay the deposit, the remaining amount will be charged 60-days prior to arrival to the credit card we have on file.
Recommended Camera Gear
Sturdy tripod and ballhead
Digital SLR or Mirrorless Camera Body.
Wide angle lens (16-35mm is perfect).  For crop sensor, you'll want 10-22mm.
Mid-range zoom lens in the range of 24-100mm.
Long telephoto lenses will come in handy for creating abstract images. We really like our Sigma/Tamron 150-600mm lenses.
Circular polarizer filters are useful.  Bring any ND filters if you have them.
Extra batteries, memory cards, and cleaning supplies.
Remote cord for your camera. An intervalometer will be especially useful for doing long exposures at night.
Laptop if you wish to backup your photos or follow along during the post-processing instruction.
We may be able to rent you gear if you don't have everything you need.
Personal Gear List
Sturdy hiking footwear, hiking socks, and long pants .
A rain jacket and several warm layers since it can get cold at night.
Headlamp for night photography.
Sunscreen, Sunglasses, Hat.
Water bottle or hydration bladder.
Hiking poles if you like having them.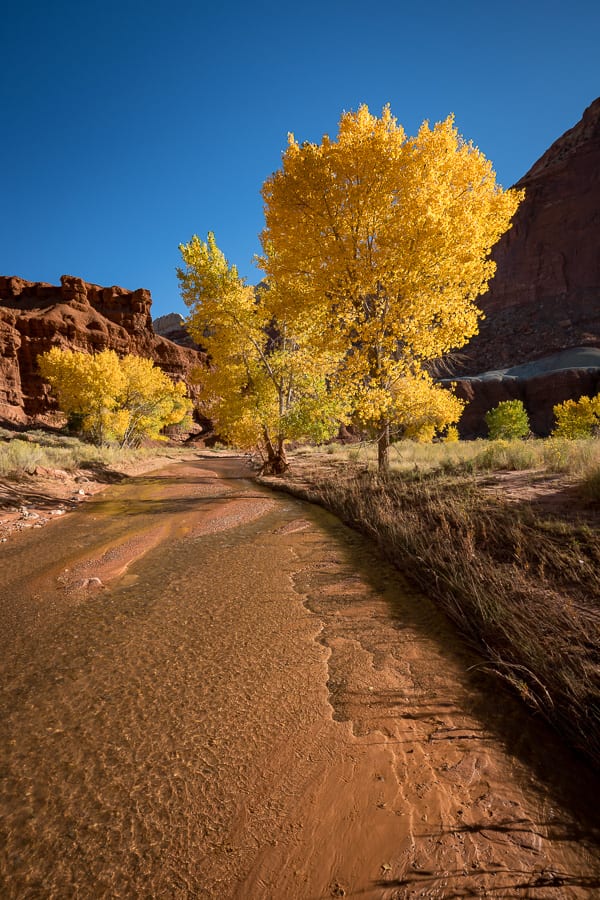 Instructor - Johnny Adolphson
Johnny is a published, landscape and fine art photographer. His primary residence is in Heber City, Utah where he and his wife Sherry raise their two boys. Johnny's award winning landscape art can be found on the walls of clinics, hospitals, airports, hotels, other various business's and private homes.
Other than photography, Johnny has worked as a ski guide, ski patroller, and wild land firefighter. When not chasing the light throughout the American West, Johnny guides powder skiing in the Uinta Mountains. Landscape photography is his passion, he has devoted a large percentage of his time and energy searching for vast vistas and good light throughout the Desert Southwest. Johnny has an intimate familiarity with the desert environment and loves to share his eye for composition and ability for using light and shadow with others.
See more of his work here and follow him on Instagram:
Need More Information? Contact Us!
Phone Number: 435-767-0222