Night Post-Processing Training
Want to improve your milky way photos?
Join Us After the Nightscaper Photography Conference!
Most photographers do well with gear and technique, but they can fall short in post-processing. We'll cover many techniques specific to night photography, such as noise reduction, blending shots, stacking shots, and much more!
Learn a complete post-processing system from beginning to end that will produce great results every time!
This intensive, hands-on seminar is being done in conjunction with the second annual Nightscaper Photography Conference in Kanab, UT. Conference attendance is not required to join the post-processing seminar.
Enrollment is capped at 20 participants, so come armed with any questions you'd like answers to!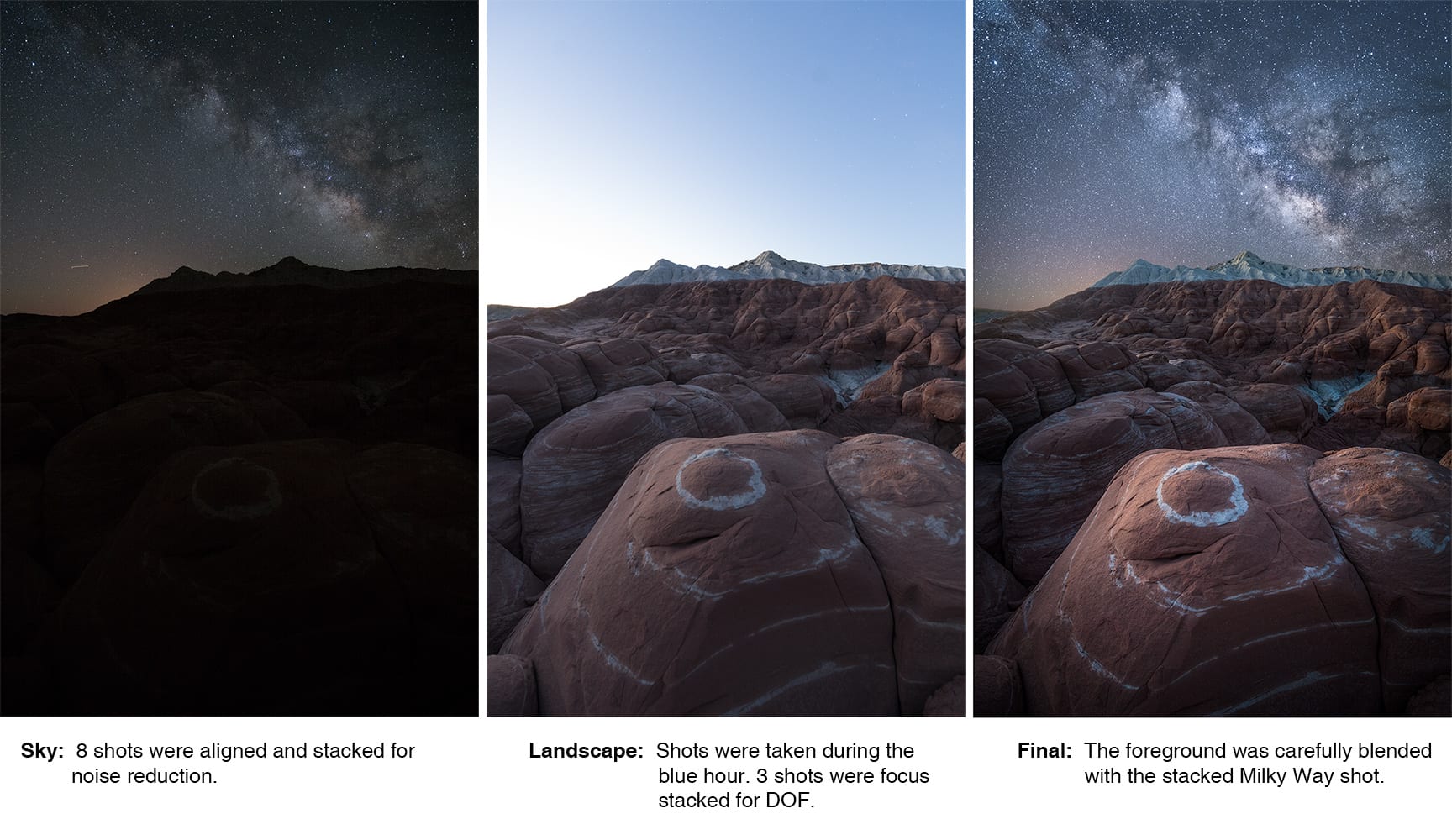 Topics we'll cover
Learn the basic RAW adjustments needed on night photos and which sliders in Lightroom you need to be really careful of!
Identify the different types of noise found in night images and the best techniques for mitigating the noise with minimal detail loss.
When to focus stack and how to do it in post-production.
How to align and stack sky images for noise reduction and avoid vignetting and contrast loss.
How to select the sky independent from the landscape for combining with lower ISO foreground shots.
Create stunning night panoramic images.
Learn how to blend natural light shots convincingly with the starry night sky.
Depending on the knowledge level of the class, we may not have time to cover all topics.
$99 per Person
Attend Live and Ask Questions Real-Time
Receive Video Recording After the Course
$59 per Person
Attend via Live Stream. Questions can be answered at the end.
Receive Video Recording After the Course
your instructor
David Swindler is an award-winning landscape photographer who has a special love for night photography.  He received a degree in chemical engineering and worked in the semiconductor industry specializing in optics and photolithography. Back in 2014 he quit his day job to follow his true passion. He has traveled to many locations around the world and has extensive experience photographing a wide variety of subjects and conditions. He finds great satisfaction in helping others learn photography, especially in the wild desert environment near his home in Kanab, UT.  David is an expert in night photography and loves to get out and shoot the starry night skies. He has been guiding photo tours and night photography workshops full-time for the past 5 years and has a distinct love for the desert Southwest.
Follow the links below to see more of David's work.
Gallery   Media Coverage    500px     Flickr
Read what others are saying about Action Photo Tours: Trip Advisor.