Experience part of the world's longest slot canyon as we traverse the exquisite narrows of Buckskin Gulch and Paria Canyon. You'll photograph some extraordinary canyon scenery during our 3 night backpacking adventure.  We've got all the camping logistics covered so you can focus on the mind-blowing views around each bend!  October is a great time to visit the canyon as temperatures are moderate and the threat of rain is low.
3-4 Students per Instructor
Max 7 Students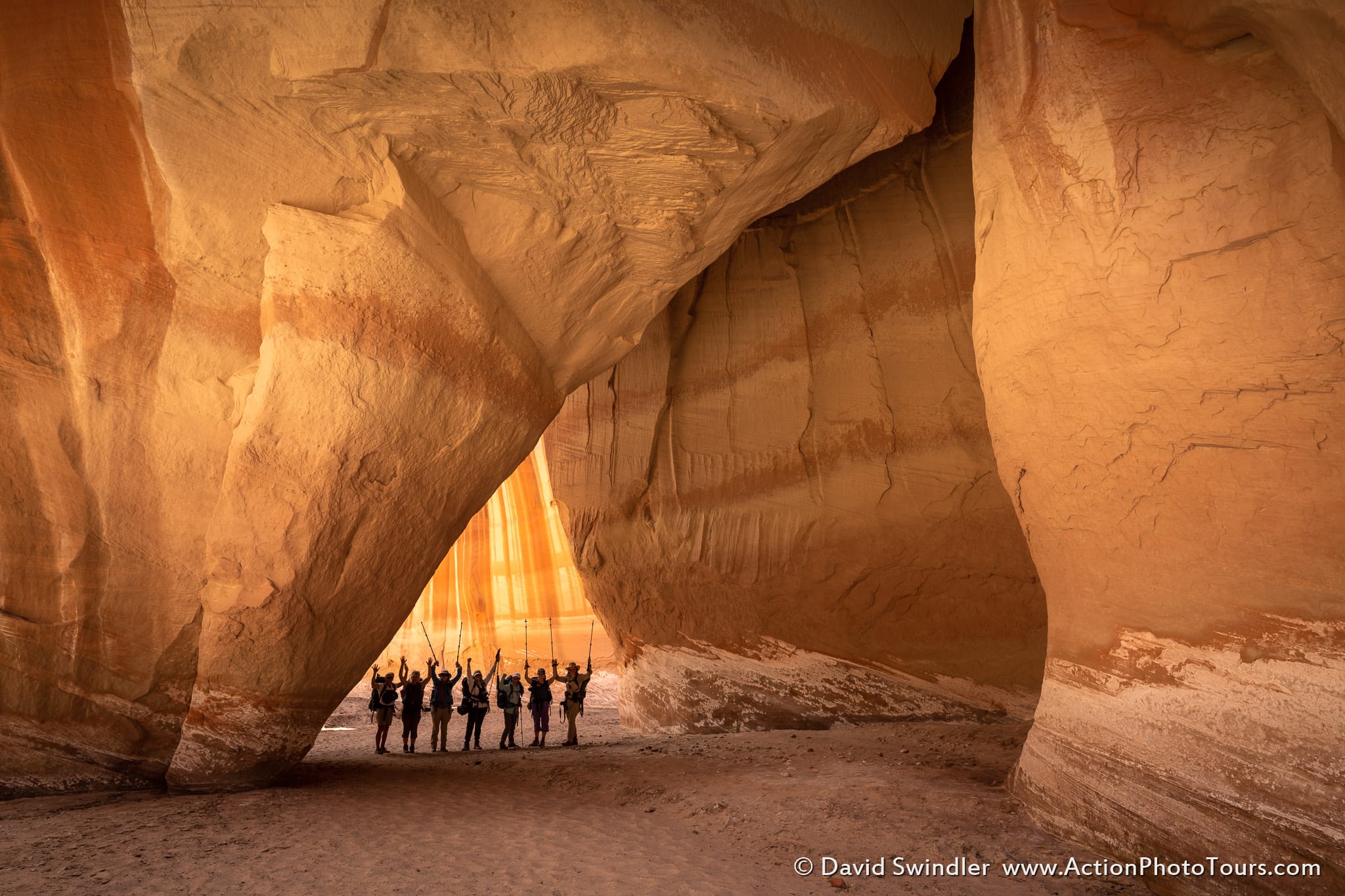 Highlights
Photograph the exquisite narrows of the world's longest slot canyon. Our dates coincide with the cooler fall season, allowing for comfortable hiking and minimal chance of rain.
We have already acquired the highly coveted overnight permits, allowing us to spend 3 nights in the canyon complex!  How far we go each day will depend on weather, conditions, and group abilities.
This workshop is tailored to those who love hiking, adventure, photography, and comradery.
The fee includes all lodging, meals, and camping gear.  All you have to bring is a pack for backpacking and your photo gear!
Learn many new photo techniques from your pro instructor(s).
Itinerary
The itinerary is subject to change to account for weather, current conditions, and group fitness.  This is just an example of what you can expect.  In the event inclement weather makes it unsafe to enter the canyon, we may have to visit an alternate destination.
Day 1 (Oct 11):  Meet in Kanab, UT at 1PM for our orientation session.  We'll make sure you are properly outfitted, go over how to pack your gear, and make sure your pack fits you well.  We'll also review some of the photo techniques you'll be using in the days ahead.  We enjoy a group dinner at one of the nicest restaurants in town and venture out to a nearby location to catch sunset.
Day 2 (Oct 12):  After breakfast, we load up and drive to the trailhead.  The canyon walls gradually begin to deepen and we might find ourselves walking in shallow water!  We stop periodically to take photos of the intricate sandstone formations and the gorgeous reflected light bouncing off the walls.  We setup camp in a tree lined area, flowing with fresh water springs.  We spend the afternoon photographing the brilliant colors and reflections in this special place.
Day 3 (Oct 13): We wake to the soothing sounds of nature echoing through the vast canyon. We enjoy breakfast and coffee and start a day-hike into the most impressive narrows of Buckskin Gulch.  The canyon is deep, dark, and moody with amazing fluted textures and curves. Occasional light enters the canyon, creating breathtaking photo ops. We may have to wade through a few pools of water today, adding to the adventure! We maximize our midday photo ops when the light is at it's best.  We return to camp at the end of the day tired, but elated with the amazing photos we captured.
Day 4 (Oct 14):  We have a leisurely morning, allowing us to recover from the long hike the day before. We break camp and continue our journey into the deep and vast narrows of the Paria River Canyon. We find numerous photogenic sections and take advantage of the best light. We setup camp near a water spring and hike without our packs to one of the largest arches on the Colorado Plateau!
Day 5 (Oct 15):  All good things must come to an end.  We wake up early, break camp, and start our long hike back out to the trailhead.  Final day distance will be somewhere between 7-10 miles depending on how far in we go the day before. The workshop whenever we exit the canyon and drive back to Kanab. We highly recommend that you stay the night of Oct 15th in Kanab to shower and rest up before continuing your travels. Note that no restaurant meals are included on the exit day.
Safety is our number one concern.  If there is any risk of thunderstorms during our days in the canyon, we may have to resort to a Plan B.  No matter what happens, we'll ensure you get an amazing hiking adventure and plenty of great photos to prove it!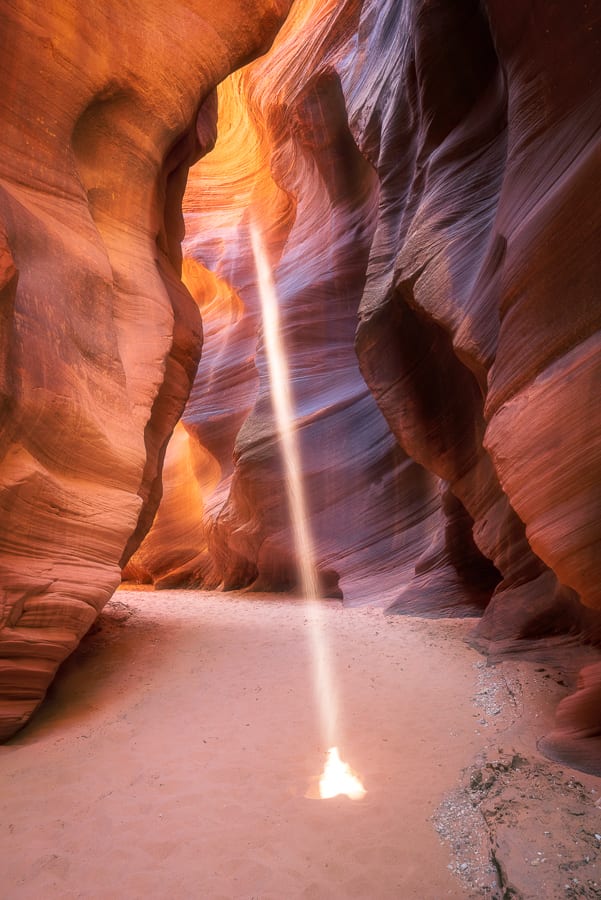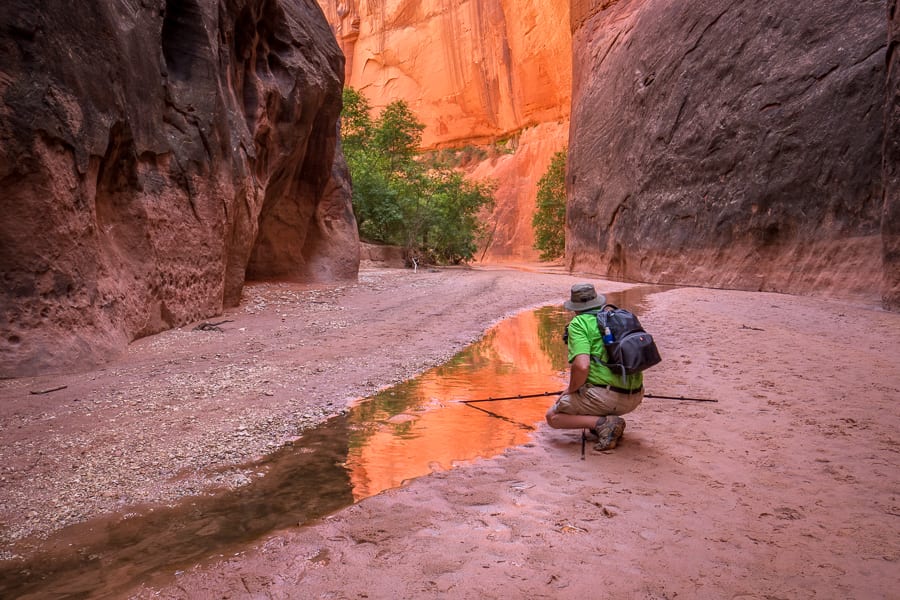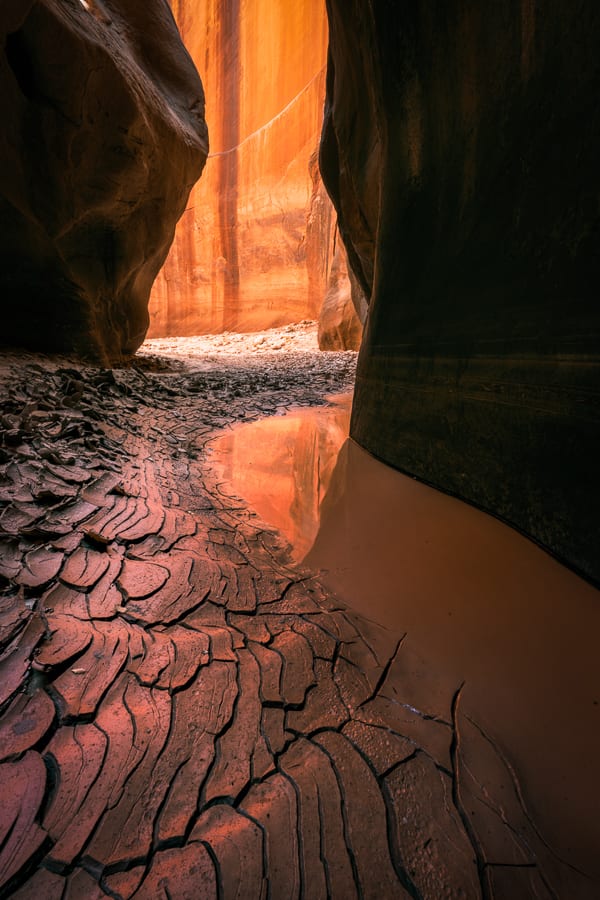 Logistics
Please arrive prior to 1PM on Oct 11th at the Best Western in Kanab, UT.  We will have a quick orientation session, divy out food and gear, and make sure your backpack and hiking boots fit properly.
From the moment we meet, the workshop is all-inclusive.  We provide transportation, food, overnight gear, water filters, and cooking supplies.  All you need to bring is a pack for backpacking, your camera gear, and personal items.  Please see the gear list further down.
This trip is rated Challenging and all participants need to be in very good physical shape.  Expect to hike 7-10 miles each day depending on the day's itinerary. Most of the hiking is on flat ground, but the terrain can be rough and we may be walking through water in places.  Each participant will need to carry their own camera gear, food, water, and overnight items (tent, sleeping pad, sleeping bag, etc).  We highly recommend that two participants share one tent to cut down on pack weight. Please let us know ahead of time if you do not wish to share. We recommend you bring extra footwear that you can get wet along with neoprene socks (an old pair of tennis shoes is perfect for this).
We are not hiking all the way out the Paria Canyon to Lee's Ferry.  This is because the lower half of the canyon is wide, hot, and not very photogenic.  Instead, we will concentrate our time in the most beautiful parts of the canyon complex to maximize your experience.
Depending on our hiking speed, we should exit the canyon around mid-afternoon on Oct 15th.  We'll drive back to town and the workshop will conclude at that point. Note that no restaurant meals are included on the exit day.  We recommend that you stay the night of Oct 15th in Kanab to be able to shower and get some rest after our adventure!
Pricing
$2495/person + Tax
Trip Includes:
Single occupancy hotel lodging for the night of Oct 11th.
Overnight permits for 3-nights in Buckskin Gulch & Paria Canyon.
Photography guiding and instruction throughout the trip.
All ground transportation during the workshop.
All meals and snacks, including freeze-dried backpacking food.
Overnight camping gear (sleeping bag, tent, sleeping pad, etc).
Opening group dinner in Kanab.
Trip Does NOT Include:
Transportation to/from your home to Kanab, UT.
Hotel accommodations the night of Oct 15th.
Beverages beyond water, coffee, and tea.
When you complete the checkout process, you will be given the option to either pay the full amount or put down a 50% deposit.  If you pay the deposit, the remaining amount will be charged 30-days prior to arrival to the credit card we have on file.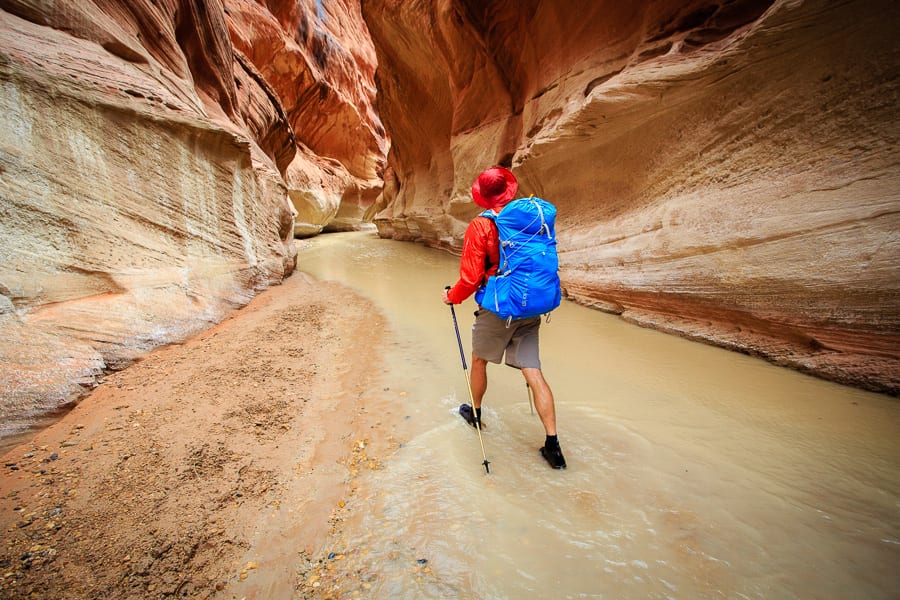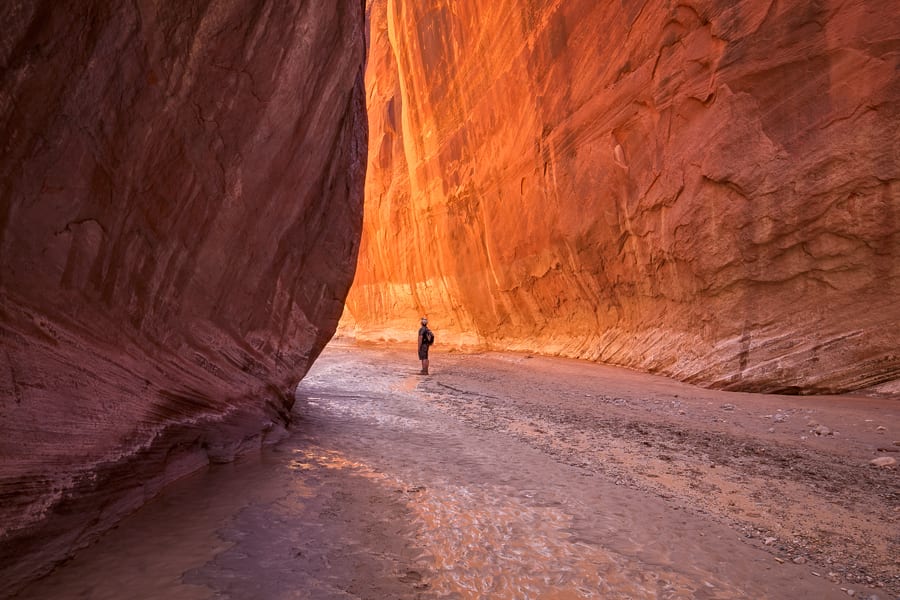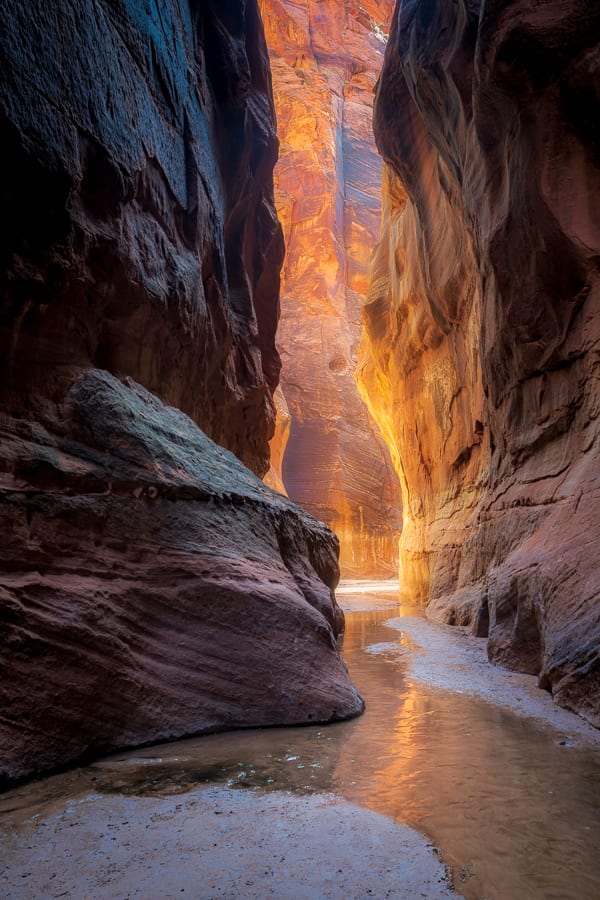 Recommended Camera Gear
A lightweight tripod and ballhead you don't mind hiking with. Contact Us for recommendations.
Digital SLR or Mirrorless Camera Body.
Wide angle zoom lens in the 16-35mm range.
Mid-range zoom lens in the range of 24-100mm (optional)
Circular polarizer is a must. ND filters are not as useful and can be left behind to save weight.
Lots of extra batteries, memory cards, and cleaning supplies.
Remote cord for your camera for long exposures, or just use the 2-second timer.
Cell phone for candid shots and or a GoPro for action shots.
Personal Gear List
Sturdy hiking footwear and wool hiking socks.
Comfortable backpack that can carry your camera gear, tripod, clothes, food, and water. We recommend something in the 65L range.
Overnight toiletries, a change of clothes, sunscreen, hat, and sunglasses.
A rain jacket along with a fleece or down jacket to keep you warm in the dark sections of the canyon.
Headlamp for night use.
Water bottle or hydration bladder. If it's hot, you'll want to be able to carry at least 3L of water.
Footwear you can hike through water. We recommend an old pair of tennis shoes or sandals that you can wear with a pair of neoprene socks. Make sure it's comfortable to hike in!  You may need to go a half size larger.
Hiking poles.
Nickolas Warner
Nickolas is a photographer and tour guide with a particular interest in extreme and unusual locations.  His travels have taken him to some fascinating locations, but the American Southwest is his favorite place to photograph.
Nickolas spent the past decade guiding in Alaska, where he provided instruction on photographing the aurora borealis, and shared his knowledge of the far north's rugged terrain and resilient wildlife.
When not guiding, Nickolas enjoys long distance hiking and extended backpacking trips through remote wilderness areas.
Nickolas's portfolio can be found at Nickolas Warner Photography