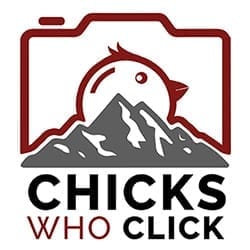 June 22-27, 2021 - Sold Out!!
Experience the world's longest slot canyon as we traverse the exquisite narrows of Buckskin Gulch and Paria Canyon. You'll photograph some extraordinary canyon scenery during our 4 night backpacking adventure.  We've got all the camping logistics covered so you can focus on the mind-blowing views around each bend!  This trip is for women photographers as part of our Chicks Who Click program.
3-4 Students per Instructor
Max 7 Students
David Swindler 
Kathleen Gardner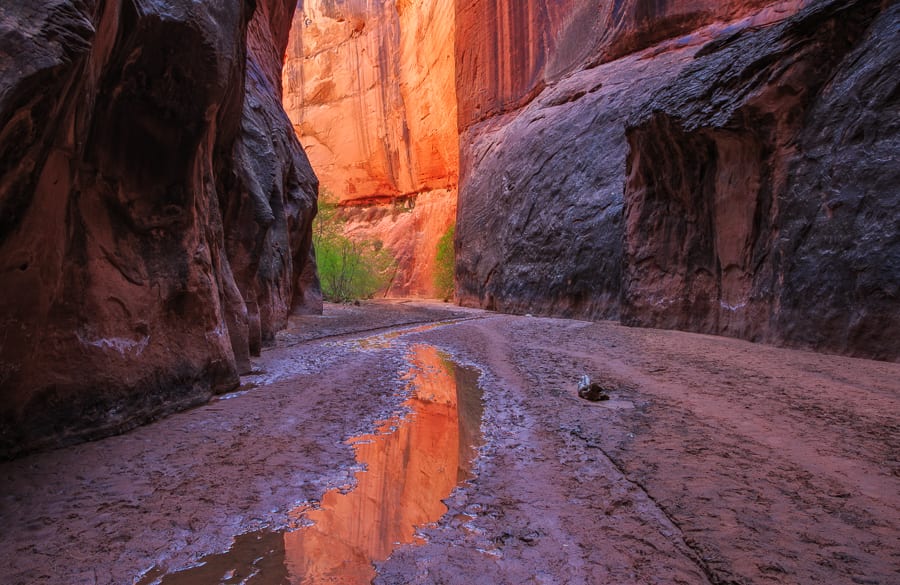 Highlights
Photograph the exquisite narrows of the world's longest slot canyon. Our dates coincide with the summer solstice, giving us maximum opportunities for light beams!
We have secured overnight permits for all participants allowing us to spend 4 nights in the canyon complex.  How far we go each day will depend on weather, conditions, and group abilities.
Workshop is tailored to women who love hiking, adventure, photography, and comradery as part of our Chicks Who Click program.
The fee includes all camping gear and meals.  All you have to bring is a pack for backpacking and your photo gear!
Learn many new photo techniques from your pro instructors.
Itinerary
The itinerary will be somewhat flexible to account for weather, current conditions, and group fitness.  This is just an example of what you can expect.
Day 1 (June 22):  Meet in Kanab, UT at 7PM for our orientation session.  We'll make sure you are properly outfitted, that your pack fits you well, and take care of any loose ends.  We'll also review some of the photo techniques you'll be using in the days ahead.
Day 2 (June 23):  After breakfast, we get an early start for the trailhead.  The canyon walls quickly begin to deepen and we admire the petroglyph panels along the way.  Light begins to filter in as the day progresses and we stop periodically to take photos of the gorgeous reflected colors. We even find some nice light beams!  We pitch our camp at a wide spot in the canyon about halfway through the narrows.
Day 3 (June 24): We wake to the soothing sounds of nature echoing through the vast canyon. We enjoy breakfast and coffee, break camp, and continue our journey into the most impressive narrows of Buckskin Gulch.  The canyon is deep, dark, and moody with amazing fluted textures and curves. Occasional light enters the canyon, creating breathtaking photo ops. We have to wade through a few pools of water today, adding to the adventure! When you don't think it can get any better, the canyon widens, fresh water springs being to flow, and green trees appear. We pitch our camp at this beautiful spot and spend the next couple hours taking lots of photos!
Day 4 (June 25):  We have a leisurely morning, allowing us to recover from the long hike the day before. We break camp and continue our journey into the deep and vast narrows of the Paria River Canyon. Depending on rainfall, we may be walking in water today. We find numerous photogenic sections and take advantage of the best light. We setup camp near a water spring and hike without our packs to one of the largest arches on the Colorado Plateau!
Day 5 (June 26):  Today we hike back to the Confluence of the Buckskin, setup camp, and photograph many of the amazing areas upstream.  We retire to our tents tired, but thrilled with the impressive scenery.
Day 6 (June 27): We awake well before dawn to start the 7 mile hike out before the heat of the day hits us.  We return to town for our final group meal. The workshop will conclude by late afternoon.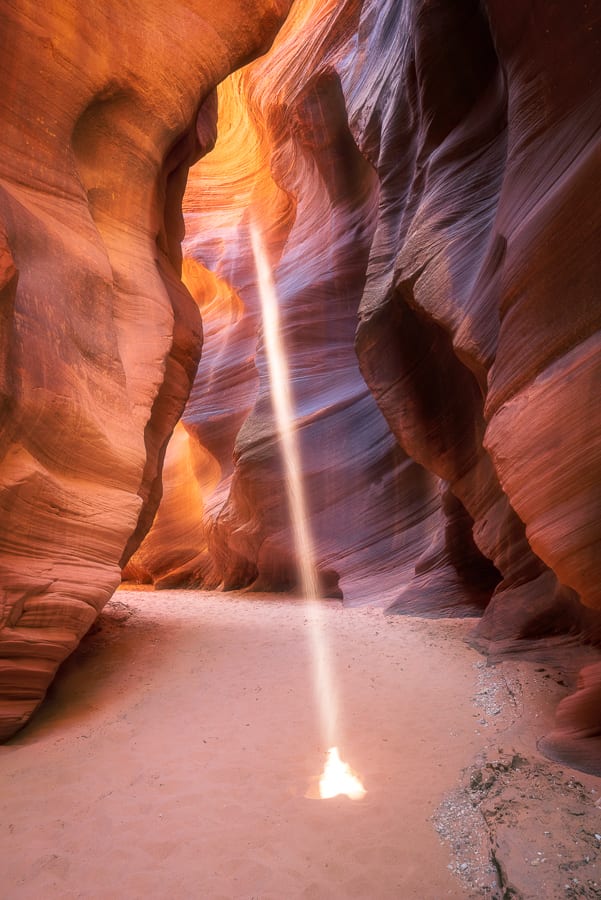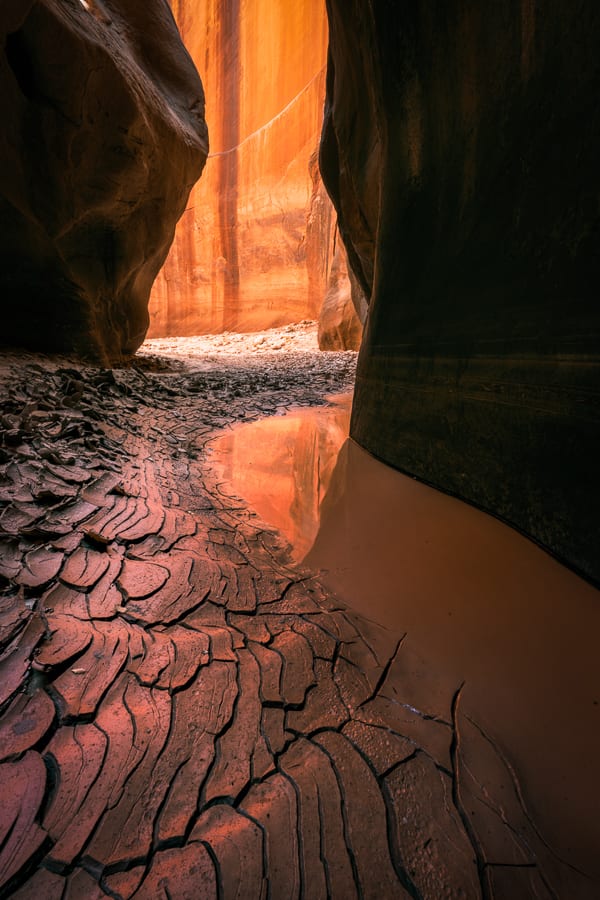 Logistics
Please arrive prior to 7PM on June 22nd at the Best Western in Kanab, UT.  We will have a quick orientation session, divy out food and gear, and make sure your backpack and hiking boots fit properly.
From the moment we start our hike, the workshop is all-inclusive.  We provide transportation, food, overnight gear, water filters, and cooking supplies.  All you need to bring is a pack for backpacking, your camera gear, and personal items.  Please see the gear list further down.
This trip is rated strenuous and all participants need to be in good physical shape.  Expect to hike 7-9 miles each day, depending on the day's itinerary. Most of the hiking is on flat ground, but the terrain can be rough and we may be walking through water in places.  Each participant will need to carry their own camera gear, food, water, and overnight items (tent, sleeping pad, sleeping bag, etc).  We highly recommend that two participants share tents to cut down on pack weight. Please let us know ahead of time if you do not wish to share. We recommend you bring extra footwear that you can get wet along with neoprene socks (an old pair of tennis shoes is perfect for this).
We are not hiking all the way out the Paria Canyon to Lee's Ferry.  This is due to a couple reasons:  First, the lower half of the canyon is very wide, open, and hot - especially in the summer.  Second, the lower half of the canyon is not very photogenic.  Instead, we will concentrate on the most photogenic parts of the canyon to maximize your experience. We plan to enter through Wire Pass and exit at White House Trailhead on the final day.
Depending on our hiking speed, we should exit the canyon around noon on June 27th.  We'll drive back to town and enjoy a hearty group meal at one of our favorite restaurants.  The workshop will conclude after our meal and you can decide if you want to stay an extra night in Kanab or continue your travels to another place.  It's a 3.5 hr drive from Kanab back to Las Vegas.
Pricing
$2595/person + Tax
Trip Includes:
Overnight permits for 4-nights in Buckskin Gulch & Paria Canyon.
Photography guiding and instruction throughout the trip.
All ground transportation during the workshop.
All meals and snacks, including freeze-dried backpacking food.
Overnight camping gear (sleeping bag, tent, sleeping pad, etc).
Final Group Meal in Kanab.
Trip Does NOT Include:
Transportation to/from your home to Kanab, UT.
Hotel accommodations the night of June 22nd.
Beverages besides water, coffee, and tea.
When you complete the checkout process, you will be given the option to either pay the full amount or put down a 50% deposit.  If you pay the deposit, the remaining amount will be charged 60-days prior to arrival to the credit card we have on file.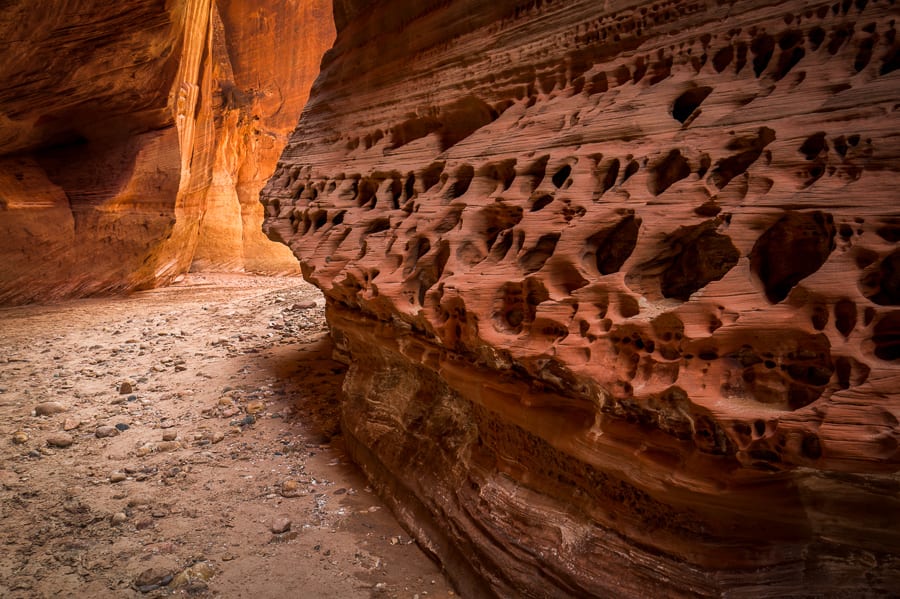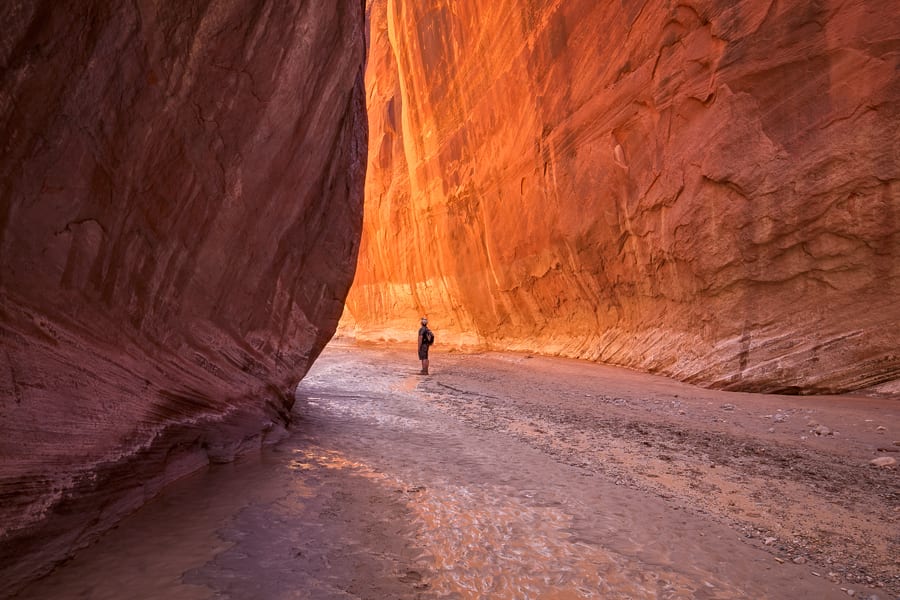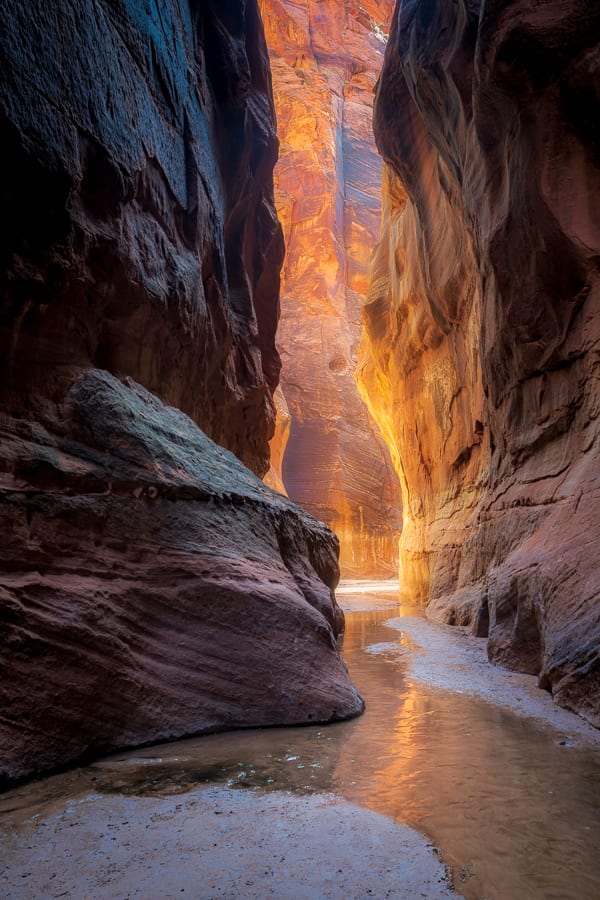 Recommended Camera Gear
A lightweight tripod and ballhead you don't mind hiking with. Contact Us for recommendations.
Digital SLR or Mirrorless Camera Body.
Wide angle zoom lens in the 16-35mm range.
Mid-range zoom lens in the range of 24-100mm (optional)
Circular polarizer is a must. ND filters are not as useful and can be left behind to save weight.
Lots of extra batteries, memory cards, and cleaning supplies.
Remote cord for your camera for long exposures, or just use the 2-second timer.
Cell phone for candid shots.
Personal Gear List
Sturdy hiking footwear and wool hiking socks.
Comfortable backpack that can carry your camera gear, tripod, clothes, food, and water. We recommend something in the 65L range.
Overnight toiletries, a couple changes of clothes, sunscreen, hat, and sunglasses.
A rain jacket in case of inclement weather. A fleece or down jacket will keep you warm in the dark sections of the canyon.
Headlamp for night use.
Water bottle or hydration bladder. If it's hot, you'll want to be able to carry at least 3L of water.
Footwear you can hike through water with. We recommend a 2nd pair tennis shoes or sandals that you can wear with a pair of neoprene socks. Make sure it's comfortable to hike in!
Hiking poles.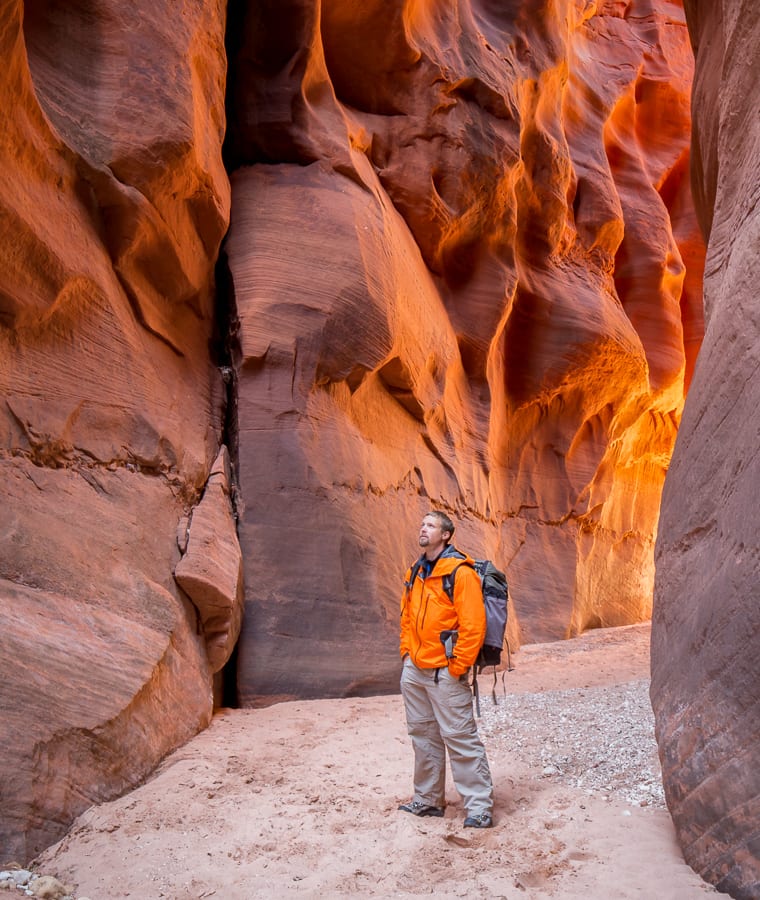 Instructor - David Swindler
David Swindler is a National Geographic award-winning landscape and wildlife photographer.  He received a degree in chemical engineering and worked many years in the semiconductor industry specializing in optics and photolithography. Thus, the technical side of photography came very easy to him. Back in 2014 he decided to quit his day job to follow his true passion. As a photographer, he has traveled to many locations around the world and has extensive experience with landscape, wildlife, night, and macro photography. He finds great satisfaction in helping others learn photography, especially in stunning outdoor environments!  Follow the links below to see more of Mr. Swindler's work.
Gallery    Media Recognition    500px     Flickr
Mr Swindler has been leading guided photo tours for many years and knows many different camera systems and how to capture the best photos. On his trips, you'll travel to impressive locations and receive photography instruction at the same time! Unlike many other photo guides, his clients are his top priority while out in the field. Read what others are saying about his trips here: Trip Advisor. Mr Swindler has extensive outdoor experience and will ensure your safety and well-being. If you have any questions, please Contact Us and we'll be happy to assist.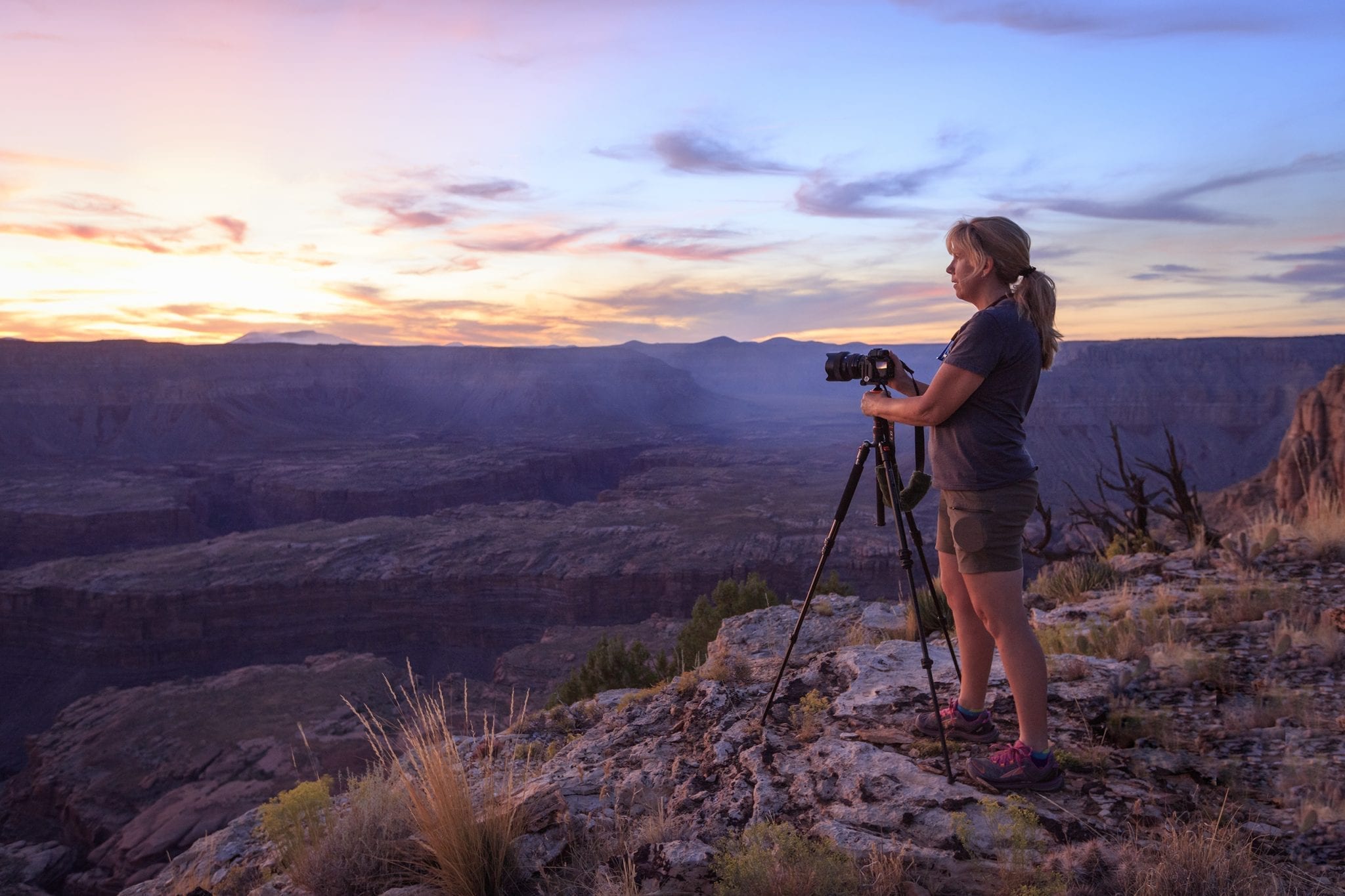 Instructor - Kathleen Gardner
Kathleen moved to southern Utah in the summer of 2018 after living in the mountains of Idaho for 17+ years.  She grew up in Colorado, and spent much of her childhood visiting and exploring southern Utah with her family, so it only made sense that one day she would live here.
Her father, the geologist, made sure they spent their vacations exploring the lands and discovering new locations and places people had never been.  Kathleen loves to hike and photograph these places and is always discovering new hidden gems.
Kathleen has been a photographer for 35 years, dabbling in portrait and glamour, but always came back to nature, as that is where she feels most at home.  Don't let her beautiful landscapes fool you, there is one tough cookie behind that camera!  She has hiked the Grand Canyon, rim2rim2rim in 2 days, trekked 53 miles along the San Diego coastline, also in 2 days.  As if that weren't enough, she has kayaked and biked the entire length of the Florida keys in 3 days; kayaked, biked and hiked for 25 hours and 77 miles around Santa Barbara, as well as completing many obstacle course races over the past few years.  Kathleen loves to challenge herself and even more so, loves the change it creates within herself, just as it does in nature. See more of Kathleen's work below and follow her on Instagram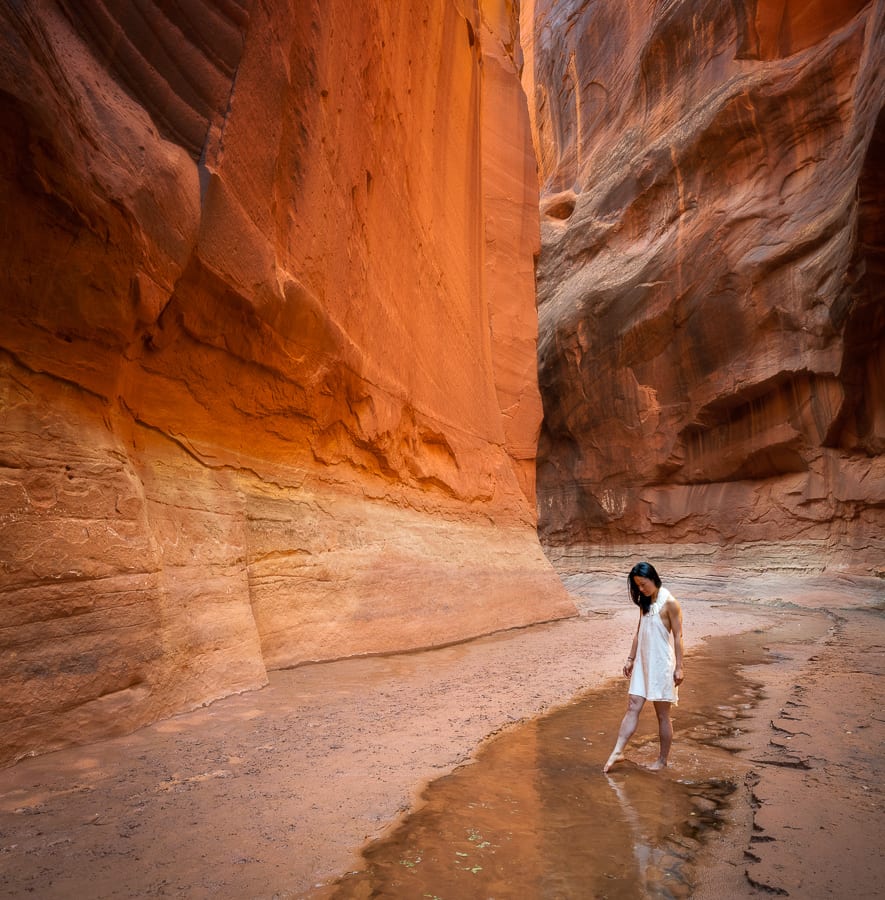 Trip Coordinator - Evelyn Fu
Besides our two instructors, we are lucky to have Evelyn helping us out on this workshop!  She will be assisting with everything from food preparation to hiking assistance.  She will help ensure you are comfortable and enjoy the trip!
After graduating sum cum laude from University of Richmond in Richmond, Virginia, Evelyn earned her medical degree with honors from Case Western Reserve University School of Medicine. She then completed her residency in ophthalmology at the Cleveland Clinic in Cleveland, Ohio. Following residency, Dr. Fu pursued extensive training in vitreoretinal diseases and surgery at California Pacific Medical Center in San Francisco. Dr. Fu actively contributes to medical literature by authoring original reports, book chapters, and electronic publications and abstracts.
Evelyn's personal interests include adventure travel and outdoor activities such as hiking, biking, sailing, and snowboarding. She is also an avid reader and enjoys history, philosophy, psychology, and fine arts. She has a keen interest in landscape and travel photography.