If you are a fan of the night skies, this workshop is for you! We start out with a fully outfitted overnight camping trip to White Pocket. From there, we have several more outings planned to photograph the brilliant Milky Way. Expect moderate hiking of 1-3 miles per day. All lodging is included.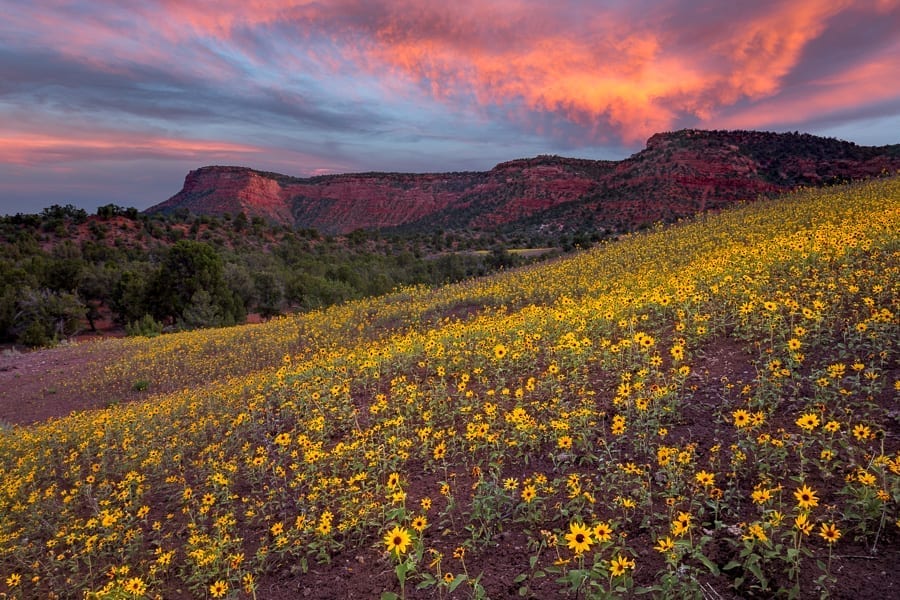 Highlights
Trip begins with a fully outfitted camping trip to the stunning White Pocket. We'll be up early to photograph the Milky Way if skies are clear.
Learn all the tips and tricks to photographing the night skies from your pro-instructors. You will learn both natural and low-level lighting techniques.
Photograph some of the most scenic areas of the Southwest before the summer heat and crowds arrive.  The exact itinerary will be kept flexible so we can chase the best weather. Chances are good for wildflowers in many locations!
Workshop includes all lodging and the final group dinner.
Several post-processing sessions are scheduled to help you make the most out of your images.
Itinerary
The itinerary is being kept flexible to account for weather and current conditions. Expert forecasting, group consensus and weather will dictate our final itinerary. As long as skies are clear, we will plan on photographing the Milky Way during the early morning hours. If it is cloudy, we will focus more on sunrise/sunset photography.
Day 1 (May 28):  Meet at 1PM in Kanab, UT for a mandatory introductory session.  We'll go over logistics and make plans for our upcoming days together. Mid-afternoon, we get the gear loaded and make our way out to White Pocket for our fully-outfitted overnight camping adventure!
Day 2 (May 29):  We wake up at 1:30AM to photograph the Milky Way at White Pocket after the moon has set. The clear, dark skies in this part of the country will amaze you! We stay out photographing through sunrise and then return to Kanab after breakfast.  We enjoy a post-processing session in the afternoon and then get to bed early for more Milky Way action!
Day 3 (May 30):  We are out the door at 1:30AM en route to Bryce Canyon. We light up the hoodoos and you get to photograph them with the brilliant Milky Way as the backdrop. At sunrise, the formations literally glow as the morning light bounces off the brightly colored rocks! We grab breakfast nearby and return to Kanab for a midday break and afternoon post-processing session.
Day 4 (May 31): Since skies are clear, we are up early again and head out to a unique area of the Grand Staircase Escalante. These otherwordly rock formations are the perfect foreground for Milky Way images!  We find some fields of wildflowers to photograph at sunrise and then return to Kanab for breakfast and midday nap. We meetup in the afternoon for our final post-processing session and enjoy our group dinner. After dinner we run out to a remote section of the Grand Canyon for sunset. The workshop will conclude once we return to Kanab. Lodging for May 31st is included in the workshop.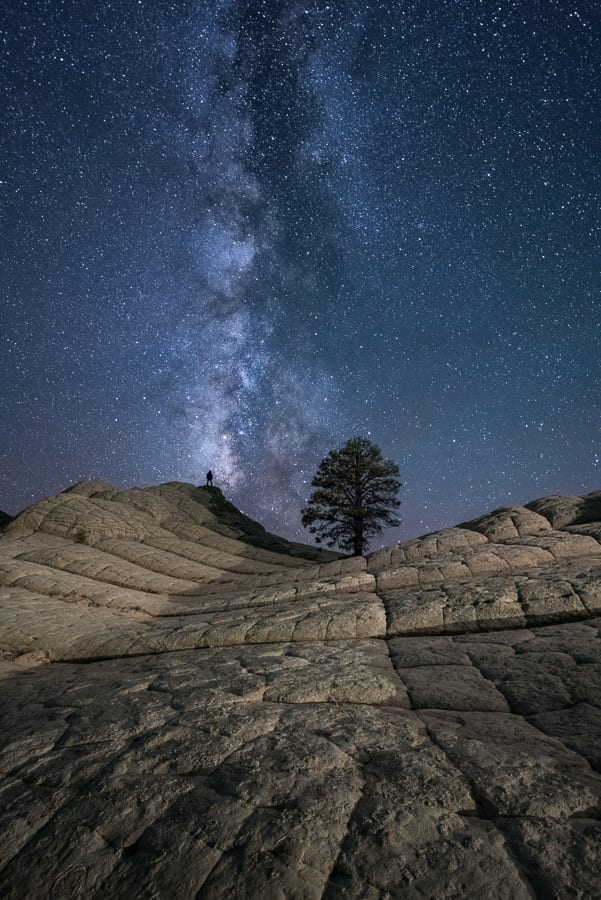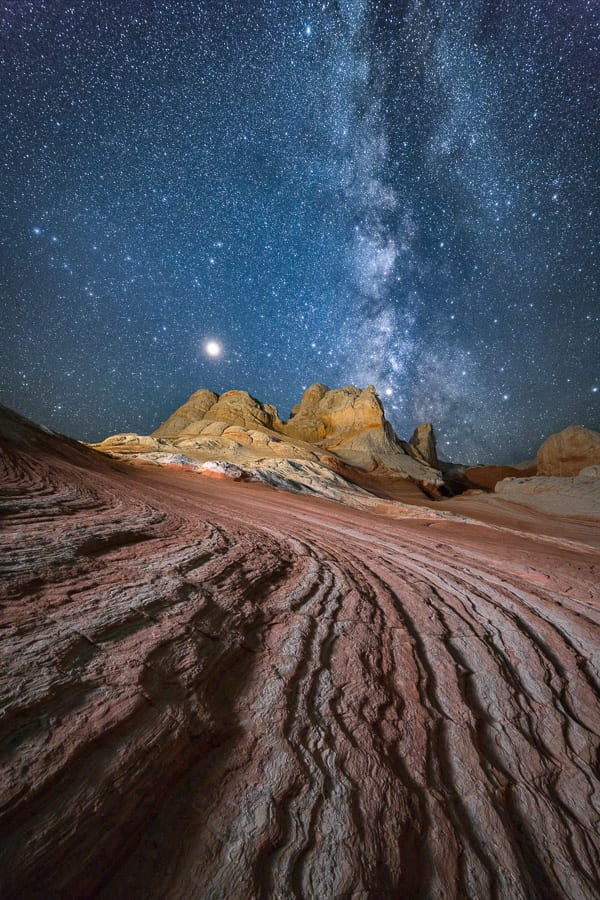 Logistics
Please arrive in Kanab, UT on May 28th prior to 1PM Utah time for the orientation session. Single occupancy hotel accommodations are included in the workshop. If you would like double occupancy, please Contact Us and we can give you a discount. The first night is our outfitted overnight camping adventure in White Pocket. The nights of May 29, 30, 31 you will be at a hotel in Kanab, UT.  We will finish the workshop late at night on May 31st.  You can plan your return travel on June 1st.  For those that want to extend your trip, consider joining our Southwest Shootout June 1-3.
You will need your own transportation to get to the gateway location of Kanab, UT. We will provide transportation for all workshop outings.  Everyone on this trip should be in reasonably good physical condition.  Although we aren't planning any long hikes on this trip, the uneven terrain, sand, and heat can make short hikes seem much harder.  You should be comfortable walking around 1-3 miles per day while carrying your camera gear.
See the gear list further down for specific recommendations.  No matter what the weather does, we'll get awesome photos. If it's exceptionally wet, some of the dirt roads may be impassable. We'll modify the itinerary accordingly should that be the case. Transportation will be provided in 4WD trucks so we can handle most conditions.
For the overnight camping portion, we will provide all your meals, snacks, and camping gear which includes chairs, tents, sleeping bags, pillows, and pads.
As long as skies are clear, we will be out early in the morning between the hours of 2-4AM to photograph the Milky Way.  If skies are cloudy, we will modify the itinerary and focus more on sunrise and sunset photography.
Pricing
$2250 Per Person
If you would like double occupancy lodging, let us know and we can offer you a discount.
Trip Includes:
4-Day Intensive Photo Workshop with 10 participants and 2 professional photographers.
3 Nights of Hotel Lodging in Kanab, UT and Page, AZ. Price assumes single occupancy. If you would like double occupancy, Contact Us for a discount.
Fully Outfitted Camping Trip to White Pocket. Includes all food and camping gear.
All ground transportation and photography guiding during the trip.
Permits and fees for National Parks and all areas we visit.
Night photography and instruction.
Final Group Dinner at one of the nicest restaurants in town.
Trip Does NOT Include:
Transportation to/from your home to Kanab, UT.
Alcoholic Beverages.
Meals and snacks with exception of the White Pocket Overnight trip and final group dinner.
When you complete the checkout process, you will be given the option to either pay the full amount or put down a 50% deposit.  If you pay the deposit, the remaining amount will be charged 90-days prior to the trip to the credit card we have on file.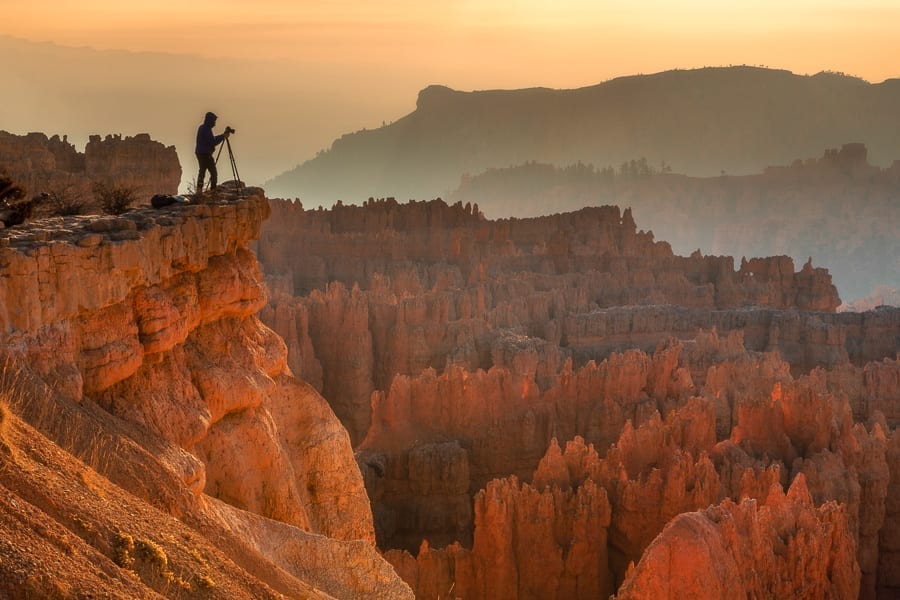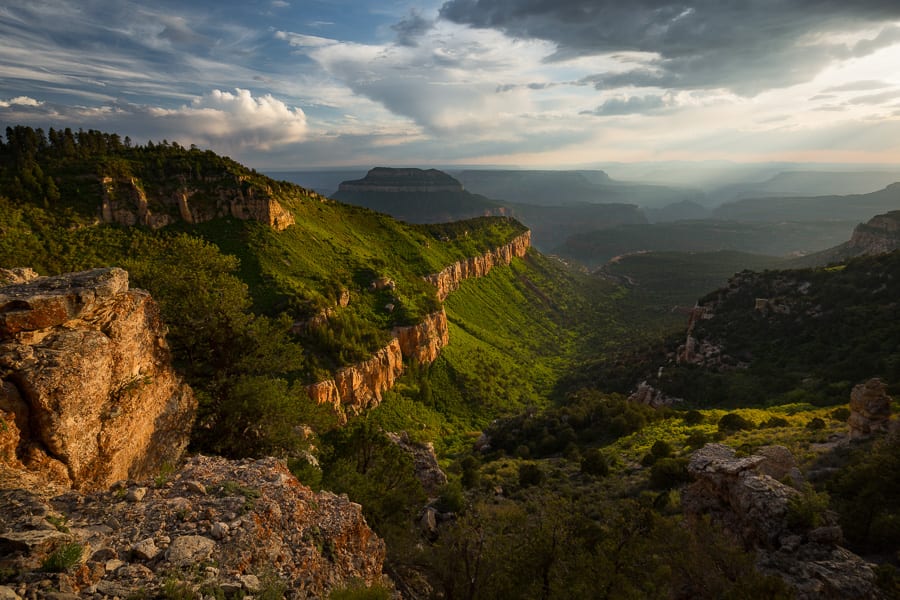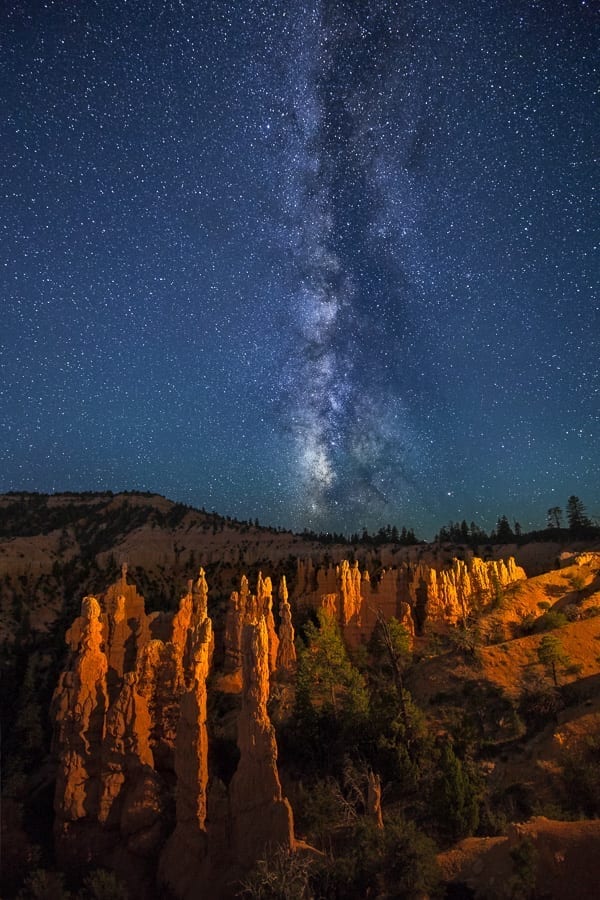 Recommended Camera Gear
Sturdy tripod and ballhead
Digital SLR or Mirrorless Camera Body. We recommend full-frame cameras for night photography.
Backpack to carry your camera gear
Wide Angle Lens (full frame equivalent): 16-35mm range. If you have a wider lens in the 11-15mm range, bring it! We recommend your lens be f/2.8 or faster for night photography.
Mid-range zoom lens in the range of 24-100mm.
Telephoto lenses will come in handy in Bryce Canyon and Grand Canyon.
Circular polarizer filters are useful.  Bring any ND filters if you have them.
Extra batteries, memory cards, and cleaning supplies.
Remote cord for your camera.
Laptop if you wish to backup your photos or do any post-processing.
We may be able to rent you gear if you don't have everything you need.
Personal Gear List
Sturdy hiking footwear, hiking socks, and long pants (keeps sand out of your shoes).
Hiking poles or stick if you have balance issues.
A rain jacket and one warm layer since it can get cold at night.
Headlamp for night photography.
Sunscreen, Sunglasses, Sun Hat
Water bottle or hydration bladder
Instructor - David Swindler
A carefree childhood amongst the rolling landscape of Iowa ignited David Swindler's passion for the wild and his unquenchable thirst for exploration.  "I am the oldest of five kids so I was a bit of a ring-leader.  We were always up to something."   From crafting an improvised raft to sail down a local river to biking the vast countryside, young David realized that he is happiest when surrounded by nature.  At age ten, he saw the Grand Canyon for the first time and that experience changed him forever.  "My grandpa and I were camped at the edge of the North Rim.  I got out of the tent at night and saw the Milky Way for the first time.  I think all I managed to say for the next 30 minutes was WOAH...while my jaw was hanging open.  It's impossible to describe how one feels when they see the Milky Way for the first time.  Any words feel like an understatement."
Years later, while feeling restless as a chemical engineer, the memories of that starry night inspired David to start Action Photo Tours, a boutique photo-workshop operation.  Trained as a classical pianist, David has always been artistic.  But his engineering background in optics and photolithography give him an edge in understanding the technical aspects of photography.  When on tour with David, you can expect in-depth discussions on composition, photographic techniques, and post-processing tricks.  Yet the real gem is his boundless energy and infectious enthusiasm for exploring the great outdoors!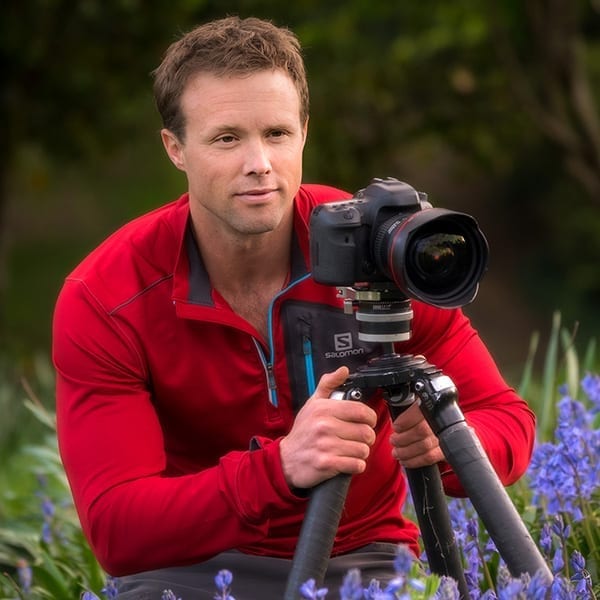 Instructor - Sigurour "Siggi" Brynjarsson
Sigurdur William Brynjarsson (Siggi) is a photographer based in Iceland.  He is currently the brand ambassador for Irix lenses and Kase Filters. He is passionate about photographing locations all around the world, but especially in his home country of Iceland.
He has won multiple awards for his work, both locally and internationally, especially for his Aurora Borealis photos and has even written a book on the subject. He has led photography workshops and tours in Iceland since 2012 with great success and rave reviews. When the days get longer, he turns his eyes towards the amazing midnight sun with golden hours that seem to stretch on forever.
Siggi is the CEO of Viking International PhotoTours, a company that is registered in both Iceland and the US and is a certified tour operator by the Icelandic Tourist Board.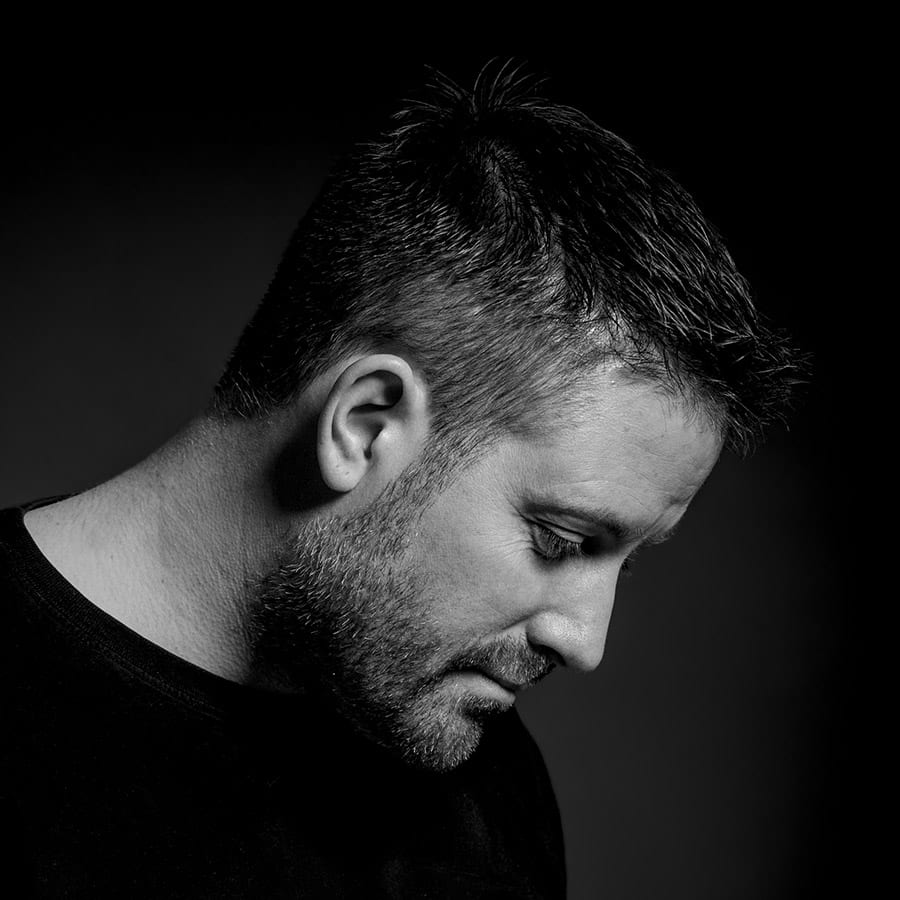 Need More Information? Contact Us!
Phone Number: 435-767-0222