Iceland Winter Photo Workshop
Feb 15-19, 2020 - Sold Out!!
Experience the rugged beauty of the North on our 5-day Iceland Winter Photo Workshop!  Step inside massive ice caves and marvel at the deep blue colors and amazing textures.  Capture the Northern Lights as they dance across the sky. Photograph crystal clear icebergs as they wash up on the smooth black sand. Iceland is absolutely amazing in winter!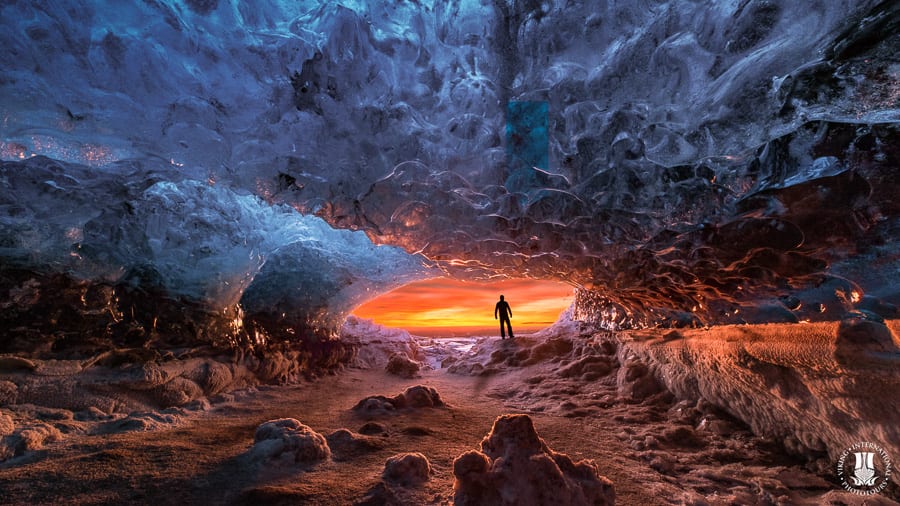 Highlights
This is the best time of year to safely visit the ice caves. The colors and textures will blow your mind!
When skies are clear, chances are good for seeing the Northern Lights. We'll be photographing a lot at night when the aurora is active.  Workshop dates are carefully selected to minimize moon interference.
You'll come away with a diverse portfolio of images from this workshop, with waterfalls, canyons, sea stacks, geysers, ice caves, beaches, mountains, and much more!
Award-winning photographers Siggi Brynjarsson and David Swindler will be leading the workshop. You will learn many new photo skills and post-processing techniques.
All transportation and lodging is provided during the workshop so you can focus on your photography.
Itinerary
The itinerary may be subject to change due to the unpredictability of Icelandic weather. However, we will make every effort to optimize our shooting conditions no matter what the weather throws at us.
Day 1 (Sat Feb 15): We will meet at 8AM to visit two of Iceland's most visited waterfalls, Seljalandsfoss and Skogafoss. If time permits, we will also visit the lesser known Kvernufoss. We will continue along the South Coast to the black sand beaches of Reynisfjara and the Reynisdrangar sea stacks. After sunset, we enjoy a group dinner in Vik.  Each night we'll be monitoring the aurora forecast and cloud cover. If conditions look good, we'll go out and shoot late into the night. Depending on how late we stay out, we may skip sunrise the following morning.
Day 2 (Sun Feb 16):  The group will continue along the South Coast until we reach Vatnajokull National Park. We will stop along the way at the impressive canyon known as Fjaðrárgljúfur, followed by the moss-covered landscape of Eldhraun.  Massive glaciers await at Skaftafell. But the real magic happens at the Diamond Beach where icebergs wash ashore along a surface of smooth black sand.  We will stay at Hotel Smyrlabjorg for the next 2 nights.
Day 3 (Mon Feb 17):  After breakfast, we head back to the Diamond Beach for sunrise before starting our ice cave adventure. How many caves we visit will depend on the group's fitness, as some cave require more hiking than others. We will equip you with the necessary equipment to safely walk on the icy surfaces. After dinner, we'll watch for the Northern Lights!
Day 4 (Tues Feb 18):  Today we'll drive further east to visit the famed Vestrahorn Mountain for sunrise. This is often called the most beautiful mountain in Iceland! We will drive back to Vik to retire at our hotel for the evening. There will be several interesting glacier lagoons to photograph along the way.
Day 5 (Wed Feb 19):  Today we start making our way back to Reykjavik along the famed Golden Circle. We will visit breathtaking waterfalls, like Oxarafoss, Bruarfoss and Gullfoss along with the famous Geysir and Kerid Volcanic Crater. We say our final goodbyes after our group dinner. Overnight accommodations in Reykjavik.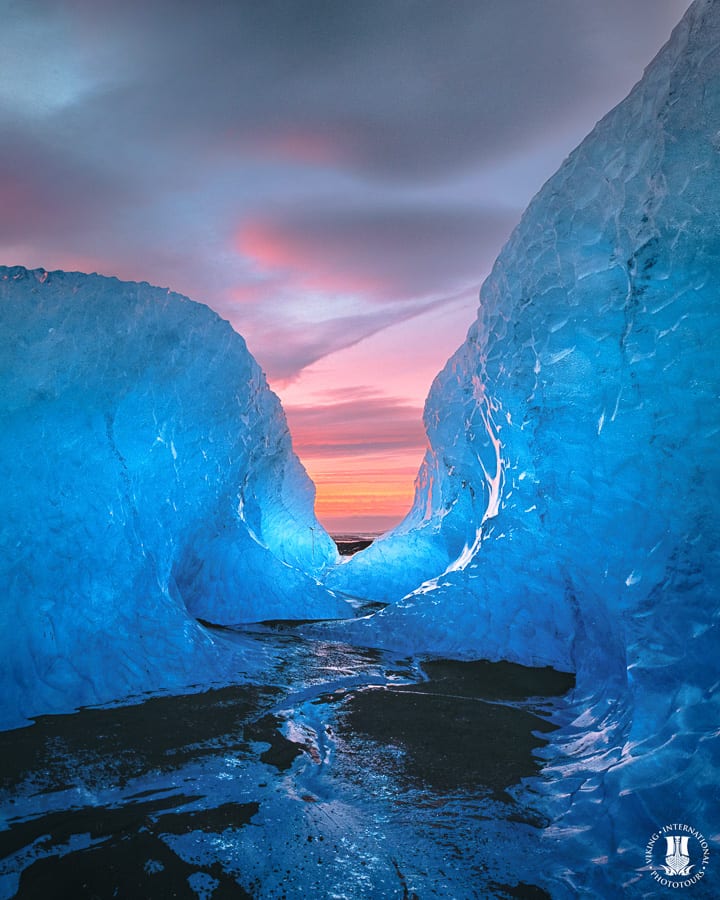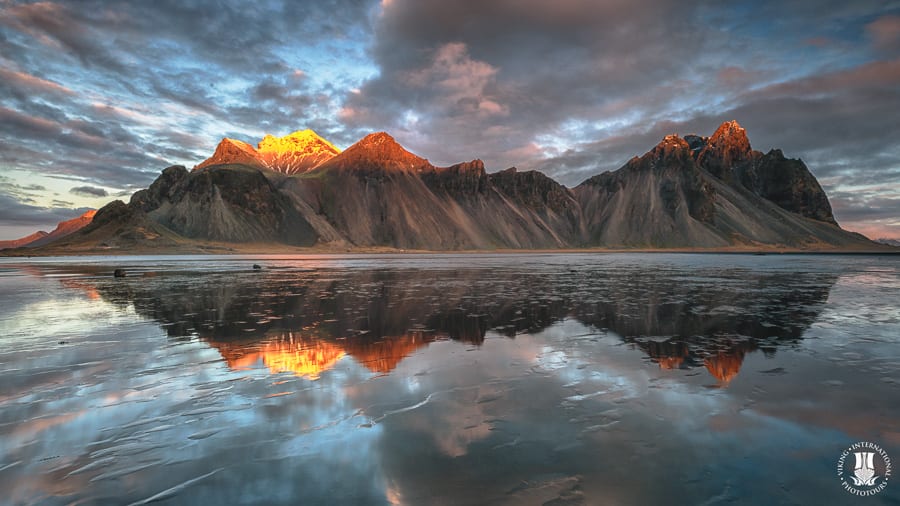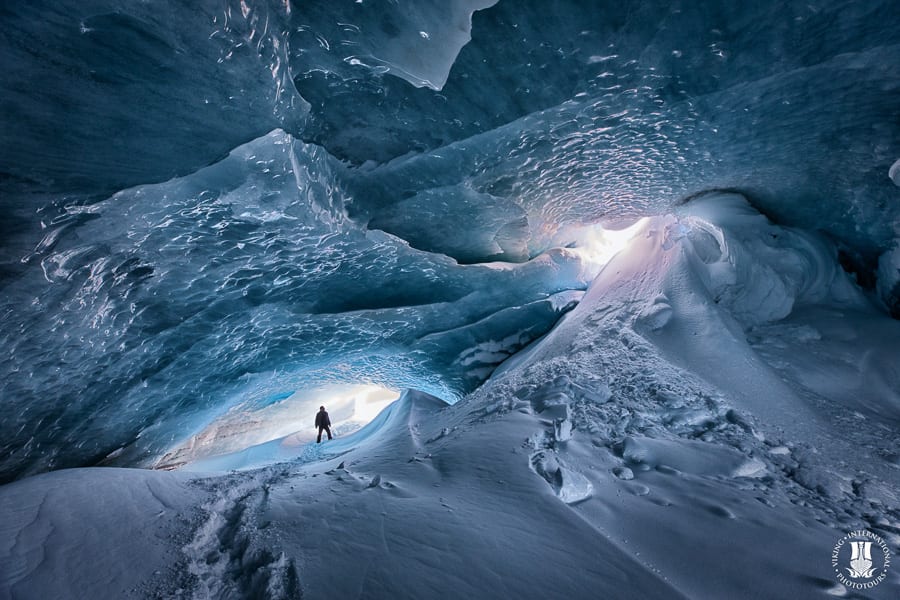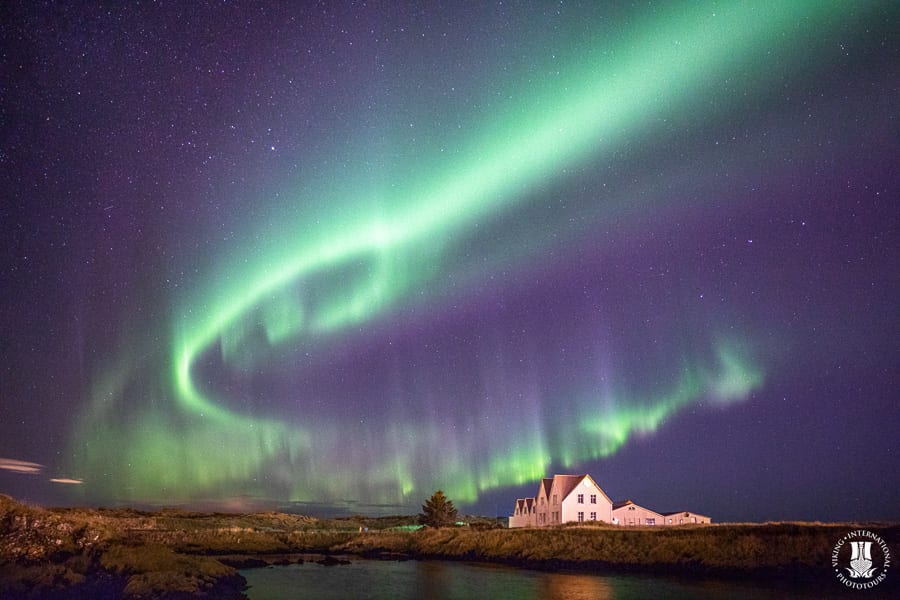 Pricing
$3150/person + Tax 
Trip Includes:
5 Nights Lodging and Breakfast for the nights of Feb 15th-19th. Price is based on single occupancy. $250/person discount can be applied for double occupancy.
Photography guiding and instruction throughout the trip.
Post-processing and image critique sessions.
Opening and farewell group dinners
Airport Transfers at the end of the workshop.
Trip Does NOT Include:
International Flights to/from Iceland.
Airport transfers into Reykjavik at beginning of workshop.
Meals, beverages, and snacks with exception of hotel breakfasts and opening and farewell dinners.
Alcohol
A 50% deposit is required to secure your spot.  The remaining balance will be charged 90 days prior to the workshop.
Additional Information
Max group size of 12 participants with 2 instructors, allowing for plenty of 1-to-1 time.
Mild to moderate hiking is required to reach some locations.
Winter weather is unpredictable in Iceland. Warm sunshine, gale force winds, frigid temperatures, and snow are all possible - even within the same day! Make sure you dress appropriately. See the gear list further down.
Each day we will check the Northern Lights forecast and the latest weather. If conditions are not favorable, we will use the time in the evening for editing sessions and presentations.
We highly recommend travel insurance to cover any non-refundable fees and airline travel you may have in connection with the workshop.
Iceland is absolutely stunning from the ground, but it is equally amazing from above. If you own a drone, you are welcome to bring it along.
Gear will be provided for walking into the ice caves safely.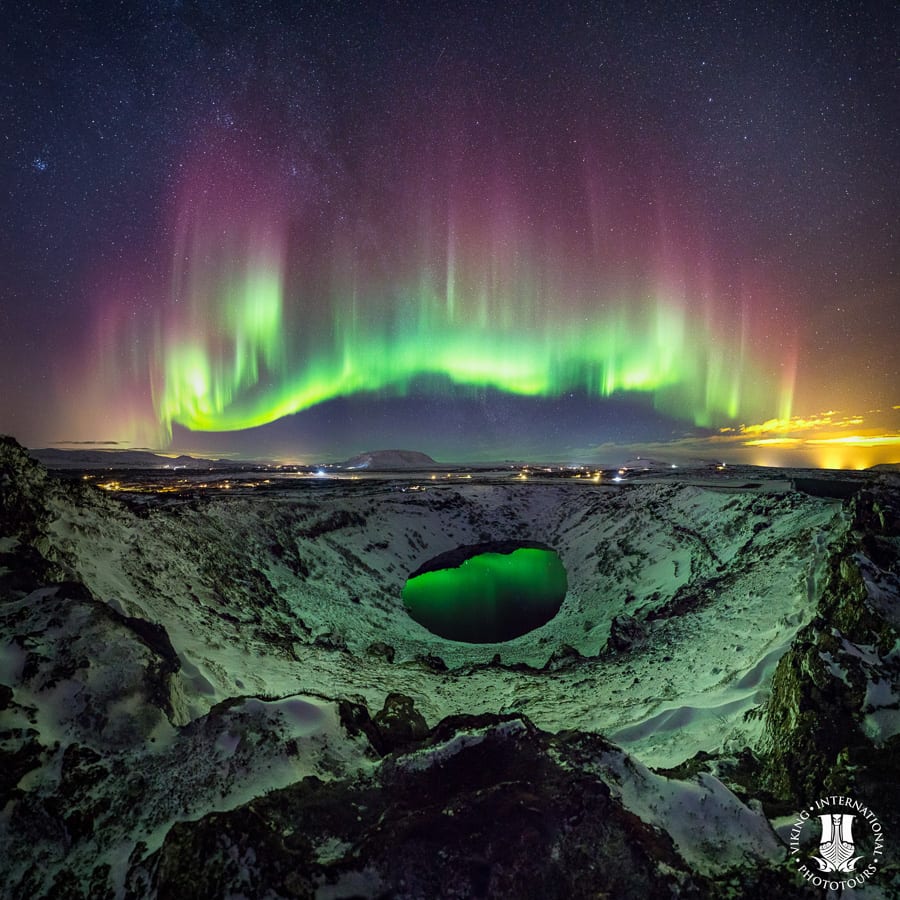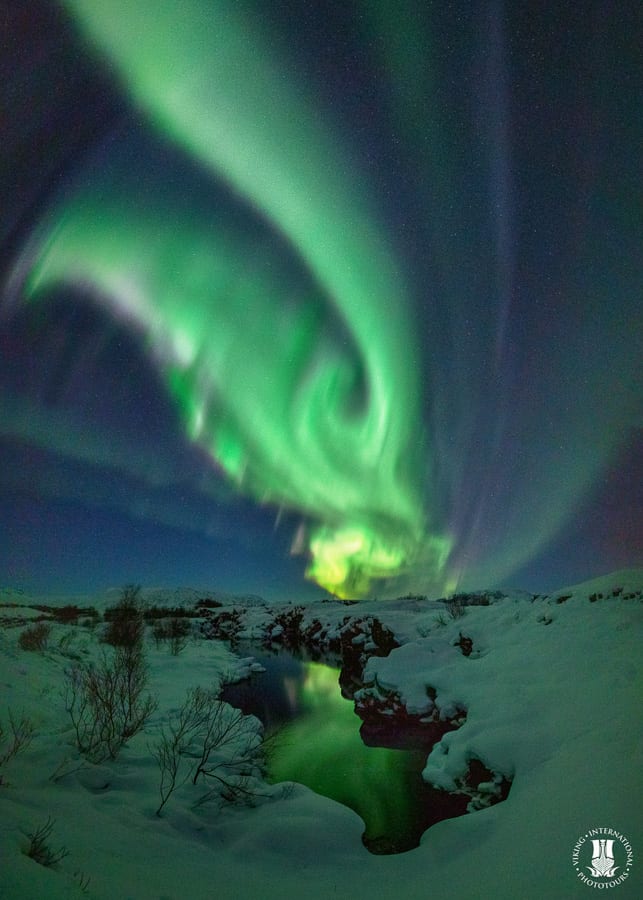 Recommended Camera Gear
Sturdy tripod and ballhead
Digital SLR or Mirrorless Camera Body.
Fast wide angle lens in the 14-35mm range. We recommend a lens that is f/2.8 or faster for night photography.
Mid-range zoom lens in the range of 24-100mm.
Telephoto lenses will come in handy for landscape compression and wildlife encounters.
Circular polarizer filters and 3-stop ND filters for your lenses.  If you like shooting with grads, bring them along.  Very dark ND's can be useful for creating long exposures.
Extra batteries, memory cards, and cleaning supplies.
Remote cord for your camera.
Cover for your camera/lens to protect against high winds and rain.
Camera backpack you can use while hiking.
Drone camera for aerial photography (optional).
Laptop if you wish to backup your photos or follow along during the post-processing instruction.
Personal Gear List
Sturdy waterproof hiking footwear and wool hiking socks. Gaitors are useful to keep snow out of your boots.
Base layers for both upper and lower body.
Insulations layers - down, fleece jackets.
Waterproof outer shell jacket.
Hiking pants and thin waterproof pants for more inclement weather.
Warm hat, waterproof gloves, glove liners.
Microspikes are recommended for walking on slick surfaces.
Instructor - Siggi Brynjarsson
Sigurdur William Brynjarsson (Siggi) is a photographer based in Iceland.  He is currently the brand ambassador for Irix lenses and Kase Filters. He is passionate about photographing locations all around the world, but especially in his home country of Iceland.
He has won multiple awards for his work, both locally and internationally, especially for his Aurora Borealis photos and has even written a book on the subject. He has led photography workshops and tours in Iceland since 2012 with great success and rave reviews. When the days get longer, he turns his eyes towards the amazing midnight sun with golden hours that seem to stretch on forever.
Siggi is the CEO of Viking International PhotoTours, a company that is registered in both Iceland and the US and is a certified tour operator by the Icelandic Tourist Board.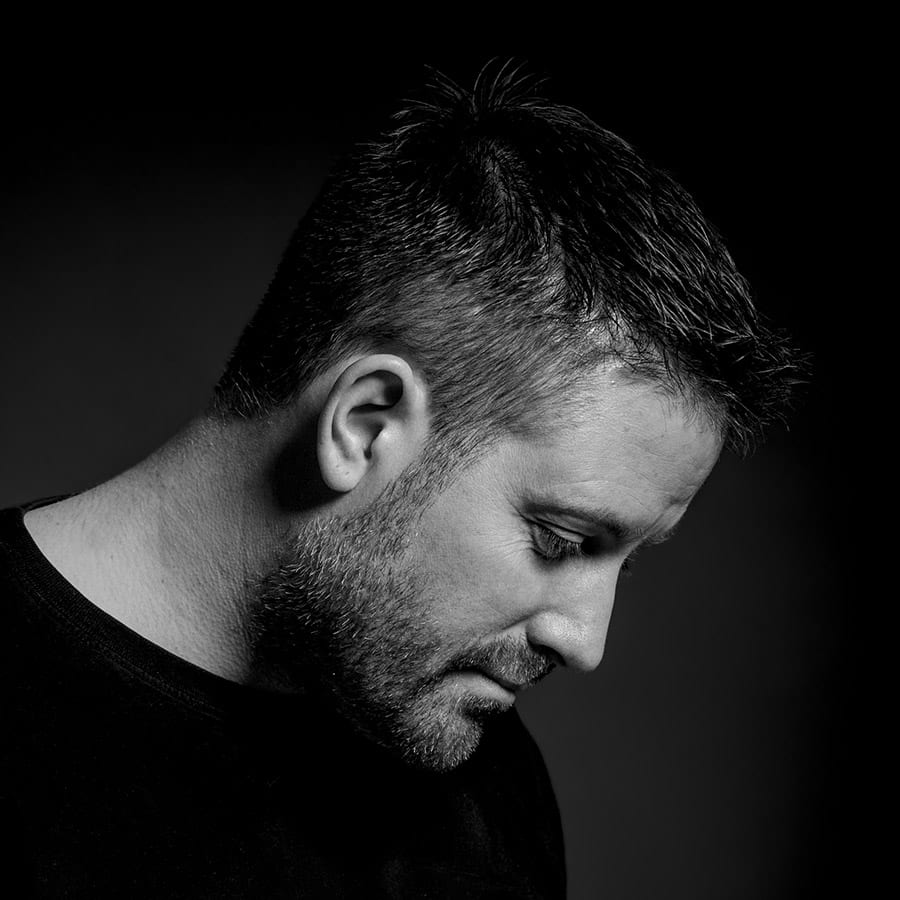 Instructor - David Swindler
David Swindler is a National Geographic award-winning landscape and wildlife photographer.  He received a degree in chemical engineering and worked many years in the semiconductor industry specializing in optics and photolithography. Thus, the technical side of photography came very easy to him. Back in 2014 he decided to quit his day job to follow his true passion. As a photographer, he has traveled to many locations around the world and has extensive experience with landscape, wildlife, night, and macro photography. He finds great satisfaction in helping others learn photography, especially in stunning outdoor environments!  Follow the links below to see more of Mr. Swindler's work.
Gallery    Media Recognition    500px     Flickr
Mr Swindler has been leading guided photo tours for many years and knows many different camera systems and how to capture the best photos. On his trips, you'll travel to impressive locations and receive photography instruction at the same time! Unlike many other photo guides, his clients are his top priority while out in the field. Read what others are saying about his trips here: Trip Advisor. Mr Swindler has extensive outdoor experience and will ensure your safety and well-being. If you have any questions, please Contact Us and we'll be happy to assist.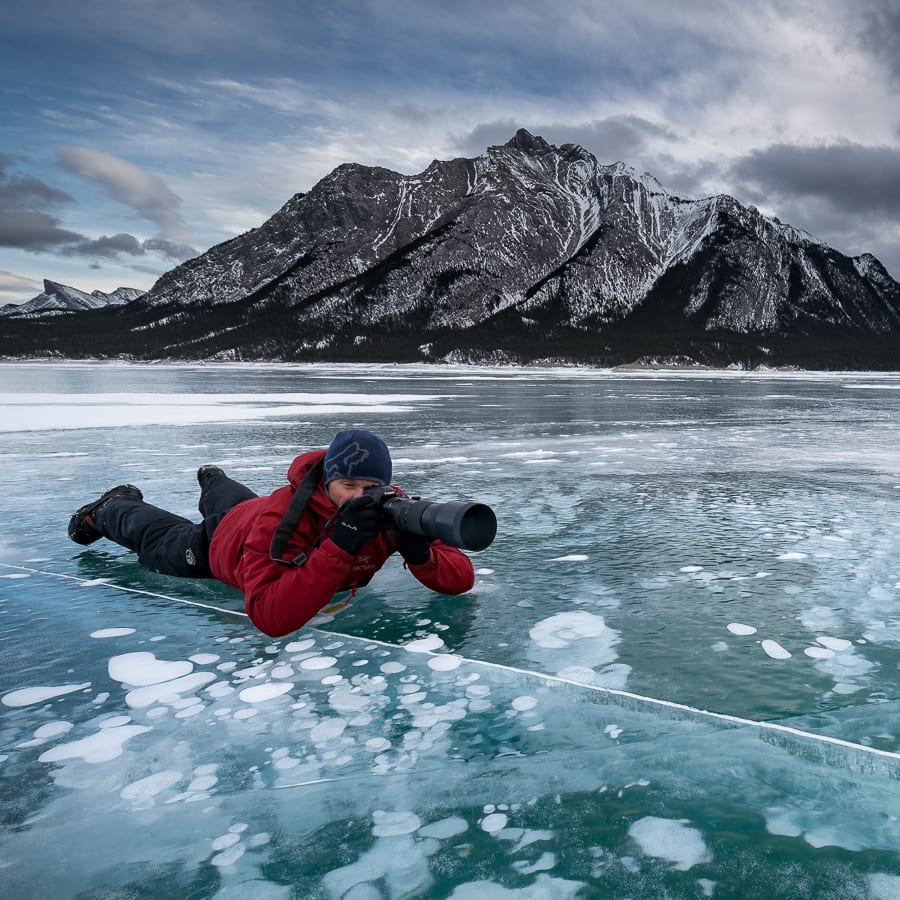 Need More Information? Contact Us!
Phone Number: 435-767-0222