Death Valley Photo Workshop
Dec 6-10, 2020 - Sold Out!!!
Dec 12-16, 2020 - 1 Spot Left!!
Experience the rugged beauty of Death Valley National Park.  Stand atop soaring vistas, trek through pristine sand dunes, photograph towering canyon walls, and gaze upon otherworldly colors and textures!  We'll even venture out and do some night photography.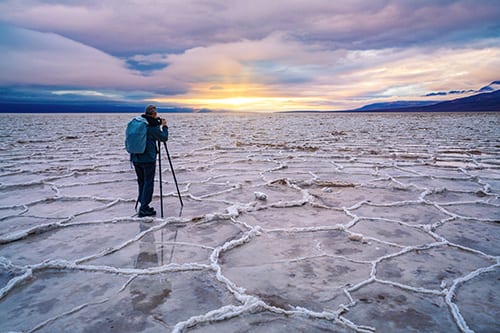 Highlights
Learn many new in-field photography techniques and post-processing tricks from pro photographers Kevin McNeal and David Swindler.
Photograph the classic Death Valley locations in addition to many spots well off the beaten path.
The itinerary is kept flexible so we can chase the best weather conditions.
Night photography is included. With the short days in December, we can still get some decent sleep each night!
We provide all the transportation during the workshop so you don't have to worry about trying to follow us and park your own vehicle.
Post-processing and image critique sessions will be scheduled throughout the workshop to help you make the most of your images.
Optional overnight excursion available Dec 10-11 to either the Racetrack or Eureka Dunes. Contact Us for more info.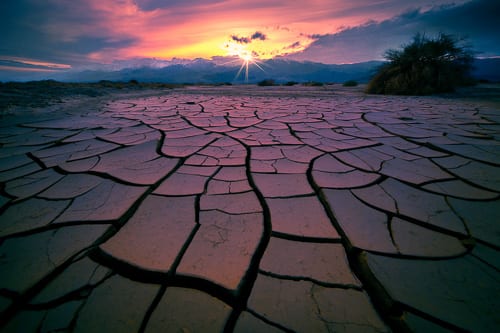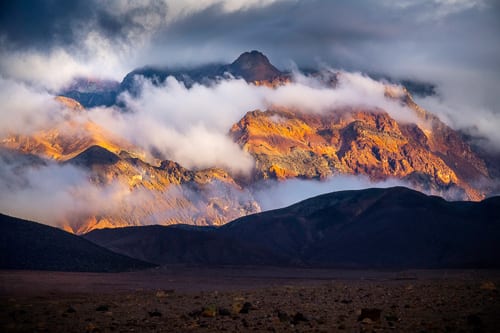 Itinerary
The exact itinerary will be kept flexible to account for the weather and current conditions in the park. We will optimize our time for the best possible photography. The itinerary below is just an example of what you can expect.
Day 1:  Meet at 9AM at The Oasis at Death Valley in Furnace Creek for a mandatory orientation session.  We'll cover many of the shooting techniques you will use throughout the workshop. We'll head out mid-afternoon to photograph some rugged canyons, finishing with sunset at one of our favorite views in the park.
Day 2:  With nice clouds in the sky, we wake up early to photograph the salt polygons at Badwater. We venture further afield to colorful badlands and slot canyons. In the afternoon we photograph old cars, waterfalls, joshua trees, ghost towns, and finish at sunset with Badwater Basin stretched out below us.  We decide to stay a couple hours after sunset to do some night photography!
Day 3:  We drive out to some remote sand dunes for sunrise, capturing the ripples, curves, and textures of the dunes. We return to Furnace Creek for lunch. Late afternoon we reconvene for an intensive post-processing session and then photograph a spot nearby for sunset.
Day 4:  It's another early morning departure for a sunrise shoot. With dramatic clouds, we opt for a high sweeping view and then photograph some crazy mud cracks.  We return for lunch and an afternoon post-processing session. We decide on our sunset location based on the weather and then decide to stay out late again for night photography!
Day 5:  Some clouds rolled in overnight and we get an absolutely a brilliant sunrise over the sand dunes. We return to Furnace Creek to check out of the hotel and say our goodbyes.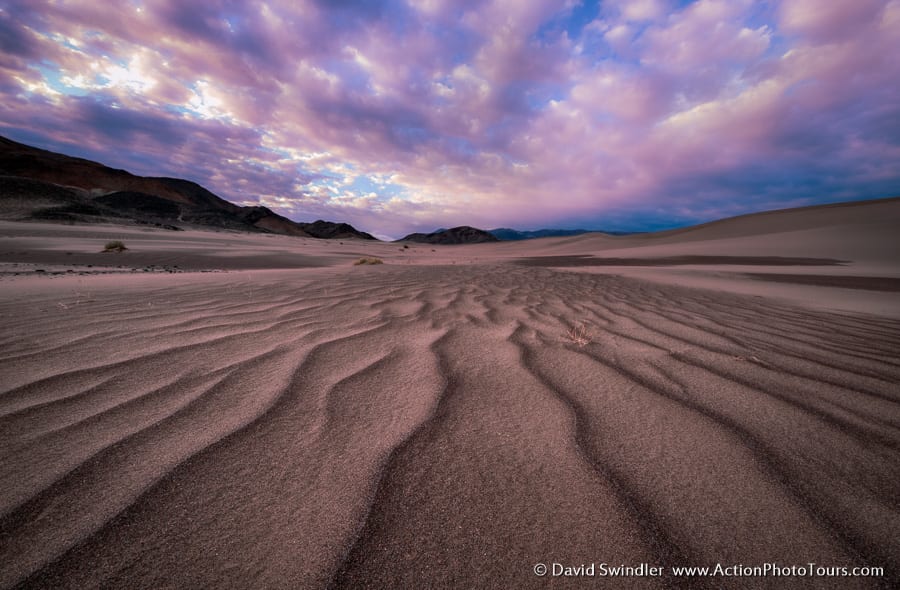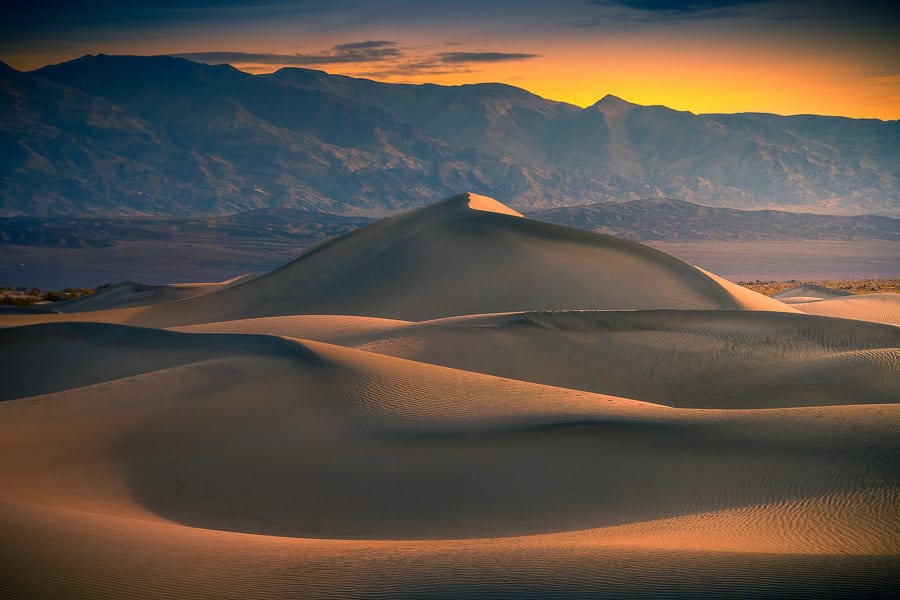 Logistics
Please arrive at The Oasis at Death Valley (the Ranch) prior to 9AM on Dec 6th or Dec 12th for the orientation session. We have reserved a block of rooms with 2 queen beds at $165/night + taxes/fees. When calling to book, use Code 906471 for the 6th-10th dates, and Code 990721 for the 12th-16th. Their number is (760) 786-2345. You are welcome to stay elsewhere if you'd like but be aware that it will add a lot of extra driving time. You can also camp, but be prepared for some cold nights and possible snow.
Participants should have their own vehicle to get to Furnace Creek.  All transportation during the workshop is included but you are welcome to follow us in your own vehicle if you prefer. Everyone on this trip should be in reasonably good physical condition.  We aren't planning any long hikes on this trip and you should be comfortable hiking 2-4 miles per day while carrying your photo gear.
Food is not included as part of the workshop.  You are free to bring your own food or eat at the restaurants in Furnace Creek.  Dining options are pretty limited in Death Valley and you may want to buy groceries before arriving (mini-fridge in the rooms).
Expect high temps in the 50's-60's and lows in the 30's (could be even colder in the high elevations).  Make sure you bring some warm layers!  Rain or snow are always a possibility, so make sure you bring a rain jacket and something to cover your backpack. It can sometimes be very windy in Death Valley this time of year.  We recommend bringing something to cover your camera with in the event of a sand storm.  Please see the gear list further down.
Pricing
$1795/person + Tax
Trip Includes:
All ground transportation from Furnace Creek.
Photography guiding and instruction throughout the trip.
Post-processing and image critique sessions.
Night photography.
Trip Does NOT Include:
Hotel accommodations.  We have a block of rooms reserved at the Death Valley Oasis you can book.
Transportation to/from your home to Furnace Creek.
Meals, beverages, and snacks.
When you complete the checkout process, you will be given the option to either pay the full amount or put down a 50% deposit.  If you pay the deposit, the remaining amount will be charged 90-days prior to arrival to the credit card we have on file.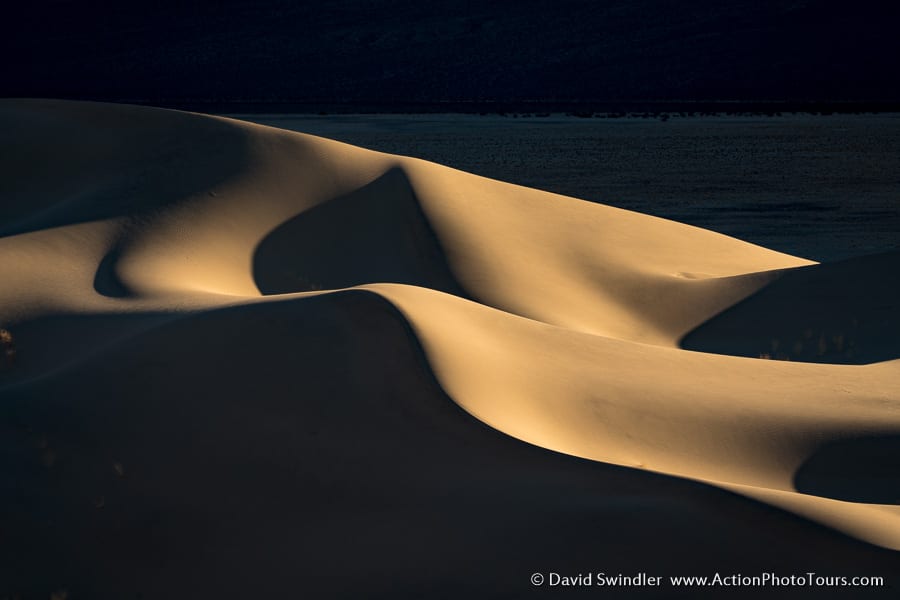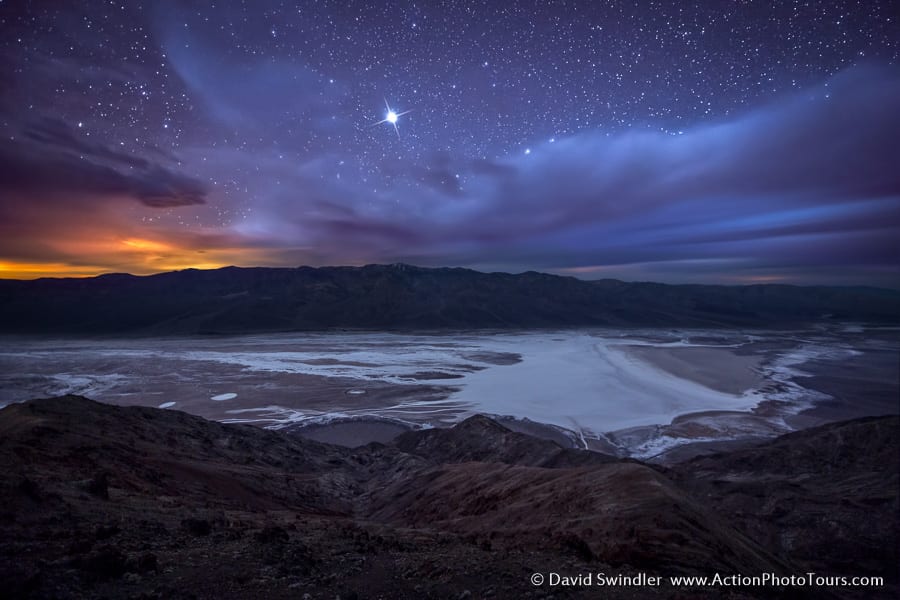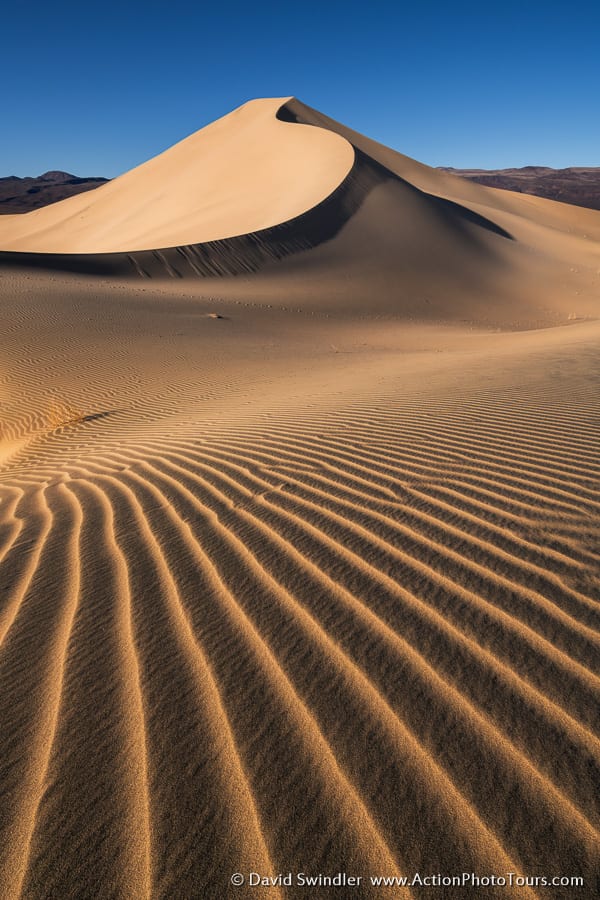 Recommended Camera Gear
Sturdy tripod and ballhead
Digital SLR or Mirrorless Camera Body.
Wide angle lens in the 14-30mm range. For night photography, you will need a lens that is at least f/2.8 or faster. The wider angle the better.
Mid-range zoom lens in the range of 24-100mm.
Long telephoto lenses will come in handy for landscape compression and wildlife encounters.
Circular polarizer filters and ND filters for your lenses.  If you like shooting with grads, bring them along.  A 9 or 10-stop ND filter will be useful for creating very long exposures.
Extra batteries, memory cards, and cleaning supplies.
Remote cord for your camera.
Cover for your camera/lens to protect against high winds.
Laptop if you wish to backup your photos or follow along during the post-processing instruction.
Personal Gear List
Sturdy hiking footwear, hiking socks, and hiking pants.
A rain jacket and several warm layers.
Headlamp
Sunscreen, Sunglasses, Sun Hat, Warm Hat, and Gloves
Water bottle or hydration bladder.
Hiking poles if you like having them.
Our workshop was let by David and Kevin who are both knowledgeable, personable and high energy individuals with a goal of getting you to the best spots in the best light and providing you with all the assistance you want on location. I especially appreciated being led out in the dark to the mud cracks to shoot the Milky Way, something I never would have done on my own and a really beautiful experience. Weather is always a big factor in photography and they kept on top of the changing conditions and altered our schedule accordingly. I learned a ton in the post processing sessions on Raw and Lightroom. I think the most important factor overall is that you can feel that their main goal is to make the workshop experience all about you and the other workshop attendees.
-Patty, Montana
We talked non-stop for the 2 days of driving home, raving about the workshop. Kevin and David got us to the locations in time, motivated us, educated us and cared for our well being. I saw the group had a wide range of photographic experience and you made sure each member had personalized attention.
-David, British Columbia
David Swindler and Kevin McNeal are two of the most talented landscape photographers in the world. I felt so fortunate to have them as the leaders of the Death Valley Workshop. Every day we shot from before sunrise until after sunset. Their advice was exceptional in the field, but also in the classroom where outstanding tips re post processing were shared. Altogether, this was an amazing learning experience!
- Mary, Ontario
Action Photo Tours provides for an outstanding photo and post processing experience. David and Kevin are very experienced and enthusiastic photographers. David constantly monitored the conditions to give us the best possible opportunities. Both he and Kevin were always available to answer questions and provide invaluable tips on composition and camera techniques. The night shoot was outstanding. Excellent post processing instruction based on photos taken during the trip. Plus, both David and Kevin are really great people to be around. Will be a repeat customer.
-Frank, Washington
Dave and Kevin were outstanding! They both have a passion that is infectious in both field work and post processing. Dave keeps a very tight instructor/participant ratio. Will definitely take another workshop!
-Ken, California
My wife and I took the Death Valley photo tour, and I got some of my best photos ever. David spent a lot of time looking at weather forecasts and models in order to get our group to the best places at the right times to do our photography. Their classroom sessions even managed to get a few things through my thick skull, and I learned a lot. My thanks to David and Kevin for really going the extra mile for us, and I recommend this tour highly.
-Mike, Texas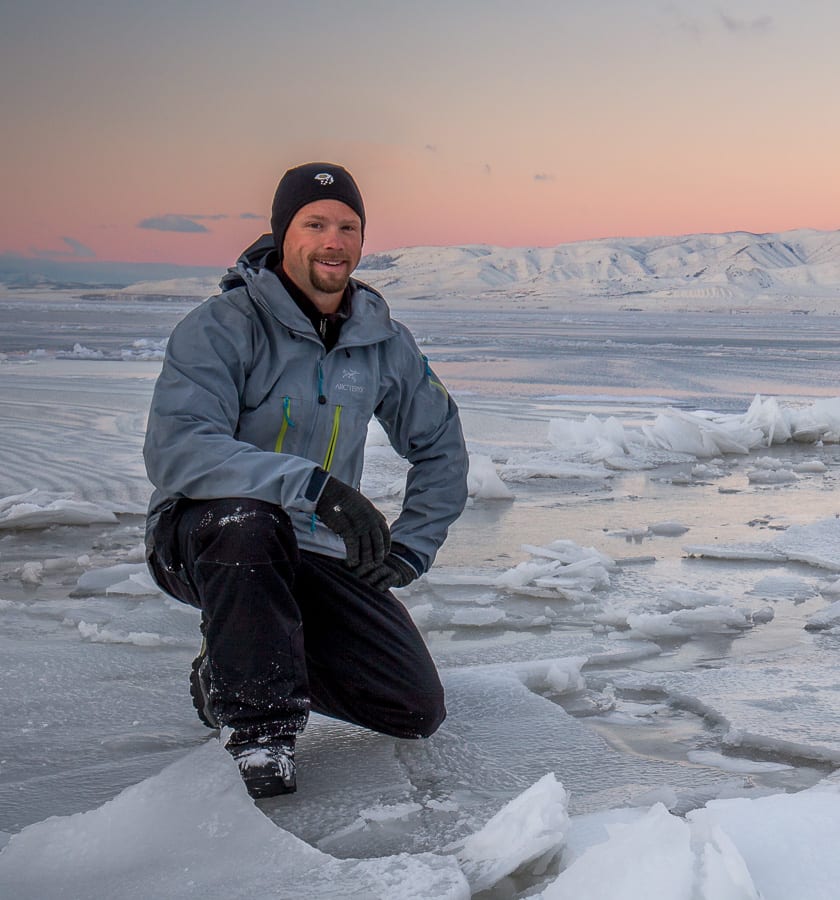 David Swindler
David Swindler is a National Geographic award-winning landscape and wildlife photographer. He received a degree in chemical engineering and worked in the semiconductor industry specializing in optics and photolithography. Back in 2014 he quit his day job to follow his true passion. He has traveled to many locations around the world and has extensive experience photographing a wide variety of subjects and conditions. He finds great satisfaction in helping others learn photography, especially in the wild desert environment near his home in Kanab, UT.  David is an expert in night photography and loves to get out and shoot the starry night skies. Catch a glimpse of David's work in the slideshow, and follow the links below to see more!
Gallery   Media Coverage    500px     Flickr
David has been leading guided photo tours for many years. He is very familiar with many different types of cameras and how to capture the best photos. And most importantly, his clients are the top priority while out in the field.  Just read what others are saying here: Trip Advisor.
Instructor - Kevin McNeal
Kevin McNeal is a Washington-State photographer who is passionate about photographing grand landscapes that reflect the most unique places on earth. Capturing moments of magic light and transferring this to print is the ultimate goal. His images hold a combination of perseverance, patience, and dedication to capture landscapes in fresh ways. The stories of how these images are rendered come across in the feelings the images convey. He has traveled all over North America, shooting diverse landscapes and finding remote places with the hope that we can convey to the public that this earth is worth caring for. His award winning images can be seen in galleries and showings across the United States.  He was recently invited to the Art Wolfe Art Gallery for the Environmental Photography Invitational. Kevin was the grand winner of the Landscape category for the Natures Best Magazine and was selected for the Smithsonian National Museum of History in Washington D.C..  He is a regular contributor to publications like Outdoor Photographer.
Artist's Statement
"I believe that the Earth shares secrets with us that only can be discovered by trying to understand our position on this planet. We are never fully intimate with the planet but are given brief moments that make our souls want more. These glimpses of nature's power are fleeting and never the same twice. I also believe it is important to share with those who want it. The treasures that await us given the patience that is out there. What I try to do is bring some of that magic to my images to share with the rest of the world. Each of my images tells a story that everyone can relate to in some way whether it is success, fear, or challenging oneself to overcome obstacles
Kevin's portfolio can be found at www.kevinmcnealphotography.com.