Nov 14-18, 2020 - Sold Out!!
Nov 19-23, 2020 - Sold Out!!
Join us in Hanksville, UT for a 5-Day adventure into some remote and seldom photographed parts of the Utah desert. Come witness one of the most spectacular landscapes on Earth!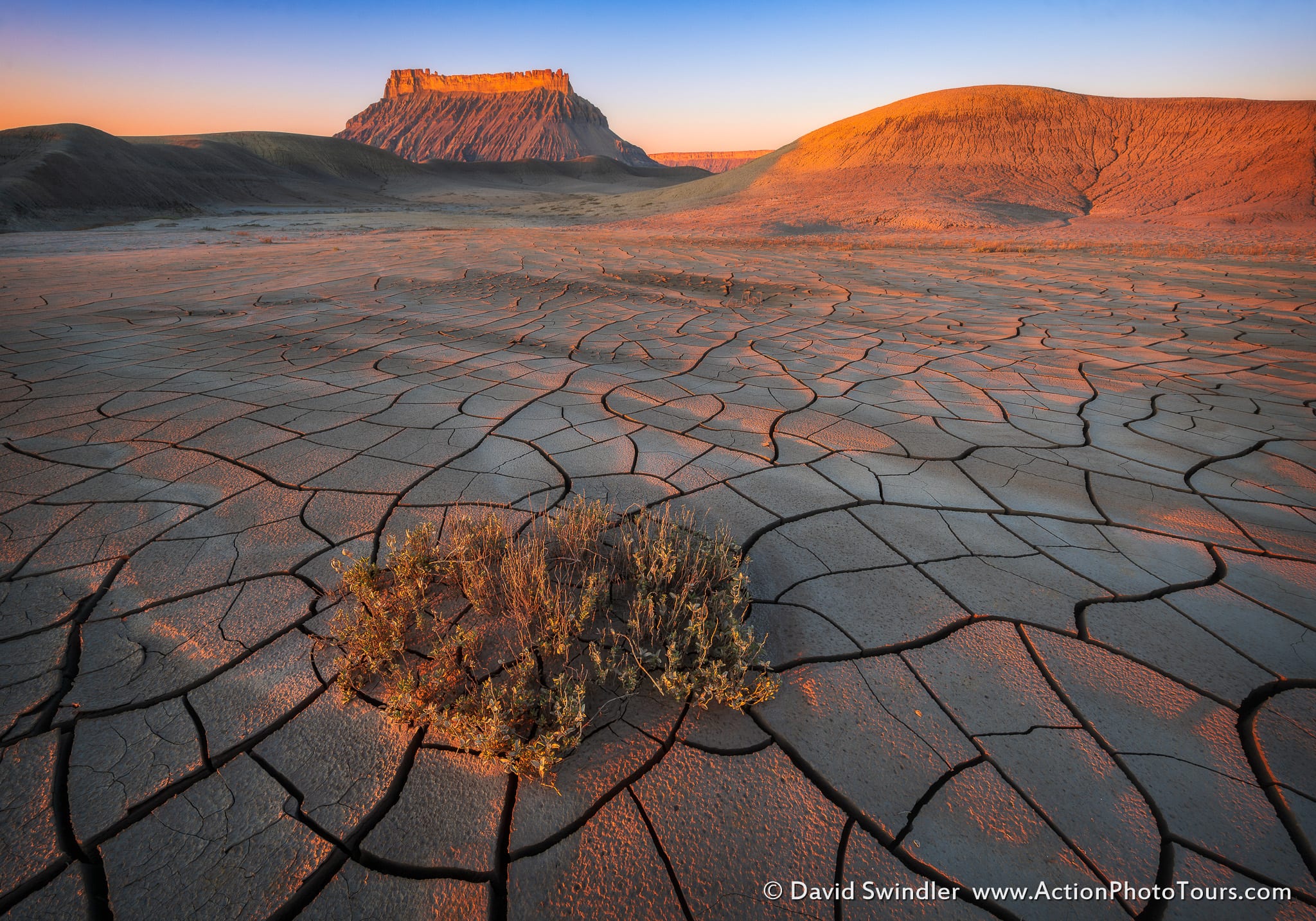 Highlights
The badlands of central Utah are filled with spectacular photo locations that will blow your mind!  This workshop is designed for those who truly want to get off the beaten path and improve their photography.
With a maximum of 5 participants, we guarantee plenty of individual attention.  You will learn many new camera skills and techniques.
Transportation is provided so you don't have to worry about navigating the rough roads.
Post-processing and image critique sessions will be scheduled throughout the workshop to help make the most of your images.
The itinerary is kept flexible so we can chase the best weather conditions. Our job is to get you the best photos possible!
Itinerary
The itinerary is being kept flexible to allow us to chase the best conditions. If storms and clouds are moving through, we'll spend more time photographing during the day. The itinerary below is just an example of what you can expect.
Day 1:  Meet at 2PM in Hanksville, UT for a mandatory introductory session.  After a quick dinner, we hike up to a high viewpoint in Capitol Reef to capture a brilliant sunset!
Day 2:  We wake before sunrise to photograph some impressive hoodoos in golden light. After breakfast we photograph a beautiful slot canyon, looking for that soft reflected light. In the evening we hike out into the badlands and capture some impressive light and clouds!
Day 3:  It's another early morning departure to an amazing viewpoint of the badlands. This place is almost like being on a different planet!  In the afternoon we venture out to shoot the Blue Hills and Badlands in soft twilight, ending the day with a Cathedral Valley sunset.
Day 4:  We're out again at dawn to capture first light on stunning sections of badlands. The angled light will make the landscape come alive!  During the day, we meet for post-processing and image critique.  At sunset, we'll get out our telephoto lenses and shoot abstract compositions of the blue hills.
Day 5:  We head out for our final sunrise shoot and then regroup after breakfast for a post-processing session. We'll use your own images and show you handy tricks to improve your photos. We enjoy a group lunch (included) and then return to the badlands in the afternoon to shoot through sunset. The workshop will conclude after our sunset shoot.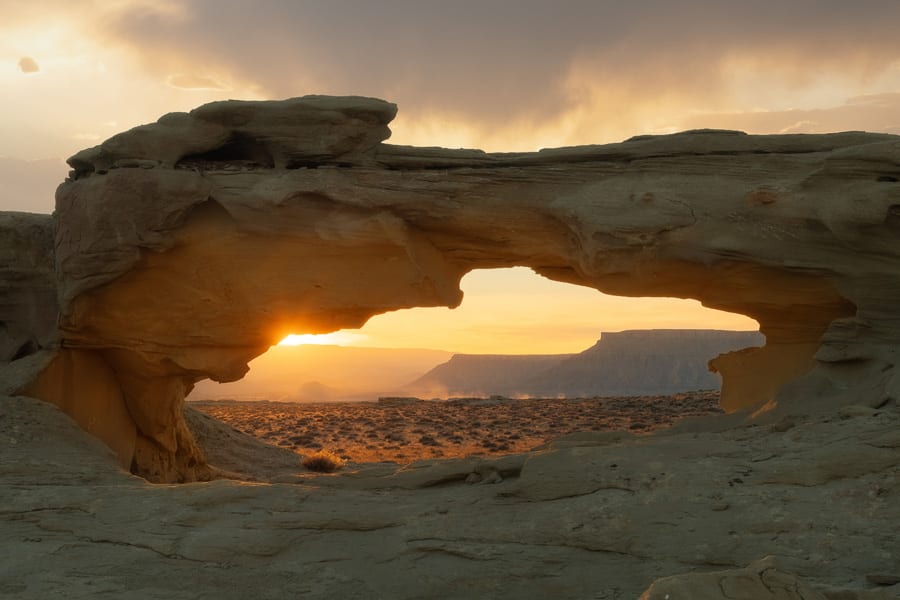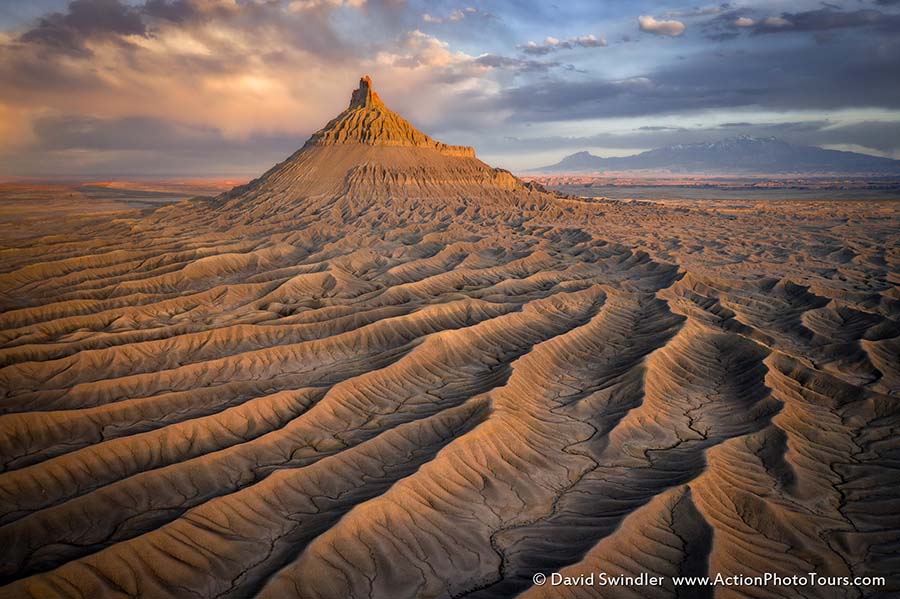 Testimonials
"Just finished a 5 day Utah Badlands Tour with Dustin and David. It was amazing!! The landscapes were phenomenal and the instruction was great!! The tour was professional and well organized. Now to process all those photos! "
- Jen - Ohio
"My experience on the Utah Badlands Photo Workshop singularly changed my outlook on landscape photography. Being a professional commercial photographer for the past decade, I thought I knew the boundaries of photography. However, David and Dustin generously and eloquently shared their photographic vision and helped push me beyond my limits to a place I had never been before. "
- A.J - UT
"Exceptional trip to the Utah Badlands with Action Photo Tours and trip leaders David Swindler and Dustin Lefevre. They know and care about the land and when to be where to observe and photograph this stunning area. I learned a ton of photography and connected with a great group of people."
- Meg, CA
"David and Dustin are passionate about getting you to unique and unknown locations and make sure they get you there for the best lighting conditions. They give you as much attention or independence as you need to have a successful workshop. David and Dustin also do a great job of balancing time in the field with time spent on photo editing."
- Ken, CA
"Just finished the Beyond the Badlands Workshop and it was awesome! David and Dustin were upbeat and know this area like the back of their hands. They were knowledgeable and always ready to help, no matter what your experience level, both with shooting and with post processing questions! "
- George, FL
"David and Dustin do an amazing job of both instructing and guiding clients to the most amazing and undiscovered places in the Badlands of Southern Utah. If you want to travel with real pros who get you to the best shots, in the best places and most importantly at the right times - go with the team at Action Photo Tours." 
- Richard, TX
"Fantastic trip, taken to places the normal person would not find or have the opportunity to photograph. If you like landscape photography, this is the group to travel with."
- James, GA
"The guides knew the best places and times to get some great photos. I learned a ton of tips to improve my photography."
- Jaime, CO
"Just finished the Beyond the Badlands Workshop and it was awesome! David and Dustin were upbeat and know this area like the back of their hands. They were knowledgeable and always ready to help, no matter what your experience level, both with shooting and with post processing questions! "
- George, FL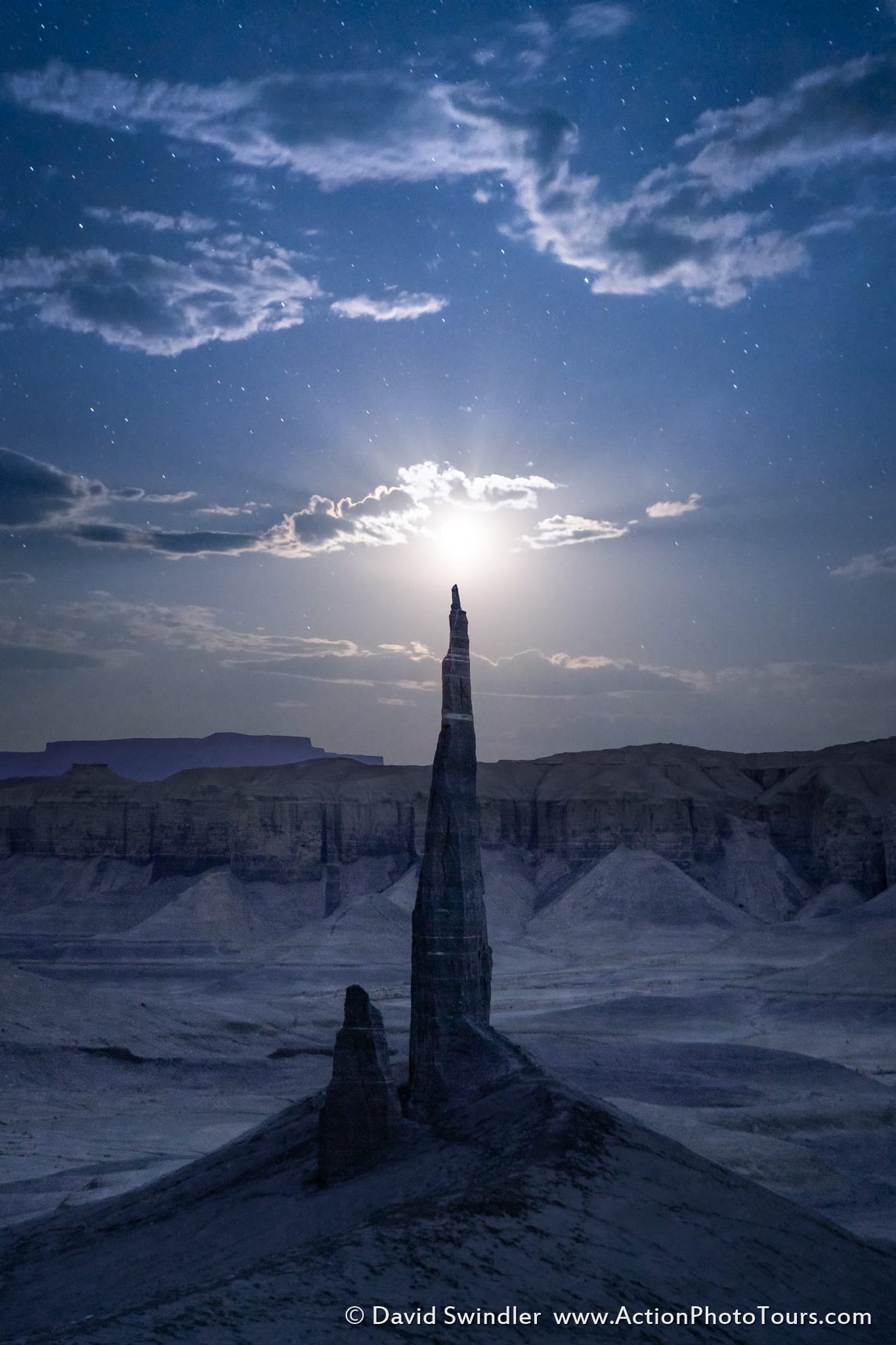 Logistics
Please arrive in Hanksville, UT prior to 2PM on Nov 14th or Nov 19th for the orientation session. We didn't include hotel stays on this trip to allow you the flexibility of a lodging option of your choice.  We highly recommend you book a cabin at Duke's Slickrock.  You can get our special workshop rate by calling them at 435-542-3235 and mentioning Action Photo Tours.
Participants should have their own vehicle to get to Hanksville.  All transportation during the workshop is included. Everyone on this trip should be in reasonably good physical condition.  We aren't planning any long hikes, but the uneven terrain, sand, and steep uphills can make short hikes seem much harder.  You should be comfortable walking around 2-4 miles per day.
No matter what the weather does, our job is to get you the most stunning photos and help you learn as much as possible!
This time of year the temps are mild during the day with cooler nights.  There is always a chance rain, cold temps and even snow may move in. You'll need to bring warm layers to ensure you don't get cold photographing in the early morning hours and at sunset.  Please see the gear list further down.
This area definitely has potential to become the next photography hotspot. We don't want to see that happen since it is such a delicate area that can't handle a lot of traffic. We will ask all participants to not the reveal the locations of many places we shoot when posting their photos.
**IMPORTANT: The workshop concludes after sunset on the 18th and 23rd. We recommend that participants spend the night of the 18th or 23rd in Hanksville to avoid a long drive after dark.
Additional Notes
Many of the areas we visit are perfect for using a drone camera.  It's up to you if you want to bring a drone on this trip.  However, the focus of this trip is on still camera shooting. We may not have a lot of time for participants to be setting up and dismantling drones.  Please let us know if you will be bringing a drone on the workshop. Contact us for more info.
The workshop is capped at 5 participants so that we can give you adequate individual attention.  We are licensed commercial guides for the areas that we'll take you to. We carry a satellite communication device and safety equipment in case we run into any emergencies in the backcountry.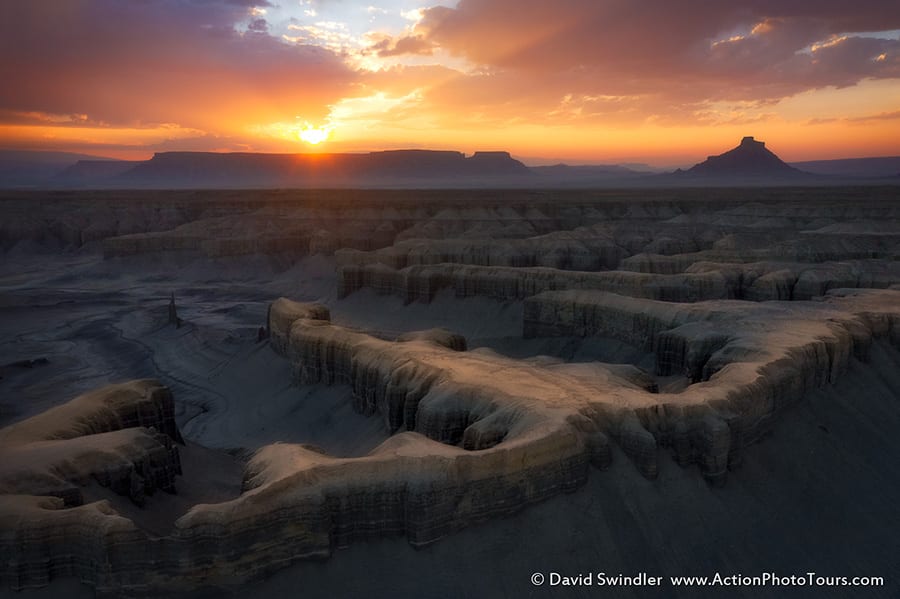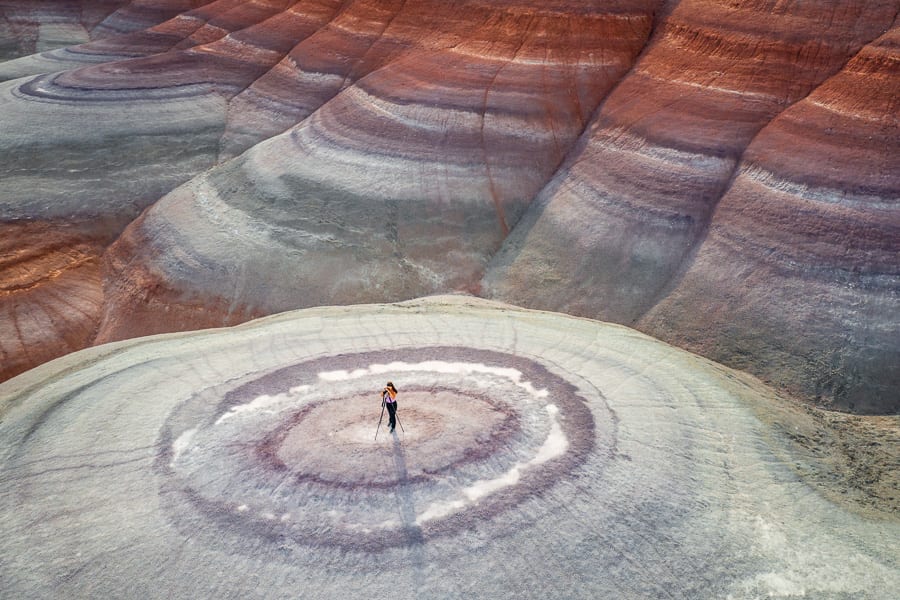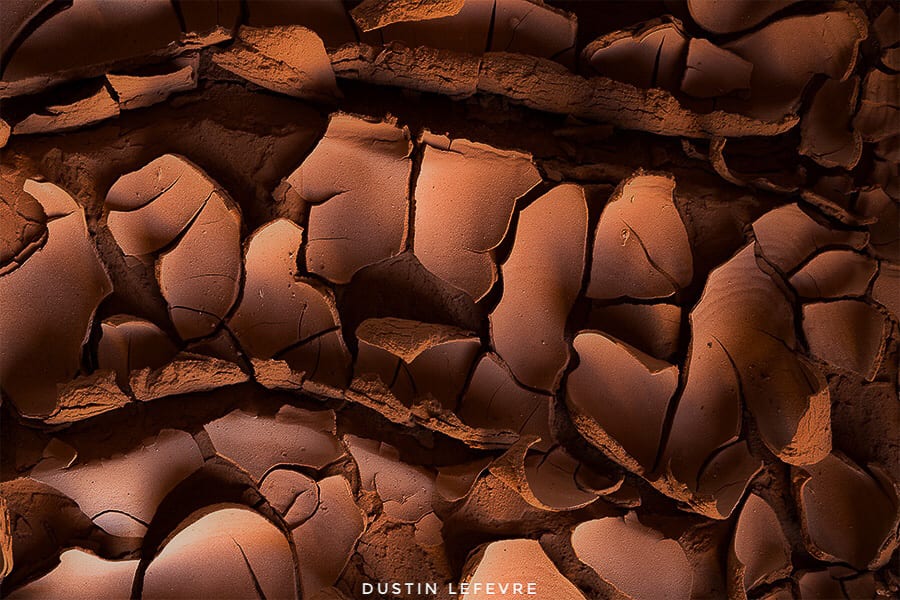 Pricing
$1995/person + Tax
Trip Includes:
All ground transportation and photography guiding during the trip.
Post-processing and image critique
Lighting equipment and fixtures for night photography.
Park entrance fees.
Final Group Lunch or Dinner (depends on itinerary)
Trip Does NOT Include:
Transportation to/from your home to Hanksville, UT.
Hotel Accommodations.
Alcoholic Beverages.
Meals and snacks with exception of final group lunch or dinner.
Recommended Camera Gear
Sturdy tripod and ballhead
Digital SLR or Mirrorless Camera Body.
Fast Wide Angle Lens f/2.8 or faster.
Mid-range zoom lens in the range of 24-100mm.
Long telephoto lenses will come in handy for creating abstract images. We recommend lenses in the 100-400mm range. You can even use lenses in the 600mm range!
Circular polarizer filters are useful.  Bring any ND filters if you have them.
Extra batteries, memory cards, and cleaning supplies.
Remote cord for your camera. An intervalometer will be especially useful for doing long exposures at night.
Laptop if you wish to backup your photos or follow along during the post-processing instruction.
We may be able to rent you gear if you don't have everything you need.
Personal Gear List
Sturdy hiking footwear, hiking socks, and long pants .
A rain jacket and several warm layers since it can get cold at night.
Headlamp for night photography.
Sunscreen, Sunglasses, Hat.
Water bottle or hydration bladder.
Hiking poles if you like having them.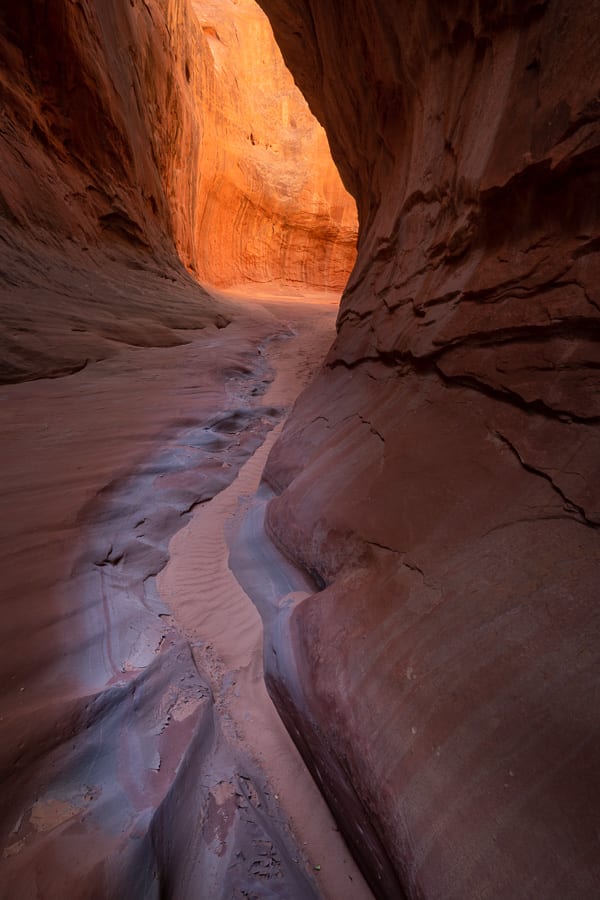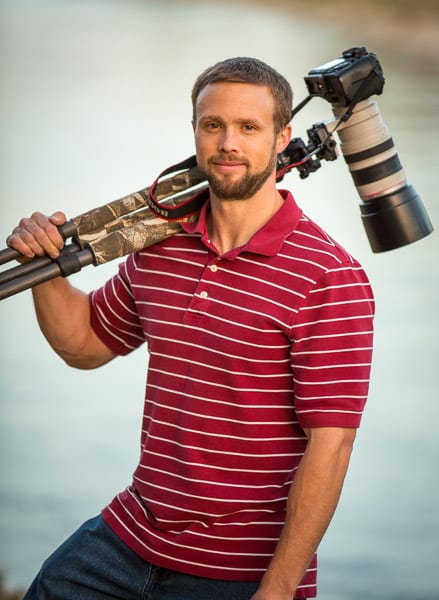 David Swindler
David Swindler is a National Geographic award-winning landscape and wildlife photographer. He received a degree in chemical engineering and worked in the semiconductor industry specializing in optics and photolithography. Back in 2014 he quit his day job to follow his true passion. He has traveled to many locations around the world and has extensive experience photographing a wide variety of subjects and conditions. He finds great satisfaction in helping others learn photography, especially in the wild desert environment near his home in Kanab, UT.  David is an expert in night photography and loves to get out and shoot the starry night skies. Catch a glimpse of David's work in the slideshow, and follow the links below to see more!
Gallery   Media Coverage    500px     Flickr
David has been leading guided photo tours for many years. He is very familiar with many different types of cameras and how to capture the best photos. And most importantly, his clients are the top priority while out in the field.  Just read what others are saying here: Trip Advisor.