Alstrom Point Overnight Photo Tour
Various Dates, $648/person
Alstrom Point is one of the most awe-inspiring viewpoints in the entire Desert Southwest and is the perfect place to photograph Lake Powell! This tour is rated Easy for physical intensity.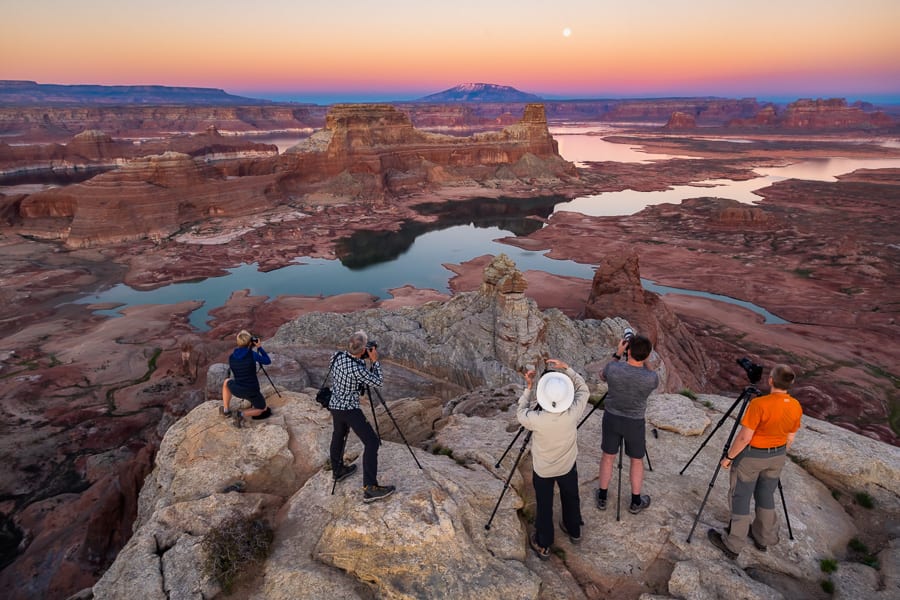 Highlights
Alstrom Point is one of the most awe-inspiring viewpoints in the entire Desert Southwest and is the perfect place to photograph Lake Powell.
Dates are optimized to capture the full Milky Way panorama over the lake.
This is a fully outfitted camping adventure.  All you need to bring is your camera gear and we'll take care of the rest!
Small group capped at 8 people with 2 instructors to ensure personalized instruction and individualized attention.
Capture the warm tones of sunset, the brilliant night sky, and the dramatic sunrise. Staying overnight delivers the best experience!
Very little hiking is required for this tour. We can drive almost all the way to the viewpoint on very rough roads.
An optional night post-processing seminar can be added either on Apr 18, 2021 or May 12, 2021.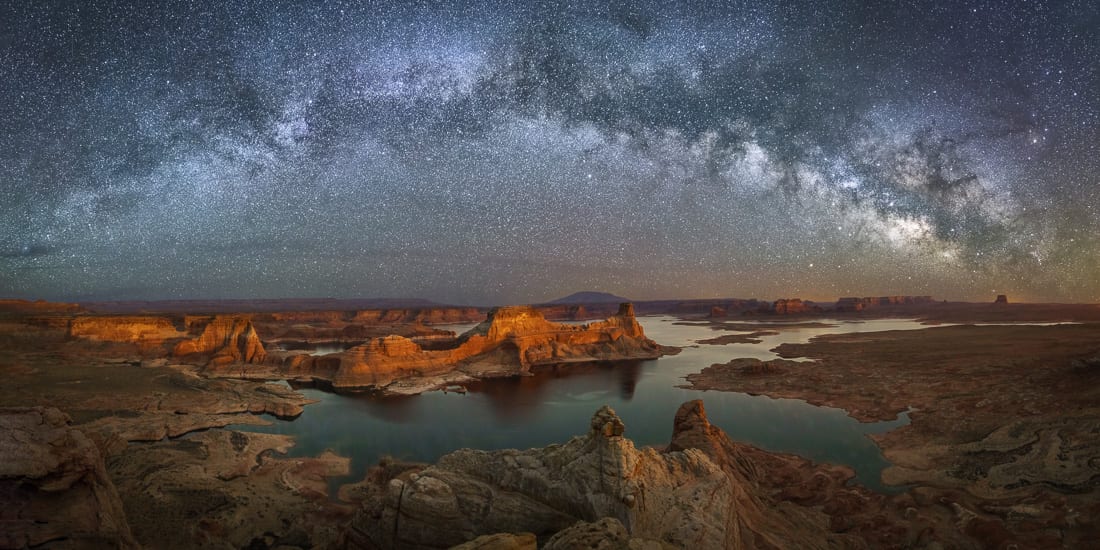 Trip Details
Tour Departure: 2PM on either Apr 14, May 8, or May 15.
Tour Return: The following day at Noon.
Tour Price: $649/person. Loyalty Members will get 10% off.
Drive Time:  2-2.5 hrs each way.
Tour Meetup Location: The trip begins and ends in Kanab, UT. The address will be given in your confirmation email and is a safe place to park your vehicle. If you like, you can leave any valuables indoors.  Once you arrive, you'll load your gear and sign a liability release waiver. Las Vegas is the closest major airport to Kanab. There is no public transportation to Kanab, so you'll need your own vehicle.
Permits:  We hold commercial use permits for Glen Canyon National Recreation Area.
Hiking / Fitness: This trip involves very little hiking so it is rated as easy.  Just come prepared for some rough 4x4 driving!
Weather Conditions: The weather is highly variable in the spring. It can be warm and sunny, or windy, cold, and rainy. Please come prepared with adequate clothing for whatever Mother Nature throws at us.
Road Conditions: The route out to Alstrom Point is very rough.  But we'll make sure you get there safely in our well equipped 4WD vehicles.  If it has been raining, the road becomes impassable due to sticky clay mud.  Should that happen, we'll schedule an alternate destination based on group consensus (we have lots of amazing spots to choose from).
Camping Gear: Gear includes tent, sleeping bag, mattress, pillow, chair, and food. Please do not expect luxury camping. Our goal on this trip is to maximize your photography, so we spend as little time as possible in camp. We'll camp next to the vehicle(s) so don't worry about having to carry your gear. Cargo space is limited so please try to limit the amount of personal gear you bring.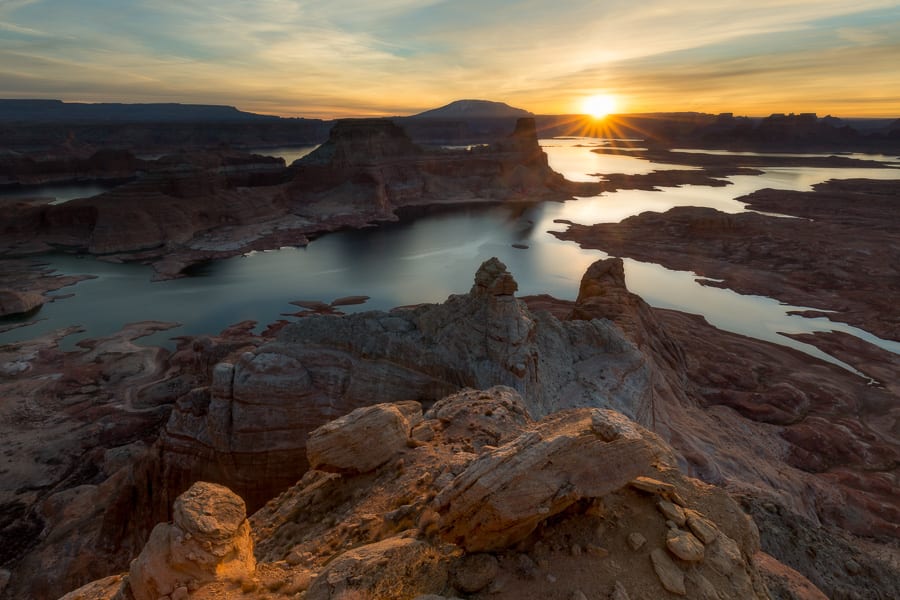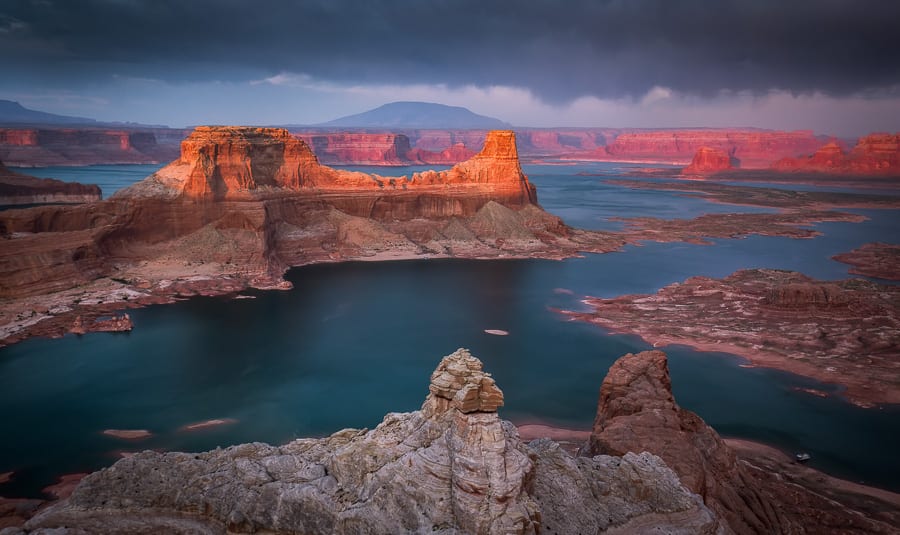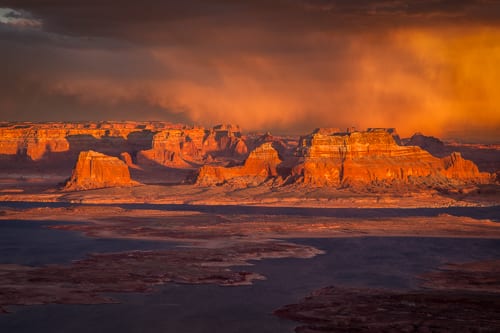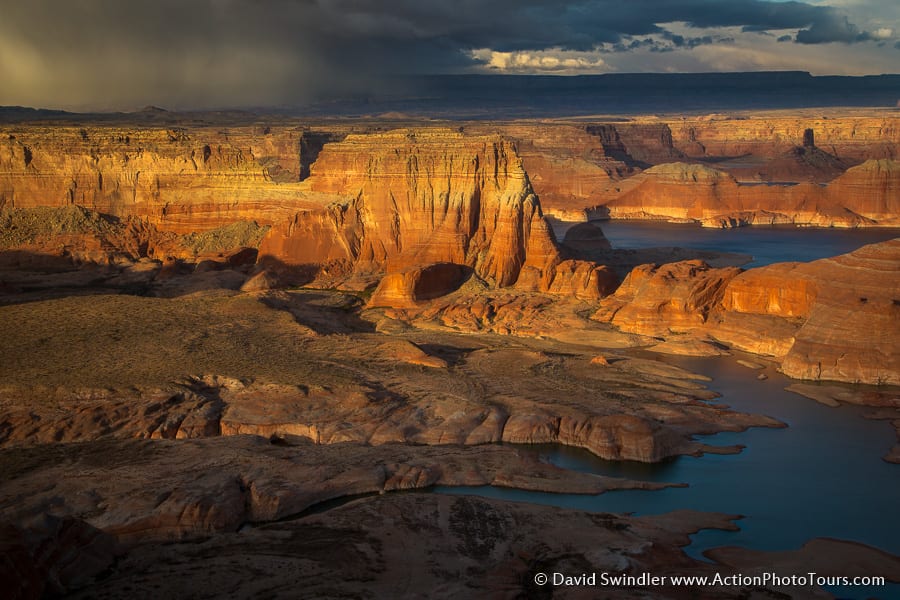 Trip Details
What to Bring: You'll need to bring any personal toiletries and medications. All participants should have a headlight (or flashlight). Don't forget some warm clothes and a hat. It's also a good idea to bring a water bottle (makes things like brushing your teeth much easier).
Food/Water: We will provide camping gear, food and beverages on this trip.  A hot meal will be served for dinner.  Breakfast will include coffee/tea and a selection of cold and warm food choices.  Please let us know if you have any dietary restrictions. We will have a water container you can use to refill any water bottles.
What to Wear: Check the weather forecast prior to coming on the trip (search for Page, AZ on Weather.com). If the temperatures are cold, bring warm layers and long pants. Don't forget sunglasses and sunscreen. Even when it's warm outside, the temperature can drop quickly after the sun sets. If rain, wind, or snow are in the forecast, bring a rain jacket, a warm hat, and gloves. We recommend wearing sturdy closed-toe footwear in due to the uneven terrain and sand.
Restroom Facilities: There are no facilities at Alstrom Point.  We will stop at a restroom if needed about an hour into the drive.  If you need to use the restroom, we will have toilet paper, hand sanitizer, and a shovel available.
Safety: Our guides are trained in CPR/First-Aid. All 4WD vehicles are equipped with extraction equipment and a first-aid kit. We carry a satellite beacon with us in case of emergencies outside of cell range.
Frequently Asked Questions
Here is a link to the FAQ section of our website where we hope to answer many of your questions!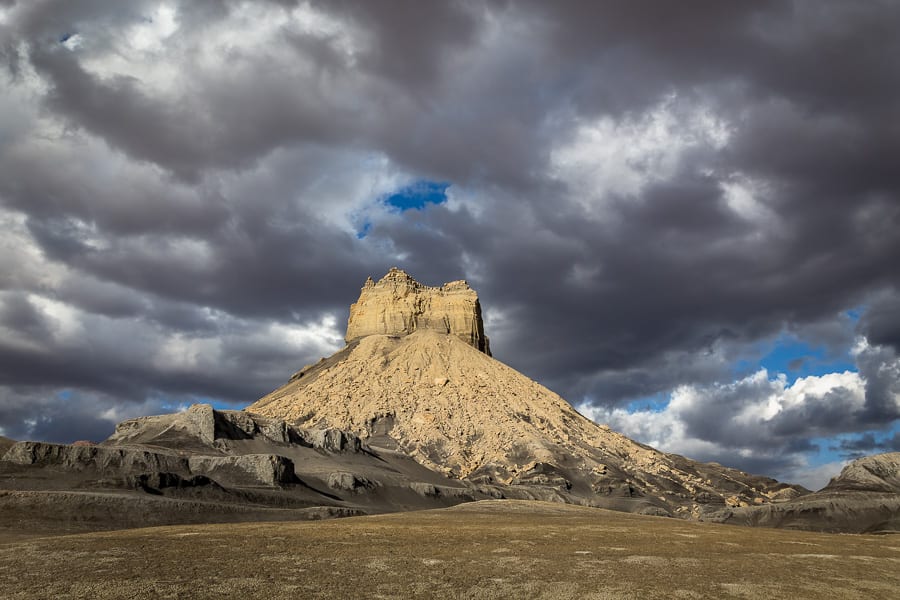 Camera Gear
Camera Gear: You can make use of just about any lens on our Lake Powell trip. A wide angle zoom lens is useful when shooting from the canyon rim (equivalent 16-35 on a full-frame camera or 10-22mm on a crop sensor).  For night photography, your wide angle lens should be f/2.8 or faster. A mid-range lens in the range of 30-100mm will provide nice scale and compression.  Telephoto lenses will be useful for isolating rock formations in the distance. Bring as many lenses as you like - just ensure your pack isn't too heavy for comfort. All participants should bring a tripod. For filters, a circular polarizer can come in handy when there are clouds in the sky (it's best to avoid polarizers on cloudless days).  A neutral density filter can create long exposures for fast moving clouds and smooth out any rough lake surface. Don't forget extra batteries, memory cards, and cleaning supplies.   Please contact us if you'd like to rent any camera gear for your outing.
Cancellation/Re-Scheduling: Please see our Terms and Conditions.